Love listening to the sound of rain? Research has shown that certain white noise makes us more focused and boosts their productivity. Some background noise generators may help you drown out annoying noises and that lets you create your perfect environment for working and relaxing. With these noise generators, you can mix different sounds and create your perfect sound environment tailored to your personal need and taste. From relaxing piano for cafes to thunderstorm rains, you will not be disappointed.
See More ▼ 36 Famous Quotes on Mindfulness Meditation For Yoga, Sleeping, and Healing
Not only that, according to a study published in 2002, white noise, low-broadcast could be an "alternative non-pharmacological"; simple, safe and preferable to many sedative hypnotic drugs used for insomnia or stress effects. It has been shown that the diffusion of white noise in the room can steer or facilitate sleep for the newborn as well as for adults, probably by reducing the signal / noise ratio of ambient sound (which may remind the newborn of an intrauterine environment). 87% of newborns experimentally exposed to white noise fell asleep within five minutes, against 25% . Baby relax uses a unique combination of light, white noise, nature sounds and videos to soothe and put the baby asleep smoothly.
A few years ago psychologist Dave Elliot from the University of Cumbria discovered what makes some pieces of music especially relaxing. I recently teamed up with a composer and used Elliot's findings to create a piece of music that is scientifically designed to help you fall asleep. It had to have about 90 beats per minute, a 4/4 beat, involve piano and strings, and contain narrow note sequences where the notes moved from low to high.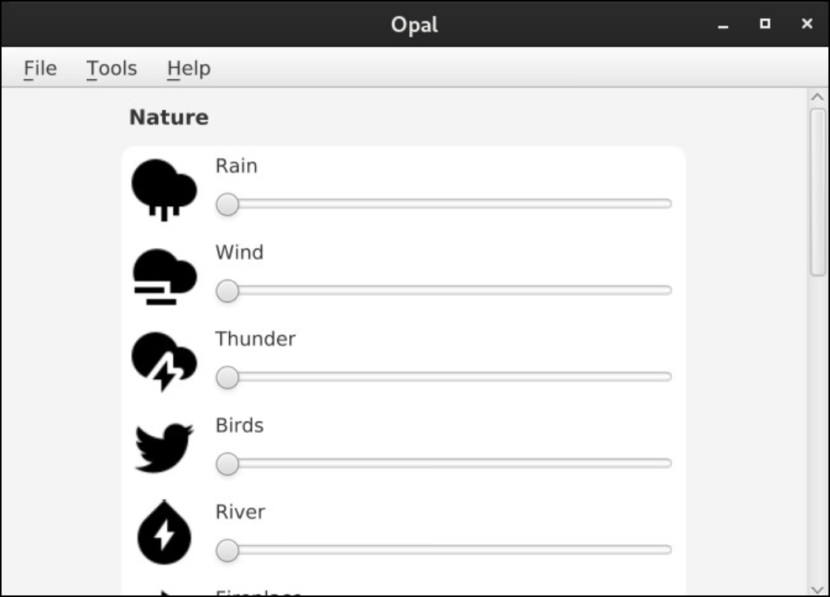 Select the sounds (20+ relaxing tracks are available) that you want to hear, turn them on and you can listen to and enjoy the music for as long as you want, without interruption. Opal ambient music player is a simple app that includes different sound groupings to suit anyone, from office to fantasy. All have volume controls so you can keep faint in the background or bring them forward. You can also set up a delay timer from the settings tab to remind you to take a break. You also have the option to combine multiple sounds at varying volumes to produce the perfect background noise. You can listen to the sound of:
Rain
Wind
Thunder
A river
Fire
Office background noises
And much much more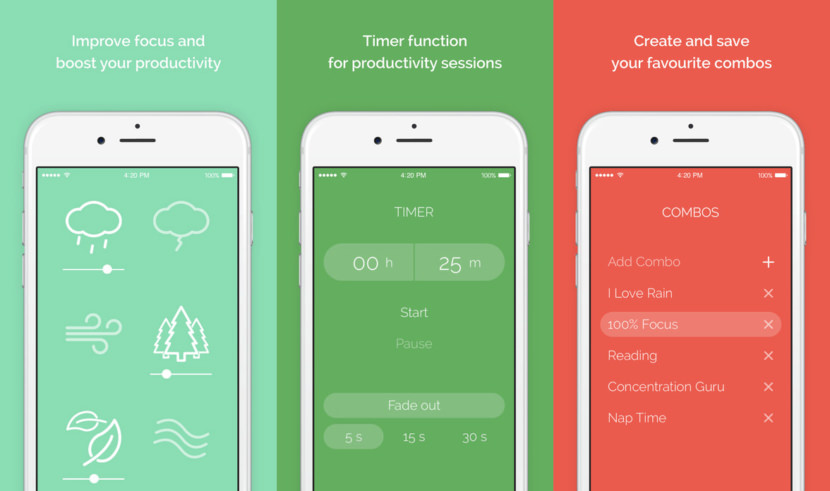 Improve focus and boost your productivity. Mix different sounds and create your perfect environment. Noisli is a fantastic background noise and color generator ideal for working and relaxing. It includes many high-quality sounds to help you focus while working, relieve anxiety or to just relax while reading or before going to sleep. Noisli also provides a color changing background, bringing to you the healthy benefits of the chromotherapy.
Available sounds: Rain, Thunderstorm, Wind, Forest with Birds, Leaves, Water stream, Seaside with seagulls and relaxing waves, Water, Fireplace, Summer night with owls and crickets, Fan, rumbling Train, Coffee Shop, White Noise, Pink Noise, Brown Noise.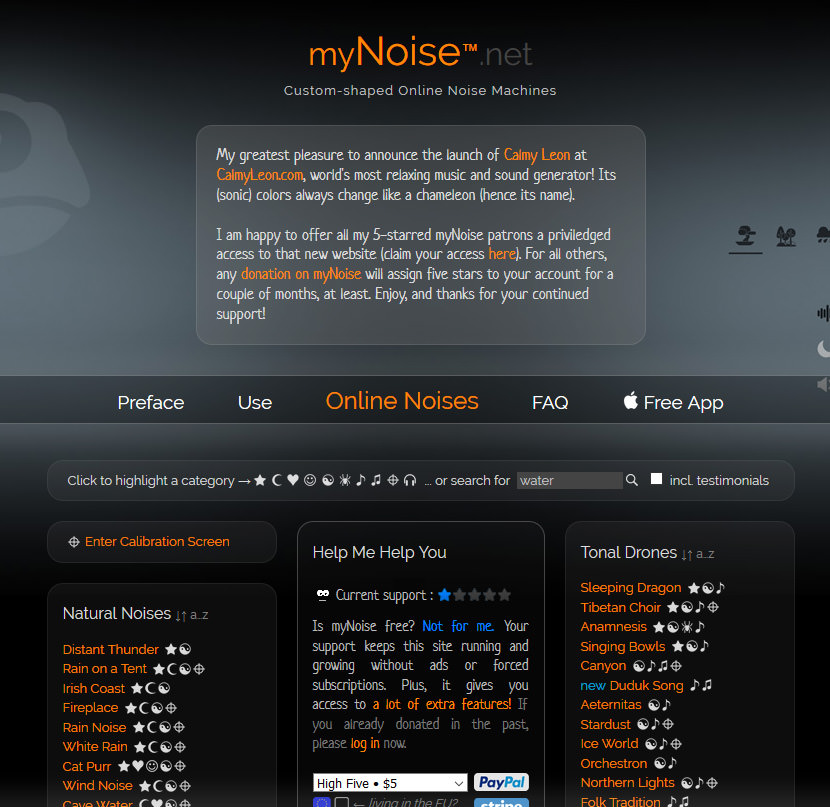 Noise machines can be used in a variety of ways throughout your daily lives, and can be used by all audiences. They can not only help you focus while working in a noisy environment or help to settle your anxiety, but they are also useful in cases of insomnia or tinnitus. Fortunately, you don't need a specific reason to start listening to their noise generators.
Noise machines are great for blocking out background noises whether you're trying to work, study, relax, or even sleep. Compared to conventional noise blocking machines, myNoise noise generators can be shaped to the frequency characteristics of the environmental noise one needs to block, and therefore achieve a better camouflage, or – in other words – a greater masking efficiency at quieter levels.
Natural Noises – Distant Thunder, Rain on a Tent, Irish Coast, Fireplace, Rain Noise, White Rain, Cat Purr, Wind Noise, Cave Water, Ocean Waves, Tropical Rain, Summer Night, Intertidal, Dark Water, Desert Wind, Rainforest, Waterfall Noise, Jungle Life, Crystal Stream, myNoisli, Water Stream and Tropical Birds
Atmospheres – Japanese Garden, Church patrons, Meadow Land, Primeval Forest, Healing Water, Rainy Riverbank, Winter Walk, Nocturnal Garden, Spring Walk, Tibetan Spirit, Palm Garden, RPG Dark Forest, RPG Elements, Underwater, RPG Dungeon, Prehistory, Fairy Pond, Examination Time, Suburb, Arctic Wolves, Subaquatic Dreams, Berber Tent, RPG Poltergeist, Grazeland, Paraglide, In Utero, RPG Battlefield and What the Farm
Soundscapes – Osmosis, Mr. Rhodes, Mournful Chimes, Twilight, Friends of Winter, Circular Breeze, Telecaster Licks, Saturn Rings, Wooden Chimes, Temple Bells, Guitar Mashup, Bells Breath, Oblivion, A Trip of Mind, Perception Cloud and Deserted
You can experience the relaxing feel of a cozy cafe from home and still enjoy a productivity push. Just the right amount of background noise to boost your workday, on-demand. Informal atmosphere of a coffee shop influence your creativity? Stay focused, get a creative boost or just relax by creating a stress-free ambience, like bloggers and writers from around the world.
Buzz of a busy Texas Cafe + Piano bar, Open-air bistro, Ocean lounge, Cosy fireplace, Rainy terrace
Charmants Cafes de Paris + Piano bar, Open-air bistro, Street corner cafe, Cozy fireplace, Rainy terrace
Gentle hum of a quiet restaurant + Buffet Car, Countryside Bar, Snow Cafe, Night club, Windy Terrace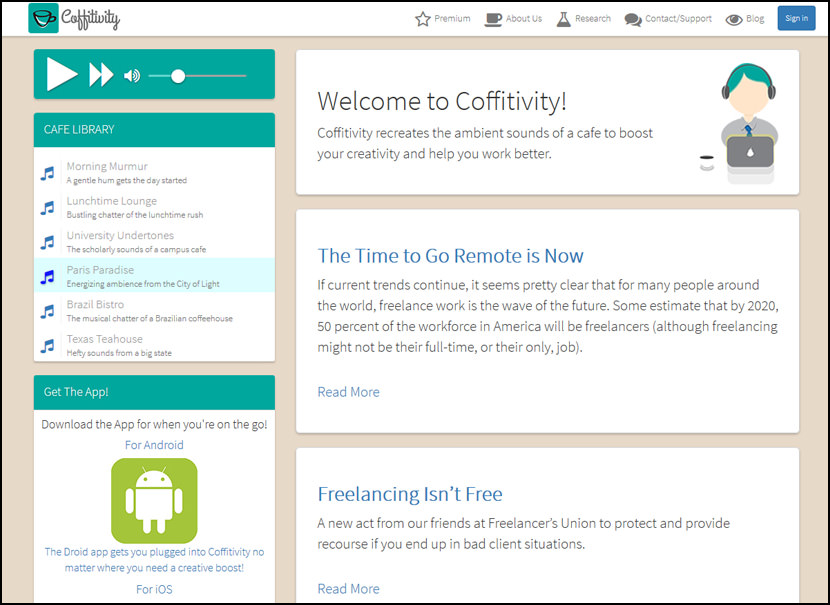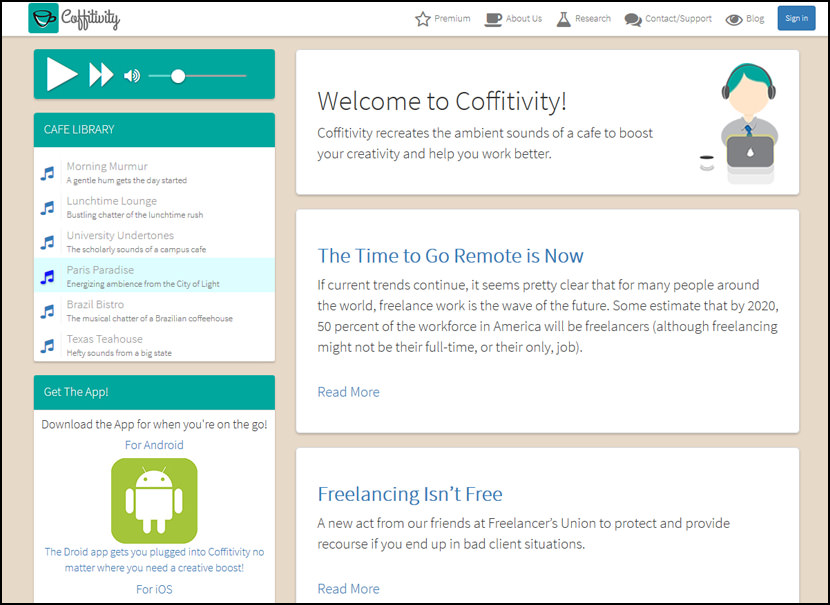 Do coffee shop sounds make you more creative? Research says yes! Coffitivity recreates the ambient noises of a cafe to boost your creativity and help you work better. Supported by science and backed by a community of creative people using the app every day, Coffitivity is the perfect addition to your workday arsenal!
Morning Murmur – A gentle hum gets the day started
Lunchtime Lounge – Bustling chatter of the lunchtime rush
University Undertones – The scholarly sounds of a campus cafe
Paris Paradise – Energizing ambience from the City of Light
Brazil Bistro – The musical chatter of a Brazilian coffeehouse
Texas Teahouse – Hefty sounds from a big state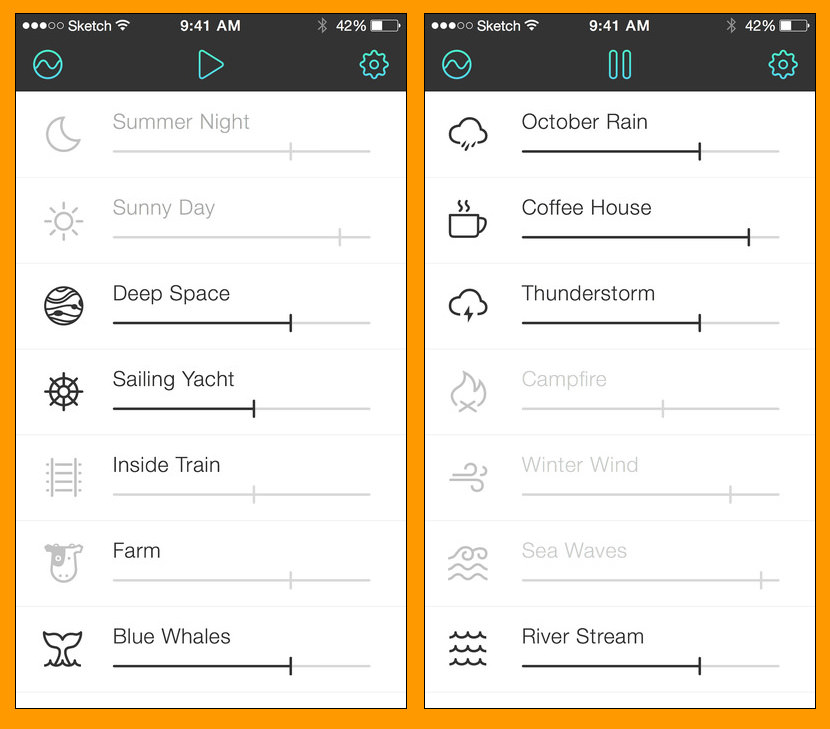 Feeling that the noise of the big city is too much for you to bear? Just turn on the sound and allow yourself to become engulfed in the tranquil sounds of nature. Whether you wish to feel as if you're sitting near a fireplace under a cozy blanket, or that you're meditating on a desolate sea shore as gusts of wind ruffle your hair, Noizio will be there to set the mood. With this ambient sound equalizer, not only will you be able to relax, but you will also increase your productivity, as you're trying to concentrate on your work!
15 Ambient sounds: October Rain, Coffee House, Thunderstorm, Campfire, Winter Wind, Sea Waves, River Stream, Summer Night, Sunny Day, Deep Space, Sailing Yacht, Inside Train, Farm, Wind Chimes, Blue Whales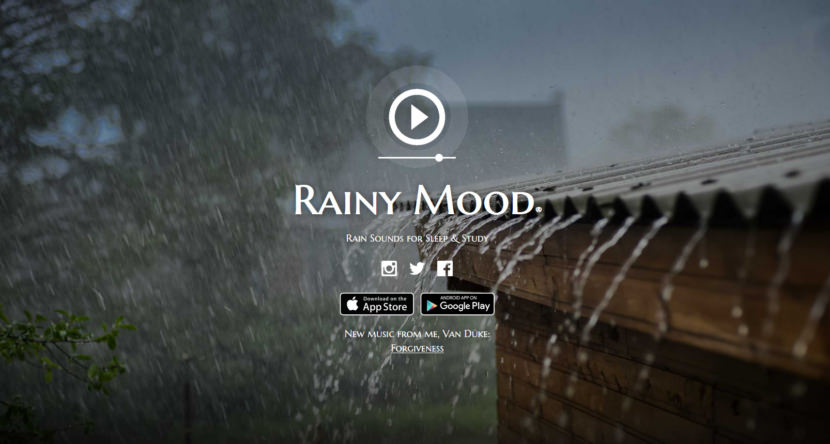 Rainy Mood is a mobile rain experience to help you sleep, study, and relax. The new Rainy Mood app has four fully-customizable rain scenes — Classic, Ocean, Countryside, and Café. With stunning HD/48kHz 3D audio and algorithmic randomizer, your brain will naturally relax and focus.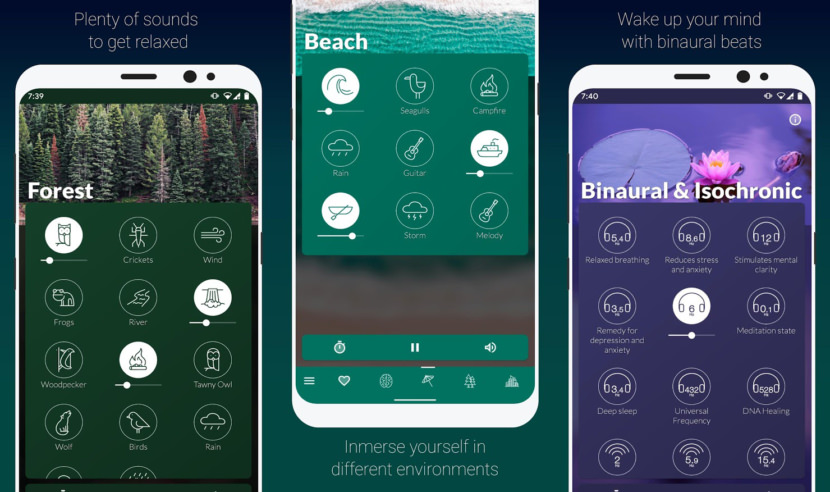 Atmosphere is the perfect app to relax. Enjoy a variety of relaxing and soothing sounds divided into different environments. Just choose the sounds that you like and create your favorite combination, sleep, meditation, yoga, relieve stress, beat the anxiety and insomnia or just enjoy nature.
Enjoy the calmness of the rain, the strength of the storm or the stream of a river. Atmosphere has environments for everyone: Beach, Forest, City, Home, Underwater, Park, Countryside, and Oriental.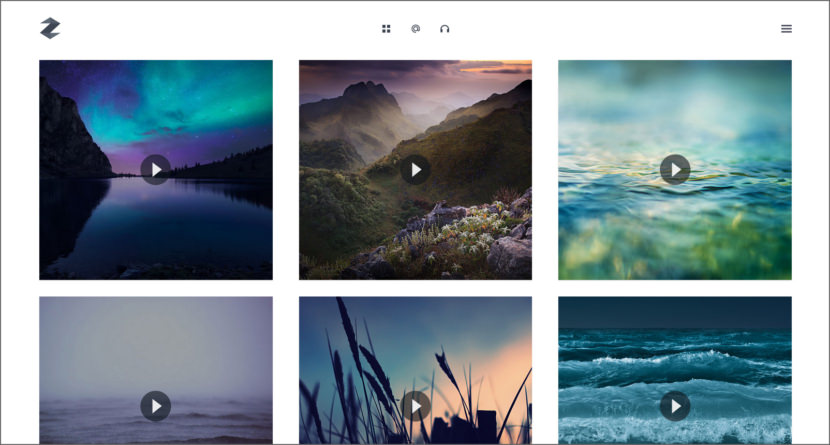 Moszen is a free web service that provides ambient sounds from natural environments to help you relax and avoid stress in your daily life.
10. Noice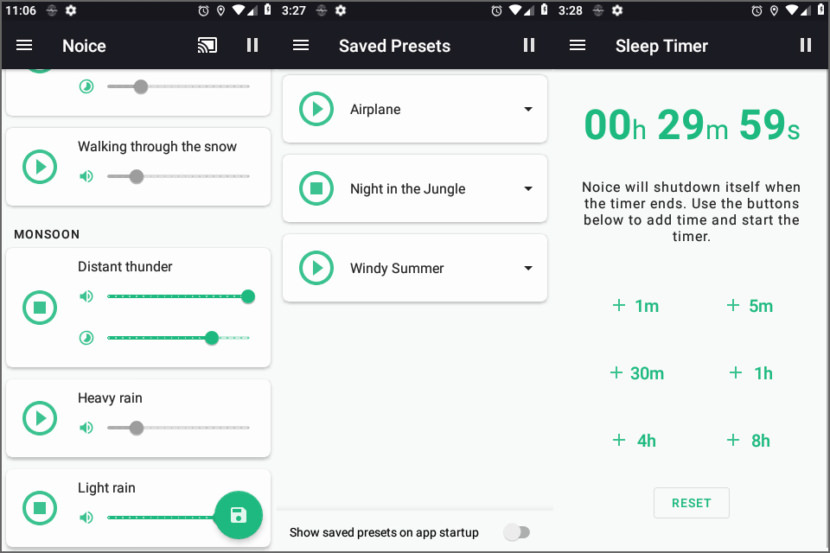 Noice is an app that allows you to create a customised ambience using clips from environmental noise sources. Create your perfect surroundings by combining different sounds to drown out distractions so you can focus on your work, or generate serene, peaceful environments that encourage you to fall asleep.
Life set (birds, crickets, wolf, human heartbeat, etc.)
Forest set (bonfire, night, wind, palm trees, etc.)
Monsoon set (rain, thunders)
Teleportation set (coffee shop, library, office, seaside, riverbank, etc.)
Vehicle set (moving train, in-flight, creaking ship, electric car, etc.)
Raw noise (white, pink, brownian)
11. Baby Sleep White Noise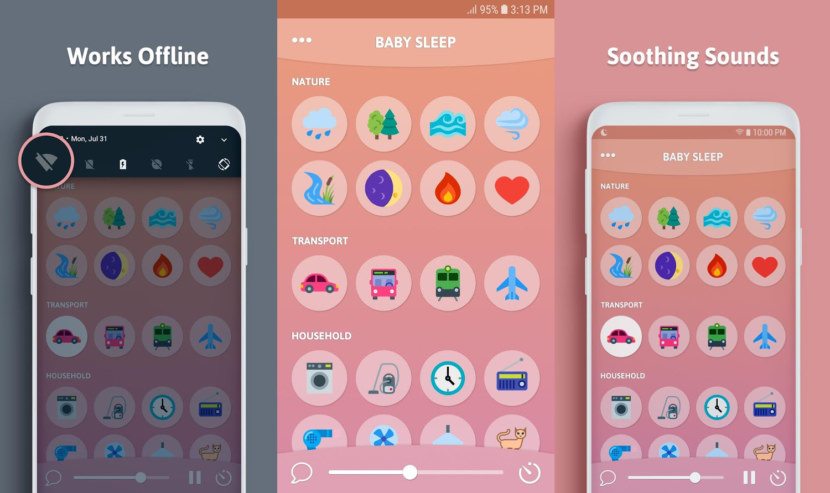 Babies love white noise. They have spent 9 months in the quite loud womb so they are used to "noise". Background white noise is actually calming for your baby and resembles the kind of sounds that he would hear in the womb.
The app contains great selection of soothing white noise and lullabies. It has a simple timer that saves your battery. In addition to that it contains calming "shh-shhhh" sounds recorded by parents. The app does not require internet connection so you can use wherever you are.
White noise reduces stress in babies
White noise helps babies to sleep
White noise helps babies to cry less