The problem with SSD is the fact that it is the latest technology powered by old operating systems such as Windows XP written for HDD. Disk Defrag, Disk Cache and many more are features written for Hard Disk Drives due to its slow read and write speed. With the introduction of SSD, these features are not only unnecessary, they might shorten the life of your SSD. Do you need to "Optimize" your SSD with third-party software? The answer depends on what Operating System you are using. If you are using Microsoft Windows 10, skip this article and do not use these optimization software.
If your IT department is considering a roll-out of Windows Server 2012 and SQL Server 2012, it is important to have an understanding of server memory behavior and solid-state storage impact on key release features of both platforms. There are some optimization software for web hosting and data centers, however, if you are a consumer, chances are the manufacturer already bundled free optimization software for the SSD you purchase.
I highly recommend using the manufacturer's SSD optimization utility software over 3rd party. Truth be told, don't waste your time optimizing your SSD, Windows 10 [ SSD with TRIM support ] knows what it is doing, unless you are still using Windows XP .
Samsung Magician [ Rapid Booster Mode ]
Intel Solid State Drive Toolbox [ Discontinued ]

Chameleon is an optimization tool for Solid State Drive on macOS systems. It can enable TRIM on non Apple-branded disks. Now you can also increase durability reducing I|O writing cycles, set hibernate mode and save space disabling sleep image. Chameleon is able to read sata system profiler info and you can easily check trim status, disk speed or properties. S.M.A.R.T. status is now supported, it's as mac shows it.
Moreover you can hence control the temperature, the firmware version and more. Now you can disable the local Time Machine, the Sudden Motion Sensor or noatime set for the system, you can change sleep mode and gain space disabling the sleep image. MAVERICKS 10.9.5 and YOSEMITE support has been added too!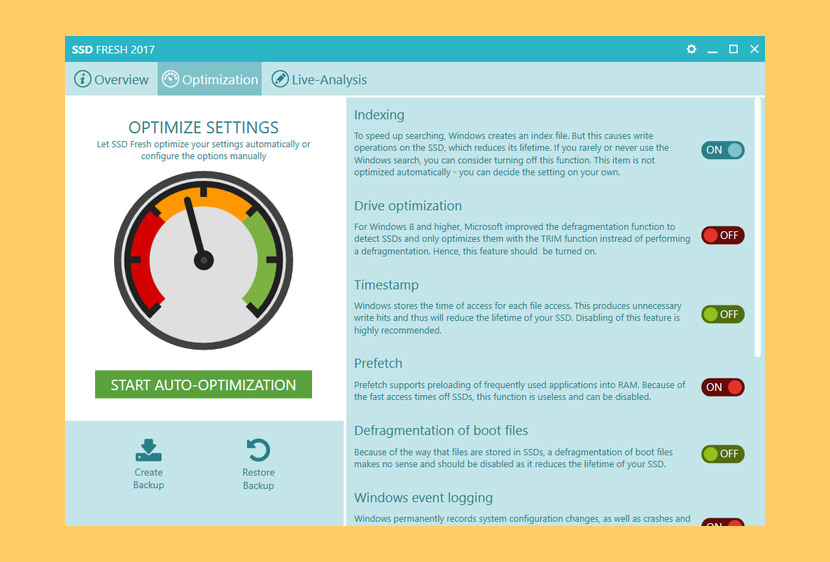 With SSD Fresh you can easily optimize your SSD's performance. SSD drives are the Holy Grail of computer tuning. The hard drives have dramatically improved access times over traditional plates. The free tool SSD Fresh brings out even more speed from SSD drives, and ensures that they last longer. The new version is even easier to use, ensuring even greater SSD speed and providing longer drive life.
Optimize SSD Settings – SSD Fresh increases the performance of your SSD after a complete analysis by disabling useless services and disabling unnecessary write accesses.
View drive information – Get information about your drive and the manufacturer. SSD Fresh displays general information suitable for the hard drives that are installed in the computer. You can see for example the storage capacity and how much space is already occupied.
View S.M.A.R.T. data – Modern hard drives use a system for self-monitoring, called S.M.A.R.T. (Self-Monitoring, Analysis and Reporting Technology) system. It analyzes the disk and already indicates defects before they can cause data loss. SSD Fresh reads this information and displays it in the window.
Ready for Windows 10 – This application has been already optimized for Windows 10. This means for you: You don't have to care which Windows operating system you have installed, you can buy this application today and even when you are switching to Windows 10 you can continue using this application without problems.
Disabling the Windows defragmentation [ €10 Plus version ] – Since SSDs have the same access time for all memory cells, there is no need to store them coherently. In addition to this, the defragmentation process generates write hits, which reduce the lifetime of the SSD. Therefore, it is highly recommended to deactivate the defragmentation process.
Prefetch off [ €10 Plus version ] – Prefetch supports preloading of frequently used applications into RAM. Because of the fast access times off SSDs, this function is useless and can be disabled.
↓ 03 – Tweak-SSD | Free / €10 | Windows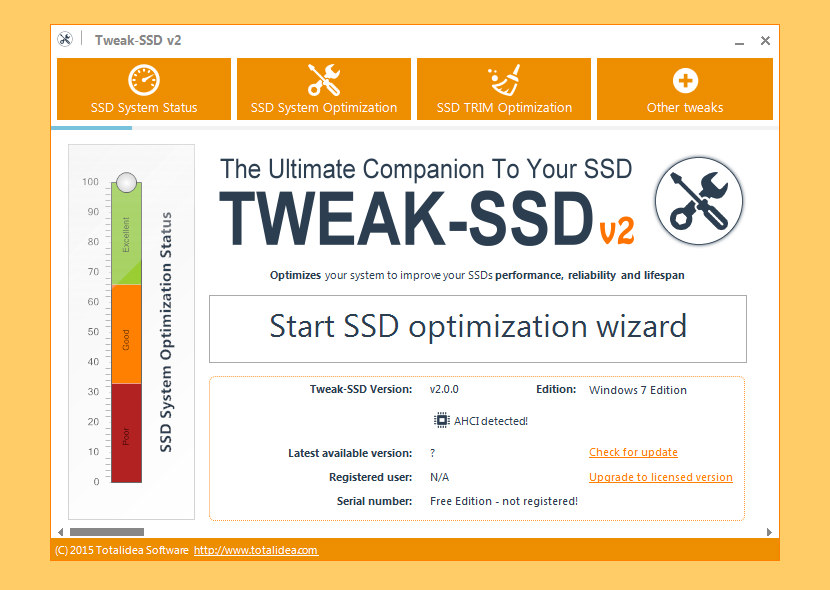 Tweak-SSD is a specialized product beside our famous 'Tweak' product line, which started with Tweak-XP back in 2001. It was designed for SSD 'drives' (Solid State Drives) and to optimize Windows 7, Windows 8.x and Windows 10 for the use of such drives in order to get the most out of an SSD.
System optimization: Optimize your Windows 7, Windows 8.1 or Windows 10 system for SSD 'drives'
System tweaking: Enabled several SSD related system tweaks
SSD optimizer: Your SSD lives longer with the included tweaks to minimize read and write access
Eays to use: Intuitive wizard like user interface
Optimization wizard: Includes a wizard that guides you through the optimization process
Intuitive system status gauge: System optimization status gauge for immediate system status information
TRIM optimizer [ €10 License Version ] : TRIM optimizer included (licensed version only)
Exclusive: Designed exclusively for Windows 7, Windows 8.x and Windows 10 – 32bit or 64bit.
↓ 04 – Elpamsoft SSD Tweaker | Free / $18 / $40 / $250 | macOS | Windows | Linux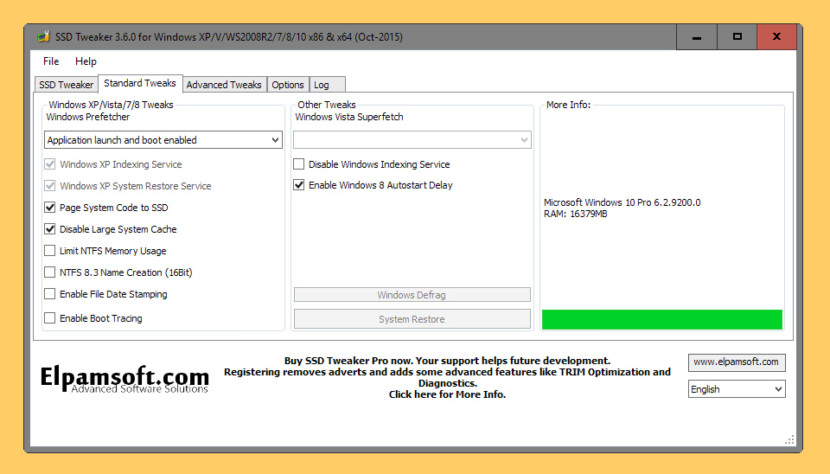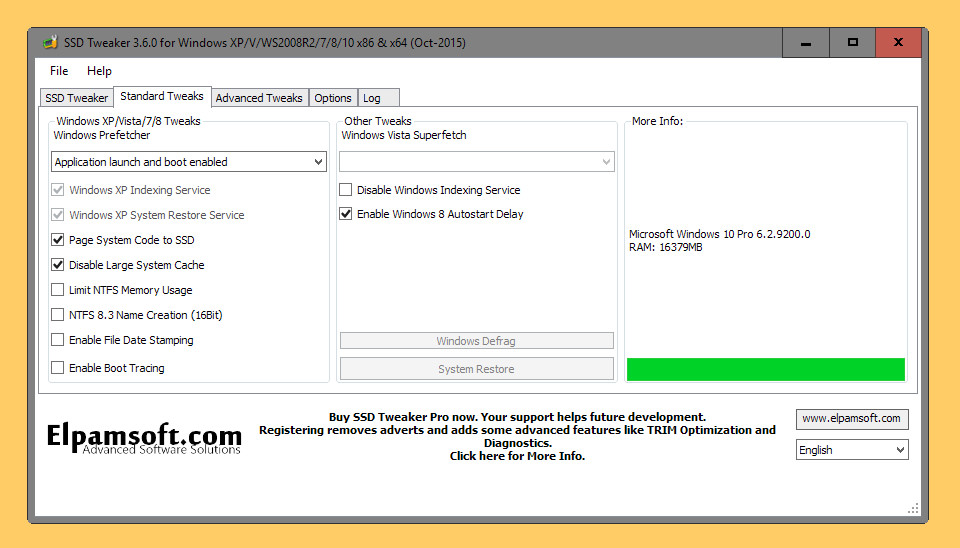 SSD Tweaker is not your average optimization software, it is enterprise level software designed for web hosting servers. Optimize and Restore Performance of your SSD in Windows XP, Vista, 7 and 8. The SSD Tweaker has a massive distribution around the world for its simple yet powerful features and interface. It has been reviewed and recommended by many PC magazines and Tech Websites. Try the SSD Tweaker today and get the most from your powerful SSD. This utility can help you make changes in seconds that can restore the performance of your SSD in just a few steps. It does a System Restore backup upon use to make sure you can reverse any changes and has a reset to default config to take your computer back to original windows settings. Works great on Microsoft's Windows 10 and Apple's macOS.
Windows Services (Pro Only)
Query and Set Windows 7 TRIM Status (Pro Only)
TRIM Optimization (Pro Only)
Hibernation Settings (Pro Only)
Use Large System Cache
Disable Date Stamping
Disable Boot Tracing
Windows Prefetcher
↓ 05 – MaxVeloSSD | Free / €10 / €20 / €100 / €210 | Windows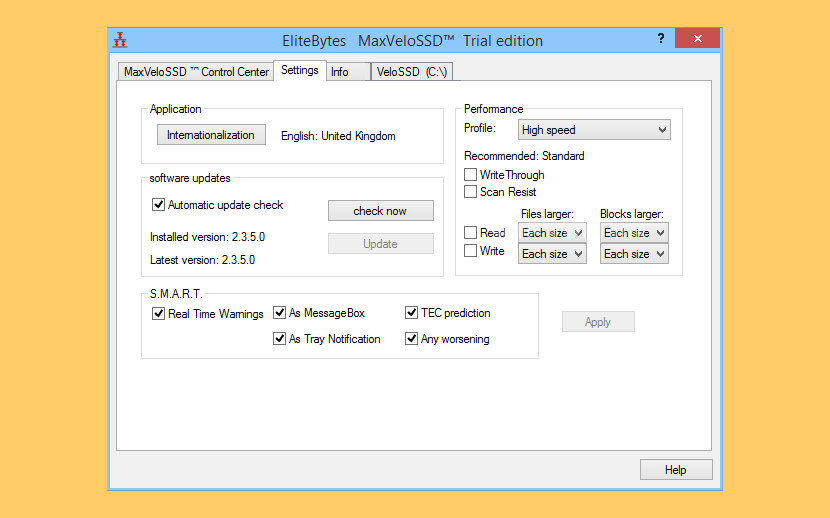 Persistent, hardware-independent SSD cache for Windows. What is SSD caching? SSD caching uses solid state drives (SSDs) to improve the performance of hard disk drives (HDDs) drastically. Why do we need SSD caching? Professional and private IT environments worldwide are under intense pressure to both capital and operating cost savings as well as providing the best possible performance.
SSd caching with VeloSSD from EliteBytes delivers the free scalable and cost effective software solution to catapult your Windows environment from HDD to SSD speeds. With the improved performance you can serve more users with fewer servers, saving capital and operating costs. The end user experience gets improved through the faster system behaviour. MaxVeloSSD is a block level RAM and SSD cache System. It caches any storage Volume content on HDD. It is persistent. Benefitting from RAM usage it accelerates beyond SSD speeds. Allowing higher IOPS / MBPS values than VeloSSD.