Microsoft Windows 10 does a pretty good job at removing all the files and junks left behind by a program when it is uninstalled. However, there will always be bits and pieces left behind. The best solution is to reset your PC, if this option is not available because you do not own the desktop, here are 9 top free uninstallers to remove unwanted programs and drivers from the computer.
🤣😍😂 3 Free Software To Force Delete Undeletable Files on Windows 7, 8 and 10
These uninstallers are a great replacement for Add/Remove programs in Windows and offer lots of functions to remove guaranteed programs, faster and completely from your computer. It can effectively remove unnecessary files, folders and registry keys and values related to the program.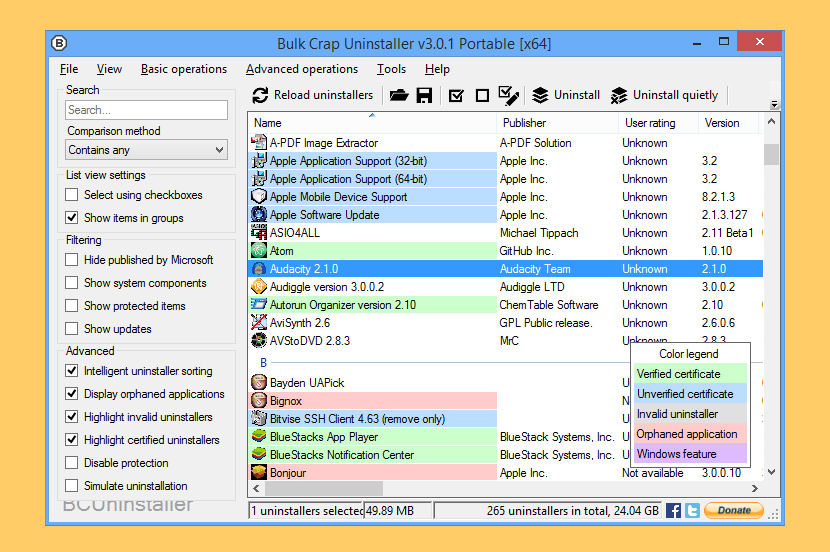 Bulk Crap Uninstaller is a free (as in speech) program uninstaller. It excels at removing large amounts of applications with minimal user input. It can clean up leftovers, detect orphaned applications, run uninstallers according to premade lists, and much more! Even though BCU was made with IT pros in mind, by default it is so straight-forward that anyone can use it effortlessly!
Out of all of its features, the ability to uninstall massive numbers of applications automatically is what defines BCU. Because of this it is one of the best tools for cleaning up long-running or pre-installed systems from, crapware, malware and other junk. Most of the basic uninstall managers simply miss this feature. Others require you to sit through the full process or use unsupported methods of uninstallation. With BCU you will have to be present only at the beginning of the process while uninstallers that can not be run quietly are executed.
Detection and uninstallation of Windows Store apps
Uninstallation of multiple items at once (with collision prevention)
Advanced grouping, sorting, filtering and searching
Automatic detection and closing of running applications
Automatic updating and error reporting
Custom commands can be executed before and after uninstallation
Editing tools and backup creation – can generate .reg files and remove junk to recycle bin
Fully portable, requires Net 3.5 which is installed on all Windows 7 machines by default
Quiet (unattended) uninstall of many programs when they don't openly support it
Visibility of protected and invalid entries (system uninstaller doesn't see them)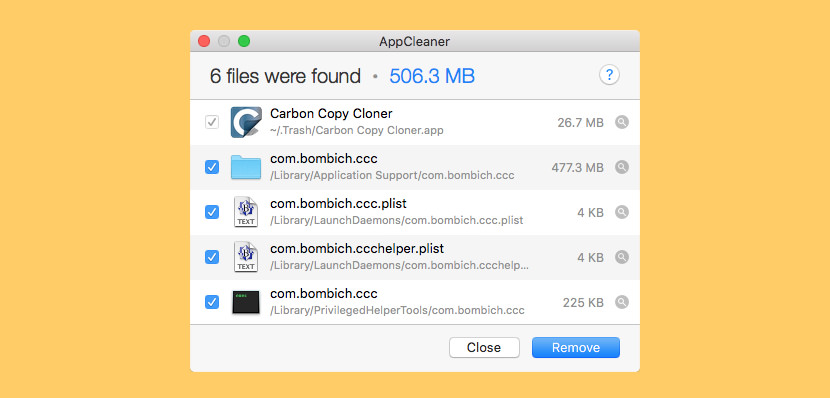 AppCleaner is a small application which allows you to thoroughly uninstall unwanted apps. Installing an application distributes many files throughout your System using the space of your Hard Drive unnecessarily. AppCleaner finds all these small files and safely deletes them. Simply drop an application onto the AppCleaner window. It will find the related files and you can delete them by clicking the delete button.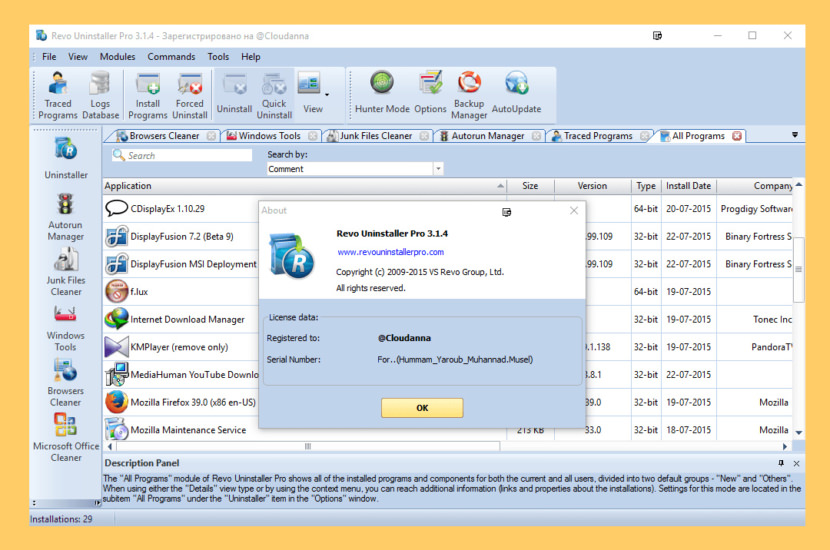 Revo Uninstaller is a freeware uninstall utility. It has powerful features to uninstall programs scanning for leftover files, folders and registry entries after uninstall. With its unique 'Hunter mode' it offers you some simple, easy to use but effective and powerful approaches to manage (uninstall, stop, delete, disable from auto starting) and to get information about your installed and/or running application. Many cleaning tools included!
Scanning for leftovers after the standard uninstall
8 Additional cleaning tools included
Extended scanning for leftovers – more advanced scanning algorithms [ Pro ]
Real-Time monitoring of system changes – during install of programs [ Pro ]
Forced Uninstall – remove remnants of already uninstalled programs [ Pro ]
Quick/Multiple Uninstall – quick uninstall of one or few programs in a row [ Pro ]
Usage of the Logs Database – integration with a database of installation logs for better uninstall [ Pro ]
Multi-level Backup system – including full Registry backup [ Pro ]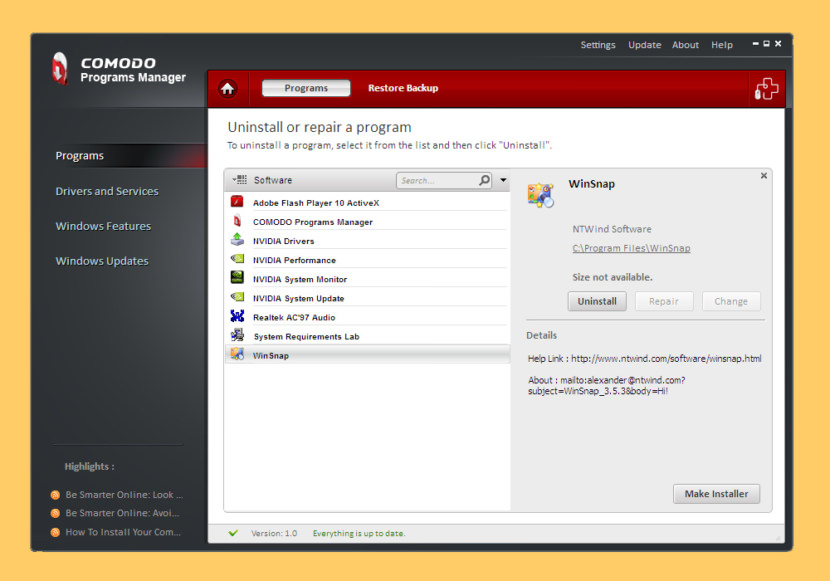 Comodo Programs Manager is a kind of system-maintenance-related tool that lets users uninstall programs or drivers, repair installations, disable/enable certain Windows features and check Windows updates. For you who wants to find an alternative to the Windows standard uninstaller tool, you might want to try it out.
Completely delete partial uninstalls
Detect and remove unwanted junk files
Monitor all changes in your system
Manage Windows features easily
Restore uninstallations safely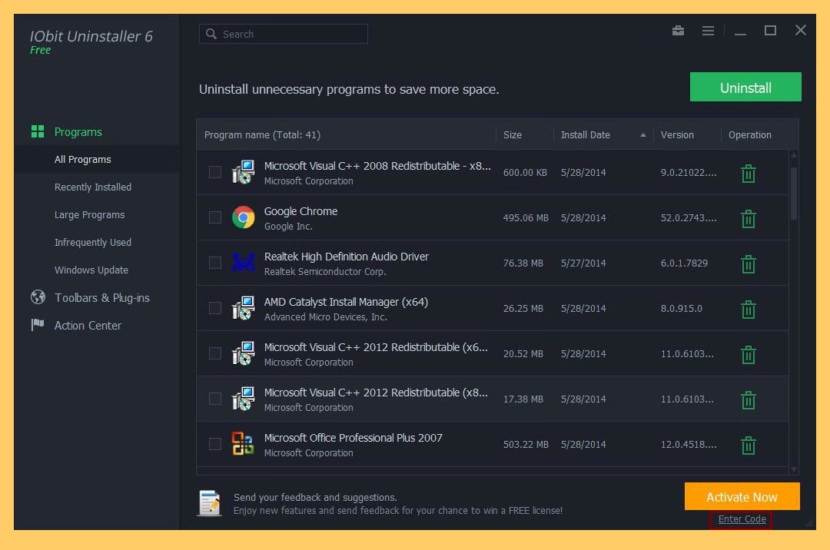 Uninstall Unwanted Programs & Plug-ins Promptly & Thoroughly. Enjoy More Secure & Cleaner PC without Useless Leftovers and Extensions. You may notice your PC becomes slower as the years progress. Some causes are programs that can't be removed, unused programs, and leftovers from uninstalled programs that pile up in the memory. IObit Uninstaller 6 can help you completely and quickly uninstall stubborn programs and their leftovers. Even the unwanted Apps in Windows 10 & Windows 8 can be easily removed. Works great on Microsoft Windows 10.
Uninstall Unwanted Programs Thoroughly and Quickly
Remove Plug-ins & Extensions on Edge, Chrome, IE, Firefox, etc.
Easily Remove Problematic Windows Updates
Thoroughly Uninstall Win 10 & Win 8's Built-in Apps
Larger Real-time Database to Uninstall More Stubborn Programs [ Pro ]
Uninstall Malicious plug-ins for more secure browser [ Pro ]
Cleaner & Faster Online Experience with Adware Removal [ Pro ]
Auto Clean Leftovers of Programs Uninstalled by Other Uninstallers [ Pro ]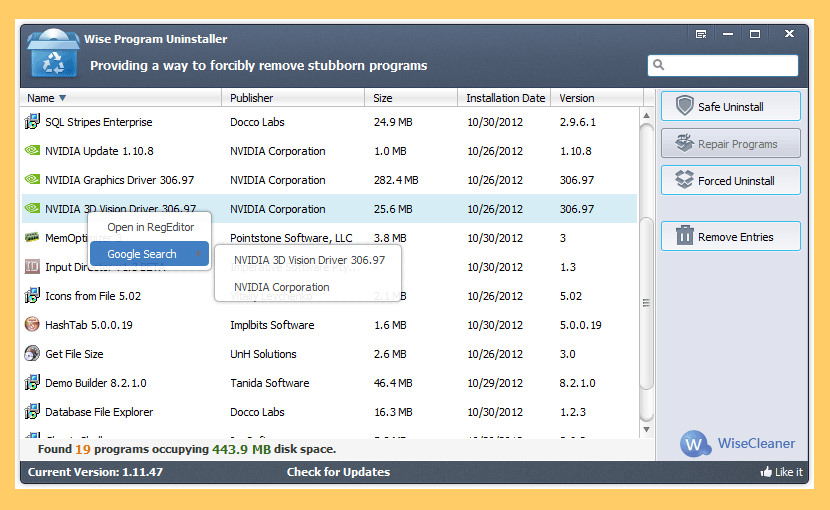 Wise Program Uninstaller is the perfect solution for uninstalling Windows software, allowing you to uninstall programs quickly and completely using its simple and user-friendly interface. The built-in scan engine will scan and delete all the left associated files, folders and registry items after the de-installation, making sure the software is completely removed from your computer.
Forced Uninstall removes any stubborn software. For some stubborn software or software with a broken uninstaller, they can't be uninstalled by conventional means. The 'Forced Uninstall' option of Wise Program comes in handy. It scans your system for all the files and registries that are associated with this software and deletes them thoroughly, just like you have never installed the software.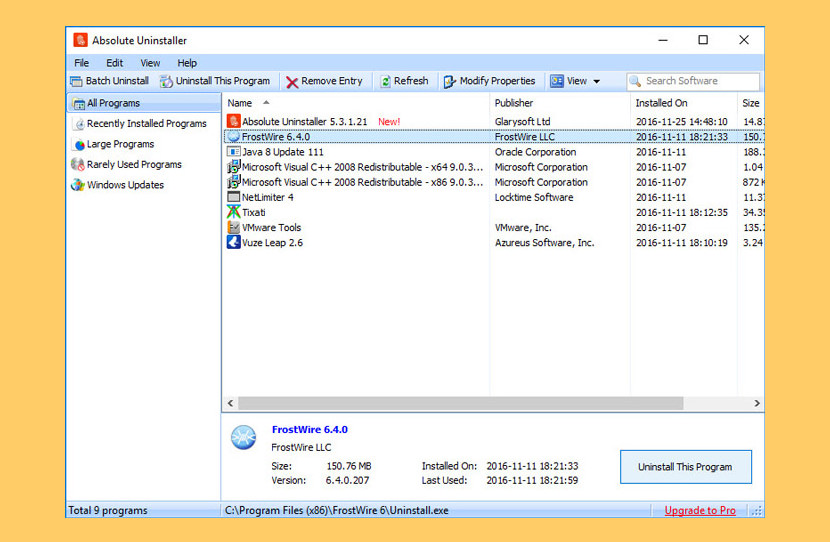 Absolute Uninstaller starts up faster than the Add/Remove program with all appropriate icons of the application loaded and marks the recently installed program. so that you can easily find the application you want to uninstall. You may also look up the application you want through a handy search function.
Auto Fix invalid program entries.
List installed programs with appropriate icons.
Simple and user-friendly interface.
Batch uninstall programs.
Backup/restore uninstall information.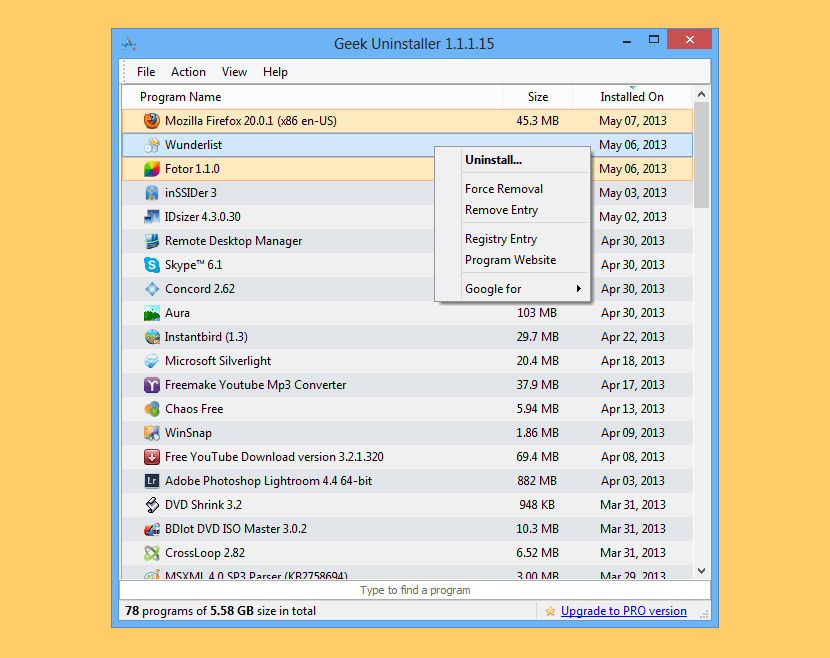 Great-looking and surprisingly functional, GeekUninstaller will help you keep your computer clean and organized! Instant startup, minimalistic, simple but efficient user interface. Single EXE runs flawlessly on both 32 and 64-bit Windows 7/8/XP/Vista. When running on x64 Windows GeekUninstaller is running as a native 64-bit application. Programs highlighted with purple orange color are recently installed/modified (since last run of Geek Uninstaller).
Clean Removal, Force Removal – Standard removal program leaves tons of leftovers on your PC. GeekUninstaller performs deep and fast scanning afterwards and removes all leftovers. Keep your PC clean! Use Force Removal for stubborn and broken programs.
Ultra fast – Instant startup, minimalistic, simple but efficient user interface.
Native X64 support – Single EXE runs flawlessly on both 32 and 64-bit Windows 7/8/10/XP/Vista. When running on x64 Windows GeekUninstaller is running as a native 64-bit application.
Portable – No need to install. Place single EXE file on your USB flash drive and use it everywhere.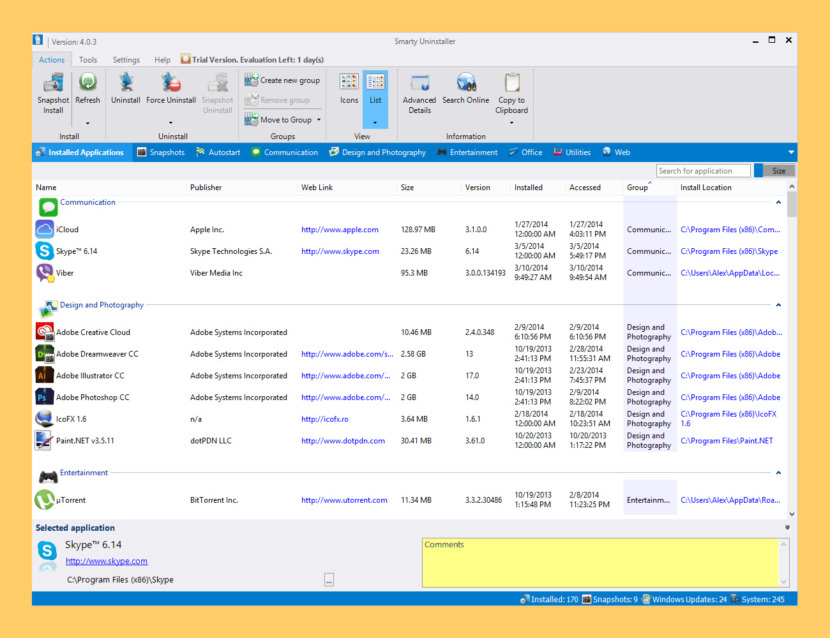 Smarty Uninstaller is a software that allows you to completely uninstall programs (64 and 32-bit) installed on your system. It monitors the built-in application uninstaller and uses an advanced scan engine that deletes any program leftovers. It allows you to launch the scan engine manually at any time to force uninstall a program with a broken uninstaller.
In addition to the smart scan engine, Smarty Uninstaller provides you with an easy to use but effective feature – Smarty Snapshot. It allows you to monitor the installation of new applications and detect every change made to your system during this process. These changes are saved to the snapshot, that can be accessed later at any time for review or complete uninstall.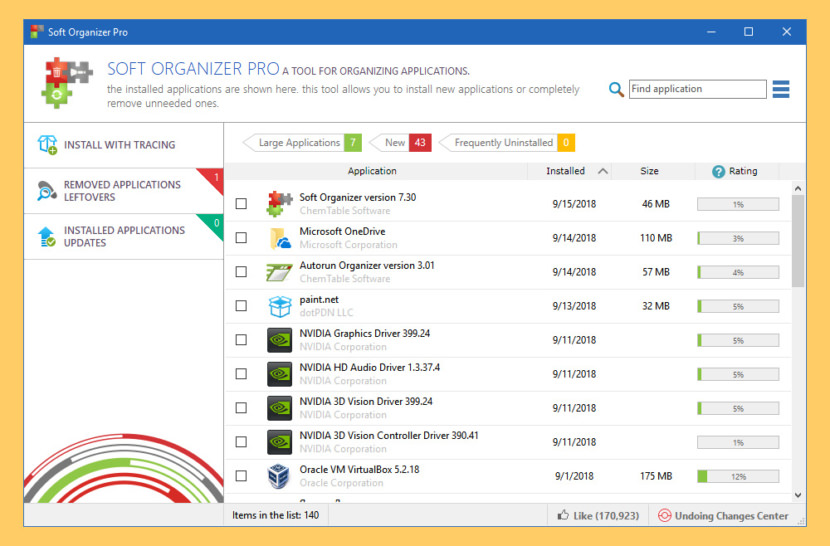 The simple, convenient, and non-overloaded interface doesn't distract a user from the installing and/or uninstalling process. The Soft Organizer utility looks like a simple list of installed programs, where a user merely needs to select a program and click "Uninstall". At the same time, the tool features the entire range of capabilities that even programs with much more complex interfaces have. (Most of those programs look like a space shuttle cockpit with many gauges, meters, and obscure instruments.)
Search for traces (residues) of the program being uninstalled – Allows you to remove traces of programs that were not tracked while installing (powered by the Full Uninstall technology).
Universal Windows Apps Removal – Allows you to remove universal Windows 8/10 apps that was installed from Windows Store.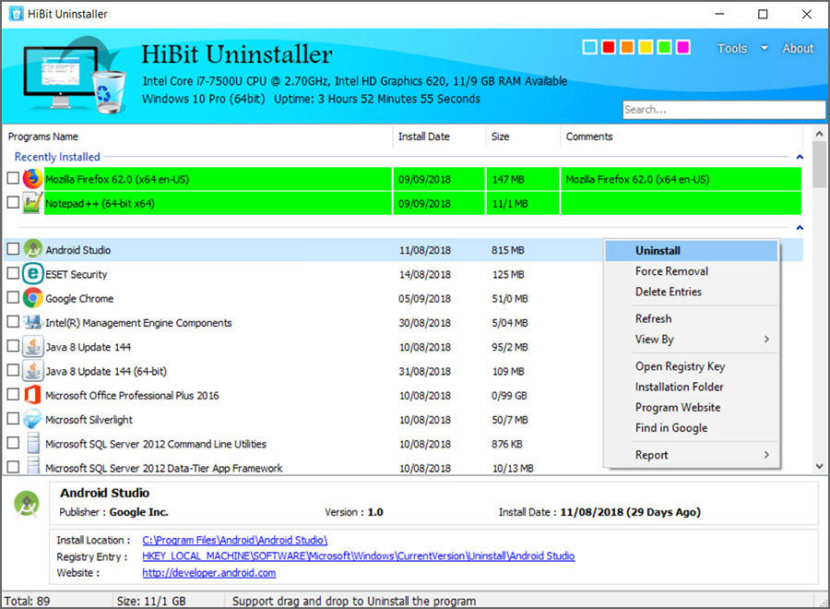 HiBit Uninstaller is the perfect solution for uninstalling Windows software, allowing you to uninstall programs quickly and completely using its simple and user-friendly interface. There are also many tools to clean up and manage your system.
Deep and fast scanning and removes all leftovers
Force Removal for stubborn and broken programs
Ability to batch uninstall programs.
Uninstall Windows Store apps on Windows 8/8.1/10
Added to context menu to quickly uninstall software
Safe Registry and Junk Files Cleaner
Processes,Startup,Services,Scheduler Task,Context Menu And System Restore Manager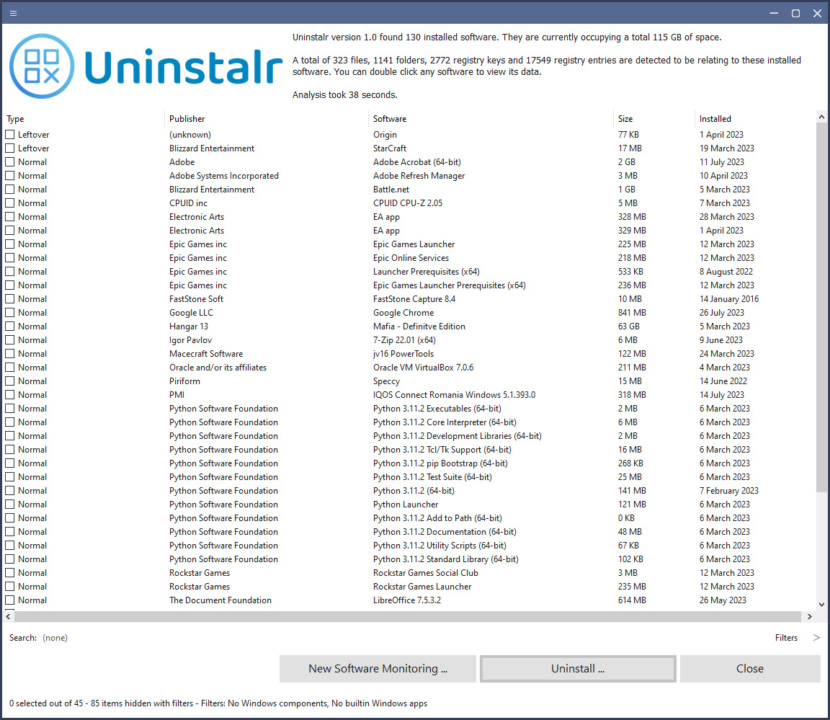 Uninstalr is an easy to use and very accurate software uninstaller for Windows. It can uninstall multiple apps at the same time and we think it's pretty cool. Uninstalr uses a custom uninstallation engine, that is how it is able to also detect leftovers of previously uninstalled apps.
To test the accuracy of different uninstallers, they conducted the following uninstaller benchmark test. Inside a VirtualBox virtual machine, we installed 28 popular Windows apps. Namely, these: 7-Zip, AIMP, AllDup, Apple Mobile Device Support, Apple Software Updates, Audacity, Blender, Bonjour, Core Temp, Evernote, FastStone Image Viewer, FileZilla, Foxit PDF Reader, Internet Download Manager, IrfanView, iTunes, KMPlayer, KeePass 2, Mailbird, Mozilla Firefox, Mozilla Maintenance Service, Netflix, Paint.net, Spotify, TikTok, Winamp, Winrar and Winzip.
After these software were installed, a snapshot was created of the virtual machine, so the exact same system could be used with each of the uninstallers. Then, one by one and restoring the virtual machine state from the snapshot before each test, they installed and ran each of the uninstallers and used WinFindr to search how many files, folders, registry keys and registry entries remained in the system matching the names of the uninstalled apps.