How to invest Bitcoin? BitCoin Exchanges are not the only way you can acquire bitcoins. Just like the stock market, this website pairs up potential buyers and sellers, when a buy or sell price is agreed upon, the transaction is then performed where the exchange of money for BitCoin codes. Here are 7 sites to exchange and invest Bitcoin fast, securely and legally. For those new to BitCoin, you have to understand that it is too costly to mine for BitCoin using your computer, not to mention it will take years to mine a coin with your simple computer.
See More ▼ 16 Exchanges To Buy And Sell BitCoins / Ethereum Without Credit Card
Instead of mining, the best way is to buy Bitcoin, Ethereum, Litecoin & other Cryptocurrency as an investment. It's not hard to buy bitcoins, but whether they are an investment or a gamble is another matter. How to buy, sell Bitcoin and start making tons of money? Here are 7 of the biggest BitCoin trading platforms in the market, like all investments, there is risk and BitCoin could possibly be the biggest bubble or pyramid scheme ever in human history.
How can I withdraw bitcoins? The usual procedure would be to deposit the BitCoins into an exchange, sell them and withdraw the cash to your bank account, Paypal account, Cheque or many methods offered by the exchange.
Japan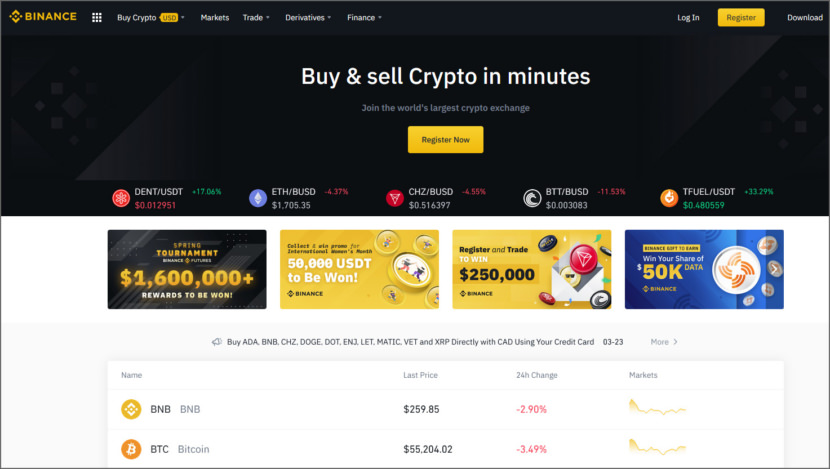 Binance stands for "Binary" and "Finance", this is because they combine digital technology and Finance. Binance is a pure cryptocurrency exchange, meaning they do not deal with fiat currencies.. BNB powers the Binance Ecosystem. As the native coin of Binance Chain, BNB has multiple use cases: fueling transactions on the Chain, paying for transaction fees on Binance Exchange, making in-store payments, and many more.
Limassol, Cyprus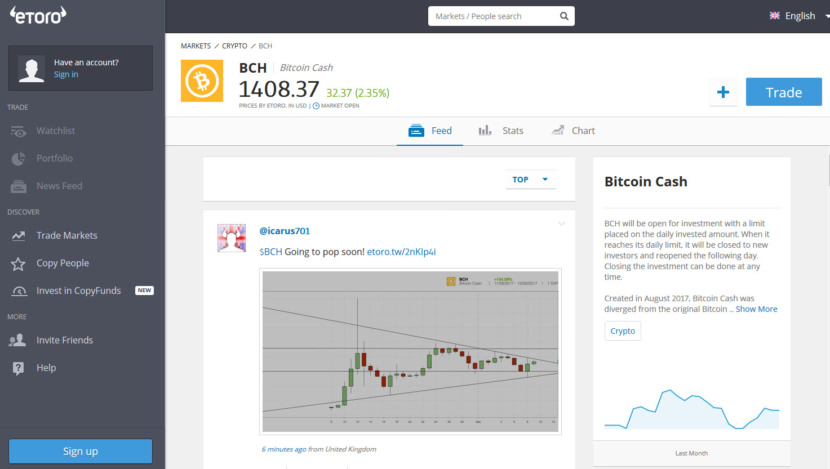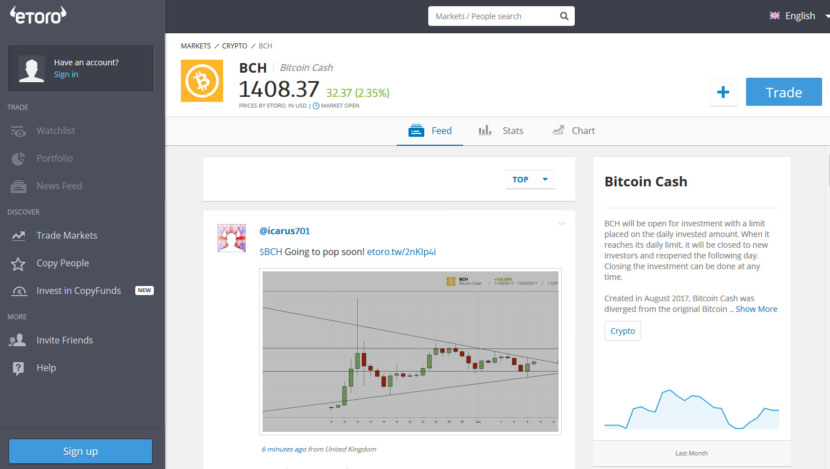 eToro is a social trading and multi asset brokerage company that has registered offices in Cyprus, Israel and the United Kingdom. Discover the cryptocurrency market by trading and investing in Bitcoin. Buy, sell and check $BTC value in real time using live charts on eToro.
Califonia, USA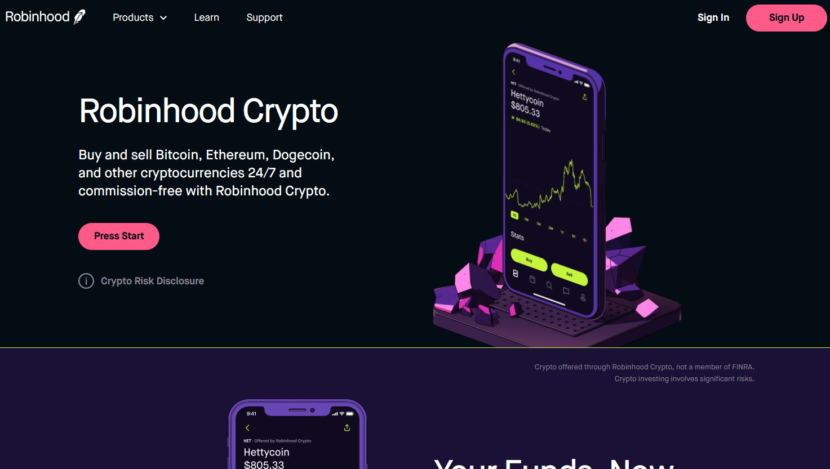 Robinhood is a new way to invest in the stock market. Zero-dollar ($0) commissions are available for Robinhood Financial self-directed individual cash or margin brokerage accounts that trade U.S. listed securities via mobile devices. Buy and sell Bitcoin, Ethereum, Dogecoin, and other cryptocurrencies 24/7 and commission-free with Robinhood Crypto.
When you make a deposit (or sell investments in your Robinhood Financial brokerage account), those funds are immediately available for purchasing cryptocurrencies in your Robinhood Crypto account. More coins. Less FOMO.
San Francisco, California, United States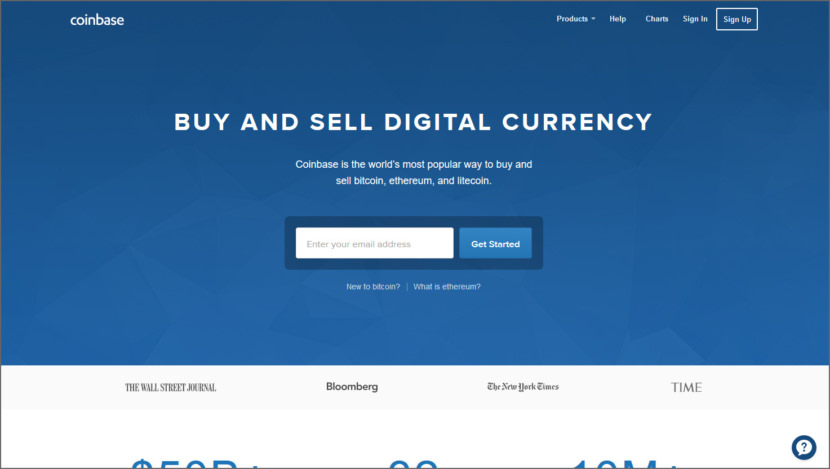 Coinbase is a digital asset broker headquartered in San Francisco, California. They broker exchanges of Bitcoin, Ethereum, Litecoin and other digital assets with fiat currencies in 32 countries. Founded in June of 2012, Coinbase is a digital currency wallet and platform where merchants and consumers can transact with new digital currencies like bitcoin, ethereum, and litecoin. We're based in San Francisco, California.
Bitcoin is the world's most widely used alternative currency with a total market cap of over $100 billion. The bitcoin network is made up of thousands of computers run by individuals all over the world.
Mobile Mobile Apps – Their popular wallet works on your Android or iPhone in addition to your web browser.
Coinbase security – Secure Storage, They store the vast majority of the digital assets in secure offline storage.
Coinbase insurance – Insurance Protection Digital currency stored on their servers is covered by their insurance policy.
Recurring buys – Invest in digital currency slowly over time by scheduling buys weekly or monthly.
San Francisco, California, United States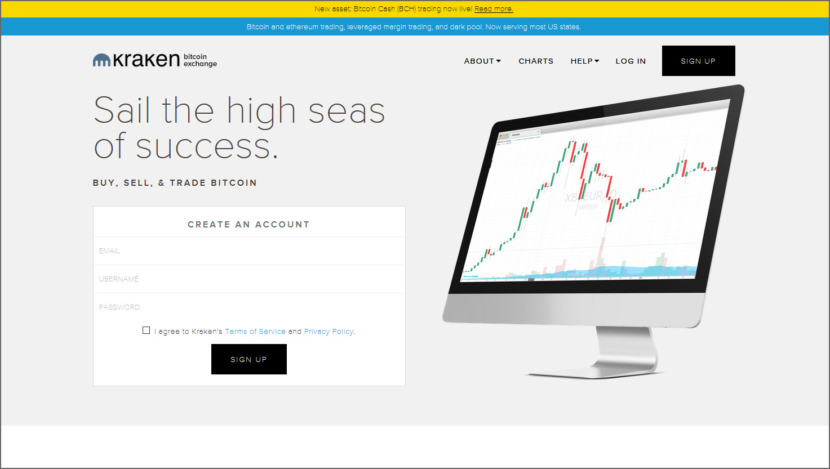 Kraken is a US based prominent bitcoin exchange operating in Canada, the EU, Japan, and the US, and "the world's largest bitcoin exchange in euro volume and liquidity". Founded in 2011, San Francisco-based Kraken is the largest Bitcoin exchange in euro volume and liquidity and also trading Canadian dollars, US dollars, British pounds and Japanese yen.
Kraken is consistently rated the best and most secure Bitcoin exchange by independent news media. Kraken was the first Bitcoin exchange to have trading price and volume displayed on the Bloomberg Terminal, the first to pass a cryptographically verifiable proof-of-reserves audit, and is a partner in the first cryptocurrency bank.
Liquidity – Fast funding and low fees Bitcoin dark pool
Reliability – 24/7/365 support Legally compliant
Security – Ranked #1 security Encrypted cold storage
Bitcoin Margin Trading – Leveraged trading up to 5x Shorting allowed
Advanced Order Types – Stop-loss orders Automate your strategy
Proof of Reserves Audits – Cryptographically verified Pioneered the industry standard
Finland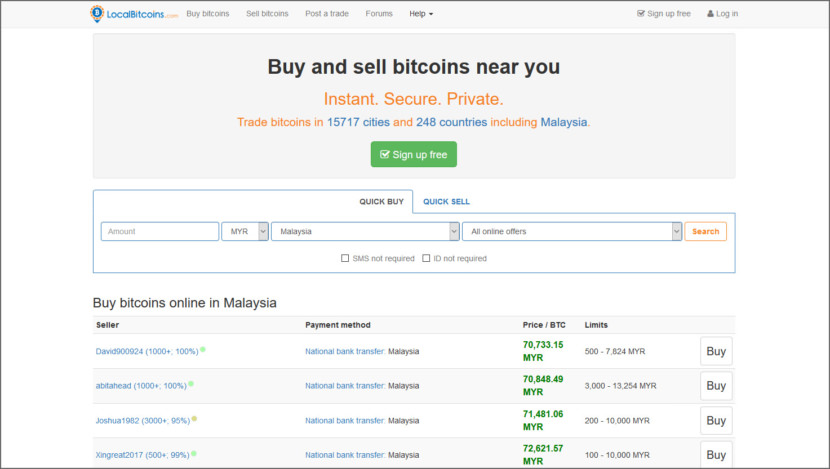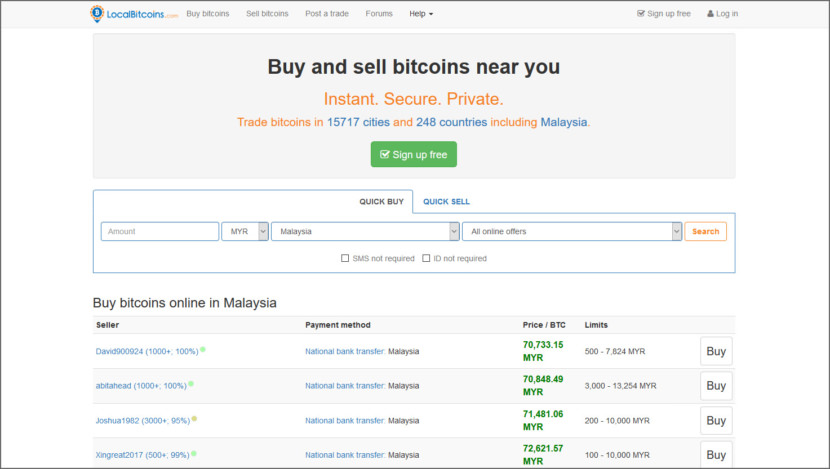 Fastest and easiest way to buy and sell bitcoins. LocalBitcoins is a bitcoin startup company based in Helsinki, Finland. Its service facilitates over-the-counter trading of local currency for bitcoins. On LocalBitcoins.com you are dealing with humans. Unlike centralized, stock-exchange-like, bitcoin trading sites, you make a trade directly with another person. This makes the process lean and fast, as there is no corporate overhead. You get your bitcoins instantly.
UK London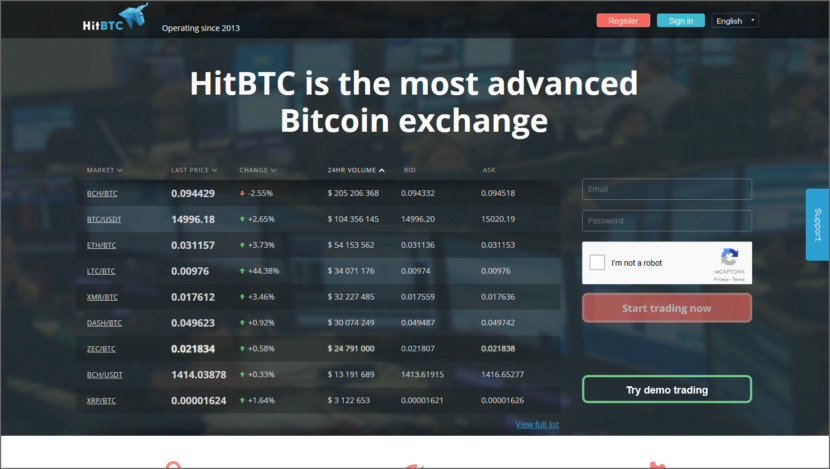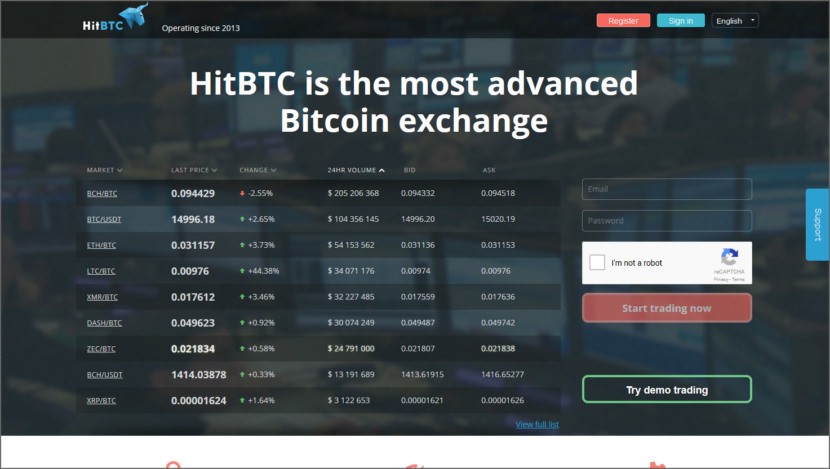 HitBTC is a Europe-based cryptocurrency exchange that launched in 2014. It is operated by Hit Techs Limited in London. HitBTC – global trading platform with multi-currency support, operating since 2013. The exchange has markets for trading digital assets, tokens and ICOs and provides a wide range of tools as well as stable uptime.
Safe and secure – 2-factor authentication, advanced encryption technology, cold storage – they give you peace of mind when it comes to security.
Fast, responsive and feature-packed – Their terminal is built on the best technology and lets you trade effortlessly any of the HitBTC currency pairs.
Robot-friendly API – Make the most out of your trading bot with their leading API and its low latency data and execution feeds.
China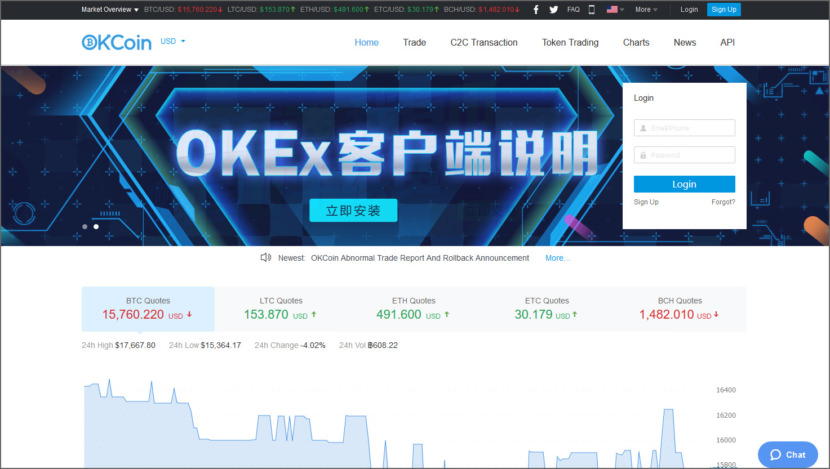 OKCoin International (www.okcoin.com) is one of the most popular digital asset trading platforms in the world. It mainly provides spot trading services between the US dollar, Euro, and Japanese Yen as fiat currencies, and Bitcoin, Litecoin, Ethereum and other digital assets to customers around the globe.
Buy & Sell – Fastest and most reliable BTC/USD spot exchange
Margin – Leverage trading, high returns, profits whatever the trend
Luxembourg | Slovenia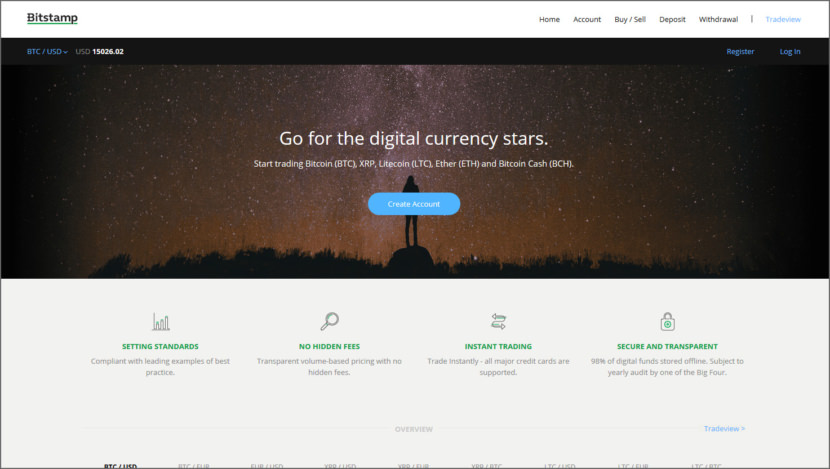 Bitstamp is a bitcoin exchange based in Luxembourg. It allows trading between USD currency and bitcoin cryptocurrency. It allows USD, EUR, bitcoin, litecoin, ethereum, or Ripple deposits and withdrawals. Start trading Bitcoin (BTC), XRP, Litecoin (LTC), Ether (ETH) and Bitcoin Cash (BCH). They believe bitcoin is here to stay. Their goal is to provide reliable, easy to use service for companies and individuals to exchange bitcoins.
SETTING STANDARDS – Compliant with leading examples of best practice.
NO HIDDEN FEES – Transparent volume-based pricing with no hidden fees.
INSTANT TRADING – Trade Instantly – all major credit cards are supported.
SECURE AND TRANSPARENT – 98% of digital funds stored offline. Subject to yearly audit by one of the Big Four.
Conclusion
Buying and selling BitCoin for profit is like investing in a stock market, the difference between the two are regulations. BitCoin has no regulatory body that governs it, meaning to say anyone can set up and exchange and charge whatever fee they deem fair. There are bad apples among these exchange, some are set up simply to steal your coins, whereas some can vanish into thin air with your coins just like the infamous Mt.Gox exchange.
Do note that when sending funds to an exchange or other counter party you are trusting that the BitCoin Exchange operator will not abscond with your bitcoins and that the operator maintains secure systems that protect against internal or external theft. It is recommended that you obtain the real-world identity of the operator and ensure that sufficient recourse is available. Exchanging or storing significant funds with exchanges is not recommended.
Note: Information is accurate at the time of writing, some exchanges are not listed below due to the fact that they decided not to disclose the fee or total assets.