Unless you own a BitCoin Mining hardware such as Antminer, you will probably not see a single coin mined with your 'powerful' desktop computer, this is because it takes a lot of processing power just to solve a simple equation. This is where Bitcoin Cloud Mining comes into play, instead of mining for a single coin, you rent a cloud server, this means you can participate in bitcoin mining without maintaining the hardware yourself.
🤣😍😂 10 Best BitCoin Alternatives – Profitable Cryptocurrencies Mining With Home Computers
Cloud Mining is a way to mine bitcoin cryptocurrency without the need of owning a miner or mining hardware. Simply said, you buy yourself some shares of mining power – like a mining pool – and profit together with the pool. This means that you only need a contract with someone who offers Cloud Mining Services and a bitcoin wallet.
Like everything in life, there are risks, these risks include the possibility of fraud and lower profit due to the opaque mining operations. There are various types of cloud mining, the two main types of hardware leasing or hashing power leasing. Hardware involves you renting their miner for a specific duration, hashing leasing involves renting a certain amount of processing power.
Warning – There is no guarantee Cloud Mining is profitable, do your own research, given a choice, I rather invest via BitCoin exchange over cloud mining.
↓ 01 – Genesis Mining | 1000 GH/s for USD180
Genesis Mining is a large cloud mining company and hashpower provider for Bitcoin and Altcoins. You can mine any cryptocurrency available in the catalogue! Switch your mining power on the fly for all the coins. You will get daily payouts of your investment to your designated wallet.
↓ 02 – HashFlare | 1000 GH/s for USD150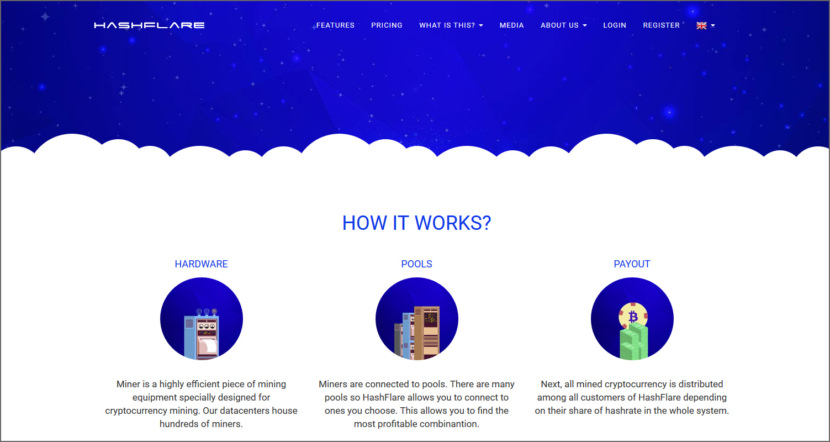 HashFlare.io offers cryptocurrency cloud mining services on modern, high-efficiency equipment. The mining starts immediately after confirmed payment. First payouts within 24 hours. Miner is a highly efficient piece of mining equipment specially designed for cryptocurrency mining. Their datacenters house hundreds of miners. Miners are connected to pools.
There are many pools so HashFlare allows you to connect to ones you choose. This allows you to find the most profitable combination. Next, all mined cryptocurrency is distributed among all customers of HashFlare depending on their share of hashrate in the whole system.
↓ 03 – BitCoin Pool | 2TH/s for USD900 | Hashing Leasing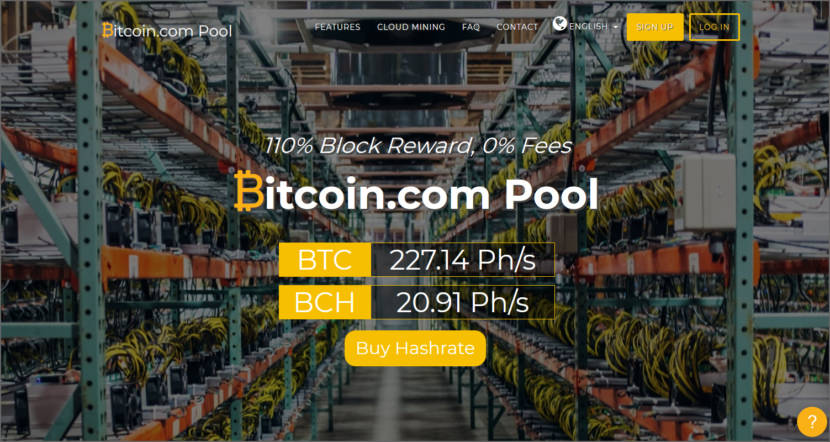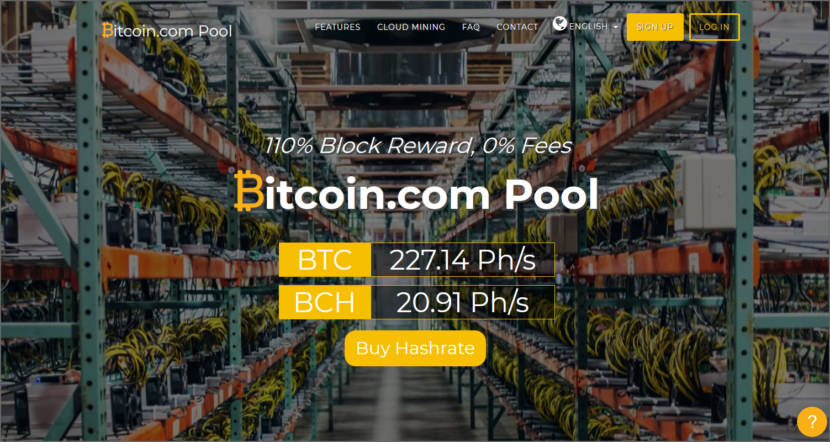 To start earning, simply buy a cloud mining contract from them. You don't need any special hardware to do cloud mining, they will do the mining for you. They pay a 110% block reward, and charge 0% fees for PPS and PPLNS.
↓ 04 – Hashing24 | Hashing Leasing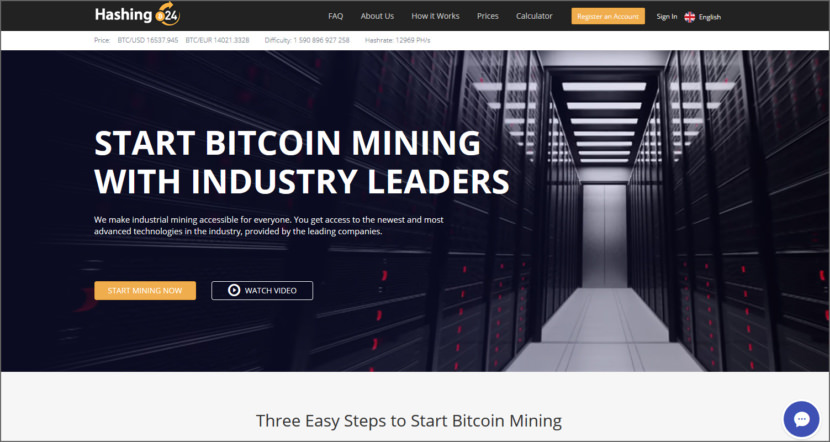 The Hashing24 Small Mining Contract has a power rating of 100 GH and a 36 month duration. The contract is provided by Hashing24, a cloud mining contract provider that has been involved in a mining business since 2012. Its initial mining power supplier is one of the industry's leaders – BitFury. Hashing24 provides turnkey renting solutions from the largest bitcoin mining data centers.
↓ 05 – MinerGate Cloud Mining | Hashing Leasing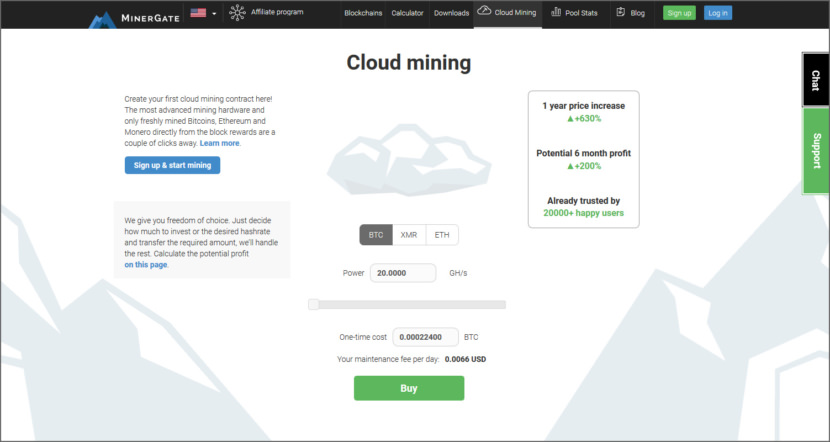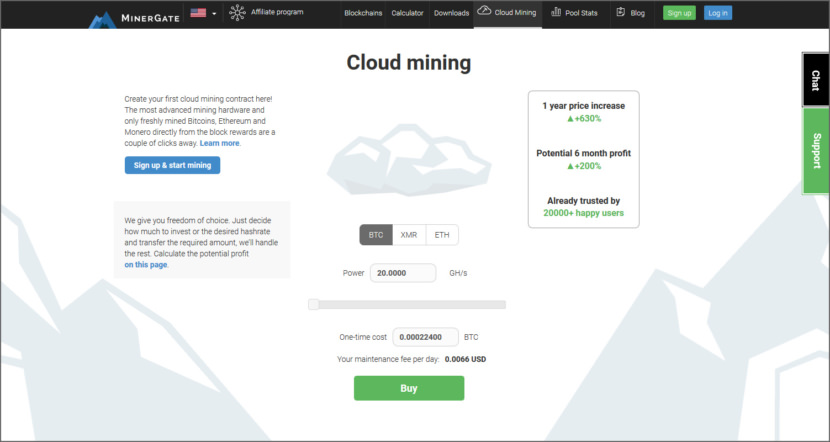 This MinerGate Mining Contract has a power rating of 200 GH and a lifetime duration. The Company has a solid reputation for integrity and charges a management fee for hosting and maintaining your GH in their optimally chosen global locations. The most advanced mining hardware and only freshly mined Bitcoins, Ethereum and Monero directly from the block rewards are a couple of clicks away.
↓ 06 – Eobot [ Discontinued ] | Hashing Leasing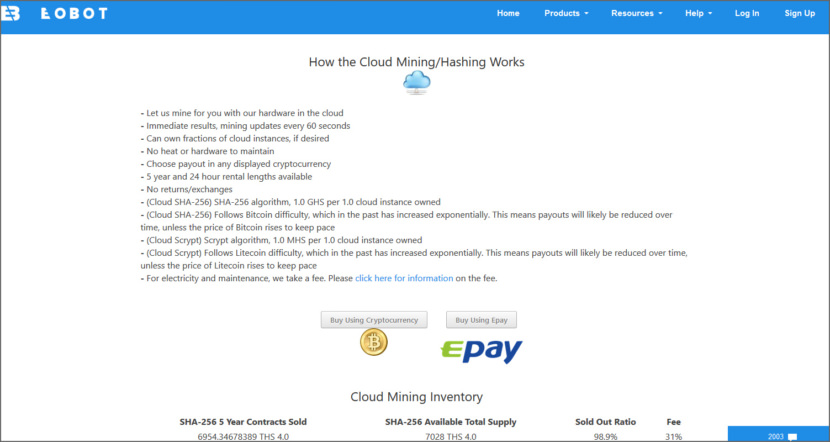 They are the easiest, cheapest, and best way to get or mine Bitcoin, Ethereum, Litecoin, Bitcoin Cash, Dogecoin, Ripple, Dash, Golem, BitShares, CureCoin, NEM, Monero, Zcash, Factom, Bytecoin, STEEM, Lisk, MaidSafeCoin, USD, Gridcoin, and Ethereum Classic. Whether or not you use Cloud Mining or your own hardware, you can mine any cryptocurrency, regardless if it is based on a SHA-256 or Scrypt algorithm.
↓ 07 – Hashnest [ Discontinued ] | Rent Hardware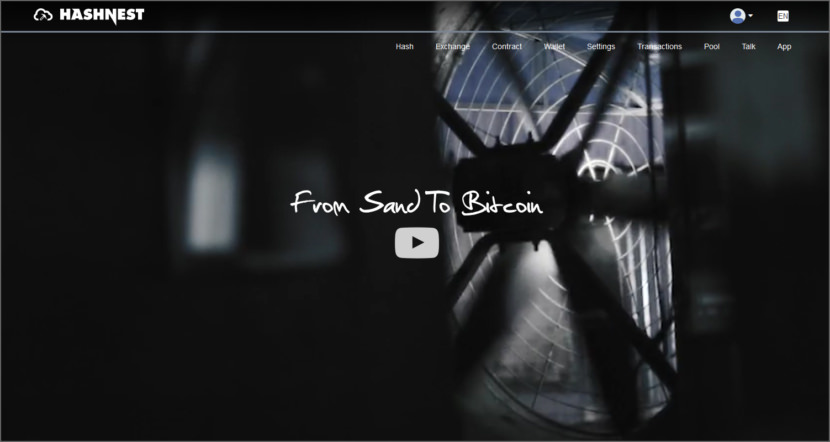 Hashnest is a cloud hashing platform. This means you can participate in bitcoin mining without maintaining the hardware yourself. Escape the noise, costly electricity bills, and warranty headaches
↓ 08 – NuVoo Mining [ Discontinued ] | Hardware & Hashing Leasing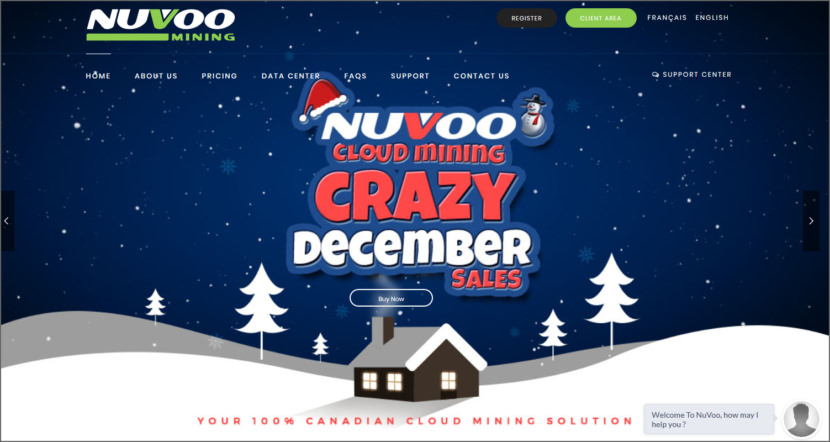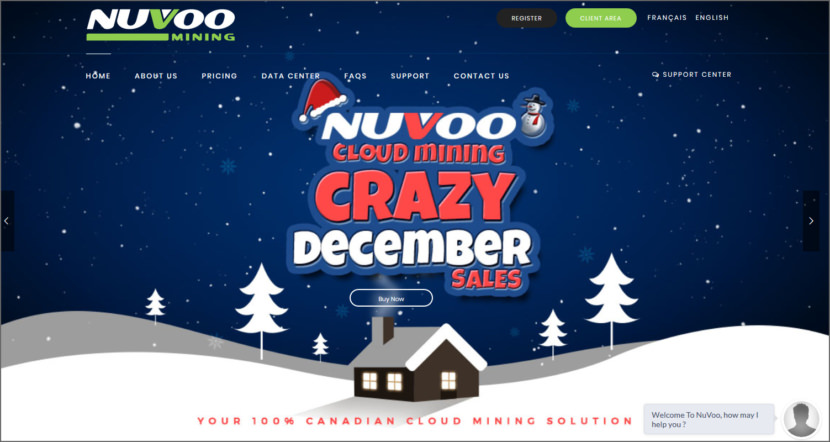 The NuVoo Starter Mining contract has a power rating of 527.08 GH/s and a lifetime duration. There are no additional fees, including maintenance and electricity fees. The specific duration of a contract of lifetime duration is variable and determined by three factors: the difficulty of the exploitation, Bitcoin exchange rates against USD and maintenance costs (which includes all the costs of electricity, cooling, development and maintenance). Once it is no longer profitable to mine, the contract will be terminated.
↓ 09 – CryptoMining Farm [ Discontinued ] | Hashing Leasing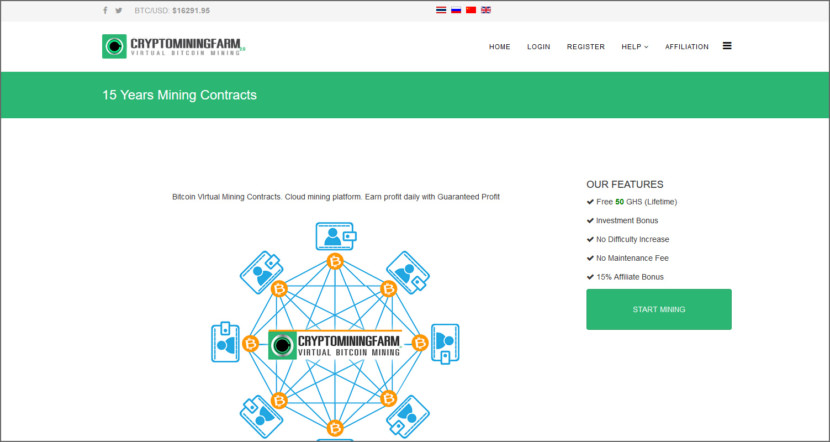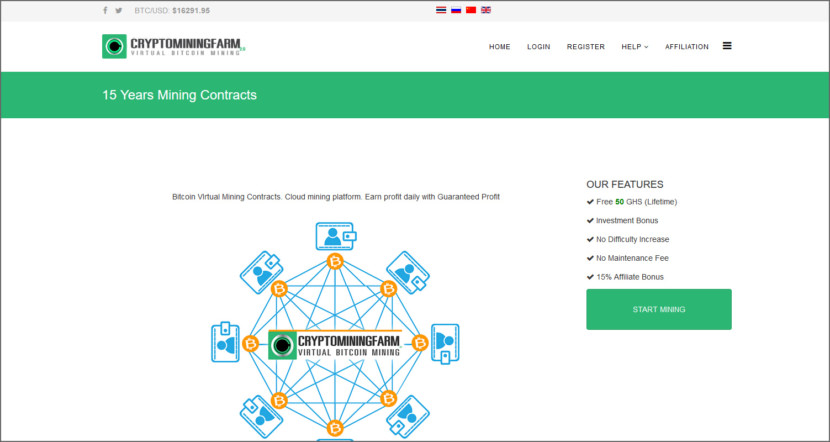 Cryptomining.farm is a new cloud mining company and investment opportunity that wants to give people a way to utilize high quality crypto-currency mining with guaranteed profits. GHS is Virtual Mining hashrate. They don't have any real bitcoin asic hardware.
↓ 10 – MiningFit [ Discontinued ] | Hashing Leasing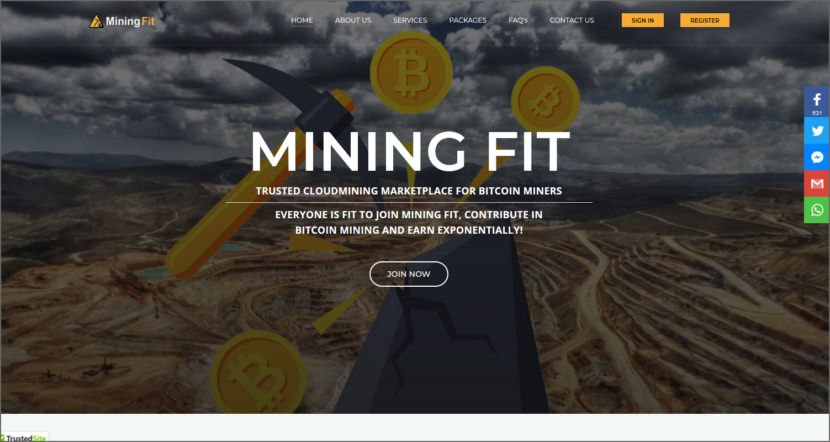 MiningFit.com is a reputed Norway-based company that offers Cryptocurrency related services, including Bitcoin Mining and Bitcoin Wallet. MiningFit.com is a Bitcoin cloud mining service allowing users to mine Cryptocurrencies without having to set up and host the mining hardware itself.
They offer a range of contracts from 5 TH/s to 500 TH/s having chosen several optimal locations to house their equipment – where there is cheap electricity and low temperatures to reduce the need for cooling.