Cloud Printing is a service that lets users print from any Cloud-Print-aware application (web, desktop, mobile) on any device in the network cloud to any printer. These services are ideal for those running a small business with mobile workforces.
🤣😍😂 3 Free Adobe PDF Printer Driver For Microsoft Windows 10 & Apple Mac
With extensive features from these cloud printing services, you will be off to a secure start on your cloud journey. They provide unparalleled productivity and savings, automating the delivery and management of office, remote and BYOD printing for every user from printing shop to co-working spaces.
↓ 01 – PrintNode | Free | Subscription Based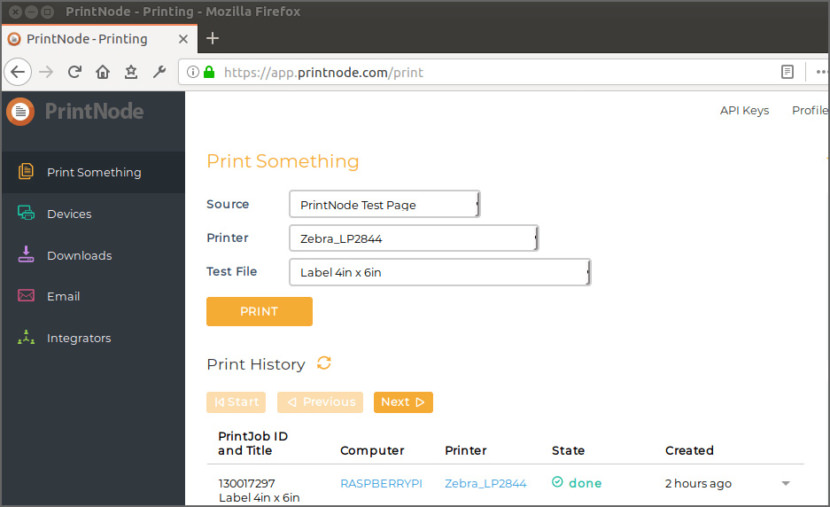 PrintNode helps you print to any printer from anywhere in the world. You can send documents to your printer directly from our web app where you can also manage your printers and computers. We also have a feature packed JSON API for integrating cloud printing into your web applications.
PrintNode can print to all types of printers. Print labels, barcodes, receipts or documents with ease with either PDF or RAW printing (ZPL/EPL etc). We support DYMO, Zebra, HP, OKI, Epson, Canon, Brother, Xerox, and countless other brands and types. PrintNode gets its list of printers from your operating system – if your printer is installed on your computer, it will work with PrintNode.
Blazingly Fast- Our system is designed from the ground up to be as fast and efficient as possible. No more waiting – your prints happen exactly when you want them to.
Secure and Private – We take your security and privacy seriously. We encrypt everything, we don't collect data we don't need and we never share your information with anyone.
Built for Enterprise – PrintNode is ready to handle large-scale users with enterprise features such as Integrator Accounts, Delegated Authentication, private cloud deployments and rock-solid redundancy and scalability.
↓ 02 – ezeep | Subscription Based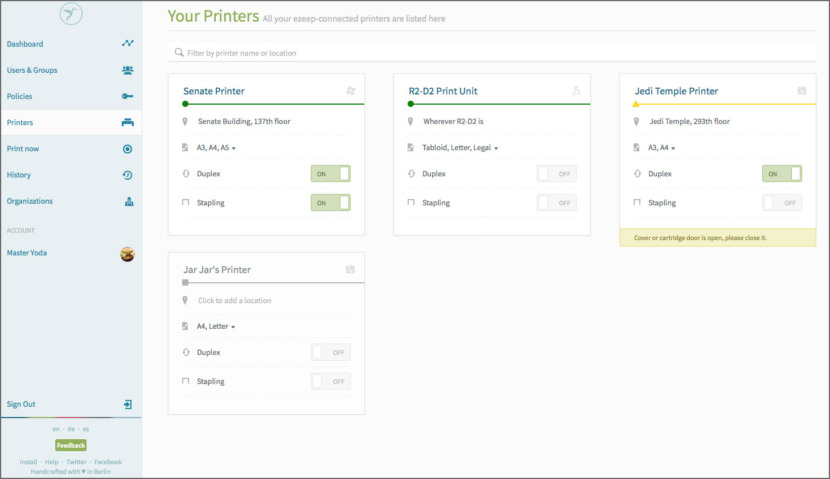 Enable users to print with any device, from any location, to any printer. With ezeep, the whole print process is taken to the cloud. This makes ezeep the perfect solution for BYOD & Guest Printing, Mobile Printing, Chromebook Printing, Remote Printing and Printing Payment for Print Shop. Perfect for: Coworking Spaces, Education, Public Printing, Companies of all sizes.
Keep Track of Printing – Print tracking and reports allow you to view in detail how much is being printed on which devices by users and groups. Knowing more about how people print allows you to make smart decisions about your printer fleet.
Automated & Secure Print Payment – ezeep's print payment features allow for simple, automated, and secure cashless payment for pay-for-page printing. ezeep handles all transactions fully PCI compliant and transfers all print credit to your organization's account.
Easily Define Print Rules – Print rules can be set up to control the use of printers for users, groups or your entire organization to drive down print volume and per page costs.
↓ 03 – QZ Tray | Free | USD400/year
Open source, free community support with commercial supported versions available. Print to popular hardware Using PCL, ESC/P, EPL, ZPL, FGL and more. Bi-directional serial communication communicates directly with serial devices, such as scales, industrial automation systems and more using simple API, easy coding.
Print barcodes, receipts and more from the web with Zebra, Epson, Citizen, Star, Boca, Dymo and more. Supports all popular connection types: COM, Parallel, Serial, USB, IP (and more).
Compatible with Windows, macOS, Linux clients and tested with Firefox, Chrome, Safari, Internet Explorer, Edge and Opera.
↓ 04 – Printix | Subscription Based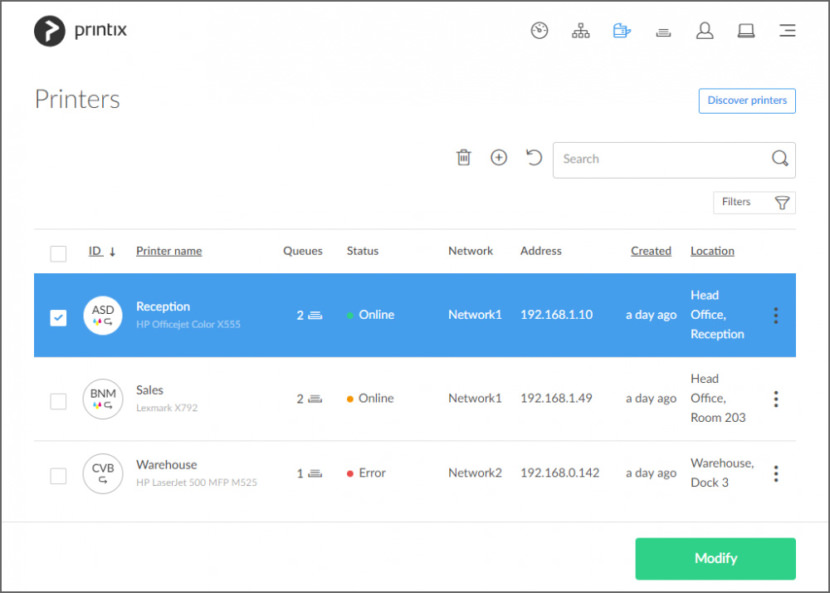 Eliminating print servers and moving the management of print infrastructure to the cloud is fast, easy and independent. Printix is a cloud-based service with intuitive design that brings people and printers together. It removes rocket science from handling your office printers.
What Dropbox did for file sharing, we are doing for printing. Making it available and easy. Better Print Management for the Modern Workplace. Printix allows IT administrators to manage services rather than servers and lets users print how and when they want.
Microsoft Integration – In concert with Microsoft Azure Active Directory and Intune. First SaaS print app approved on Microsoft AppSource.
Google Integration – Google G Suite and Chrome Printing solution. Productivity extension for Chrome printing available in the Chrome Web Store.
Printix fills an enterprise need to replace old on-premise print servers by securely transitioning print queues and functions to the cloud. As an enterprise level Google Cloud Premier partner, Cyberco is trusted by the SMB community to deliver best practices and Printix is part of our core offering.
↓ 05 – Google Cloud Print [ Discontinued ] | Free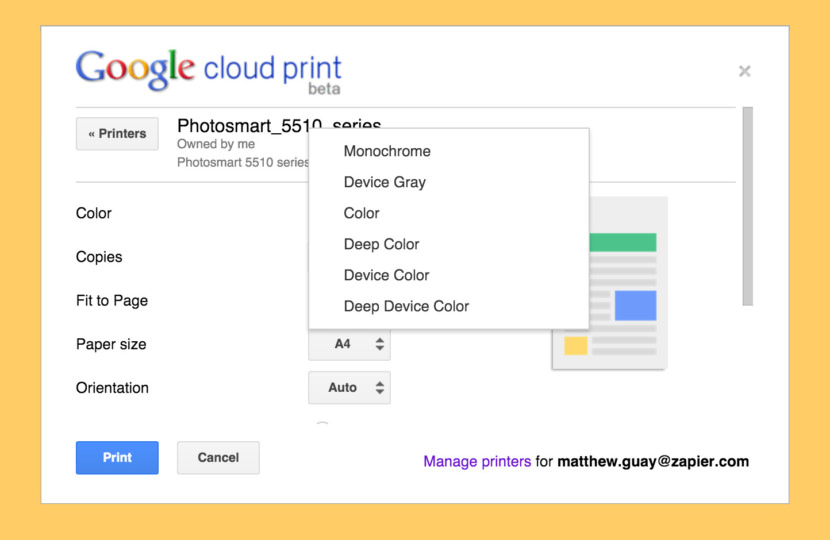 Google Cloud Print makes printing more intuitive, accessible and useful, by letting you print to your printers from Google Cloud Print-enabled apps on any computer or smart phone. Connect a printer to your Google Account within seconds, and start printing immediately. Any web-connected device can use Google Cloud Print.
Works with Google apps – If you use Gmail or Drive, you can print emails, documents, spreadsheets, and other files.
Print from Chrome – You can print any open tabs in Chrome using Google Cloud Print.
It's enterprise-ready – Use Google Cloud Print to complement or replace your organization's printing infrastructure.
It's safe and secure – Your documents are deleted from Google's servers once printing is complete.
↓ Compatible Printers
Argox OS-2140,BIXOLON SLP-DX420,BIXOLON SLP-T400,BIXOLON SRP-275,BIXOLON SRP-330,BIXOLON SRP-350II,BIXOLON SRP-350plus,BIXOLON SRP-F310,Brother DCP-1510,Brother DCP-7055,Brother DCP-7065DN,Brother DCP-8085DN,Brother DCP-8110DN,Brother DCP-9020CDW,Brother DCP-L2500D,Brother DCP-L2520DW,Brother DCP-L2540DW,Brother DCP-L8400CDN,Brother HL-1110,Brother HL-1200,Brother HL-1210W,Brother HL-2030,Brother HL-2130,Brother HL-2140,Brother HL-2230,Brother HL-2240,Brother HL-2240D,Brother HL-2250DN,Brother HL-2270DW,Brother HL-2280DW,Brother HL-3140CW,Brother HL-3142CW,Brother HL-3150CDW,Brother HL-3170CDW,Brother HL-3180CDW,Brother HL-4140CN,Brother HL-4150CDN,Brother HL-5340D,Brother HL-5350DN,Brother HL-5370DW,Brother HL-5380DN,Brother HL-5450DN,Brother HL-5470DW,Brother HL-6180DW,Brother HL-L2300D,Brother HL-L2315D,Brother HL-L2320D,Brother HL-L2340D,Brother HL-L2360D,Brother HL-L2380DW,Brother HL-L2390DW,Brother HL-L5100DN,Brother HL-L5200DW,Brother HL-L6200DW,Brother HL-L6400DW,Brother HL-L8350CDW,Brother MFC-7340,Brother MFC-7360N,Brother MFC-7460DN,Brother MFC-7820N,Brother MFC-7840W,Brother MFC-7860DW,Brother MFC-8480DN,Brother MFC-8710DW,Brother MFC-8910DW,Brother MFC-9130CW,Brother MFC-9320CW,Brother MFC-9330CDW,Brother MFC-9335CDW,Brother MFC-9340CDW,Brother MFC-9970CDW,Brother MFC-J470DW,Brother MFC-J475DW,Brother MFC-J480DW,Brother MFC-J5620DW,Brother MFC-J6920DW,Brother MFC-L2700DW,Brother MFC-L2707DW,Brother MFC-L2710DW,Brother MFC-L2720DW,Brother MFC-L2740DW,Brother MFC-L5800DW,Brother MFC-L5850DW,Brother MFC-L5900DW,Brother MFC-L8600CDW,Brother MFC-L8850CDW,Brother QL-1050,Brother QL-1060N,Brother QL-1060N LE,Brother QL-500,Brother QL-550,Brother QL-560,Brother QL-570,Brother QL-570 LE,Brother QL-700,Brother QL-710W,Brother QL-720NW,Brother QL-800,Brother QL-820NWB,Brother TD-4000,Canon iB4000,Canon iR1730/1740/1750,Canon LBP2900,Canon LBP6000/LBP6018,Canon LBP6030/6040/6018L,Canon LBP6670,Canon LBP7100C/7110C,Canon MB2100,Canon MB2700,Canon MF210,Canon MF220,Canon MF230,Canon MF240,Canon MF4700,Canon MF5900,Canon MF620C,Canon MF8200C,Canon MG2500,Canon MG2900,Canon MG3000,Canon MG3600,Canon MG5700,Canon MG7700,Canon MX450,Canon MX490,Canon MX870,Canon MX920,Canon SELPHY CP1200 WS,CITIZEN CLP-521,CITIZEN CLP-521Z,CITIZEN CL-S300,CITIZEN CL-S400DT,CITIZEN CL-S400DTZ,CITIZEN CL-S521,CITIZEN CL-S521Z,CITIZEN CT-S310,CITIZEN CT-S310II,Datamax-O'Neil E-4204B MarkIII,Datamax-O'Neil E-4204B Mark III,Datamax-O'Neil E-4205A Mark III,Datamax-O'Neil M-4206 Mark II,Dell 1130 Laser Printer,Dell 2350dn Laser Printer PS3,Dell 2350dn Laser Printer XL,Dell B1260dn Mono Laser Printer,Dell B2360d-dn Laser Printer XL,Dell B3460dn Laser Printer,Dell C1760nw Color Printer,Dell C3760dn Color Laser,Dell Color MFP H625cdw,Dell Laser Printer 5210n,Dell Printer E310dw,DYMO LabelWriter 400,DYMO LabelWriter 400 Turbo,DYMO LabelWriter 450,DYMO LabelWriter 450 DUO,DYMO LabelWriter 450 Turbo,DYMO LabelWriter 450 Twin Turbo,DYMO LabelWriter 4XL,EC PM-5890X,EC Printer EC-80320,ECOSYS M2035dn,ECOSYS P2135dn,EPSON ET-4550,EPSON FX-890,EPSON L220,EPSON LX-350,EPSON TM-C3500,EPSON TM-L90,EPSON TM-T20,EPSON TM-T20II,EPSON TM-T70,EPSON TM-T70II,EPSON TM-T81,EPSON TM-T82II,EPSON TM-T88III,EPSON TM-T88IV,EPSON TM-T88V,EPSON TM-U220,EPSON WF-2760,EPSON WF-3620,EPSON WF-3640,EPSON WF-4640,EPSON WF-4730,EPSON WF-4740,EPSON WF-5110,EPSON WF-7620,Godex DT4x,Godex EZ520,Godex G300,Godex G500,Godex RT200i,Gprinter GP-1324D,Gprinter GP-3120TU,Honeywell PC42t,HP Color LaserJet CP1510,HP Color LaserJet CP4020,HP Color LaserJet M553,HP Color LaserJet Pro M252,HP Color LaserJet Pro M252dw,HP Color LaserJet Pro M452,HP Color LaserJet Pro MFP M177,HP Color LaserJet Pro MFP M277,HP Color LaserJet Pro MFP M377,HP Color LaserJet Pro MFP M476,HP Color LaserJet Pro MFP M477,HP Deskjet 1510,HP DeskJet 2130,HP Deskjet 2510,HP Deskjet 2540,HP DeskJet 2600,HP DeskJet 3700,HP ENVY 4500,HP ENVY 7640,HP LaserJet 1010 HB,HP LaserJet 1018,HP LaserJet 1020,HP LaserJet 1300,HP LaserJet 1320,HP LaserJet 200 color,HP LaserJet 400,HP LaserJet 400 M401,HP LaserJet 400 M401dne,HP LaserJet 400 M401n,HP LaserJet 400 MFP M425,HP LaserJet 4200/4300,HP LaserJet 4250,HP LaserJet 4350,HP LaserJet 500 color M551,HP LaserJet 600 M601 M602 M603,HP LaserJet 600 M601 UPD,HP LaserJet M101-M106,HP LaserJet M203-M206,HP LaserJet M400,HP LaserJet M402dn,HP LaserJet M402dw,HP LaserJet M402n,HP LaserJet M506,HP LaserJet M604,HP LaserJet M605,HP LaserJet MFP M129-M134,HP LaserJet P1005,HP LaserJet P1006,HP LaserJet P1505,HP LaserJet P2015,HP LaserJet P2035,HP LaserJet P2035n,HP LaserJet P2050,HP LaserJet P2055dn UPD,HP LaserJet P2055x,HP LaserJet P3010,HP LaserJet P3011/P3015,HP LaserJet P4014/P4015,HP LaserJet P4014 UPD,HP LaserJet P4015 UPD,HP LaserJet P4515,HP LaserJet P4515 UPD,HP LaserJet Professional M1132 MFP,HP LaserJet Professional M1212nf MFP,HP LaserJet Professional M1217nfw MFP,HP LaserJet Professional P1102,HP LaserJet Professional P1102w,HP LaserJet Professional P1109w,HP LaserJet Professional P1606dn,HP LaserJet Pro M12w,HP LaserJet Pro M201-M202,HP LaserJet Pro M402-M403 n-dn,HP LaserJet Pro M402-M403 n-dne,HP LaserJet Pro M501,HP LaserJet Pro MFP M125-M126,HP LaserJet Pro MFP M125nw,HP LaserJet Pro MFP M127fn,HP LaserJet Pro MFP M127fw,HP LaserJet Pro MFP M127-M128,HP LaserJet Pro MFP M225-M226,HP LaserJet Pro MFP M25-M27,HP LaserJet Pro MFP M26nw,HP LJ300-400 color M351-M451,HP LJ300-400 color MFP M375-M475,HP OfficeJet 250 Mobile,HP OfficeJet 3830,HP Officejet 4500 G510g-m,HP Officejet 4620,HP Officejet 4630,HP OfficeJet 4650,HP Officejet 5740,HP Officejet 6600,HP Officejet 6700,HP Officejet Pro 6830,HP OfficeJet Pro 6960,HP OfficeJet Pro 6970,HP OfficeJet Pro 7740,HP Officejet Pro 8100,HP Officejet Pro 8600,HP Officejet Pro 8610,HP Officejet Pro 8620,HP Officejet Pro 8630,HP OfficeJet Pro 8710,HP OfficeJet Pro 8720,HP Officejet Pro X476dw MFP,HP Officejet Pro X576dw MFP,HP PageWide Pro 477dw MFP,HP Photosmart 5520,HP Photosmart D110,HP Photosmart Prem C410,Konica Minolta,KONICA MINOLTA C360,KONICA MINOLTA C364,KONICA MINOLTA C652,KONICA MINOLTA C658,Kyocera ECOSYS M3540dn,Kyocera ECOSYS P2040dn,Kyocera ECOSYS P6021cdn KX,Kyocera FS-2020D KX,Kyocera FS-3920DN KX,Lexmark CX510,Lexmark E250dn,Lexmark E260dn,Lexmark MS310,Lexmark MS810,Lexmark MX310,Lexmark Pro200-S500,MITSUBISHI CP70D,MP-2500 TH,MP-4200 TH,OKI C822,OKIDATA ML320/1 TURBO,OKIDATA ML320 TURBO/D,OKI LE810,RICOH SP 211 DDST,RICOH SP C250SF,Rollo,RONGTA 58mm,Rongta RP4xx,RONGTA RP80,SAM4S GIANT-100,Samsung C1810,Samsung M2020,Samsung M2070,Samsung M262x 282x,Samsung M267x 287x,Samsung M283x,Samsung M288x,Samsung M332x 382x 402x,Samsung ML-1660,Samsung ML-2160,Samsung ML-2950,Samsung SCX-3400,Samsung SCX-4623,SATO CG408,SATO CG408DT,SATO CG412,SATO CG412DT,SATO CL4NX 203dpi,SATO D512,SATO WS408,SATO WS408DT,SATO WS412,Star BSC10,Star TSP100 Cutter (TSP143),Star TSP 100W,Star TSP143,Star TSP143IIILAN Cutter,Star TSP143IIIW Cutter,Star TSP143LAN Cutter,Star TSP650II Cutter (TSP654II),Star TSP700 (TSP743),TSC DA200,TSC TDP-225,TSC TDP-244,TSC TDP-247,TSC TTP-244 Pro,Xerox Phaser 3020,Xerox Phaser 3250,Xerox Phaser 3260,Xerox WorkCentre 6605DN,UPS Thermal 2844,ZDesigner 105SL,ZDesigner 105SLPlus,ZDesigner GC420d,ZDesigner GC420t,ZDesigner GK420d,ZDesigner GK420t,ZDesigner GK888t,ZDesigner GT800,ZDesigner GX420d,ZDesigner GX420t,ZDesigner GX430t,ZDesigner LP 2824,ZDesigner LP 2824 Plus,ZDesigner LP 2844,ZDesigner LP 2844-Z,ZDesigner QL 420/QL 420 Plus,ZDesigner QLn420,ZDesigner S4M,ZDesigner TLP 2824 Plus,ZDesigner TLP 2844,ZDesigner TLP 2844-Z,ZDesigner TLP 3844-Z,ZDesigner ZD410,ZDesigner ZD420,ZDesigner ZD500,ZDesigner ZD500R,ZDesigner ZM400,ZDesigner ZT220,ZDesigner ZT230,ZDesigner ZT410,Zebra 2348 Plus,Zebra 2844,Zebra-FDX ZM400,Zebra-FDX ZT400,Zebra GC420d,Zebra GK420d,Zebra GK420t,Zebra GK888t,Zebra GX420d,Zebra LP2824 Plus,Zebra LP2844,Zebra S4M,Zebra S4MDT,Zebra Technologies ZTC GC420d,Zebra Technologies ZTC GK420d,Zebra Technologies ZTC GK420t,Zebra Technologies ZTC GX420d,Zebra Technologies ZTC GX430t,Zebra Technologies ZTC LP 2824 Plus,Zebra Technologies ZTC ZD410,Zebra Technologies ZTC ZD420,Zebra Technologies ZTC ZP 450,Zebra Technologies ZTC ZP 500,Zebra Technologies ZTC ZP-550e,Zebra Technologies ZTC ZT230,Zebra UPS 2844,Zebra UPS ZT230,Zebra UPS ZT400,Zebra Z4M Plus,Zebra ZM400DT,Zebra ZP 450,Zebra ZP 450 CTP,Zebra ZP455,Zebra ZP 500,Zebra ZT230