Using a cloud print management software can offer several benefits to businesses and organizations. Cloud print management software allows you to manage all your printing activities from a centralized web-based platform. This makes it easier to monitor, control, and optimize print jobs across multiple printers and locations, improving efficiency and reducing administrative overhead.
🤣😍😂 5 Tools To Reduce 50% Printer Ink & Toner Usage – Save Money
By tracking print usage and implementing print quotas or rules, cloud print management software can help reduce wasteful printing practices, leading to cost savings in terms of paper, ink/toner, and maintenance. Cloud print management solutions often come with advanced security features, such as secure print release, user authentication, and data encryption, which help protect sensitive documents and prevent unauthorized access to confidential information.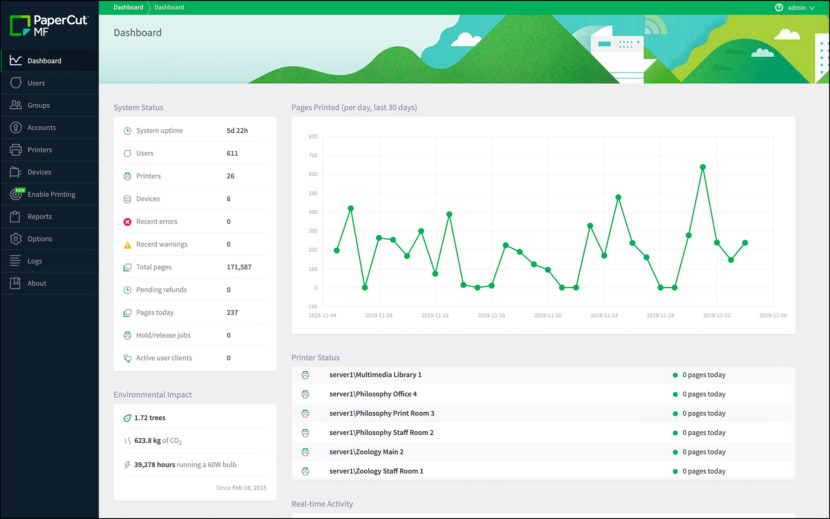 Print management software that's helping hundreds of millions of people around the globe to minimize waste while having a secure and easy printing experience. Printing is a boring part of IT because it should be, because it should "just work". PaperCut empowers you to make printing easy again for your end users, whether they're printing from a BYOD or mobile device, and makes your life easy by auto-deploying print drivers.
Waste reduction and cost control is not about using a stick, it's about subtly changing user behavior (a stick may help!). PaperCut is packed full of features such as encouraging duplex printing, implementing reasonable usage quotas, and full pay-for-print and print chargeback policies. Ideal for the following industries:
High School / K-12 – Protect student information, cut costs, reduce waste
Higher Education – Scale printing capabilities for your students and faculty
Healthcare – Safeguard patient information with compliance features
Local Government – Reduce budget spend while increasing compliance
Legal – Secure confidential client info and assign costs
Small to medium business – Grow your business while reducing costs
Large Enterprise – Protect your systems, information, and future growth
Coworking – Scale printing capabilities for your students and faculty
Life Sciences – Protect your intellectual property and reduce your costs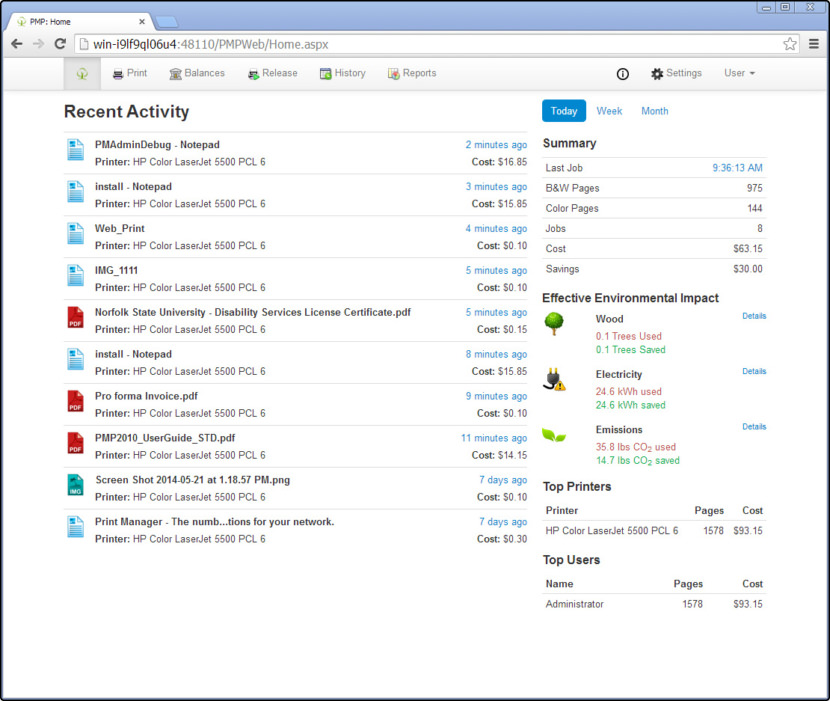 Print Manager Plus redefines print management by giving businesses unprecedented control, access and insight into their printing. Perfected over decades of use in organizations around the world, the cutting-edge software solution represents the very best in support and technology aimed at reducing costs, cutting waste and providing greater printing intelligence.
Additionally, Print Manager Plus offers free client and project billing, , mobile printing, rule setting and restriction management to control printing access, costs, and security. It provides a print release station in multiple languages to facilitate secure print job release and a payment portal to receive payment or manage balance deductions for each print job.
Live Auditing – IT departments can instantly access up-to-the-minute printing information defined by printer, network or cost.
Quota and Budget Tracking – For organizations with hard cost limits, quotas and budgets restrict user groups and organizational units.
Restrictions and Rule Setting – Organizations gain greater control over cost and security with restrictions and rules set on printers or users.
Web-based Reporting and Scheduling – A web-based interface enables the precise and easy planning and execution of budget needs and flow data.
Release Station with Payment Options – Printing jobs held for release by rules or restrictions are facilitated through a transparent and accessible web portal.
Mobile Printing via Cloud – Users can print from anywhere with a web-based interface that enables network access.
Client and Project Billing – A software-based system enables billing against clients, accounts and codes from workstations or the mobile web portal.
Environmental Impact Reporting – Energy and material waste from printing is tracked in real time, giving organizations greater insight into their green credentials.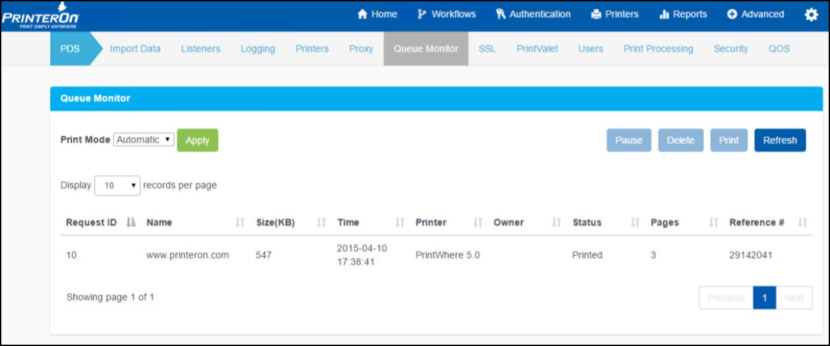 PrinterOn Enterprise is an enterprise cloud printing solution that is suitable for organizations of all sizes to manage their printing infrastructure in the cloud. The key features of the software include multi-device printing, email printing, pull printing and secure print release.
Additionally, PrinterOn Enterprise offers multiple authentication methods, single sign-on (SSO), remote off-network printing and end-to-end encryption to securely manage print jobs and release. It provides a scalable solution that can grow alongside businesses to continue meeting their needs at different levels. The solution also includes apps for iOS and Android allowing users to search for specific printers and send or release jobs directly from their mobile device.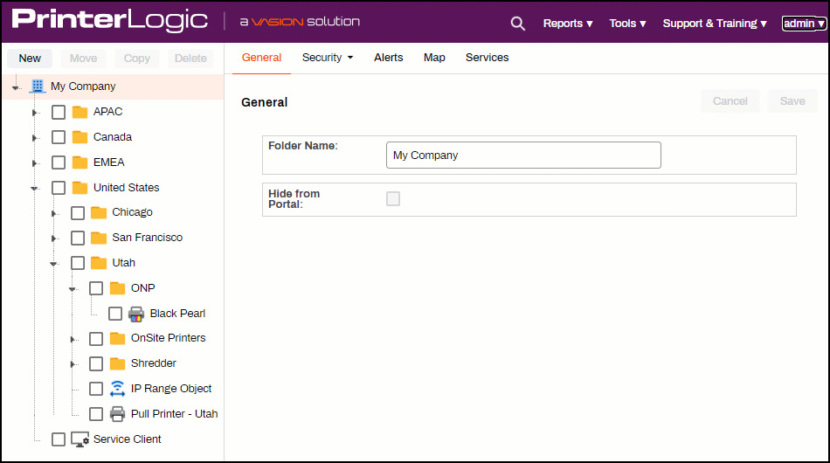 Ditch the costly legacy architecture and move to a direct IP print environment. Reduce your attack surface, keep your data secure, and lose the complex infrastructure that holds you back while gaining more control with centralized management.
Make the switch to serverless printing, centrally manage printer objects, drivers, profiles, and settings from our Admin Console. Get visibility into all users, devices, and more from one centralized screen. Now you can push new printers, updates, and changes to end users, without scripting or GPOs, on your team's schedule. Keep your environment secure with automatic updates. Key Benefits of Serverless Printing:
Centralized Management – Eliminate your print servers and manage all of your organization's printing from a single location via PrinterLogic's Admin Console.
Simple Implementation – Easily configure PrinterLogic SaaS and additional security features without reconstructing your current print environment.
Unlimited Scalability – Adapt to your organization's needs with a solution that easily scales with you, from a single site to multiple offices, across multiple locations.
Cost-Efficient – Make printing more deliberate and reduce costs by removing infrastructure and consolidating vendors and licenses.
Convenient for End Users – Allow all end users, regardless of role, to print where and when they need to with minimal effort and less helpdesk tickets.
Enhanced Security – Confidential data doesn't remain at rest in the cloud and stays encrypted until it's behind your firewall.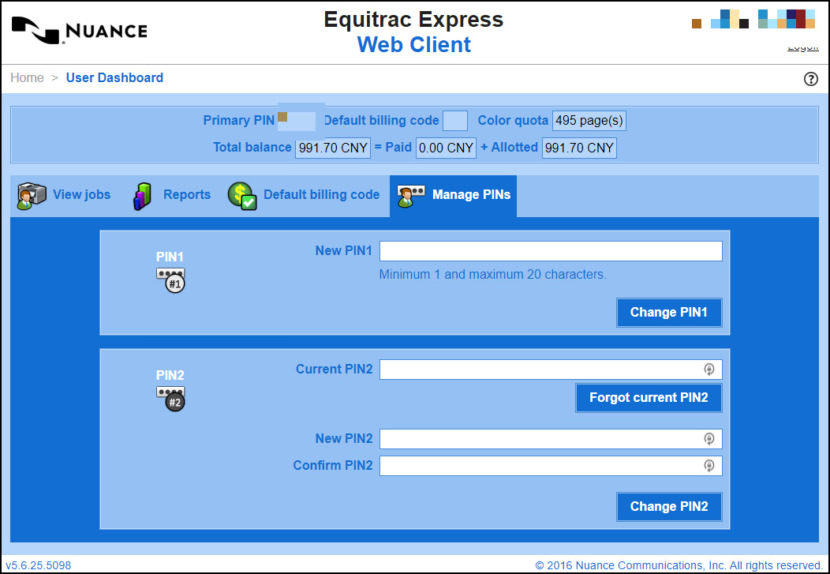 Equitrac Express is a print management and cost recovery software that is designed for educational institutions and their libraries, including K-12 schools, colleges and universities. The key features of the solution include cost allocation and reporting, definable print rules and print queue management. Key Features:
Software-based capture, cost allocation, and reporting of every document produced on every device across campus or throughout a district
Easy, automatic, enforcement of student print quotas
Follow-You Printing™ with Secure Document Release to eliminate wasteful unclaimed printing and protect confidential documents such as tests and student records
Support for all payment methods: Smart or magnetic stripe stored-value cards, campus card systems, local network print accounts, and cash
Terminal data collection and PayPal capability to track and recover print costs where no network connection is available
Definable print rules and least cost routing
Xerox device-embedded and terminal-based solutions available
Standards-based, vendor-neutral, unified and centralized system for print network management and complete cost recovery
I-Queue allows the selection of one print queue and universal driver for all jobs, to be securely released at an MFP, regardless of type at any location on the network
With web-based System Manager, administrators can quickly and easily keep user and department account lists and billing codes up to date via the internet
Mobile Web function lets users release documents from mobile devices
Capture and Send allows users to capture paper-based information and transform and route it to various destinations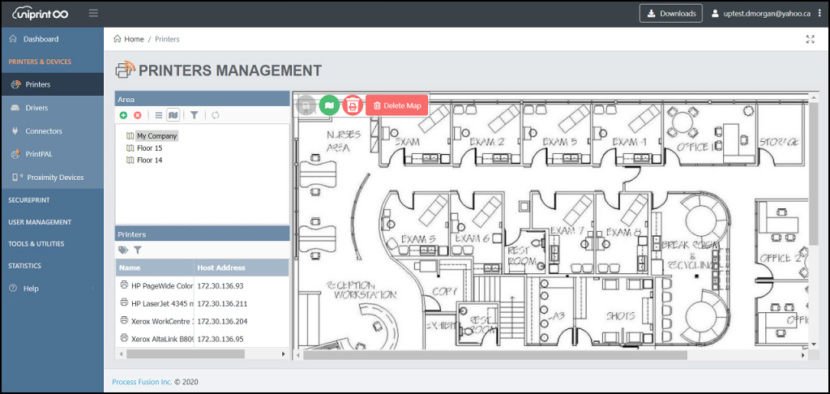 InfinityCloud is a software as a service (Saas) business printing solution that offers a secure cloud printing management platform which adds value through simplified business printing and print driver management. It removes the need for costly print servers, allows for centralized management of direct IP printing and improves overall printing experience.
InfinityCloud offers full print control supported with statistics. InfinityCloud is a business printing system that allows both remote printer and centralized print management to operate in the same time. When it's time to print, convenience takes center stage. Log in to the PF360 App right from your Ricoh, Xerox, HP, Dell, Epson, Canon, Brother, or Lexmark Device, and release your print job seamlessly. It's as easy as that!
Direct IP Printing (Serverless): The printer and its information are imported from the print servers. InfinitySend Agent is installed on the end user's desktop (Windows) and refreshes the printer drivers from the central repository. The print jobs are then sent directly to the printer.
SecurePrint: Uses 256-bit encrypted PDF to print to the SecurePrint Queue. The users authenticate to release jobs at a selected MFD using either our VPQ connector, a vPad device or using the PF360 Mobile app on iOS or Android.
Scanning: The PF360 Mobile app can scan to email, repository, SecurePrint Queue or fax without an MFD.
Mobile Printing: Print directly with a Chrome Extension, iOS print Share and/or Android Print service. Can print to the SecurePrint Queue or immediately to the MFD.
Client/Server printing: Users print from their server sessions to a local printer connected to their workstation.
File2Print: A 256-bit encrypted PDF is sent to the end users' workstation to be printed to their local printer.
Render Station: Allows Gateway printing between home office users and remote locations.
Email2Print (not shown): An email address is associated with a printer. Attachments can be emailed to be printed directly or sent to the SecurePrint Queue to be released later. This allows easy access for guest printing.
Statistics (not shown): Comprehensive statistics are available for all the above workflows to track printing, scanning, email and faxing.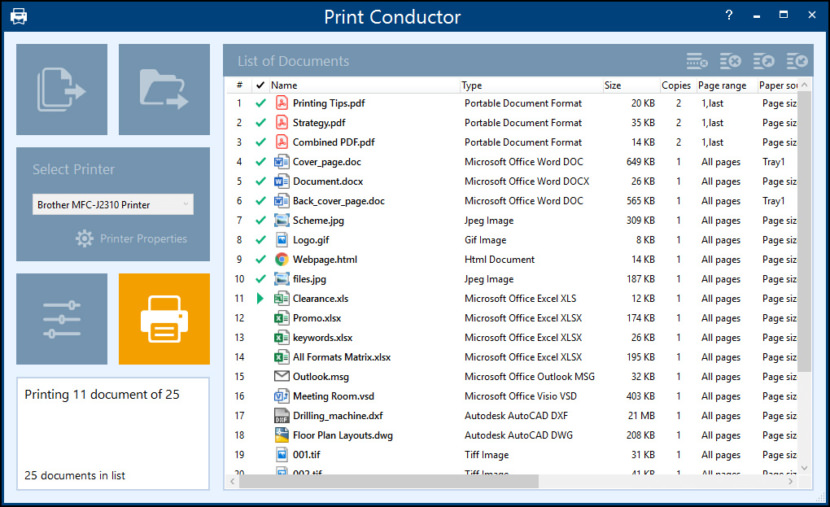 Print Conductor is a large volume print management software that is suitable for businesses of all sizes that need to print multiple documents at once without opening each file. The solution offers support for over 90 file types including PDFs, Microsoft Office documents, image files and text files, as well as a range of proprietary or software-specific formats.
Print Conductor selects the most effective way to process your files. Let's say you want to print several Word DOCX files "as is". In this case, Print Conductor will use Microsoft Word API because this is the fastest and the most straightforward way to process DOC and DOCX files. Batch Print 90+ Different Document Types
PDF documents: PDF, PDF/A, PDF/X – Print Conductor has a fast and reliable PDF printing engine. Batch print PDF files of any standard with or without attachments. You can also print PDF Portfolio files and searchable, image-only, and password-protected PDF files.
Word documents: DOC, DOCX – Print Microsoft Word documents in batches. You can print macro-enabled Word files, enable/disable revisions and comments, select Markup Mode, and update dynamic fields before printing Word files. You can also print TXT, RTF, WPD, and other text files in bulk.
Images: JPG, PNG, TIFF, BMP, PSD – Set up image DPI and paper size for image files. Batch print JPEG, PNG, TIFF, PSD, SVG, RAW images, CorelDraw CDR, CGM, and other image types. Images and photos can also be printed in different scale modes.
Technical drawings & CAD files – Batch print Autodesk AutoCAD DWG and DXF drawings, Visio VSD drawings, SLDDRW, IDW, IPN (Autodesk, SolidWorks, Visio files), KOMPAS-3D,and more. Print Conductor is compatible with eDrawings Viewer and Autodesk Inventor Viewer.
Zebra ZPL labels, barcodes & QR-codes – With Print Conductor, printing Zebra ZPL industrial barcodes, QR-codes, or labels in batch mode is easy. You can print any Zebra ZPL files created with ZPL programming code in bulk.
Excel & PowerPoint: XLS, XLSX, CSV, PPT, PPTX – Print Excel spreadsheets (XLS, XLSX) including macro-enabled files and Comma Separated Values (CSV), Microsoft Project MPP, XPS, and a wide range of other office documents with Print Conductor.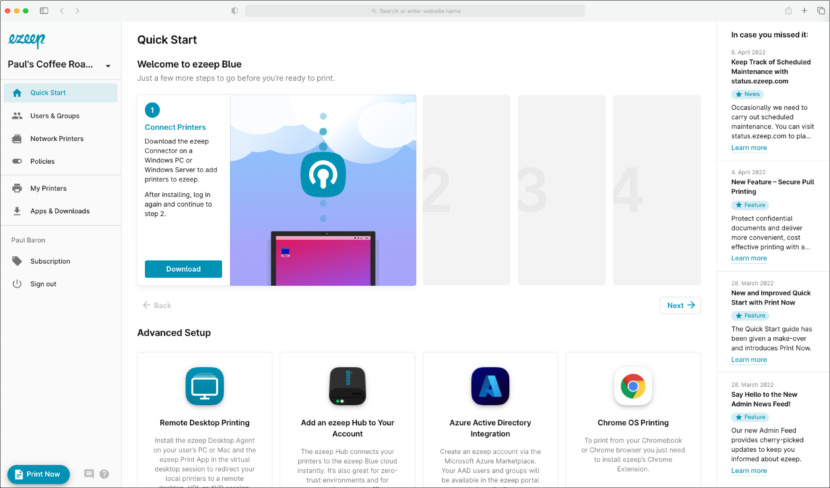 Save hundreds of dollars per user every year, ditch print servers and printer drivers while minimizing risk to networks and printers. For all devices, apps and desktops. ezeep is a cloud print management platform that is suitable for organizations of all sizes with shared printer facilities, such as shared workspaces, educational institutions and small-to-midsize companies.
The key features of the solution include centralized print management, multi-device printing and a cloud-based management portal. ezeep Blue delivers reliable printing to any printer without installing printer drivers. Just sign up and connect your printers with just a few clicks.
Network printers
Mobile printers
Home office printers
Public shared printers
Label printers
Point-of-sales printers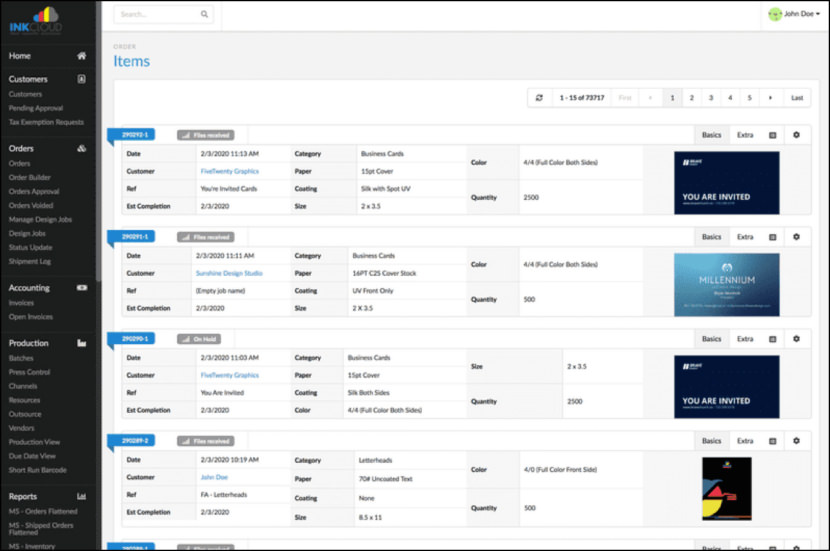 Print better, faster, and smarter through our all-in-one cloud based platform. Ink Cloud's the end-to-end print management software platform solves pain points for every kind of printer. It's flexible, easy to use, and scales to meet your needs. Print better, faster, and smarter through our all-in-one cloud based platform.
Ink Cloud software-as-a-service MIS platform is an end-to-end solution that powers print brokers, print retailers and large commercial printers. Inkcloud's platform reduces friction, increases efficiency while providing substantial cost savings unlike its outdated competitors.
Accounting Module – Invoicing with 'Tax Cloud' integration allows for exact sales tax rates. In addition, Ink Cloud can be synced with accounting software for Quickbooks & Xero. Tax exemption management is also available.
Production Module – Flow your job data and artwork through preflight checks, automated imposition, and business rules to assign a job to the appropriate press. Inject impositions directly into your digital press queue. And manage and route your production flow through business rules.
Microsites – Secure B2B dedicated site built to enable your company's team to procure your own marketing collateral fulfillment through their print partner. Lightweight extensions of your instance perfect for internal corporate portals, speciality sites, etc. Can be part of Ink Cloud's ERP platform or stand alone for print brokers
Shipping – Ship consoles including real-time rates integration with UPS, FedEX and USPS. Purchase and print carrier labels. In addition you can set up pick up locations with addresses and define pickup times and setup rules for combined shipping logic, blind shipping behavior and more.
Inventory & Warehousing – The Ink Cloud inventory-focused warehouse management system module is designed to ensure you always have accurate cycle counts but also can predict when you'll need to re-order. The easy to set-up inventory tracking features include period inventory snapshots, multiple warehouses as well automatic replenishment.
Aleyant PrintJobManager is MIS/ERP simplified. It uses a mobile, cloud-based approach to MIS that includes a fast means of generating market-driven pricing, job management, inventory tracking, real-time job tracking and estimating.
PrintJobManager uses in-depth pricing templates to estimate and price jobs. This process allows for consistent and quick pricing on the manufacturing process and frequent material/paper increases.
With the implementation of Pressero web-to-print, you can easily automate your print workflow. This will result in completing more jobs in less time while also reducing manual entries, errors and waste.
Aleyant PrintJobManager is MIS/ERP simplified. It uses a mobile, cloud-based approach to MIS that includes a fast means of generating market-driven pricing, job management, inventory tracking, real-time job tracking and estimating.