A music studio management software is a specialized tool designed to help music studios, recording studios, and music schools efficiently manage various aspects of their operations and administration. It serves as a centralized platform to streamline day-to-day tasks, enhance studio productivity, and improve the overall studio experience for artists, engineers, and staff members.
🤣😍😂 14 Free Professional Music Editors For Audio Mixing And Sound Processing
Music studio management software aims to streamline administrative tasks, improve studio organization, and enhance the overall studio experience for clients and artists. By automating various processes and providing valuable insights through analytics, the software allows studio owners and staff to focus more on the creative aspects of music production and less on administrative burdens.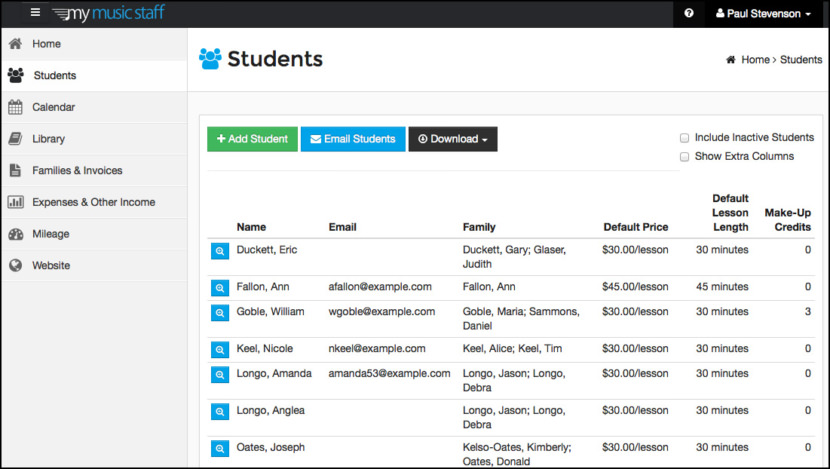 My Music Staff is the #1 studio management software for private music teachers & music studios. Student management, flexible scheduling, online payments, and more – all in one place! Discover why more music teachers are choosing My Music Staff. Free unlimited phone & email support.
Student Management – Keep track of your student information & communication all in one place
Learning Management – Share files, news, and more directly with your students
Calendar & Attendance – Organize your lessons, record attendance, and track student progress
Multi-Teacher – Add teachers & staff members, manage their access, and calculate payroll
Invoices & Payments – Automate your billing and get paid on time
Student Portal – Create a one-stop shop for parents & students to access outside of lessons
Business Features – Build a website, track expenses, and create detailed reports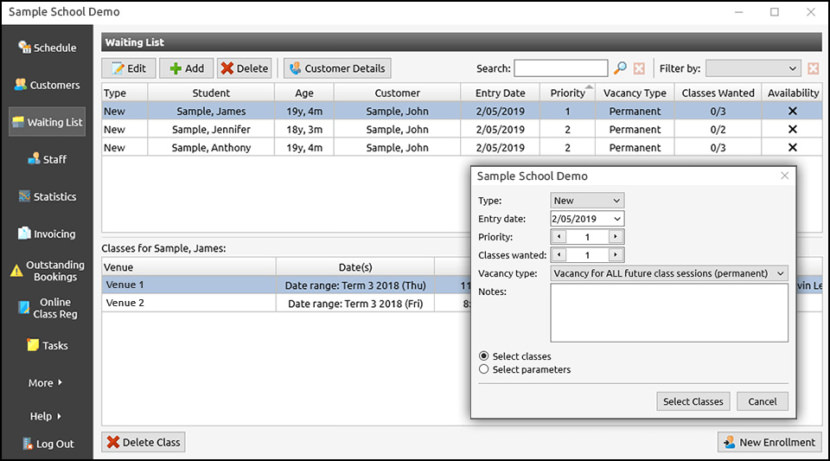 MusicBiz is now trusted by over 2,000 businesses across the globe. It allows music studios of all sizes to manage their administration in one easy to use software package. We aim to give teachers their time back and focus on what they do best.
Whatever areas you need help with, MusicBiz has a range of features that you can use. It will automate everything from your timetabling and online registrations through to generating your invoices and taking online payments. Once you try MusicBiz, you'll never want to return to time consuming spreadsheets and generic scheduling software again.
Classes – MusicBiz allows you to manage classes with ease. With a few simple clicks, you can set up a class and enrol students. You can schedule classes any way you like – weekly, daily, or a custom setup. Classes can be linked to terms or semesters and staff. One-off schedule changes can be made quickly and efficiently.
Event Planner – Their event planner allows you to set-up other events like concerts and special events. You can configure the individual event's sessions, include participants and set times and durations.
Customer and Student Management – MusicBiz will keep your customer and student details organised. Their intuitive interface enables you and your staff to add and edit customers and students. Both customers and students can be made inactive when they no longer attend classes, keeping their information on file as historical records. Customers can also be divided into categories for easy access.
Online Bookings – Their online bookings add-on allows your customers to book a studio in your schedule and pay for it immediately via a secure payment page. This can help ease the burden of over-the-counter administration.
Franchise CRM – ThinkSmart Software is a leader within many class based industries. Their products are now an essential part of many businesses. They have been designed to take the pressure off franchisees whilst giving more control to franchisors.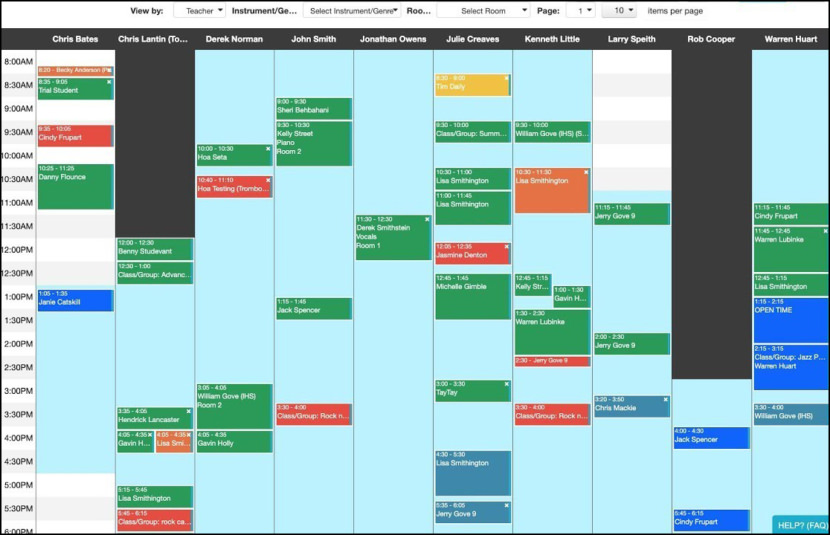 Teacher Zone is an all-in-one lesson and class management platform to engage your students, automate your admin, and take control of your business. TeacherZone is a cloud-based scheduling solution that helps small to midsize performing arts institutions manage lessons, attendance, fees and more. The primary features of the platform include learning management system (LMS), lesson scheduling, billing and payments processing and student communication.
TeacherZone facilitates multi-media learning via video courses, YouTube API, loop and slow videos, virtual lessons and practice assignments. The platform offers drag-and-drop scheduler to help teachers manage availability, attendance, progress tracking and reports. Additionally, it allows accepting payments and creating tuition plans through recurring payments, invoice creator and website widget.
Teacher Zone has provided a platform for me to offer more organized and structured practice assignments to my students. The chat feature has been amazing as a way to encourage students to interact with each other and build community outside of class.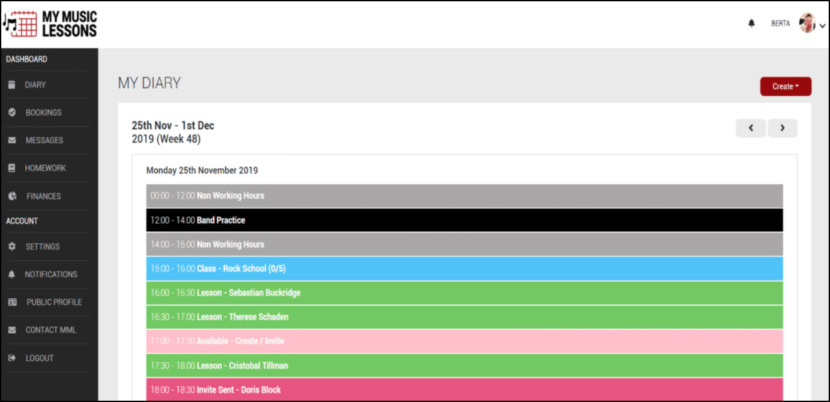 Scheduling Software designed specifically for private Music Teachers, Music Schools and their Students. An all-in-one teaching management solution that includes our unique Automated Booking and Payment Process, to save you time and money from your day-to-day admin.
My Music Lessons is a scheduling solution that helps music schools streamline operations related to lesson scheduling, payment processing, session cancellations, and more on a centralized platform. It allows students and teachers to establish two-way communication via the built-in instant messaging tool.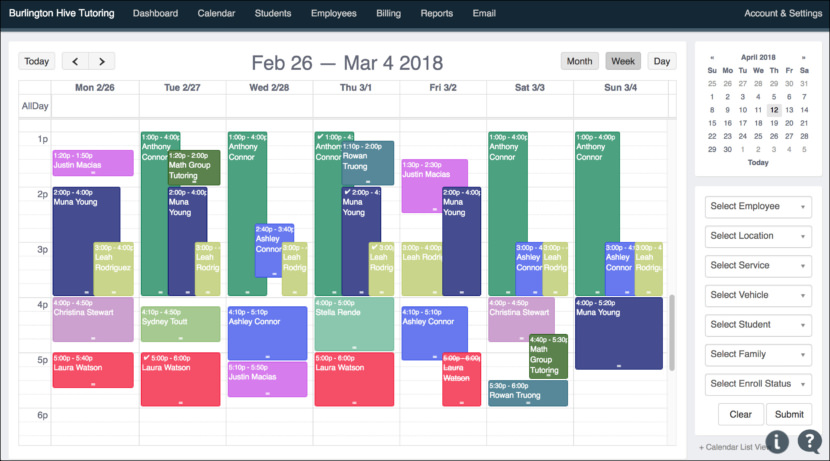 Teachworks provides easy tools to help you run your music studio more effectively. Simplify student and teacher management, scheduling, billing and more! Teachworks offers various features that can be integrated with your music school or studio website. Customize each feature visually in Teachworks and paste the code on your website to allow music students to sign up, book lessons and more.
The platform enables music teachers to notify clients about upcoming music lessons and email detailed notes or resources to students. It offers a host of features including communication management, email templates, user access, automated reminders, analytics, invoicing, performance tracking and more. Additionally, Teachworks allows businesses to define custom fields, create teacher profiles and automatically calculate employees' working hours and salaries.
Calendar & Scheduling
Communication
Billing & Payroll
Records & Analytics
Customize & White Label
Automation
Multiple Branches
Integrations & Add-Ons
Website Plugins Demo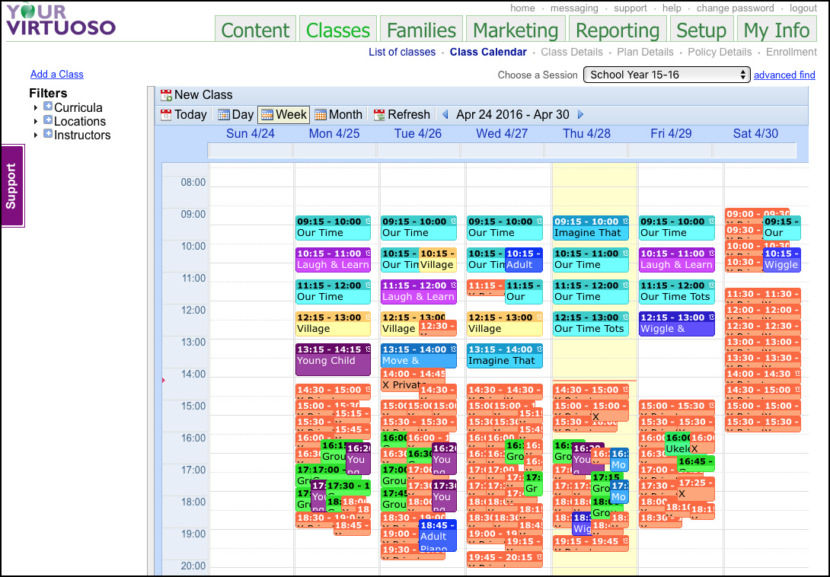 Free studio management & marketing, stay on top of your website, enrollments, payments, marketing emails and much more in one integrated online system for your music school or dance studio. YourVirtuoso takes all those "left brain" activities that don't come naturally to us "right brained" musicians, and makes them almost disappear!
Your customers do all the data entry for you online, and YourVirtuoso takes care of sending confirmations and payment reminders, tracking your revenues and receivables, printing class rosters, and nearly everything else that can take you away from the face to face time you love (and need) to have with your families and students. It even builds and hosts a website for you! Here are the highlights:
A Dynamic, mobile and SEO friendly Marketing Website, with content management, automatically updated class schedules, curriculum and studio information, pricing and more…
Online Registration and payment
Auto-Pay
Family/Student and Prospect management
Email (and even direct mail) Marketing Campaigns
Enrollment Tracking, class rosters etc.
Family Accounts Receivable management
Extensive reporting
Simple integration with Quickbooks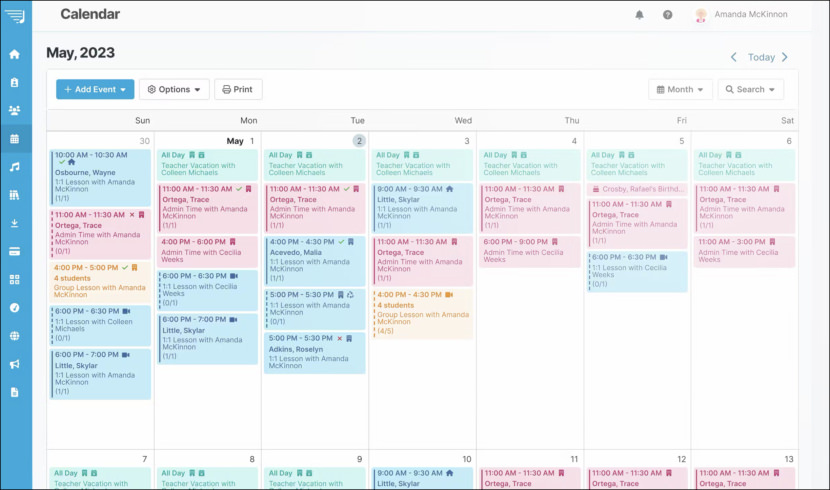 Jackrabbit Music is the industry's most responsive, reliable and robust class management software for music. Worldwide we've transformed more than 12,000 schools, helping owners take complete control of their business, so they can focus on what they love – teaching.
Powerful and flexible software to run your entire business. Our Music class management software delivers an unparalleled combination of speed, scalability and reliability. Manage all operations and customer interactions safely and securely from any device, anytime.
Let Jackrabbit Music's class management software liberate you with automation and efficiency. Plus, parents love the ease of online registration and more.