School administration software helps educational institutions by automating regular administrative tasks. Also known as "student information systems," these offer a range of functionality for everything from applications to student performance monitoring.
🤣😍😂 57 Famous Quotes On Education, Teaching, Schooling And Knowledge
Today, software is essential for completing daily administrative tasks in schools. Educational institutions are also leveraging technology to help them better assess student progress, rather than relying solely on teachers' judgments. This helps take education to the next level.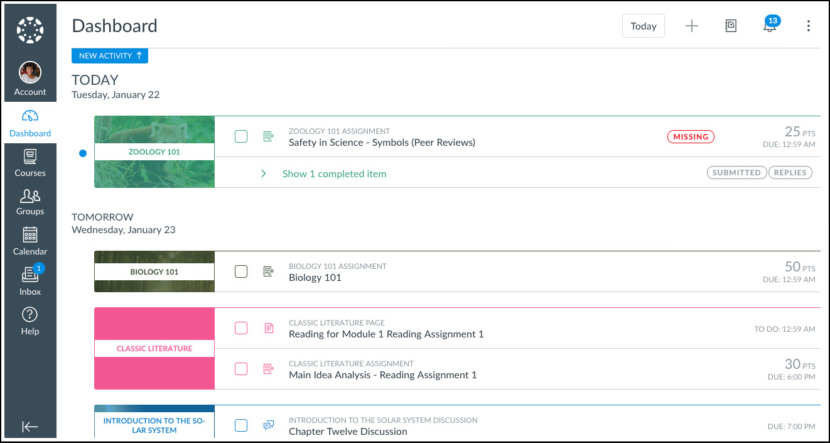 Canvas LMS is the open, extensible learning management system that amplifies everyone's awesomeness. Deliver dynamic, engaging learning experiences. For every student. Everywhere. Every day. Canvas LMS is a robust digital foundation for all aspects of higher-ed learning.
As the hub of your digital learning environment, Canvas offers complete LMS functionality, including standards-based grade books, course content authoring, customizable student assessments, mobile communication, video learning, and digital badging, (just to name a few).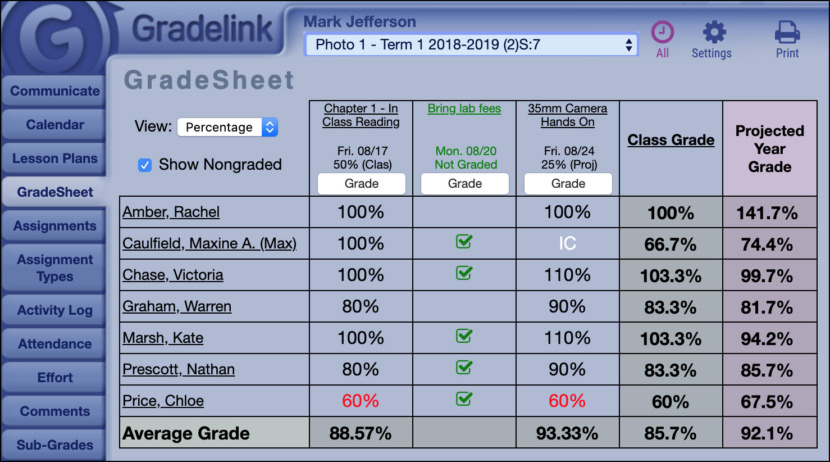 Software doesn't do you much good if it's frustrating to navigate or difficult to use. Your student information system should help you work more efficiently — not waste your valuable time. At Gradelink we focus on designing tools that are easy to find and intuitive to use. As we gather input from our schools, we learn what works best for them in order to provide what they need. That way they can spend less time clicking and more time educating.
Gradelink is an internet-based school management solution that connects teachers, students, and parents through a single, easy-to-use platform. Schools worldwide use it to save time managing student enrollment, reporting attendance, tracking grades, and generating report cards.
Administrative Reports – Address Labels, Birthday List, Classes by Attendance, Classes by Average Grade, Family Directory, IEP Tracking, Lunch Reporting, Security Activity Log, Staff Roster, Standards Met by Teacher Report, and Volunteer Service Hour Tracking.
Attendance – Advance Holiday Scheduling, Attendance per Class Report, Attendance Register, Class Attendance & Conduct, Custom Attendance Report, Daily Attendance, Detailed Attendance Report, Extended Care, Preschool Sign-In, Student Roster/Data Export, and Total School Attendance.
Classes & Scheduling – Block Scheduling, Class Calendars, Concurrent Mixed Terms (quarters/trimesters/etc.), Create & Manage Classes, Custom Class Types, Custom Grade Scales, Manage Grade Scales, Simple & Advanced Teacher Schedules, Standards Per Class, and Student Scheduling.
Communication – Email Blast (SmartSend), Group Builder (SmartSend), Prospective Student Form, School Calendar, School News/Announcements, and Teacher Web Pages.
Discipline & Behavior – Discipline Email Alerts, Discipline Records, and Enter/Track Discipline.
IT/General – 100% Web-Based, Data Backed Up Daily, Graphics/School Logo Integration, iOS & Android Mobile Support, Login History, Secure SSL Login, Works in Chinese and Spanish, and Works with Mac & Windows.
Medical Records – Allergies, Immunizations, Insurance Information, Medical History, Medications, and Reports.
Report Cards – Comprehensive Reports, Conduct Reports, Customizable Report Cards, Deficiency Reports, Progress Reports, and Standards-Based Report Card.
Staff Accounts – Credentials, Employment Status, Full-featured Contact Information, Pay Grade, Set Access Level, and Set Notifications.
Standards – Individual, Class & Teacher Metrics, Lesson Plan Standards Coverage, Standards-Based Grading, and Standards Met Reporting.
Student Information – Demographic Management, Ed-Fi Certified, Manage Student Records, School Averages Report, Student Ethnicity Reporting, and Student Photos.
Student/Parent Access – Auto Attendance Monitoring via Email, Auto Grade Monitoring via Email, Download File Attachments, Language options: English, Chinese, and Spanish, Multi-class View, Parent Login, Student Login, Student/Parent Mobile App, Transcript Information, View Attendance & Conduct, View Current Assignments, View Current Grades, View School & Class Calendars, View Student Schedule, and View Upcoming Assignments.
Teacher Gradebooks – Access from Home or School, Annual Cumulative Grades, Assignment Collections, Assignment Type Weighting, Attach Files to Assignments, Auto-drop Lowest Grade, Class Effort & Citizenship, Copy Assignments, Create Preset Comments, Curves/Grade Boost, Custom Comments, Custom Grade Codes, Enter Info Just Once — No Upload Step, Extra Credit, GPA/Scores Report (Honor Roll), Incomplete Assignments Report, Lesson Plans, Letter, Points, Percentage, Low Grade Highlighting, Multi-class View, Projected Semester Grade, Semester, Yearly Averages, Sports Eligibility Reports, Team Teaching/Grading, Track Homework, Tests, Projects, Quizzes, & More, Transcripts, Transcript Folder Labels, and Unified Gradebooks (Log In Once For All Subjects).
Tuition & Billing – Accounts Receivable, Add Convenience Fees, Aging Report, Automated Lunch Billing, Billing Statements, Incidental Billing, and Multiple Tuition Rates.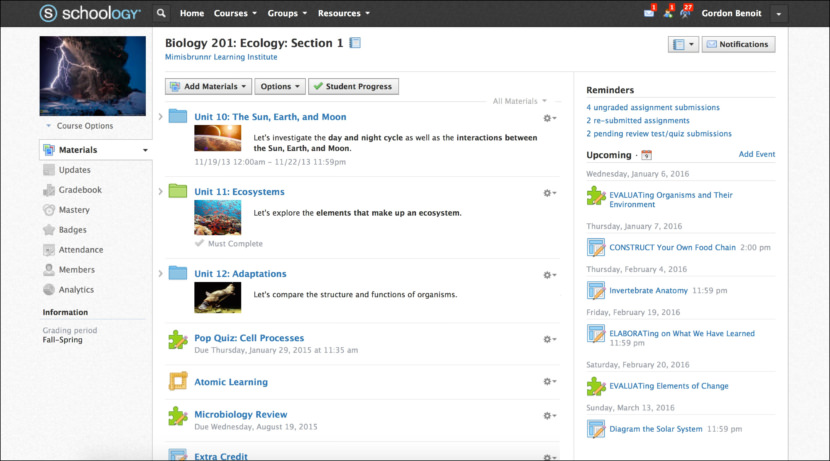 Schoology is a cloud-based learning management solution specializing in curriculum management, course instruction and system-wide resource sharing and collaboration. Users can upload course content and assignments into the database to create their website, which is hosted by the vendor. From there, dynamic content creation tools and a rich text editor allows for the creation of content and lessons.
The Most Comprehensive K-12 Teaching and Learning Solution. The leading learning management system that enables K-12 school districts to improve student performance and empower educators. With over 200 pre-integrated educational tools, student information systems, and education platforms, Schoology Learning has every tool your classroom needs to succeed.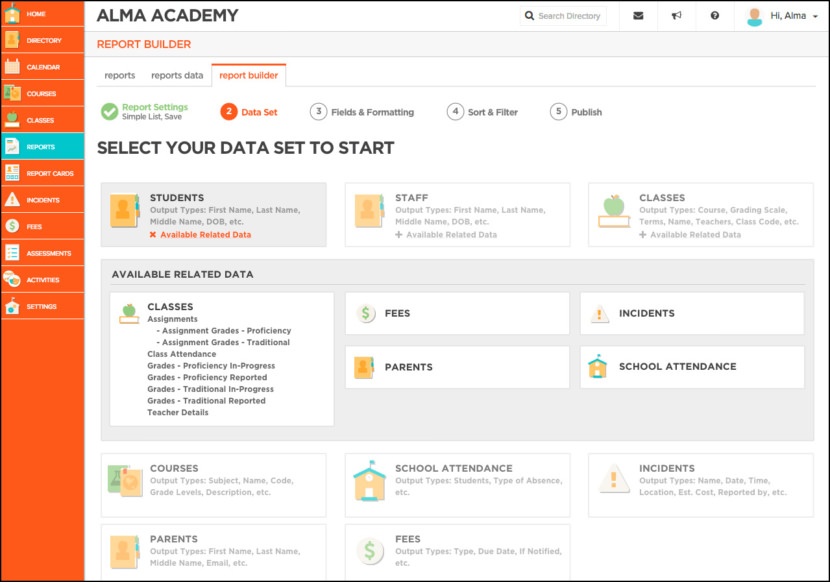 Alma improves school operations, fosters better student outcomes, and creates the greatest generation of educators, so they can create the greatest generation of students. From daily processes to community-wide communication and state reporting, Alma's solutions enhance educational best practices.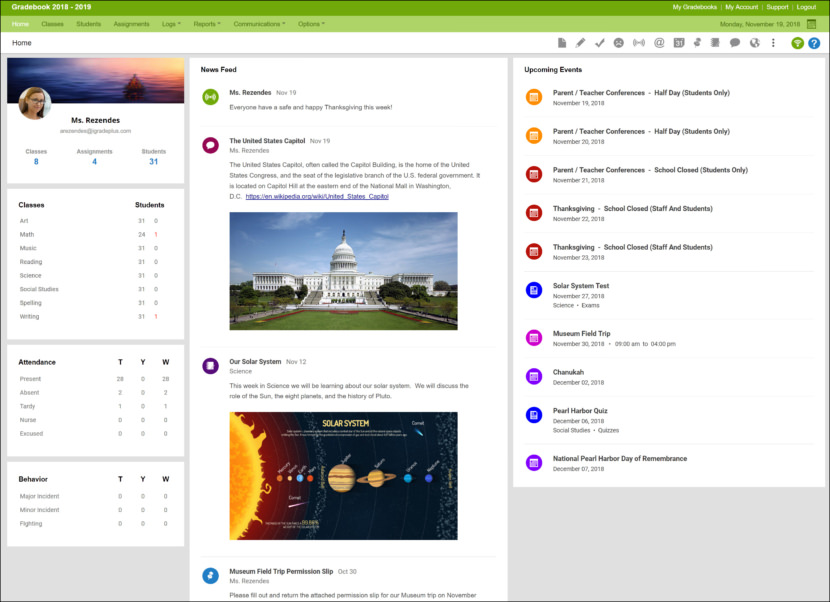 Used by thousands of educators, K-12 teachers and college professors alike, iGradePlus provides a comprehensive set of features that benefit teachers, administrators, students, and parents. Offering several solutions for individual instructors, schools, and districts.
iGradePlus offers two separate products: an Free Online Gradebook for individual teachers and an Enterprise School Management System (SMS) for schools and districts. Their comprehensive and highly customizable feature set make iGradePlus a practical solution for a variety of instructors and schools.
iGradePlus'c communication tools for parents, students and teachers include student and parent web portals, bulk email support, notifications, document sharing, event calendars, bulletin boards, lesson logs and teacher blogs. Additionally, the solution offers a custom report generation and distribution engine and encrypts data transfer via secure socket layer (SSL) encryption technology.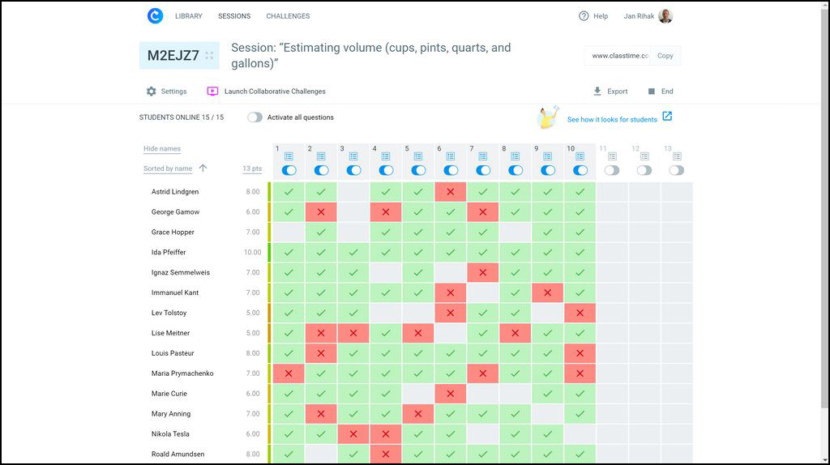 Classtime is a solution for classrooms that complements in-class instruction with immediate feedback on students' level of understanding. Browse their standards-aligned formative and summative content for all grade levels and various subject areas including Math, ELA, Science, History, and more.
Classtime also lets supervisors generate detailed reports by standard, schools or districts to gain insights into the performance of students and grades. Additionally, it supports integration with Google Classroom application to facilitate synchronization of classes and student scores across assignments.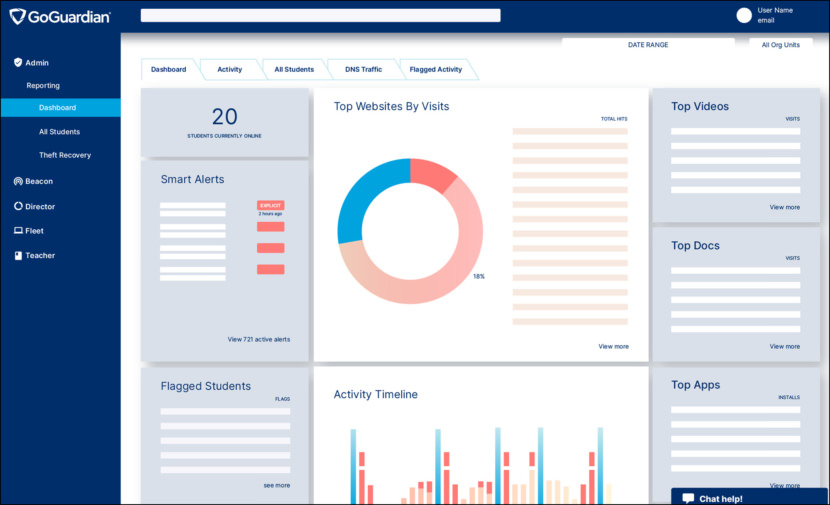 GoGuardian is a school management solution for educators and academic organizations to engage and monitor students. Unify your filtering, classroom engagement, and school mental health tools into a single suite. GoGuardian's suite of tools helps you maximize the learning potential of your 1:1 school technology program.
GoGuardian offers Android and iOS mobile apps for parents to receive regular updates and insights into students' activities. Pricing is available on request and support is provided via online chat, email, phone, documentation, video tutorials, and more.
Filtering & Monitoring – Filter and monitor any device and any OS with K-12's most powerful content filter.
Classroom Management – Eliminate distractions and connect with students by using K-12's leading classroom management software.
Student Safety – Notify designated staff about online activity that indicates a risk of suicide, self-harm, or possible harm to others.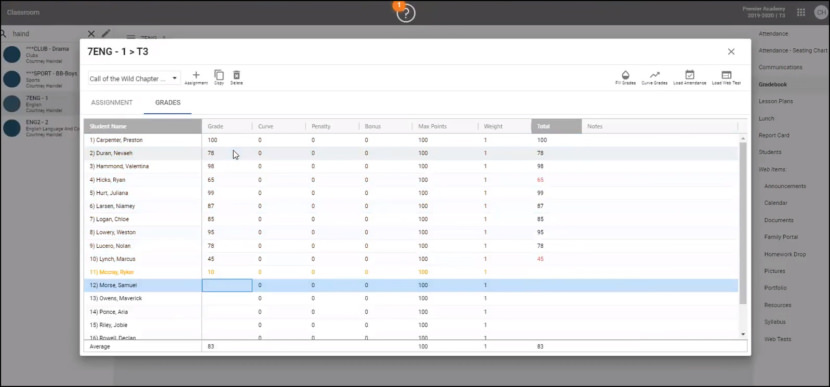 Elevating the Education Experience. FACTS provides solutions that elevate the K-12 experience for school administrators, teachers, and families. FACTS is a school management system that helps administrators streamline processes related to student enrollment, attendance tracking and course management.
The student information system (SIS) enables teachers to generate report cards, track medical information, monitor student behavior, maintain family information and distribute transcripts on a centralized platform.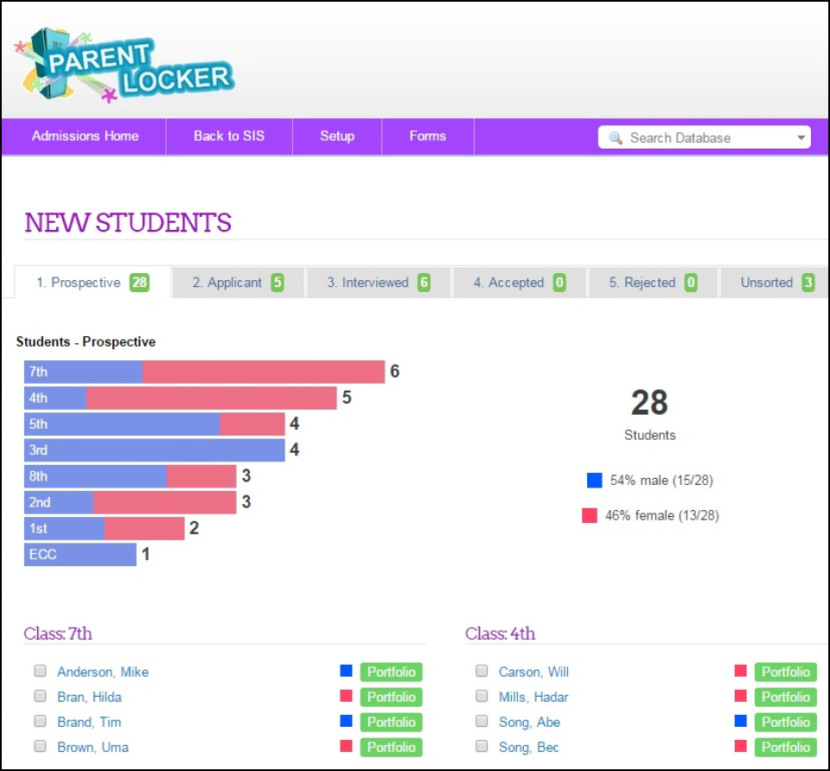 Cloud-based and fully integrated, ParentLocker's PK-12 school management and communications software streamlines all aspects of school administration. ParentLocker has all the features your school needs, centralized on one integrated platform. ParentLocker's easy-to-use and integrated modules power every level of your school community.
Report Cards & Progress Reports – Beautiful, customized report cards: created, reviewed and distributed on ParentLocker.
School Information System (SIS) – The SIS Database is the core of ParentLocker. Data is easily managed, updated, and retrieved.
Parent-Teacher Conference Scheduling Module – Conference scheduling made quick, easy, and hassle-free.
Admission & Enrollment – Never lose sight of a prospective student again. ParentLocker makes the admissions process easy and contactless for your staff and applicants.
Learning Management System – Homework, grades, classroom news, events, photos, files and more — all in one place.
Online Gradebook – An online gradebook to help teachers record, average, and publish grades.
↓ 10 – SCL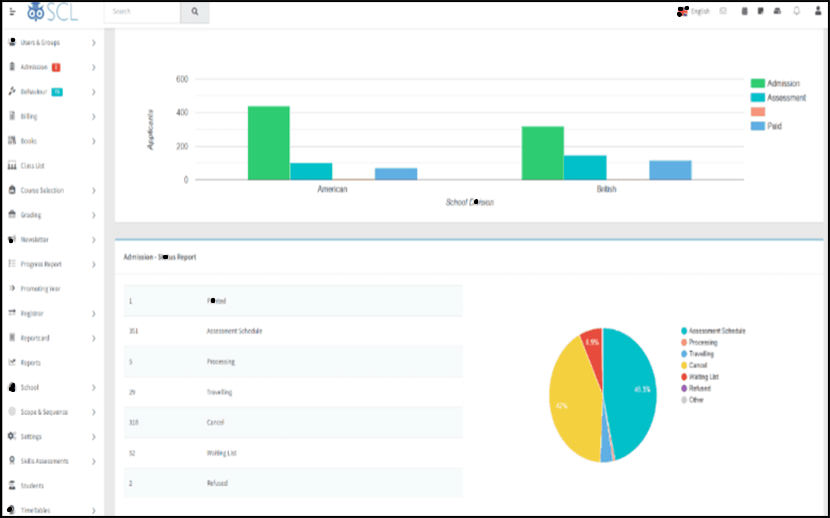 SCL is flexible solution for your School whether your school curriculum is K12, British, International Baccalaureate or National School. It's an enterprise mobile app for the K-12, British, IB and National curricula education industry that enhances parental and student engagement, ensuring full communication with the parents and students.
SCL is intended to increase parental involvement in school life, resulting in a successful academic experience for the students and the success of the entire school community. Key features include admission management, behavior tracking, online billing, distance learning and student databases.
Multiple School Divisions
Multiple languages Interface
School Admission Form
School Reportcard
System Automated Messages are customized by you
Attendance & Behaviour tracking
Billing System
Clinic
Cloud Storage
Communication & Notifications
Distance Learning
Learning Management System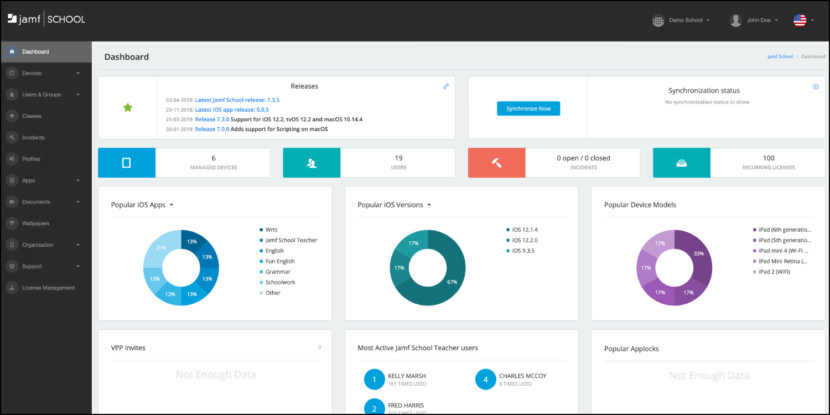 The need for simplified education technology workflows is at an all-time high. With Jamf School, leverage a solution built exclusively for teachers, instructional technologists and education IT that maximizes Apple hardware for learning purposes — inside and outside of the classroom. Complete with teacher, student and parent apps, Jamf School creates the optimal digital experience and ensures students are focused and engaged.
Dashboard — Keep track of managed devices, users and apps. See the status of devices quickly and remediate issues easily.
Classroom Management — Drag and drop apps, content and restrictions.
iBeacon Profile Assignment — Students gain automatic access to subject-specific materials, while unrelated content is hidden.
Incident System — Keep track of device damage or other problems.
Locations — Manage each location and its devices, users and groups separately, pushing down profiles and apps from a single location.
Content Caching — Download files that will be used by multiple students to one dedicated device that goes on to serve others.
App Request — Teachers can request apps, which are then shared with IT admins streamlining the management of Apple devices and empowering the use of apps to facilitate teaching and learning.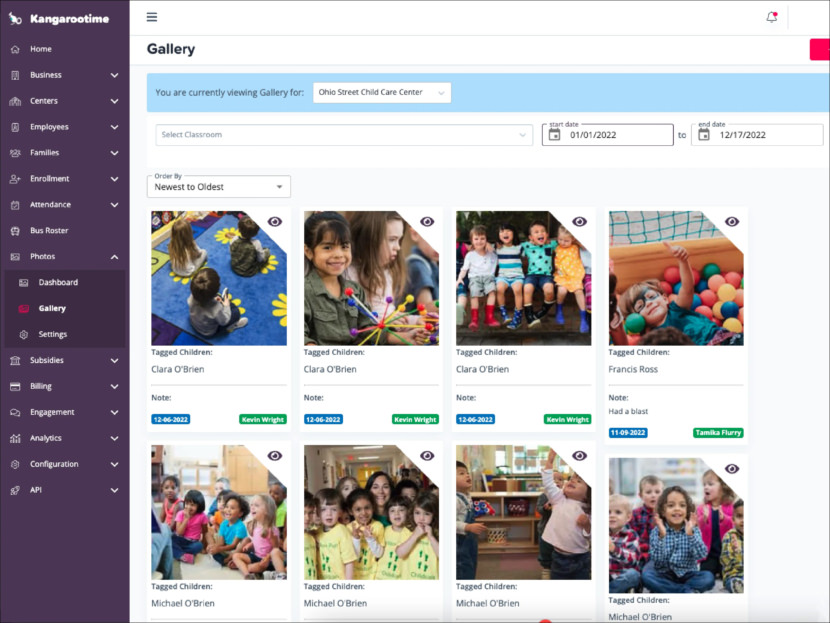 Kangarootime is an automated child care management solution designed for directors, owners and parents. The solution is deployed in the cloud and offers features including recordkeeping, employee management, class management and accounting.
Kangarootime's platform helps eliminate everyday stressors that come with managing a childcare center. Automate billing and invoicing, effectively manage staff, communicate with families, and give teachers control of the classroom with one, easy-to-use system.
Automated Billing – Recognize real revenue by automating customizable billing cycles. With Kangarootime, you'll collect accurate payments on time.
Parent Engagement – Connect with parents, share milestones,and improve the quality of your center with our parent app, KT Childcare Connect.
Classroom Management – Give teachers control of the classroom with Kangarootime's Point of Care App, complete with digital daily notes, attendance tracking, ratio monitoring, and more.
Staff Management – Improve your staff's experience with online scheduling, time-off requests, overtime alerts, and time logs.
Enrollment – Manage your waitlist with ease. Customize enrollment links, forecast open spots, and send offers to families all in our platform.
Analytics – In-depth reporting, dashboards, and forecasting come together to give you a holistic view of your business performance. Make informed decisions and watch your center grow.
Customer Support – Kangarootime provides a community to help you succeed. With our wide range of support options and live representatives, we're here to help answer your questions, monitor your feedback, and quickly resolve support tickets.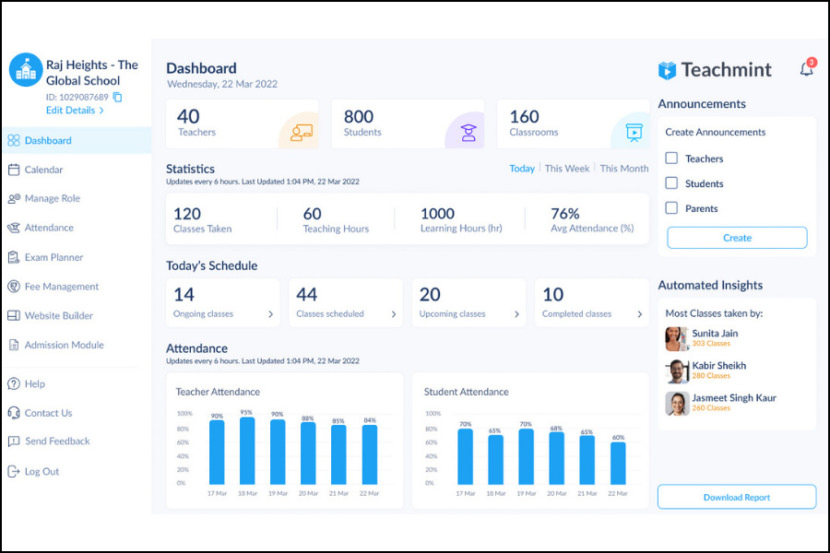 Teachmint is a leading provider of education-infrastructure solutions, powering the education ecosystem to deliver inspired learning outcomes. Since inception, we have enabled millions of educators to create global, future-ready classrooms with our proprietary classroom technology. With our innovative and powerful SaaS solutions, Teachmint today is catering to end-to-end needs of all education providers from K-12 schools to after-school tutoring, universities, creators and even edtechs.
Classroom Management – Premium suite of school management tools that can help administrators manage their schools effectively without any hiccups along the way. Learn more about this feature here.
Attendance Management – Keep track of your students like never before. Get detailed attendance reports and individual student information with Teachmint – click here to learn more about the feature.
School Yearly Calendar Planner – Everything from annual day to annual exams is planned as per the school's yearly calendar, and so the calendar should be impeccable and completely error-free. Read more about how Teachmint can help you plan your calendar year with ease and precision.
Student Performance Report – Get a detailed report of students' performance and help in their holistic development with the performance report. Identify the knowledge and skills gap and provide them the required support after analyzing their performance.
Exam Planner – Set up exam schedules, generate automated rank boards, create subject-wise exam plans, and more – learn more here.
Live Classes and Class Recording – Conduct live lectures and record the live classes to give the best learning experience to students. Share the recorded lectures with students and ensure effective learning.
Homework & Student Engagement – Assign and grade homework effectively and efficiently. Set deadlines, be notified during submissions, and more! Learn more now.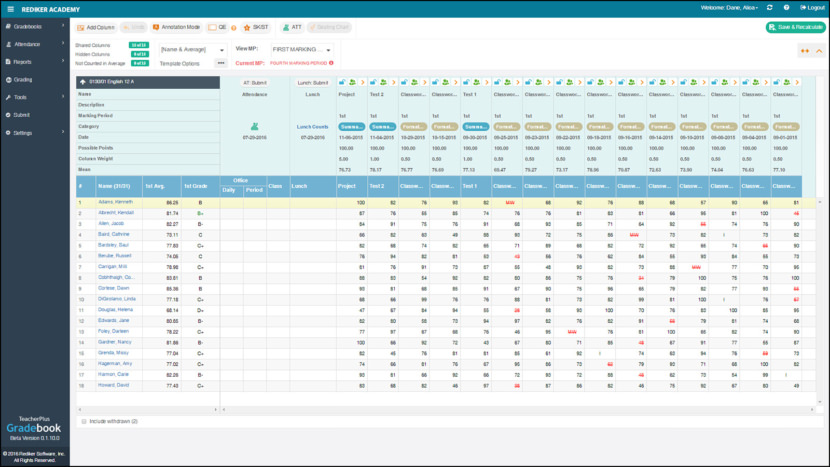 Integrated School Management Software. Improve productivity, increase efficiency, maximize communication and inspire student success. From online inquiries and applications, to managing student and staff data, to connecting with students and families via web and mobile, Rediker's student management software can transform your school.
School Administrative Software with Web Gradebooks and Mobile-Ready Web Portals. The report cards module provides a way for schools to record and edit both letter and number grades and create report cards and transcripts. It also integrates with both TeacherPlus Web gradebook and ParentPlus Web portal to streamline reporting and communications.
Streamline administrative tasks and save time and money with our integrated student information system.
Manage student information across your entire school district or Catholic diocese.
Support online learning and improve communication with web portals for teachers, students and parents.
Access mobile-ready, web gradebooks with IEPs and Google Classroom integration.
Generate, store, deliver, and upload report cards with skills and standards.
Build your best school schedule with our powerful Master Schedule Building solution.
Access and manage student data on phones and tablets with our mobile apps.
Manage your entire admissions process, from online applications to enrollment.
Centralize virtual enrollment and re-enrollment for public schools, charter schools and districts.
Improve professional development with classroom walkthroughs and teacher evaluations.
Manage student billing and complete fund accounting for your school.
Impress your school community with a great-looking, affordable responsive website.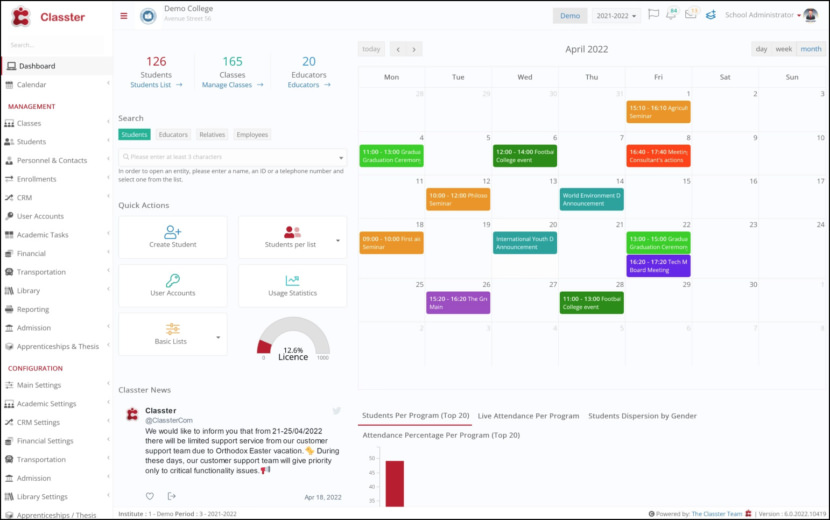 Easy to use, reliable, secure & efficient way to manage your processes & administration from enrollment to alumni and digitalize your organization to save time and money.
Classter is the end-to-end Student Information, School & Learning Management System made for all types of organizations that offer educational or training services.
Classter aims to provide an easy-to-use, reliable, secure, and efficient way for educational institutions to manage their administrative processes from enrollment to alumni management. It's designed to help schools and universities save time and money by streamlining their administrative tasks, automating repetitive processes, and digitalizing their operations.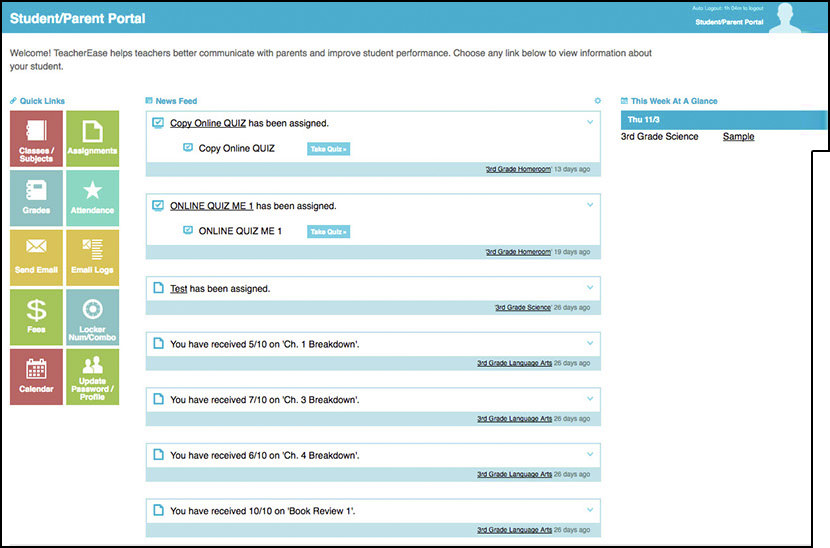 Measure learning by aligning student work to learning targets. Easily capture mastery data to analyze and inform instruction. Separate formative assessments (practice) from summative scores when calculating grades. Easily form dynamic groups and differentiate instruction.
Use a wide variety of grading algorithms (Power Law, decaying weights, median, mode, etc). Summarize many targets into an overall grade for transcripts, eligibility, etc. Tight integration flows data from assessments into report cards.
Built for standards-based grading – Teachers often struggle with standards-based grading when they attempt to use their existing student information system (SIS).
Align student work to standards and learning targets – Each assignment can aligned to one or more standards/learning targets. This clearly defines the objective of the material.
Capture performance data with standards-based grades – For each learning target on an assignment, enter a standards-based score. This allows frequent measurement of student performance.
Calculation supports Power Law, decaying weights, mode, median of recent scores, and others – There are a number of algorithms for combining multiple standard-based scores into a current mastery level.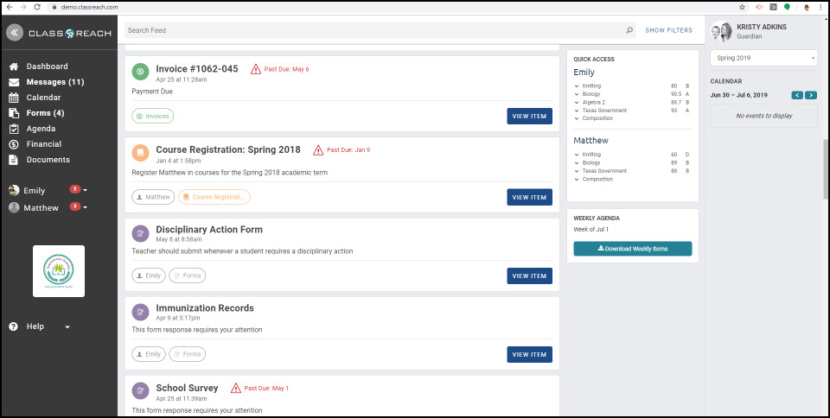 Looking for a more efficient way to streamline your classroom tasks? Our powerful web-based school management software provides innovative tools to help you manage everything in one place.
With features such as grade tracking, attendance records, the form creator, and more, you can focus on what matters most – educating your students.
ClassReach enables educators to set up customizable grading parameters and combine grades based on semester, months or year. The student records module allows supervisors to maintain a student database with details, such as grades, attendance, medical records, authorized pick-ups, nicknames and previous school records. Additionally, the built-in calendar lets teachers, students and parents view and track school events, including fundraisers, sports games and holidays.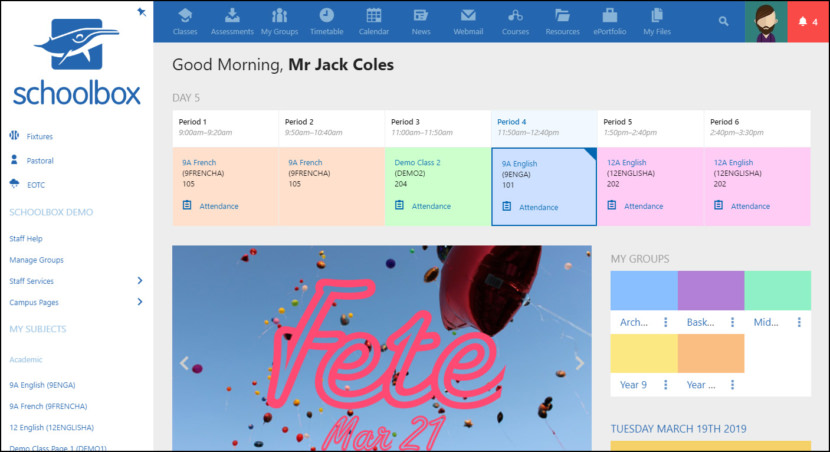 Where we're faced with a generation of learners with readily available information, easy access and a connected lifestyle, the learning experience needs to equip these students with skills to transform knowledge into wisdom. Having a learning management system (LMS) in schools is the first step to giving teachers the tools they need to optimise their teaching strategies and enhance the learning experience of K–12 students in the 21st century.
More than a learning management system, Schoolbox provides a school portal where you can support collaborative group spaces, integrate timetables, empower your students to share news and resources, and much more.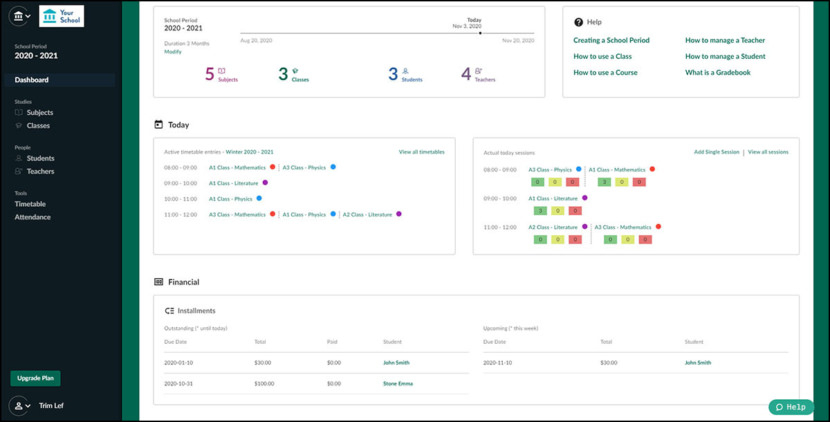 DreamClass helps you efficiently manage all of your processes. Enjoy professional school management for any educational institution, in minutes! It is a school and classroom management solution designed to help educational institutions, such as schools, colleges, dance studios, language academies and more, manage operations. The platform, which is deployed within the cloud, provides tools for managing students, attendance, grades, teachers, finances and other operations.
Admission Management – Streamlined admission management that digitizes, automates and upgrades all aspects of the admission process cycle:
Class Management – Create an online representation of your classes, group students into classes, assign teachers and enjoy flexibility in all administrative tasks involved in class management.
Student Management – Create student profiles and manage a long list of student-related processes, such as admission, performance, attendance and students' financials, in a smart way.
Parent Portal – Manage parent and guardian information effectively and authorize students' representatives to take on a more active role in their studies, through their portal.
Attendance Management – Easily track and share attendance data, keeping administrators, teachers and parents in the loop.
School Student Fees – Streamline your financial management, by monitoring all related transactions, such as student fees, installments and teachers' payments, in one place.
Teacher Management – Have all your teachers' data gathered in one place. Easily assign teachers to classes and subjects, track payments and manage all related tasks with efficiency.
Academic Management – Manage major academic tasks and processes, such as assessment creation and gradebooks, efficiently. Monitor class performance and share performance data with students and parents.
Class Scheduling – Make lesson scheduling and school events planning a breeze. Get teachers, students and guardians in the game, with personalized timetable views, visible from their portals.
Student Portal – Give your students access to their personalized dashboards and help them find useful information regarding their studies.
Teacher Portal – Give your teachers access to their profile; help them efficiently manage their classes, their students, school-related tasks and processes such as keeping gradebooks, create assessments, track attendance and more.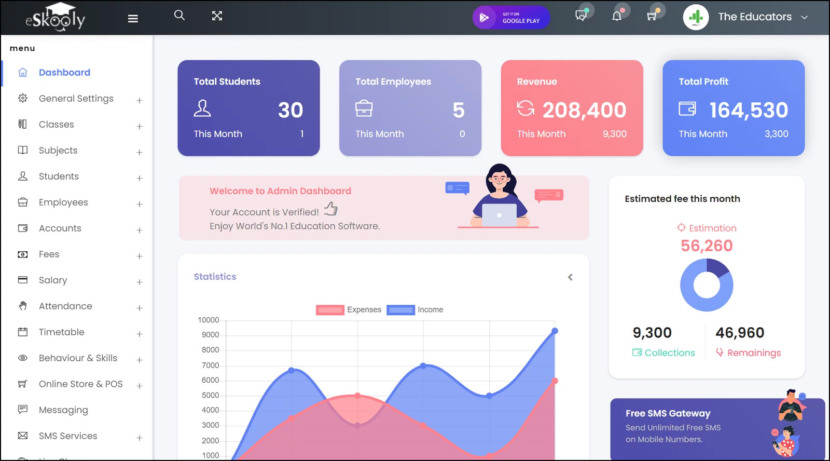 eSkooly is a complete and feature-rich school management software for all educational institutes. This school management software is for learning, administration, and management activities in schools, colleges, universities, tuition centers, or training centers. Our free school management system manages everything starting from admission to attendance and exams to result in cards.
Besides, eSkooly is a completely free online school management software, it has more school management features than any other online school management system in the market. It does not end here, eSkooly is still enhancing features. You will be automatically updated as a new feature will be a part of our free school management software. Some main school management features are given below.
Institute Info – You can set your all institute info like logo, name, target line ect, which will display on every printable documents and reports.
Class Management – This school management software manage your classes in an easy way. starts from students to subjects, courses to marks.
Exams Management – eSkooly has a complete solution for exams management starting from new exam to final result, reports and result cards.
Attendance System – Our free school software has outstanding online attendance management system for students and staff.
Fee Management – Our school software opens an account for every student to manage its fees and dues. eSkooly manages everything automatically.
Tests Management – Managing class tests is a piece of cake with this free school management software. It keeps record of every class test.
Accounts – Managing income, expense, and staff salaries is no more difficult. By using our software you can manage quite easly.
Printable Reports – You can print all the reports and letters like, admission letter, fee slip, salary slip, job letter and result cards etc.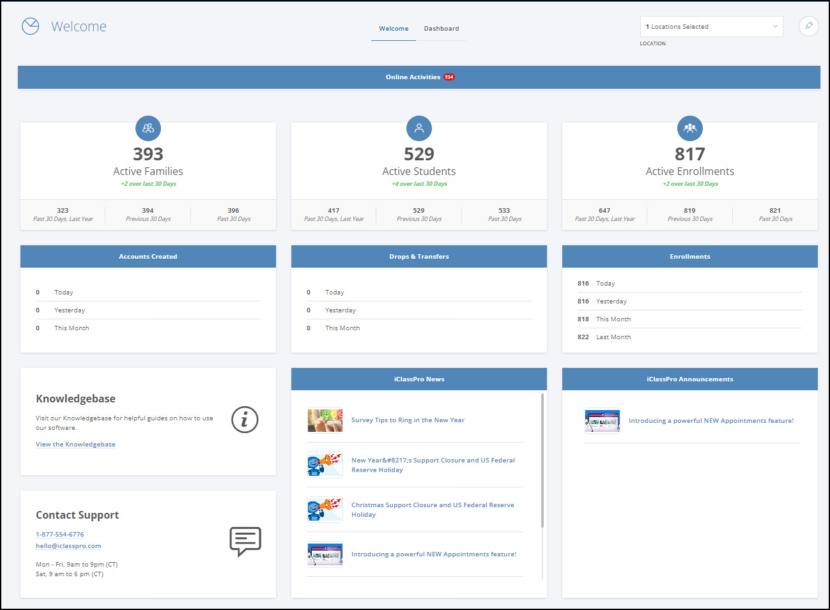 Thousands of organizations in a variety of industries partner with iClassPro to grow their children's activity center. See why industry leaders, olympic gold medalist, and school owners just like you, partner with iClassPro to grow their class based business. Gymnastics centers, cheerleading gyms, learn to swim programs, dance, music and art studios love iClassPro.
Their feature-packed platform efficiently handles scheduling, payment, tracking and much more, with a one-stop online portal that keeps families engaged and connected. The software constantly evolves to meet our customers' challenges. And no matter what you need, we're here with exceptional person-to-person customer support.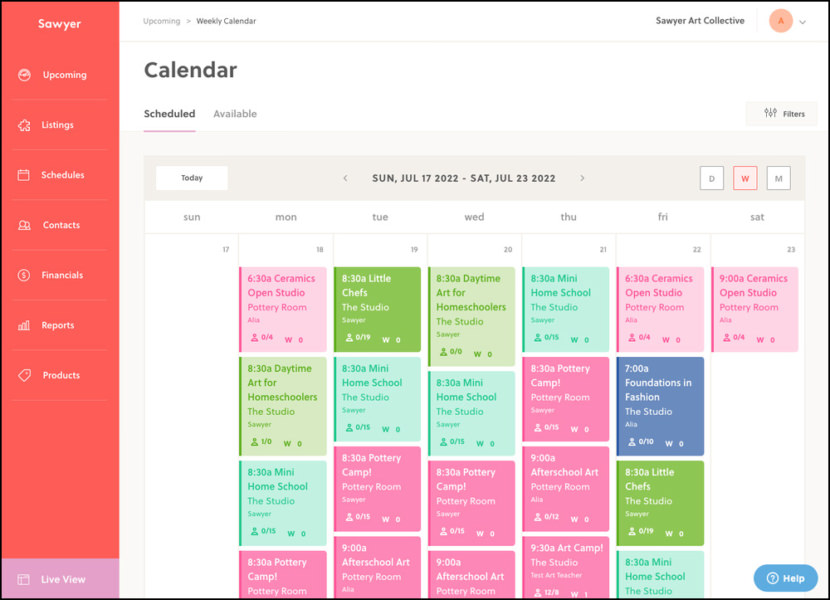 Education isn't one size fits all and neither is our software. Each of our features was built in partnership with expert educators and passionate parents. Spend more time building relationships, not chasing phone calls. Sawyer enables you to collect online registrations and customer information, offer flexible payment types, and engage with customers.
Think of Sawyer as your complete business toolkit. Manage your schedule, contacts, staff, financials, customer acquisition, and analytics — no spreadsheets required. Sawyer doesn't charge for additional locations or staff, so your business can scale without hidden fees or costs. Plus, take advantage of our exclusive Marketplace to reach new customers.
Art
Academic
Cooking
Dance
Sports & Fitness
Nature
Music
STEM
Language
Play Space
Theater
Camps
After School
Small Business
Franchise