For a small company, especially those during the early years, managing cost is the most important thing for the survival of the company. It doesn't make sense to pay for a software when there are many free alternatives that perform as good as the paid version. You're not running a large corporation, for a small enterprise, a simple software is good enough.
See More ▼ 11 Free Money Management Software & Financial Planning For Small Businesses
Most Human Resource software are not free, they come with a monthly subscription fee and an additional fee for each user. Below is a simple list of free HR management software for small and medium businesses. These software are 100% free, come with all the features and no hidden charges.
Self Host Server | PHP and MySQL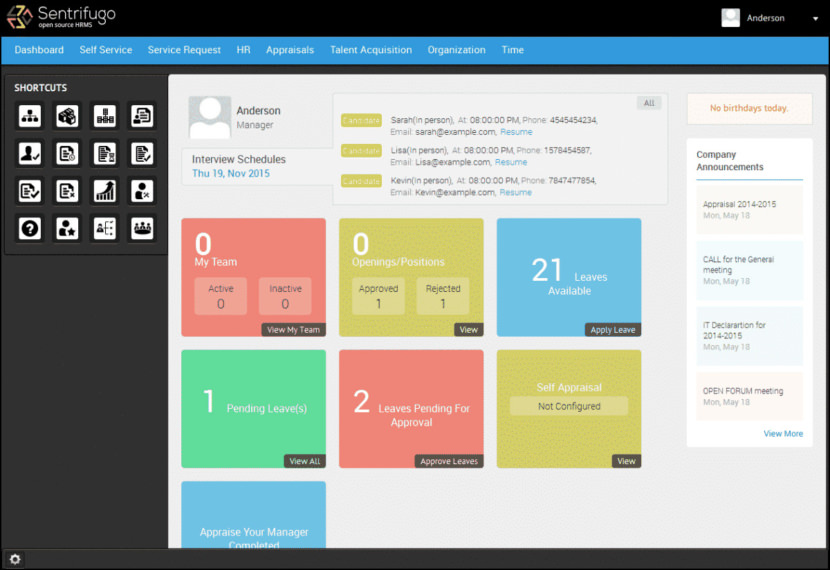 Sentrifugo is a free and powerful Human Resource Management System that can be easily configured to meet your organizational needs. Sentrifugo offers HR resource modules with exceptional features and an intuitive interface. It's easy to set up, configure and use. The only solution you'll need for managing HR processes. Sentrifugo offers a host of adaptable features to meet the needs of both managers and employees.
Human Resource – Customize and manage Sentrifugo's full-featured, flexible solutions to meet your organization's needs.
Performance Appraisal – A fully-equipped performance appraisal module allows managers to assess employees' performance over a specific period of time and empowers organizations to build their own appraisal process.
Employee self-service – Put an end to time-consuming administration and paperwork by allowing employees to access and modify information related to them.
Analytics – Define long & short term goals, and set the course for your organization using comprehensive analytics with a broad range of features.
Leave Management – Define leave management options for a department or an entire business unit by determining weekends, number of working hours, permission to transfer leaves and many such awesome features.
Interview Schedule – Schedule interviews based on the interviewer's availability.
Time Management – Define time-off options for a department or an entire business unit. Determine weekends, work hours, transfer requests, and so much more.
Self Host Server | PHP and MySQL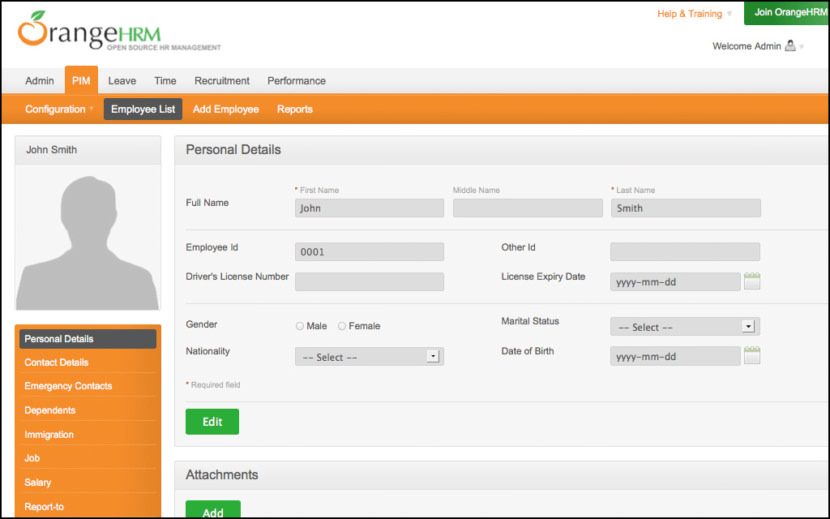 Give your HR team the tools they need to streamline administrative tasks, support employees, and make informed decisions with the OrangeHRM free and open source HR software. You can use the OrangeHRM Starter edition on the cloud or download it and host it yourself.
HR Administration – Whether you've been in HR for years or just starting out, the HR Administration module was built for you. From Admin & Employee Self Service (ESS) user roles to Mobile App, the HR Administration features gives you all of the core tools you will need to manage your HRIS with ease.
Employee Management – With Employee Management, you get access to the Dashboard, Employee Database, and Corporate Directory. You will be able to house all of your employee's information on the cloud and say goodbye to managing everything on paper.
PTO / Leave Management – This module alone makes it that much better to be working in HR. With its advanced leave configuration and being able to manage PTO requests and approvals. This will help free you up to do so much more.
Performance – In this pillar you get access to the 180° reviews function of their Performance pillar. You will be able to have the birdseye view of your company's feedback towards one another.
Time Tracking – The importance of getting time tracking right could literally save you and your team hours each week. No longer will you need to track down every person that forgot to clock in or out on a random Tuesday. With OrangeHRM the system is there to help everyone succeed.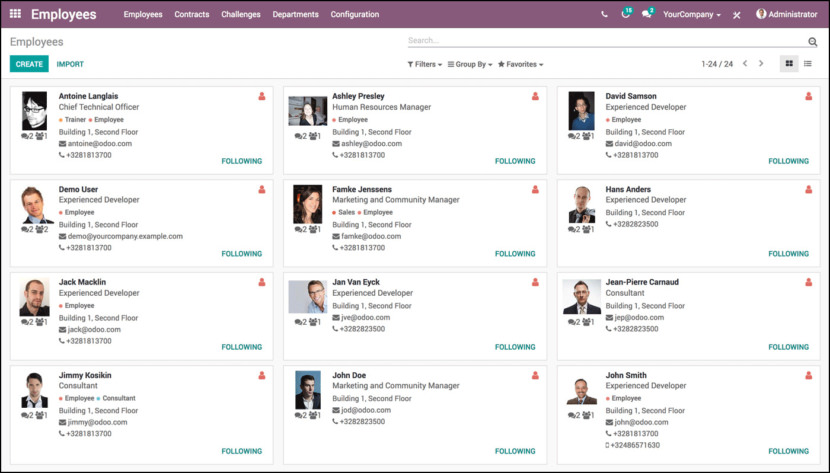 Oversee all important information for each department at a glance. Restrict visibility of sensitive information to just HR managers, or make other information public for all employees to see such as employee directory. Receive alerts for any new leave requests, allocation requests, applications, appraisals, and more.
Keep track of the employee hours worked and sort by project, client, or tasks. Easily access statistics to record and analyze timesheets as well as check each employee's attendance. Integrated accounting automatically posts reports based on time spent in projects providing real-time data.
Employees can easily submit and justify expenses. Managers can review all expenses and either approve or reject individual requests as needed. Once approved, expenses are immediately updated in Odoo Accounting.
Self Host Server | PHP and MySQL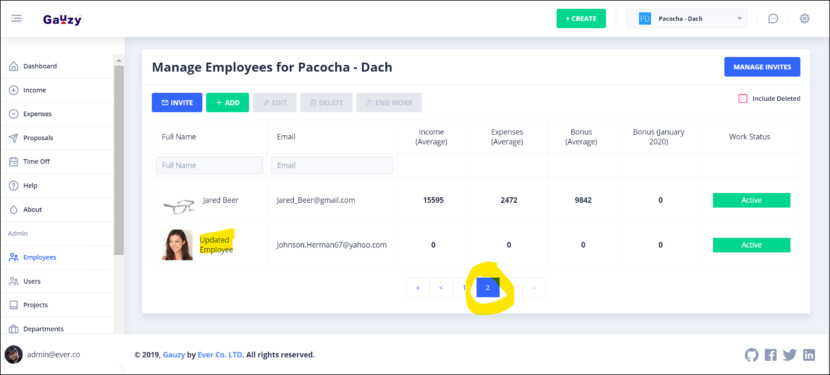 Gauzy Platform includes multiple features for online scheduling and attendance reporting, team management with shift planning, time off requests and many more. Perfect solution for companies with distributed teams. Monitor team performance, redistribute tasks instantly, and track work hours regardless of the difference in time zones.
Human Resources Management (HRM) with Time Management / Tracking and Employees Performance Monitoring
Time Management / Time Tracking / Activity Tracking / Timesheets
Employees Management (register of company employees / contractors, rates of employees, etc.)
Employees Onboarding / Candidates Interviews
Contacts Management (Clients / Customers / Leads / etc.)
Schedules / Appointments / Events
Self Host Server | PHP and MySQL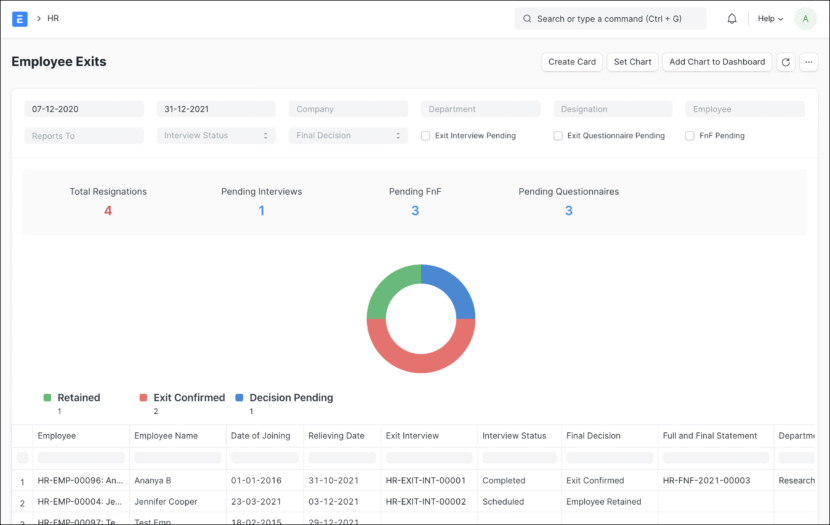 Open Source HRMS and Payroll Software for your growing business. ERPNext makes it easy and efficient to recruit and manage employees and attendance, track leaves and expenses, and handle onboarding, training and appraisals. Process payroll painlessly with configurable salary structures and personalized payslips.
Talent Acquisition – Recruit and acquire talent intelligently. Manage hiring with an built-in recruitment tool that lets you plan manpower requirements, publish job openings on your website, review and email applicants, and store documents.
Employee Repository – Managing employee information can be complex and tricky, since it requires tracking external documents.
Employee Training – Keep upskilling your team with their Human Resource Training Program module. Schedule training events for your employees, which are automatically linked to employee calendars so everyone can view scheduled training sessions and plan their to-do lists accordingly.
Key Performance Indicators – Track employee performance maverick-style and redefine team excellence on their Energy Points system.
Expense Management – Manage expenses, travel requests, and employee advances efficiently with their open source HRMS & payroll software.
Automatic Attendance – Their open source HRMS tool flawlessly integrates attendance tracking with payroll and leave management.
Leave Management – Configure leave management options for each department or business unit. Just input weekends, set the number of working hours, grant permission to transfer leaves and more, all within a few clicks.
Payroll Period & Tax Slabs – Define the period for payroll processing (financial year or monthly, it's your call) and set tax salary slabs for employees.
Payroll Entry – Leave behind the pain of generating individual salary slips and embrace effortless payroll processing.