Undeniably, Microsoft Money, Quicken and Quickbooks are the best financial software for large and small businesses, it is feature rich, it saves you time to focus on your business by allowing you to organize your finances all in one place. Manage your customer, vendor, and employee data all in the same place and know where your business stands with real-time reports.
🤣😍😂 21 Famous Quotes on The Good, Bad and Evil of Federal Income Tax
However, not everyone can afford such accounting services. If you are a startup and money is tight, there are plenty of alternatives, especially free open source that does the same job while giving you more or less the same features such as budgeting, payroll, invoices, payment, and more.
Here are some easy to use accounting software for small business, nonprofit, construction, trading, investment, restaurant, personal, retails and more, they are the best 'free' personal finance software, money management, and accounting for everyone.
↓ 01 – GnuCash | Open Source | Windows | Linux | macOS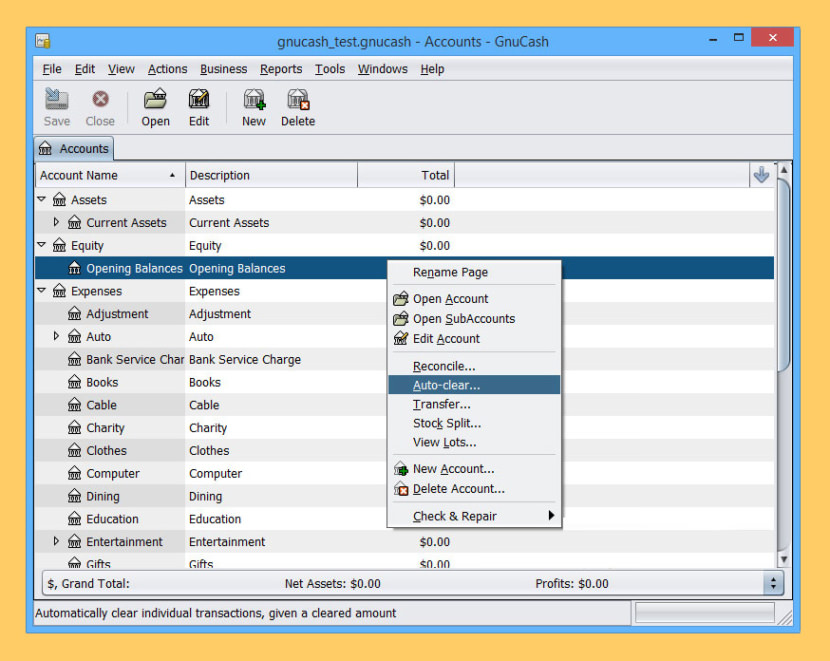 Designed to be easy to use, yet powerful and flexible, GnuCash allows you to track bank accounts, stocks, income and expenses. As quick and intuitive to use as a checkbook register, it is based on professional accounting principles to ensure balanced books and accurate reports.
Double-Entry Accounting – Every transaction must debit one account and credit others by an equal amount. This ensures the books balance: the difference between income and expenses exactly equals the sum of assets and liabilities.
Stock/Bond/Mutual Fund Accounts – Track stocks individually (one per account) or in portfolio of accounts (a group of accounts that can be displayed together)
Small-Business Accounting – Simplify managing a small business with Customer and Vendor tracking, Jobs, Invoicing and Bill Payment, and Tax and Billing Terms
Reports, Graphs – Graphs and reports can be highly and easily customized in appearance and contents, in order to fulfill every user's need.
QIF/OFX/HBCI Import, Transaction Matching – If you are migrating from other financial software, GnuCash can import Intuit® Quicken® QIF files using a practical assistant.
Scheduled Transactions – You can create recurring transactions with a high level of customization of amounts and timeline. You can also set an automatic reminder when a transaction is due
↓ 02 – HomeBank | Open Source | Windows | Linux | macOS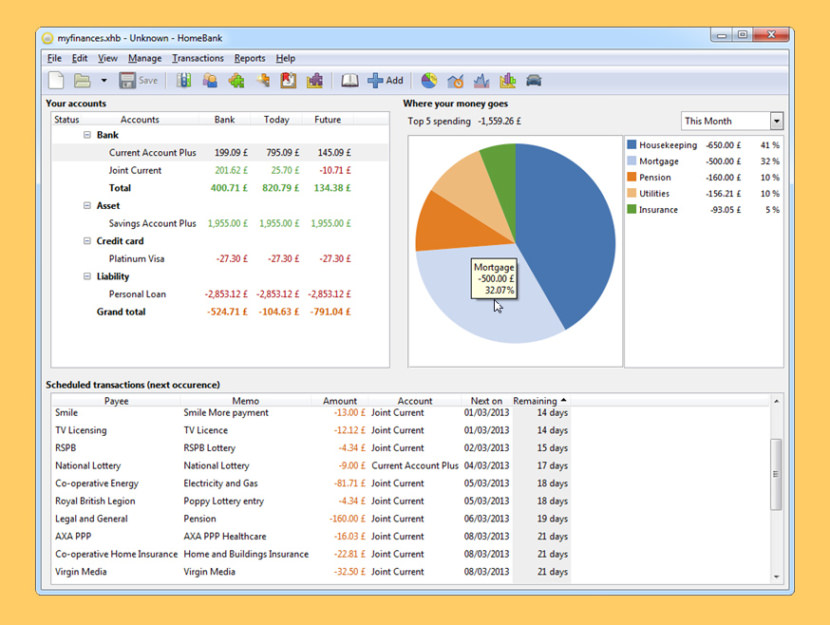 HomeBank is a free software (as in "free speech" and also as in "free beer") that will assist you to manage your personal accounting. It is designed to be easy to use and be able to analyse your personal finance and budget in detail using powerful filtering tools and beautiful charts.
If you are looking for a completely free and easy application to manage your personal accounting, budget, finance then HomeBank should be the software of choice. Works great on Microsoft's Windows 10 and Apple's macOS.
Cross platform, supports GNU/Linux, Microsoft Windows, macOS
Import easily from Intuit Quicken, Microsoft Money or other software
Import bank account statements (OFX, QIF, CSV, QFX)
Duplicate transaction detection
Automatic cheque numbering
Various account types : Bank, Cash, Asset, Credit card, Liability
Scheduled transaction
Category split
Internal transfer
Month/Annual budget
Dynamic powerful reports with charts
Automatic category/payee assignment
Vehicule cost
↓ 03 – ERPNext | Free for Solo Entrepreneurs | Self-Host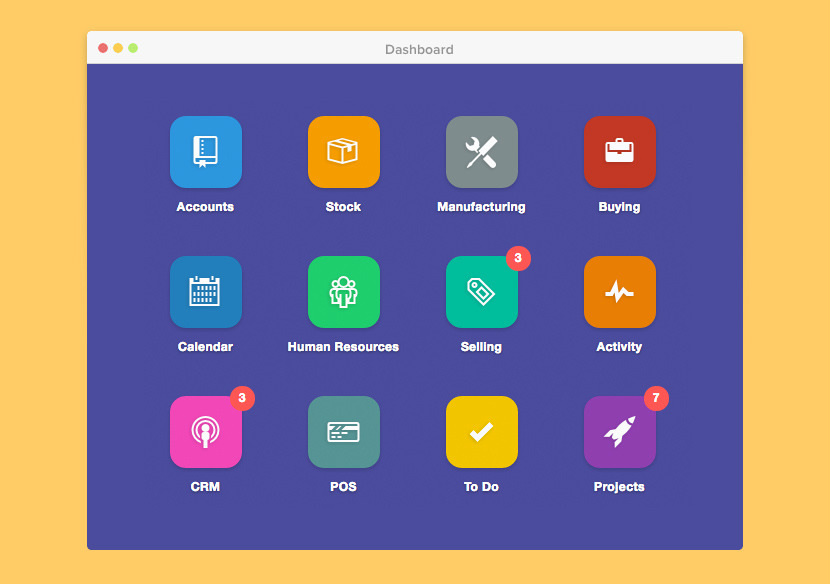 ERPNext helps you take full control of your business. It is as powerful as it is easy to use. ERPNext is a cost-effective ERP solution to run your business using on-demand, software-as-a-service platform offered by a Mumbai based company called Frappé Technologies Pvt Ltd. ERPNext offers modules like Accounting, Sales, Purchase, Inventory, Human Resource, Projects, Production & Maintenance which are present in most of the real world business processes.
Customer Relations and Selling – Track Opportunities, prepare Quotations, and record Orders and Shipments. Communicate with Customers via email, or send newsletters. Distribute commission to a Sales Partner or among your Sales Team. Apply Pricing and Discounts based on rules. Record Warranty Claims and their resolution.
Buying and Inventory – Automatically raise Material Requests, send Purchase Orders to Suppliers, and record Purchase Receipts. Track inventory levels per Warehouse and make required corrections on manual inspection. Use Batches and Serial Numbers, get stock valuation, and use automated inventory accounting.
Manufacturing – Plan your Production and Material Requirements using Production Planning Tool. Make a production schedule based on Workstation availability. Use hierarchical Bill of Materials and costing. Sub-contract / outsource part of the manufacturing process and include its cost into the resulting products.
Billing and Payments – Bill your customers and record Supplier's Invoices. Manage pre and post payments, track pending ones and provide Credit Notes. Use different currencies, manage recurring invoices, and restrict approval based on amount. Budget your purchases using monthly distribution of funds and Cost Centers.
Projects – Define and allocate Tasks for Projects and make Time Log entries for work done against Tasks. Track orders, invoices and inventory against Projects, and bill your Customers using Time Logs.
Leave, Expenses and Payroll – Track Attendence, allocate leaves to Employees, and manage Leave Applications. Record and approve Expense Claims from Employees. Generate monthly Payroll and integrate it with Accounting. Manage Openings and Job Applications in your Company.
↓ 04 – ZipBooks | Free | Cloud Web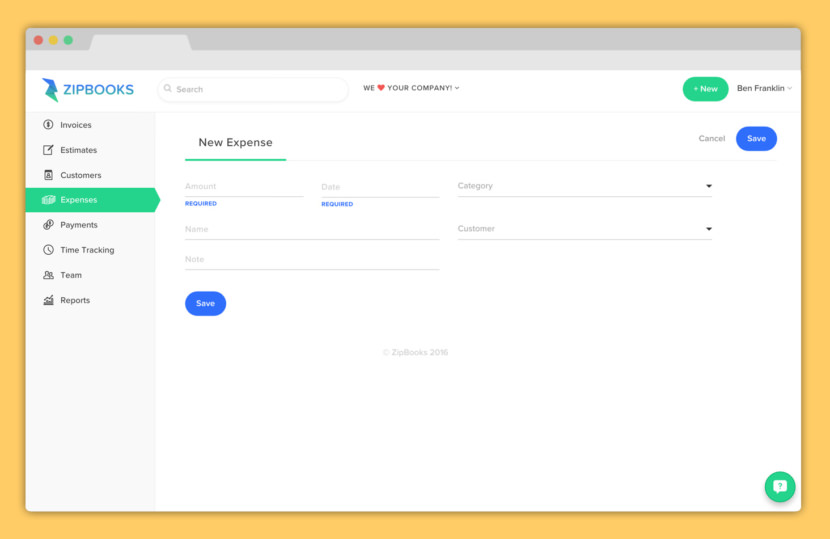 ZipBooks allows contractors and small businesses to send quotes and invoices to potential customers or paying clients. Create a project with ZipBooks and track the time, products, and expenses of your work. Once you are ready to send an invoice to a client, ZipBooks automatically detects unbilled activity and allows you to include any or all of the billing details.
You can customize the rate of each of your team members, whether to include an attached PDF, and even add your own logo to invoices. Because we make money if you use our credit card payment partners, ZipBooks is 100% free, forever.
Online accounting software
Free billing software
Expense tracking
Invoice financing for small businesses
Online invoicing
Project management
Team management
Time tracking software
Credit card processing
↓ 05 – Dolibarr | Open Source | Self-Host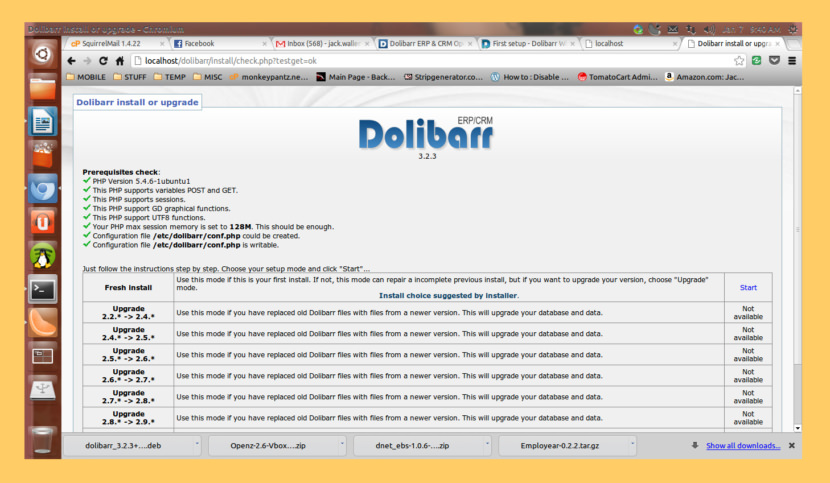 Dolibarr ERP & CRM is a modern and easy to use software package to manage your business (customers, invoices, orders, products, stocks, agenda, e-mailings, shipments…). You enable only the features you need. So whatever is your business management need (sales, human resources, logistics, stock, invoicing, accounting, manufacturing, etc), you are able to set up the application to match your needs and only your needs.
Integration between the features/modules you decide to use is ready "in-the-box", so, even without customization, users are immediately ready to work and won't have to make any double entry on your information system.
↓ 06 – Money Manager Ex | Open Source | Windows | Linux | macOS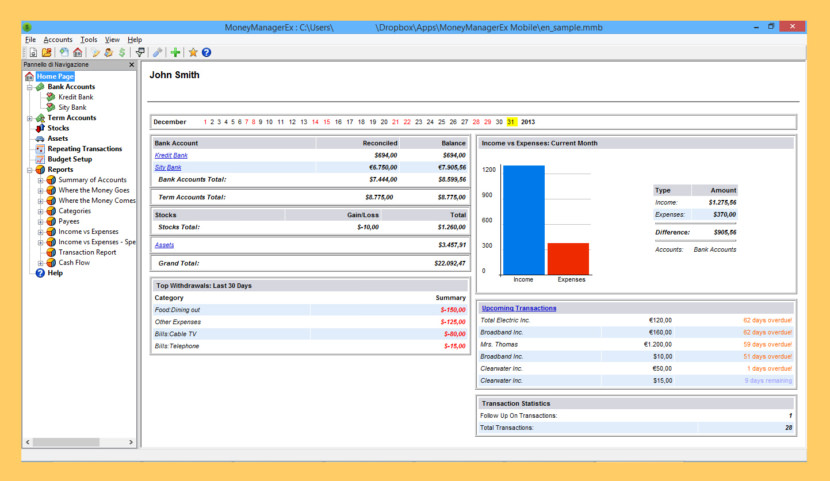 Money Manager Ex is a free, open-source, cross-platform, easy-to-use personal finance software. It primarily helps organize one's finances and keeps track of where, when and how the money goes. It is also a great tool to get a bird's eye view of your financial worth.
Money Manager includes all the basic features that 90% of users would want to see in a personal finance application. The design goals are to concentrate on simplicity and user-friendliness – something one can use everyday.
Intuitive, simple, fast, clean
Checking, credit card, savings, stock investment, assets accounts
Reminders for recurring bills and deposits
Budgeting and cash flow forecasting
Simple one click reporting with graphs and piecharts
Import data from any CSV format, QIF
Does not require an install: can run from a USB key
Non-Proprietary SQLite Database with AES Encryption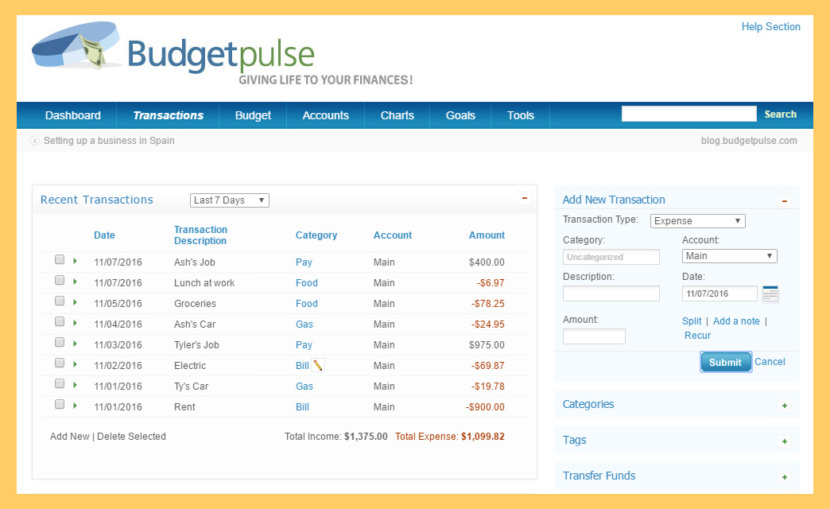 BudgetPulse personal finance software is the perfect solution for managing your finances. You can organize your cash flow, expenses and bank accounts in one place. And easy to understand charts and graphs enable you to visualize how you're spending your money month-to-month. This enables you to track your progress, discover where you can make savings and improve how you manage your money.
BudgetPulse also makes it easier for you to achieve larger financial goals. You can create goals and then share with friends and family. They can then track your progress and make donations, using PayPal or Amazon, to help you reach them. Personal fundraising has never been easier.
↓ 08 – Manager [ Desktop ] | Windows | macOS | Ubuntu | Fedora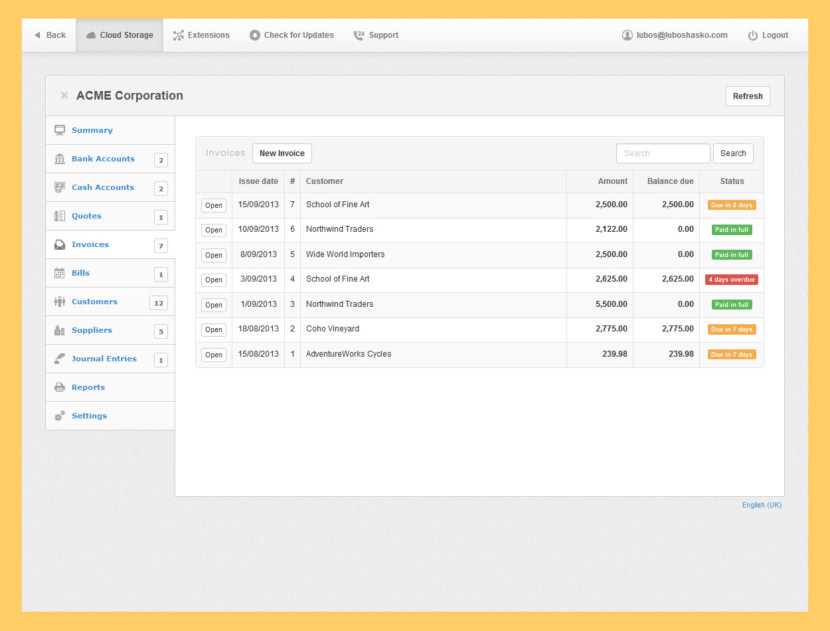 Manager is free accounting software for small businesses. Available for Windows, Mac and Linux. Desktop edition is single-user software. Businesses requiring multi-user capabilities or remote access will typically use cloud edition or server edition which are paid products. With support for multiple languages that can adapt to any country and frequent new updated releases, Manager is a perfect free alternative to GnuCash.
↓ 09 – KMyMoney | Windows | macOS | Linux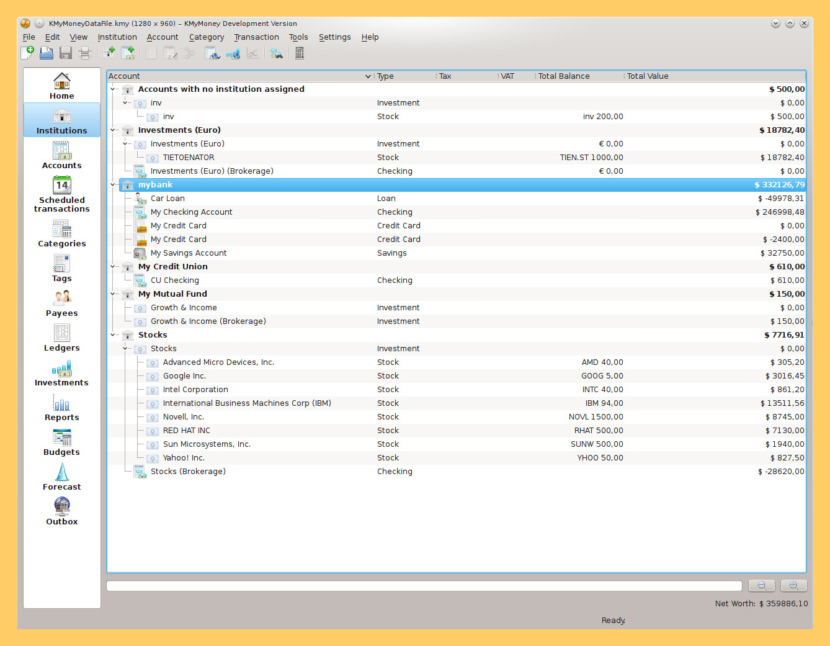 KMyMoney intends to provide all important features found in the commercially-available, personal finance managers. The current release is closer than ever to that goal and more improvements are already planned or being tested. KMyMoney strives to be the easiest open source personal finance manager to use, especially for the non-technical user.
↓ 10 – Grisbi | Windows | macOS | Linux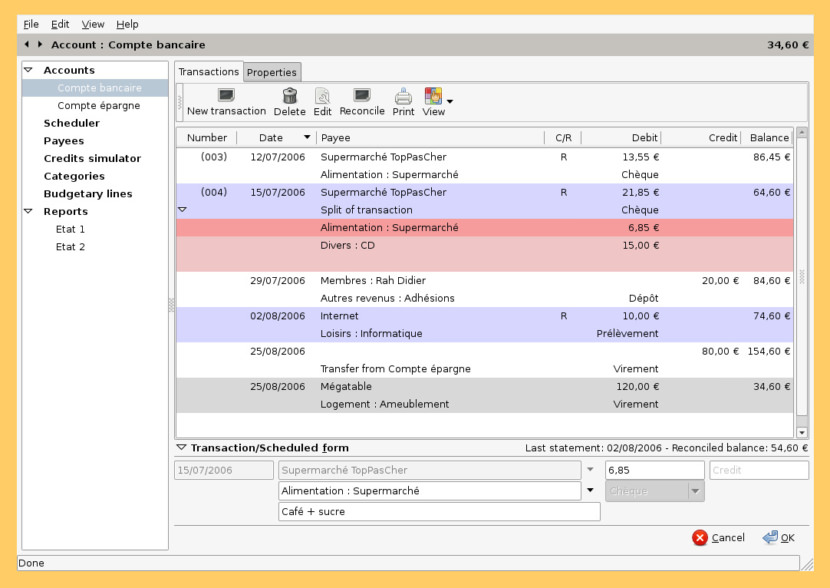 Grisbi is developed with a simple and consistent view of your accounting in mind. Transactions lists, trees, tabs, nearly everything is customizable in order to adapt to your use. Rookie or expert, your choice! It is a very functional personal financial management program with a reasonable set of home finance features.
However, the power to generate reports and present the data in several ways is one of best things about this software. Export your report in CSV or HTML format or get a copy of it and export the reports to another machine, it allows you all that.
↓ 11 – Skrooge | Windows | macOS | Linux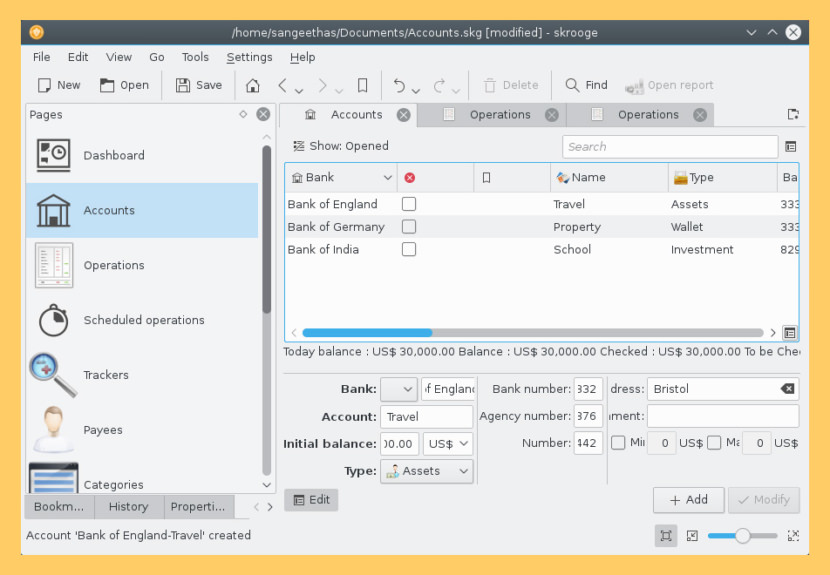 It's an open source and KDE-based application that's designed for managing personal finances. It helps you with a wide range of accounting functions for free such as – tracking your income, expenses, and investments, and also letting you see your information in tables and charts. What's more? You can even import the data in different formats for instance, MMB, SQLITE, QFX, QIF, CSV, GNC or MNY and also in KMY, XML, and JSON formats.
↓ 12 – InvoicePlane | Open Source | Self-Host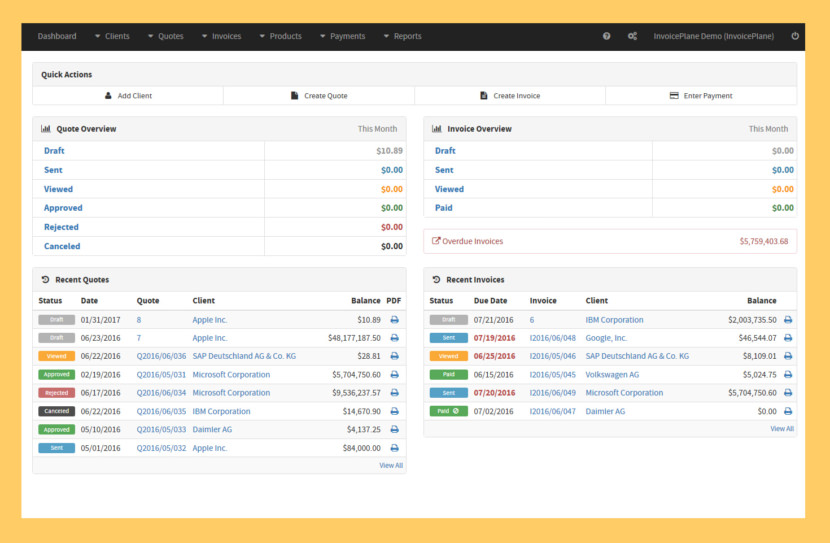 InvoicePlane is a self-hosted open source application for managing your quotes, invoices, clients and payments. The application comes with various options, templates and settings to customize your invoicing experience.
Quotes, Invoices, Payments – InvoicePlane is a solid app to manage your complete billing circle: from quotes over invoices to payments.
Manage your Clients – The application provides CRM-like management for your clients. Enter contact details, notes or add custom fields.
Customize InvoicePlane – You can customize InvoicePlane to make sure it fits your needs: amount formats, email and PDF templates and many more.
One-Click Online Payments – Let your clients use PayPal to pay the invoices. Online, with just one simple click.