What else do you need to turn your passion for childcare into an impactful and profitable business? The easier way to run your Childcare Center is to use a good childcare management software. Starting a daycare business can be the perfect business model for aspiring entrepreneurs who have a passion for child care. Whether you are looking to start a daycare, after school program, or an enrichment program, there is no shortage of demand for childcare services.
🤣😍😂 63 Positive Parenting Quotes On Raising Children And Be A Better Parent
In fact, the daycare industry in the United States earned a total of $56 billion in 2019, representing a significant opportunity for profit. It's also one of the fastest-growing industries throughout 2020 and is not showing any signs of slowing down. Those who wish to learn how to start a daycare likely already meet the first and most important criteria for starting a daycare: a passion for providing enriching childcare.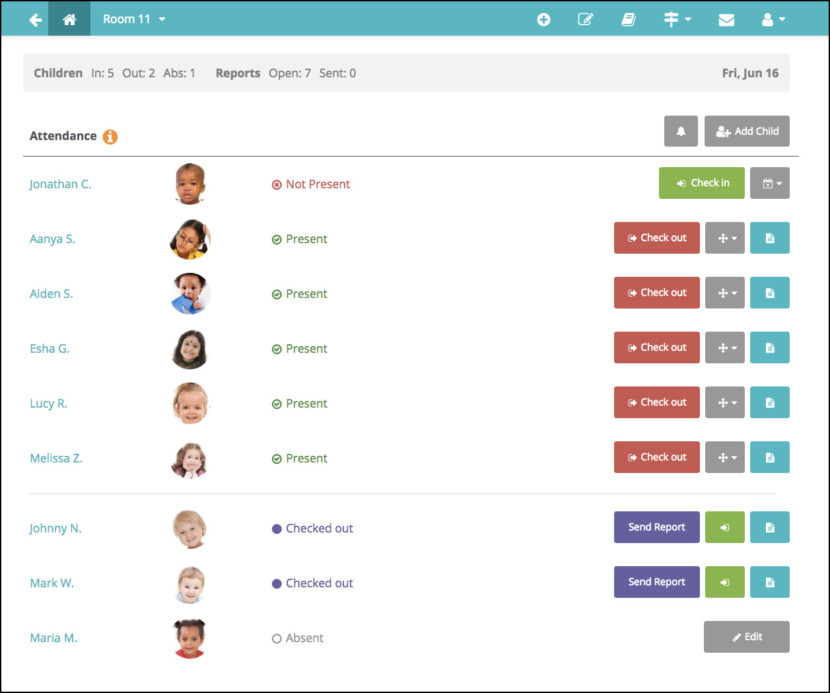 Use HiMama's daycare app to manage your center, grow relationships with families and support your staff's growth and development, all in one place! Go paperless using HiMama's childcare app and save time on manual admin tasks. HiMama enables you to support staff and grow the quality of programs at your center by keeping the focus on the children.
Key features include staff attendance management, lesson scheduling and customizable report generation that can be executed at regular intervals. HiMama also offers an activity and meal tracker, calendar management application and real-time photo and video uploading capabilities. It offers SMS notifications for parents, online registration, document management, live training for staff members and the ability to import data from external sources.
Communicate with parents – Connect with parents and keep them informed about their children's day!
Manage your center – Keep your center at your finger tips with an all in one source of truth.
Automate billing – Make billing easy and stop chasing parents for payments.
Run assessments – Easily record and assess development with Pearson Assessments.
Curriculum Planning – Get weekly lesson plans curated on demand for all ages and frameworks.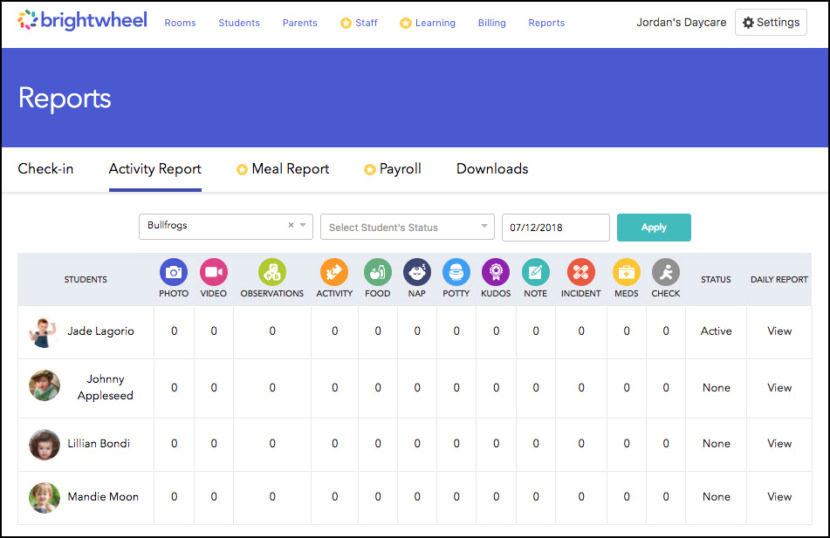 The complete preschool and childcare management software that integrates automatic billing and payments, real-time communication, classroom management, and so much more. brightwheel is a software solution built to modernize all childcare, daycare, and preschool programs by helping operate more smoothly, manage with less manual work, and most importantly, give back time to those looking after the well-being of children everywhere. brightwheel's tools and features are built, and constantly updated, in partnership with owners, directors, and teachers working in mid- to high-capacity ECE programs.
Reduce paperwork – Automate and digitize child care daily reports to share the day's events with families in real-time.
Capture milestones – Record student progress and developmental milestones with pre-loaded learning standards, then share with parents or staff.
Share moments digitally – Capture and seamlessly share learning milestones and memorable moments with parents.
Engage families – Easily communicate with parents and guardians by sending notices and making calls from within the child care app.
Digitize check-in – Replace paper check-in sheets with digital check-in for students and staff: digital signatures, secure pin codes, or quick scan.
Bill easily – Simplify your child care center's billing system with online billing and invoicing with recurring invoices and auto-pay options.
Run reports quickly – Run the child care reports you need: attendance reports for billing and licensing, payroll reports to sum hours worked for time cards.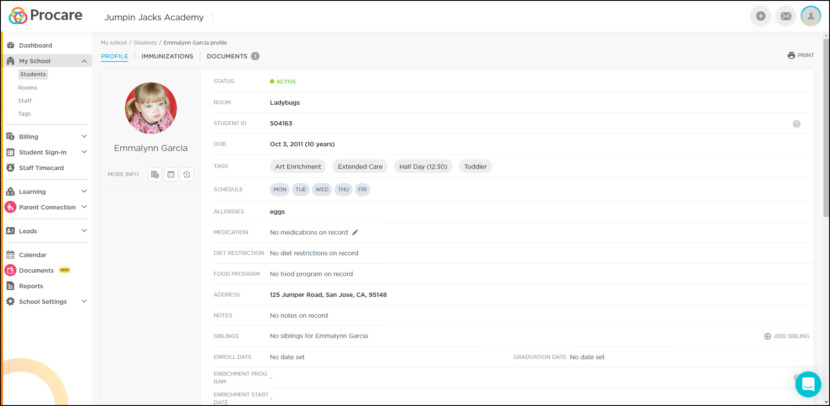 Easily manage every part of your child care business by letting Procare organize family information, track attendance, automate tuition collection and do more for you! Procare has the solution that's right for your center or program so you can focus on what matters most – the children in your care.
Procare gives you the power to manage every aspect of your center or school, regardless of the size and structure of your organization. From invoicing, billing and payments, to keeping track of children and family information, everything you need is in one place. Procare saves you time and money by streamlining administrative tasks so you can focus more on the growth and development of the children in your care.
Financial Management
Managing Staff
Attendance Tracking
Family Registration
Managing Documents
Meal Planning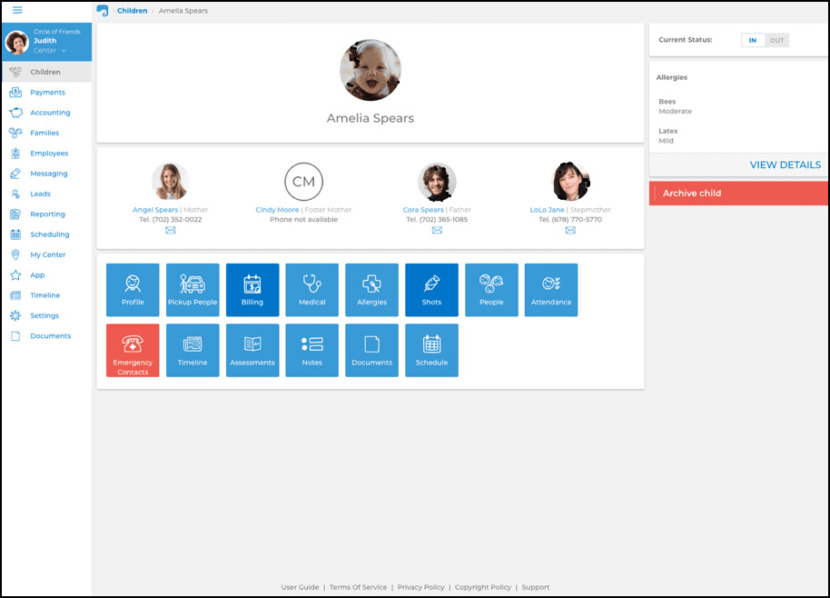 Looking for the smarter platform to power your childcare program? Experience how Smartcare by Vanco automates, streamlines, and enables the administration of your program. SmartCare is a cloud-based childcare solution that connects childcare center owners, teachers and parents in real time through a web interface.
SmartCare is fit for childcare centers and K-12 schools in the US. It helps parents track their children's activities while at daycare. Parents can connect through social media platforms to share photos and videos. You do important work; you're building up the next generation. However, with a surplus of child care centers across the globe, you need help standing out from the crowd. That's where child care software comes into effect.
Send billing and post payments
Record attendance history
Retain medical information
Note incidents, successes, and birthdays
Make payments at your center
Create real-time communication with parents
Use leads to nurture prospective families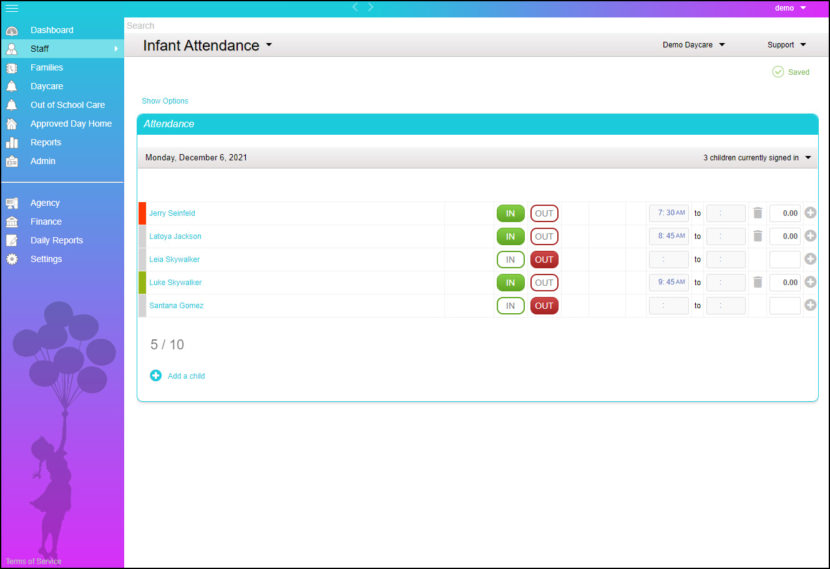 TimeSavr is flexible web-based software designed for daycare owners by daycare owners. Our solutions have helped hundreds of childcare centres reduce costs, improve care, retain employees, and most importantly, save time!
TimeSavr helps you get more done with less effort in less time. Our web-based software simplifies your team's workload. TimeSavr will reduce your paperwork, automatically compile reports, and provide better communication for staff and parents/guardians. Best of all, our flexible features are easy for you and your staff to learn and use.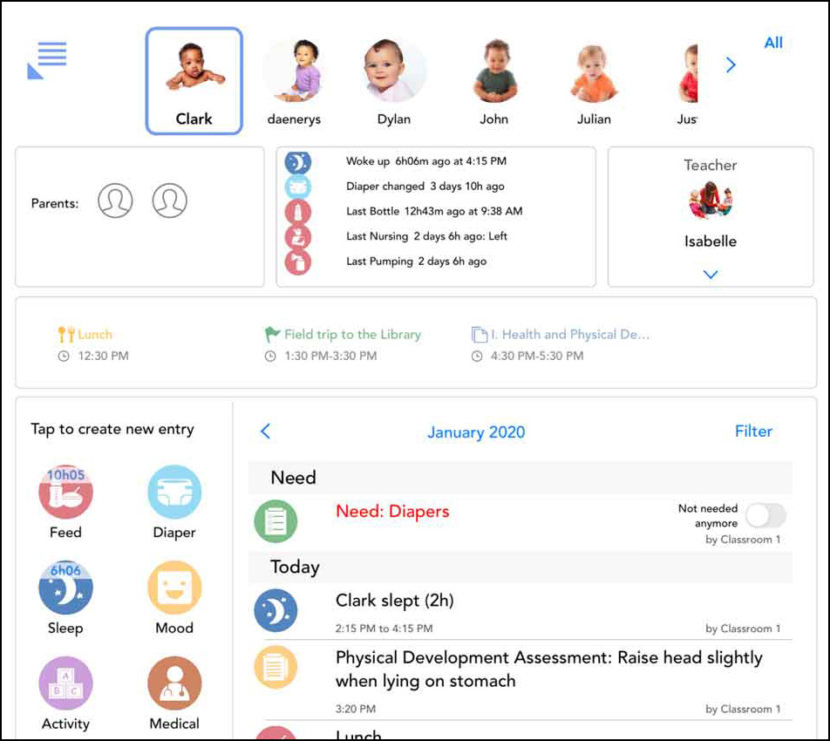 Daily Connect frees you from time-consuming administrative tasks so you can spend more time growing your business. Designed for small to midsize businesses, Daily Connect's sign-in kiosk allows users to collect attendance of classroom teachers and directors in a centralized platform. It enables enterprises to and inform parents about important events via automated emails and push notifications. Additionally, the solution allows firms to generate reports on classroom activities on a daily, monthly and weekly basis.
Contactless Sign In & Attendance Tracking – Parents sign their child in using a QR code or unique PIN, and you'll always know which children are checked in, and which classroom they're in.
Learning & Assessment Reporting Tools – Record observations and assessments using your own learning framework, or use one of the built-in state standards.
Childcare Center Management – Track activities in every classroom, send checklists to teachers, produce reports required by regulators, and capture incident reports digitally.
Parent Communication – Use the Daily Connect mobile app to post updates including photos, videos, activities, meals, and more so parents know exactly what their kids are up too.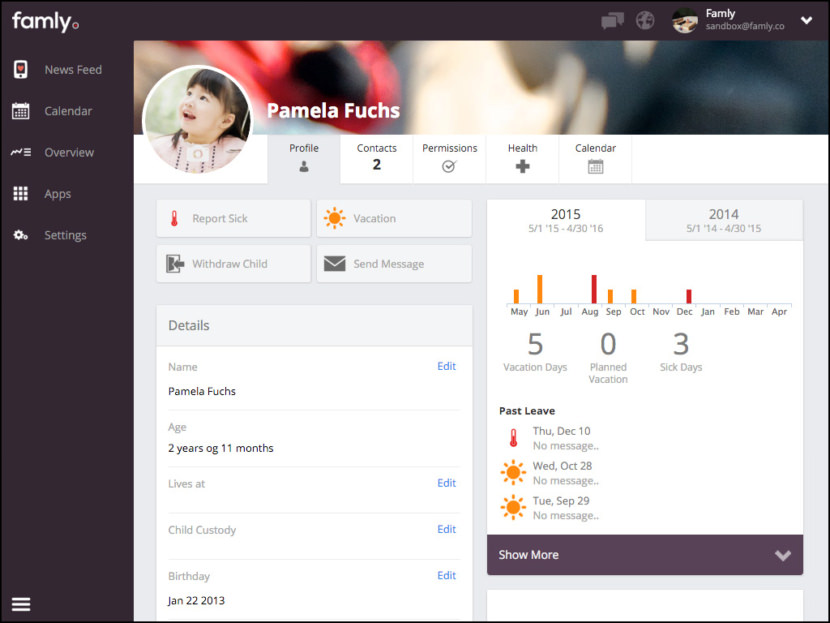 Time-starved center? Time for new software. From staffing to parent billing, manage and automate your entire childcare center. All for the price of a cup of coffee. Childcare management software should connect you to every family. Send out posts, photos, individual and group observations, daily activity reports and updates on each and every child, all from your personal news feed.
From personalized support to activity ideas and guides on child behavior, expect more from childcare management software. From digital enrollment to automatic billing to instant message translation, Famly is the time-saving solution that goes the extra mile for your ECE business needs.
Parent engagement – Send instant messages, observations, and updates to bring parents closer.
Child development – Add digital observations, assessments, unique lesson plans and more.
Daily reports – Log sleep times, diaper changes, immunizations, and get a personal news feed.
Enrollment & attendance – Predict, manage, track, and boost enrollment and attendance in seconds.
Efficient staffing – Plan schedules and vacation, get automatic ratios & manage your team easily.
Easy finances – Make accounting simple with in-app payments, revenue forecasting, and batch billing.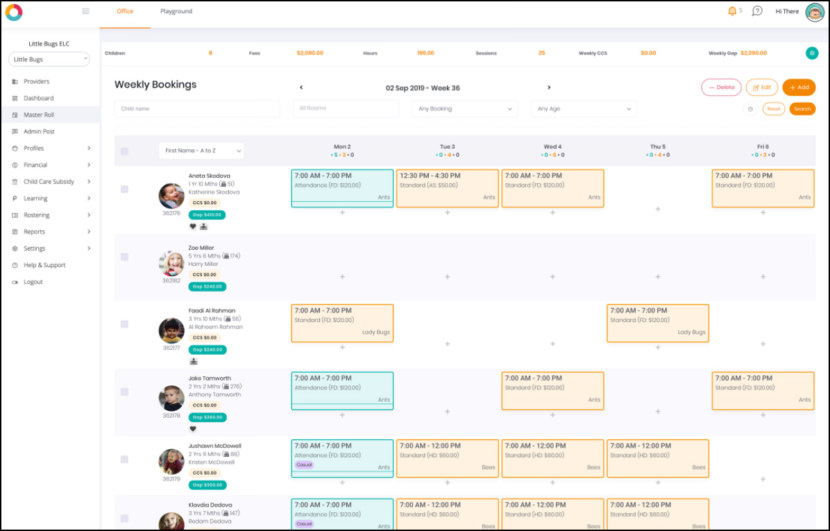 Xplor is a cloud-based solution designed to help child care centers handle student enrollments, subsidy management, session bookings and other administrative processes on a centralized platform. Using the playground module, professionals can monitor children's activities and record observations in the form of images or videos.
Xplor provides mobile applications for iOS and Android devices, which can be used by parents to remotely track the daily progress of children, view due payments and communicate with educators via chat. It allows organizations to create enrolment forms using custom templates, manage child care subsidy (CCS) submissions and automatically generate digital complying written agreements (CWAs). Other features include pick-up reminders, reporting, audit logs, rostering, timesheets and more.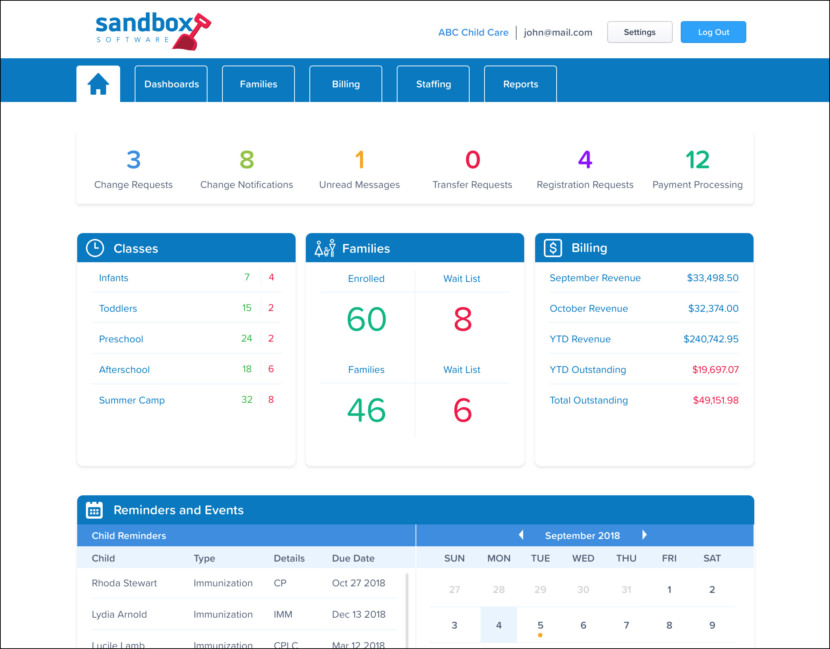 Go completely paperless with Sandbox – powerful, award-winning child care software. The long list of tools includes attendance tracking, automated invoicing, online registration, parent communication and much more. Manage your daycare, engage your parents and grow your business all in one place.
Go paperless with electronic attendance and information management.
Keep your parents engaged and informed. Anytime. Anywhere.
Automate time consuming tasks, so you can focus on growing your business.
Track child attendance and staff hours with our kiosk and Teacher App.
Track activities like meals, naps, incidents, and more
Keep parents connected with real-time updates throughout the day.
Communicate with parents in a fast, simple, and secure way.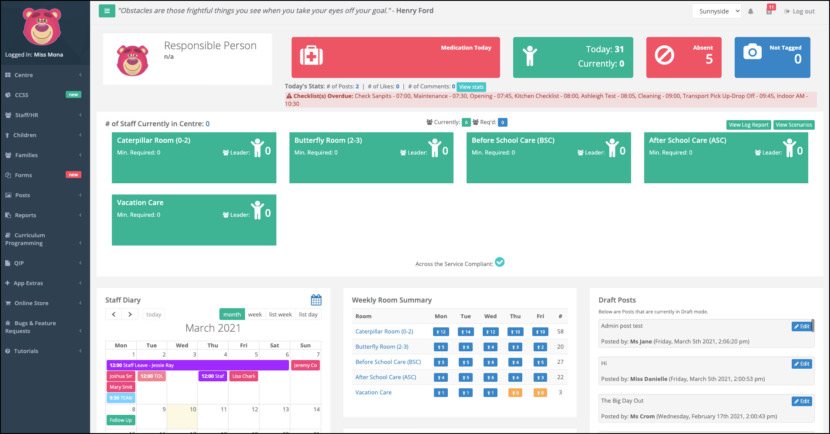 Simplifying Childcare Management with OWNA, a stress free childcare software for busy centres. Their customisable app enables owners, educators and directors to manage their centres with ease, improve compliance and engage with families better than ever before.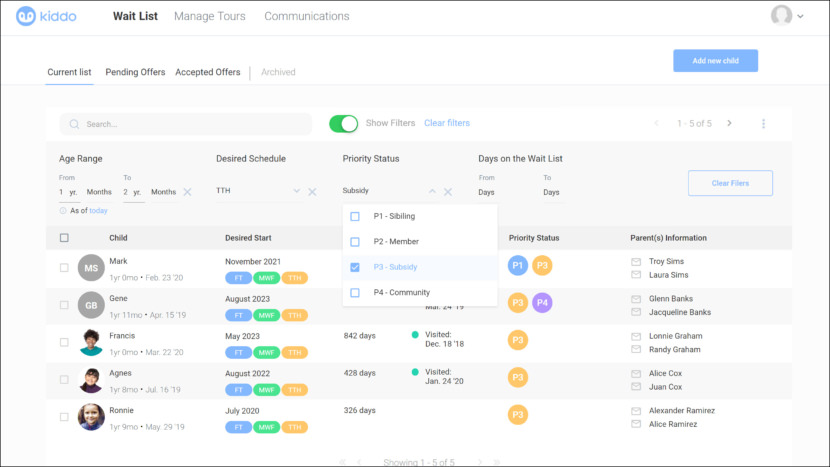 The Kiddo philosophy is to build software that's easy to use yet still allow for flexibility of each center's needs. You want to to give a discounted wait list fee of 38% for low income applicants and give ranking preference to kids with a sibling already at the center? No problem! It's easy to set up and can be changed any time.
Kiddo is a web-based waitlist management software designed to help large and small child care centers automate waitlist scheduling and parent communication. Features include online payments, automated parent emails, online tour booking, waitlist management and online parent applications.
Online Parent Applications – Parents can fill out and submit an application to join your center's wait list in a few minutes, so that you have all the information you need.
Wait List Management – Easily see who is on your wait list and quickly filter based on age, time on the list, schedule preferences, and custom priorities that you set (e.g. sibling enrolled, minority status, preferred employer).
Online Tour Booking – Parents can self-signup for upcoming tours and manage any scheduling changes themselves (e.g. cancelling, switching to a later date).
Accept payments online – Parents can make payments, and those payments show up in your bank account. It's that easy.
Automated Communications – Automated parent emails allow you to focus on more important center activities.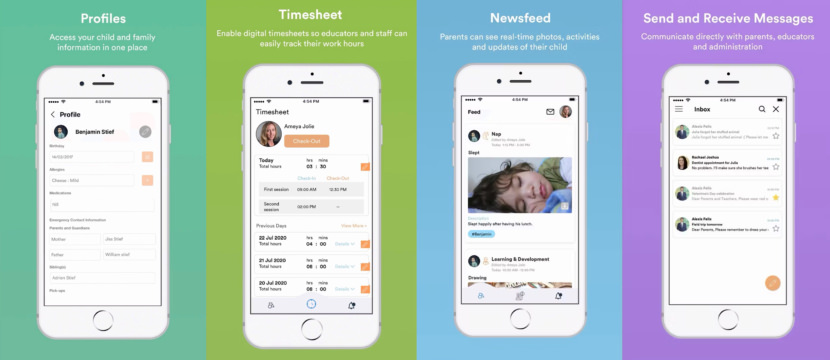 The KinderPass platform simplifies day-to-day operations for childcare centers, so you can focus on what matters: providing an ideal learning environment that sparks growth, creativity and happiness in children. KinderPass makes it easy for nurseries, daycare centers and preschools to move and run all their operations online thanks to our all-in-one-platform.
Improve enrollment flow – Take control of your admission processes by managing enrollments, waitlists and child attendance in just a few clicks. Gather all your family records in one place, so you're always prepared to welcome new children – or say goodbye to young graduates.
Reduce admin time – KinderPass lets you oversee one or multiple sites from your central dashboard. Automate repetitive tasks and accelerate recordkeeping through smart-management functions and paperless tools, from staff payrolls to automated tuition billing.
Boost parent satisfaction – Delight and engage families by sharing real-time photo and video updates via the The KinderPass app. The parent portal gives them all the tools they need to feel in control of communication, learning plans and even school fees and payments.
Empower your staff – Increase educator wellbeing by alleviating their workload and making it easier to track children's progress and development. KinderPass gives teachers tons of tools at their fingertips, from paperless task planning to automated rosters, all accessible online, 24/7.
Grow your business – Find the ideal balance between outstanding education and business growth. KinderPass facilitates tuition collection, enrollments and communication between owners, managers and staff to improve your operational efficiency – and finances.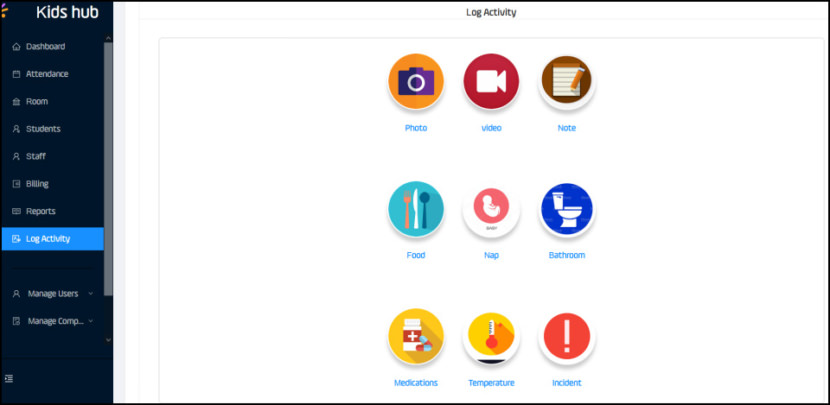 Kids Hub is a child care management solution that helps pre-schools, childcare and daycare facilities handle billing, attendance and parent engagement activities. It enables organizations to manage students, view rooms' availability, communicate with parents and manage employees via a unified platform.
Unlike some clunky, complicated software and DIY solutions, Kids Hub was built to empower you and your staff to manage every aspect of your business so that you can focus on what really matters.
Child care management systems are the pinnacle of technological aid in the child care industry. Most can help with the majority of your administrative needs – attendance-tracking, enrollment, billing, record-keeping, and more. However, since there is so much that can be stored, automated, and tracked inside these systems.
Their cloud-based system provides a foundation for providers to save time and run your business more smoothly, especially when being trained on best practices. The automated processes found within the system will allow directors to know that your billing, that your CACFP, that your attendance… that ALL of your administrative pieces are running smoothly. And when you know that is running smoothly; it allows you to focus on the reason you got into child care – the children!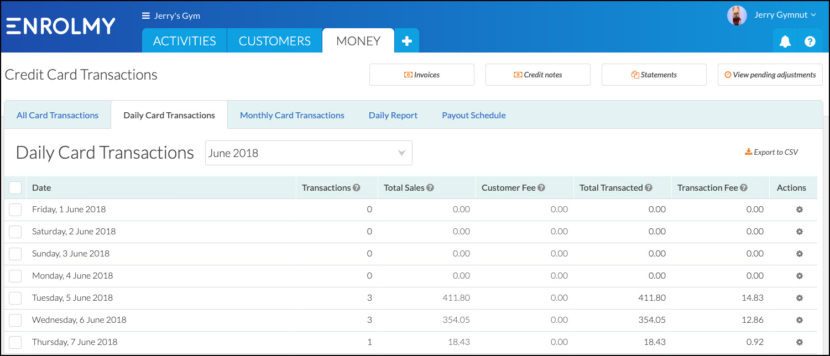 Enrolmy is a cloud-based solution used to book and manage childcare activities. It has everything businesses need to automate and manage your programs' accounting, enrollment, registration, customer communication, data management, and branding. It helps simplify how businesses run childcare activities while improving data collection and organization through mobile apps for iOS and Android.
Software Integrations – Enrolmy fully integrates with Xero accounting software. Map your chart of accounts in Enrolmy to automatically code on invoices. You can bulk export invoices, statements and other accounting data by CSV to upload into whichever accounting programme your organisation uses.
Powerful Accounting Tools – Create detailed invoices and generate hundreds of them in a matter of clicks. Raise credit notes, reconcile payments and bulk email accounts with status updates.
Instant Online Payment – Offer online credit card options for parents to make immediate payments and increase your cash flow. Apply for instant online payment processing capabilities with our simple STRIPE application form.​
Straightforward Discount Structures – Enrolmy gives you a simple way to offer early bird, sibling or multiple activity discounts and reward loyal customers. You can bulk export invoices, statements and other accounting data by CSV to upload into whichever accounting programme your organisation uses.