What hotel management software? What does hotel management software include? Hotel management software or system is a cloud-based tool that will allow you to easily manage the daily operations and admin of your property online. It serves as a central platform to streamline various hotel-related tasks, such as reservation management, check-in and check-out processes, room allocation, billing, and reporting.
🤣😍😂 5 Free & Powerful Human Resource Management Software For SME
Hotel management software may include a front desk system, channel manager, and booking engine that integrate and work together to manage your business. In the case of Little Hotelier you'll also have access to a website builder, payment functions, insights and performance data, and a mobile app.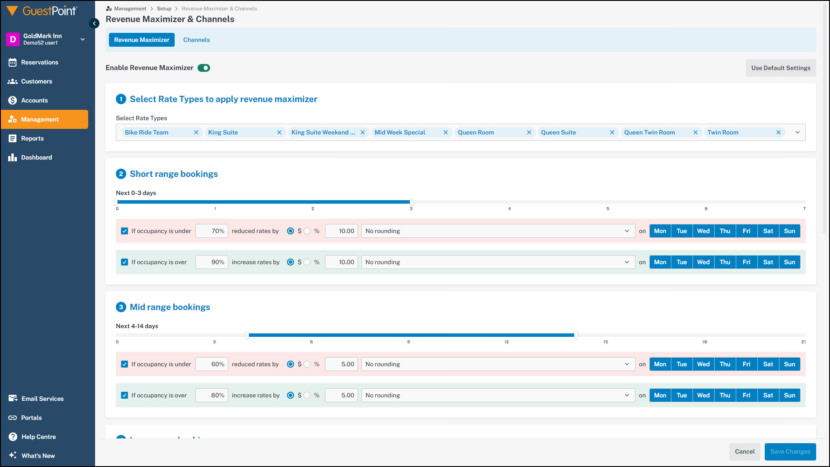 GuestPoint Property Management System is your best choice for Motels, Hotels, Apartments, and Small Property Groups. Grow your business with unlimited access to 100+ global sales channels, including Airbnb, Booking.com, Expedia, and the Global Distribution System (GDS). Not taking OTA bookings? No problem. Save money with their standaloneproperty management system.
Designed primarily for small and midsize property owners, GuestPoint helps property managers oversee their front desk operations, online bookings, financials, maintenance and more. GuestPoint's reservation interface offers drag-and-drop functionality, and the software also provides modules for accounting, housekeeping, guest relationship management, task lists and more.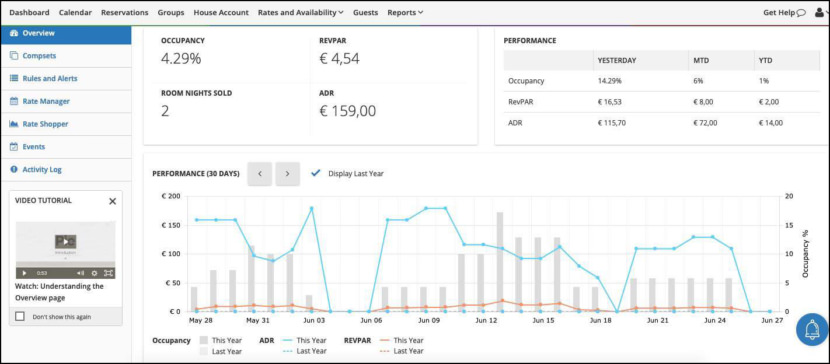 The Cloudbeds PMS is built with all the tools you need to run and grow your business so you can focus on your guest experience. Cloudbeds' property management system (PMS), is a cloud-based front desk for your property. With it, you can check-in and check-out guests using an attractive drag-and-drop interface. Use it to push updated availability to your internet booking engine and channel manager. This makes your prices and inventory the same at your hotel, on your website, and on OTAs. Cloudbeds is ideal for:
Small to big Hotels
B&Bs and Inns
Hostels
Hotel Groups
Vacation Rentals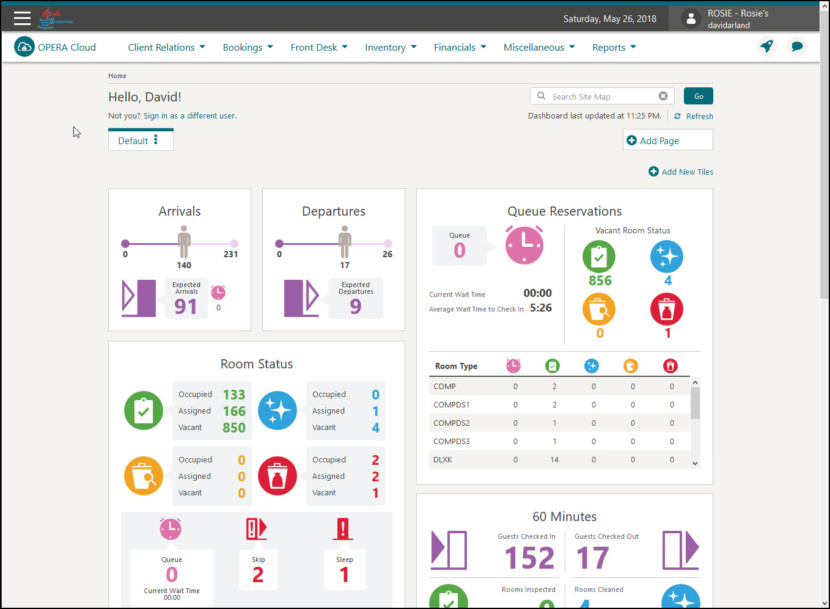 OPERA Property Management Suite (Opera PMS) is an enterprise property management system for hotel operations and distribution based on cloud technologies. Secure, scalable, and mobile-enabled, the platform offers the comprehensive capabilities hotels need to deliver great guest experiences, improve operating efficiency, and enhance employee productivity.
OPERA brings to the cloud the power of the OPERA software suite that leading hotels and casinos around the world have relied on for years to manage properties, hotel management, and distribution. Hoteliers leverage OPERA to provide a seamless check-in experience via front desk agent workflows. Find hospitality solutions by sector:
Hotels and Resorts – Orchestrate operations with integrated property management, point of sale, and analytics to stay ahead of your guests' needs.
Casino and Gaming – Take the casino experience to the next level of profitability with connected systems that grow nongaming revenue and personalize guest services.
Hotel Food and Beverage – Unify food and beverage logistics and deliver distinctive service with point of sale easily integrated with payment, loyalty, and delivery to capture more revenue.
Cruise – Streamline cruise operations with systems that manage passenger and crew activity onboard and track fleetwide performance.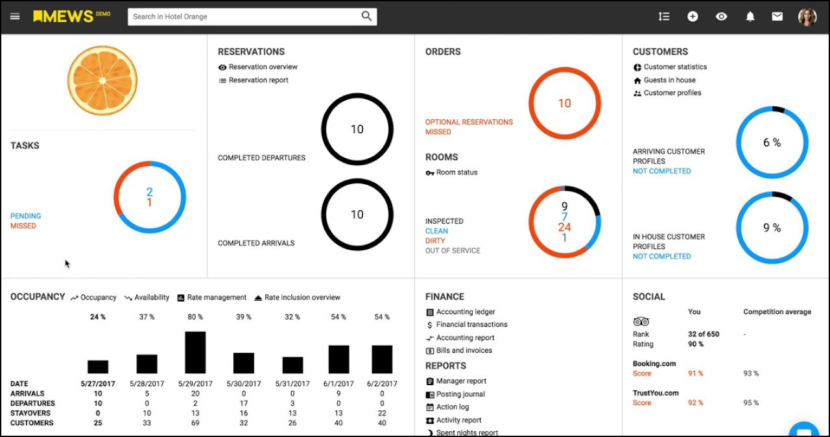 Mews is a property management system designed to simplify and automate all operations for modern hoteliers and their guests. From the booking engine to check-out, from front desk to revenue management, every process is easier, faster and more connected. And with the integrated Mews Payments ecosystem, every transaction is secure and seamless.
It is a fully integrated ecosystem of six key products – Operations, Payments, Guest Journey, Business Intelligence, Marketplace and API – harness the power of smart automation to make a real difference for properties and chains of all sizes. With over 450 integrations and hospitality tech partners, Mews is the most connected solution on the market. Its also the easiest to use, with a clean, intuitive interface and outstanding support should you need it.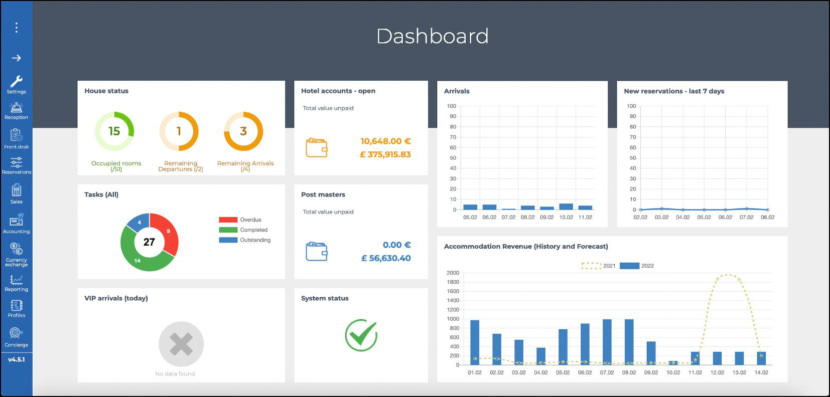 HotelTime Solutions offer premium cloud-based solutions for hotels, restaurants, wellness centers and conference facilities. The First Cloud-Native PMS Suitable for properties of all sizes including resorts and groups running in more than 550 properties in 16 countries worldwide.
HotelTime PMS enables efficient hotel management, saves costs, and ensures the satisfaction of your guests. Moreover, it can be easily connected with other HotelTime Solutions systems developed to facilitate the management of various segments of hotel operations. A cloud-based solution for hotels, restaurants, SPAs, and event management.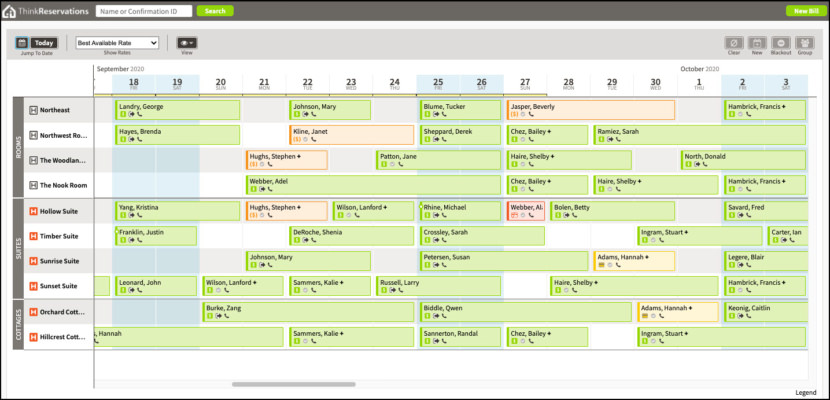 ThinkReservations provides a fast, professional, and comprehensive property management system for your business. Dynamic, professional, and easy to use, ThinkReservations offers integrated payment processing, superior support, and direct connectivity with channels such as Booking.com, Expedia, Tripadvisor, and Airbnb. We are dedicated to providing you the tools to make your business more profitable and productive.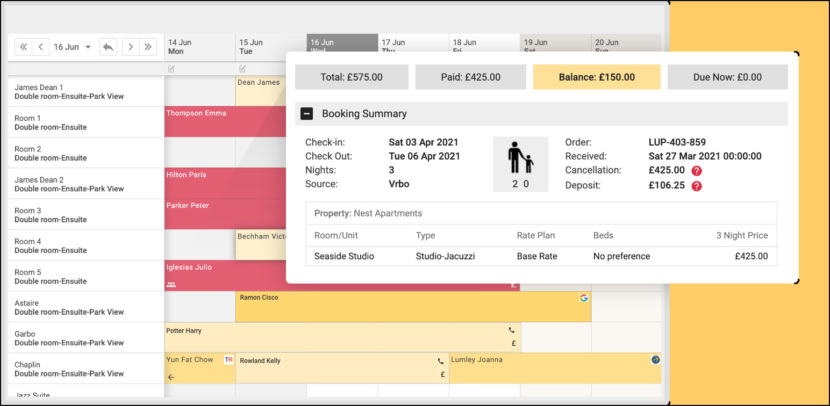 eviivo Suite is an award-winning, cloud-based booking and property management platform powerfully built to optimize all reservations, guests and properties — whether a single room or multi-property portfolio — for hospitality owners, property managers and hosts. Beautifully designed, award-winning hotel property management system (hotel PMS) with booking calendar, designed for b&b's and vacation rentals too!
Manage guests, bookings, staff and just about everything else with our vacation rental, B&B and hotel PMS system (property management system) including our best-in-class booking diary.
Property Manager – A beautifully designed booking calendar, automated confirmations and invoices, promotional rates, reports and a media library to store all your data.
Website Manager – A stunning website to showcase your property, combined with a powerful customisable booking engine that is mobile, SEO-friendly, and commission free.
Channel Manager – Fully automated update of all major travel sites: rates, availability, promos, amenities, taxes, extras, fees & policies. Commission report & reconciliation.
Promo Manager – Exclusive packages, promo codes, wide range of advanced promos & dynamic pricing rules. Ultimate flexibility.
Guest Manager – Unified messaging and automated guest communications with a "drag & drop" designer to personalise your messages.
Payment Manager – Secure card processing with Level 1 PCI compliance. Contactless check-in & check-out and fully automated payment or deposit collection.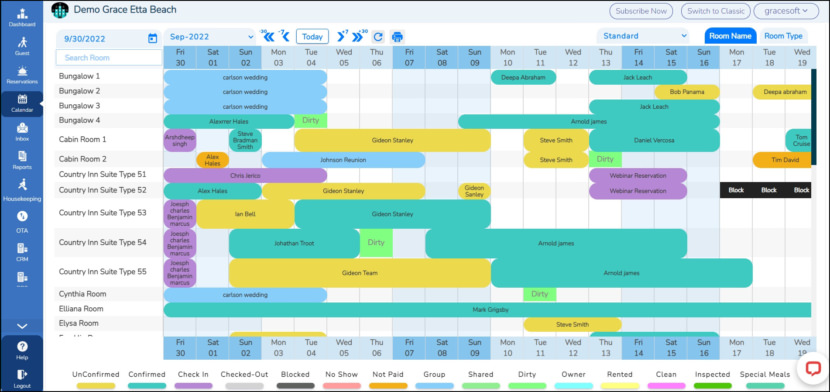 For hotels, condos, resorts and other short-term properties, Easy InnKeeping provides a cloud-based software suite that manages property operations, from reservations to marketing to financials in one single solution. Easy InnKeeping is ideal for property managers with less than 100 units and includes industry-specific features like GDS Connectivity and seasonal rate support.
Credit Card Processing – Hotel Management Software offers guests a secure and easy way to make online payments. Guests can make reservations 24/7 and get paid after they book.
Marketing Channels (OTA) – With our OTA platform, you can directly connect with top booking sites like Booking.com and Expedia in order to sell your rooms at the best price!
Point of Sale system (Easy WebPOS) – Spice Up your Restaurants and Gift Shops with Easy WebPOS & gradually improve your revenue.
Seamless Integrations – It's easy to integrate our payment gateway with your favourite providers.We offer secure integrations for PayPal, Stripe, and Authorize.net so that you can start accepting payments on the spot!
Built-in Emails & text messaging – Communicate with your guests through emails & text messaging, notify them of their check-inns & check-outs.
An integrated hotel management platform for a touch-less world. Deliver better guest experiences, increase revenue, and reduce costs with one property management system supported by a North American team of experts. RoomKeyPMS is a cloud-based Property Management System that offers front office and property management capabilities, guest relationship management, an online booking engine, housekeeping, and more. The software stores data in the cloud that allows users to access the system from anywhere.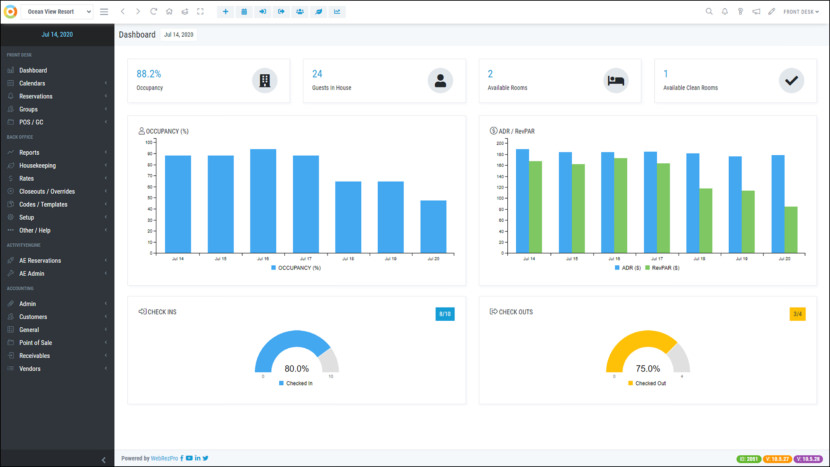 WebRezPro is award-winning hospitality software (hotel PMS) that simplifies operations and maximizes direct bookings. WebRezPro PMS is organized into three primary departments: front desk, back office and accounting. Together, they cover the entire guest cycle, from pre check-in to post check-out.
WebRezPro is a cloud-based hospitality property management solution designed specifically for the hospitality and hotel industry. The solution helps a broad range of hospitality segments including hotels, inns, lodges, cabins, campgrounds, hostels and vacation rentals.
Perfect for hotels, B&Bs, vacation rentals, campgrounds and more.
All front desk & back office operations (with integrated accounting).
Commission-free booking engine with upsells.
Guest self check-in, yield management, housekeeping, POS, groups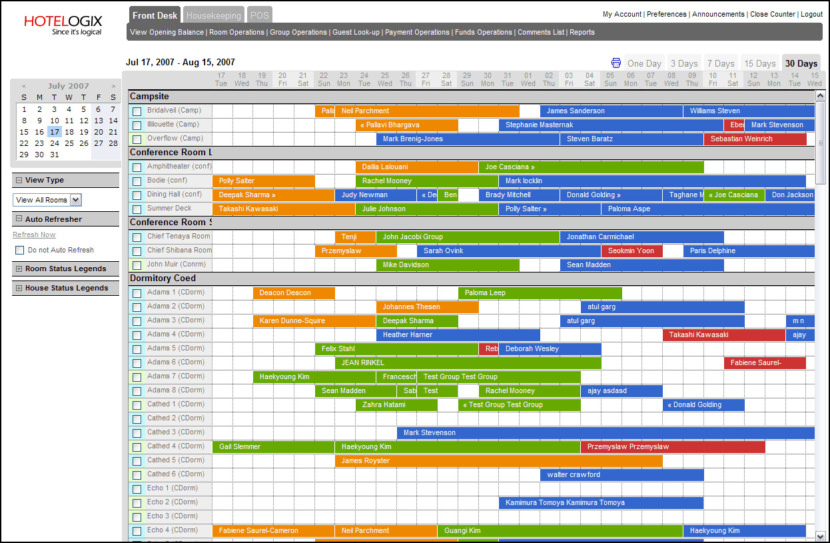 Hotelogix cloud-based hotel management system comes with next-gen capabilities to help you automate and streamline daily operations, improve overall efficiency and maximize revenue. The Hotel PMS Software has earned the trust of hoteliers operating across 100+ countries.
Daily operations management is simplified by Hotelogix's cloud-based hotel management technology, which automates processes for improved efficiency and maximum revenue. With trust earned from more than 100 countries around the world, it is clear that Hotelogix has more than a few things that set it apart from the competition.
Benefits of Property Management Systems for Small & Medium Businesses. With the goal of improving efficiency and maximizing revenues at its core, Hotelogix's Property Management system is designed to automate hotel operations to simplify management for small and medium size businesses.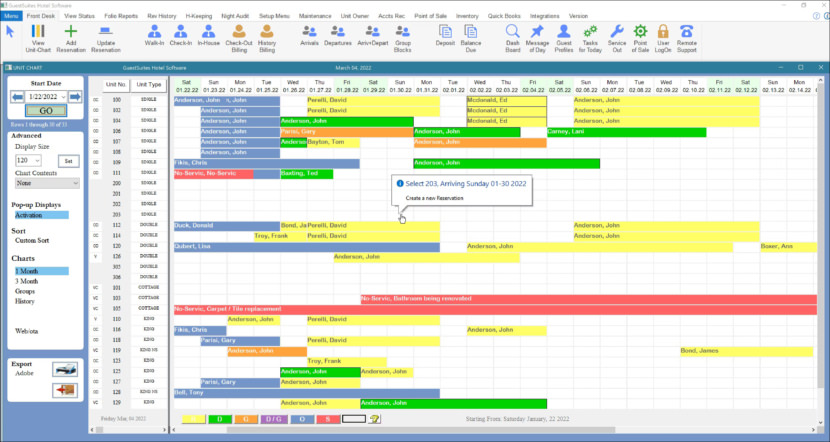 GuestSuites is a hotel and property management solution that services all lodging industries including hotels, resorts, luxury inns, B&Bs, state parks and campgrounds, hospitals, universities, government and armed forces facilities. The platform's features include online booking engines, reservations, restaurant and retail POS, accounting with QuickBooks integration, and a Shift4 credit card integration gateway.
Whether your guests are swinging their clubs or visiting to socialize, GuestSuites provides an optimized Club Management Software to provide you more time with your guests. Get to know your members with the private booking engine by building guest profiles and create unique experiences for different clients.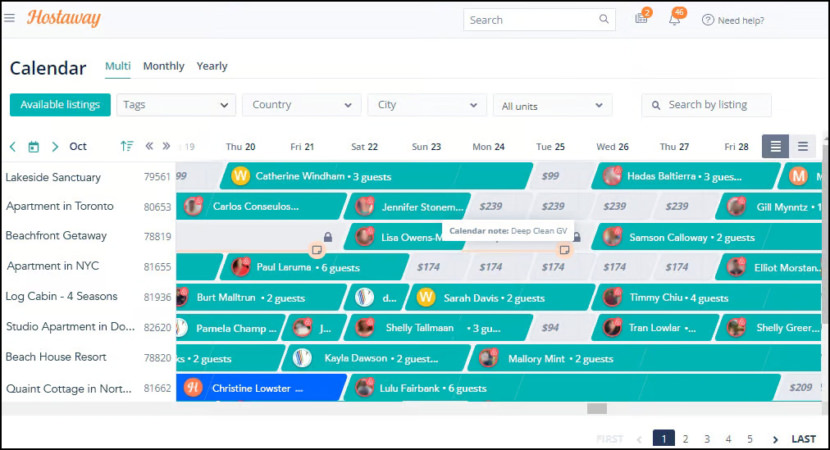 Hostaway is the most comprehensive and robust property management system for short term rental managers. Hostaway manages inquiries, guests, distribution channels, owners, and staff all in one place.
Hostaway is a fully scalable system that is designed for your business growth. Hostaway can be used as either an all-in-one property management solution or be used as a modular and customizable software that can be adjusted to your business needs.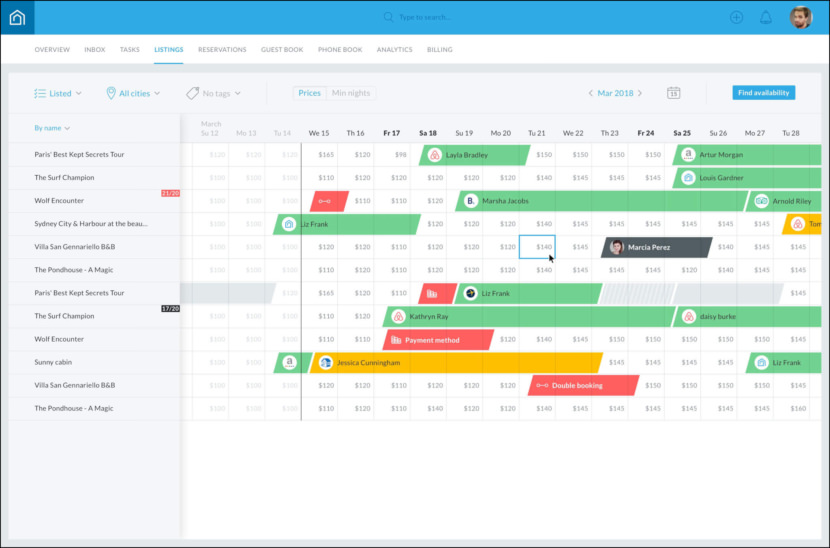 Guesty automates and streamlines every aspect of your growing & changing rental business. Airbnb Short-Term & Vacation Rental Property Management Platform. Guesty is the ultimate property management platform for short-term and vacation rentals. Our end-to-end solution simplifies the complex operational needs that property managers face on a daily basis – from guest communication to task assignment to payment processing. With Guesty, property managers save time so they can focus on what matters most: growing their business.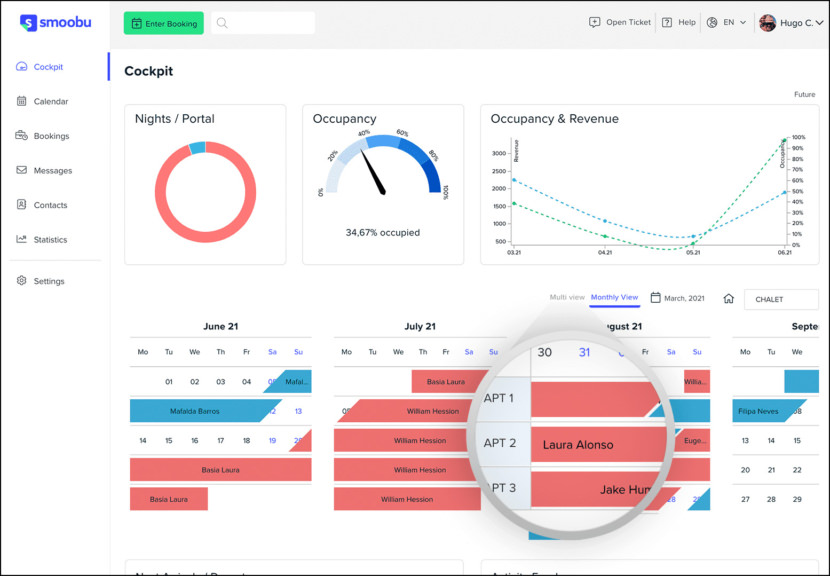 Smoobu is an online vacation rental solution designed to help businesses streamline processes related to reservations, communications, guest experience and more. It comes with a channel manager, which lets users connect the platform with third-party rental channels such as Airbnb, Agoda, Expedia or Booking.com and automatically sync data such as minimum stay, prices and more.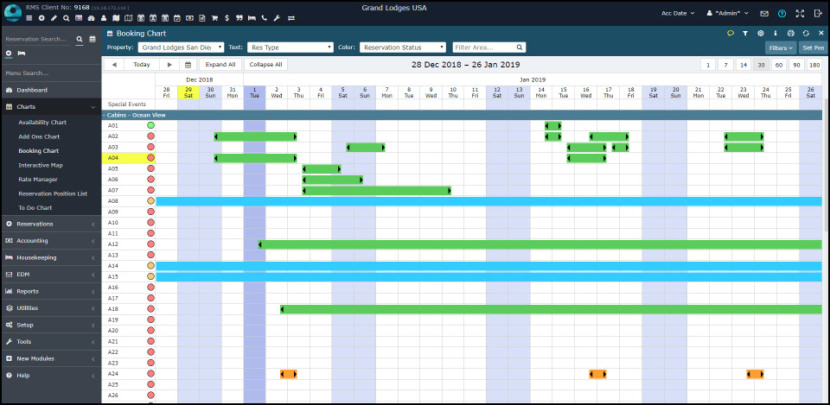 RMS is a global provider of innovative, cloud-based technology solutions for the outdoor hospitality industry. By offering business insights, best practices and user-friendly software, RMS enables campgrounds, National Parks, RV parks, and marinas to increase revenue, optimize operations, and enhance the guest experience.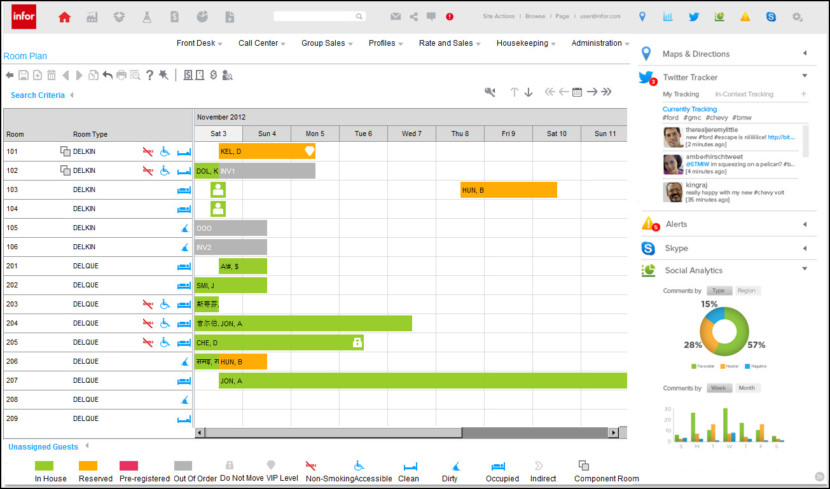 An advanced hotel property management solution should be more than just a single system. It should be the hub of hotel operations that connects all systems for hotels, resorts, and casinos. Your hotel PMS should be a holistic hospitality technology platform that connects every aspect of operations to the guest experience, creating a seamless journey that helps your organization meet and exceed the highest standards. Ideal for:
Hotel / Resort
Holiday park / Campground
Serviced Apartments
Lifestyle Village
Facility / Workforce / Centre
Motel / Lodge
Student Accommodation
Holiday Letting
Marina
Management Rights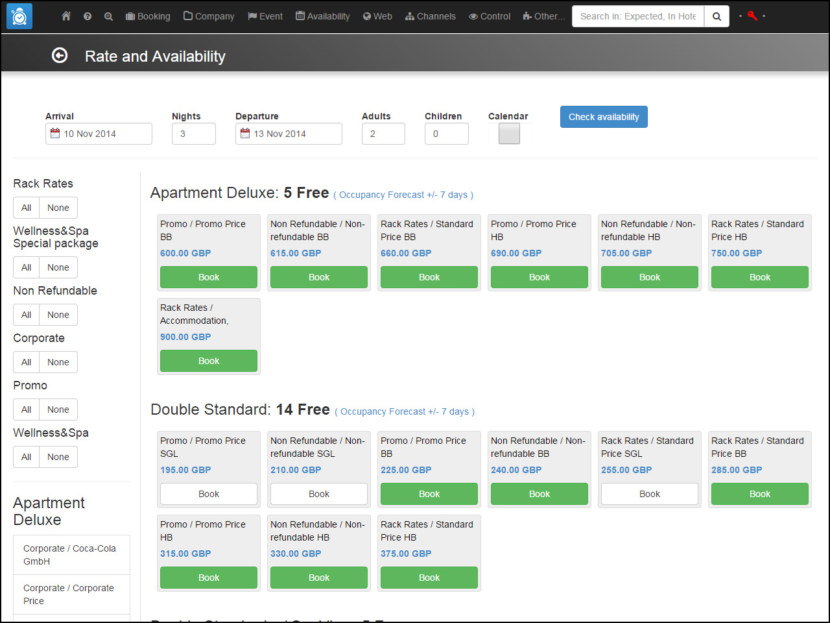 Clock Software offers a complete and integrated suite of cloud-based hotel management software, distribution systems and guest engagement apps, with Clock PMS+ at the forefront. Streamline your business' technology, amaze your guests with touchless digital services and maximise profits using Clock PMS+! The system offers full-featured, cloud native property management that enables contemporary, paperless hotel operations.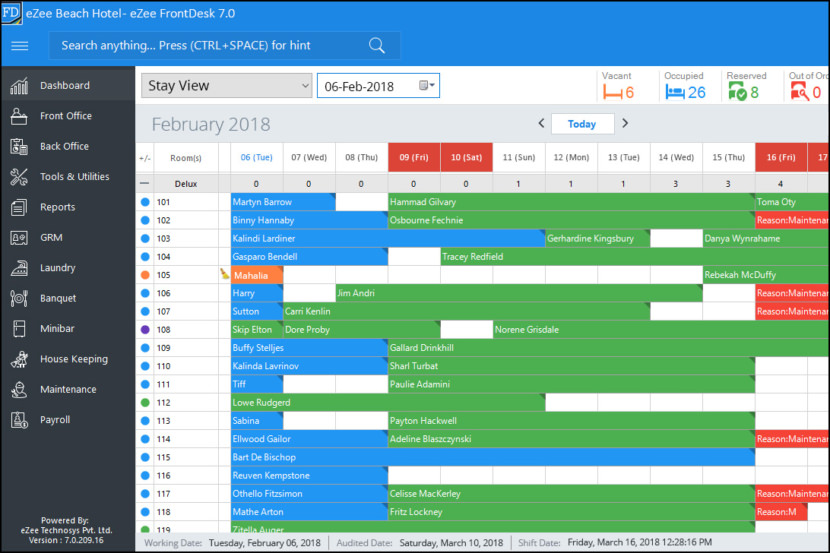 A hotel management software a.k.a – a software that streamlines the A-Z of hotel operations. It is a set of fully integrated modules that handle reservation, room operations, housekeeping, guest engagement, banqueting and so. Playing a significant role in increasing a hotel's efficiency and revenue, the hotel management software has become an inseparable part of hotel management.
eZee FrontDesk Hotel PMS perfectly suits the needs of various types of properties and used in hotels, motels, resorts, clubs, B & B's, small hotel franchisees, clubs, condos, hostels, apartments and more.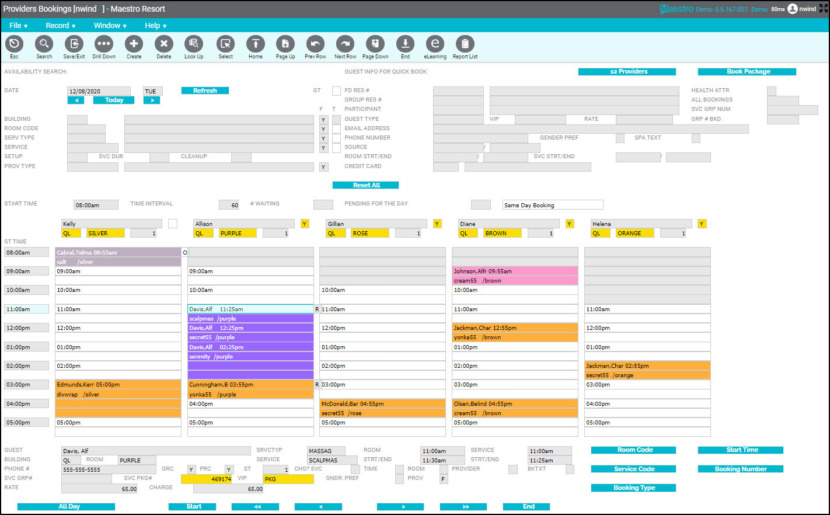 Maestro is the only hospitality Property Management System software company that offers an all-in-one, comprehensive Web browser or Windows solution with the option to host its Maestro Cloud Platform on-premises, in a private cloud, or cloud hosted.
All environments support the latest mobile, contact-free, and web responsive technologies to enhance the digital guest and staff experience; with the added benefit of an extensive collection of open APIs to support more than 800 third-party integrations.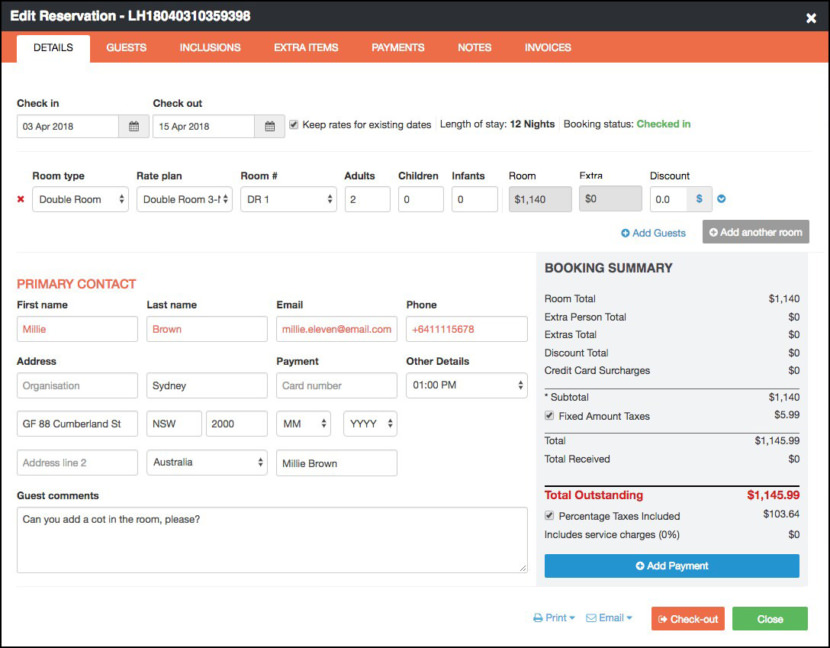 Simple, yet powerful software for your small property. They designed our hotel management software for busy people just like you. Who not only have a property to manage, but a big day — every single day. Little Hotelier doesn't just boost your bookings, it gives you more control and freedom, too.
Front desk management – Staff can use the software to check guests in and out, issue keys, and manage all room-related changes.
Easy-to-implement scheduling – A job scheduler in which you can schedule all your teams from a single dashboard, manage time-off requests, and approve shift swaps.
Time clock with geofencing – Employees can use a simple time clock to clock in and out of their shifts directly from their smartphones. Geofencing lets managers rest assured that employees are only clocking in and out from their assigned locations.
Employee training and onboarding – Upload training documents and quizzes directly to the app so new employees have access to them at any time.
Simple communication – You should be able to easily contact employees via direct message or on a company newsfeed. An employee directory is also helpful, consolidating everyone's contact information into a single place.
Online checklists, reports, and forms – Upload job-specific checklists, maintenance ticket reports, order forms, and more.
Online booking management – The ability to manage online bookings made via third-party booking sites, online travel agencies, and your official hotel website.
Reservation management – Hotel management software should help businesses manage room reservations, including the number of guests, room statuses, and pricing.