CRM stands for "Customer Relationship Management" and is a software system that helps business owners easily track all communications and nurture relationships with their leads and clients. One of the main feature of CRM is invoicing, managing and generating invoices has never been easier. With these free open source software, now you can run your SME business without needing to purchase an expensive software such as FreshBooks, QuickBooks, Zoho, Square and etc.
🤣😍😂 7 Free Salesforce Alternatives – Self Hosted CRM For Small Businesses
Do note that self-hosted open source means you have to download the script and host it on a web hosting server with internet access. If you do not have a web hosting or does not want to pay for one, you can run PHP and MySQL on your Windows, macOS, or Linux via XAMPP. XAMPP is a software that emulates an Apache server on your desktop or laptop computer, therefore allowing you to run PHP and MySQL Database off your computer.
↓ 01 – InvoicePlane | Self-Hosted | Open Source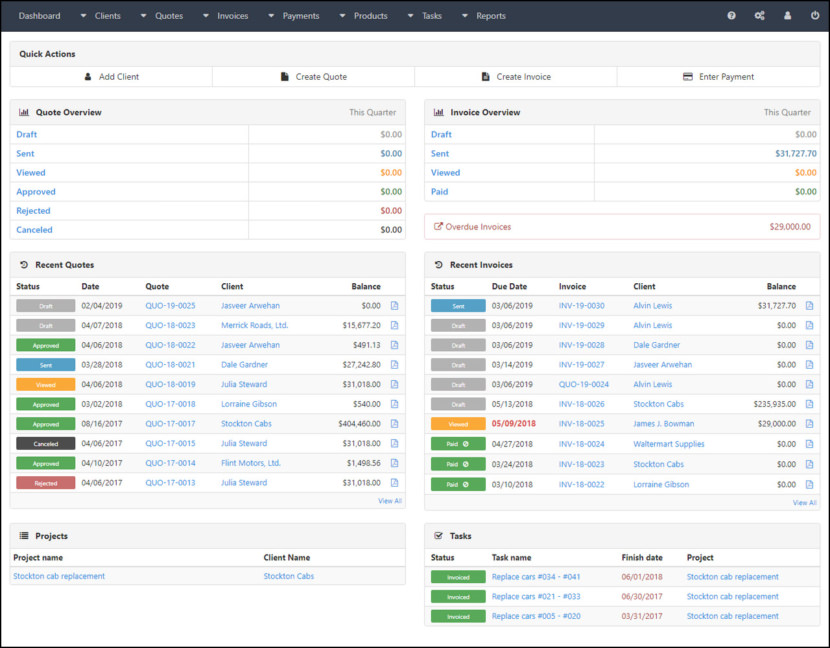 InvoicePlane is a self-hosted open source application for managing your quotes, invoices, clients and payments. The application comes with various options, templates and settings to customize your invoicing experience. Users can set up up to 25 different payment providers to let their customers pay the invoices via online payment providers like PayPal, Stripe or Coinbase.
Quotes, Invoices, Payments – InvoicePlane is a solid application to manage your complete billing circle: from quotes over invoices to payments.
Manage your Clients – The application provides CRM-like management for your clients. Enter contact details, notes or add custom fields. Basic project and task management is also available.
One-Click Online Payments – Let your clients pay the invoices by using one of 25 different online payment providers like PayPal, Stripe or even using Bitcoin via Coinbase.
↓ 02 – Dolibarr | Self-Hosted | Open Source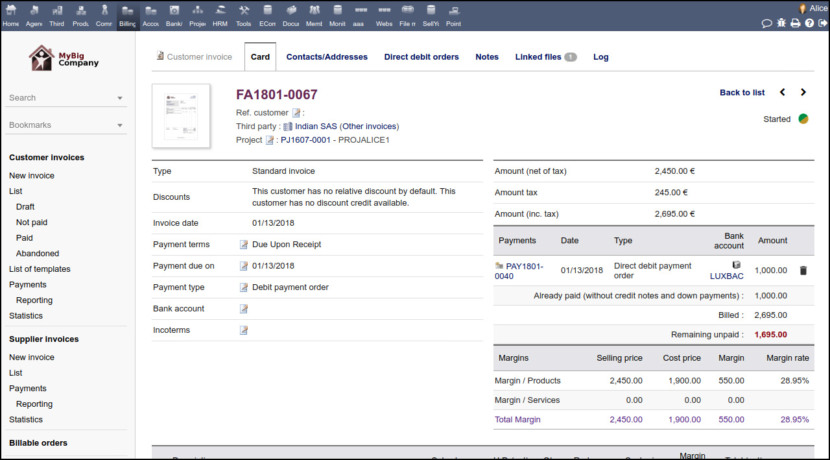 Dolibarr ERP & CRM is a modern and easy to use open-source web software package to manage your business (customers, invoices, orders, products, stocks, agenda, e-mailings, shipments…). It's open source and free software designed for companies (SME), foundations and freelances.
Send your order acknowledgement by Email directly from within the application. Use your predefined email templates, so you don't even have to type any text. Depending on the modules/features you have enabled, you can also convert your order into a contract (module contract), intervention (module intervention), invoice (module invoice) or a combination of these. If the module margin is enabled, you can also review the margin on your orders.
↓ 03 – Invoice Ninja | Self-Hosted | Open Source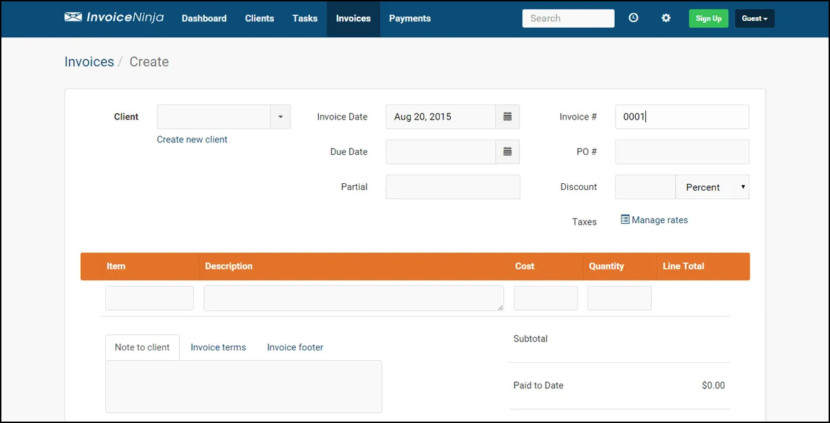 Invoice Ninja is a free, open-source solution for invoicing and billing customers. With Invoice Ninja, you can easily build and send beautiful invoices from any device that has access to the web. Your clients can print your invoices, download them as pdf files, and even pay you online from within the system. Every quote & invoicing feature is built to get you paid fast! Integrate your payment gateway and invoice clients with 1-click!
Create & Email Invoices & Quotes in Real-Time – Real-time PDF preview creation shows your invoice review as you build it in real-time.
More Payment Gateways – Stripe, WePay, PayPal, Checkout, Braintree, PayFast, Authorize, Square, Mollie, RazorPay, more!
Invoice Template Designs – 4 free invoice templates, Pro members have 10 professional designs!
Track Inventory Levels – Set inventory levels per product. Inventory levels are reduced automatically as products are invoiced.
Attach 3rd Party Files to Invoices & Expenses – Combine important files with your invoice document. All in one email delivery.
Send Invoices & Quotes via Gmail & MSN Accounts – The most requested feature by far! Email invoices, quotes, & payment reminders via your Gmail or MSN email!
↓ 04 – Akaunting | Self-Hosted | Open Source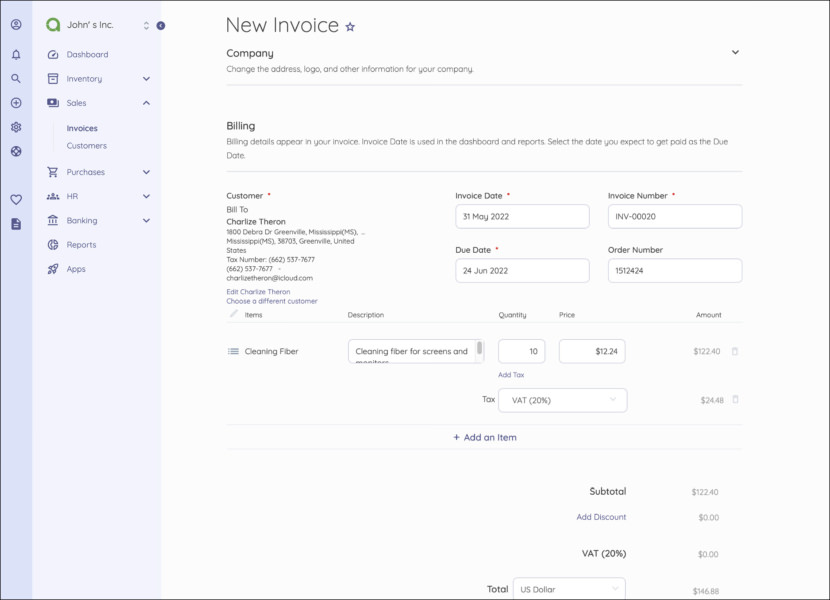 Akaunting is a free, open-source, and online accounting software for small businesses and freelancers. From invoicing to expense tracking to accounting, Akaunting has all the tools you need to manage your money online, for free. That's right, completely free. There is no limited or trial version. No hidden charges or setup fees. See your financials online anytime, anywhere on your computer, tablet or phone. They're disrupting the closed-source dominated market and introducing the power of Open Source to accounting world. Akaunting is built with modern technologies such as Laravel, Bootstrap, jQuery, RESTful API etc.
Quotes to Invoices – Send quotes to your clients and quickly convert them to invoices when approved. With the Estimates app, it's convenient to convert Quotes into professionally designed invoices with a few clicks.
Customer Payments -See customer's transactions with associated invoices, payment status, and amount due. Use the information to prioritize customers, initiate follow-ups, and know those eligible for the Net 30 payment terms to avoid bad debts.
Simplify Payments – You can add multiple payment options and gateways to your invoices to ensure you receive customer payments more efficiently. Accept online payments and let customers pay for invoices through Paypal, Stripe, eWay, FlutterWave, etc.
No Limits – Send invoices to as many customers as possible without any limits. Automate payment reminders, and make it easier to get paid on time.
↓ 05 – FOSSBilling | Self-Hosted | Open Source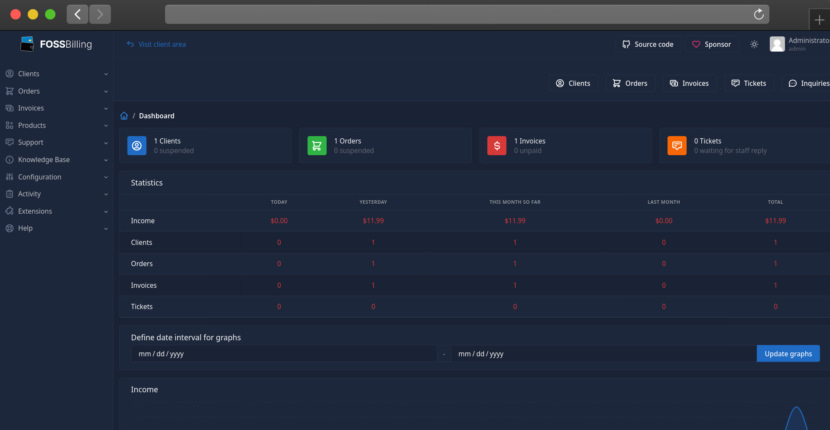 FOSSBilling ( forked from BoxBilling ) is a free open source, billing and client management solution. Whatever the size of your online services business, whether a startup or established, FOSSBilling can help you to automate your invoicing, incoming payments, and client management and communication. If you run a web hosting business and are looking for an open-source alternative for billing and client management, then FOSSBilling is the answer. Although it is mostly used as a solution for hosting businesses, there is no reason why you can't use FOSSBilling for any other kind of online business, like digital downloads.
↓ 06 – Frappe Books | macOS | Windows | Linux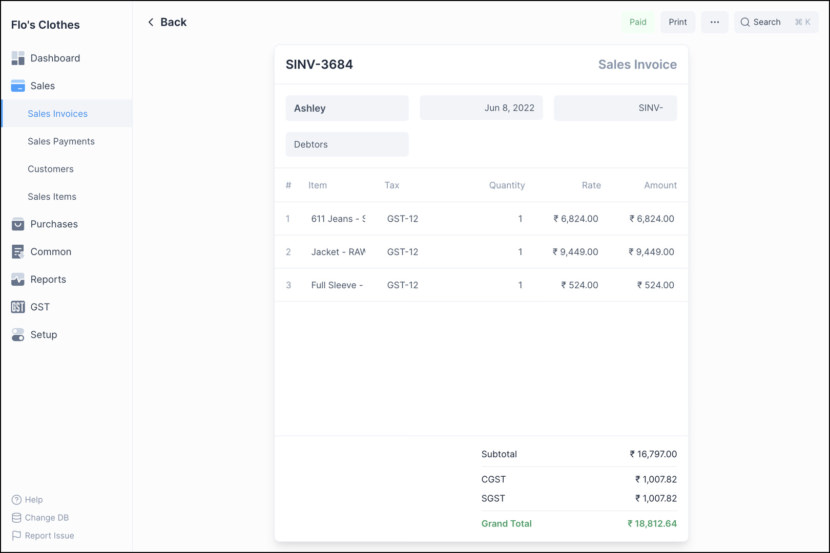 From the makers of ERPNext icon ERPNext, Frappe Books simplifies invoicing, billing, and accounting for freelancers and small business owners. Create professional invoices, generate beautiful PDFs and send them to your customers. Simple, well-designed, desktop accounting software for freelancers and small businesses. Sales Invoices are bills that are sent to your customers when an income is booked. It is a transactional entry that denotes a sale. If you have set up your Frappe Books with Accounts, Taxes, Sales Items, and Customers, creating a Sales Invoice is as simple as it gets.
↓ 07 – Crater | Self-Hosted | Open Source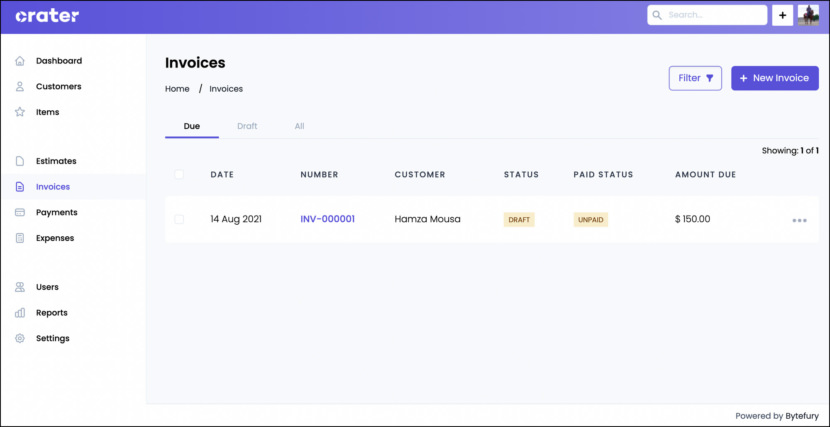 Crater is an open-source app made in Laravel, VueJS & React Native that helps you track expenses, payments & create professional invoices & estimates. Robust invoicing infrastructure to send and receive invoices. Manage all Accounts Receivable & Accounts Payable in one place with ability to accept deposits on estimates.
Invoices: Create and send professional invoices to clients and save time for what really matters.
Estimate: Create a quick and detailed quote including prices, discounts, inventory and more.
Track Payment: Easily keep a detailed note of your transactions and never lose a payment history.
Expenses: Keep track of your spending on various services with our easy to use expense tracking.
Reports: Get detailed reports on your invoices with one or various clients.
Taxes: Input different tax types & calculate them as simple or compound tax per-item or directly on invoice total.
↓ 08 – FrontAccounting | Self-Hosted | Open Source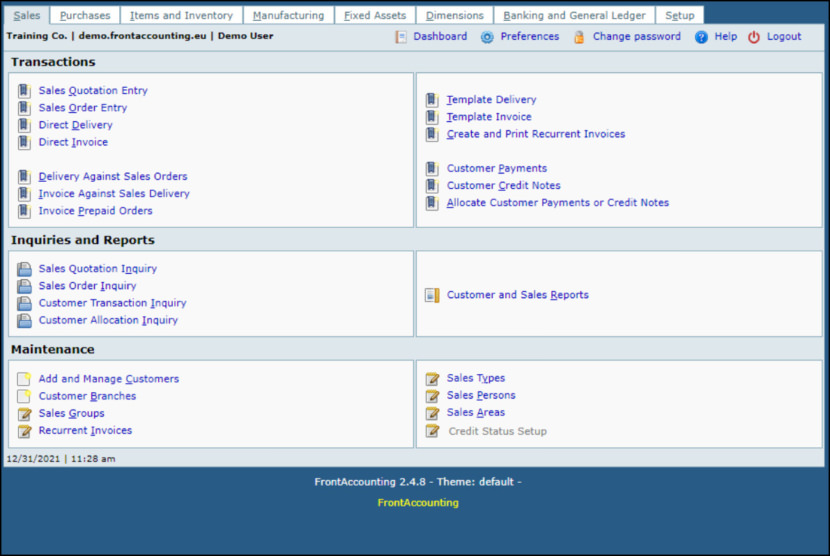 FrontAccounting is web-based, open-source accounting software with enterprise resource planning (ERP) capabilities. This solution automates functions such as purchasing, accounts receivable, and journal entries. It features a suite of modules that streamline your organization's accounting and logistics needs.