Undeniably, Salesforce is the best CRM in the market. Unfortunately, Salesforce is not free, for those with a small business and tight on budget, every penny counts. Salesforce CRM is a leading software system from the Salesforce stable. It enables you to track all customer interactions and information in one place to follow more leads.
🤣😍😂 6 Free Email Marketing Services For Small eCommerce Businesses
For a small business, Salesforce is often too complex and overpriced for what they need. Here are some good alternatives that provide the main functionalities and benefits of top Salesforce Content Relationship Manager.
↓ 01 – Mautic | Cloud (Paid) | Self-Hosted
Mautic is marketing automation software (email, social, & more). Install on your own website or create a free hosted account. The simple 3-step setup process takes less than 5 minutes and you'll be ready to reclaim control of your marketing. Mautic began with a single focus. Equality. The Mautic community believes in giving every person the power to understand, manage, and grow their business or organization. Mautic is focused on helping this belief become a reality by getting powerful marketing automation software into the hands of everyone.
Social Media Marketing – Engage your leads through powerful social media marketing. Listen to your target audience and interact directly with them on their social media platform.
Leads – Effortlessly track both anonymous and known leads. Mautic provides in-depth and detailed lead tracking including page views, time spent on site, and specific interests. Once you've begun tracking, you can nurture those leads with an array of powerful processes and Mautic makes it easy.
Campaigns – Flexible, easy-to-use campaign management and drip program creation. Build a campaign and define the actions and events your leads will follow. Automate the process of connecting with leads and nurturing them along the sales funnel.
Forms – Design valuable forms for your campaign to collect information, build lists, give content or market your next webinar with the highly customizable form builder.
Points – Keep track of your lead's activity and define point systems based on different actions. These points will allow you to trigger events like the sending of an email based on registration for a webinar.
Reports – Use the data gathered from each of your campaigns to improve your marketing efforts. Detailed feedback of campaign reports let you improve and perfect your marketing.
↓ 02 – EspoCRM | Self-Hosted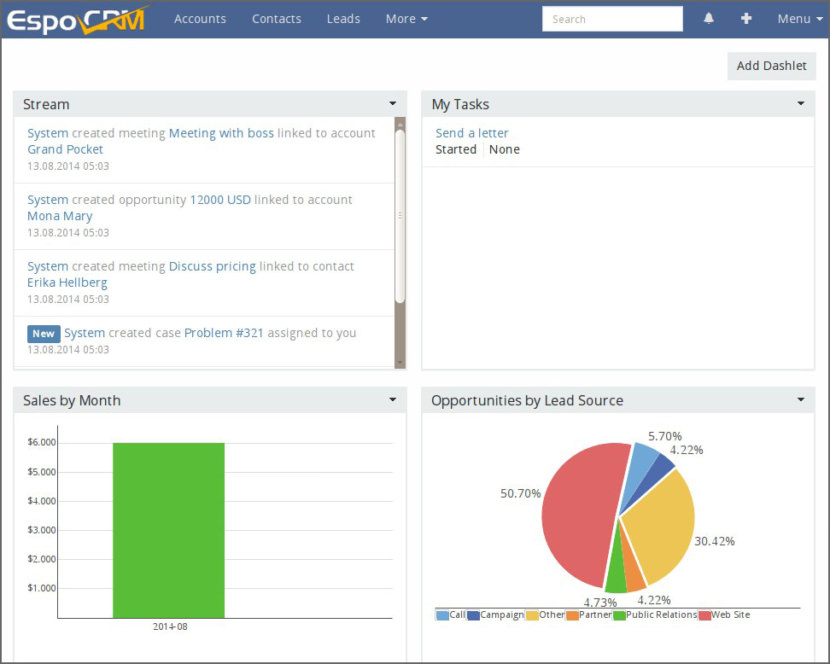 EspoCRM is a free open-source web application that allows you to see, enter and analyze your company's relationships with customers and partners alike. Lightning fast and easily customizable, this web-based CRM solution will provide you with the tools to understand your consumers' behavior and cater your products and services specifically to their needs.
Email Accounts – Automatic archiving emails from personal or group IMAP accounts. Incoming emails automatically get linked to corresponding records.
Social – Activity Stream. Feed where changes and new additions of followed records are shown.
Analytics – Reports (available in Advanced Pack). Allow users to see gathered information about business.
Sales Automation – Leads. Converting Lead to Opportunity/Account/Contact. Opportunities. Potential sales in CRM.
↓ 03 – CiviCRM | Self-Hosted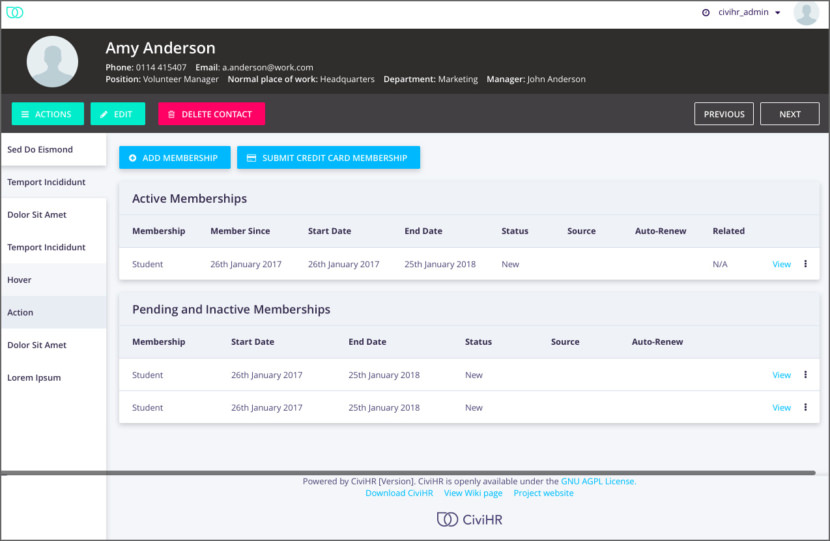 CiviCRM is an open source CRM built by a community of contributors and supporters, and coordinated by the Core Team. CiviCRM is web-based software used by a diverse range of organisations, particularly not-for-profit organizations (nonprofits and civic sector organizations). CiviCRM offers a complete feature set out of the box and can integrate with your website.
CiviCRM allows you to own your own CMS.
Use by itself or integrate into Drupal, WordPress, or Joomla
Used primarily by nonprofits and organizations
Supported by thousands of people around the world
Fully customizable and expandable.
↓ 04 – Vtiger CRM | Cloud (Paid) | Self-Hosted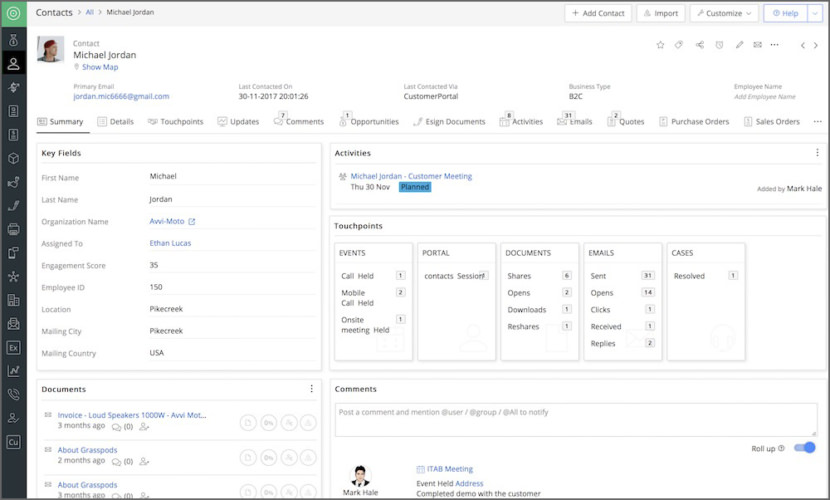 Vtiger CRM helps you build stronger customer relationships at scale by enabling you to deliver more memorable customer experiences in every interaction across the customer life cycle. Vtiger CRM is award winning software used by more than 100,000 small and medium businesses across 106 countries to run their sales, marketing, and customer service departments.
Vtiger CRM integrates with third-party productivity tools. The open source version integrates with Microsoft Outlook, Office, Exchange, Thunderbird and more. The cloud version also integrates with Gmail, Google Contacts, Calendar and Drive, Office 365, Docusign, Zapier, Accounting systems like Quickbooks, Xero and Tally, Payment systems like PayPal and Authorize.net, Phone systems like Asterisk, Twilio, and Plivo, Email marketing like MailChimp, and more.
↓ 05 – Zoho CRM | Cloud (Free For 3 Users)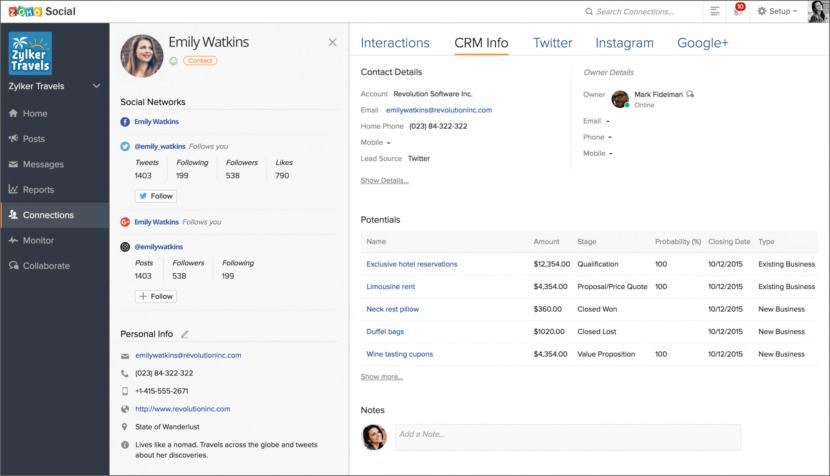 Zoho CRM helps you sell smarter, better, faster. Reach out to prospects at the right moment and engage them across every channel. Zoho CRM helps businesses of all sizes close more deals the smarter way. Zoho CRM is an on-demand CRM (Customer Relationship Management) service for managing organization-wide sales, marketing, customer support, and orders.
Email – Prioritize your emails by sales pipeline, with context and analytics.
Live chat – Segment your website visitors and increase conversions through live chat.
Telephony – Make sales calls effective with single click dialling, prompt reminders and call analytics.
Social media – Capture leads and manage your brand's social media interactions.
↓ 06 – SuiteCRM | Cloud (Paid) | Self-Hosted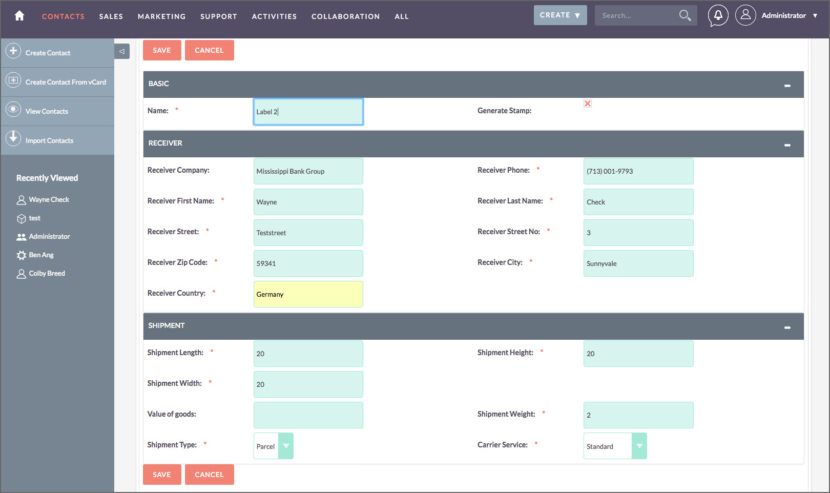 SuiteCRM provides an enterprise-grade Customer Relationship Management (CRM) application to a global community of users and software developers. It is a robust and credible alternative to Salesforce, Microsoft and the major CRM vendors. SuiteCRM delivers actionable insights into customers, boosts conversions, helps increase sales, bolsters customer care and streamlines business operations.
↓ 07 – YetiForce CRM | Cloud (Paid) | Self-Hosted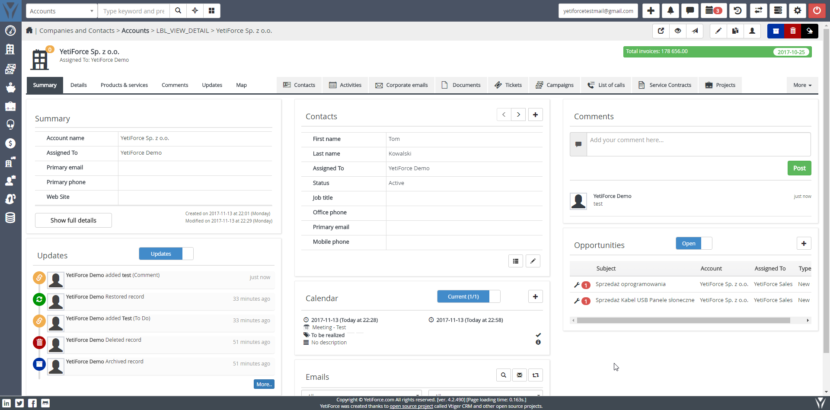 YetiForce is a Polish product that keeps gaining more and more popularity abroad. Due to its rich and versatile functionalities YetiForce helps companies reach their full potential. The system was originally forked from Vtiger, but because of numerous changes introduced over the span of several years it significantly differs from its predecessor.
Right now all modules available by default in YetiForce are FREE OF CHARGE for everyone. By choosing YetiForce not only do you save money on license fees, but also on modules that are not available for free in other systems.
↓ 08 – Zurmo CRM | Self-Hosted
Zurmo is an open source CRM platform that encompasses sales, marketing automation, and project management software into one solution. Through the use of gamification, Zurmo engages, motivates, and recognizes users. This helps increase user adoption which results in a successful CRM implementation. Zurmo is an Open Source Customer Relationship Management (CRM) application that is mobile, social, and gamified.