There is a difference between newsletter and email marketing services. Feedburner is a e-newsletter service, whereas AWeber is an email marketing tool. Anyway, for those looking for a better AWeber alternative, and if you happened to own a small eCommerce website, here are a complete list of email marketing services with free limited trials for AWeber, Constant Contact, Campaign Monitor, GetResponse, Privy, iContact, and more.
🤣😍😂 10 Free Temporary Disposable Email Services To Fight Spam
MailChimp is one of my favorite as it integrated well with hundreds of e-commerce platform such as WordPress WooCommerce, PrestaShop, Shopify, BigCommerce and Magento, not to mention Facebook, Twitter and Instagram now plays a bigger role in promoting your products, therefore any services that integrates well with all of these social media will be the best tool moving forward.
↓ 01 – MailChimp | Free 12000 emails/month to 2000 contacts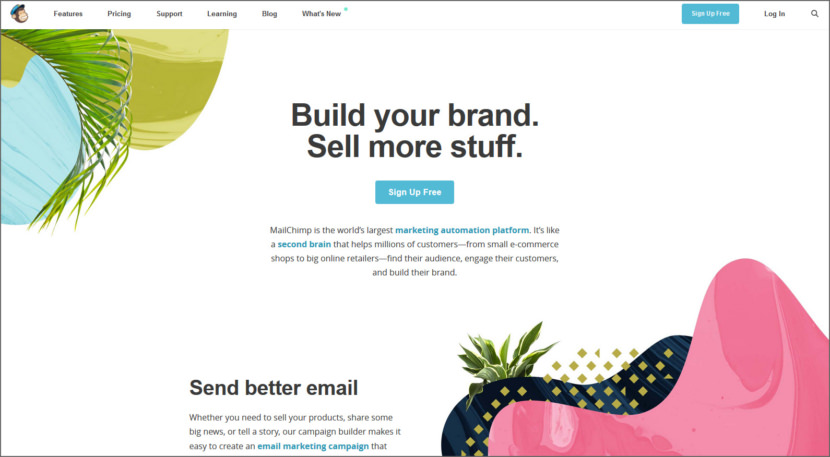 MailChimp is the world's largest marketing automation company, making it easy to reach your customers and grow your business. We take extremely powerful tools that sophisticated marketers use (like segmentation, A/B testing, and ROI tracking), and we make them accessible to anyone. And because our platform uses an open API, its easy to integrate your online store or customer management systems internal systems with our marketing engine.
Send better email – Whether you need to sell your products, share some big news, or tell a story, our campaign builder makes it easy to create an email marketing campaign that best suit your message.
Automate your marketing – Keep a personal touch while removing manual tasks from your to-do list. Pre-built marketing automation creates room to focus on strategy.
Put your data to work – MailChimp integrates with all the major e-commerce providers so you can use your purchase data to send personalized campaigns and better understand how your marketing affects your bottom line.
↓ 02 – MailerLite | Free unlimited emails/month to 1000 contacts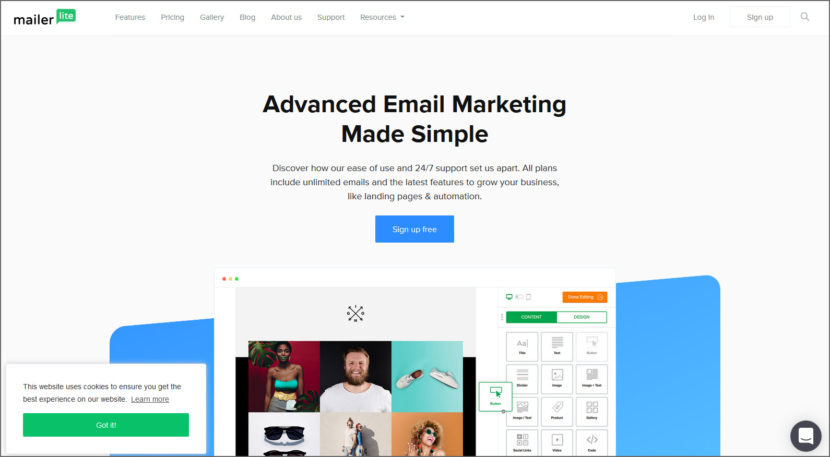 MailerLite is an email marketing service provider with focus on simplicity, excellent customer support and beautiful email designs. MailerLite's user-friendly software allows you to quickly create and share your beautiful email campaigns, track their results, manage subscribers and unsubscribers, design custom popups and landing pages, and so much more without any technical knowledge.
Email Automation – Get better results by doing less work! Our email automation tools help you build sophisticated campaigns with no technical skills required.
Landing Pages – Create online marketing campaigns and turn your subscribers into customers with easy-to-build, responsive landing pages.
Popups – Customize beautiful popups with just a few clicks. It's the most effective way to convert your website visitors to subscribers.
↓ 03 – SENDER | Free 15000 emails/month to 2500 contacts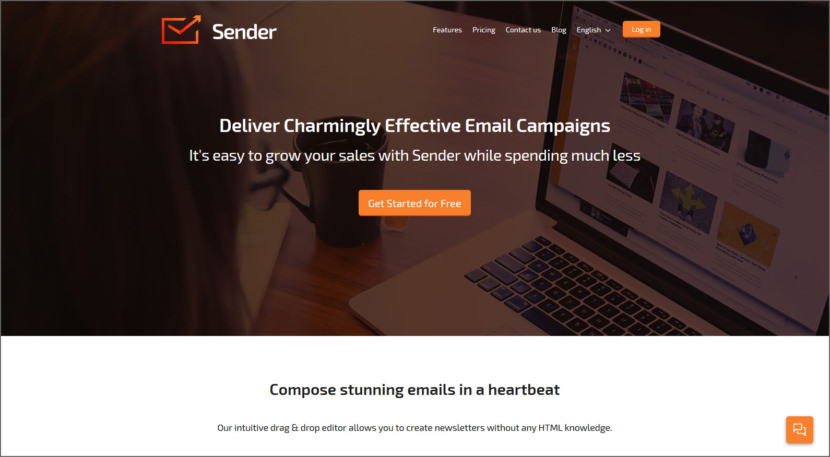 Easy to use, powerful and affordable email marketing application. SENDER allows you manage your contact lists, create your campaigns using drag and drop editors and analyze results.
Grow your audience. SENDER includes a lot of features to help you grow a healthy and active subscriber list.
Compose stunning newsletters in a heartbeat. Their easy to understand drag & drop editor allows you to add and edit newsletter content with zero HTML knowledge.
Leave email delivery to them. They have created advanced email delivery infrastructure to make sure that your newsletters will reach their subscribers.
Analyze and boost your email campaign results. SENDER provides you with advanced email analytics features which allow you to accurately measure and improve your email campaigns
↓ 04 – Campayn | Free 12500 emails/month to 500 contacts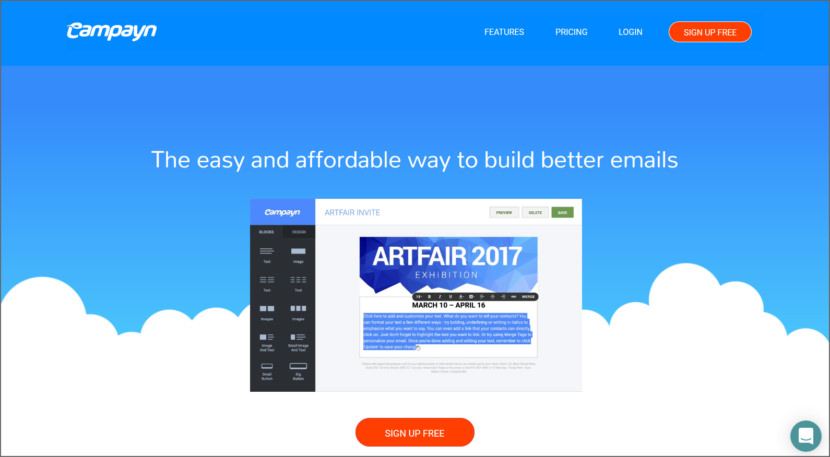 Campayn allows you to create, share and track email newsletters and marketing emails. The 'Free for Life' plan allows you to send 20,000 emails to 500 contacts per month. Includes robust features like list segmentation, contact level reporting and ROI tracking. All your emails are responsive and look great on mobile devices.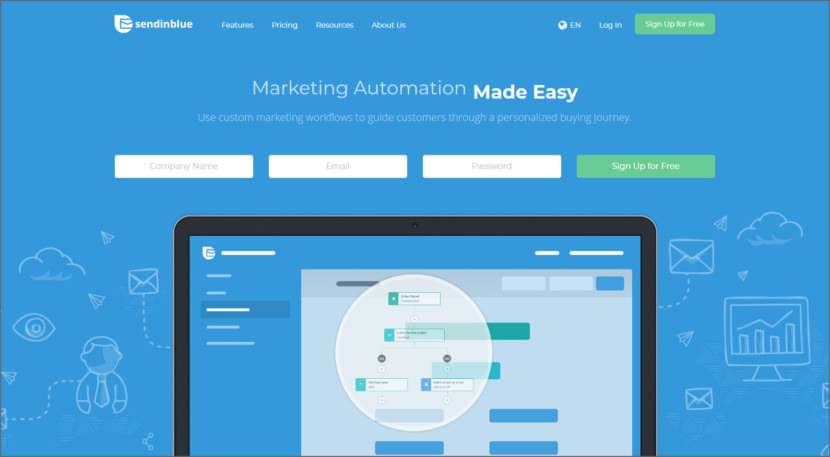 SendinBlue empowers businesses to build and grow relationships through marketing automation, marketing and transactional emails, and SMS messages. Over 50,000 customers around the world choose SendinBlue because we offer competitive pricing, active customer support, and an all-in-one solution for email marketing, SMS marketing, and sending transactional messages via email and SMS.
↓ 06 – SendPulse | Free 15000 emails/month to 2000 contacts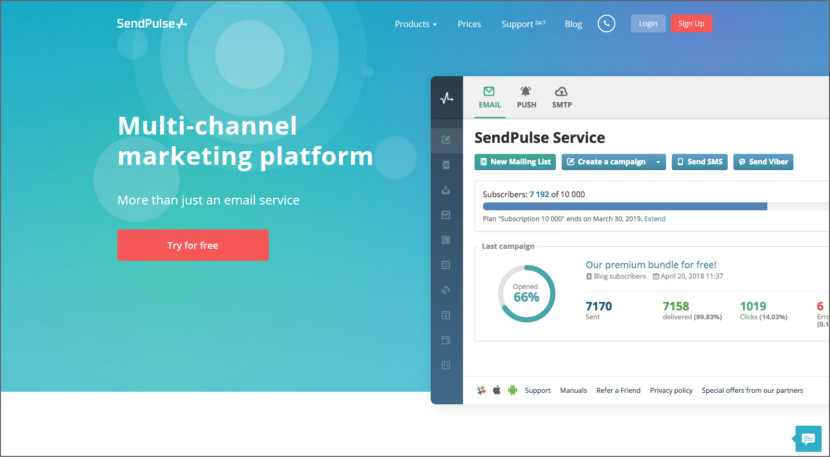 SendPulse maximizes the core metric of email marketing – newsletter open rate – automatically. We collect tons of data about billions of subscribers in our system and predict the best time and channel for each subscriber when to deliver the next message to him.
Convenient email editor – Our drag and drop email editor allows you to quickly and easily create professional email templates. You do not need technical skills or HTML knowledge to create a template.
Automation 360 – With Automation 360 you can set up email send-out, web push notifications, and SMS flows depending on variables, events, and the actions your users take.
Subscriber rating – Analyze the activity of your subscribers, segment your mailing list, and use a personal approach in working with them.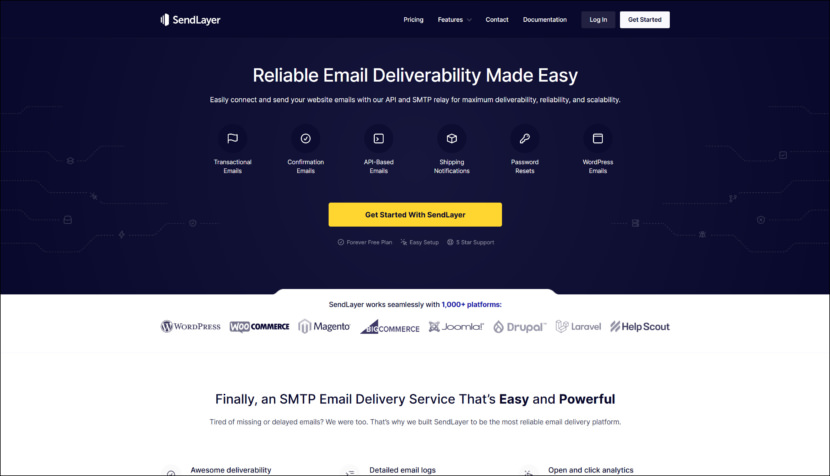 SendLayer is a transactional email provider that's easy to use and powerful. You can connect and send your website emails with their SMTP relay and email API for maximum deliverability, reliability, and scalability. Anyone can use SendLayer to send transactional emails via our SMTP relay or API, and our documentation makes it easy to get started, even if you've never used a transactional email provider before.
When you sign up for an account, you can send hundreds of emails for free. You'll also be able to use API or SMTP credentials to test our email sending capabilities, email logs, analytics, mailing lists, webhooks, and more. It's easy to upgrade to a paid plan to increase your sending limits.
Stop Emails From Being Marked as Spam – They'll guide you through the process of setting up your DNS so that your emails never land in the Junk Mail folder again.
Set Up Your Domain in Minutes – Get connected to SendLayer fast thanks to our simple platform and detailed documentation.
Detailed email logs – Track emails sent and bounce rates right from your dashboard.
Mailing lists – Create emailing lists email groups and manage them in your dashboard.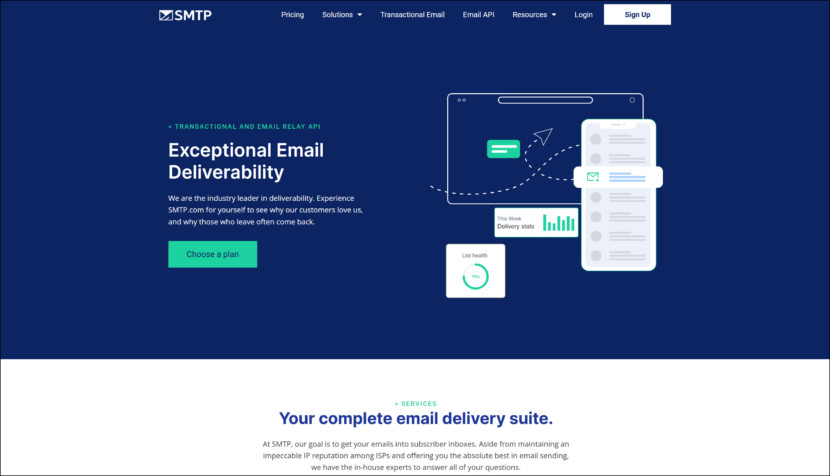 At SMTP, their goal is to get your emails into subscriber inboxes. Aside from maintaining an impeccable IP reputation among ISPs and offering you the absolute best in email sending, we have the in-house experts to answer all of your questions. SMTP's Reputation Defender proactively monitors your email list health and safeguards your domain and IP reputation by suppressing invalid emails addresses before you send. This ensures your delivery rates and inbox placement incrementally gets better over time.
High Volume Sender? SMTP has a purpose-built solution just for you. The needs of our high volume senders are unique. We'll set you up with a rapidly scalable, on-demand solution for your sending requirements. As with all of our customers, high volume senders benefit from SMTP's excellent deliverability and 20+ years of email expertise.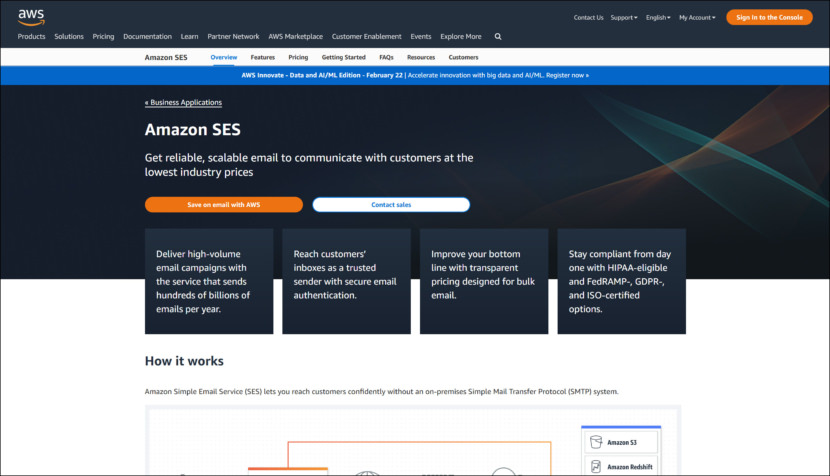 Get reliable, scalable email to communicate with customers at the lowest industry prices. Amazon SES is a cloud email service provider that can integrate into any application for bulk email sending. Whether you send transactional or marketing emails, you pay only for what you use. Amazon SES also supports a variety of deployments including dedicated, shared, or owned IP addresses. Reports on sender statistics and a deliverability dashboard help businesses make every email count.
Stay compliant from day one with HIPAA-eligible and FedRAMP-, GDPR-, and ISO-certified options.
Deliver high-volume email campaigns with the service that sends hundreds of billions of emails per year.
Deliver messages—including notifications and announcements—to large groups, and track results using configuration sets.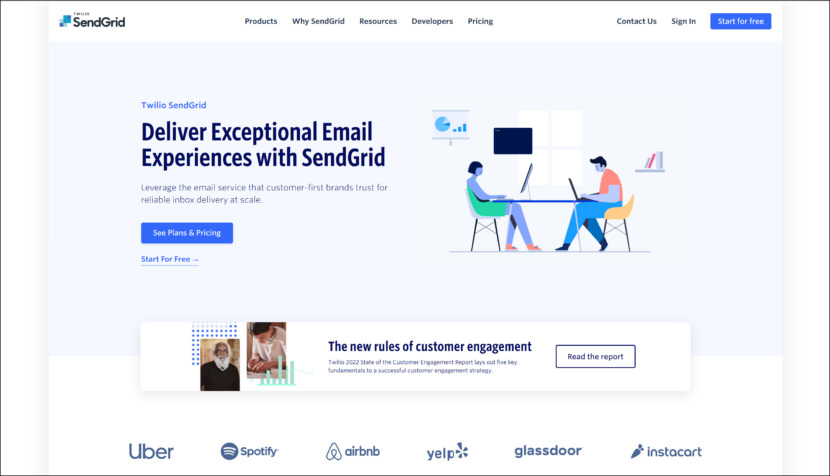 Leverage the email service that customer-first brands trust for reliable inbox delivery at scale. SendGrid is a cloud-based SMTP provider that allows you to send email without having to maintain email servers. SendGrid manages all of the technical details, from scaling the infrastructure to ISP outreach and reputation monitoring to whitelist services and real time analytics.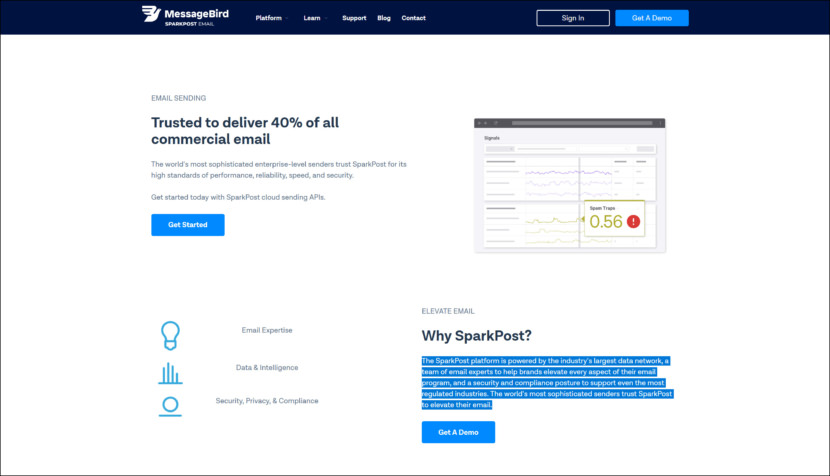 SparkPost is the world's largest and most reliable email sender, delivering nearly 40% of all commercial email—that's over 6 trillion sends annually—and also has the world's largest email data footprint to help enterprise-level brands make data-driven decisions to improve their email performance.
The SparkPost platform is powered by the industry's largest data network, a team of email experts to help brands elevate every aspect of their email program, and a security and compliance posture to support even the most regulated industries. The world's most sophisticated senders trust SparkPost to elevate their email.
The email delivery service that people actually like. Stop worrying if your emails made it to the inbox, and get back to focusing on what matters—building great products. With API libraries for pretty much every programming language you can think of, Postmark fits seamlessly into any stack – Curls, Rails, Ruby, PHP, Node etc.
Their API and SMTP service help you send your emails with ease, whether that's password reset emails, notifications, newsletters, or anything in between. To protect the deliverability of your crucial transactional emails—and make sure they arrive lightning fast—we route promotional messages like newsletters through a parallel but separate sending infrastructure.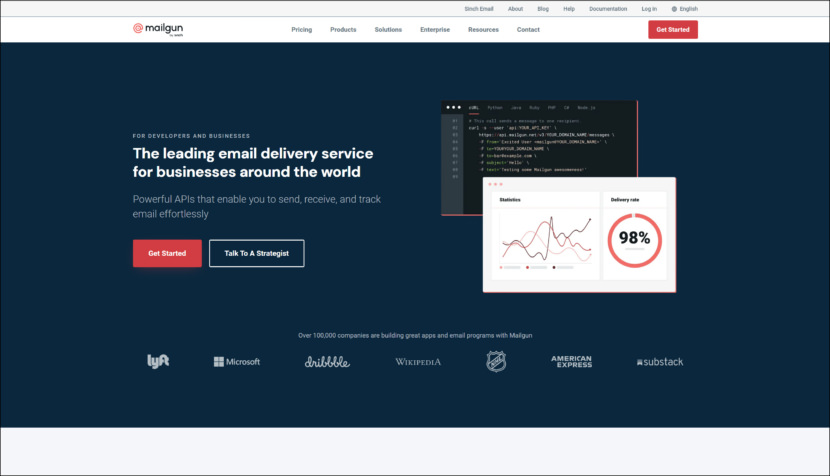 The leading email delivery service for businesses around the world. Powerful APIs that enable you to send, receive, and track email effortlessly. Get your message to the right person at the right time with global infrastructure and industry expertise you can rely on. Easy SMTP integration and a simple, RESTful API abstracts away the messy details of sending transactional or bulk email. Scale quickly, whether you need to send 10 or 10 million emails.