Wikipedia has a complete list of all Comparison of shopping cart software, from the list, it is obvious there are not much difference between all four major eCommerce CMS. I've had the opportunity to use both Magento, WooCommerce and Shopify but not Prestahop, my take is if you are familiar with WordPress, you will find WooCommerce much more user friendly, whereas Magento may be more complicated but comes packed with tons of free features.
Related Article 2019 ➤ 10 Fastest WooCommerce WordPress Hosting For Small Online Business
The following is a simple comparison of the features of 4 major notable shopping cart software packages available. Some such shopping cart software such as WooCommerce relies heavily on the extensible through third-party software components and applications. There are pro and cons for all 4 major CMS, it really depends on your needs.
Magento

WooCommerce

Shopify

Prestashop

Language
PHP
PHP
Ruby
PHP
Digital Downloads
Yes
Yes
Yes
Yes
eBay Integration
Yes
Yes
Yes
Yes
Multi Store Front
Yes
No
No
Yes
Affiliate
3rd Party Module
3rd Party Module
Yes
Yes
Multi Vendor
Yes
3rd Party Module
Yes
Yes
Payment Gateway
2Checkout
Authorize.Net
PayPal
Stripe
Square
2Checkout
Authorize.Net
PayPal
Stripe
Square
Amazon Pay
2Checkout
Authorize.Net
PayPal
Stripe
Square
2Checkout
Authorize.Net
PayPal
Stripe
Square
Standalone Software
Wordpress Plugin Extension
Standalone Software
Standalone Software
Physical Retail Integration
Square Card Reader
Square Card Reader
Square Card Reader
Shopify POS
Square Card Reader
↓ 01 – Magento Open Source | Best Online Shopping Cart CMS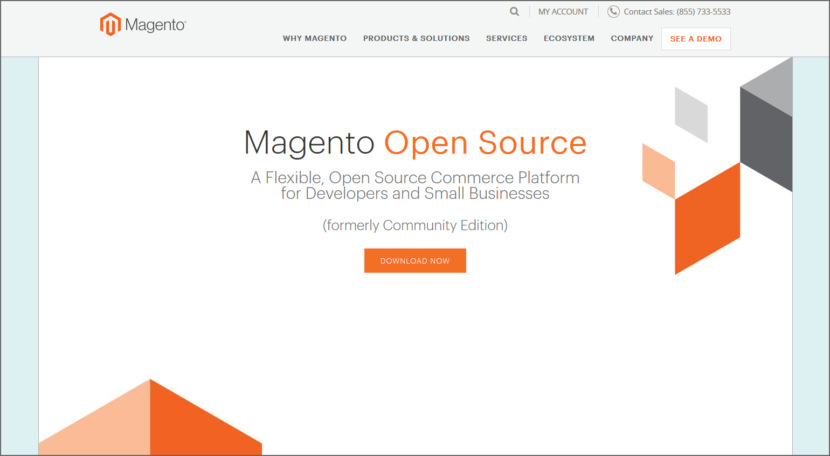 This free edition delivers the performance and features required to meet the basic commerce needs of business today. Magento Open Source (formerly Community Edition) is the perfect platform for an emerging small business site, or if you want to experiment and learn how to build an online store from the ground up. With a ready-to-go sample store you can get a site up-and-running in no time, using comprehensive documentation and an extensive marketplace of affordable, off-the-shelf extensions and themes.
↓ 02 – Shopify | Best Online Offline Integration
The ability to accept credit cards in-store, on the go, and everywhere in between means you can sell anywhere your customers are. Shopify POS seamless integration makes it easy to sell your products and accept payments on any device while automatically updating your inventory, orders, and customer data. Selling your products in many places should be every bit as simple as selling in one. With Shopify's ecommerce software, you get one unified platform to run your business with ease.
↓ 03 – WooCommerce | Most Customizable eCommerce Platform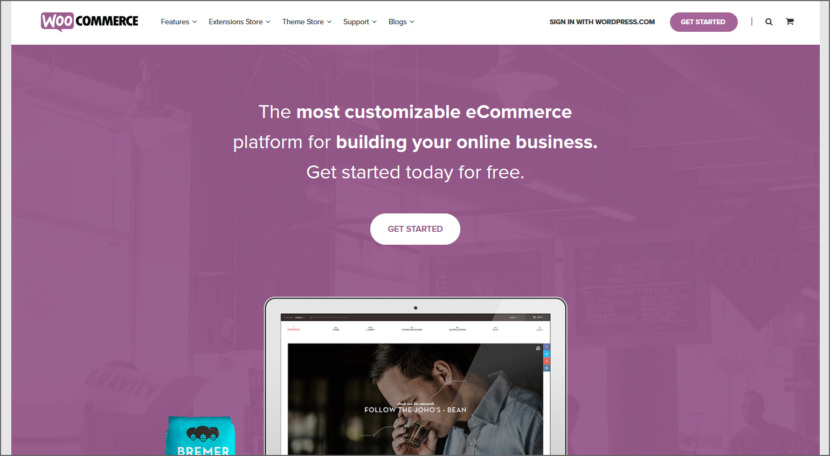 WooCommerce is now the most popular eCommerce platform on the web, so you can rest assured you're in good company. With hundreds of free and paid WooCommerce extensions, spanning all your logistical & technical requirements, you can rest assured there's an extension for your specific needs. Built for WordPress, WooCommerce is built to integrate seamlessly with WordPress, making it the obvious eCommerce choice for existing WordPress users and connecting you to the fast-growing WordPress ecosystem.
↓ 04 – PrestaShop | 100% Open Source Community Driven
From your first online sale to shipping thousands of orders around the world, PrestaShop can take your ecommerce business to the next level. Key product features help you build the store you want today and the ecommerce business you imagine for tomorrow. Sell, grow. (repeat) PrestaShop has comprehensive product features for small, medium or large ecommerce stores. Hundreds of features are standard and 100% free.
Conclusion | Magento vs Woocommerce vs Shopify vs Prestashop
If you are running a small online store along your WordPress website, go with WooCommerce because of the good integration. For large complicated online store, Magento is the better choice. If you're looking at online and offline retail integration, shopify's iPad POS System is a really good feature.
Small with 100 or less items, go with WooCommerce
Large online store, go with Magento
Online with offline retail shop, go with Shopify
Jeff Bezos Revealed: Building Amazon One Box at a Time
"Bloomberg Game Changers" profiles Amazon.com Inc. founder Jeff Bezos. This program explores the story behind the founder of Amazon.com, the world's most successful online retailer and examines key moments in his life.