Which is the best eCommerce software for small to medium businesses? As a person that has his own online store, I had the opportunity to experiment with various eCommerce platforms. At the end of the day, all major eCommerce CMS are more or less the same, unless you are a big enterprise which requires various features and customization.
See More ▼ 10 Fastest WooCommerce WordPress Hosting For Small Online Business
Why do you need to sell on your own platform even if you have a presence on Amazon or Alibaba? It is all about building a brand and customer loyalty. When you sell on Amazon, you are just one of the millions of sellers, and if one day Amazon decided to kick you off the platform, you are gone for good. It is okay to sell on Amazon, while doing this, try and promote your own website to your buyers, slowly build up your customer loyalty, it doesn't cost much, just like an insurance policy.
Commercial Drag-and-Drop version Open Source Self-Host
When it comes to hosting your eCommerce site, there are 2 options, commercial and open source, both have pros and cons. As for commercials, you pay a monthly fee, they will take care of the hosting, servers, software updates, and more often than not, it is a drag and drop platform, very easy to use and manage. The Drag and Drop type is ideal for those that don't want to toy with coding and just need a platform that works while focusing on what they do best – selling, the self-host platform allows you to get your hands dirty by optimizing the software for better SEO. The drawback is you are tied to their system and if they decide to raise the price or close down their business, you are left with no choice.
Open Source on the other hand requires you to have some basic knowledge on setting up your own server, managing it, maintaining it. Do note that self-hosted software is free but you still have to pay for the hosting fee, the support and 3rd party addons are not free either. What good about open source is you are in full control of the entire system. If you have the time and basic knowledge in coding, my advice is to go for Adobe Commerce Magento first, then WooCommerce or PrestaShop.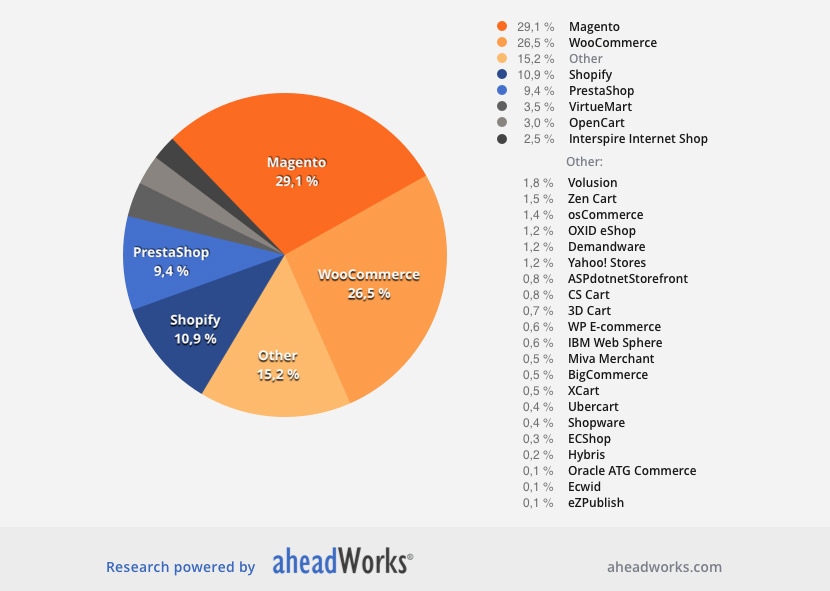 Magento

WooCommerce

Shopify

Prestashop

Language
PHP
PHP
Ruby
PHP
Digital Downloads
Yes
Yes
Yes
Yes
eBay Integration
Yes
Yes
Yes
Yes
Multi Store Front
Yes
No
No
Yes
Affiliate
3rd Party Module
3rd Party Module
Yes
Yes
Multi Vendor
Yes
3rd Party Module
Yes
Yes
Payment Gateway
2Checkout
Authorize.Net
PayPal
Stripe
Square
2Checkout
Authorize.Net
PayPal
Stripe
Square
Amazon Pay
2Checkout
Authorize.Net
PayPal
Stripe
Square
2Checkout
Authorize.Net
PayPal
Stripe
Square
Standalone Software
Wordpress Plugin Extension
Standalone Software
Standalone Software
Physical Retail Integration
Square Card Reader
Square Card Reader
Square Card Reader
Shopify POS
Square Card Reader
The chart above is a simple comparison of the features of 4 major notable shopping cart software packages available. Some such shopping cart software such as WooCommerce relies heavily on the extensible through third-party software components and applications. There are pro and cons for all 4 major CMS, it really depends on your needs.
Open Source / Self-Host on Server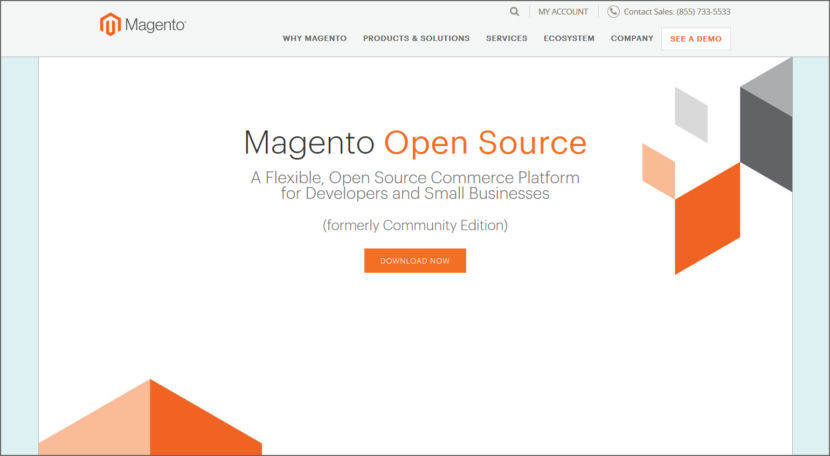 This free edition delivers the performance and features required to meet the basic commerce needs of business today. Adobe Commerce (Magento) Open Source (formerly Community Edition) is the perfect platform for an emerging small business site, or if you want to experiment and learn how to build an online store from the ground up. With a ready-to-go sample store you can get a site up-and-running in no time, using comprehensive documentation and an extensive marketplace of affordable, off-the-shelf extensions and themes.
Try the World's Most Flexible Commerce Platform. Create, launch, and grow your online store with a fully customizable commerce platform, cloud infrastructure, and 24×7 support. With rich, out-of-the-box functionality, Adobe Commerce (Magento) gives you the unlimited ability to customize your store, seamlessly integrate your third-party solutions, and create irresistible customer experiences.
Focus on growing your business without stressing about servers – Adobe Commerce (Magento) offers integrated cloud hosting, best-in-class infrastructure, and pre-integrated tools to help you launch new ideas faster, handle traffic spikes, and improve operational efficiency.
Adobe Commerce (Magento) Business Intelligence fuels your growth with data – Harness the power of analytics, with tools and dashboards designed to monitor product and customer data, set goals, share reports, and motivate your team.
Open Source / Self-Host on Server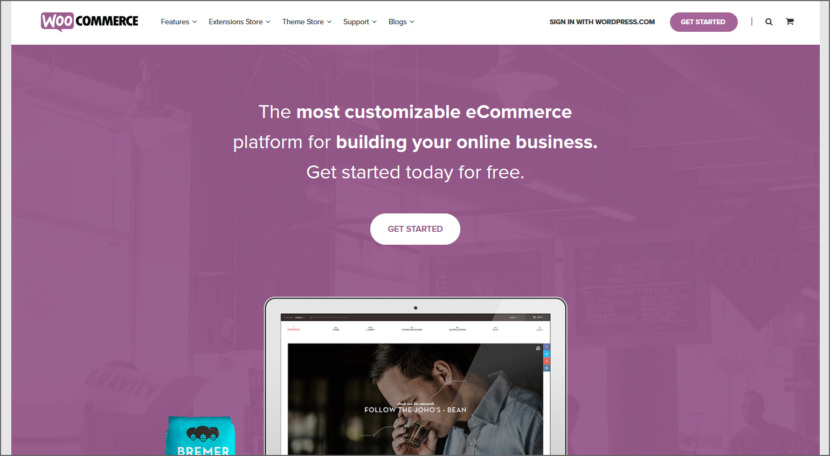 WooCommerce is now the most popular eCommerce platform on the web, so you can rest assured you're in good company. With hundreds of free and paid WooCommerce extensions, spanning all your logistical & technical requirements, you can rest assured there's an extension for your specific needs. Built for WordPress, WooCommerce is built to integrate seamlessly with WordPress, making it the obvious eCommerce choice for existing WordPress users and connecting you to the fast-growing WordPress ecosystem.
Open Source / Self-Host on Server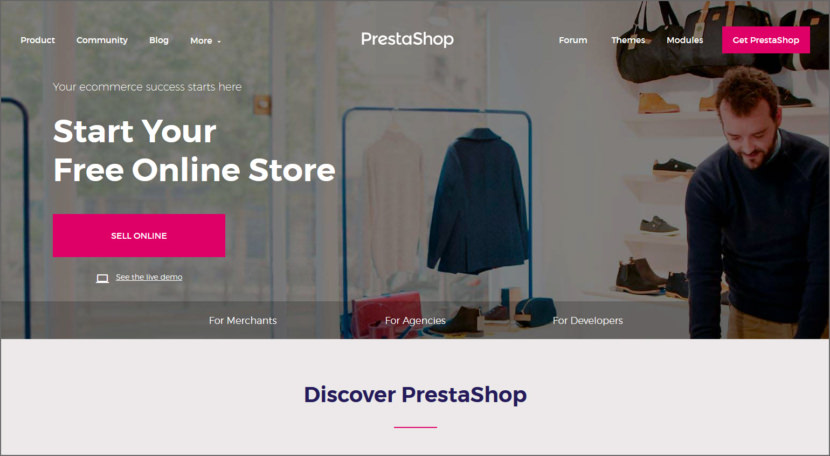 From your first online sale to shipping thousands of orders around the world, PrestaShop can take your ecommerce business to the next level. Key product features help you build the store you want today and the ecommerce business you imagine for tomorrow. Sell, grow. (repeat) PrestaShop has comprehensive product features for small, medium or large ecommerce stores. Hundreds of features are standard and 100% free.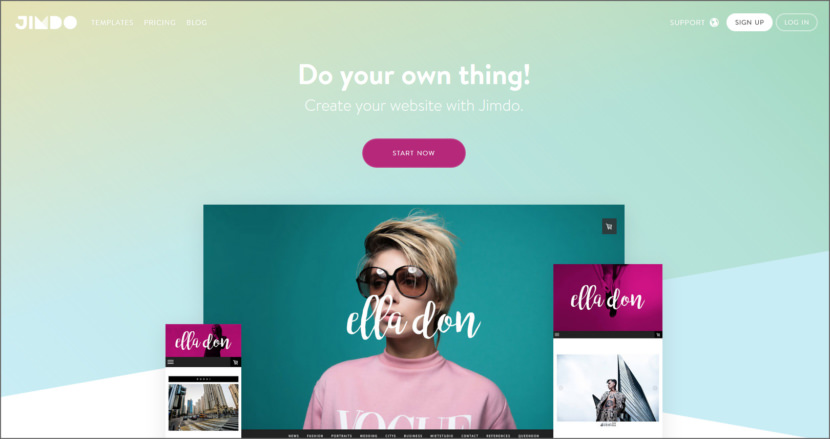 Ideally priced and for those with a small and simple online store. Usually small companies don't have the resources to hire a web designer. But at the same time, they need a lot of features for their website. That's why I have chosen Jimdo, which allows me to set up the design for my website in real time and integrate my online shop. Use their simple, click-to-edit tools and ecommerce templates to create a beautiful online shop. Fill out some basic settings, then customize your web shop with your own colors, fonts, logo, photos, and more.
User Friendly No Coding Drag & Drop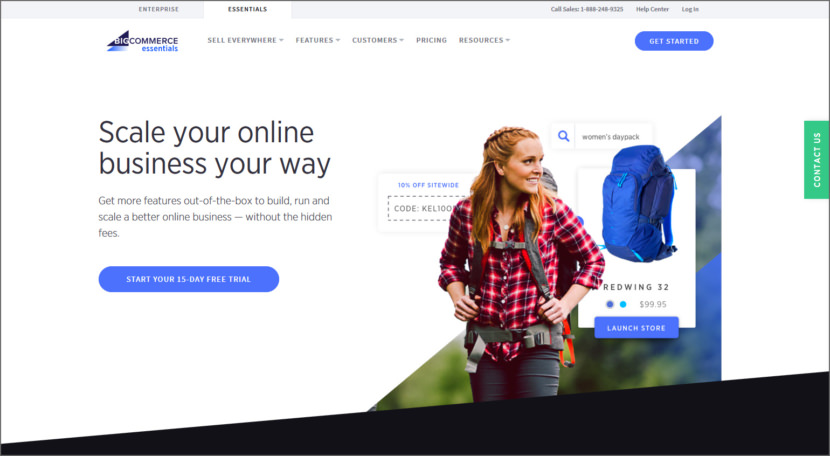 BigCommerce is the world's leading cloud ecommerce platform for established and rapidly-growing businesses. Combining enterprise functionality, an open architecture and app ecosystem, and market-leading performance, BigCommerce enables businesses to grow online sales with 80% less cost, time and complexity than on-premise software. BigCommerce powers B2B and B2C ecommerce for more than 60,000 brands, 2,000+ mid-market businesses, 30 Fortune 1000 companies and industry-leading brands.
Build your online store with BigCommerce. Customize your site, manage shipping and payments, and list your products on Amazon, eBay, and Facebook with the #1 ecommerce platform. Try it free, no credit card required. Their revolutionary design platform lets you create stores that engage shoppers and make more sales. Choose from the best responsive ecommerce templates on the market or build a fully custom site.
Tools that let you get back to business – Built-in apps, features and functionality to help attract customers and make more sales.
World Class Ecommerce Security – Security you can set and forget. Protect your store with unparalleled DDoS protection, site uptime, fraud alerts and PCI compliance.
Create Content and Commerce Experiences – Build for the future today. Re-launch your store with immersive content experiences and conversion-optimized features to sell more to happier customers.
Essential Omni-Channel Integrations – Sell everywhere, from your commerce hub. Sell products where your customers are already shopping — like Amazon and Instagram — from your BigCommerce Essentials control panel.
Open Source / Self-Host on Server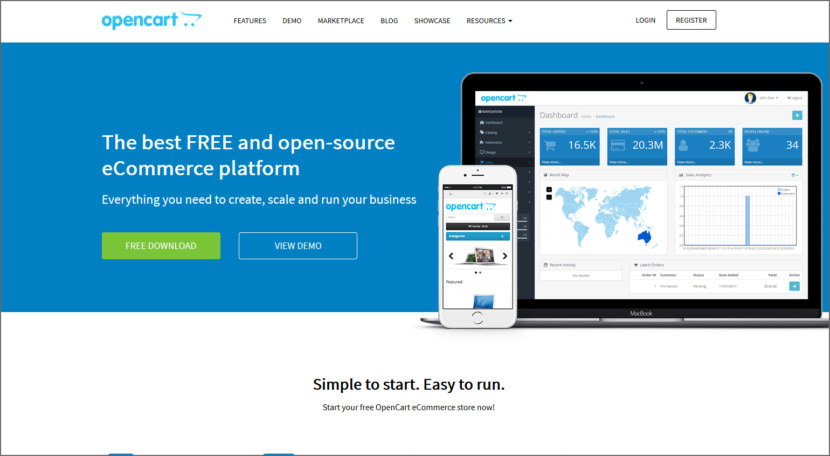 OpenCart is an easy-to-use, powerful, Open Source online store management program that can manage multiple online stores from a single back-end. Administrative area simply by filling in forms and clicking Save. There are many professionally-written extensions available to customize the store to your needs. The best free and open-source eCommerce platform. Everything you need to create, scale and run your business
Open-Source and Free – Open source means transparent. OpenCart comes with free downloads and updates. Zero monthly fees.
Powerful Store Management – Benefit from their built-in SEO. Easy manage products, customers, orders, taxes rules, coupon codes and more.
Extensions and Themes – The biggest eCommerce selections of modules and themes to expand your store functionality.
Support You Can Trust – They've got you covered. OpenCart offers free community or dedicated commercial support.
User Friendly No Coding Drag & Drop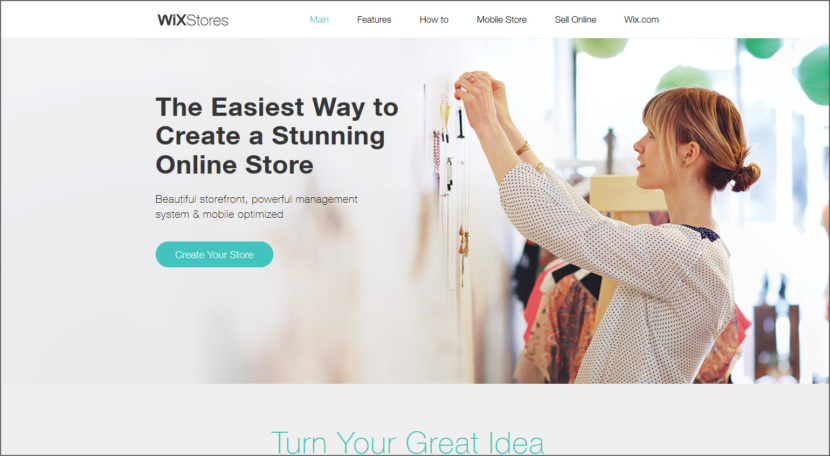 Wix.com is a leading cloud-based development platform with millions of users worldwide. They make it easy for everyone to create a beautiful, professional web presence. Reach your customers wherever they are. Wix will automatically optimize your eCommerce website for viewing on a mobile device. With their online store builder, it's easy to customize the look and feel of your mobile eCommerce website. All The Features You Need for Your Online Business
The Easiest Way to Sell Your Products Online. Choose a beautiful template, customize your online store & start selling. Customize your store's look and feel. Choose from 100s of designer made templates, and change anything you want to create your professional eCommerce website. Just drag n' drop. No tech skills needed.
Track Your Orders – Easily manage your orders and keep track of your inventory any time.
Get Paid Easily – Offer multiple options, such as credit cards and Paypal. 0% commission on all sales.
Promote Sales – Create, manage and share promotional coupons to keep customers coming back!
Manage Shipping & Tax – Set customized tax and shipping rules for each destination.
User Friendly No Coding Drag & Drop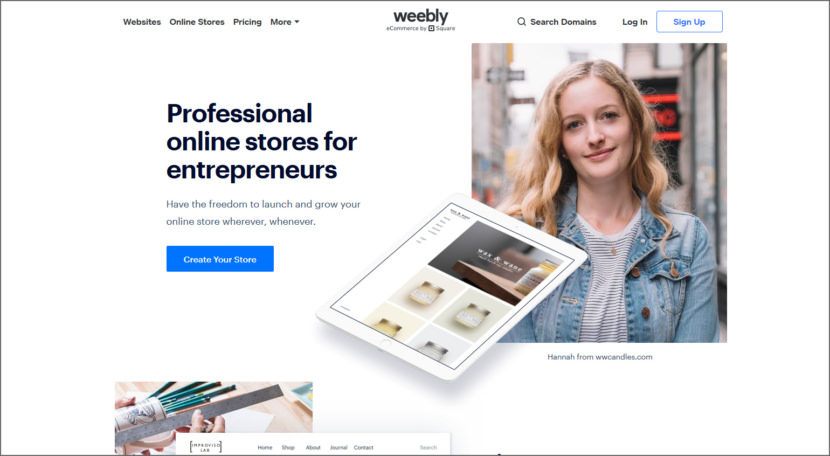 Professional online stores for entrepreneurs. Have the freedom to launch and grow your online store wherever, whenever. Choose a unique online store design with a customizable theme to showcase your products. Their easy-to-use drag & drop builder helps you launch your online store quickly.
Emails – Use customizable email templates, like an abandoned cart or welcome email, to connect with your customers.
Facebook Ads – Build brand awareness and drive traffic to your site by creating Facebook ads right from the Weebly platform.
SEO & Site Stats – They optimize your site for SEO to help search engines discover you. Their analytics tools help you track site performance. Plus, you can further enhance your store with partners from their app center.
Shipping – Their shipping tool makes sending your products domestically or internationally easy. Get real-time shipping rates dynamically by carrier, address, weight and quantity.
Inventory – Easily track inventory and supply with advanced inventory management tools such as bulk import and export features to help you manage a growing online store.
Coupons and Gift Cards – Create coupons with the coupon builder and make custom gift cards to increase sales.
User Friendly No Coding Drag & Drop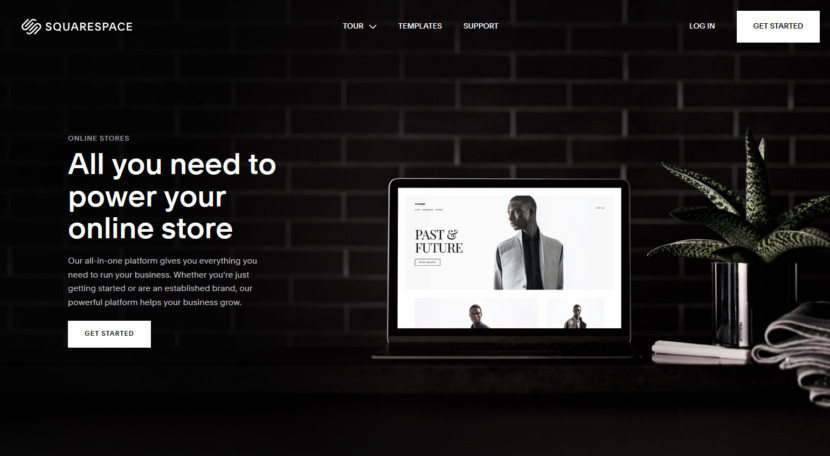 Squarespace's mission is to provide creative tools that give a voice to anyone's ideas. From designers creating the next generation of web and mobile experiences, to those managing their own online presence for the first time, Squarespace provides elegant solutions that set new standards for online publishing. By focusing their efforts on the fusion of design and engineering, they strive to create long-lasting products that place equal weight on form and function.
Customer Relationship Management – Use their CRM tools to gain insights including average order value, order history, and more. Easily identify your most loyal and valuable customers—as well as those who are at risk—and organize them using notes and tags.
Order & Inventory Management – Send shipment notifications, handle refunds, update stock levels, and fulfill orders of all sizes, on-the-go. Print shipping labels in batch with their ShipStation integration. Calculate real-time shipping rates from FedEx, UPS, and USPS at checkout to provide accurate shipping costs to customers. Easily provide customers with tracking numbers by scanning barcodes from their app.
Flexible Payment Options – Make more sales with more ways to pay. In addition to all major credit cards, your store is equipped to accept PayPal and Apple Pay. These alternative payment methods are fast and convenient, saving customers time and resulting in more sales for you.
Secure Checkout – 128-bit SSL encryption makes sure the connection between your customer's browser and your website is secure. Customers expect the highest level of security, which is why we've chosen Stripe as their PCI compliant payment gateway for all commerce transactions.
User Friendly No Coding Drag & Drop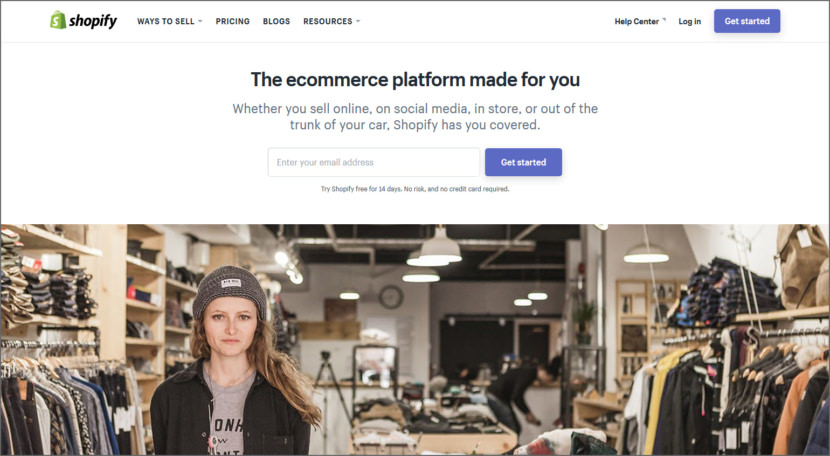 Unlimited Product Attributes – Ideal for small to medium business with online and offline retail, comes with POS (Point of Sales) system with iPads as cash registers. The ability to accept credit cards in-store, on the go, and everywhere in between means you can sell anywhere your customers are.
Shopify POS seamless integration makes it easy to sell your products and accept payments on any device while automatically updating your inventory, orders, and customer data. Selling your products in many places should be every bit as simple as selling in one. With Shopify's ecommerce software, you get one unified platform to run your business with ease. With Shopify's ecommerce software, you get one unified platform to run your business with ease.
Fully customize your online store
Add new sales channels in seconds
Manage unlimited products and inventory
Fulfill orders in a single step
Track sales and growth trends
Conclusion
Which is the best eCommerce software? Magento vs Woocommerce vs Shopify vs Prestashop? If you are running a small online store along your WordPress website, go with WooCommerce because of the good integration. For large complicated online stores, Magento is the better choice. If you're looking at online and offline retail integration, shopify's iPad POS System is a really good feature.
Small with 100 or less items, go with WooCommerce
Large online store, go with Magento
Online with offline retail shop, go with Shopify
Wix vs Shopify vs WooCommerce vs BigCommerce vs Magento vs Jimdo, which is better? It depends on your needs, budget and inventories. In other cases, WIXStores, Shopify, and Bigcommerce are the better alternatives if you don't need a complicated store with advanced features and customizations, or you have 100 to 200 items for sale. Magento has been and always will be designed for large eCommerce sites, it is way more complicated but comes packed with tons of features.
Magento is the best self-hosting eCommerce CMS, WooCommerce has the advantage of the flexibility of WordPress. For those that don't want to manage their own web hosting server, security updates, and bugs, a Managed eCommerce Hosting is the way forward. They may be expensive but you'll have everything taken care of and you can focus on what is important – your online business.
Jeff Bezos Revealed: Building Amazon One Box at a Time
When it comes to eCommerce, Amazon CEO Jeff Bezos was one of the first entrepreneurs to realize the potential of selling products on the internet. This Bloomberg Profile looks into how Bezos built Amazon inside his garage and now has his sights set well beyond online commerce.
"Bloomberg Game Changers" profiles Amazon.com Inc. founder Jeff Bezos. This program explores the story behind the founder of Amazon.com, the world's most successful online retailer and examines key moments in his life.