With more than 2 billion users, WhatsApp is no longer just the world's most popular messaging application for communicating with friends and family: more and more companies are starting to offer their services on their customers' preferred channel. A WhatsApp marketing tool is a software application or platform designed to facilitate marketing and communication efforts using WhatsApp, a popular messaging app.
🤣😍😂 13 Best SMTP Bulk Email Delivery, Marketing & Newsletter Services
Businesses must communicate with their customers through the channels they already use. With more than 2 billion people around the world using WhatsApp, there is a high chance your customers have already installed the app on their phones or desktop. By communicating with your customers through a channel like WhatsApp, it makes them more likely to see your message, read the content, and further interact with your business.
WhatsApp marketing can be a powerful tool when used effectively, allowing businesses to reach their audience in a more personal and direct manner. However, it should always be accompanied by proper permission from customers and adherence to relevant data protection regulations.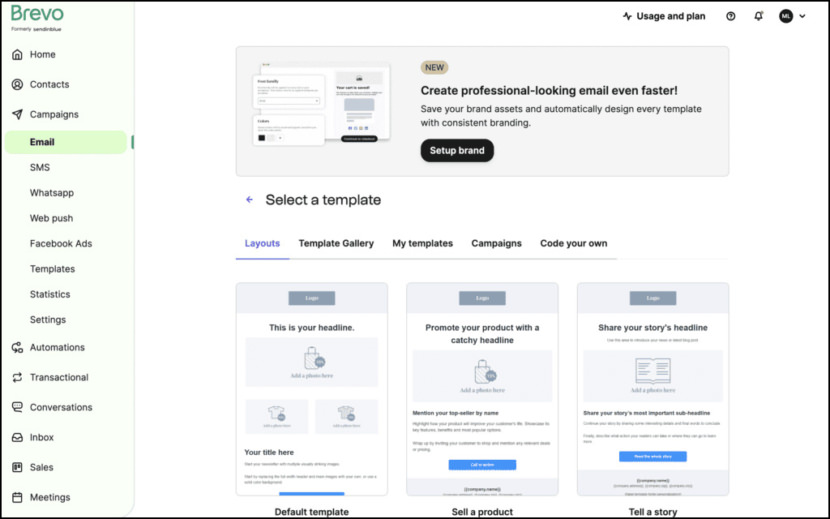 Brevo is an all-in-one marketing platform for building better customer relationships. Brevo is a marketing app for Shopify that helps merchants increase sales and engagement. Engage at scale with WhatsApp, encourage two-way dialogue. Send messages in bulk and respond individually.
Schedule and send your WhatsApp campaign
Analyze the results
Design your message template
Bulk / mass send messages in Whatsapp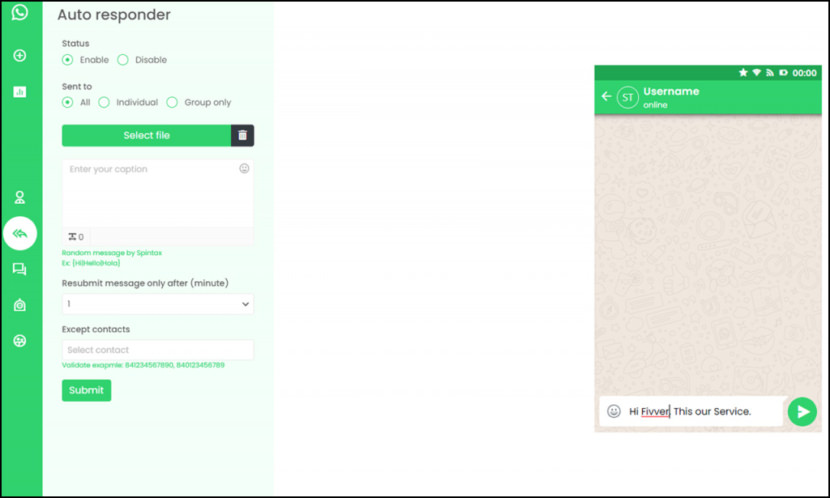 The #1 bulk WhatsApp marketing tool & more. Saving time and effort in sending the same message to multiple recipients individually and can be an effective way to communicate with a large group of people in a quick and efficient manner. Engage with your audience on the world's most popular messaging platform.
Bulk messaging – Send messages in bulk to multiple recipients at once. This can be useful for sending promotions, announcements, or updates to a large group of customers
Message scheduling – Schedule messages to be sent at a specific time and date. This can help businesses save time and streamline their messaging efforts
Automated responses – Include chatbots or other automated response features that can respond to customer messages automatically. This can help businesses provide quick and efficient customer support.
No downloads – You can use our service straight from the web on all browsers. You don't need to download or install anything to enjoy our service
Grow your business on WhatsApp. Personalize communication and sell more with the WhatsApp Business API platform that automates marketing, sales, service and support. Use Wati to engage your prospects through the WhatsApp Business API. Use Wati to engage your prospects through the WhatsApp Business API:
Broadcast Communication – Push out your campaigns and engage with high response WhatsApp messages.
Chatbots – Create no-code chatbots to provide instant responses to common requests.
Multiple agents – Share the Wati inbox across your team with support for an unlimited number of agents.
Low-Code Automations – Simplify mass communication and personalized responses with automated tools.
Message Text – Tag contacts, categorize and target them in groups using personalized communications.
Easy integrations – Pre-built integrations let you integrate with your tech stack and configure in a few clicks.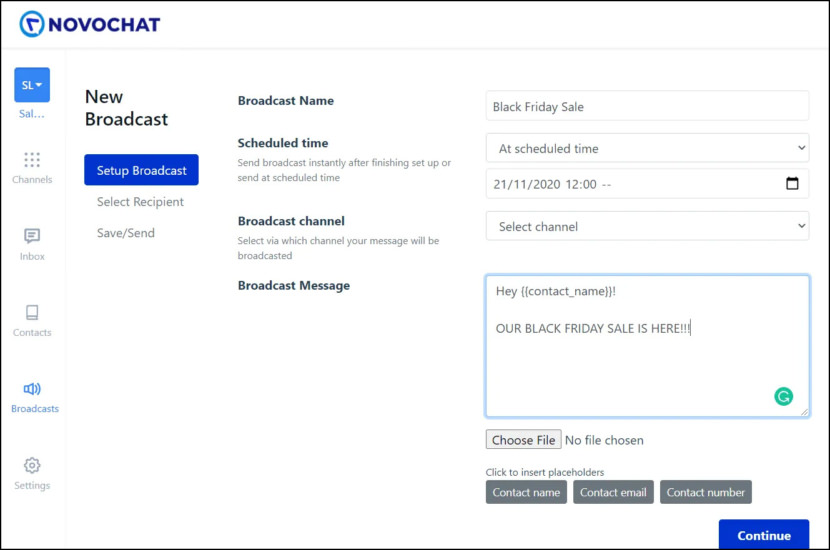 Scale your brand with WhatsApp. Transform Your Customer Communication and Drive Revenue with NovoChat's WhatsApp Inbox & Automations. Take your WhatsApp game to the next level with our platform's powerful tools, ready in minutes. Create personalized WhatsApp broadcasts to your customers. Send promotions, announcements, store updates, and more.
Team Inbox – Collaborate seamlessly on a shared inbox
WhatsApp Broadcast – Broadcast personalized messages
WhatsApp Automations – Send automated messages based on users' behaviour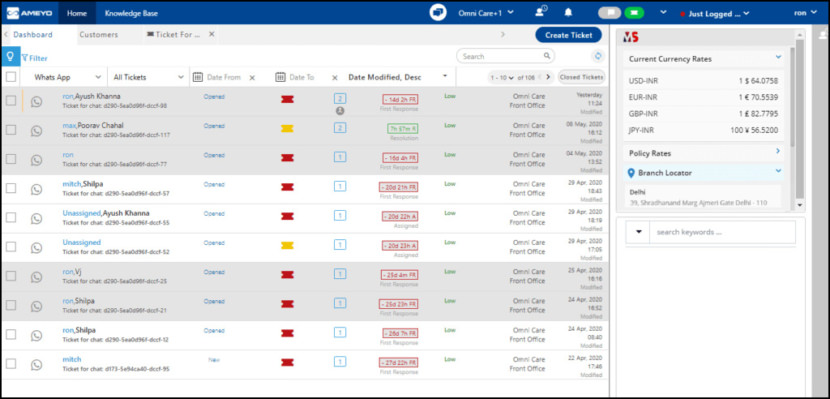 Ameyo, an official WhatsApp API partner, lets you engage with customers seamlessly on WhatsApp. Expand your Customer Service reach with Ameyo's Whatsapp enabled customer engagement solution. WhatsApp is the most preferred chat channel and businesses are now adding it to their existing customer interaction channel firepower to ensure faster & engaging customer service & support interactions.
Ameyo enables you to deliver exceptional customer service while achieving a dramatically improved CSAT rate. Want to explore our plug'n'play solution.
E-commerce – Whatsapp Business API enables businesses to connect with their customers and meet their needs for eCommerce, recruiting, and more through conversational messaging by increasing and driving more conversions and sales.
Banking & Financial Services – Conversational Banking is mainstream, and Banks can achieve more through 1:1 conversations.
Retail – WhatsApp Business API allows the retail industry to communicate directly with your customers, either through session messages initiated by your customers or templated messages initiated by them after opt-in is received.
Travel – 70% of travelers preferred to be notified via messaging. 54% of Millenials prefer messaging to calling for lost luggage and other help. Ameyo Whatsapp Business API simply integrates back-end and customer relationship systems for the travel industry. It offers more secure and private communication with end-to-end encryption.
Healthcare – With WhatsApp chat Bots, The healthcare sector strives to provide top-notch healthcare services and quality treatment to meet the need for well-being and save many lives.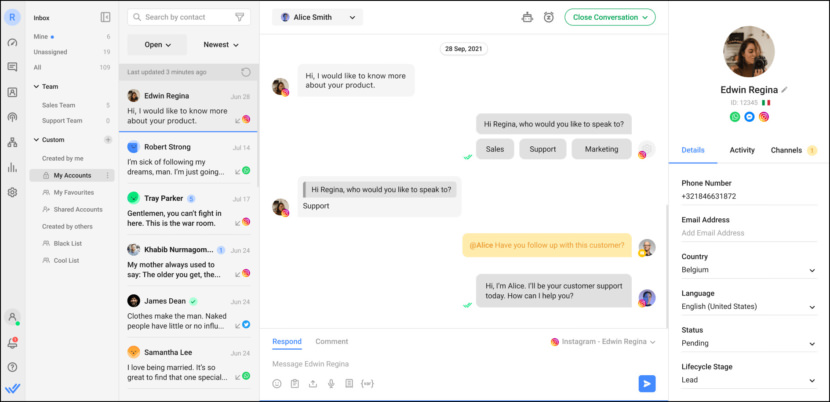 Market, Sell & Support with the Leading Messaging Platform. respond.io is a business messaging platform that unifies customer communication for tech-savvy organizations that market, sell & support across instant messaging, web chat & email. One Messaging Platform for Marketing, Sales, Support & Engineering. Ideal for the following industries:
eCommerce & Retail
Hospitality and medical insurance
Education, tuition centres, and schools
Automotive sales
Healthcare and clinics followup
Recruitment
IT & SaaS
Real Estate and properties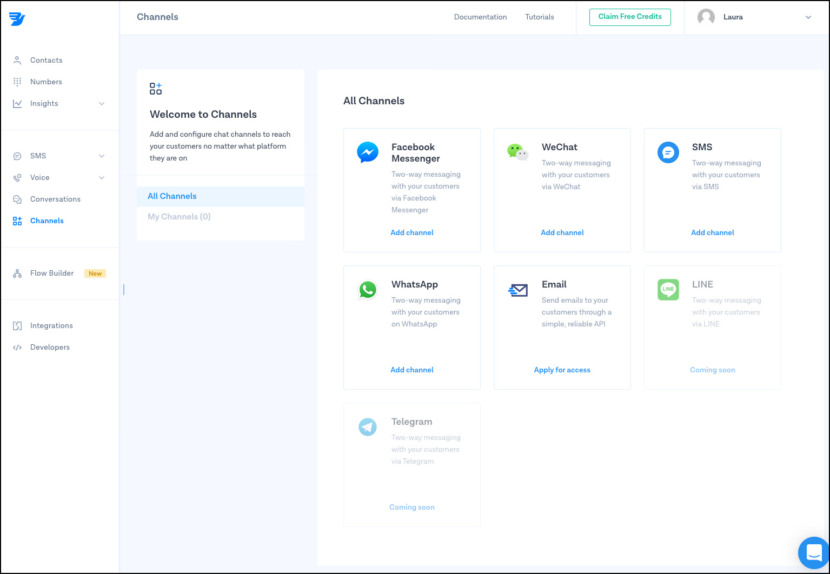 Omnichannel automation platform for APIs, service & marketing. It is an application software and APIs to automate and personalize every touchpoint with your customer across SMS, Voice & WhatsApp. Reach every customer on their own preferred channel with dynamic, omnichannel campaigns, using channel-responsive templates.
Improve your existing SMS, Voice or Email performance, adopt new ways of reaching customers including WhatsApp, Instagram Direct or Google Maps — Their omnichannel product offering is your one-stop shop.
Marketing Automation – Run campaigns on WhatsApp to send promotions and create shopping experiences.
Chatbots – Build interactive, personalized chatbots that take care of repetitive and manual work.
Customer Service – Give your service teams the ability to receive and respond to messages directly on WhatsApp.
E-commerce – Run retargeting campaigns, provide customer support, and let customers shop and track packages directly in the app.
Marketplaces – Onboard partners, keep customers up-to-date, and facilitate anonymized conversations.
Logistics – Track order status, automate support requests, and orchestrate your fleet.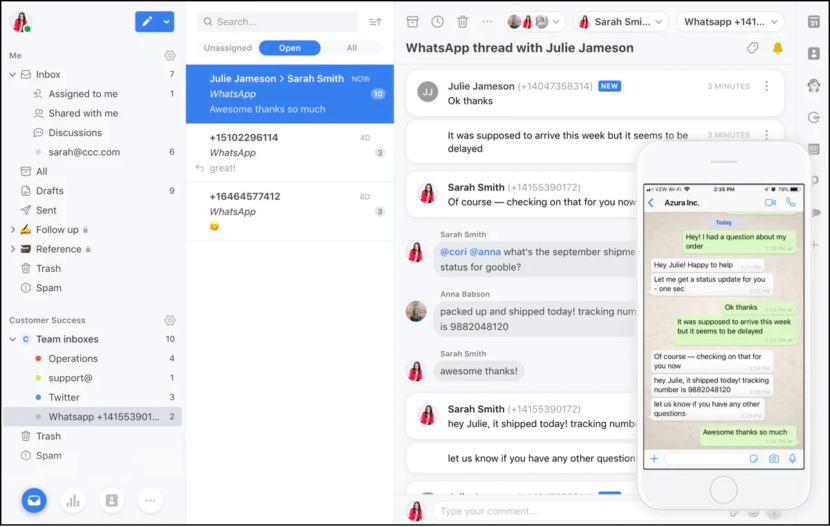 Integrate WhatsApp with flexible Twilio APIs and software. Reach customers on WhatsApp with unrivaled scale and connectivity. Take advantage of the WhatsApp Business Platform and build any personalized customer engagement solution with Twilio's trusted APIs, software, and first-party customer data. With twilio you can build:
SMS marketing
Call tracking
Web chat
Push notifications
Alerts and notifications
Phone verification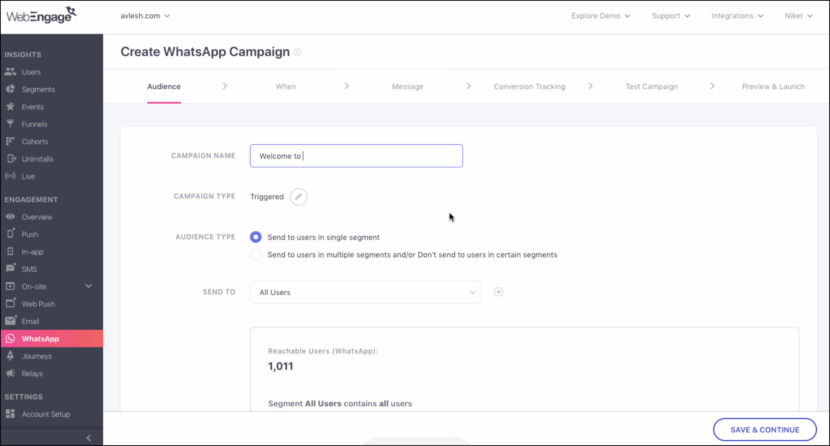 Create multiple user segments that suit your business needs using personal & user behaviour data. Automate transactional updates, resolve customer queries or simply hold conversations, WhatsApp can be a crucial way to engage your users, wherever they are.
Orchestrate Your Whatsapp Campaigns Based on User Actions. Marketing Automation Workflows that send contextual messages based on user actions. Added a product to cart but failed to checkout? Send a checkout reminder on WhatsApp!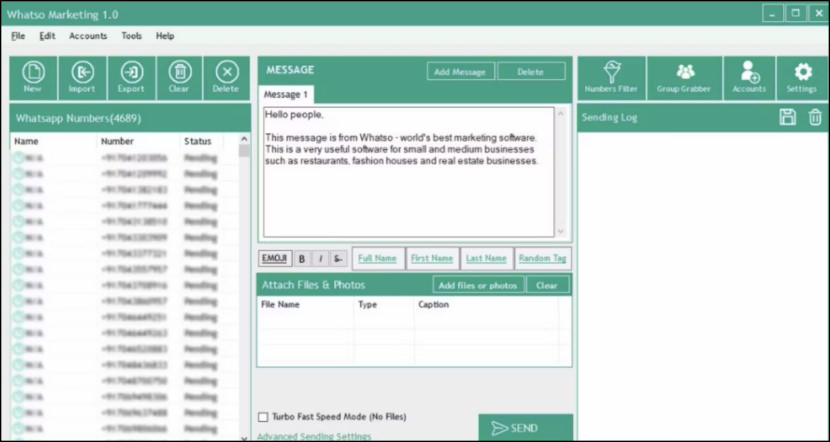 Whatso is a dedicated WhatsApp and SMS marketing platform. It has at least three different offers for small and large businesses. First, WhatsApp Marketing Software is an app for Mac and Windows Desktop allowing users to send 100–1,000 messages per day. This tool is not verified by Meta though. Complete Marketing Solution To Grow Using WhatsApp.
Send upto 100k video, images, and text messages/per daySend upto 100k video, images, and text messages/per day
No blocking of numbers
WooCommerce plugins
Whitelabel Reseller Plans
Google Sheets Addon
Phone, chat, email support for setup
Automation & Chatbots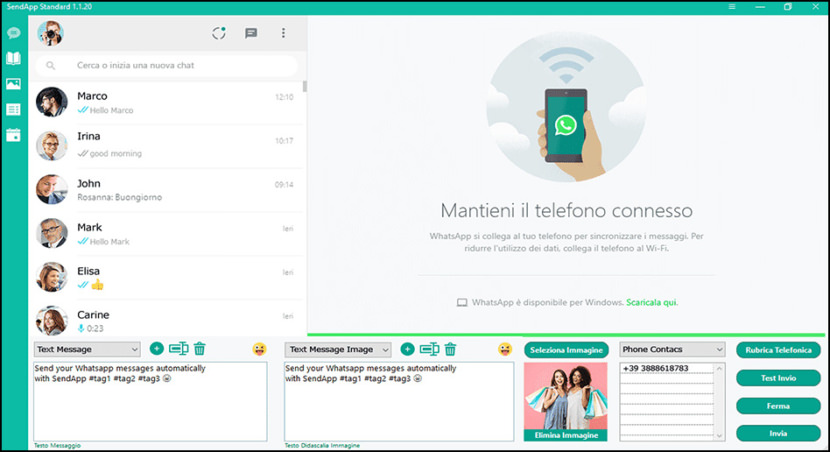 SendApp for your marketing campaigns. Use your new SendApp software to target your customers in a targeted way. SendApp allows you to create a marketing campaign with your messaging app. Send personalized, advertising and information messages to your chat contacts and even more to other contacts with SendApp it's really simple.
So get to work with an all-in-one marketing platform that keeps up with modern communication. No technical skills are required: just personalize your message with Texts, Images, Emojis, Videos and Links to create a successful advertising campaign with just a few clicks.
Innovative marketing
Attract immediate interest
Stimulates actions with customers
Automates sending messages
Get great results
Sendapp marketing campaigns via chat.