A gym management software is a specialized tool designed to help fitness centers, gyms, health clubs, and similar establishments efficiently manage various aspects of their operations and administration. It serves as a central platform to streamline day-to-day tasks, enhance member experience, and optimize overall business performance.
🤣😍😂 10 Muscle Boosting Quotes For Workout & Bodybuilding Gains
Gym management software aims to streamline administrative tasks, improve member experience, and optimize resource utilization, ultimately leading to enhanced gym performance and increased member retention.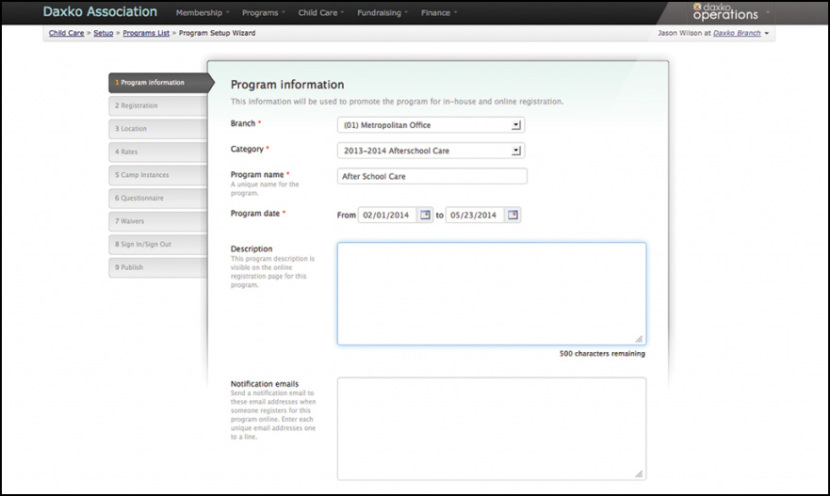 Daxko Operations helps you manage your center's daily operations in one secure system. From online tools like program registration, back-office efficiencies like easy access to member information, and standardized processes and data across hundreds of YMCAs, JCCs, and other health and wellness organizations across the country. Daxko Operations is THE gold standard in member-based operations management.
The Mission Acceleration Suite fuels nonprofit organizations like YMCAs, JCCs, and Boys and Girls Clubs in serving their ever-changing communities. Leveraging our powerful and intuitive technology, you'll maximize limited nonprofit resources to help your community thrive.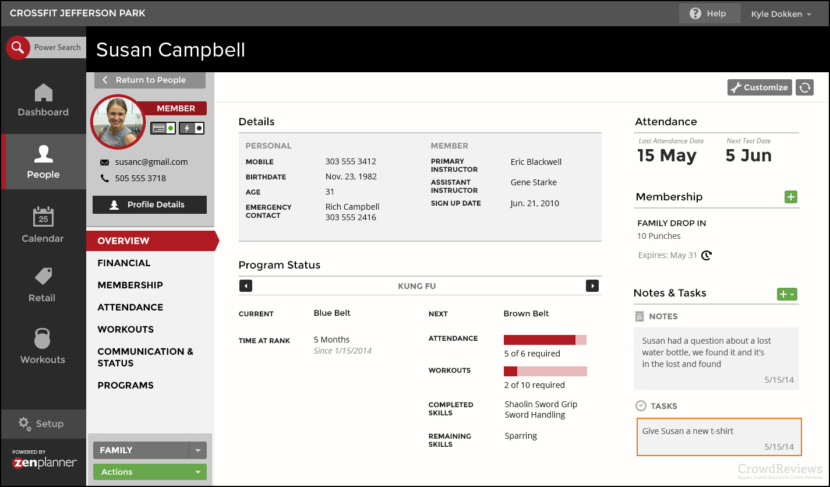 Zen Planner does more than help manage your business — it takes it to new levels with industry-leading software, robust reporting, marketing automations, and stellar customer service. Keep your members happy with our Member App, which includes skills and workout tracking, appointments, profile management, and other community-building tools.
Their comprehensive, membership management software provides everything you need to turn your passion into a successful business. With payment processing & auto-billing, lead-generating websites + digital marketing, virtual classes, scheduling, retail, automation, member & staff apps, in-depth reporting & more, you have everything required to grow, nurture & retain your members. Ideal for the following type of businesses.
Martial Arts School
BJJ Gym
MMA Gym
CrossFit Gym
Functional Fitness Gym
HIIT Studio
Personal Training
Yoga Studio
Pilates Studio
Barre Studio
Cycling & Spin Studio
Rowing Studio
Climbing Gym
Boutique Fitness
Gymnastics & Dance
Dance Studio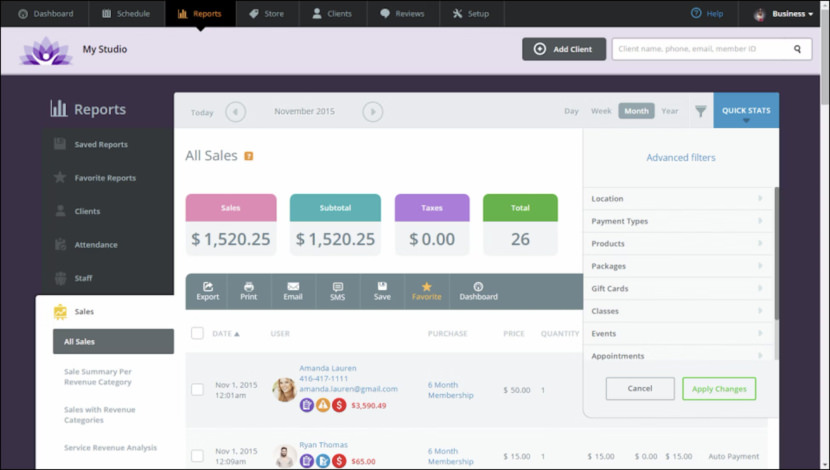 WellnessLiving's all-in-one membership management software equips you with the tools, support, & resources needed to manage & grow your business. Offering flexible business settings and dynamic tools like online booking, automated marketing, rewards, website widgets, advanced reporting, mobile apps, and client & staff management, all on one convenient platform, to streamline business operations.
It's the only software you need to attract, convert, & retain more clients. They make booking services simple and convenient with a variety of options. Whether it's online or from their mobile device, clients can instantly book classes, appointments, services, and equipment. Membership is ideal for the following businesses – Yoga Studio, Fitness Studio, Music School, Martial Arts Dojo, Dance Studio, Wellness Center, Pilates Studio, Salon, Massage Studio, Medical Office, Pole Dance, and Events & Activities.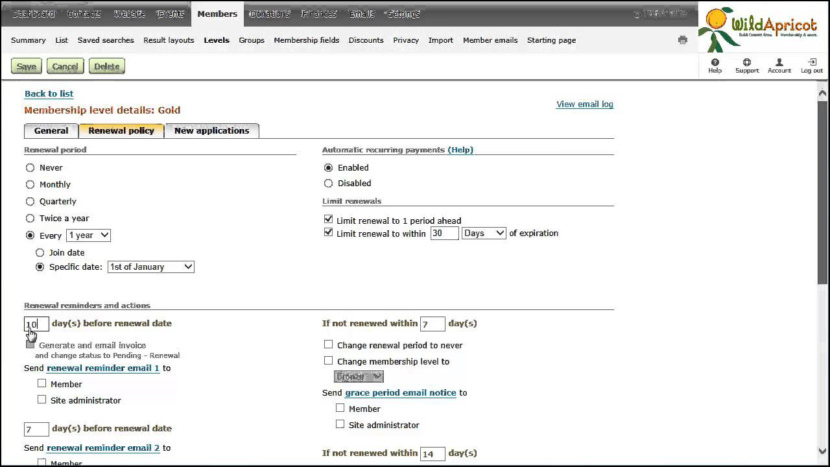 Manage your organization all in one place. Powerful cloud software to help you automate and simplify membership tasks. All your membership data is stored safely in the cloud, allowing you to easily search, update, and share your database with teammates from any device.
WildApricot is a complete membership management system, designed to fit your organizations needs. Easily manage your contacts, process payments, send out emails, register event attendees, create a website and more. With a self serve design and a user friendly interface, you have the freedom to customize every aspect of your membership management system. It features the following tools to empower your organization:
Member Database – All your membership data is stored safely in the cloud, allowing you to easily search, update, and share your database with teammates from any device.
Website Builder – Build a stunning website with our drag-and-drop tool or customize our professionally designed and mobile-friendly themes. Already have a website? You can still use our built-in web tools to enhance your site.
Payments – With easy-to-use online payment tools, you can securely accept and track online payments. Your invoices and receipts will even be automatically generated.
Event Management – Create an event listing and customize registration forms in seconds. With WildApricot, members can register and pay for your conferences and events online.
Email & Contact Database – Manage your contacts with WildApricot's emailing system. You can easily communicate with your members by automating email confirmations and reminders.
Mobile App – Easily access and manage everything on the go with our app for admins and app for members. Always keep your organization running smoothly and your members engaged.
Online Store – With our built-in online store, you can start selling products and accepting payments instantly. Generate and manage sales all from one platform.
Integrations – Automate even more tasks by connecting your WildApricot site with widgets, WordPress, APIs and more.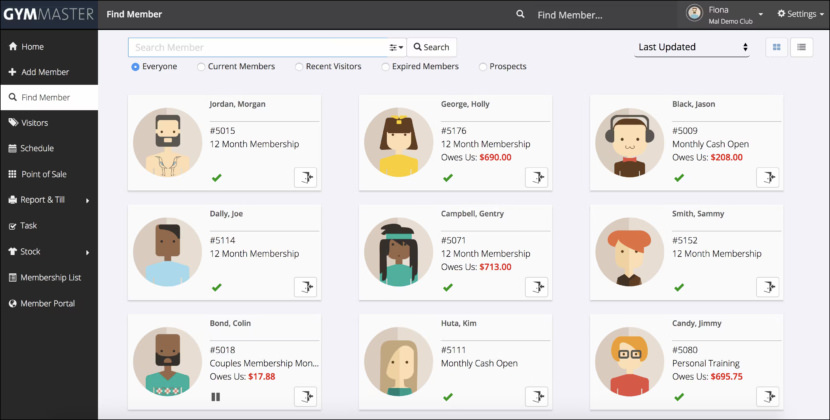 The only all-in-1 gym management software with built-in 24/7 bluetooth door access–no third party! The difference? Admin autopilot at fraction of the cost. Better for you, members, and your wallet. GymMaster is gym management software designed to make it easy to maintain detailed records of your members and their memberships, book classes and trainers, process and track sales, and communicate en mass with the right members at the right time.
Designed to fit clubs of all sizes, this gym management software is feature-packed. With a full gym booking system, point of sale, website integration, billing integration, a mobile app for staff and members, online booking for clients, and 24/7 door access control, GymMaster has all you need to more efficiently run your gym.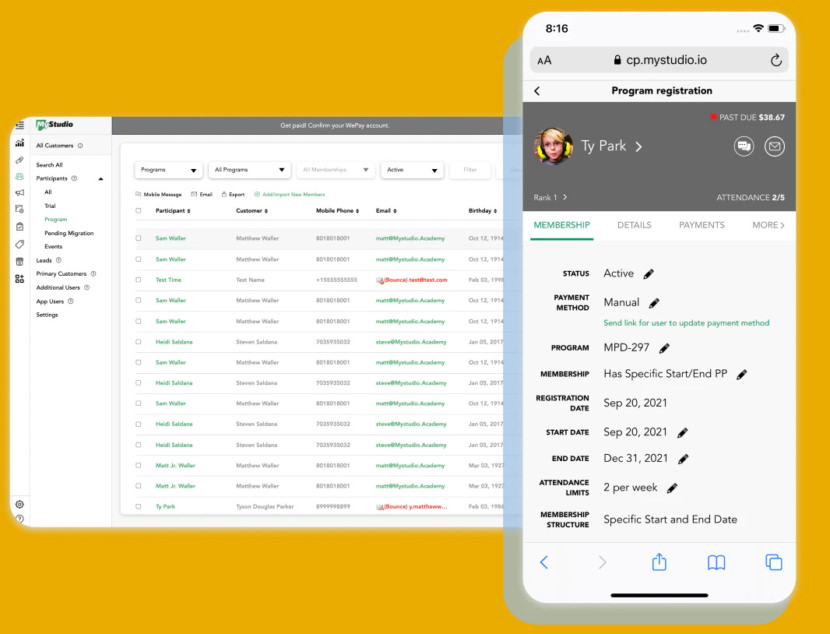 Membership management software designed for modern life, it allow people to buy the very moment they fall in love with your company. Manage your business on the go with the all-in-one MyStudio platform. MyStudio enables customers to buy from you, anywhere and at any time. Memberships, events, trials, classes and retail can be purchased by customers through a customized member app, custom website, on all social media channels, and anywhere there is internet.
They offer the perfect set of tools to grow and manage any membership-based business. See how MyStudio can help your business thrive while affording you operational peace of mind. Best For Martial Arts, Yoga , Dance, Gymnastics, Events Management, and Camp Management businesses.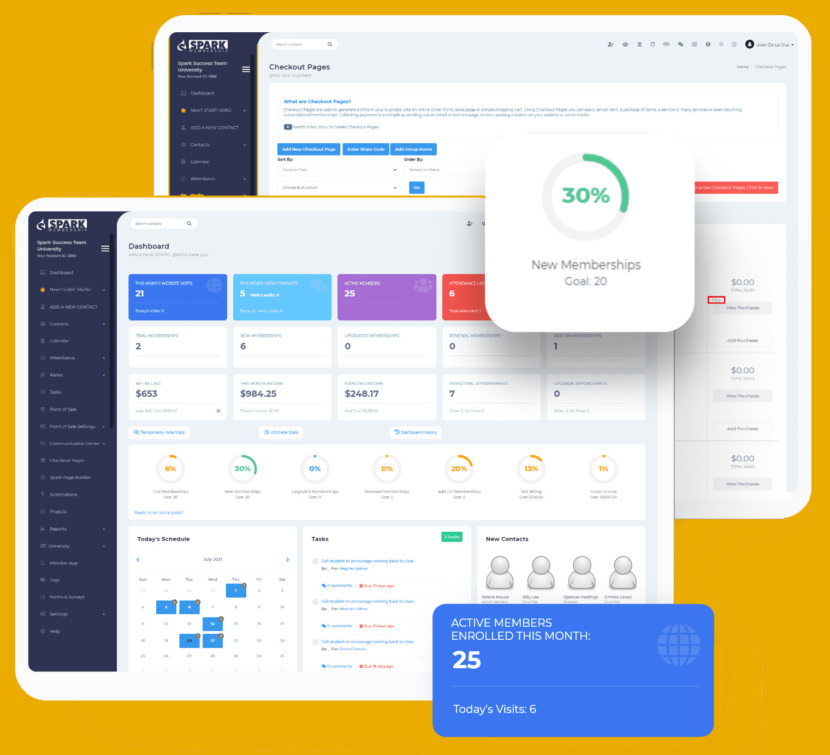 The only software you need to manage your member-based business with less effort, attract more members and grow revenue without limits. Whether you run a martial arts school, fitness or yoga studio, chances are you got into the game for more freedom and a better lifestyle – not to work 80-hour weeks.
Spark lets you easily manage, systematize and automate every part of your business. Manage more efficiently, understand your metrics and build better relationships with your members. Built specifically for member-based businesses, Spark gives you the flexibility to run your business on your terms – and catapult it to a different level.
Spark simplifies life for your members with online bookings, membership payments and automated reminders. Build better relationships with your members,
pack out classes and reduce churn. If you run a membership business and want to run more efficiently and grow without limits, then Spark is for you.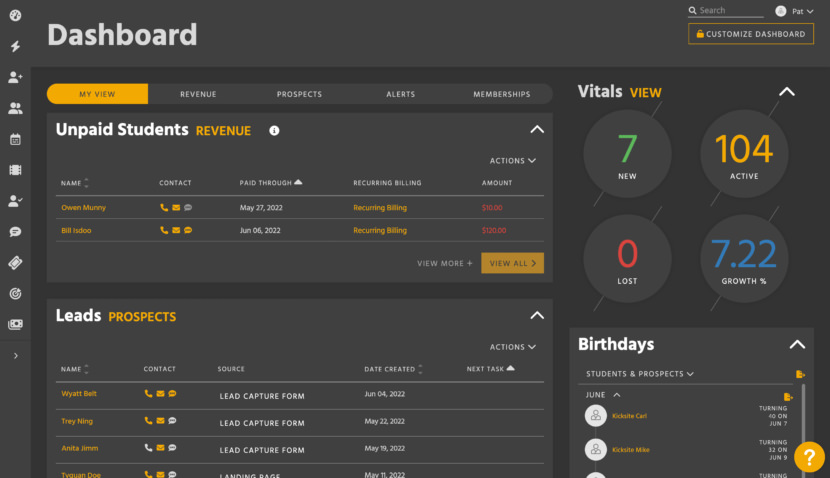 Kicksite's gym and martial arts member management software will take your business to the next level with all the essential tools for managing your facility more efficiently: attendance tracking, automated billing, communication via email and text, lead capture forms and more.
At Kicksite, they believe an efficient business results in a successful business owner. Their gym and martial arts member management software platform offers the essential tools you need to manage your gym or martial arts school and engage your members and prospects. Best of all, Kicksite is very easy to use. You'll spend less time in the office and more time training, teaching, and doing what you love.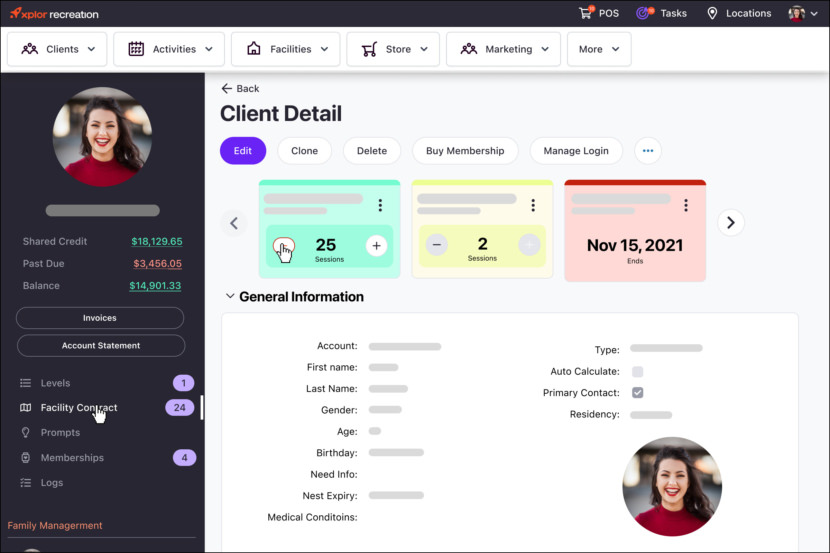 Managing your leads, clients and members made simple and efficient using our easy-to-use contact relationship management platform. Streamline and automate your communication to reduce administrative tasks so you can focus on what's important: your customers.
Sell multiple memberships under the same profile and customize memberships just the way your members like them. Effortlessly sell and manage groups, family and multiple membership options, while safely storing member data.
Manage your membership database from a central location. Handle schedules, duplicates, family members, course levels activities, financial information, and documents for each contact and group account with our easy-to-use platform.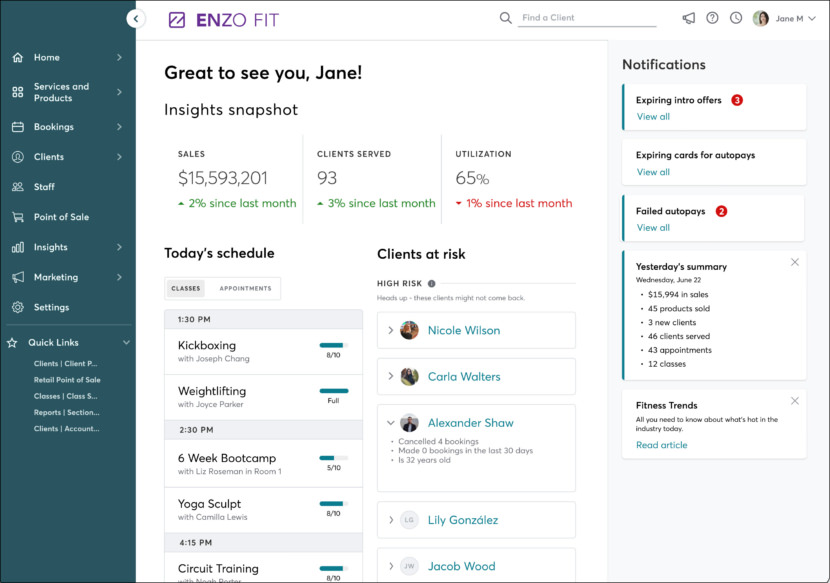 Mindbody's all-in-one software has everything you need to seamlessly manage your fitness business end-to-end and grow your revenue. From booking and scheduling to client and team management, automated marketing and in-depth reporting to integrated payments and lead management, Mindbody helps you thrive. Plus, Mindbody offers innovation you can't get elsewhere, including an AI front desk, as well as 700+ partner solutions and an exclusive network of new clients.
Mindbody drives more revenue for fitness, wellness, and beauty businesses than any other platform, with an unmatched consumer network and the advanced tools you need to grow. Access 90+ integrated partners, including solutions for customer loyalty & reviews, client acquisition, marketing, financial services, and more. Or you can leverage our open API—allowing you to scale & customize without limitations. Flexible tools for every type of business – Yoga, Gym, Barre, Day Spa, Float Spa, Salon, Hair, Nails, Barbershop, Acupuncture, Massage & more.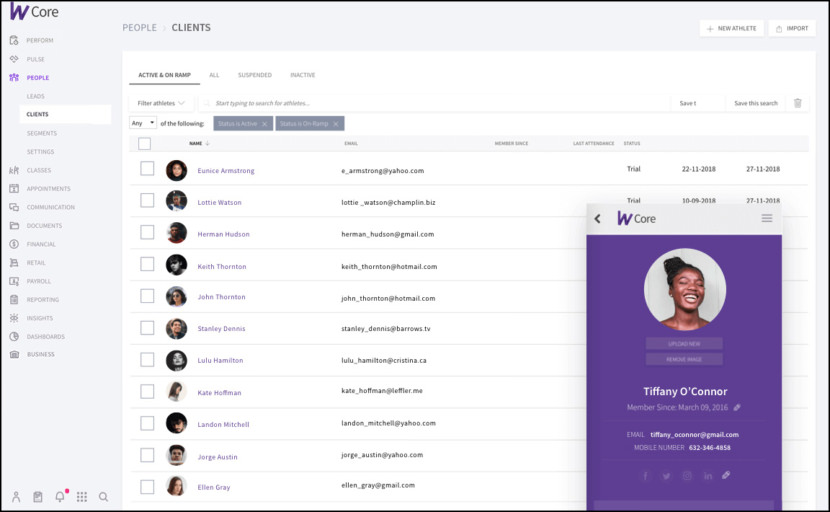 Wodify is a gym and studio management software dedicated to helping business owners including, functional fitness gym owners, CrossFit gym owners, Martial Arts studio & school owners, and yoga studio owners, more efficiently manage their business. Wodify has a global software presence in gyms & studios helping manage over 5,000 locations.
Some popular features are performance tracking, fitness leaderboards, Martial Art belt & level tracking, Martial Arts video integrations, automated billing, class scheduling, digital waivers, and custom branding. Reclaim your time, grow your revenue, and build a strong community.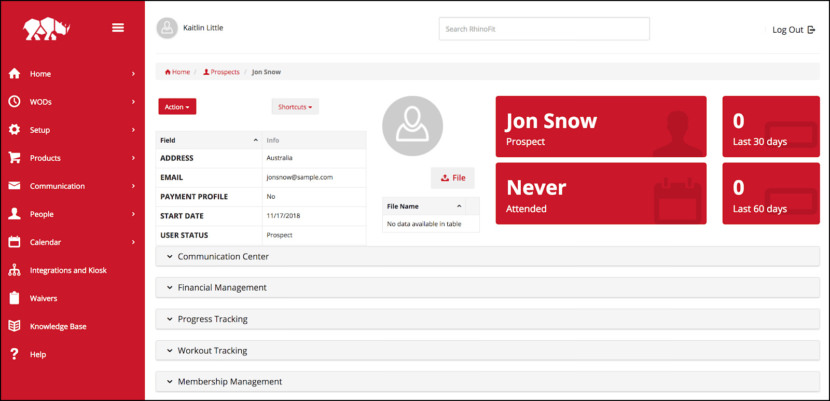 RhinoFit fitness software includes several time saving features. They automate many of the most time consuming tasks like billing or membership management. They offer a mobile app, attendance tracking, digital waivers and a powerful calendar to make scheduling classes a breeze. RhinoFit Gym Management Software offers gyms and fitness facilities a simple management solution to track billing, check-ins, reporting, and class schedules.
RhinoFit is a powerful and easy to use gym management software designed for all types of gyms, boot-camps, and fitness studios. Gyms can now streamline operations without paying the big price tag of the large software providers. Our system offers scheduling, 24-hour gym access, member check-ins, workout benchmarks, reporting, and more.
Free Mobile App – Your members can download our free iPhone or Android app to make class reservations, track WODs and benchmarks, and view their attendance history.
Automated Payments – Accept one-time and recurring credit card or ACH payments automatically with our built-in payment processing features.
Tuition Management – Assign children to a parent's account to manage billing, scheduling, waivers, and more.
Web & Social Integrations – Integrate your own custom product page, student sign in, or membership store into your gym's website. Drive your website content with RhinoFit's iFrame widgets.
Email Marketing – Bring in new members with email marketing platforms DailyStory & Mailchimp. Send professional emails and market your gym.
Workout Tracking – Show your clients how much they've improved with our easy to use WOD tracking, fitness assessment, and benchmark features. Easily log and track your member's performance over-time.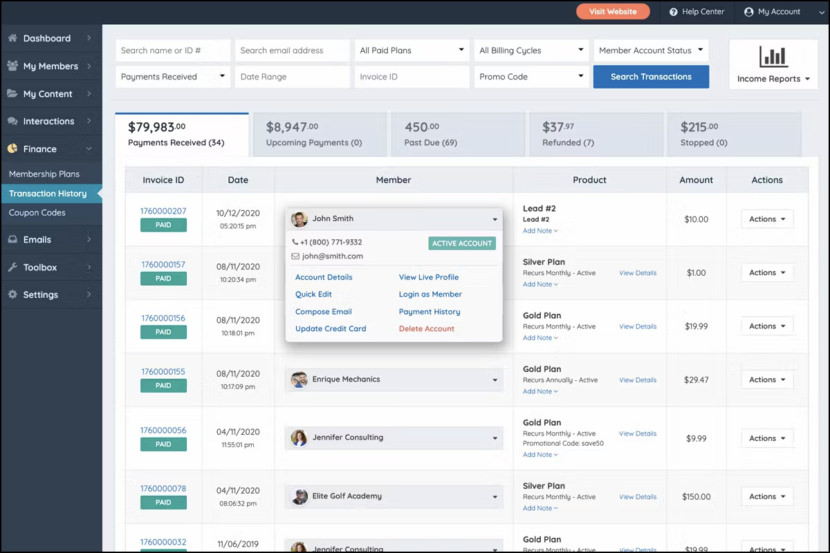 MemberClicks cloud-based membership software helps associations, chambers of commerce and other member-based organizations automate tasks, boost engagement and generate revenue in one central platform. Membership management that's easy to use. Service that's easy to love.
MemberClicks empowers organizations to save time and money while making the most of the web. We offer a comprehensive software solution to simplify the everyday technology needs of small staff associations.
With MemberClicks you'll receive a comprehensive, guided implementation process from a dedicated account manager to get you up-and-running. If you need help, you'll get unlimited support from our accessible, well-versed team. And you'll have access to ongoing training opportunities, maintenance packages, valuable free services and a host of resources at your disposal 24/7.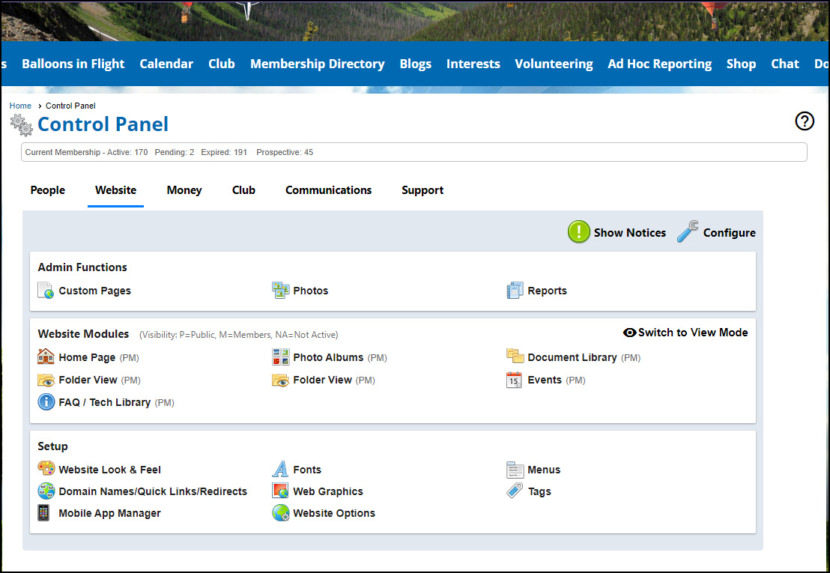 ClubExpress is a cloud-based management tool for any association or club. The solution is suitable for arts and cultural clubs, environmental groups, healthcare and hospitals, higher education groups, human services organizations, international organizations and many more.
ClubExpress offers donor management, nonprofit marketing and outreach, charity and event planning, volunteer management, association and membership management and fundraising. The system has a member portal, offers awards and certificate management and supports online fundraising.
Create a professional and elegant website that properly represents the brand and mission of your organization. Easily manage memberships, events, donations, communications, etc. ClubExpress has powerful features for many types of membership-based organizations. And we can handle groups of almost any size, from newly-formed organizations up to those with tens of thousands of members.
Professional & Trade Associations
Car and Motorcycle Clubs
Hobbyist Groups
Active Lifestyle Clubs
Parent Groups
Skiing Clubs
Cycling Clubs
Yacht Clubs
Active Adult Communities
Legal and Financial Associations
Chambers of Commerce
Aviation Groups
Aging-in-Place Villages
League of Women Voters
Home Owner Associations