With Comodo no longer providing free antivirus security with firewall, who actually purchase their Internet Security Pro, Internet Security Complete and Antivirus Advanced? One of the main differences between the paid and free version is the lack of support, backups and VPN. Most can survive without these features.
See More ▼ Download Kaspersky Endpoint Security For Business 30-Days Trial
Comodo combines the best, patented protection technologies in one comprehensive package that secures your everyday activities while increasing your productivity. Download now to enjoy Complete Malware Protection, Auto Sandbox Technology, Defense Plus, Secure Shopping, Host Intrusion Prevention (HIPS) and Fast, Cloud Based Scans. Below are 2 of Comodo's popular products, download now, no product key or serial required.
Without Firewall & Support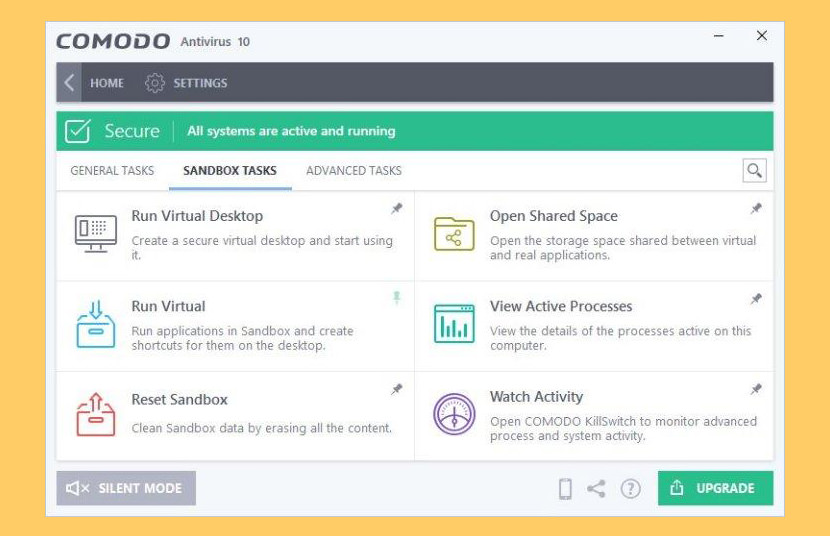 Comodo Antivirus has the same feature as the paid Comodo Advanced Antivirus, the main difference is the free version lacks support. If your system has been infected with malware, only Comodo paid customers will have an expert cleaning up your PC of all malwares remotely and ensuring your PC remains clean.
Comodo Windows Antivirus has a better approach. It's based on the concept of prevention, not detection. Their Windows Antivirus software features groundbreaking Defense+ technology that efficiently closes this window by treating unknown files seeking access to your PC's critical resources as potentially harmful. Defense+ automatically isolates such files so they can't harm you or your PC.
Spyware Scanning – Spyware Scanner detects and cleans malware infections in PC registry and disks.
Cloud based Antivirus – Cloud based antivirus scanning detects malicious file even if a user does not have up-to-date virus definitions.
Cloud based Behavior Analysis – Cloud based behavior analysis system detects zero-day malware INSTANTLY.
Cloud based Whitelisting – Cloud based whitelisting of trusted publisher easily identifies a safe file and vendor
Game Mode – Suppresses operations that could interfere with a user's gaming experience such as alerts, virus database updates or scheduled scans.
Real-time access to updated virus definitions – Get the most current protection possible against new viral strains
Default Deny Protection – Makes sure that only known PC-safe applications execute
Prevention-based security – Stops viruses and malware before they access your computer…so it isn't too late to stop them.
Honestly, I am still somewhat confused on how they generate revenue when they give away most of their products. The other thing with free antivirus is it will come with nagware, a pop-up message reminding you how awesome their product is and the need to upgrade. For Comodo, just turn off 'Comodo Message Center' in settings.
With Firewall & Without Support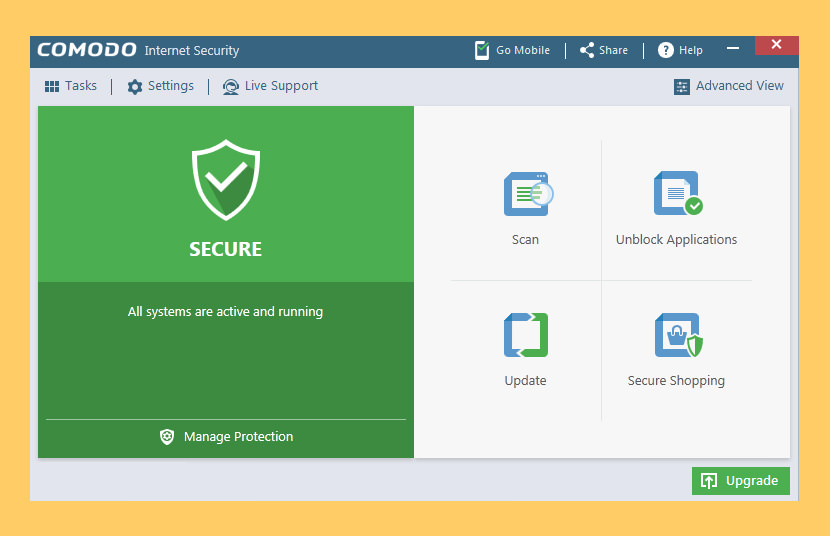 The main difference between Comodo Internet Security and Comodo Antivirus is the extra Firewall and Browser toolbar. The free Internet Security Software provides a complete protection against viruses and attacks. More than just an antivirus program, it also includes an award-winning firewall, host intrusion prevention, a sandbox for untrusted software, anti-malware and buffer overflow protection to deliver comprehensive protection against today's diverse range of threats.
Comodo Secure Shopping provides unbeatable security for online banking and shopping sessions by ensuring you connect to those websites from within a security-hardened browsing environment.
Hides sensitive online data from other processes running on your PC
Prevents key-loggers from recording your keystrokes
Warns you if there is a remote connection to your computer
Stops hackers and malware taking screenshots of your session
Detects fake SSL certificates to stop man-in-the-middle attacks
The Integrated Firewall includes the buffer-overflow protection originally featured in Comodo Memory Firewall. Control which programs are allowed to access the internet, make your computer invisible to hackers and protect your system against all inbound and outbound attacks.
Block all unauthorized inbound or outbound connection attempts on your computer
Allow you to specify exactly which programs are permitted to access the internet
Stealth the ports on your computer so hackers cannot locate and attack you
Let you specify parental controls to filter out inappropriate websites
Maintain detailed activity and connection logs so you can troubleshoot issues
Isolate your internet browser in a virtual container so online threats cannot access your private data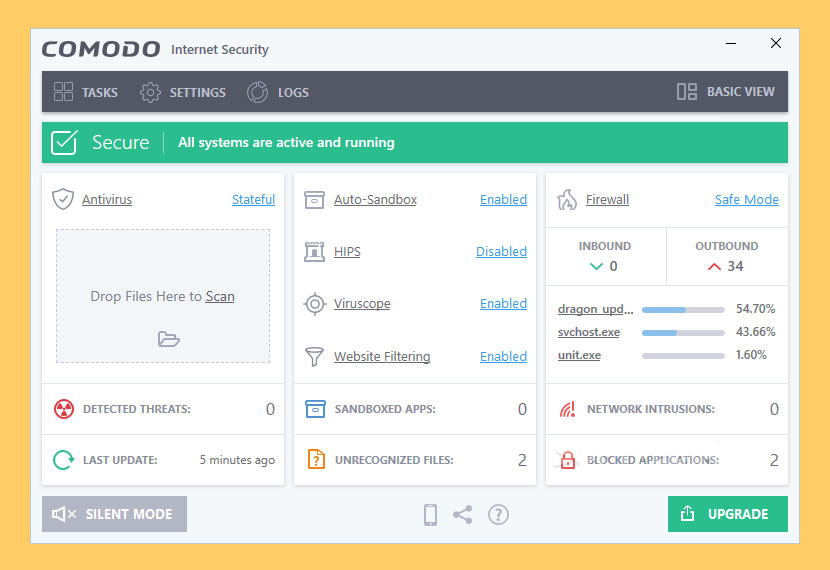 Comodo's free antivirus provides the best protection from malware instances, virus infection and suspicious hidden files. It is a reliable, cloud-based protection that scans quickly and updates continuously to include the latest malware information from around the globe.
'Unlike other antivirus products, Comodo protects you against unknown threats that have not even been identified yet by security experts. This is because only unknown files are automatically placed in a sandbox and only verified files are allowed to run your system.
What Is Ransomware And How Can I Protect Myself?
Ransomware is a very popular type of malicious code now and has a very peculiar operation: hijacks your files and asks for a monetary ransom.
Never Download Cracked Antivirus From Torrent
From a security point of view, please avoid torrent or crack files, they are more often than not infected with malware as these hackers know the reason you are downloading an antivirus is because your computer is exposed without protection. These 'free' antivirus crack files from torrent sites are usually infected with ransomware, sometimes cryptocurrency miners or trojans.
There are many free antiviruses by some of the best security companies in the world, these free antivirus doesn't require you to pay for the product's activation code or serial number. The free version may lack some core features, but it is still a better choice over pirated copies from torrent.
If possible, always purchase the original software if you have the financial means, especially for small business owners. Just because it is easy to duplicate something digitally doesn't mean the programmers behind the original software works for free and have no mouth to feed.