Kaspersky Endpoint Security for Business protects businesses of all size against any kind of cyber threat, across any device and on any platform. Powerful multi-layered security is supported by extensive management features.
Alternative 2020 Article ➤ Download Free Kaspersky Internet Security, Anti-Virus and Total Security Trials
Kaspersky Lab's most comprehensive business security solution, Kaspersky Total Security for Business delivers rigorous protection for your corporate IT network. As well as security for desktops, laptops and file servers – plus data encryption, endpoint control tools and mobile security – it delivers protection for mail servers, collaboration servers and traffic flowing through Web gateways. Extended systems management tools automate a wide range of administration tasks to save time and resources.
Easy to use, flexible solution that adapts to your needs regardless of the size of your business or what platforms you use.
Multi-layered protection, powered by a unique combination of big data threat intelligence, machine learning and human expertise.
Granular security management makes it easy to administrate and control all security issues with no need for additional integration and management solutions.
Provides the best possible protection for customers as proven by independent testing. Kaspersky Lab is the world's most tested, most awarded security with the best detection rates in the industry.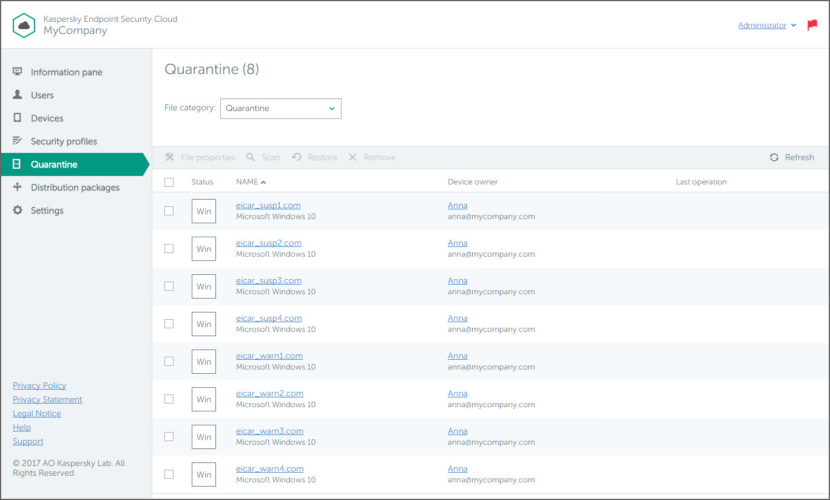 Kaspersky Endpoint Security for Business Select combines robust system controls with powerful security for all devices across your IT infrastructure – managed from a single, centralized, highly integrated management console. Download now, no activation code or serial key required, 100% genuine.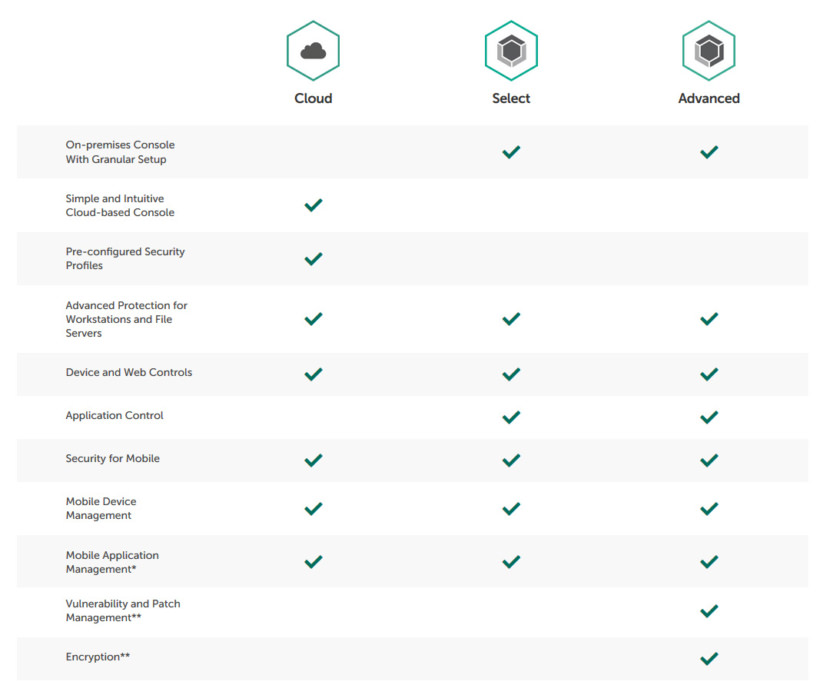 Designed and built by the industry's leading security experts, Kaspersky Endpoint Security for Business delivers multi-layered security against known, unknown and advanced threats. Our unique combination of big data of threat intelligence with machine learning and human expertise enables agile, responsive protection against any kind of threat — regardless of the platform and with minimal management overheads.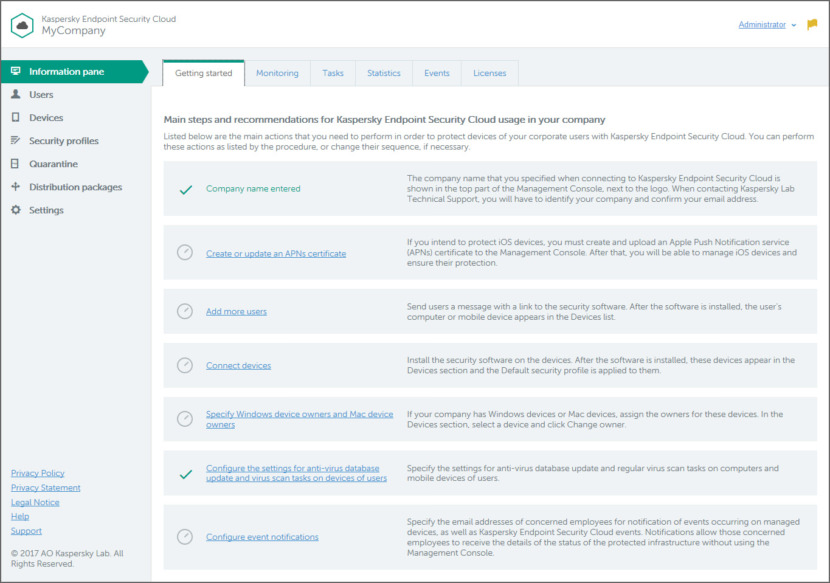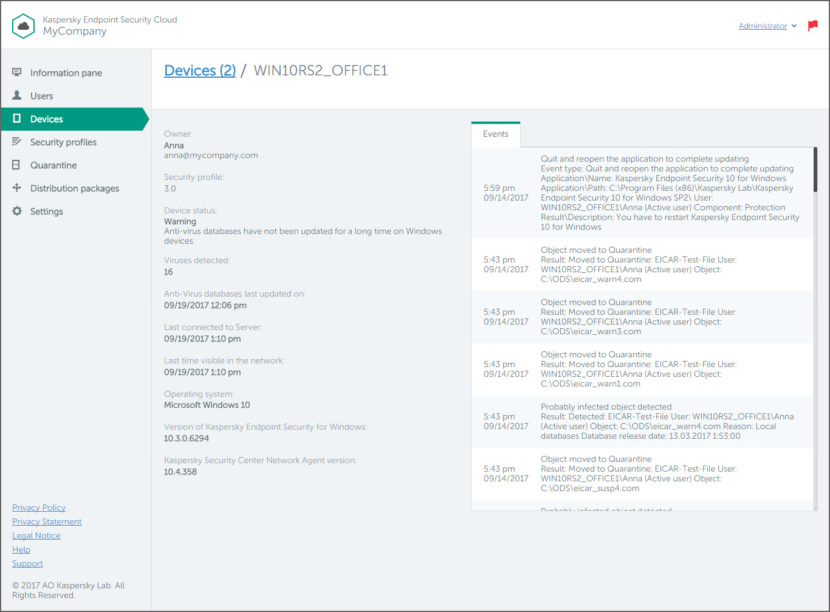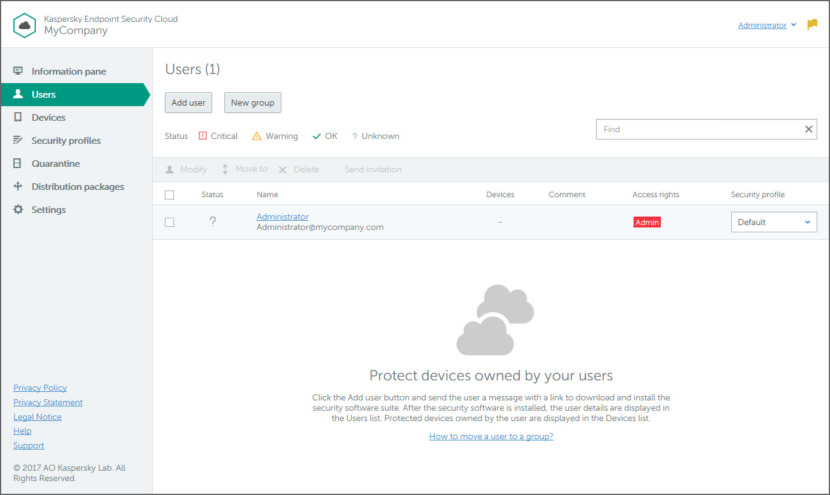 Enhanced security – Automated OS and application vulnerability detection and prioritization, combined with rapid, automated distribution of patches and updates, enhances security while boosting administrative efficiency and reducing IT management complexity. Automated software scanning enables rapid detection of outdated software that may pose a security risk and needs updating
Rapid detection and remediation of vulnerabilities – Automated vulnerability scanning enables rapid vulnerability detection, prioritization and remediation. Vulnerability scanning can be delivered automatically or be scheduled according to the administrator's requirements.
Secure traffic – Our security technologies deliver protection for traffic flowing through the most popular, Windows-based or Linux-based gateways, automatically removing malicious and potentially hostile programs that appear in HTTP(S), FTP, SMTP and POP3 traffic.
Protect mail – Kaspersky Total Security for Business protects corporate mail flowing through Microsoft Forefront TMG or Microsoft ISA Server.
High detection rates without degrading performance – With intelligent, optimized scanning, plus load balancing, Kaspersky Total Security for Business delivers high detection rates without any significant impact on system performance.
What You Need To Know About Ransomware

Free Cracked Antivirus From Torrent Comes With Virus
Think about it, what is the best way to infect your Windows computer with malware? By providing cracked version of an antivirus via torrent. The reason is simple, you are downloading an antivirus is because your computer is not protected. Without protection, you have no idea these 'free' antivirus files from torrent are conventionally infected with ransomware, sometimes cryptocurrency miners or trojan.
There are plenty of free antivirus by top security companies that doesn't require you to pay for the product's activation code or serial number. The free version may lack some core features, but it is still a better choice over pirated copies from torrent.
Always support the original software if you have the financial means, especially for small business owners. Just because it is easy to re-create something digitally doesn't mean the programmers behind the original software works for free and have no family to support.