They may be cartoons and animations, but there is a lot of wisdom in all of Disney's films. Almost every child grew up watching Disney movies, including adults with children. There are many moving moments in so many Disney movies and lines that are incredibly inspirational. Here are some of the best quotes in posters / wallpaper to inspire you in life, dreams, friendship, family and love.
See More ▼ 20 Famous Movie Quotes on Love, Life, Relationship, Friends and etc
The best Disney's motivational video compilation. Motivation is the key to success and although it is not the be all and end all it is the catalyst that helps us take action. They don't just recommend motivational videos, they recommend getting your motivation from a variety of sources including books, audiobooks, blogs and even some movies. Wishing you great success.

The past can hurt. But the way I see it, you can either run from it or learn from it. – Rafiki, Lion King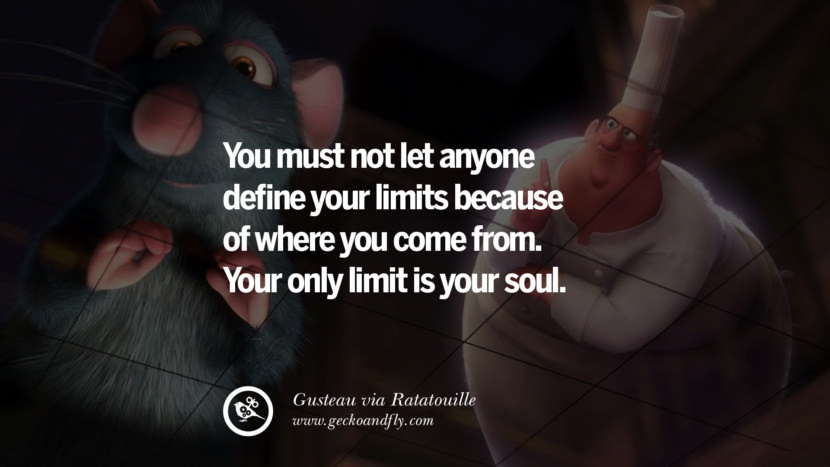 You must not let anyone define your limits because of where you come from. Your only limit is your soul. – Gusteau, Ratatouille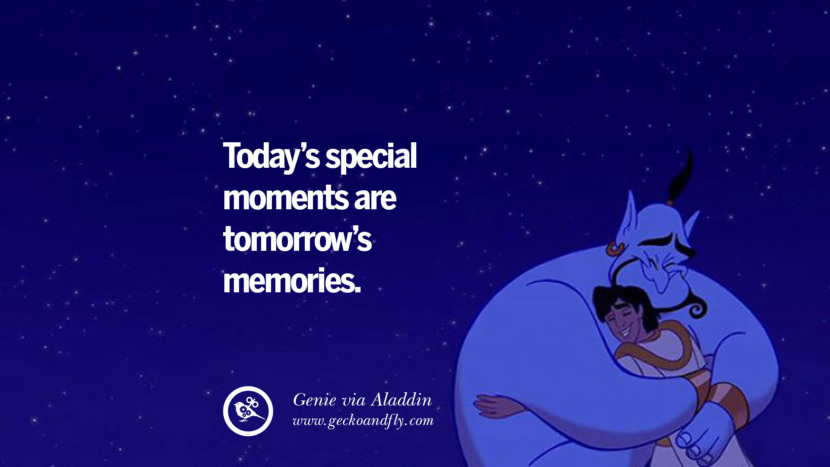 Today's special moments are tomorrow's memories. – Genie, Aladdin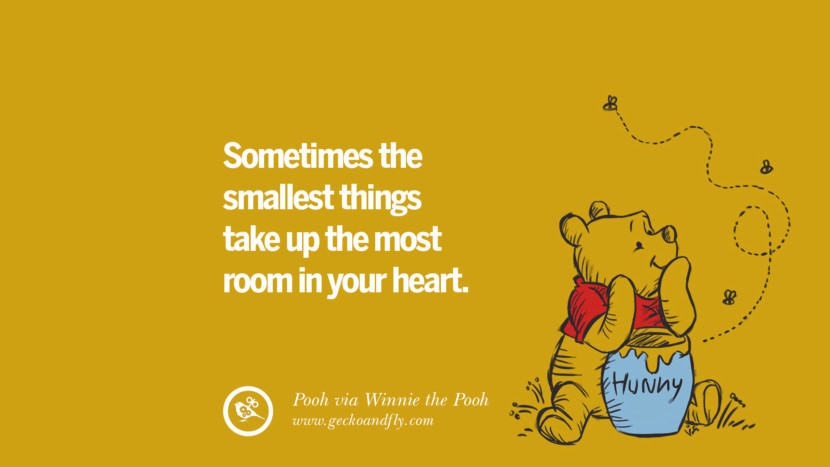 Sometimes the smallest things take up the most room in your heart. – Pooh, Winnie the Pooh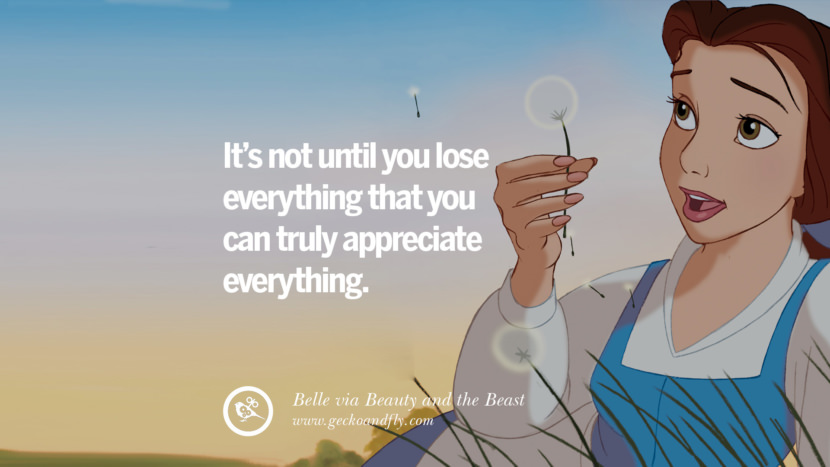 It's not until you lose everything that you can truly appreciate everything. – Belle, Beauty and the Beast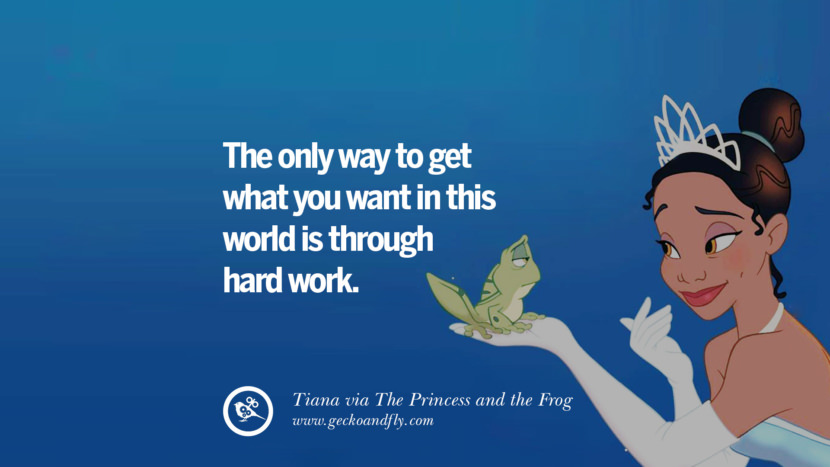 The only way to get what you want in this world is through hard work. – Tiana, The Princess and the Frog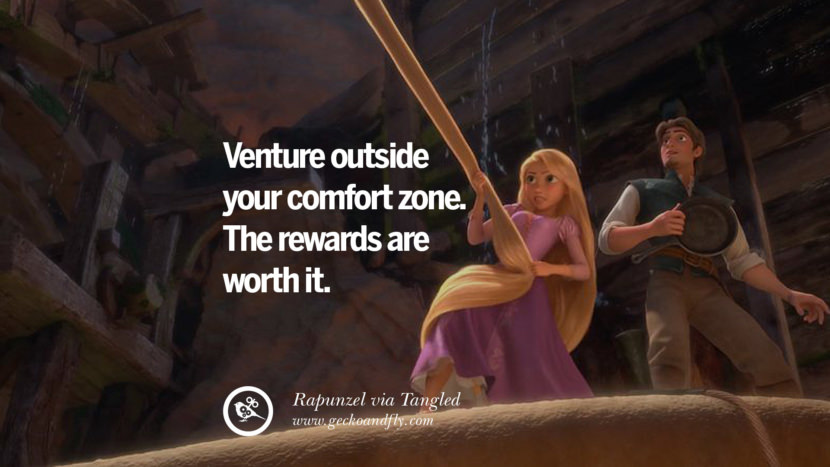 Venture outside your comfort zone. The rewards are worth it. – Rapunzel, Tangeled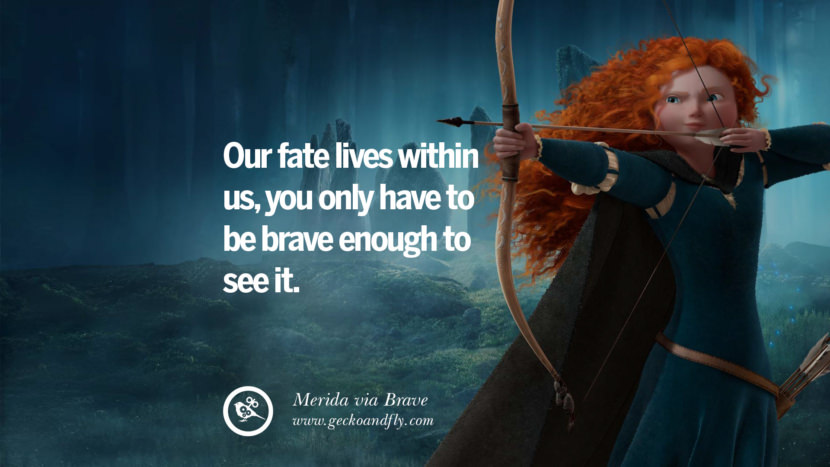 Our fate lives within us, you only have to be brave enough to see it. – Merida, Brave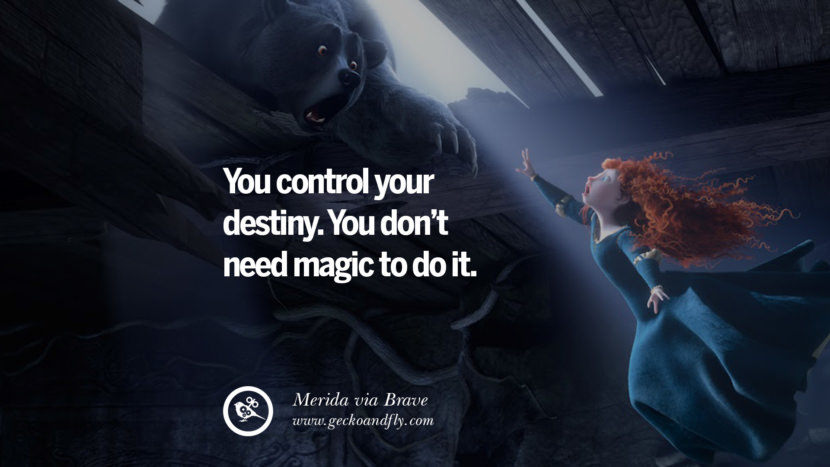 You control your destiny. You don't need magic to do it. – Merida, Brave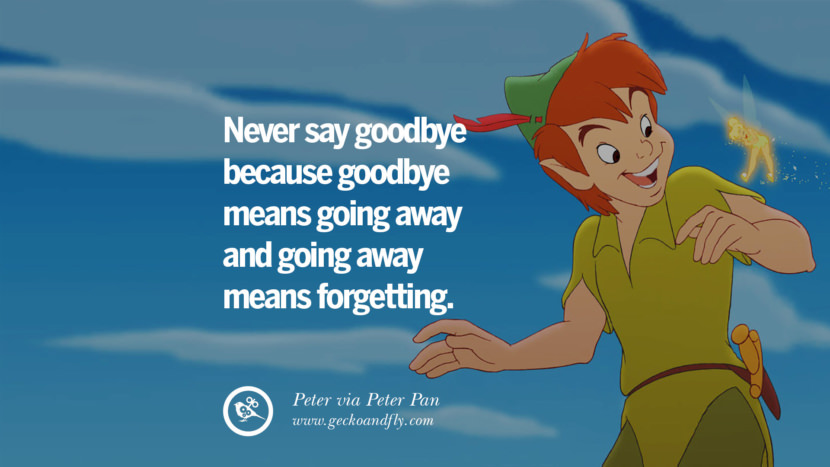 Never say goodbye because goodbye means going away and going away means forgetting. – Peter, Peter Pan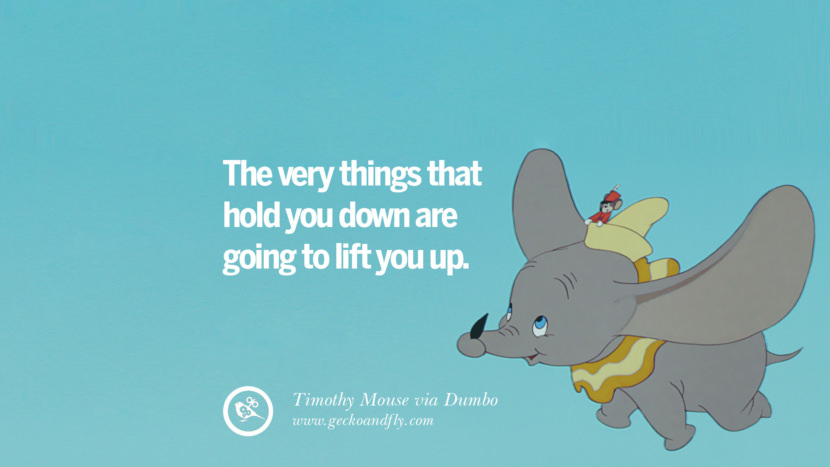 The very things that hold you down are going to lift you up. – Timothy Mouse, Dumbo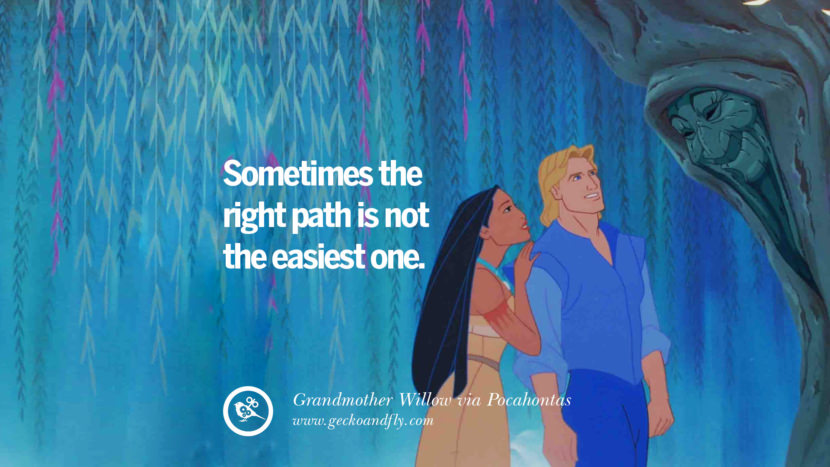 Sometimes the right path is not the easiest one. – Grandmother Willow, Pocahontas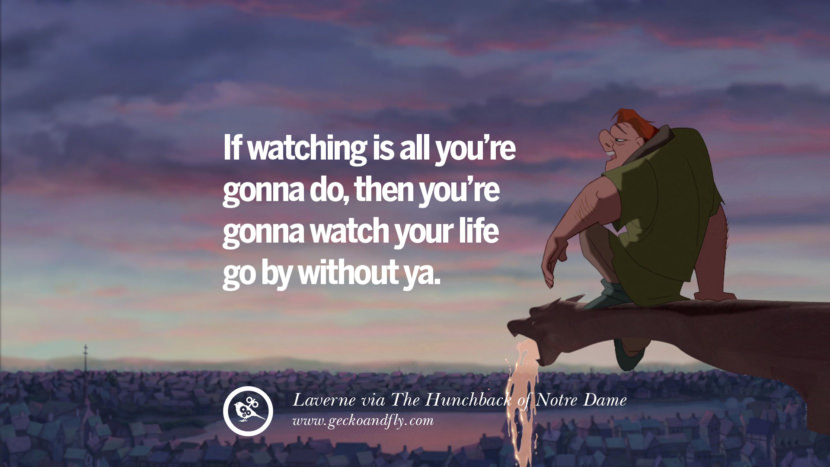 If watching is all you're gonna do, then you're gonna watch your life go by without ya. – Laverna, The Hunchback of Notre Dame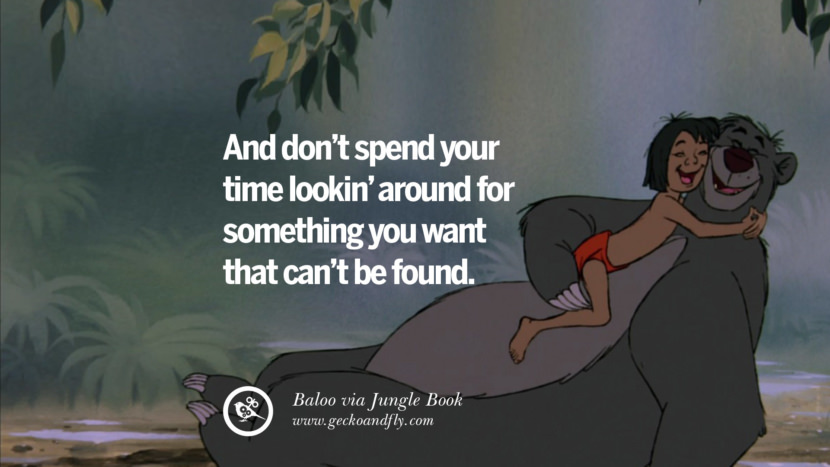 And don't spend your time lookin' around for something you want that can't be found. – Baloo, Jungle Book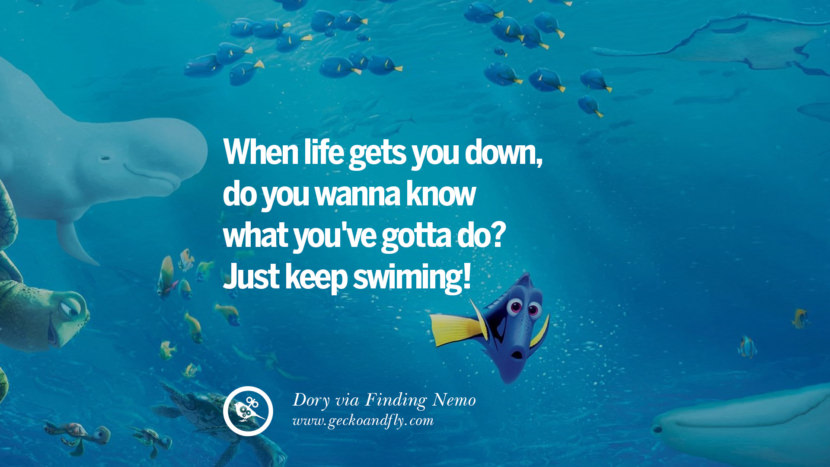 When life gets you down, do you wanna know what you've gotta do? Just keep swimming! – Dory, Finding Nemo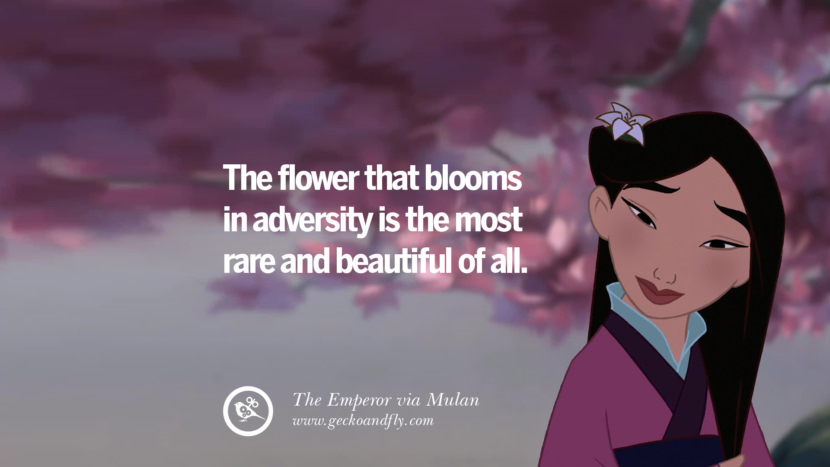 The flower that blooms in adversity is the most rare and beautiful of all. – The Emperor, Mulan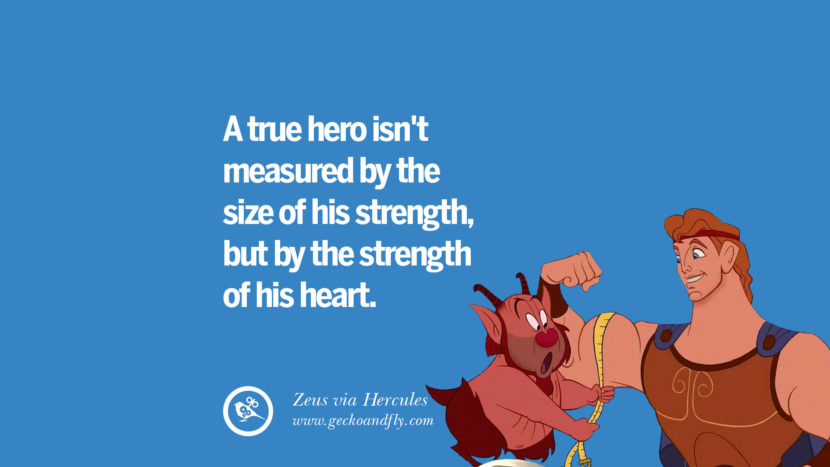 A true hero isn't measured by the size of his strength, but by the strength of his heart. – Zeus, Hercules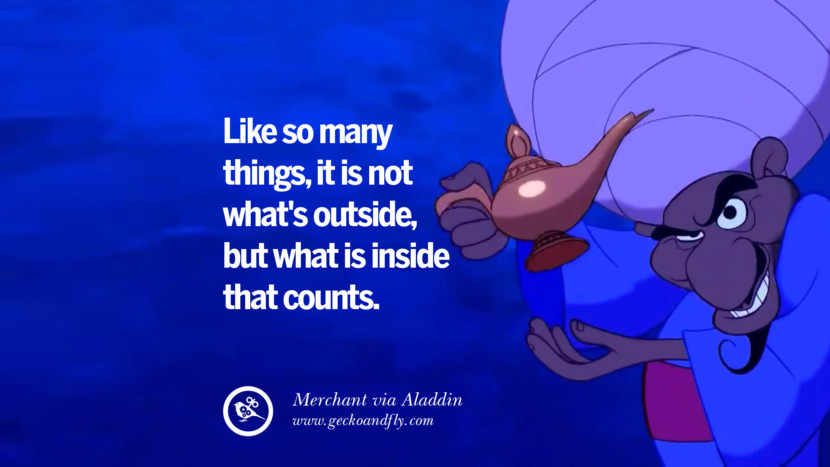 Like so many things, it is not what's outside, but what is inside that counts. – Merchant, Aladdin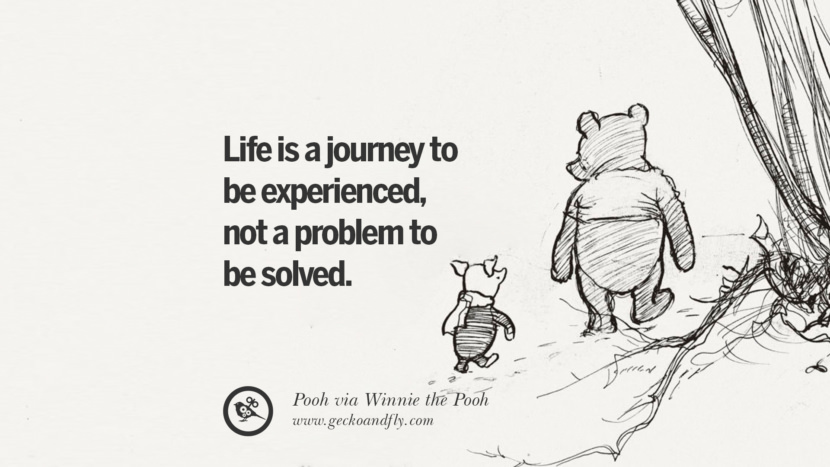 Life is a journey to be experienced, not a problem to be solved. – Pooh, Winnie the Pooh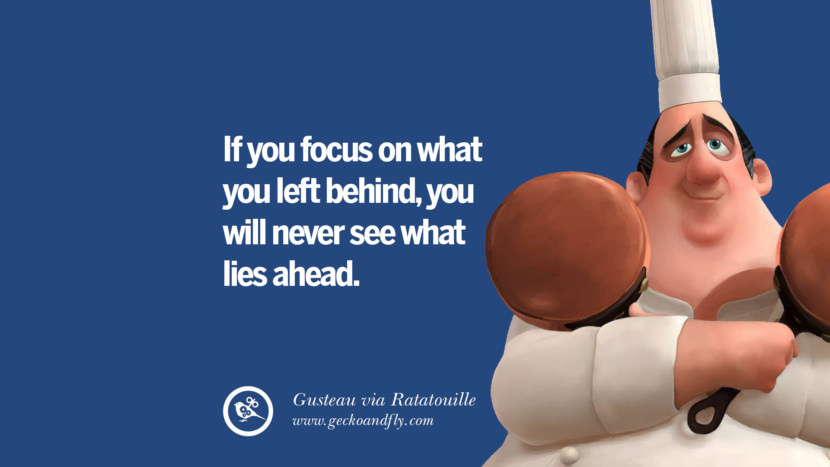 If you focus on what you left behind, you will never see what lies ahead. – Gusteau, Rataouville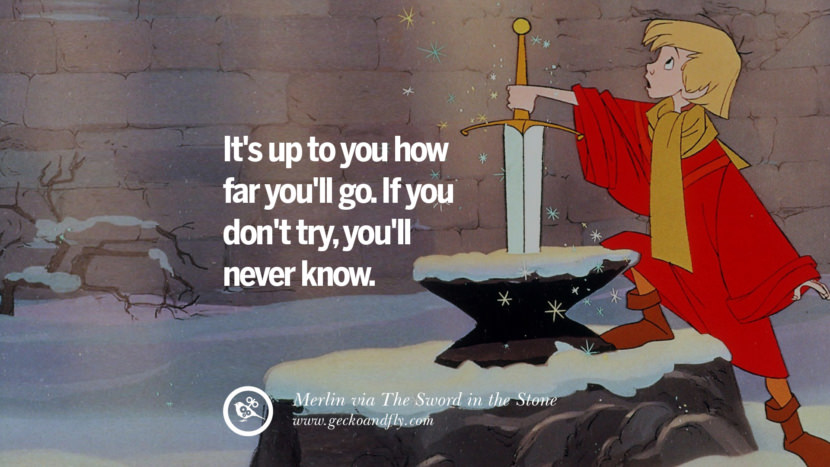 It's up to you how far you'll go. If you don't try, you'll never know. – Merlin, The Sword in the Stone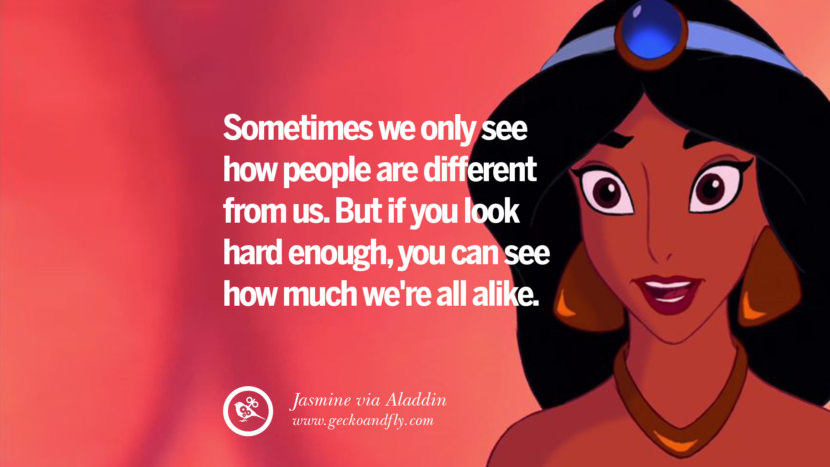 Sometimes they only see how people are different from us. But if you look hard enough, you can see how much we're all alike. – Jasmine, Aladdin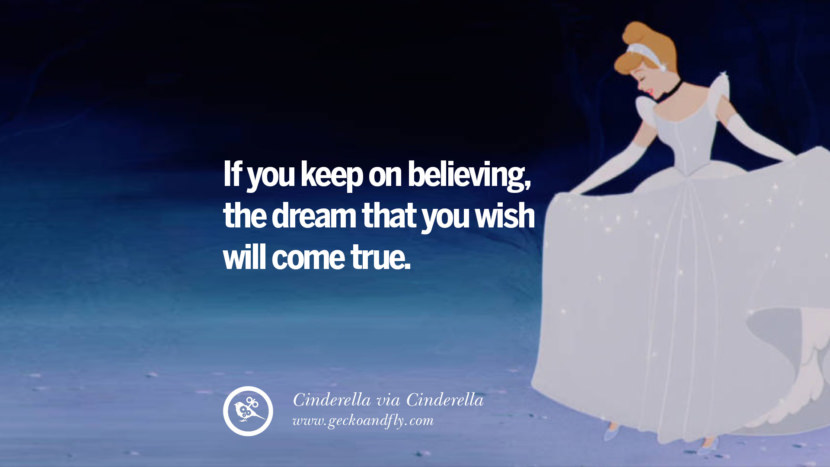 If you keep on believing, the dream that you wish will come true. – Cinderella, Cinderella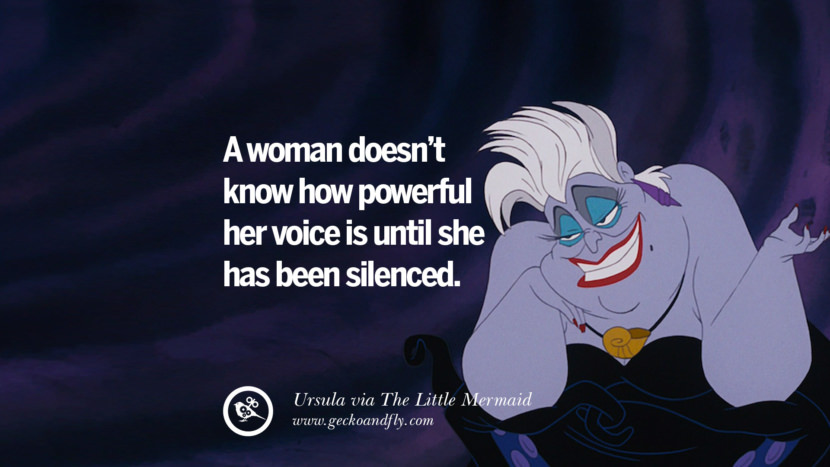 A woman doesn't know how powerful her voice is until she has been silenced. – Ursula, The Little Mermaid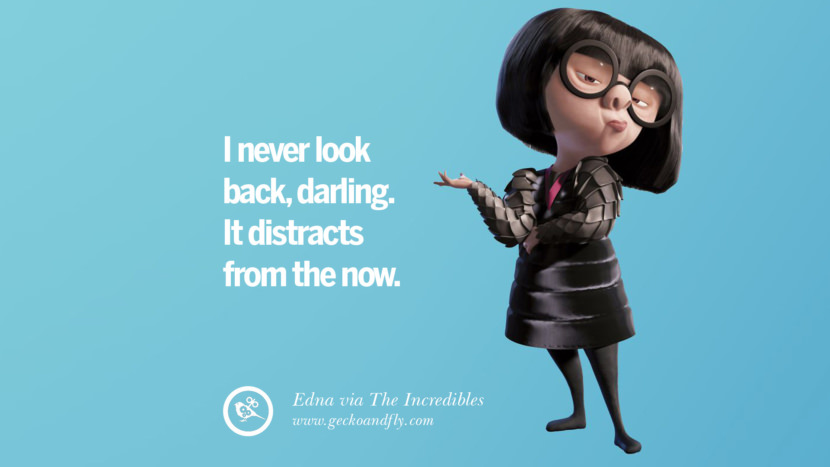 I never look back, darling. It distracts from the now. – Edna, The Incredibles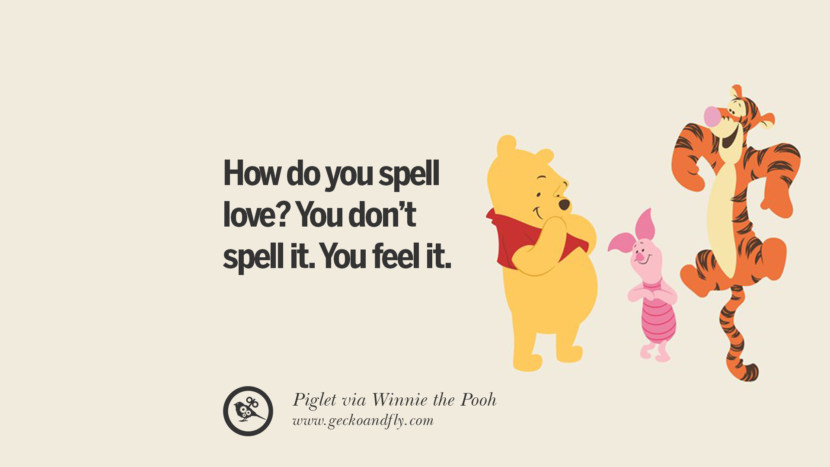 How do you spell love? You don't spell it. You feel it. – Piglet, Winnie the Pooh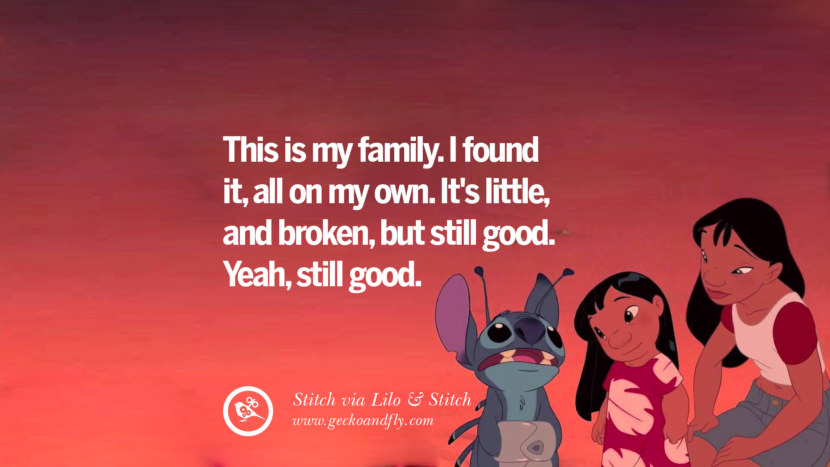 This is my family. I found it, all on my own. It's little, and broken, but still good. Yeah, still good. – Stitch, Lilo & Stitch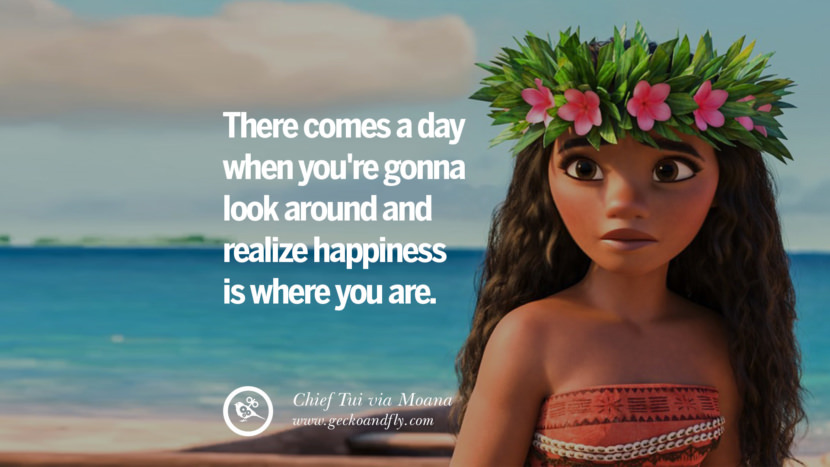 There comes a day when you're gonna look around and realize happiness is where you are. – Chief Tui, Moana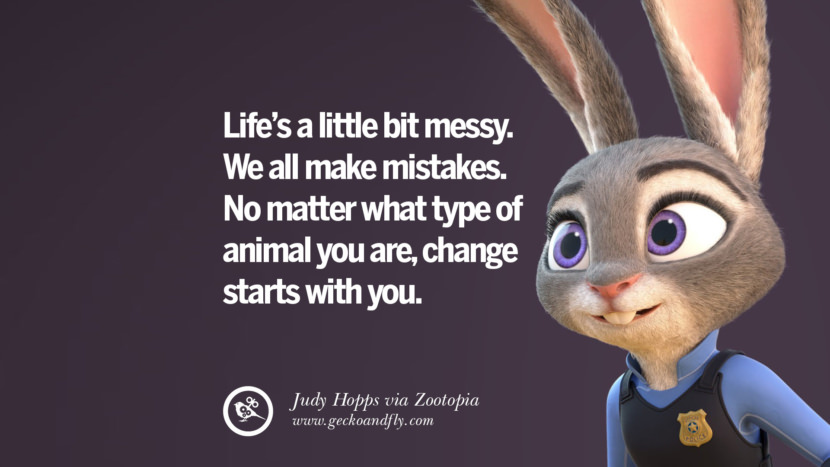 Life's a little bit messy. They all make mistakes. No matter what type of animal you are, change starts with you. – Judy Hopps, Zootopia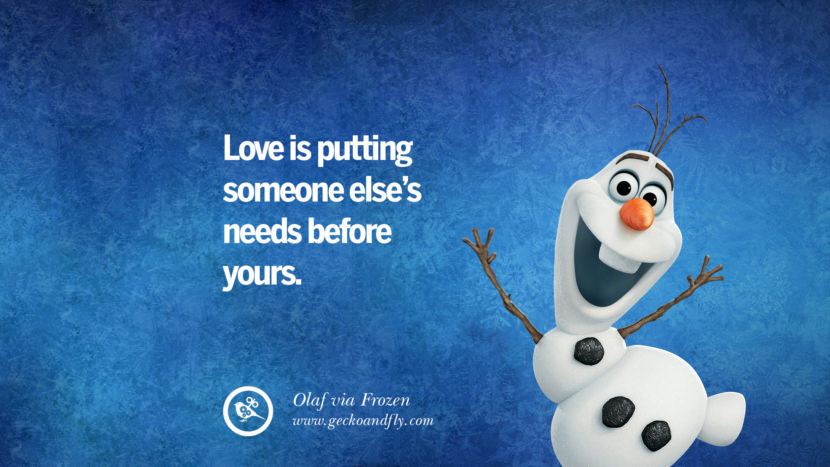 Love is putting someone else's needs before yours. – Olaf, Frozen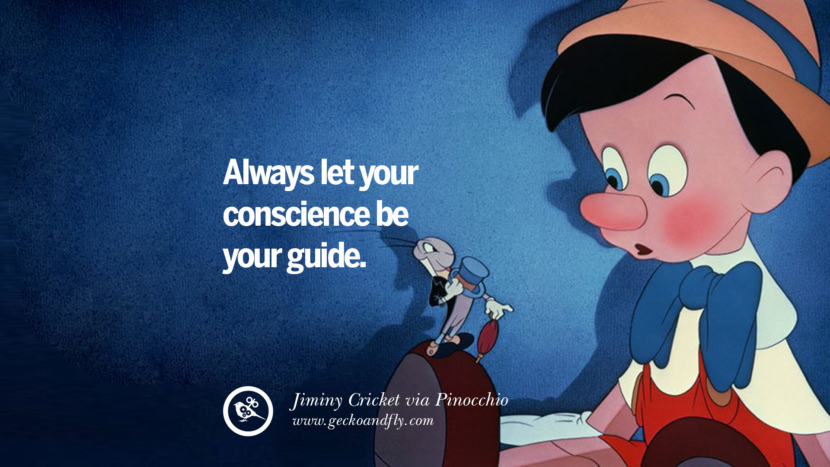 Always let your conscience be your guide. – Jimmy Cricket, Pinocchio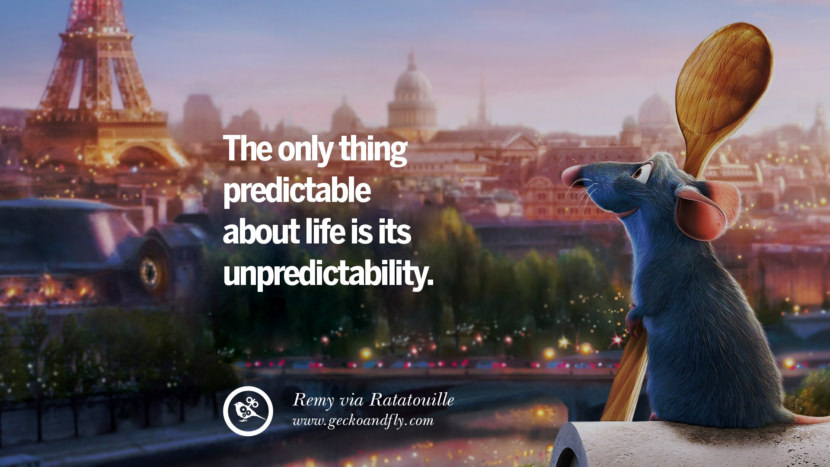 The only thing predictable about life is its unpredictability. – Remy, Ratatouville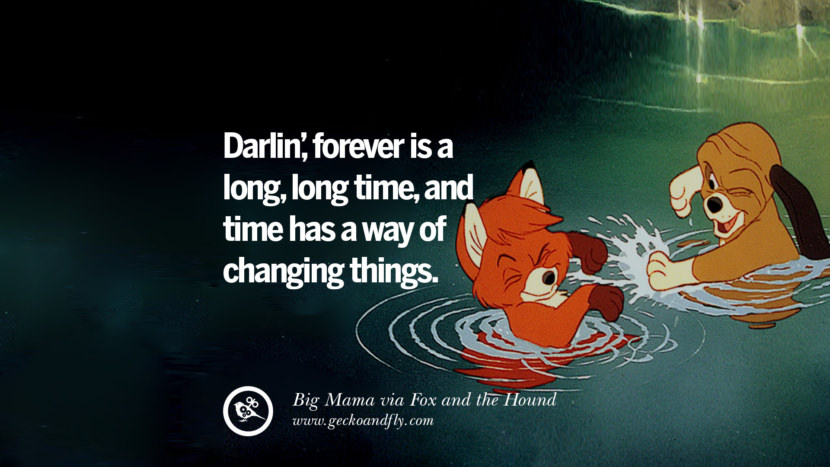 Darlin', forever is a long, long time, and time has a way of changing things. – Big Mamma, Fox and the Hound