With the outbreak of Covid-19 virus, working from home is the answer to many shortages of money. Micro Tasks are simple tasks that can be completed in about an hour from the comfort of your own home, sometimes it requires a short outdoor trip to take photos of retail products and pricing. Unlike freelancing jobs, usually these jobs don't require much skills or knowledge, they are flexible, part-time, home-based work that requires a computer and/or mobile device.
🤣😍😂 7 Best Internet Affiliate Marketing Programs – Make Money Online
Many of the sites that offer these types of remote jobs, also known as crowdsourcing, have proven to be reliable and offer easy, above-board ways to earn extra money. More often than not, these tasks involve drawing boxes on photos or tagging objects in some pictures, basically what you are doing is you are training an A.I. to recognize an object.
Modern AI needs tons of data for training and quality control — and a lot of it is coming from human beings, whether it's contract workers recruited from Amazon's Mechanical Turk or regular users filling out a CAPTCHA. Get paid to do tasks online and make money from home just with a smartphone, ideal for students and housewives.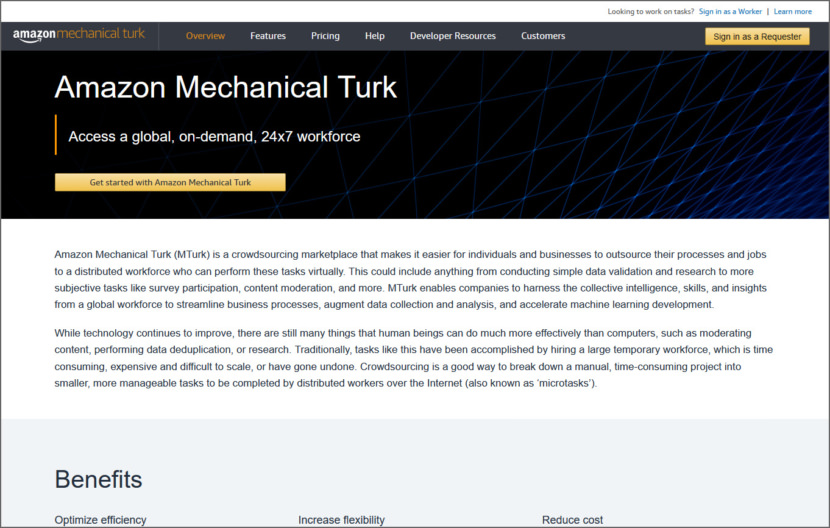 Possibly the best in the market, Amazon Mechanical Turk is a marketplace for tasks that need human intelligence. It is a crowdsourcing marketplace that makes it easier for individuals and businesses to outsource their processes and jobs to a distributed workforce who can perform these tasks virtually. This could include anything from conducting simple data validation and research to more subjective tasks like survey participation, content moderation, and more.
MTurk enables companies to harness the collective intelligence, skills, and insights from a global workforce to streamline business processes, augment data collection and analysis, and accelerate machine learning development. Crowdsourcing is a good way to break down a manual, time-consuming project into smaller, more manageable tasks to be completed by distributed workers over the Internet (also known as 'microtasks').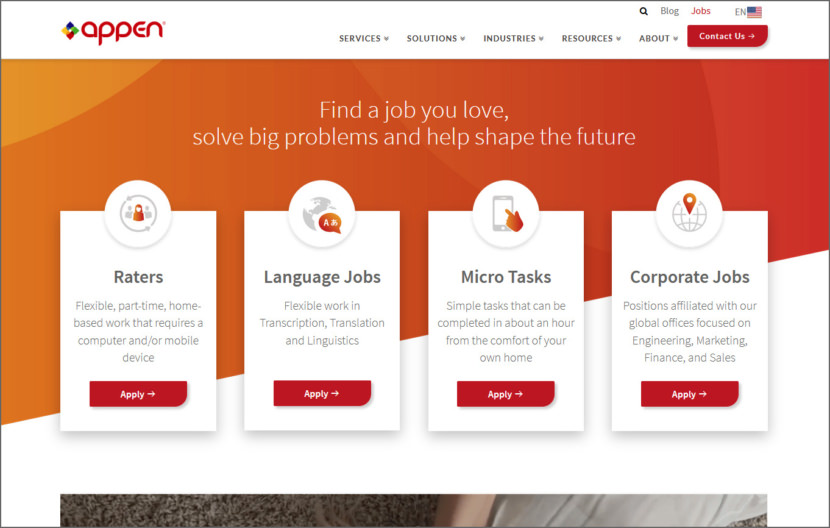 Find a job you love, solve big problems and help shape the future. Appen is seeking candidates in different countries and languages for exciting work-from-home opportunities! These opportunities range from simple surveys that can be completed in less than one hour to on-going projects that last for months or longer.
They look for a variety of skill sets, from those who use social media regularly to candidates who have college degrees in linguistics. Here examples of some of the opportunities that may be available:
Search Media Evaluation (Work with the world's top search engine companies)
Social Media Evaluation (Help improve social media around the globe)
Translation
Transcription
Survey and Data Collection (Short projects that last from 15 minutes to three hours)
Linguistic Specialties (Text to Speech, Computational, Phonetics, Pronunciation, Annotation, etc.)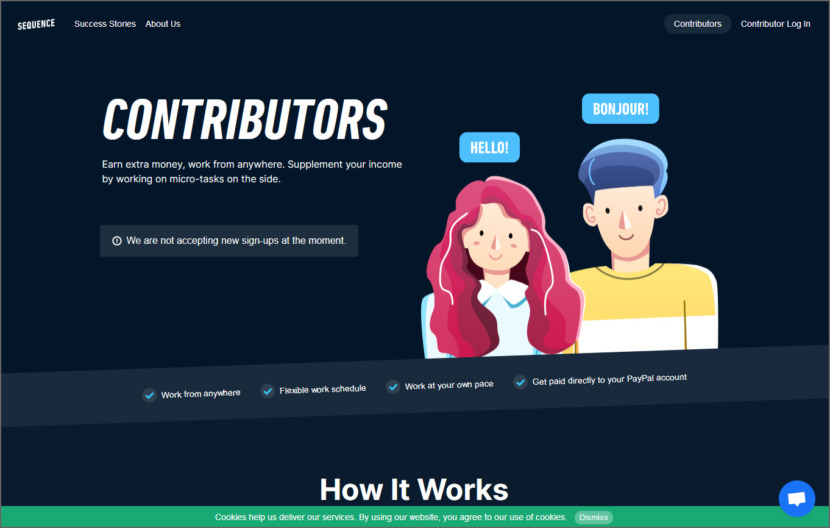 Earn extra money, work from anywhere. Supplement your income by working on micro-tasks on the side. Sequence works with data scientists and businesses to process datasets that will be used to teach machine learning models. However, this process still requires human judgement, nuanced interpretation, and analytical understanding to make sure that the data used to teach the machine is correct.
Image Annotation – Identifying objects in images using bounding boxes
Data Labelling – Labelling items with their correct names or attributes
Data Classification – Classifying text or images with the relevant categories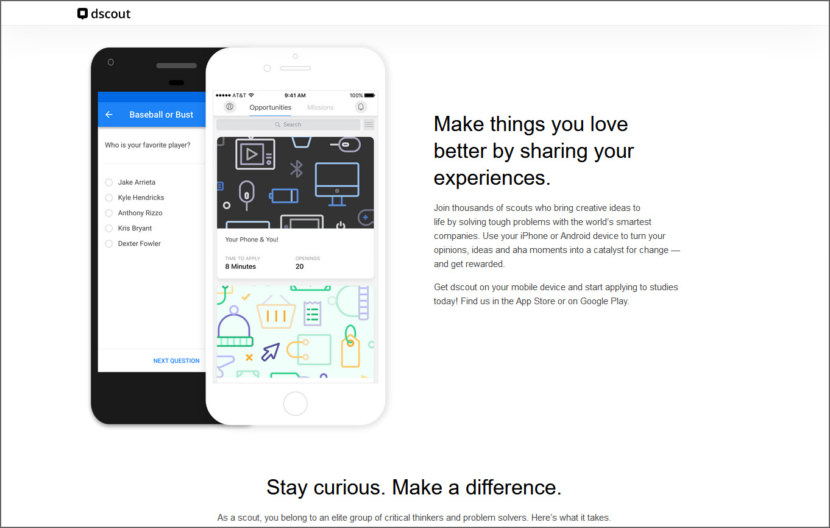 Join thousands of scouts who bring creative ideas to life by solving tough problems with the world's smartest companies. Use your iPhone or Android device to turn your opinions, ideas and aha moments into a catalyst for change — and get rewarded.
Answer Questions – Show off your unique perspective by answering multiple choice and short answer questions.
Share Photos and Videos – Don't just tell — show. Share photos and videos from your iPhone or Android device to capture in-the-moment experiences wherever you go.
Influence Top Brands – Have a direct impact on industry-leading companies that matter to you.
Get Rewarded – Get paid in dollars, gift cards and the satisfaction of being the first to know about the Next Big Thing.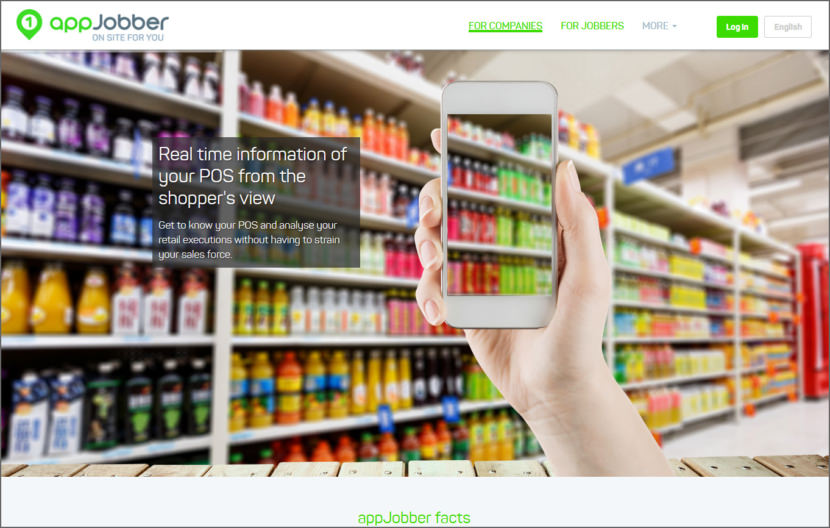 AppJobber is a crowd-sourcing platform that collects commercial data fast and cost-effective. The 'workers' are asked to do certain micro-jobbing tasks. In return, the so-called workers have the possibility to easily earn money by executing small jobs on their smartphones.
AppJobber functions as a crowdsourcing platform operator who finds people at specific location-based and offer them micro jobs. Unlike other crowdworker platforms, AppJobber is active in these countries Austria, Switzerland, Germany, Denmark, Finland, France, Italy, Norway, Portugal and the United Kingdom.
One of the reasons why it is not global is because the jobs are geared towards retails, therefore physical presence is required such as taking pictures of certain places, capturing photos of the latest price of the day for certain retailers for their competitor, validation of addresses, check on road networks and more.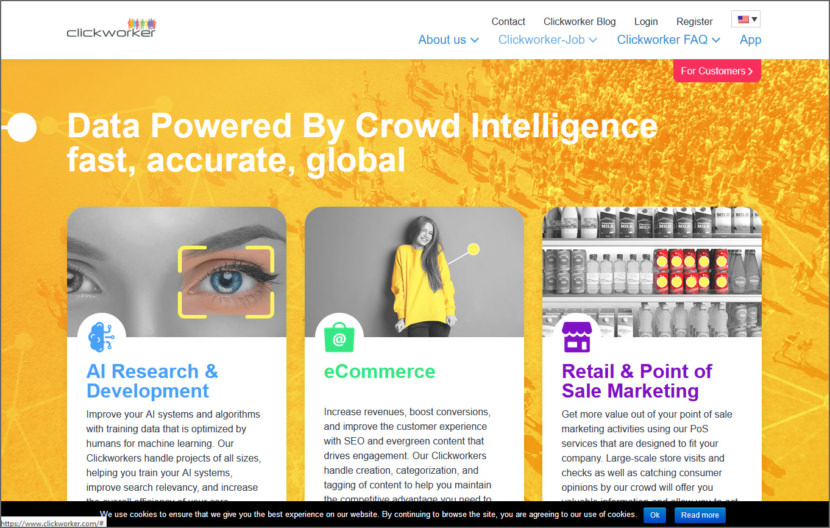 Clickworkers are independent contractors who provide these services using their own computing equipment and schedule. They use a standard web browser to complete tasks on a piece rate basis. Most of these tasks are part of a larger, more complex, project.
Task coordination and oversight is conducted utilizing the technology of clickworker, which provides the Internet-based workflow system. Project examples include the processing of unstructured data, such as text, photographs, and videos. Clickworker places tasks to purchasers/contractors in the following sectors:
Texts & translations
Categorization & tagging
Web investigation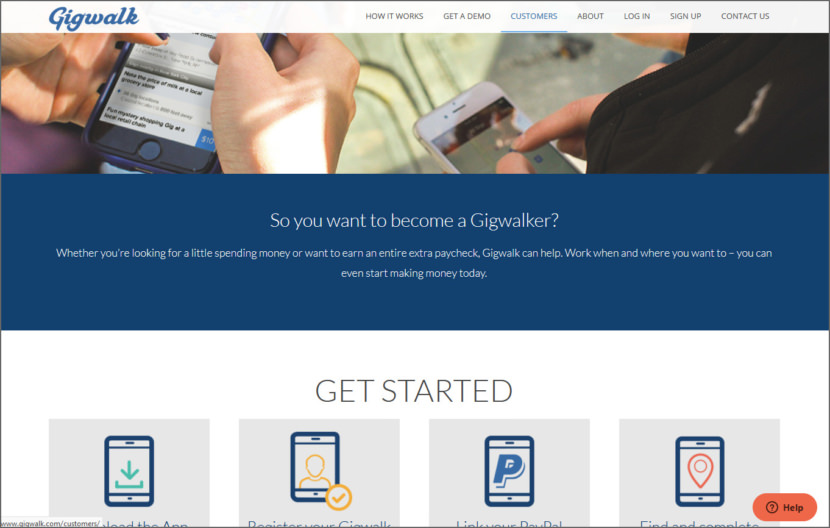 Whether you're looking for a little spending money or want to earn an entire extra paycheck, Gigwalk can help. Work when and where you want to – you can even start making money today. Everything's done through the Gigwalk app. No timesheets to fill out. No emails to send. Your mobile phone and the app are all you need. Gigwalk links to PayPal, so once a job is finished and approved, the money is sent directly to your personal account.
Flexible work schedule – Whether you just need to make a few extra bucks or want something more, with Gigwalk you choose when, and how much, you want to work.
Choose the Gigs that interest you – You can pick Gigs that take anywhere from 5 minutes to a few hours or based on how much you want to make – from $3 to $100 or more.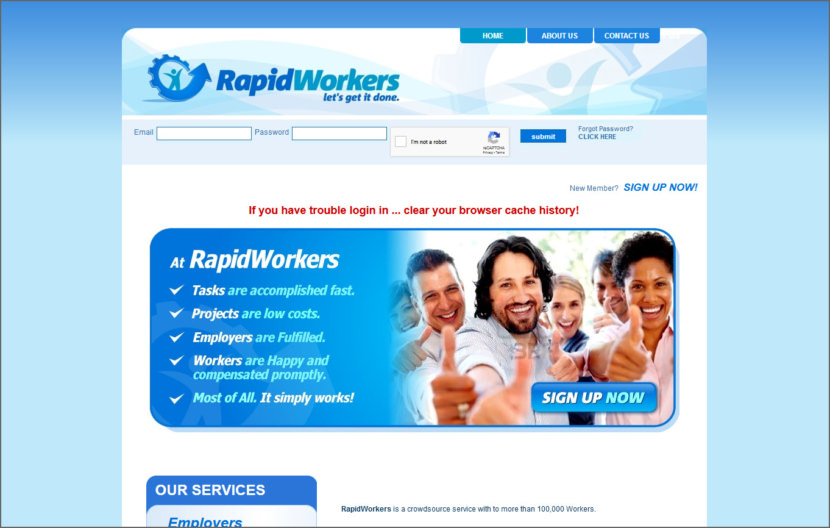 RapidWorkers is a crowdsource service with more than 100,000 Workers. Our Team helps individuals, small businesses and professionals to create low cost publicity and marketing campaigns to increase sales, better ranking, backlinks and much more.
They are combining Workers and Employers to minimize publicity and marketing costs while at the same time providing money to everyday users.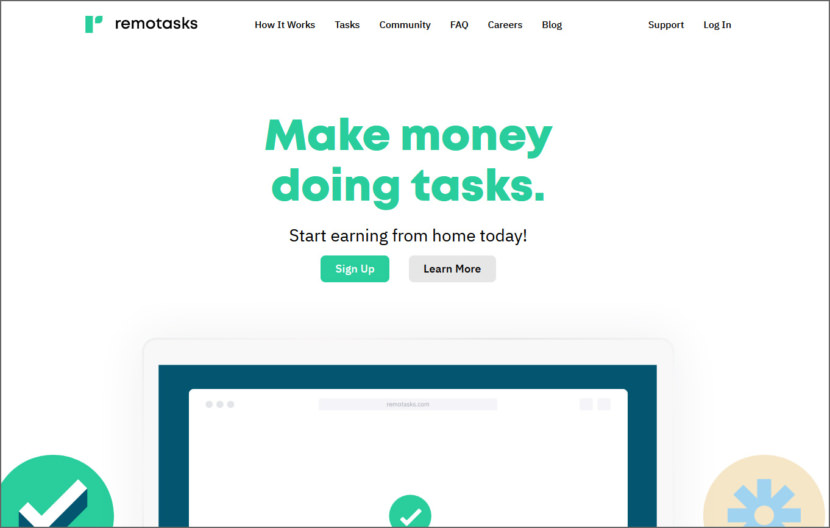 Remotasks is a legit crowdsourcing platform for those who want to work remotely and earn a consistent income from home. The tasks are relatively easy and can be accomplished by people in any country who are fluent in English. Tag images. Transcribe audio. Moderate content. We have many interesting tasks for you to do!
Images – Draw bounding boxes around various objects to help determine what's where.
3D Lidar – Annotate 3D data from Lidar and radar sensors to help self-driving cars move forward.
OCR Transcription – Transcribe important content from images of documents and menus.
Categorization – Identify keywords that describe what's in an image or text.
Comparison – Draw bounding boxes around various objects to help determine what's where.
Data Collection – Search the web and collect data about anything.
↓ 10 – EasyShift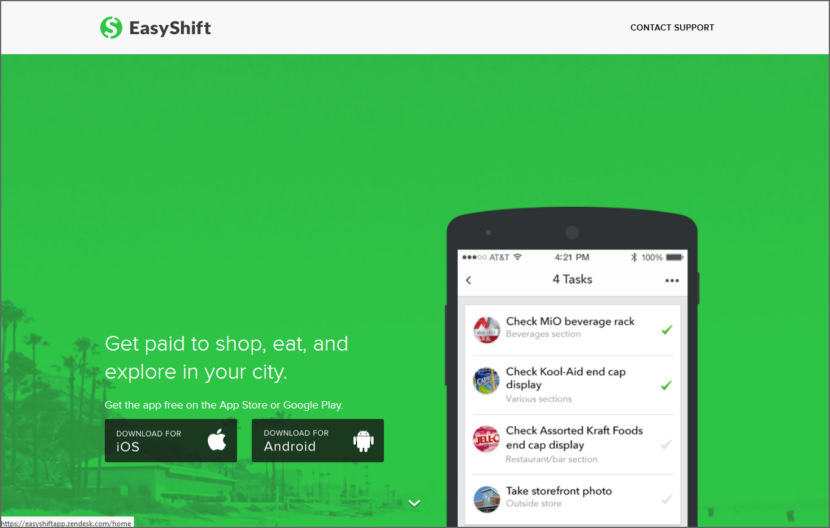 Get paid to shop, eat, and explore in your city. EasyShift connects you to work (Shifts) in stores near you. Unlike many apps, EasyShift rewards you with cash. New Shifts are added daily!
Simply search the map to locate and reserve a nearby Shift, visit the store to answer questions and take photos as requested in the app, and get paid. Shifts average less than 15 minutes. Most payments are deposited directly into your PayPal account within 48 hours after your Shift is approved.
Pay bills, save for a vacation, get a little extra cash
Flexible hours that work for you
No experience restrictions, no application process
All you need is a phone and one easy app
Step by step instructions to get you through each task
Earn perks by completing Shifts
Access the EasyShift Community Forum to connect with other Shifters
↓ 11- Spare5
Earn money in your spare time by getting started doing small tasks in your free time on your PC or Mac with web tasks. They will give you tasks, you do tasks, you get paid. You'll need a PayPal account to collect your cash and we send out payments once each week, by Friday. What are the tasks like? Most of them focus on deriving the meaning of, or providing human insight into, audio, video, or image files.
Assess language – Tell us about the tone, meaning, contents, or attitude of a conversation, or simply the contents of an audio file.
Annotate images – Draw bounding boxes around various elements in an image and describe what's where in a photo.
Isolate elements – Find the edges of an object to help computers see what you see.
Provide keywords – Help companies develop algorithms to learn what a photo is about.
↓ 12 – Figure Eight [ Merged With Appen ]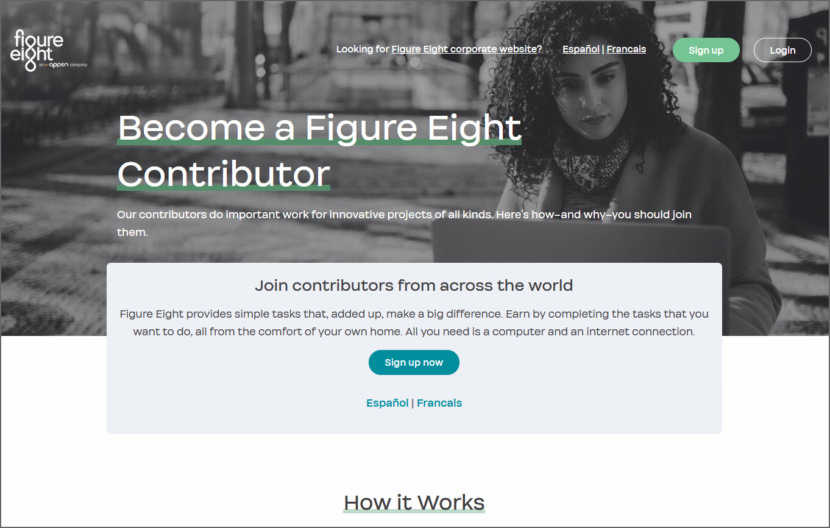 Figure Eight provides simple tasks that, added up, make a big difference. Earn by completing the tasks that you want to do, all from the comfort of your own home. All you need is a computer and an internet connection. Here is a partial list of tasks you might see when you log in. They change all the time, so make sure to check back if you don't want to task on what's available that minute.
Categorize social media – Read a tweet or short post and help decide what it's about or what emotion it contains.
Moderate content – Decide if pictures or text are acceptable. For example, whether a picture is explicit or a phrase contains abusive language.
Transcribe audio – Listen to a short audio clip and write down what you hear.
Draw boxes on images – Use our image tool to place boxes around important objects in pictures. No photoshop skills required.