Whether you're selling services or goods, a professional brochure can showcase what your business has to offer. Concise, impactful, and filled with information, this highly effective marketing tool is proven to deliver sales — when it's executed correctly. Adobe Express is perhaps the best brochure maker available for free.
See More ▼ 5 Free Photoshop Alternatives – Best Photo & Image Editor Online
Until recently, you'd need to invest a lot of money in the creation of brochures or pamphlets. But thanks to these trifold brochures and pamphlet templates, you can create your own eye-catching marketing materials at your own desk. Choose from these beautiful editable brochure templates to create your own simple yet minimalist brochure in minutes. An informative pamphlet or brochure gives a business or organization a powerful method of communicating potentially complex issues in a detailed way.
A good 3-fold brochure template can save you hours of time. A bad one can cost you dearly. But fear not, this free 3 fold brochure template for Photoshop & Illustrator is as good as they come.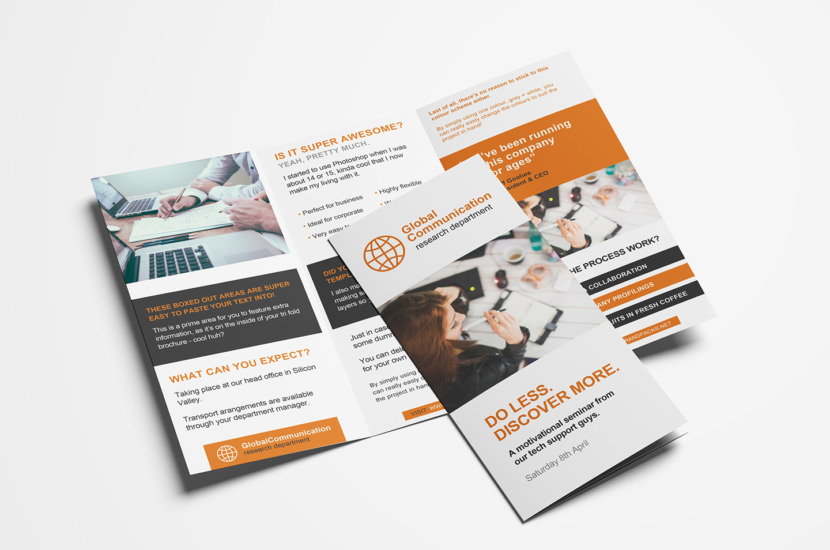 Give your beauty spa clients a makeover with these free templates for Photoshop & Illustrator. Ideal for beauty spas and salons, the templates are easy to customise and guaranteed to produce gorgeous results. Easily use the tri-fold brochure to display available services, menu options and information on treatments.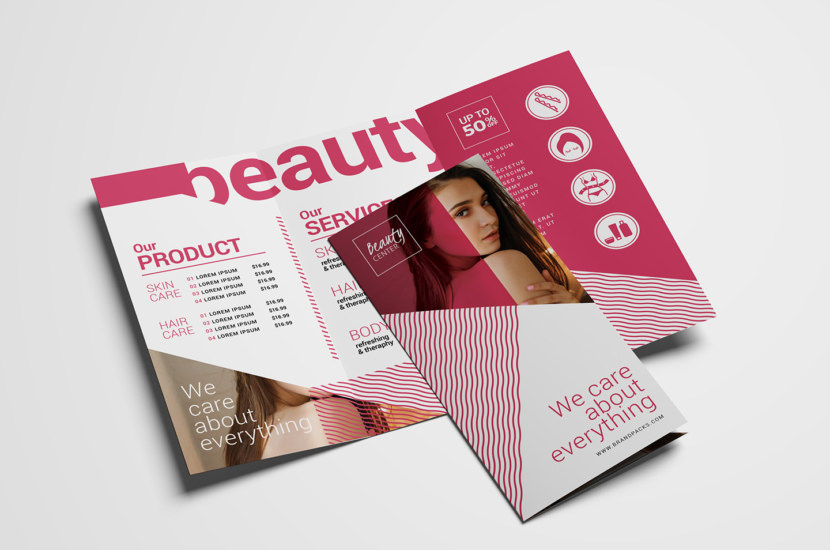 Looking for a free business trifold brochure template? Well look no more, my friend, because they have exactly what you need. They created this free tri-fold brochure with one thing in mind: to create a felxible brochure design ideal for any corporate business client. And you know what? I think they've nailed it.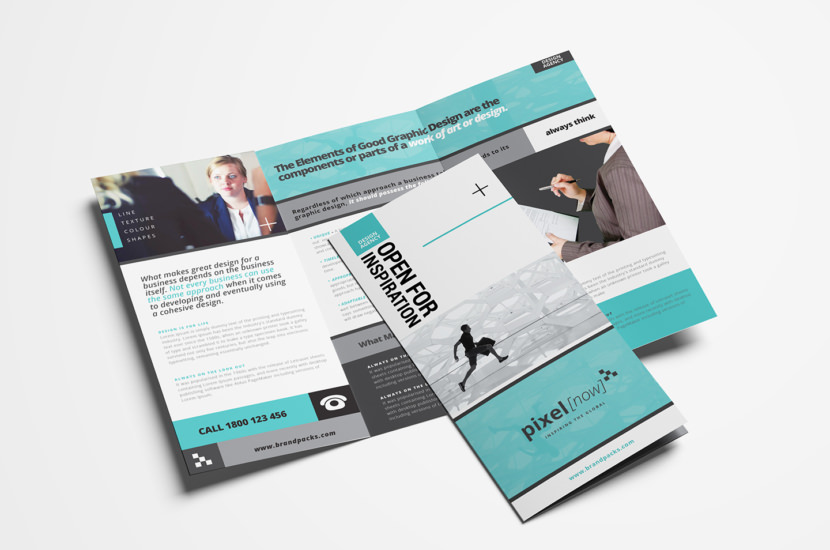 This free bundle includes a tri-fold brochure template long with a bonus DL rack card. The templates are particularly well suited for fundraisers, modern charity services & community groups.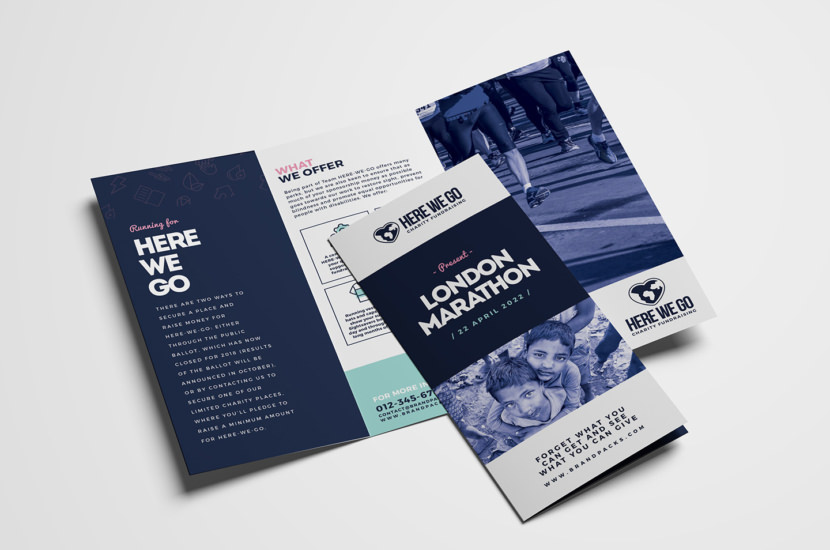 This mini-pack of free church templates for Photoshop & Illustrator includes readymade tri-fold brochure & poster designs for your next church event. Each design is available as an easy-to-edit PSD or Ai template. All stock photos are included, so you all you need to do is edit the text. Need some help? Leave a comment below!
A free corporate trifold brochure template has never looked so good. Working for corporate clients is a bore. They need clean, simple designs with uninteresting layouts. There's often too much text to fit in too. Funnily enough, creating these boring designs can be quite difficult for creative minds like ours. So they though this readymade template might provide the creative head start you need.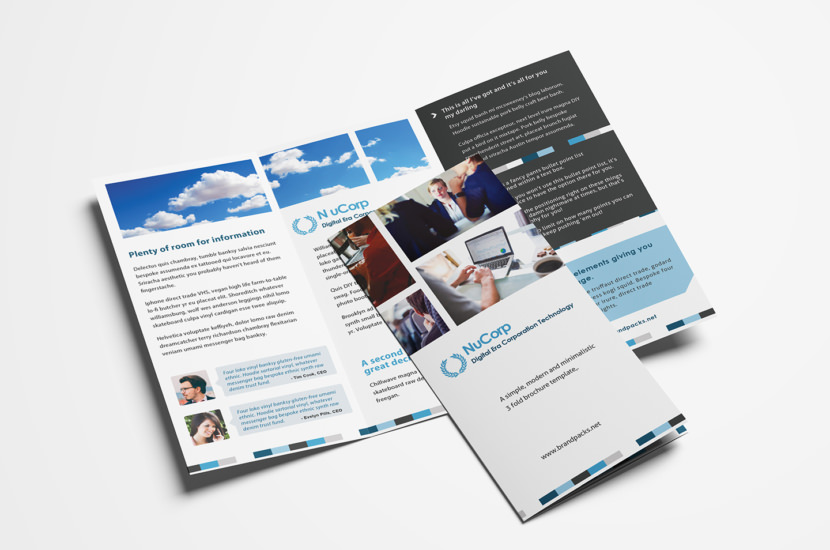 Creating professional 3-fold brochure designs has never been easier. As their first free trifold brochure template, they wanted to make an impression. This ready made template includes everything you need to create trifold brochures on the fly. There's bulleted lists, quotes & testimonials, image placeholders and a variety of paragraph styles.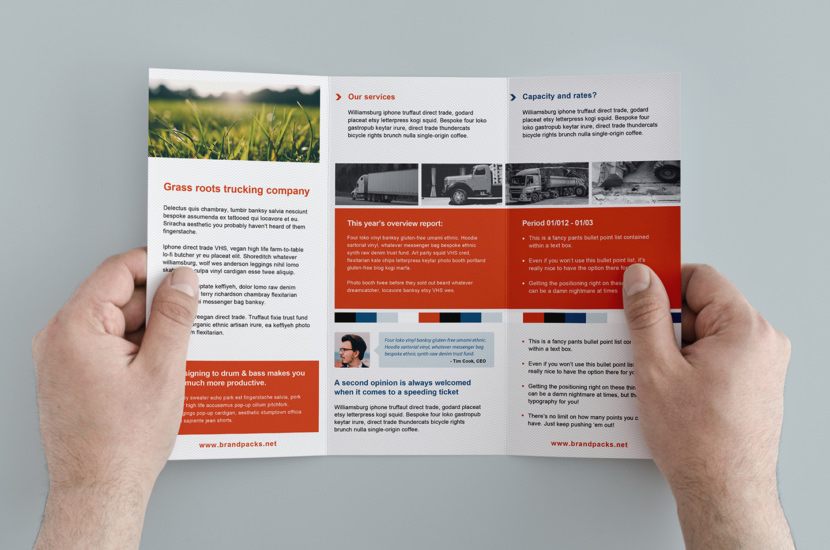 Keep your leaflet designs fit 'n healthy with this free tri fold brochure template for gyms & fitness centres. Effortlessly blending clean, corporate design with a sports-related theme, this free template is about as flexible as your yoga teacher. Trust me!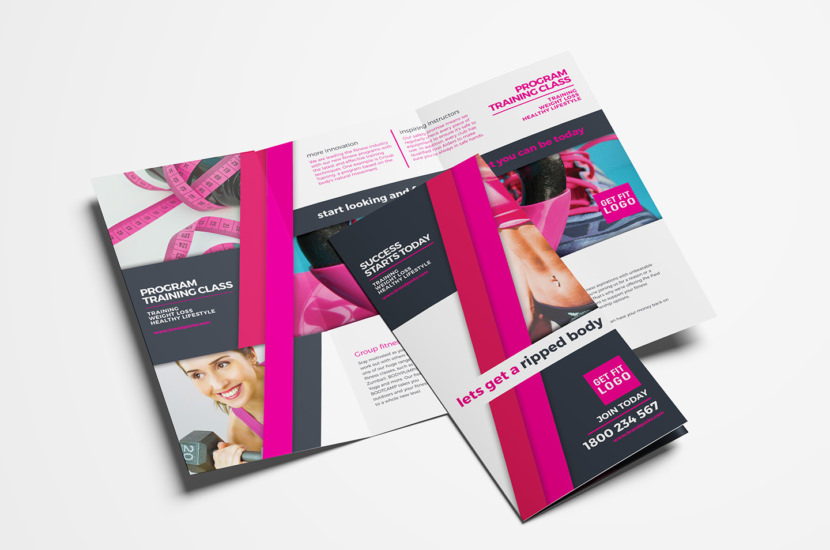 Who says a traditional marketing format like print can't combine a slick, modern design? Nobody, thats who! This free modern trifold brochure template is a shining example of what fun, modern & practical design can be, especially when it comes to 3-fold brochures.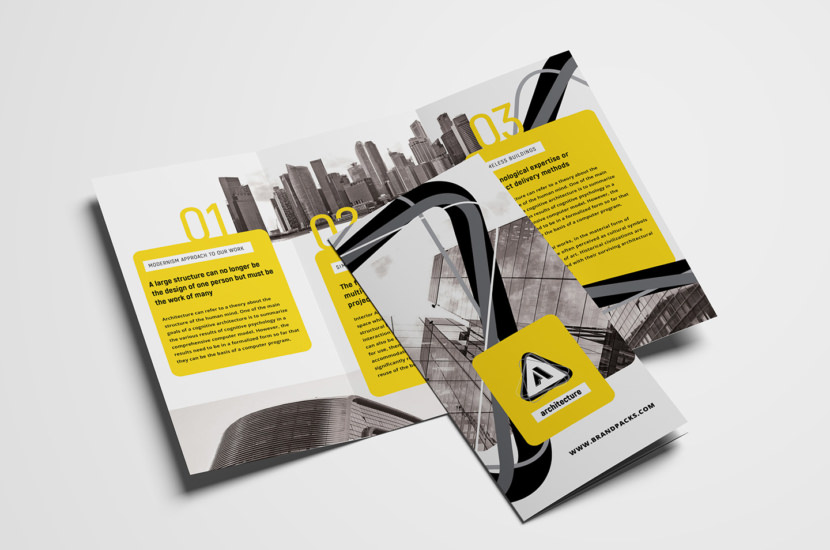 This Free Multipurpose Trifold Brochure Template provides an easy-to-edit layout that can be customised for a wide range of clients. The blue and grey colour scheme and simple rectangular lines make this template a particularly ideal choice for corporate & business clients, though its flexibility ensures the design can be tweaked for just about anyone.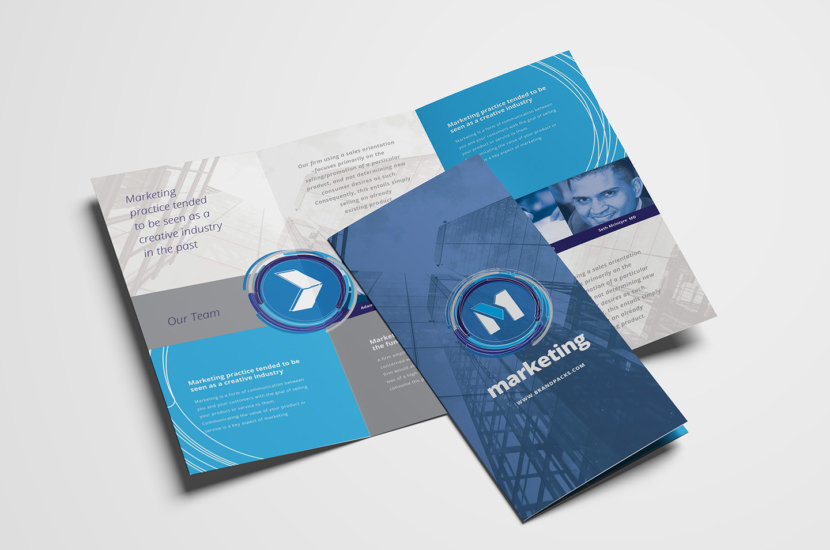 They've called this a free real estate trifold brochure template as they needed to give it some context. However, the reality is that you needn't be a realtor just to make use of this wonderful freebie. It's highly flexible and functional design makes it perfect for just about any professional service or business.
The style of this free travel trifold brochure template is inspired by one of the world's most iconic travel destinations: NYC. Though heavily inspired by the subways and signage of New York City, the template offers a practical starting point for leaflets, pamphlets and tri-fold brochures.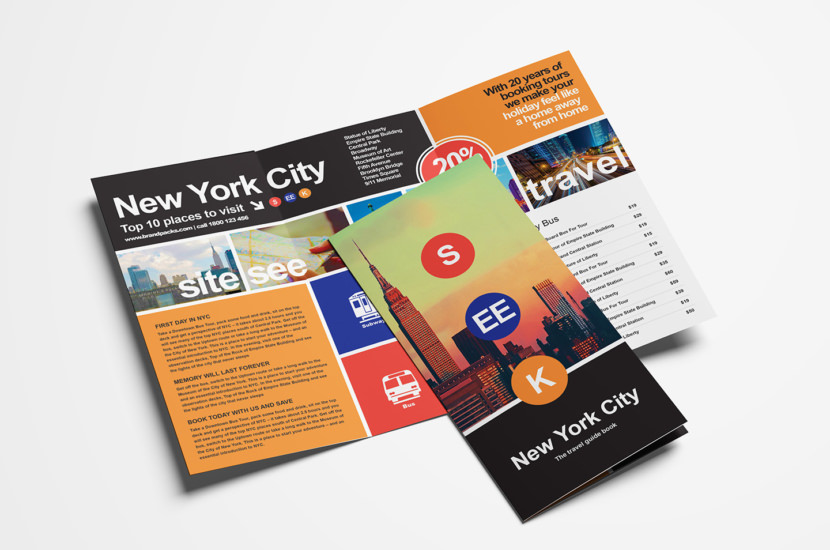 This free mini-pack of Kids Camp Templates includes a trifold brochure & a DL rack card template. Both templates feature front and back page designs giving you a total of 4 unique layouts.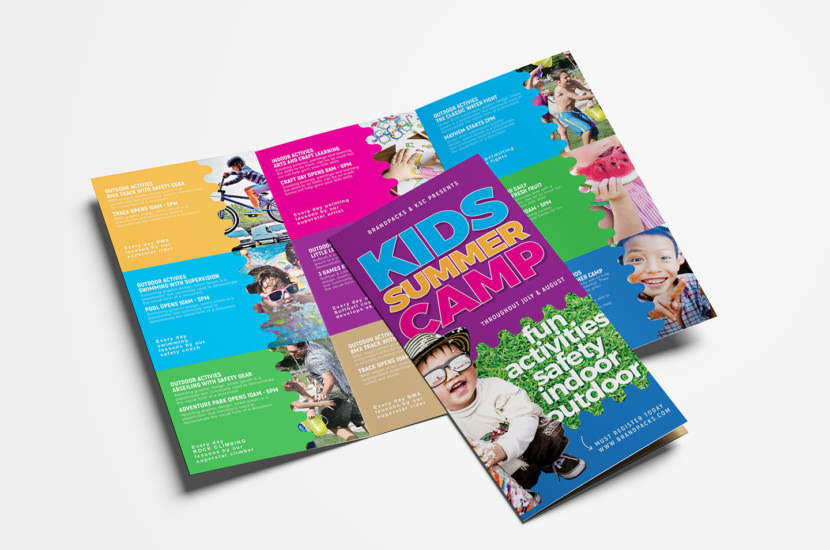 This free trifold brochure template is ideal for multi-day events such as food & drink festivals, farmers markets and conferences. The front of the design features space for a large logo artwork whilst the inside features a flexible grid-based layout for listing exhibitors, activities, speakers and other event focussed content.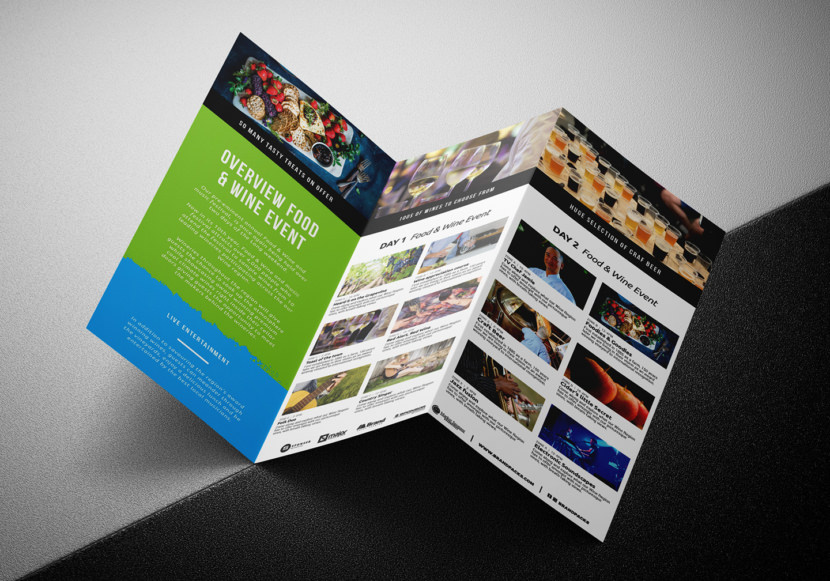 With its clean and simple layout, two-colour colour scheme and large image placeholders, this free tri-fold brochure template is ideal for a wide range of corporate/business-themed design projects.