Here is a very simple tutorial on how to transfer and watch avi and mp4 video files without converting them to mov format. All you need is to download and install VLC for Windows, macOS or Linux and VLC for iOS iPhone / iPad. You will also need to have iTunes installed on your computer. All software are free.
See More ▼ 6 Free Photo Backup Apps For iPhone – 5GB To 15GB Free Storage

Step 1 – Connect your iPhone or iPad to your Windows computer via USB, launch iTunes and click on the iPhone/iPad icon as shown in screen shot.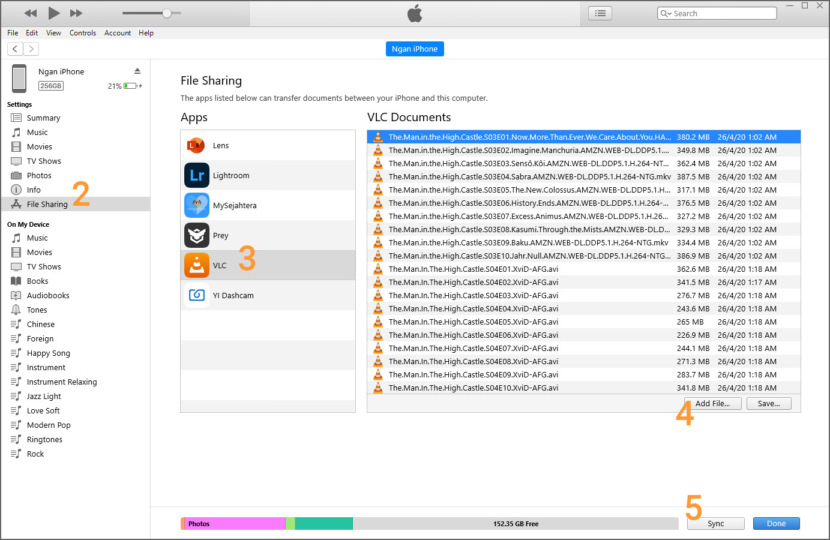 Step 2 – Select 'File Sharing' from the menu
Step 3 – From the list of Apps, select 'VLC'
Step 4 – Click on 'Add File…' and choose the mp4 avi files to upload.
Step 5 – Once done, hit the 'Sync' button, and you are ready to watch videos on your smartphone on the VLC app.
That's all. Quick and simple, no conversion required. VLC for iOS can play all your movies and shows in most formats directly without conversion. You can synchronize media to your device using WiFi Upload, iTunes, various Cloud services, or direct downloads from the web.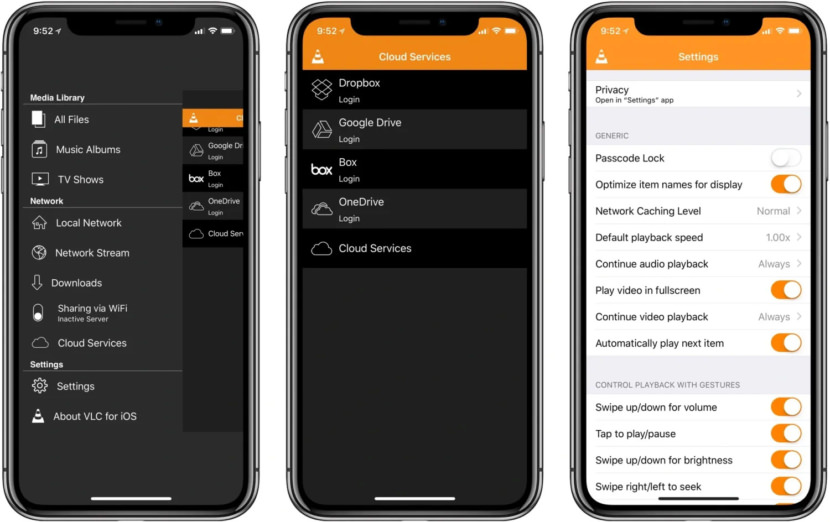 Play all files, in all formats, including exotic ones, like classic VLC media player.
Play MKV, multiple audio tracks (including 5.1), and subtitles tracks (including SSA!).
Support for network streams, including HLS, MMS or RTSP.
Include video filters, playback speed manipulation, and fine seeking.
A media library, with WiFi Uploads & Downloads, Dropbox, Google Drive, iCloud Drive, OneDrive & Box.com integration and optional passcode lock.
Web Interface for easy uploads and downloads to/from device.
Integration for bluetooth headsets and AirPlay.
Full support for file servers (SMB / Windows shares and FTP)
Local Network service discovery with UPnP and native support for Plex
On-the-fly audio and subtitles track synchronization
Supports iOS 9.0 or later
Full 64bit support on latest iPhone and latest iPad
Completely free, libre and open source.
VLC for iOS is a port of the free VLC media player to iPad, iPhone and iPod touch.\nIt can play all your movies, shows and music in most formats directly without conversion. It allows file synchronization with Dropbox, GDrive, OneDrive, Box, iCloud Drive, iTunes, direct downloads and through WiFi sharing as well as streaming from SMB, FTP, UPnP/DLNA media servers and the web.
VLC offers support for advanced subtitles including full SSA compatibility, multi-track audio, and playback speed control. VLC for iOS is completely free and open source.