A Real Estate Accounting software is a specialized tool designed to help real estate professionals and property managers manage their financial transactions, track income and expenses, and maintain accurate records related to real estate properties.
🤣😍😂 10 Quotes On Real Estate Investing And Property Investment
It is tailored to meet the unique accounting needs of the real estate industry, where multiple properties, tenants, and financial transactions need to be managed efficiently. Real Estate Accounting software streamlines financial management processes for real estate professionals, simplifying bookkeeping tasks, and providing comprehensive financial visibility into their property portfolio.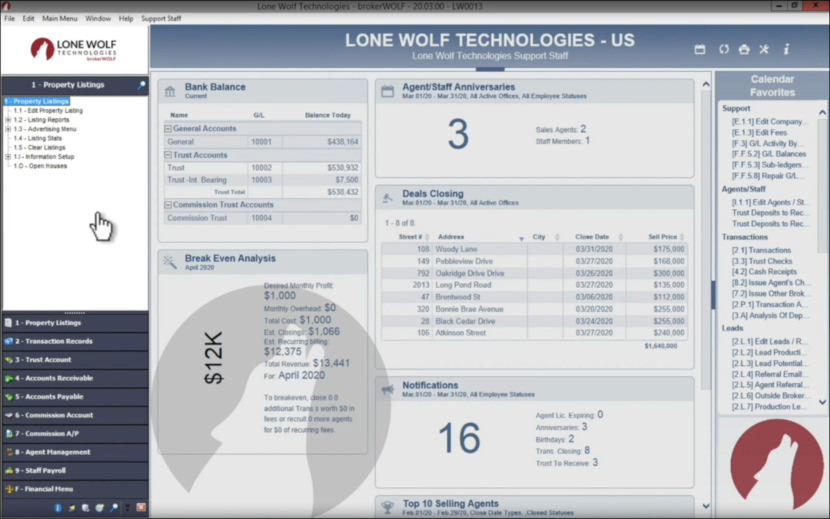 Lone Wolf Back Office is a real estate back office and accounting software designed to help real estate brokerages manage their financial transactions, commission tracking, and agent management. It allows brokers to track commissions for all of their agents, including split commissions, referral fees, and bonuses.
With Lone Wolf Back Office you get an industry-leading combination of traditional accounting and real estate transactions, commissions, and agent management, as well as real-time reporting on how your agents—and your brokerage—are performing. So you have everything you need to run your business, your way.
Agent management – Everything you need to organize your agents and staff—from contact details to anniversary dates, tax documents, licensing details, and more.
Listings and MLS integration – Goodbye, duplicate data entry. Back Office pulls listing information and refreshes data every four hours—so you and your team are up to date.
Fully integrated trust/escrow – Track and protect the trust/escrow funds coming into your brokerage without creating a separate GL.
Actionable insights – Always know how your brokerage is tracking to profitability goals with interactive insights, delivered right into the hands of brokerage leaders.
Automated commission calculation – Set and forget commission calculations. Includes customizable commission structures, fees, agent expense allocation, deal classes, and more.
Accounting and financial records – In one system, track and manage all of your accounts payable and receivable, and financial reporting. Financial and operational reports also included.
Reporting and business intelligence – Robust real estate reporting and business intelligence to track brokerage financials, operational costs, budget, and more.
Franchise integrations and reporting – Our team of dedicated professionals will help you set up and implement franchise fees and reporting, all based on your unique best practices.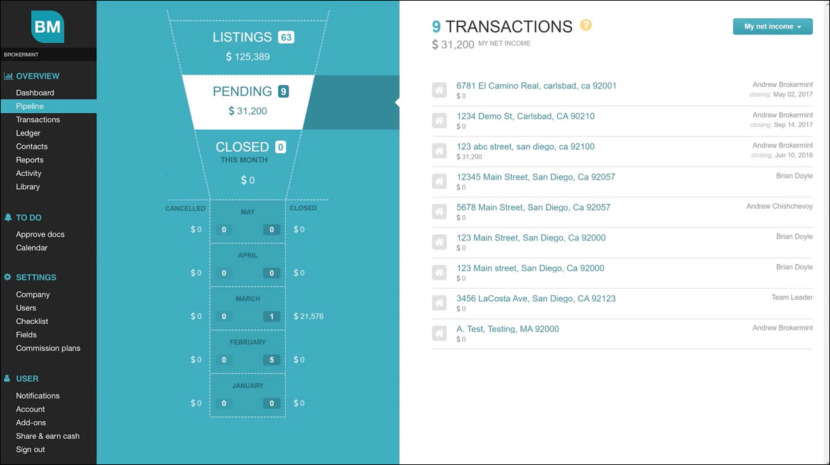 Is your real estate back office moving at the speed of the market? Or is it held back by outdated tech? Give your back office the tool it needs to close faster, pay faster, and eliminate repetitive data entry.
Brokermint is a cloud-based residential real estate brokerage solution including robust real estate accounting, commission automation, transaction management, and more. Simplify and automate your office to move at the speed of the market. No more manual commission calculations, repetitive data entry, or spreadsheets. Save time and reduce costly errors.
Commission Automation – Splits, fees, sliding scales, and more in as many commission plans as you need. Let Brokermint do the math.
Accounting – Agent billing and next-day ACH payments, plus chart of accounts, agent and transaction ledgers, and more.
Agent Management – Onboard new agents and keep all agents on track for their goals with ease.
Reporting and Analytics – Real-time data with filters and the ability to drill down to explore more. Get started with built-in reports and use the report builder to go farther.
Brokermint Mobile App – Take Brokermint on the go. Track your pipeline, complete items on your checklists, send documents for eSignature.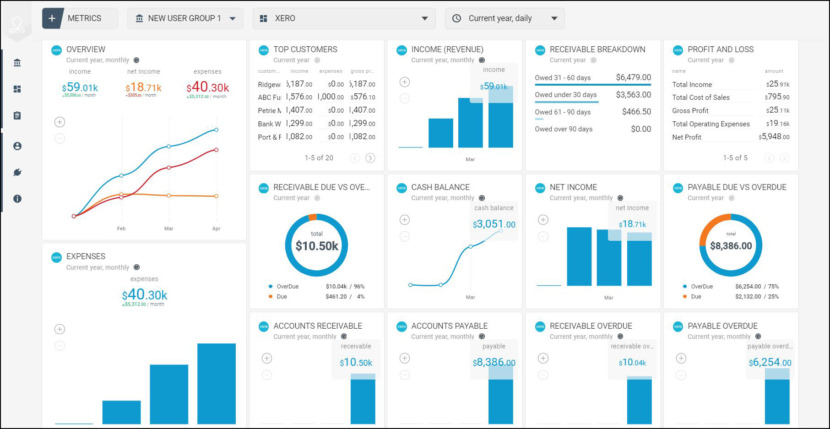 Xero is an accounting software for real estate, it track performance, manage expenses and view client records on the go with easy accounting software for real estate agents. Stay on top of real estate bookkeeping wherever you are. Work with your team and accountant when you're out and about with the Xero accounting app.
Xero's accounting software lets you keep notes about your interactions with your real estate clients and look up their contact details on the go. Let your real estate clients pay promptly, straight from your online invoices, by connecting to Stripe and other third-party payment solutions.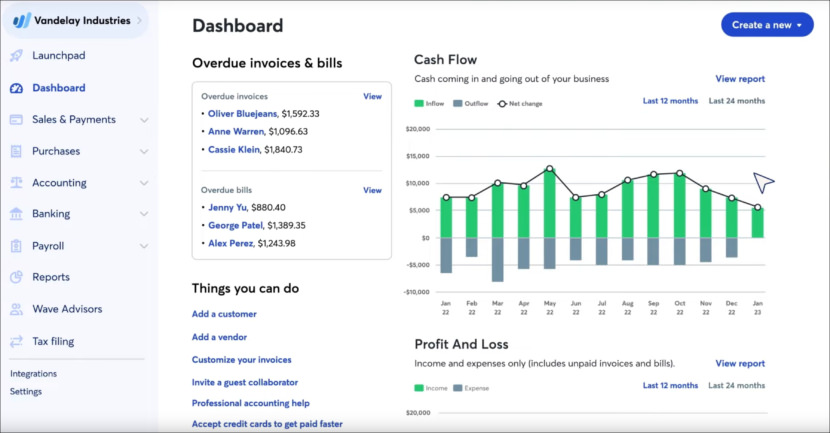 Wave's accounting software makes it easy to manage your business's financial health in the office and on the go. Track expenses, pull reports, and pay bills — all for free. Being a real estate professional comes with a new challenge every day. Wave helps you avoid cash flow problems.
Their accounting software, invoicing software, or US-only banking software are 100% free. There are no trials, subscriptions, or hidden fees. Wave's optional paid features include online payment processing, payroll software, and access to personalized bookkeeping services and coaching through Wave Advisors. If you're interested in using payroll software, you can start a free 30-day trial when you sign up for Wave.
Invoicing software 
that's easy and free – Wave's invoicing software saves you time, gets you paid, and makes managing customer information stress-free.
Online payments = 
on-time payments – Online payments allows you to get paid quickly by bank deposit, credit card, and Apple Pay.
Track your income and expenses, painlessly – Tax season doesn't have to suck. Track your income and expenses, easily and for free, with Wave's accounting software.
Smile, your receipts are on camera! – Capture the full picture in a flash and make tax time "click."
Payroll software that pays off – Small business payroll that makes paying employees, contractors, and yourself, easy!
Personalized help with Wave Advisors – Get VIP treatment from our in-house accounting and payroll coaches and bookkeepers.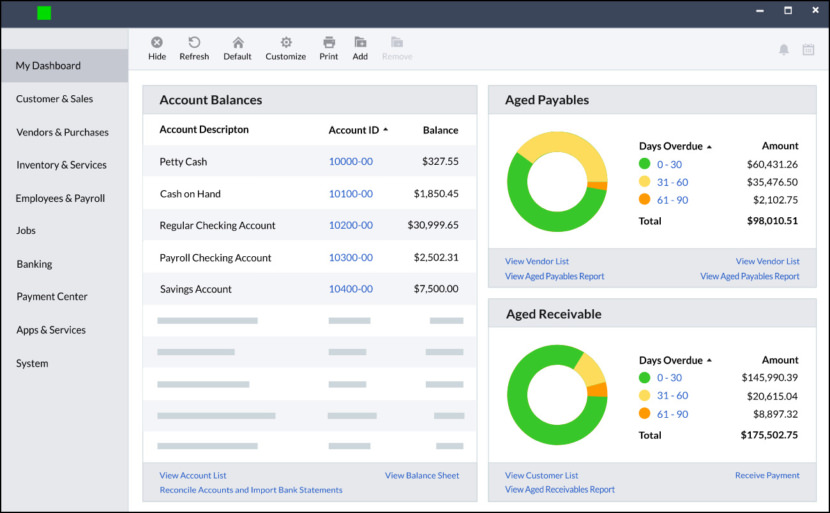 Sage Accounting software for real estate and rental businesses cuts the admin out of a regular working week. It's ideal for landlords and agents who want to collaborate with an accountant and submit accurate, MTD compatible VAT returns to HMRC. Not MTD for VAT ready? Take action before time runs out.
To manage finances and make the best decisions for your business, you need the best accounting software for property investors, landlords and real estate agents. Sage Accounting helps you save time, get organised and stay compliant. Use it to:
Quickly raise quotes and invoices to get paid faster
Control cash flow with accurate forecasting
Create a digital paper trail and file VAT returns to stay compliant
Record expenses on the go with AutoEntry to snap and capture receipts
Significantly reduce admin time by snapping receipts and uploading them to Sage Accounting
Give bookkeepers and accountants permission to review finances and collaborate with you in real-time
Pay employees on time, every time with Sage Payroll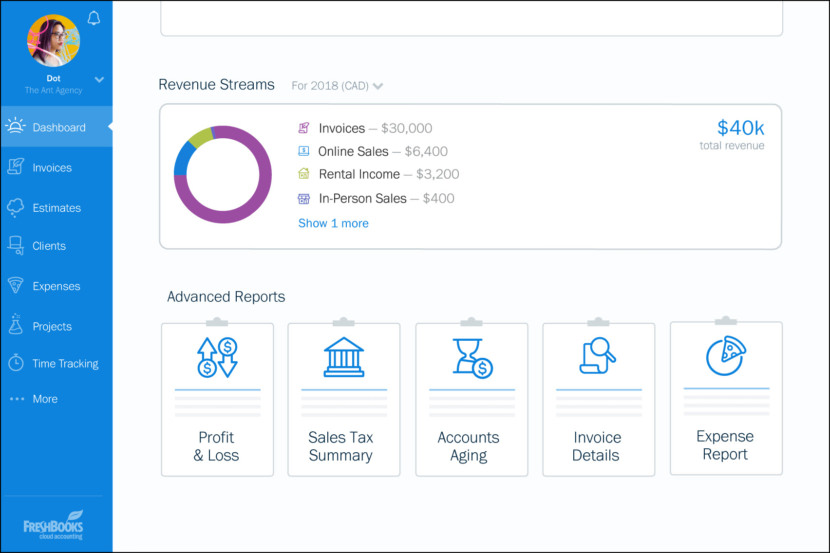 FreshBooks accounting software for real estate rentals allows you to generate invoices, and have them be sent out to your tenants. Do you need to create an estimate for a potential home buyer? FreshBooks can help you create one in seconds.
FreshBooks has helped other real estate agents simplify their bookkeeping tasks. Keep track of income and expenses for Airbnb hosts with the FreshBooks' expense tracking and accounting reports features. If you need to work together on a project with your team, FreshBooks has tools that will help manage your team, record time, and share updates and information with each other.
Creating invoices has never been faster or easier to take care of until you've tried the best accounting software for real estate agents. Does your agency manage rental properties for different clients? The FreshBooks accounting software for real estate rentals allows you to tailor each of the invoices so that you can handle multiple properties with ease. You can even customize invoices to handle air BnB rentals as well.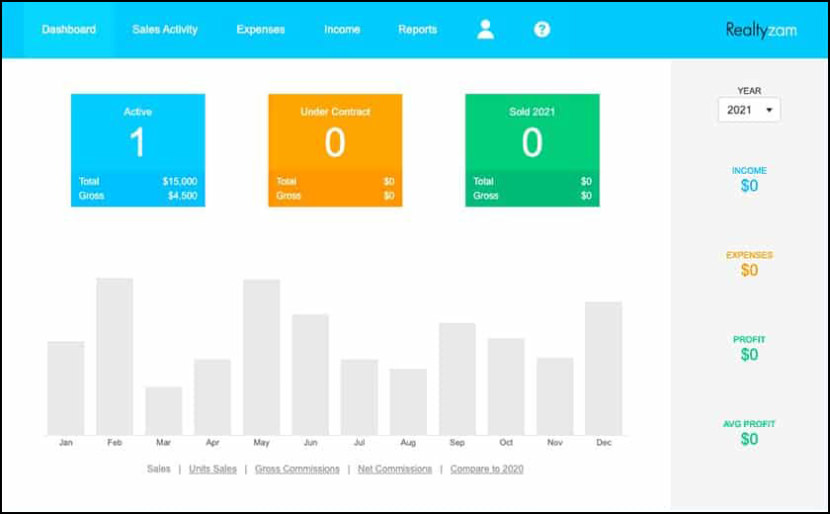 Realtyzam is a simple accounting software built exclusively for real estate agents. If you're looking for something simple to track your expenses and instantly generate the report you need for your taxes, then you'll love Realtyzam.
Realtyzam's advanced automation eliminates the hardest part…data entry. You can setup data feeds from over 15,000 banks and credit cards which Realtyzam will use to download all your new transactions every morning and auto-categorize them based on your own custom rules…without you lifting a finger!
With Realtyzam you can upload receipts for any expense using your computer, tablet, or from your phone with our free mobile app. Realtyzam automatically scans a digital copy of the receipt and links it to the expense. If you ever need to see the receipt again, just click on the expense and boom…there's your receipt.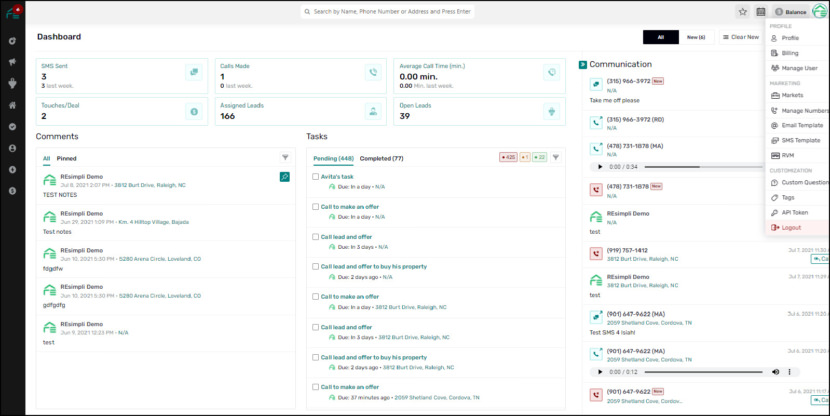 REsimpli is the only all-in-one real estate investor CRM software that helps you manage Data, Marketing, Sales and Operations. Store and organize all of your data in one place. From property lists and lead details to cash buyer information and offer status, REsimpli users can manage their entire business right from the real estate investor CRM. Optimize your sales process and boost conversions without the need for multiple apps. Manage prospects, properties, leads, offers, cash buyer data, and more–with REsimpli.
Built by real estate investors for real estate investors, REsimpli provides real-world investors with the tools they need to maximize their marketing efforts. Built-in features and powerful campaign services ensure you never miss out on another deal.