How to figure out the Router's WiFi password? You're at your girlfriend or parent's place and they forgot the wireless WiFi's password. How do you crack your own security enabled wireless network? The good news is, we've all been there and Microsoft knows this as well. You don't have to be a hacker, forget about cracks or hacking tools, you don't have to access the router to reveal hidden asterisk *** characters.
🤣😍😂 1000+ Router Login Password For D-Link, NetGear, Belkin, TP-Link, Asus And Linksys
Now, do note that these methods are perfectly legal, however, it is illegal to do so without permission or to perform it on other people's computer just to use their WiFi without their knowledge. If you forgot your Wi-Fi network password, you can find it if you have another Windows PC already connected to your Wi-Fi network. After you find your password, you can use it on another PC or device to connect to your Wi-Fi network.
How to find your wireless network password? If you don't know your wireless network password, use the info below to find it. The user interface can be different for different versions of Windows, but the concept is the same. Find your Wireless WEP and WPA network password for Windows 10.
Step 1 – Go to Settings > Network & Internet.
Step 2 – Choose the network you want to connect to and select Connect.
Step 3 – Select the search box in the taskbar, enter view network connections, and in the search results, select View network connections.
Step 4 – In Network Connections, press and hold (or right-click) the network name and select Status > Wireless Properties.
Step 5 – Select the Security tab and select Show characters. The password for the wireless network is displayed in the Network security key field.
If you need the default security key or password for your wireless router, contact your Internet service provider or router manufacturer. However, you may be able to find the security key or password on the bottom of your router or in the router's documentation. Look for the following terms Security Key, Wireless Key, WPA Key, WPA2 Key and WEP Key.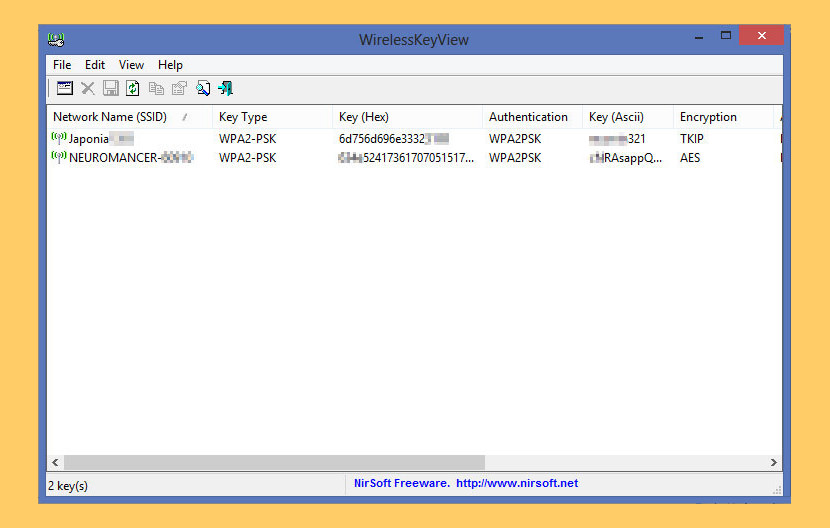 Where is my wifi password? WirelessKeyView recovers all wireless network security keys/passwords (WEP/WPA) stored in your computer by the 'Wireless Zero Configuration' service of Windows XP or by the 'WLAN AutoConfig' service of Windows Vista, Windows 7, Windows 8, Windows 10, and Windows Server 2008.
It allows you to easily save all keys to text/html/xml file, or copy a single key to the clipboard. You can also export your wireless keys into a file and import these keys into another computer. NOTE: Antivirus might block this software due to false positives, this software doesn't come with viruses, it is clean. Works great on Microsoft Windows 10.
↓ 03 – Unmask Asterisk *** Password
How to reveal an asterisk password without software? This can be done manually with Google Chrome or Mozilla Firefox browsers without the need to download any asterisk password reveler software. As shown in the tutorial below, this trick is applicable on all password boxes.
Step 1 – Highlight the 'asterisk' password.
Step 2 – Right click on the asterisk, from the menu, choose 'Inspect Elements'
Step 3 – Look for the 'password' input code, double click on the 'password' text
Step 4 – Replace it with 'text' as shown in the screenshot below. The password masked by the asterisks are automatically revealed.