How to uninstall Kaspersky Antivirus? It is important that any previously installed antivirus software is uninstalled from your Windows system before installing another new or different security software. Typical uninstallation via the Microsoft Windows removal tool (Add/Remove Programs) often does the job, However there are times when you may experience issues using the normal method and these official tools below will assist you.
See More ▼ 4 Unlock And Recover Hard Drive Password Removal Tool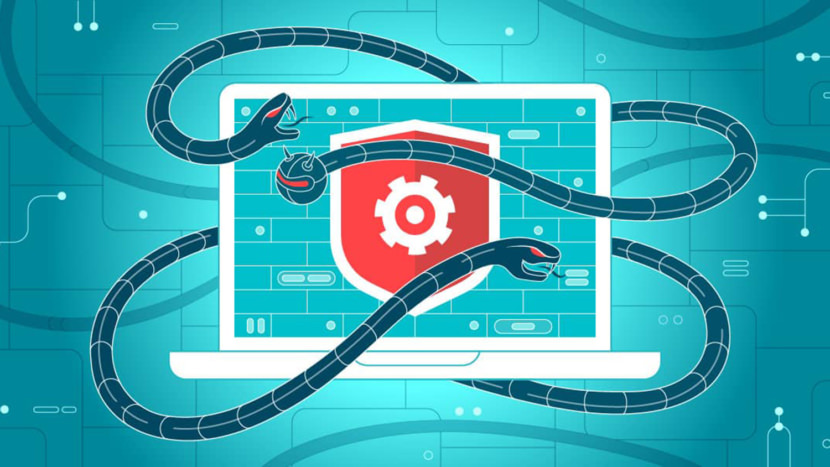 This antivirus uninstaller deletes all files associated with their antivirus product, including registry items, installation files, and user files. Only use this if you are having problems uninstalling them. Other than that, the normal method via Windows Add and Remove program is sufficient enough. If you are having problems uninstalling any antivirus, how to remove antivirus from your laptop? Download these tools.
a How to remove, reset or recover your forgotten Lenovo, HP, Dell, Acer, and Asus Laptops laptop BIOS password? There are many methods, each method has its own strength and weakness. If you forgot your BIOS password, chances are you don't have access to your computer, not even in Safe Mode, therefore making this software useless. For Desktop users, removing the battery for 5 minutes will reset the BIOS whereas laptop users might not have the option without invalidating the warranty of the laptop, this is where software comes in handy.
On laptops, more often than not the password is usually stored in an eeprom on the motherboard and not in the cmos. You need an eeprom programmer/eeprom reader (electronic device) to retrieve the password. If you erase the cmos (ie. cmospwd /k) and if the password is really stored in an eeprom, you won't be able to boot anymore. You can get/buy eeprom programmers in electronic shops or labs, you need another PC to use it. You can desolder the eeprom with hot air or you can try to "clip" the eeprom. With the eeprom programmer, backup your eeprom and run cmospwd /d /l eeprom_backup. If you don't see the password, you can try to fill the eeprom with zero or FF, don't forget to reset the cmos.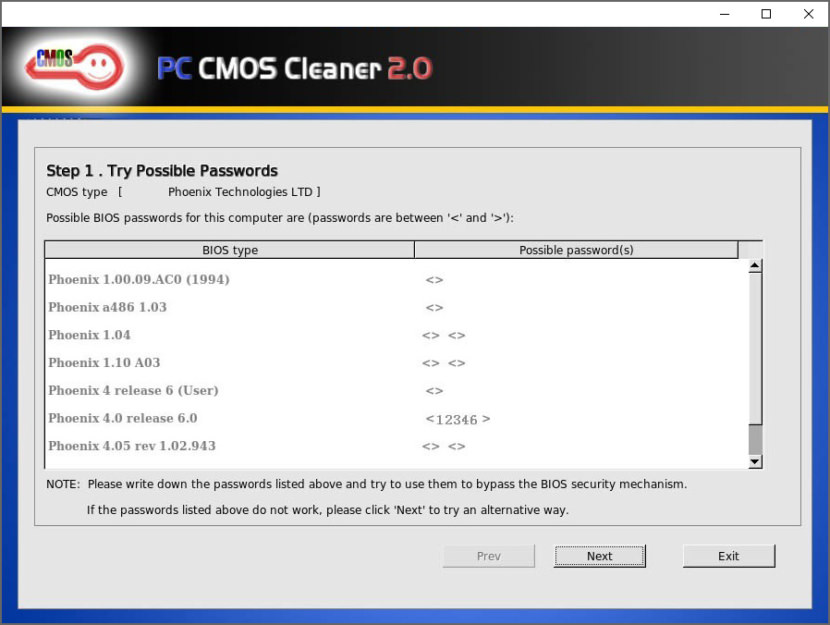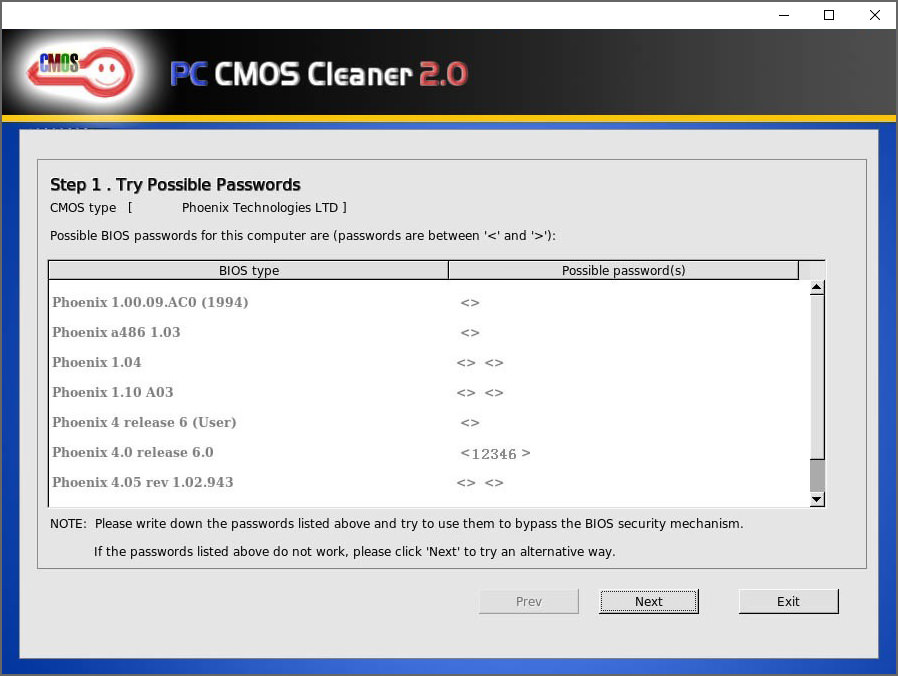 PC CMOS Cleaner is an easy-to-use tool to recover, delete, decode and display the superior passwords stored in BIOS whatever the brand is. Most types of BIOS are supported. It's a bootable CD that runs on x86 and x86_64 computers. No need to pay expensive fees to experts. It's a useful tool for users to get their lost BIOS password back, or clean passwords from an old computer bought from others.
Support all x86, x86_64 Personal Computers.
Support most BIOS, such as: AWARD, AMI, Compaq, Phoenix, Samsung, IBM, Compaq, DTK, Thinkpad, Sony, Toshiba and so on.
Display the superior passwords of the BIOS .
Remove BIOS password(will set the BIOS to default status, need reset date).
Set the BIOS to default state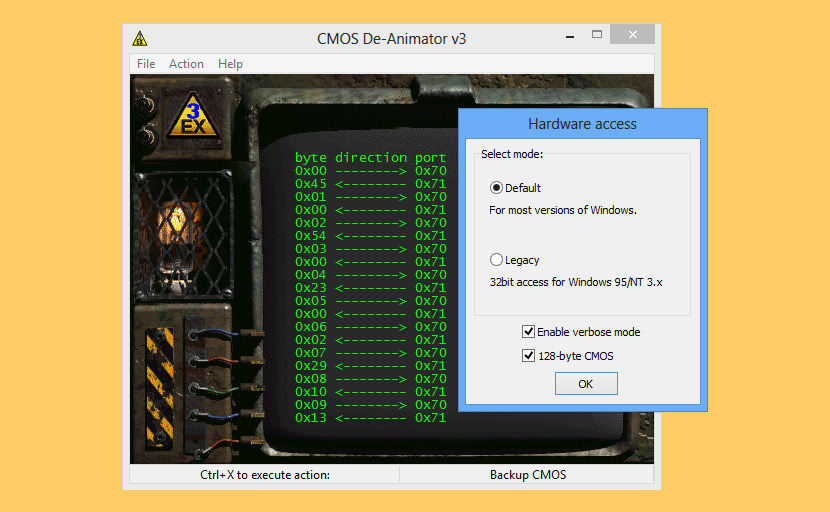 CMOS De-Animator is a service utility for your system's CMOS RAM. Unlike its predecessor, the CMOS De-Animator 2.0, the new version includes a graphical interface and CMOS-backup options along with the "Clear CMOS" procedure, which was the original version's only purpose. So, you can now backup the main CMOS settings to a file, or restore them later. The application supports all 32-bit and 64-bit Windows operating systems except Windows 95 and Windows NT 3.51; for these old systems, you have to use De-Animator's previous version.
Compared with CMOS De-Animator v2, the new features include an interactive GUI, command-line support with optional silent (unattended operation) switch, log file generation, and experimental EEPROM / low level BIOS reading support! Original features – backup, restore and reset the CMOS RAM – of the old De-Animator are, of course, intact and still conveniently accessible. The same goes for extreme backward compatibility, just as with previous versions – the application runs on a Windows NT 3.51 just as fine as under Windows 8, 32-bit or 64-bit!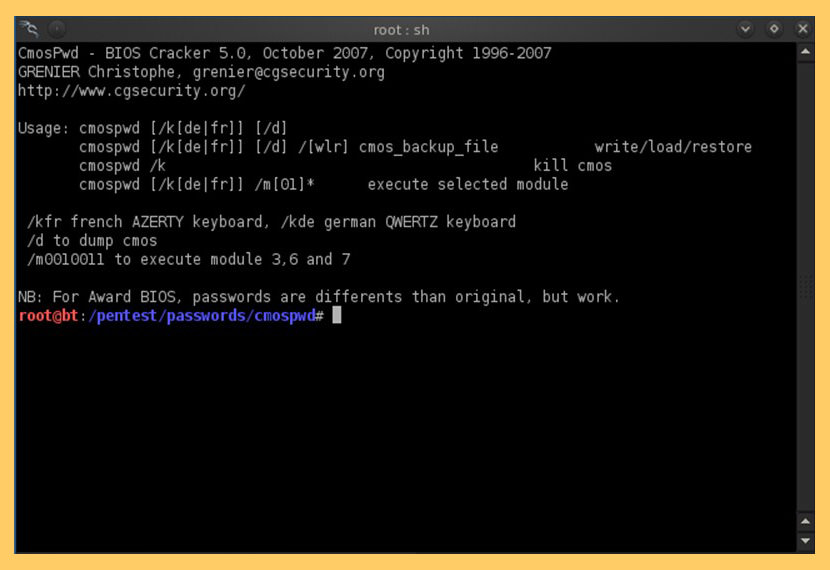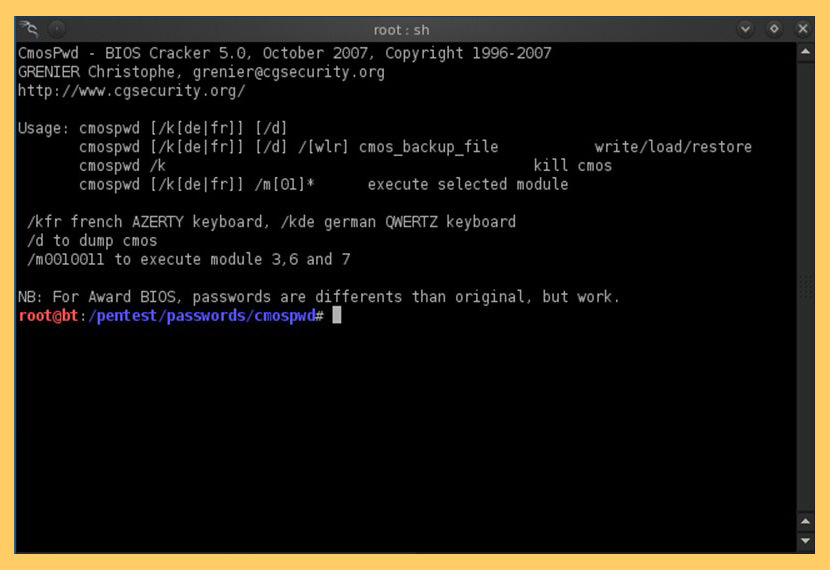 CmosPwd decrypts password stored in cmos used to access BIOS SETUP. The software is also able to save the configuration of a BIOS, which protects the data by duplicating and storing it in a secure location on the hard disk. With CmosPwd, you can also backup, restore and erase/kill cmos. CmosPwd is free, it's distributed under Open Source GPL. Works with the following BIOSes
ACER/IBM BIOS
AMI BIOS
AMI WinBIOS 2.5
Award 4.5x/4.6x/6.0
Compaq (1992)
Compaq (New version)
IBM (PS/2, Activa, Thinkpad)
Packard Bell
Phoenix 1.00.09.AC0 (1994), a486 1.03, 1.04, 1.10 A03, 4.05 rev 1.02.943, 4.06 rev 1.13.1107
Phoenix 4 release 6 (User)
Gateway Solo – Phoenix 4.0 release 6
Toshiba
Zenith AMI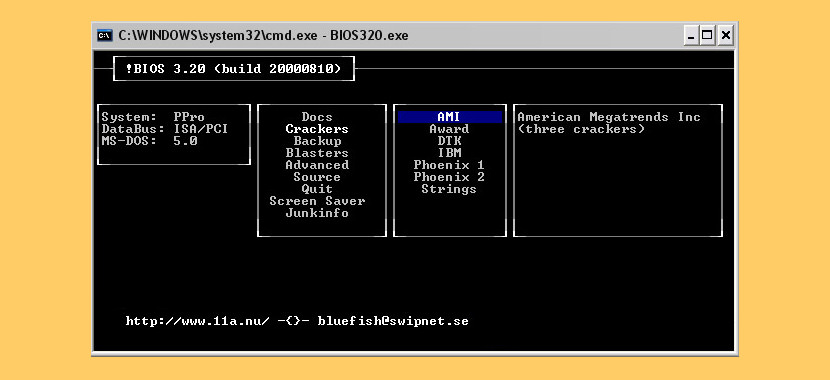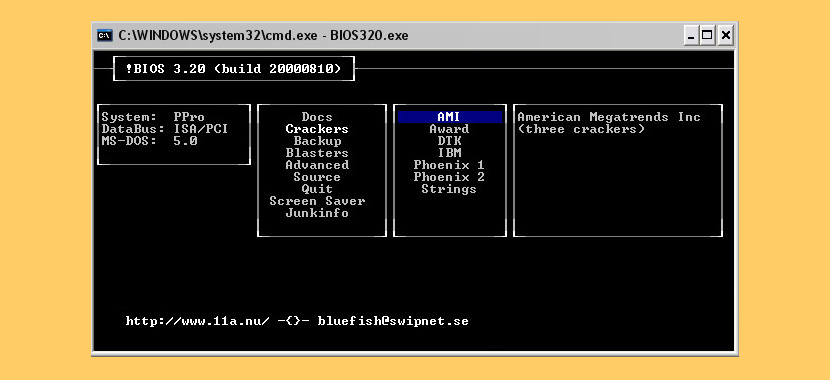 !Bios ( a very old program, might work on older computers ) is a tool originally developed for a brute, blunt removal of passwords from BIOSes. Through its development it has been severely extended, and Eleventh Alliance have now received emails from computer support divisions, hackers and not least of all ordinary computer users who have expressed gratitude for what they consider one of the best toolkits available.
!Bios can decrypt the passwords used in some most common BIOS (including various bioses/versions by IBM, American Megatrends Inc, Award and Phoenix).
!Bios can also save and restore the IBM standard CMOS/NVRAM memory where almost all common Bioses store the BIOS setup settings.
!Bios can save the part of the RAM dedicated for the BIOS (which has security implications in some BIOSes as encryption algorithms and/or password may actually reside here in some badly coded BIOSes).
!Bios can do crude, brutal attacks ("blasters") which remove passwords from a lot of Bioses. A bit dangerous though, can give unexpected and unwanted results.
!Bios has a CMOS editor where through an interface with similarities to several hex-editors can modify the CMOS/NVRAM memory in binary, decimal and hexadecimal ways. (only advised for very experienced hackers)
!Bios has a command line interface (CLI) and a very simple VGA-text interface, GUI. If no parameters is passed to !Bios, it starts the easy-to-use GUI, otherwise it starts the GUI.
!Bios has built-in support pages which provides several tricks and tips, notes about known backdoors etc.
5. Clear CMOS Jumper or Dipswitch Settings
There's a jumper on your motherboard that you'll need to identify and remove. Most motherboards make your job easier by actually labeling the correct jumper as "BIOS config" or something similar. Remove the jumper, and then turn the computer on. In some cases, you will have to remove the jumper while the system is powered up, though to minimize risk, try doing this first with the computer off. In today's quick tip I show off the quick and easy process of resetting the CMOS on your computer. Simply move the CMOS jumper to the last 2 pins for about 5-10 seconds depending on your motherboard, and then replace it back to its original position.
6. Remove Internal CMOS Battery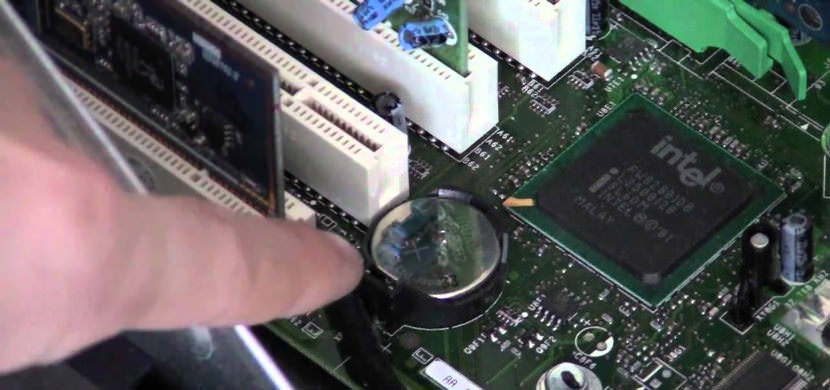 For desktop users, open up your computer casing and look for the battery. Remove the battery for approximately 5 minutes (maybe longer, depending on the motherboard) and slot it back. By removing the battery and depriving the motherboard's flash memory of power supply, you are essentially resetting the settings back to default when the existing data in BIOS are cleared. This method works well for desktop, however this is not practical for laptop users unless the warranty expired a long time ago. This method might or not not work, it depends on the type of motherboard.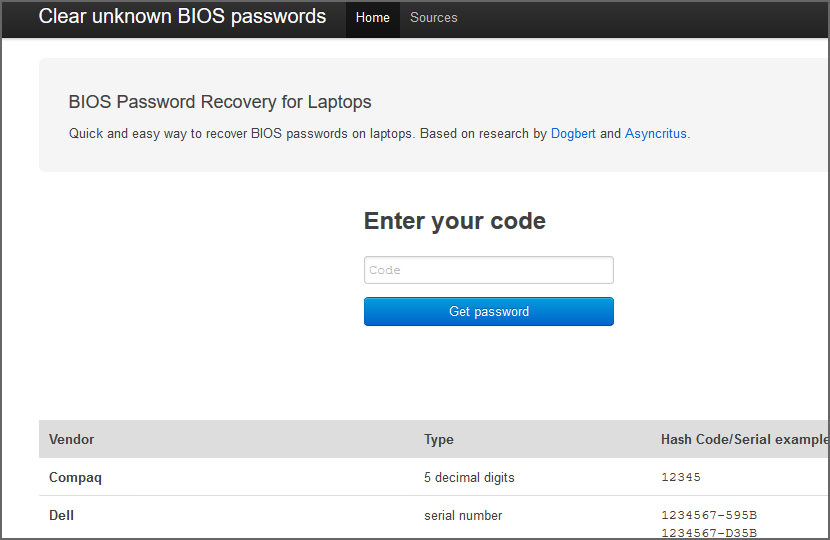 How to Reset a Dell laptop BIOS Password? Quick and easy way to recover BIOS passwords on laptops, this site contains master password generators for various BIOS/UEFI firmware. Based on research by Dogbert and Asyncritus. When a laptop is locked with a password, a checksum of that password is stored to a so-called FlashROM – this is a chip on the mainboard of the device which also contains the BIOS code and other settings, e.g. memory timings. For most brands, this checksum is displayed after entering an invalid password for the third time.
The dramatic 'System Disabled' message is just scare tactics: when you remove all power from the laptop and reboot it, it will work just as before. From such a checksum (also called "hash"), valid passwords can be found by means of brute-forcing. Works on Fujitsu-Siemens, Dell, Compaq, Acer, HP Hewlett-Packard, Sony, Samsung and more.
8. Using MS DOS Command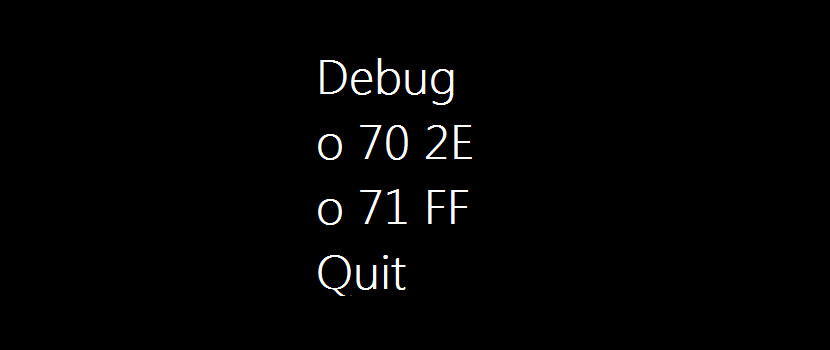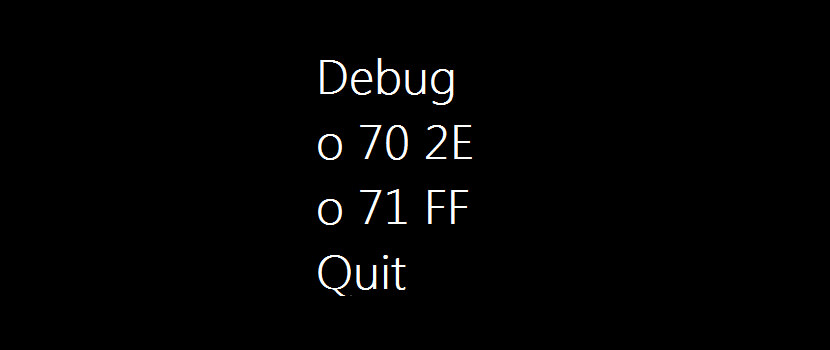 This method works if you have access to Windows because this method requires MS DOS. Open Command Prompt from Programs menu and provide following commands:
debug
o 70 2E
o 71 FF
quit
Important – The first character in the above commands is English alphabet "o" and not the number 0. Now, after providing the above commands in MS DOS, restart your system and it should automatically reset the CMOS Settings along with the BIOS password. How does it work? In this "MS DOS Debug Command" method, the "o" character present at first in these commands, outputs the values to IO ports. The number 70 and 71 are port numbers which are used to access CMOS memory. By providing FF value they are telling CMOS that there is an invalid checksum and it resets the CMOS settings as well as BIOS password.
9. Backdoor Password By Manufacturer
Some BIOS manufacturers or the laptop maker put a backdoor password in BIOS and will always work regardless of what password you have set in the BIOS. It is a master password which is used for testing and troubleshooting purposes, or in the event you lock yourself out of your own laptop.
AMI BIOS Passwords:
A.M.I.
AAAMMMIII
AMI?SW
AMI_SW
AMI
BIOS
CONDO
HEWITT RAND
LKWPETER
MI
Oder
PASSWORD
AWARD BIOS Passwords:
01322222
589589
589721
595595
598598
ALFAROME
ALLy
aLLy
aLLY
ALLY
aPAf
_award
award
AWARD_SW
AWARD?SW
AWARD SW
AWARD PW
AWKWARD
awkward
BIOSTAR
CONCAT
CONDO
Condo
d8on
djonet
HLT
J64
J256
J262
j332
j322
KDD
Lkwpeter
LKWPETER
PINT
pint
SER
SKY_FOX
SYXZ
syxz
shift + syxz
TTPTHA
ZAAADA
ZBAAACA
ZJAAADC
PHOENIX BIOS Passwords:
BIOS
CMOS
phoenix
PHOENIX
Misc Common Passwords:
ALFAROME
BIOSTAR
biostar
biosstar
CMOS
cmos
LKWPETER
lkwpeter
setup
SETUP
Syxz
Wodj
Other Manufacturer BIOS Passwords:
Biostar – Biostar
Compaq – Compaq
Dell – Dell
Enox – xo11nE
Epox – central
Freetech – Posterie
IWill – iwill
Jetway – spooml
Packard Bell – bell9
QDI – QDI
Siemens – SKY_FOX
TMC – BIGO
Toshiba – Toshiba
VOBIS & IBM – merlin
Note
The BIOS is the basic instruction set that "teaches" the computer how to access its media. If the BIOS is password protected, the computer will not function without the password. BIOS passwords are used in two ways: To prevent modification of the BIOS settings and to completely stop the computer from booting.
If you've got crucial data on your system, need it urgently, and can't get past the BIOS. Remember that you can always remove the hard drive with the data and access it from another system. The BIOS password (typically) only pertains to the motherboard. There are some manufacturers, IBM and Dell included, who are encrypting the HDD to the motherboard. If this is the case, try contacting the manufacturer for a password to unlock the HDD.
href="https://esupport.trendmicro.com/en-us/home/pages/technical-support/1105809.aspx">Trend Micro
If you are still encountering problems after uninstalling the antivirus via their official tools, you might want to check if the antivirus is fake or has been hijacked by a rogue malware. You might want to try ad scam your system via a standalone antivirus that is portable or bootable antivirus that scans your system before Windows bootup for potential hidden malwares.