How to remove password from PDF? My PDF is password protected, how do I recover my own user password? Before we begin, understand that there are two different types of passwords used in PDF files are, and will always be, a source of confusion.
Related Article 2019 ➤ 3 Free Adobe PDF Printer Driver For Microsoft Windows 10 & Apple Mac
The OWNER PASSWORD is used to control what you can do with/to the PDF file, but you do not have to know it in order to open and view the file. If the owner password is in play, looking at the document's security properties will tell you what you can't do. With the right software, the owner password can be removed instantly.
The USER PASSWORD on the other hand, is only used to prevent anyone who doesn't know it from opening and viewing the file.
↓ 01 – PDFCrack | Remove User/Owner Password / Free / Win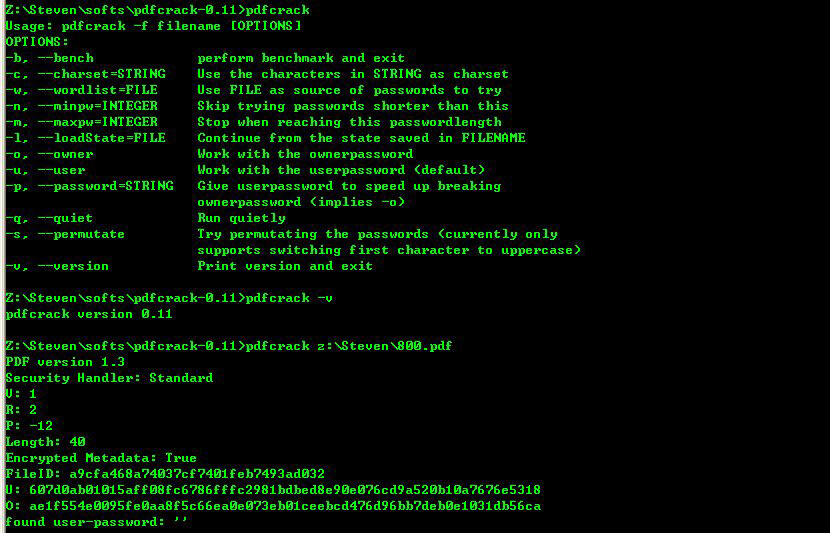 PDFCrack is a GNU/Linux (other POSIX-compatible systems should work too) tool for recovering passwords and content from PDF-files. It is small, command line driven without external dependencies. The application is Open Source (GPL). Features
Supports the standard security handler (revision 2, 3 and 4) on all known PDF-versions
Supports cracking both owner and userpasswords
Both wordlists and bruteforcing the password is supported
Simple permutations (currently only trying first character as Upper Case)
Save/Load a running job
Simple benchmarking
Optimised search for owner-password when user-password is known
↓ 02 – qpdf | Remove User/Owner Password / Free / Win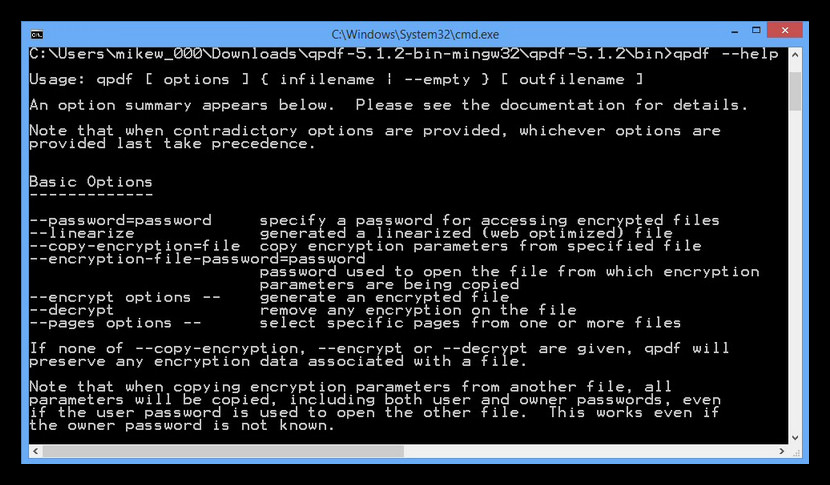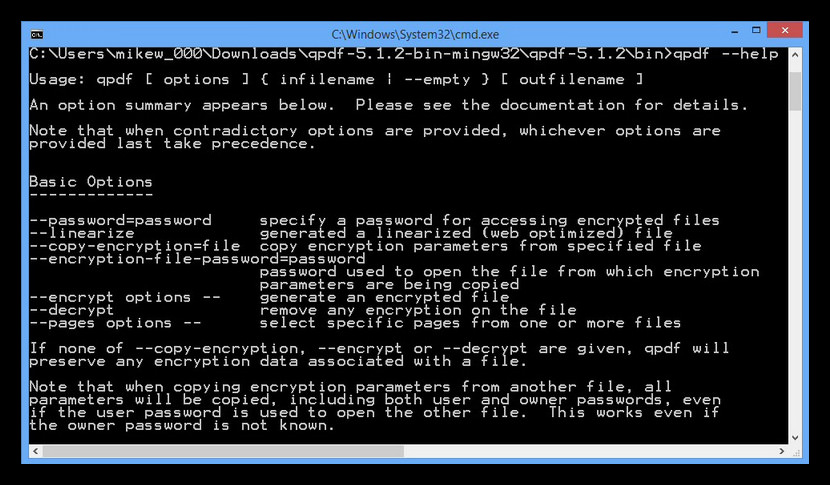 QPDF is a command-line program that does structural, content-preserving transformations on PDF files. It could have been called something like pdf-to-pdf. It also provides many useful capabilities to developers of PDF-producing software or for people who just want to look at the innards of a PDF file to learn more about how they work. Supports these five kinds of encryption/decryption:
40-bit encryption (method 40bit) in Acrobat 3 (PDF 1.1) and above
128-bit encryption (method 128bit) in Acrobat 5 (PDF 1.4) and above
128-bit AES encryption (method AES) in Acrobat 7 (PDF 1.6) and above
256-bit AES encryption (method AES256) in Acrobat 9 (PDF 1.7) – this is deprecated – do not use for new documents
256-bit AES encryption (method AES256ISO) in PDF 2.0
↓ 03 – GuaPDF | Remove User/Owner Password / EUR40 / Win / macOS / Linux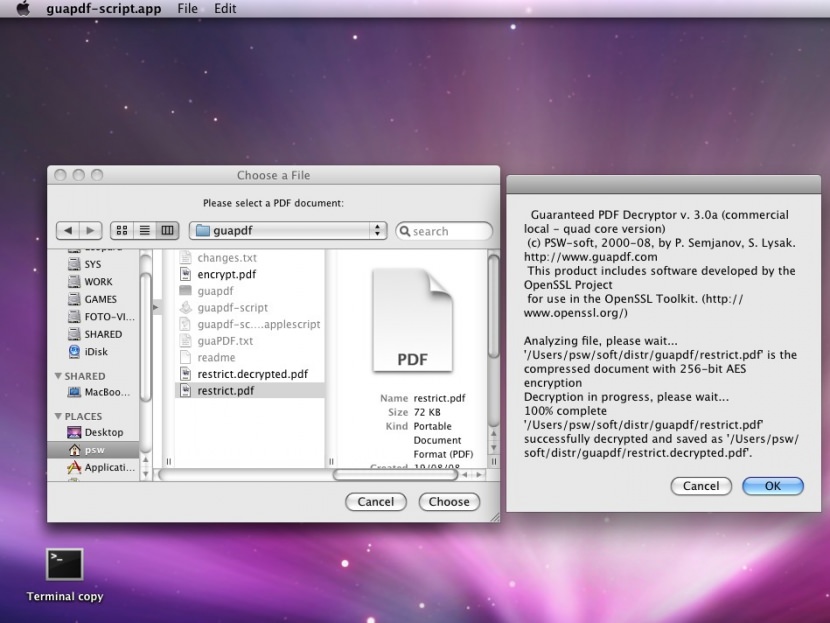 The primary goal of GuaPDF is to – remove restrictions on any PDF document (you should have the right to do it, for example, if you forgot the password). Any Acrobat version up to XI is supported, even with 256-bit AES or 128-bit RC4 encryption. PDF permission password removal is an instant process. Decrypted file can be opened in any PDF viewer without any restrictions so you may edit/copy/print it. GuaPDF can be also used for – remove the PDF open password. Decryption of the file with password for opening is guaranteed for PDF files with 40-bit key only (Acrobat 3, 4 compatible encryption). This process takes several days on one home computer.
There are two types of secured PDF documents: your file can ask for password when opening the document, or, your file opens normally, but some operations are restricted (e.g, printing or editing) and requires password for unlocking it. The first password is known as document open (or user) password, and the second is permissions password (also known as a master or owner password). Adobe Acrobat uses different algorithms to apply PDF security with 40, 128 and 256 bit keys.
PDF restrictions are insecure and permissions password could be removed instantly.
If open password uses 40-bit keys (Acrobat 3 compatible encryption), it also could be removed with guarantee.
Searching for open password with 128 or 256-bit PDF encryption is only possible using PDF password recovery software.
If the password is not known, our options to help you are very limited. First, the strength and type of the encryption needs to be evaluated. Passwords of the oldest type, also known as RC4 40bit, can always be removed. This is an operation that requires lots of computing power, but is always within reasonable limits. Since last month, we offer a fully automated service that guarantees the removal of such passwords in less than an hour. However, due to the cost we incur by launching tens of high-end servers to unlock the file in such a short period of time, this service comes cannot be offered for free. To purchase this service, just upload the file at www.pdfunlock.com, and you will be presented with instructions how to proceed. The other option would be to purchase the appropriate software, such as GuaPDF, and run it on your computer. Expect it take anything from a few hours to couple of days, depending on your computer. It will also consume all the CPU power available, making using the computer for anything else hard.
Removing user passwords that utilize newer encryption, such as 128bit RC4 or AES (128bit or 256bit) is different. It's fair to say that there are no guarantees that, with currently modern computers, such a password would ever be removed. There are simply too many possibilities. The key here becomes knowing something about the password, and using that knowledge to somehow limit the passwords that are attempted. Any experiences with removing this type of passwords would be appreciated in the comments!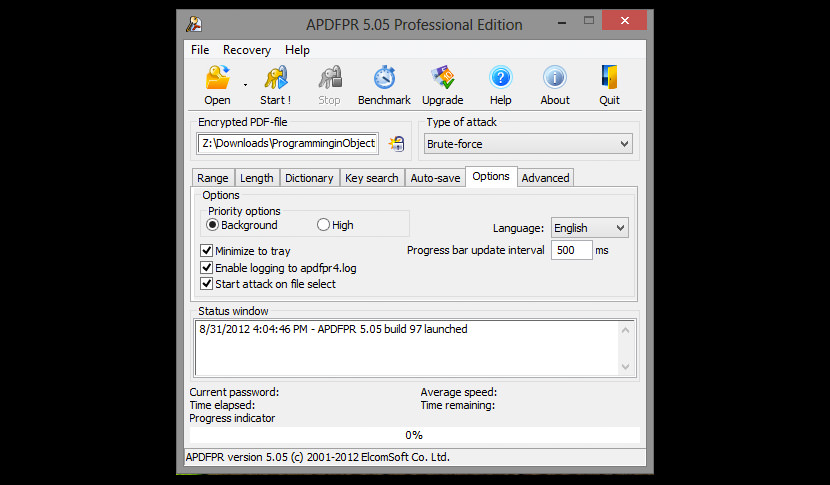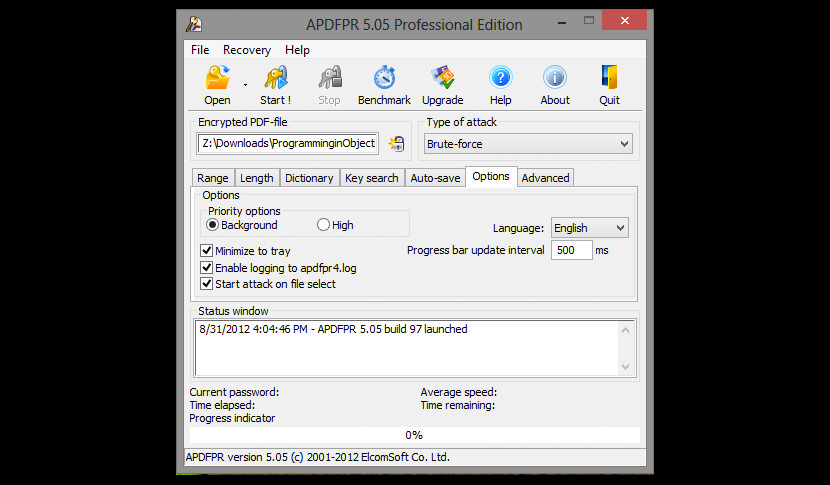 Recover PDF Passwords and Instantly Remove PDF Restrictions. Get access to password-protected PDF files quickly and efficiently! Instantly unlock restricted PDF documents by removing printing, editing and copying restrictions! Advanced PDF Password Recovery recovers or instantly removes passwords protecting or locking PDF documents created with all versions of Adobe Acrobat or any other PDF application. Features and Benefits
Supports all versions of Adobe Acrobat, including Acrobat X
Supports GPU acceleration
Supports all third-party products producing PDF files
Instantly unlocks PDF documents with printing, copying and editing restrictions
Removes "owner" and "user" passwords
Recovers passwords to open
Supports 40-bit and 128-bit RC4 encryption as well as 128-bit and 256-bit AES encryption
Patented Thunder Tables® technology recovers 40-bit passwords in a matter of minutes
Dictionary and brute-force attacks with user-defined masks and advanced templates
Three editions to satisfy the most demanding and savvy customers
Optionally removes JScript code, form fields and digital signatures
Batch mode allows automatic processing of multiple files
Highly optimized low-level code optimized for modern multi-core CPUs
↓ 05 – Recover PDF Password | Remove User/Owner Password / USD40 / Win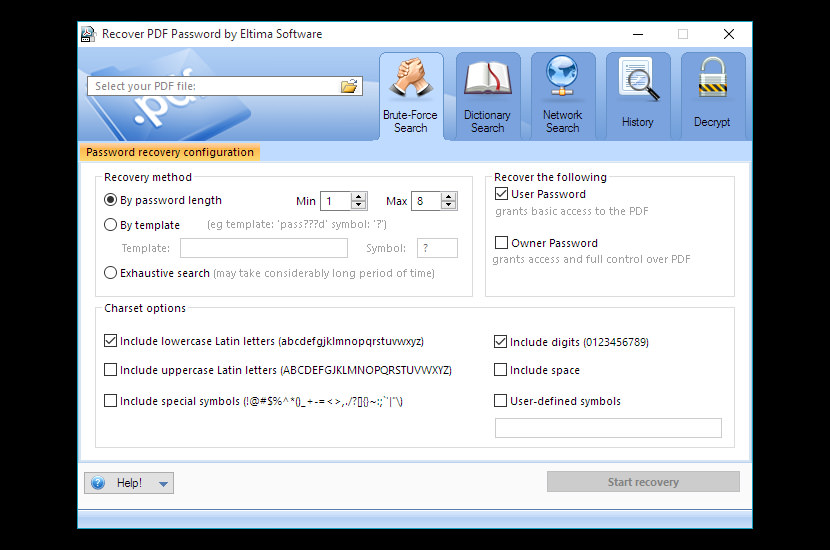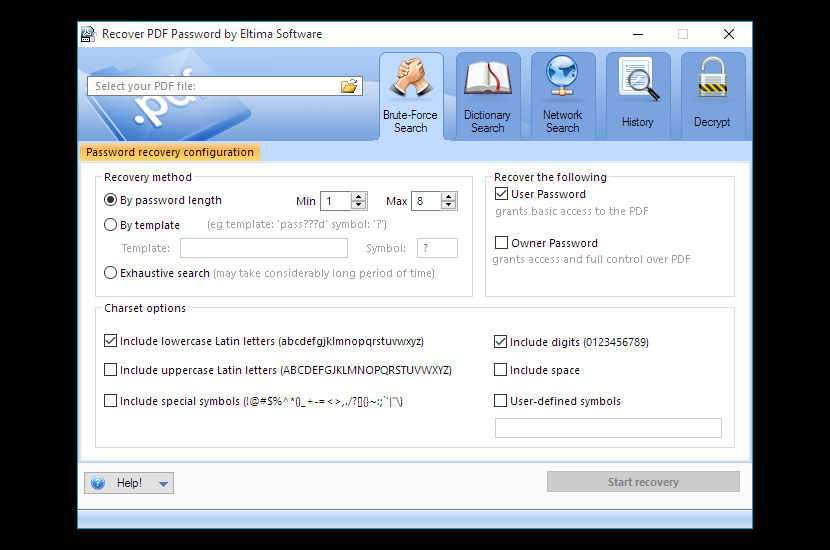 Remove any password from your PDF file with the help of convenient password search methods. We bet you are familiar with such issue as having an important password-protected PDF file, but the password to it is lost or forgotten. Of course you can spend a lot of time and effort on creating this document anew, or you can save your precious time and use Recover PDF Password – the software developed specifically for such cases that will help you with your PDF password recovery.
It doesn't matter how long ago your PDF document was protected with a password – Recover PDF Password supports all versions of Adobe Acrobat up to v.9 and supports recovery of Unicode passwords including Acrobat 9.x files. You won't experience any issues in the PDF password recovery no matter what language or keyboard layout it was created in. Recover PDF Password is optimized for multi-core computers for faster and more efficient performance.
Open, print, copy or edit password-protected PDF – PDF can be protected in two ways: using "user" password or "owner" password. First one prevents opening a document without knowing the password. The second protects information in a document from being printed, copied or edited. Recover PDF Password helps you remember any of them in a very simple way.
Recover PDF password at the drop of a hat – Now you can search for PDF password using the network distributed search involving multiple computers at the same time, which speeds up the PDF password recovery a lot. Just choose the recovery method and connect the necessary amount of computers on the network – they'll be the search agents, and then start the search. Recover PDF Password allows using CPU partially, not interfering with computer functioning.
Get an unprotected copy of PDF file without password search – "Decrypt" option is a very convenient thing. Say, your PDF document was protected with "owner" password only and you don't want to spend time recollecting this password or searching for it. Good news: your file can be decrypted right away with Recover PDF Password. Just add your PDF to the application and press "Decrypt" button. The next thing you'll have is your unprotected and totally unrestricted PDF file. In case your document was protected with "user" password, "Decrypt" option is still available. First thing you should do in this case is recover the password with Recover PDF Password for Windows and after that decrypt the document to use it with no limitations at all.
Use various methods to recover PDF passwords – Search by password length – if you can remember the approximate length of the password and what characters it may contain you can set the minimum and maximum length of the password and what symbols Recover PDF Password should search through. Search by template – if you remember the password partially you can set the template for it with the mask symbols for those parts you can't remember, thus there will be less passwords variations to verify or use Exhaustive search – this method guarantees 100% success but requires maximum time. Use it if the PDF file has both user and owner passwords and they are long and complicated.
Dictionary search through the passwords – Mostly the passwords are created manually and consist of words that can be found in a dictionary. So performing a dictionary search by going over the words, their combinations and variations allows saving your precious time. Recover PDF Password offers the dictionary that contains more than 400 000 words.
View already recovered PDF file passwords – "History" tab lets you view already recovered PDF file passwords at any time. Moreover, you can delete one or all entries in "History" by clicking "Remove" or "Remove All" buttons, copy "owner" or "user" passwords and view date and time when the selected password has been recovered.
↓ 06 – Tenorshare PDF Password Recovery | Remove User/Owner Password / EUR40 / Win / macOS / Linux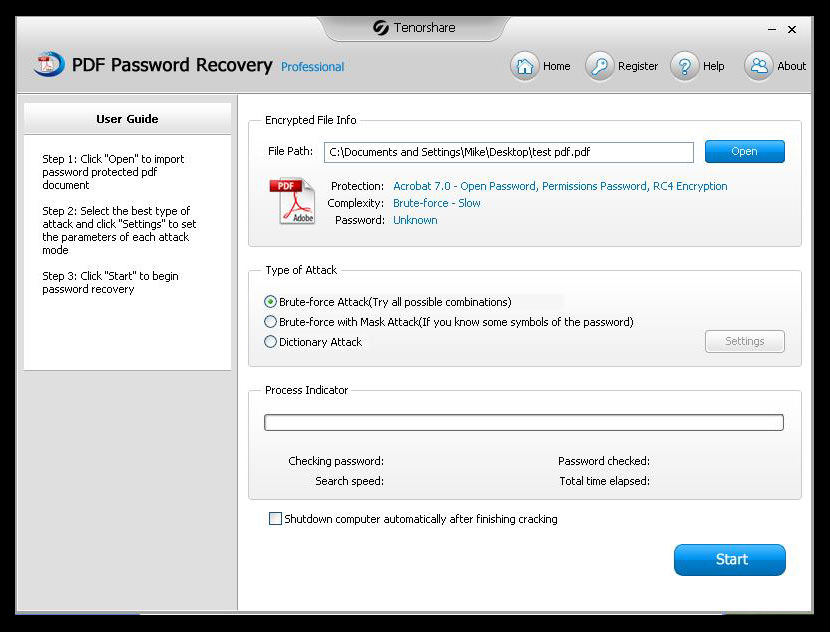 Efficiently Crack Password Encrypted PDF Files. A good way to crack and recover PDF open password, and it also helps remove PDF encryption for editing, copying, and printing a PDF file.
Fast and Secure PDF Decryption
Keep original contents and formatting after PDF restriction removal.
Finish the whole PDF description process only in 3 steps.
30X faster by adopting multi-core CPU processing and GPU acceleration.
High Compatibility Supported
Crack PDF passwords come with 40-bit, 128-bit, and 256-bit encryption.
Decryption for PDF files in any language such as English, French, Italian, Japanese, Chinese, Turkish, German, Latin, Greek, Cyrillic, etc.
Fully support Windows 8.1, Windows 8, Windows 7, Windows XP and etc.
↓ 07 – Unlock PDF | Remove User Password / Web
Unlock PDF is an easy-to-use online PDF password remover. Find your password-protected PDF and upload it. If there is no strong encryption on your file, it will be unlocked and ready to download within seconds. Files with an owner password can be unlocked instantly. However, if the file is thoroughly encrypted, you can only unlock the file by providing the correct password.
Secure handling of your information – When you upload a file it is transmitted using a secure connection. Your files are deleted one hour after processing. If we need a password from you, it will not be read or stored.
Unlock your files in the cloud! – All files are processed in the cloud and there is no need to download or install any software. Convenient right?
↓ 08 – PDF Unlock | Remove User Password / Web
Remove passwords and restrictions from secured PDF files!
↓ 09 – Unlock PDF | Remove User Password / Web
Remove PDF password security, giving you the freedom to use your PDFs as you want.
↓ 10 – FoxyUnlockPDF | Remove User Password / Web
Unlocks the PDF file without asking for password unless needed. In some cases, a password is required. A password can be entered in which case we will use it to attempt to unlock the PDF file. If none of these approaches work, then we cannot handle it without the correct password.