YouTube is the world's second largest Search Engine. So it's important to adopt a Search Engine Optimization mindset when you think about your YouTube content. YouTube Video SEO is key to improving performance on YouTube, and driving more views and follows.
🤣😍😂 5 A.I. Generated Templates For Instagram Stories, YouTube Thumbnails, TikTok & More
YouTube serves video content to users in both Searches and Recommendation engines, based on an algorithm that takes into account a number of factors about your video and channel. These include the momentum of views, watch time, engagement of a video and your channel overall, as well as textual content alongside your video such as video title, tags, description and tag usage.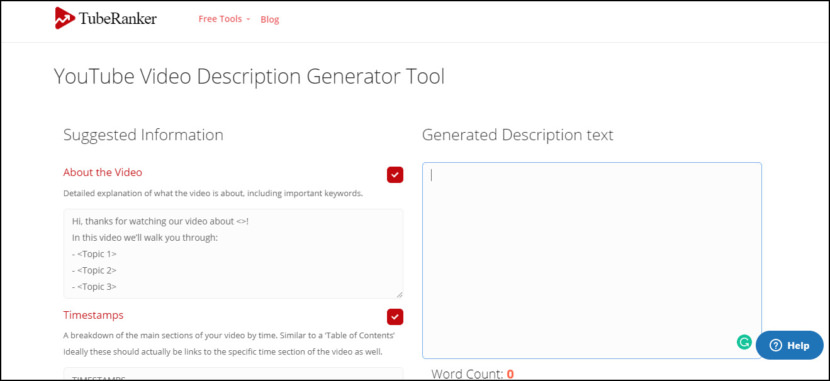 TubeRanker offers the ultimate toolset for Creators & Marketers to optimize their videos against the YouTube algorithm and rank higher in YouTube & Google searches and recommendation engines. TubeRanker offers a collection of tools to audit your channel for obvious issues, research keywords, generate tags, find video ideas, optimize your titles & descriptions, and track rankings over time.
TubeRanker takes an SEO focused data-centric approach to YouTube strategy, taking the guesswork out of video optimization to give you an edge over the competition, unlike other YouTube software that offers a hodgepodge of tools with unreliable data.
YouTube Tag Generator – Simply enter the keyword, topic or subject of your video and TubeRanker will suggest trending tags which closely matches the keyword.
YouTube Channel Audit Tool – Every good YouTube strategy starts with a Channel Audit. This powerful tool will provide an overall score assessing the performance of your Channel and Videos, as well as recommending simple improvements.
Keyword Tool – Wouldn't it be good to know what video content viewers want and are searching for? TubeRanker's Keyword Tool unlocks the power of Keyword Research on YouTube and surfaces up the hidden Search Volume for your target keywords.
Rank Tracker – TubeRanker's Rank Tracker tool will show you how your video ranks in YouTube search results for a specific keyword, in a particular geography as well as monitoring how that rank changes over time.
Tag Extractor – Spy on competitors' tagging strategies. Use Tag Extractor to reveal the YouTube Tags used by your competitors or any public YouTube video.
Free Title Generator – Create a killer video title. Nailing your video title is essential for helping your video stand out and get clicks.
Description Generator – Optimize your video descriptions with best practices. YouTube provides up to 5,000 characters for your video description which is rarely fully utilized by creators.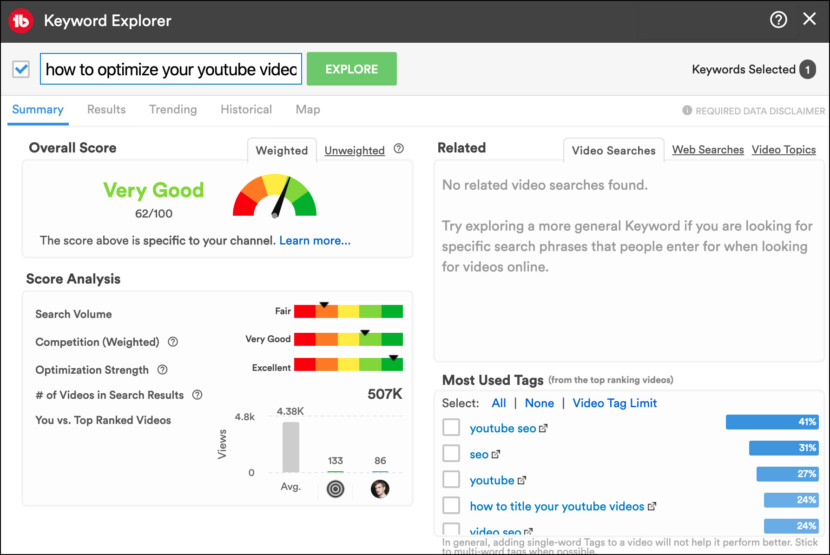 Their advanced AI will help you create, manage, and grow your channel confidently with tools built for Creators like you. Focus on what you do best (creating), and let us help you with all the back-end craziness.
Take control of your channel and optimize it like MrBeast with our advanced suite of tools.
Find out what makes people click. Combine advanced analytics with Click Magnet and watch your click-through rates increase. Eliminate the guesswork that goes into creating a winning thumbnail and title with our advanced A/B testing features. Easily optimize your videos to help them jump to the top of relevant searches with SEO Studio.
Title Generator – AI is not taking over the world anytime soon (hopefully) but it can help optimize your videos. Title Generator takes whatever title you input and optimizes it for the YouTube algorithm.
Suggested Shorts – AI might one day rule the world but today is not that day. Today our advanced AI identifies the most engaging parts of your YouTube videos and automatically recommends them to be made into YouTube shorts.
Thumbnail Analyzer – AI generates a heatmap that mimics the human eye so that you can see what parts of your thumbnails are drawing the most attention and what parts are being skipped over.
vidIQ mission is to empower every video creator with the insights and inspiration they need to grow. That's why we're obsessed with providing an intelligent mix of technological and human expertise that boosts your productivity and gets you more views.
Creating great content on YouTube is only half the battle to growing your views and subscribers. If you want your videos to rank well and be discovered by, or suggested to, other viewers you'll need to know how to research the best keywords to maximize your titles, descriptions, tags and Playlists, and understand what your competitors are doing to win.
Research the best Keywords for Your Content
Boost Keyword Research on YouTube for SEO
Keep an Eye on Competitors
Trend Alerts
Compare Video View Velocity on YouTube
Thumbnail Generator Overview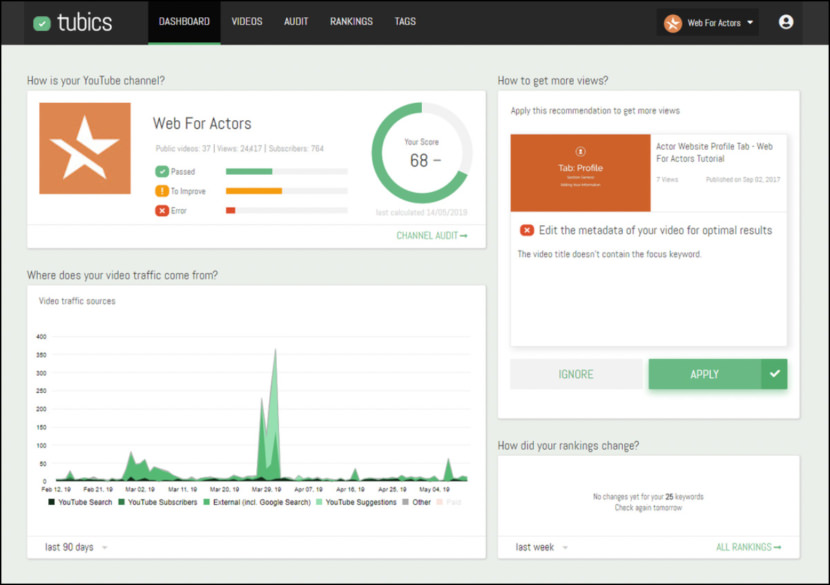 tubics is more than just an agency. We empower brands with easy-to-use software tools, actionable insights, and expert agency services to grow their YouTube channel.
Video Today Is the Most Powerful Form of Digital Communication. Purchasing decisions on all levels and in all verticals are heavily influenced by the most relevant video content. Today video content can be distributed to almost anyone and can be produced by almost anyone because of digital. Never before was video so dominant.
Ideation – Topic research, topic suggestions and video potential.
Creation – Video briefings: insights on keywords, script, cut, rate, length, and more.
Optimization – Automated SEO recommendations for all your existing content.
Reporting – Keyword rankings over time and insightful reporting.
YouTube Strategy – Get your best possible video solution, based on data insights and research.
Video Optimizations – We help your videos reach their full potential using a holistic optimization approach.
Video Production – Focus on your business while we take care of everything related to your video production needs.
Video Distribution – Let us handle everything regarding cross-promotion and paid advertising.
Video Ideation – Start working data-driven and research video ideas that your audience will love.
Video Scripts – Get insights on video length, structure, cut-rate, and script to produce videos.
Video SEO – Harvest the full organic potential in your audience by ranking #1 on Google and YouTube searches.
Reporting & Analytics – Monitor the performance of your videos and YouTube channel in a powerful dashboard.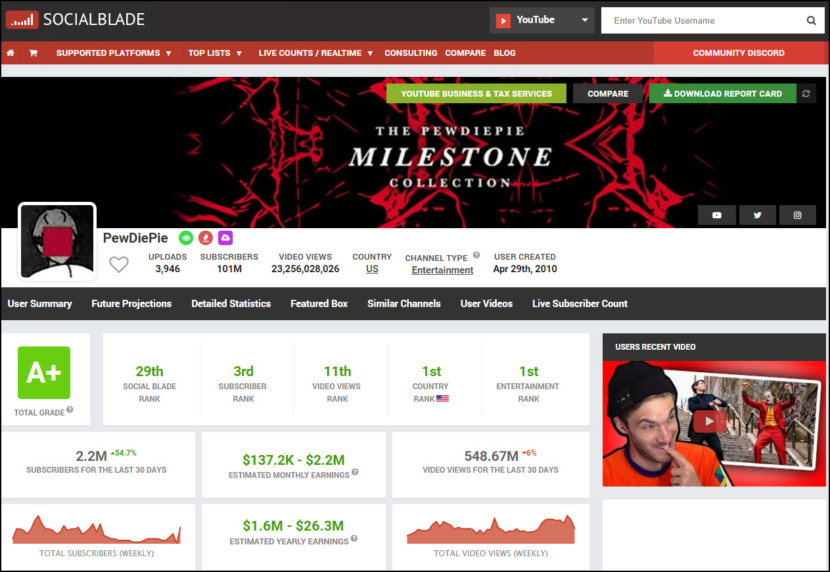 Social Blade gives all users access to our public database which, using advanced technology, is able to provide you with global analytics for any content creator, live streamer, or brand. Whether you are looking up popular YouTube creators, or Twitch streamers playing a specific game, Social Blade has you covered!
They are always looking to expand our features to give our users the best experience possible. Social Blade is a statistics website that allows you to track your statistics and measure growth across multiple social media platforms including YouTube, Twitch, and Instagram.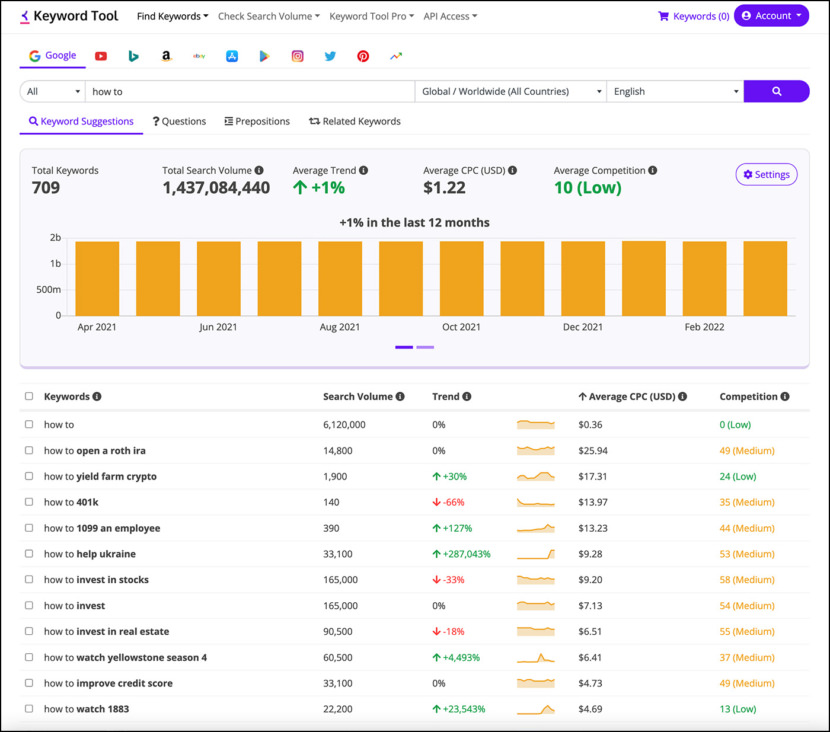 Creating a good YouTube video that will get many views takes time and resources. But, it is worth the effort. That is why there are so many videos out there. A good video can do an excellent job of promoting your products or services, bring visitors to your website, and driving conversions.
But just creating a good video will not be enough to achieve those objectives. You need to make sure that people will be able to find the video that you have created. You need to put your video in front of your target audience.
That is what Keyword Tool for YouTube will help you to achieve. Keyword Tool pulls keyword suggestions from YouTube autocomplete, thry believe it is the best source of good YouTube keyword ideas.
Find Popular YouTube Hashtags to Get More Views
Keyword Tool for YouTube Video Ads
Generate List of Tags for Your YouTube Videos Using Keyword Tool
Come Up with YouTube Video Ideas Using Keyword Tool
YouTube SEO and Video Keyword Optimization with Keyword Tool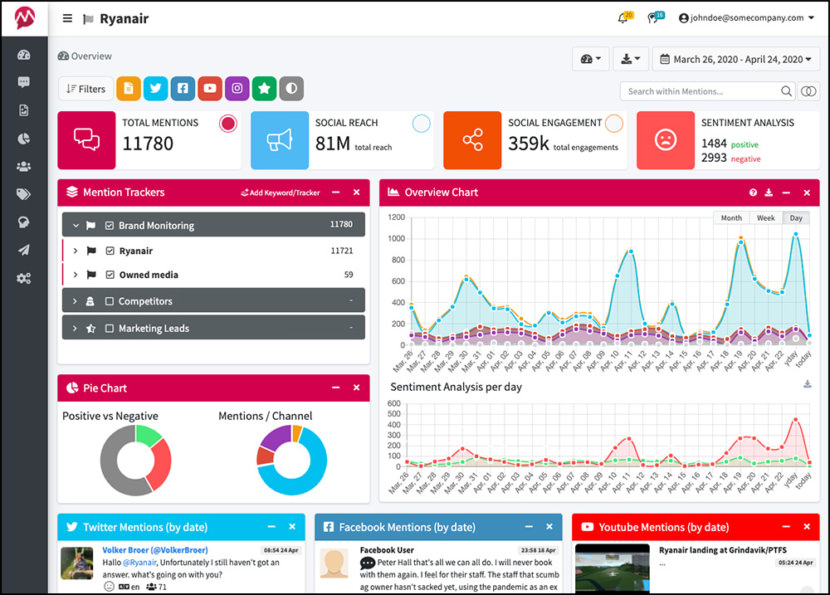 Mentionlytics is a Web and Social Media Monitoring tool. As the need for brands to monitor their online fame is getting more demanding, it is also expanding to smaller companies and also individuals (artists, politicians, celebrities etc) who could use this wealth of online information about them to improve their image, market their products and build a strong online community.
Track mentions to your Brand and Products, Competitors, Industry. Manage your Brand's online reputation, get mention insights and grow sales. They will let you know who are the most important people talking about your brand, your competitors or your target market. You can then reach out to them to let them know about your products and develop new relationships.
Media Monitoring – Discover what the media say about your company, your competitors and your products.
Social Listening – Analyze your audience's online behavior and get a deeper understanding of what they really care about.
Review Monitoringnew – Track all major review sites, respond to your customers and build trust with your audience.
Social Intelligence – Get smarter insights and personalized advice to help you improve your web and social presence.
Social Media Reports – Create beautiful and customized monitoring reports with clear and actionable insights.
Publishing – Publish on your Social Media accounts in multiple platforms, or schedule posts for later.