SMS marketing allows you to send mobile text messages for marketing alerts, sales events, coupons, discounts, announcements, notifications, and more. Unlike today's modern Instant Messenger, SMS makes communicating with your contacts easy and efficient. 98% of all text messages are read within 3 minutes, the reason is as IM messages are free to send, they gets spammy thus most people do not trust unknown messages from IM.
Text message marketing can help you grow your email list by providing customers instant access to coupons and other deals, adding value to anyone who opts in. In particular, text message marketing offers a read rate of 97% within 15 minutes of delivery, making it one of the best methods of marketing with minimal costs. Not only will most customers read your messages almost immediately, but 45% of mobile marketing campaigns generate a successful ROI.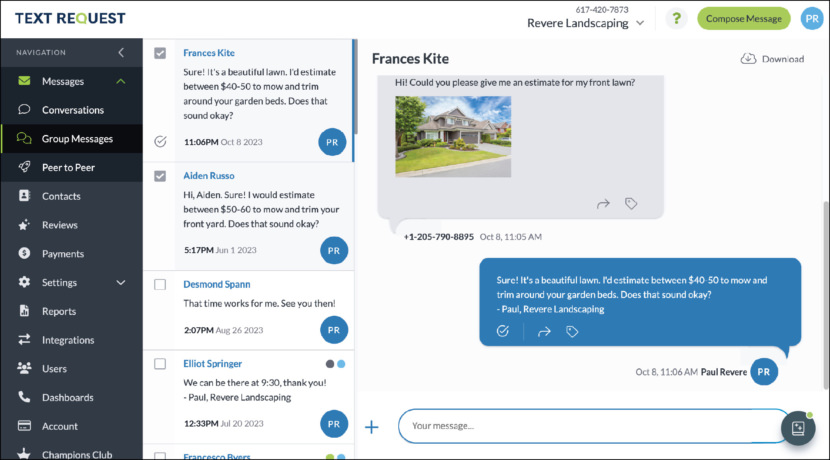 Text Request is the business texting platform built to ignite customer engagement. We've crafted plug-and-play messaging solutions to your everyday communication problems, so you can cut through the noise and connect with customers anytime, anywhere. Text Request is designed to scale with you, from one person handling a few conversations, to thousands of employees sending millions of messages, to custom solutions built on our API.
Mass Texting – BCC group messaging to connect with any or all of your contacts instantly. No one sees who else is in the group, all replies come back to you.
Payments – Request and collect secure payments through SMS, and manage it all in one place. Bring your own payment processor, or use ours.
API and Integrations – Connect Text Request to the software you already use. Use one of our out-of-the-box integrations, or create your own with our API and webhooks.
Reviews – Connect your Google and Facebook business profiles. Request, track, and reply to online reviews, so you can get more reviews and win more customers.
MMS and Attachments – Send and receive pictures and PDFs to keep work flowing and create more engaging communications.
Location Tracking – Request location from any contact, and get their exact location—complete with interactive map.
Contact Management – Organize and analyze contacts anytime you need, however is best for your business.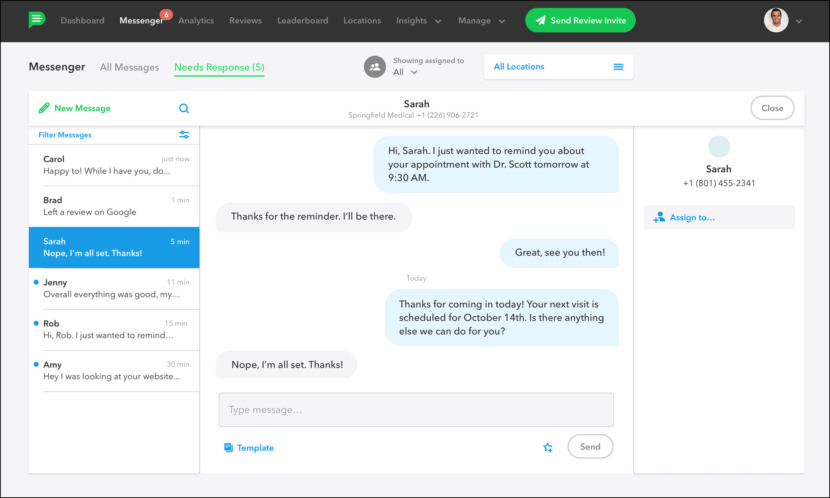 Manage all of your communication—from reviews to calls to text marketing, payments, and more—with Podium. Take advantage of the channel where customers want to receive marketing messages—texting. With a 98% open rate, texts allow you to send tailored messages that turn into customer sales in minutes. Don't waste time building a campaign for weeks or months. With Podium you can quickly craft your message from templates, select the right customers for your campaign, and see results in minutes.
Take advantage of the channel where customers want to receive marketing messages—texting. With a 98% open rate, texts allow you to send tailored messages that turn into customer sales in minutes. Ideal for the following industries – Automotive, Retail, Home Services, Professional Services, Healthcare, Dental, and more.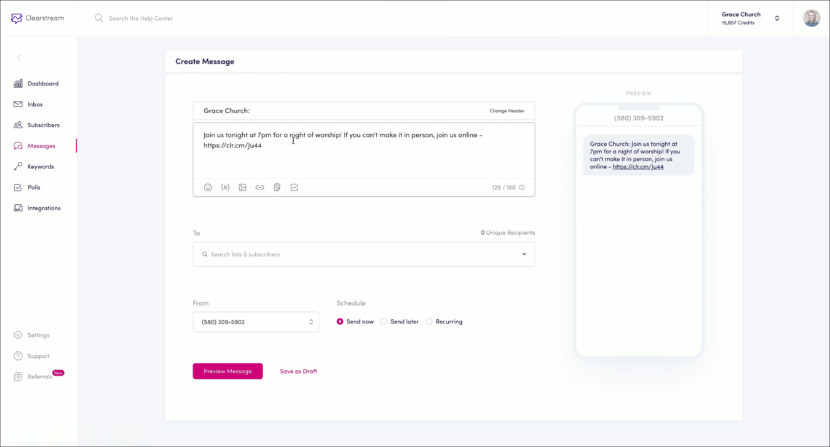 The church texting service you'll love. mTexting is the most immediate way to connect with your people. Do it best with Clearstream. Texting is the fastest way to communicate, and the open rates are better than anything else. But you need more than a group thread or chat app. With Clearstream you can easily text 50 or 50,000 people — we're built for scale.
View real-time metrics like how fast your message is being delivered, opt-out rates, replies, and even texts that fail to deliver. Yes. Clearstream offers dedicated short codes and is a vetted Premiere Partner with the Short Code Registry, the short code registrar who leases all short codes in the United States. Dedicated short codes are the single best option for high-volume, high-message-throughput, reliable, non-carrier-filtered, emoji/multilingual-supported, two-way mass texting. Features:
Mass Texting
Video Texting
Text-to-Join Keywords
Automated Workflows
Subaccounts
Live Polls
Dedicated Short Codes
A2P 10DLC Numbers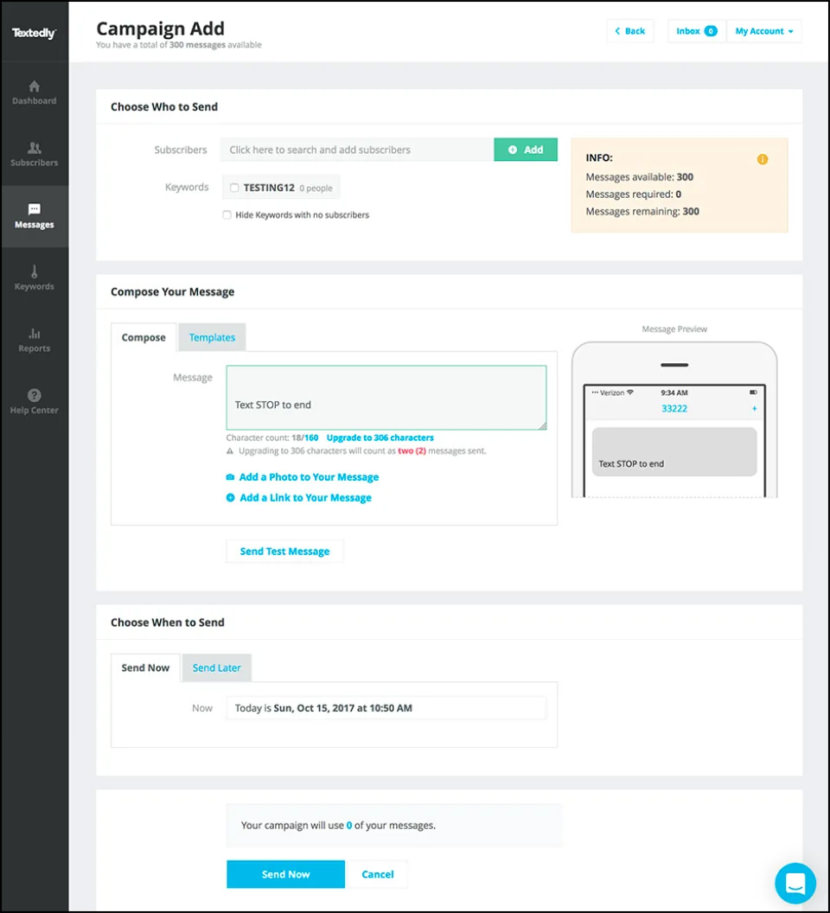 Textedly is the easiest way to instantly send 10 or 100,000 bulk SMS and MMS mobile text messages on the #1 rated texting platform. Businesses and organizations of all sizes are switching to Textedly to power their very important SMS and MMS text message marketing needs.
Adding multiple phone numbers on one account is easy and allows you to make sure the right message gets to the right person or department. You can assign each person or department their own phone number and that way you can ensure that no important messages are missed.
2-Way SMS & MMS Text Messaging – Increase customer satisfaction and communicate with ease. We offer 2-way text messaging services, so you can resolve conversations quickly and efficiently. Plus, you can use your current number or get a new one for free!
Send and Schedule Mass Text Messages – Blast off a mass bulk SMS text message to your entire group of contacts. Hit send, and off they immediately go! Or set a specific date and time for your texts to send. Schedule messages on the day and hour, or month of your choosing.
Toll-Free Texting – Every Textedly account comes with a free Toll-Free phone number to help you quickly and easily send out your text messages. This phone number is approved for mass messaging and can send both SMS and MMS picture messaging.
Landline Texting – With a local 10DLC number, you can make your business stand out and increase your reach to potential customers. This number is perfect for both local and mass messaging! See how it can help your business today.
Short Codes – Short Codes are easy-to-use and remember five digit numbers. These are also great for sending out mass text messages. Textedly is an approved provider of Short Codes and can provision the one you want for your business.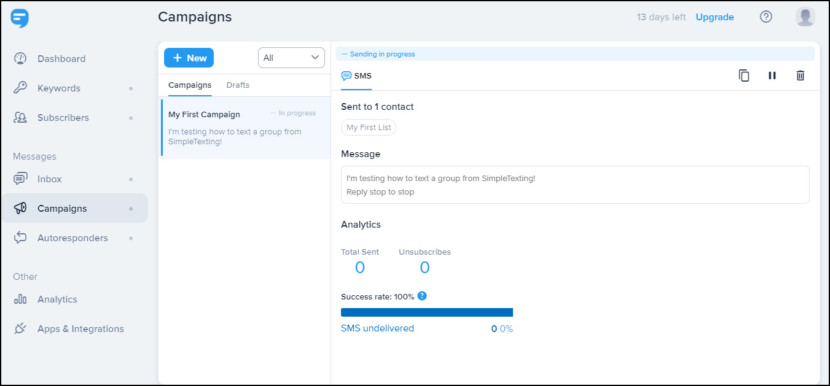 They make it easy, fast and affordable to send SMS marketing campaigns or engage in 1-on-1 conversations with customers. Their texting service isn't just convenient for your customers, it's good for business. Discover how SMS marketing and two-way messaging give you a competitive edge.
Connect SimpleTexting to the web apps you already use. Take your marketing to the next level by adding text messaging to the mix.Integrate with Your Favorite Apps – Mailchimp, Zapier, Hubspot, Salesforce, Slack, Shopify, Instagram, Infusionsoft, Podio, WordPresss, Facebook Lead Ads, Zoho CRM, and more.
Toll-Free Texting – Every SimpleTexting account comes with a complimentary toll-free number. Approved for mass messaging and 2-way communication, they are the most versatile type of number.
Landline Texting – Your business is local so why wouldn't your number be? Reach people more effectively with a registered local number. Ideal for customer service, sales, text reminders, and more.
Short Codes – Short codes are easy-to-remember and great for high-volume use cases. We guide you through the entire process of provisioning one to make it as smooth as possible.
MMS Marketing – MMS lets you enhance your text message campaigns with coupons, product images, and other rich media. You get up to 1,600 characters of text, too.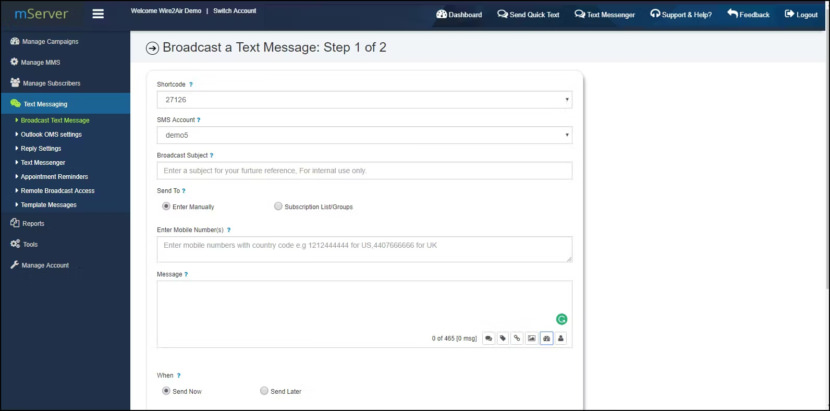 Mass Texting and business text messaging to increase your client base and improve customer service. Improve communication internally and with customers using TXTImpact Global business text messaging services. Transform your communication strategy with our mass texting service. Send personalized messages to engage customers effortlessly. Streamline your messaging process and elevate your business with our user-friendly platform.
SMS Marketing – TXTImpact SMS marketing platform allow you to generate leads, grow subscribers, build your brand, and drive sales.
Polling and Survey – Capture customers' feedback on the go using a Text Message survey or engage the audience in a live event using Text Message Voting
For Schools & Universites – Clear communication between schools and students is a must. Provide emergency alerts and event reminders.
For Call Centers – Reduce call center cost and improve customer satisfaction by letting callers contact by text message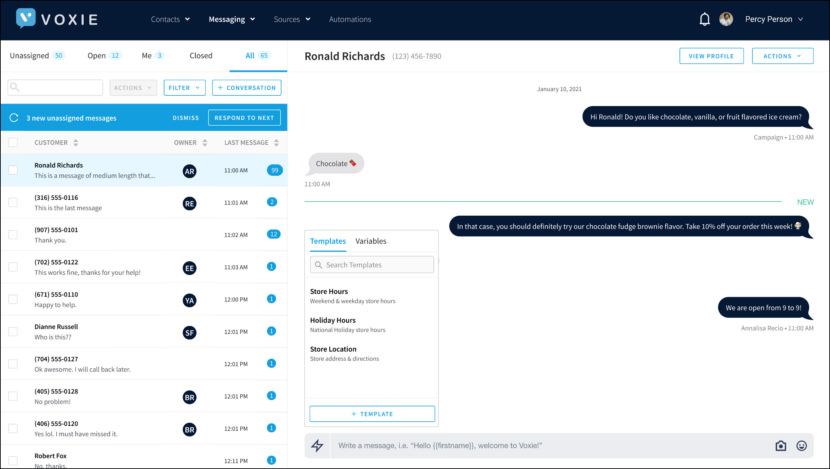 Transform your customer experience by automating every aspect with Voxie's AI SMS to grow your business and cut operational costs. Shift to Text allows you to seamlessly route phone orders back to your website, enabling you to capture missed opportunities and increase your online orders.
Reach customers instantly with the most relevant, personalized messages for your business that inspire engagement and drive repeat purchases. Customize and personalize the content of your messages based on individual actions taken. Deliver 10x more revenue than triggered emails.
Voxie helps mid-market, enterprise companies engage in personalized conversations with customers at scale, via AI-driven automated messages. Voxie helps you:
Boost Orders – Drive more new and repeat purchases. Your Voxie text campaign will quickly put you top-of-mind with new and existing customers, increasing new and repeat purchases with the help of our AI-powered platform.
Grow Loyalty – Quickly re-engage your loyal customer base. Use Voxie to reach out to your past customers and invite them back with personalized specials and promotions. With 98% open rates, your messages will reach your customers and lead them to action.
Drive Repeat Revenue – Maximize customer revenue. Timely text messages to customers deliver a dramatic increase in In-store and online orders. And once engaged, Voxie keeps them coming back again and again.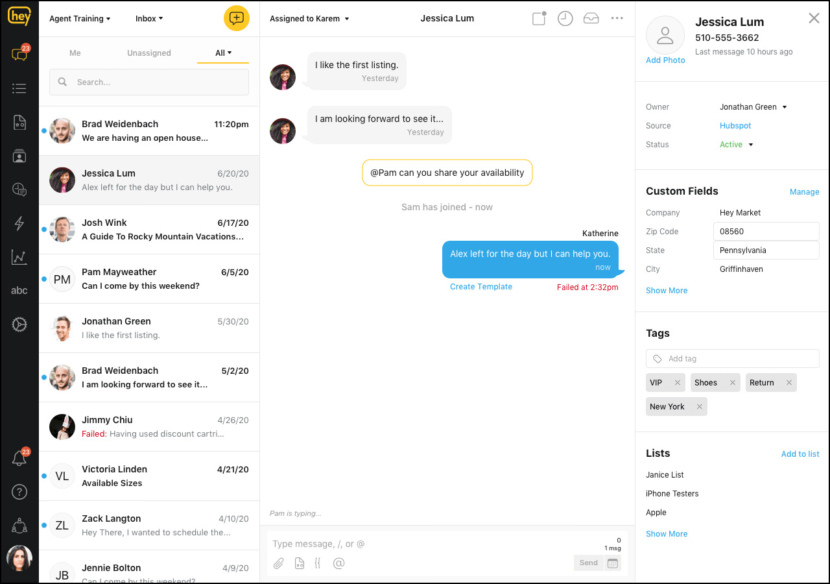 Heymarket has developed the most intuitive texting platform that helps teams connect with customers that build trust and grow revenue. Heymarket is a business texting platform that gives you the power to engage with people using shared inboxes. Message on any channel, keep your team productive, and securely integrate your business apps.
Send and receive messages on the professional channels your leads, customers, employees, and candidates love. Heymarket's business texting service lets you connect through SMS messages and the most popular messaging apps. Ideal for Enterprise, Mid Market, and Small Business. Work best for the following industries – Retail, Medical, Dispatch, Law Firms, Education, Real Estate, Automotive, Hospitality, and Insurance. SMS Integrations:
Salesforce SMS
HubSpot SMS
Shopify SMS
Zipwhip Migration
Microsoft Teams SMS
Slack SMS
Zendesk SMS
Zapier SMS
Aircall SMS
Clio SMS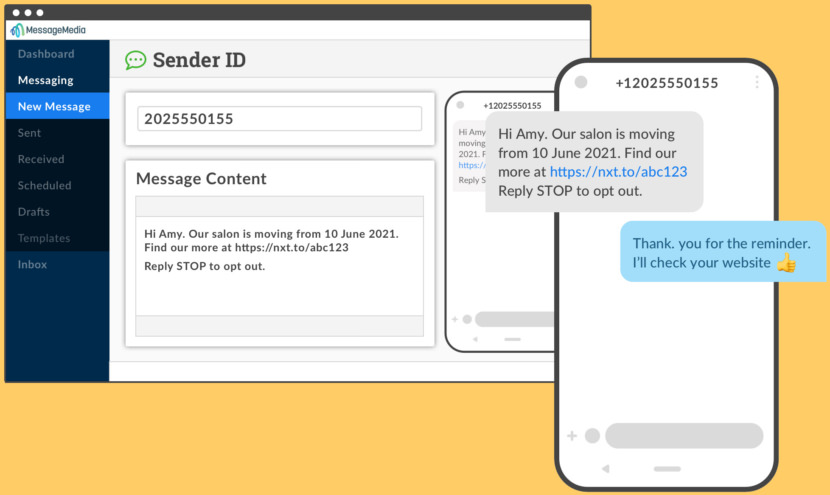 Text messaging is a powerful channel for sharing news, collecting feedback, and driving sales. Get your number to start creating personalized experiences that will keep customers coming back. Conversations that convert into sales, revenue, and engagement. See why thousands of entrepreneurs, small businesses, and brands use Community to drive results for their business.
Whether you need to send a single message or a mass broadcast to your entire contact list, our bulk service can handle it. Connect with customers via the channel of their choice – SMS, social, and 85+ integrations. All via our easy-to-use messaging platform.
SMS for customer support – Enhance your customer support with two-way conversational messaging that allows customers to get in touch on their terms.
SMS for contact tracing – Ensure your staff and customers are safe with contact tracing through text messaging.
SMS for click and collect – Create safe and easy solutions with SMS for click and collect.
SMS for booking confirmations – Enhance every customer experience with automated booking and reservation confirmations.
SMS for sales engagement – Use SMS promotions to drive higher engagement from customers, capturing their attention with personalised offers.
SMS for IT notifications – Integrate SMS with your existing technology stack and deliver automated IT notifications for more reliable operations.
SMS for delivery tracking – Keep your customers and clients informed on the status of their deliveries with online tracking and delivery confirmations.
SMS for event management – SMS helps make every stage of event management a smooth experience, from organisation to event marketing and staff coordination on the big day.
SMS for employee communication – The impact of SMS on your business is invaluable, driving greater efficiency, reducing administration and creating better outcomes
SMS for food delivery & online ordering – SMS enables direct communication with customers for online ordering and delivery to cut out the middleman and boost your profits.
SMS for appointment reminders – Missed appointments lose revenue, so ensure maximum attendance by confirming attendance beforehand via SMS.
SMS for alerts and notifications – Keep everyone informed – staff, customer or teams – instantly and reliably with messages that get through at the right time, every time.
SMS for competitions – With SMS competitions, everyone wins. You benefit from of an engaged audience, while your customers get the chance to win!
SMS for rostering – Understaffed shifts affect customer service. Combat absenteeism with SMS staff rostering services.
SMS for marketing campaigns – SMS marketing delivers better results, faster, and is more cost-effective than other communication methods.
SMS for feedback and surveys – Improve your business with customer feedback via surveys and respond to customer issues proactively with SMS.
SMS for billing and payments – SMS payment reminders greatly increase the percentage of bills paid on time. Automate the entire process to reduce cost.
SMS for two-factor authentication – Protect your data with SMS security using one-time pass codes (OTP) for two-factor authentication (2FA).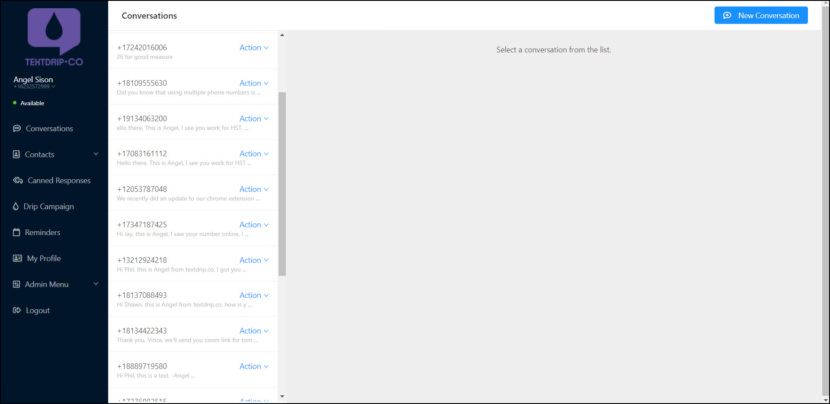 Textdrip is built on a carrier-grade network, so the higher your volume, the more reason for you to choose Textdrip. As an A2P service, we pay the carriers to reserve bandwidth for your messages so they never get throttled.
Unlock a whole new level of productivity with automated text message solutions! Put the power of technology and the science of A.I. to work for your business and streamline outreach – freeing up valuable time that can be devoted to reaching success. With Textdrip, you'll have the tools needed to revolutionize how you do business today!
Textdrip is the ultimate SMS marketing solution for businesses with high potential. Our innovative and powerful automated SMS software helps you reach customers quickly, professionally, and effectively so that no lead is left behind. Enjoy a range of features designed to attract and retain customers – ensuring more successful connections to grow your business! Unlocking your potential to maximize success starts with Textdrip.