What is the difference between static QR Codes and dynamic QR Codes? Static QR codes can't be changed once they're created, whereas dynamic QR codes allow you to update the scan destination after they have been created and printed. Dynamic QR codes come in handy when mistakes are made and situations change.
Dynamic QR codes also let you do more advanced things like track how often your codes have been scanned or automatically change the scan destination based on things like the time it was scanned, where it was scanned from etc. Although the extra features are super useful in some cases, the the ability to edit the scan destination and track scans is why most businesses use dynamic QR codes.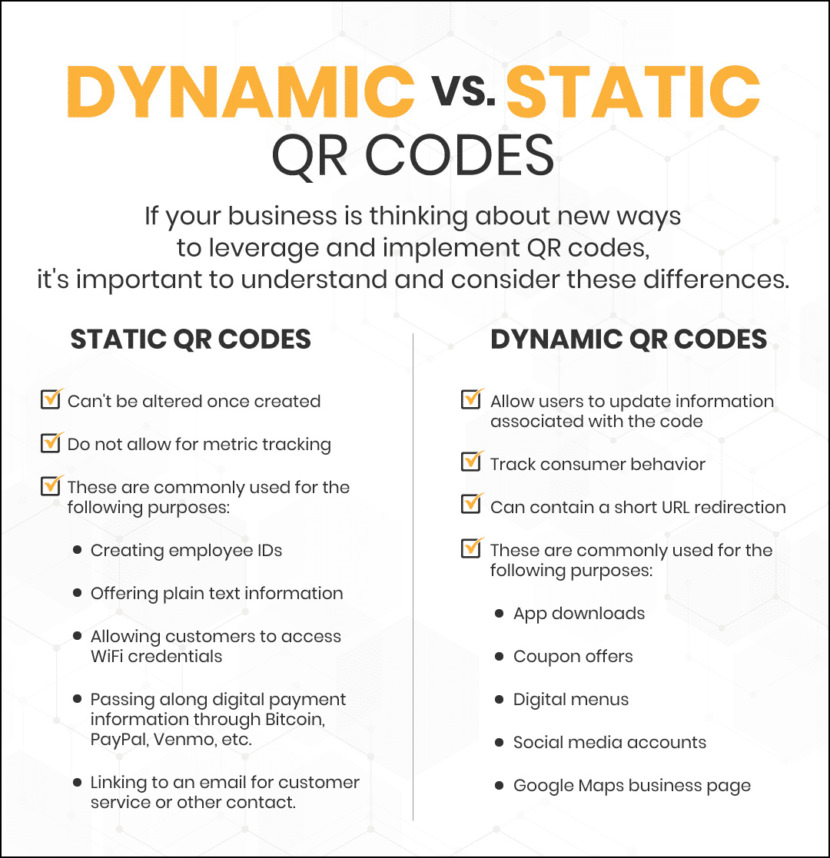 There are pro and con for both QR codes. A static QR code has the information embedded into the code, whereas a Dynamic QR code acts as a gatekeeper and redirects the code to their site for tracking purpose, from there, it will redirect you to the actual site. Problem arise when the provider stops their services, rendering all of your QR codes useless.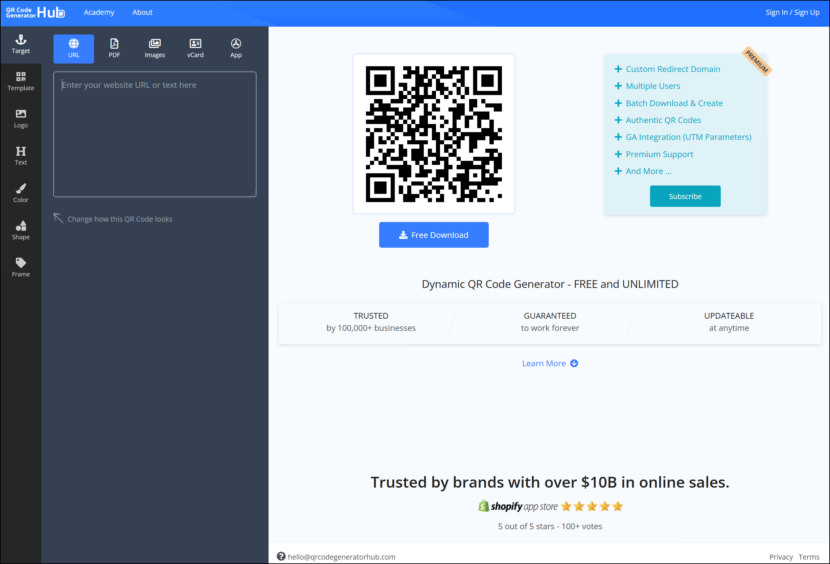 Most popular QR code generators trick you into creating dynamic QR codes and then charge you to keep them working. We think that's a scam. Our QR Codes are always guaranteed to work. That's why major online brands trust us to help power over $100B of online sales.
QR Code Generator Hub is the QR Code division of Brainpage Ltd. Brainpage is a privately held boutique web-based software development company. It is owner-operated.
They believe in ethical, user-friendly and secure software. Their experience with existing QR Code generators was anything but this. Popular existing products use "black-hat" marketing techniques to trick users into paying for software they don't need and then can't get out of using. They charge for features that they really shouldn't charge for.
Worry-free Dynamic QR Codes (FREE) – Dynamic QR Codes are guaranteed to always work after you print them. Never worry about a typo or new web design breaking your QR Codes. With dynamic QR codes you can you update what they do at any time.
Unlimited Scans (FREE) – Unlike other QR Code Generators, we don't charge you for scans. Every QR Code you create on QR Code Generator Hub includes unlimited scans.
Track you scans (FREE) – Optimize your QR Code use by tracking when and how they are used. Gain new insights into your users. Track commissions. Increase conversion rates.
Expert Support (FREE) – We offer expert support through phone and email. Contact us at any time.
Add your logo and style (FREE) – Make QR codes fit your brand style and add your logo. Choose from hundreds of designer options and pre-made styles.
Use your domain (Pro) – Use your own domain as the "redirect" for the QR Codes. The Dynamic QR Code will never touch our domain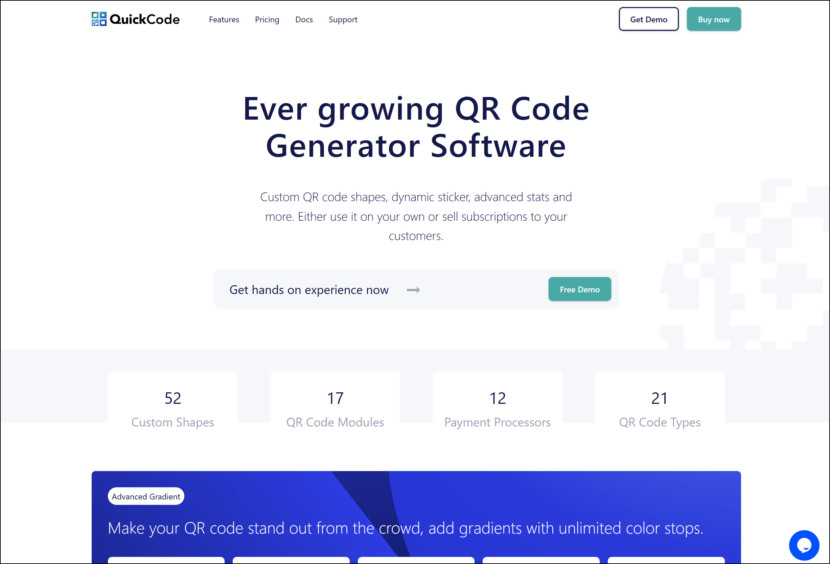 Custom QR code shapes, dynamic sticker, advanced stats and more. Either use it on your own or sell subscriptions to your customers. You can build eye catching QR codes, which result in a higher conversion rate. Instead of building QR codes with the traditional square pattern, you can choose one of many available patterns and finder shapes.
Quick Code QR Code Generator comes with many QR code types, every type has its own form fields and the result QR code opens the related app on the user device.
Dynamic URL (dynamic)
Event (dynamic) Regular and Extended License
Bio Links (dynamic) Extended License
Restaurant Menu (dynamic) Extended License
Business Profile (dynamic) Extended License
vCard+ Extended License
Google Review Collector (dynamic) Regular License
Product Catalogue (dynamic) Extended License
VCard (static)
Static Text / URL (static)
Email (static)
SMS (static)
WIFI (static)
WhatsApp (static)
FaceTime (static)
Location (static) with ability to select the application (Google Maps, Waze, or device default app)
Crypto (static) Bitcoin, Ethereum, Bitcoin Cash, Lite Coin, Dash
PayPal (static)
Zoom (static)
Skype (static)
Brazilian PIX Payments (static)
Call (static)
Telegram (static)
Messanger (static)
WeChat (static)
Viber (static)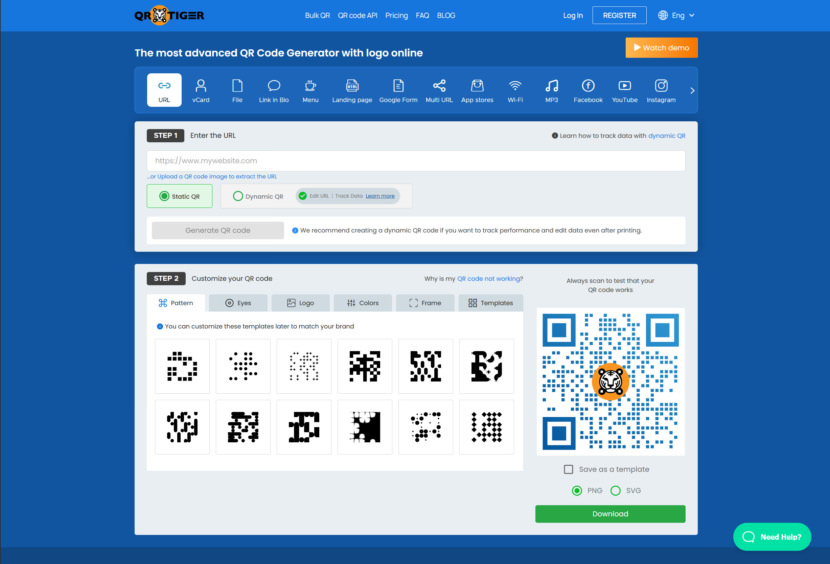 The best QR code generator with logo online to make customized QR codes and track data. You can make a dynamic QR code with QRzebra QR Code generator and track precise data of your marketing campaigns. QR codes give a digital dimension to your promotional material!
You can make a Vcard busines card QR code, Facebook QR code , URL, appstores QR code, Multi url QR code, WiFi QR code, instagram QR code, Pinterest QR code, PDF QR code, file QR code, text QR code, email QR code, sms QR code, location QR code, HTML5 landing page QR code, twitter QR code, reddit QR code, you tube QR code, vimeo QR code, MP3 QR code. QR code integrations
Connect our QR creator with CRM platforms and other tools for smooth operations
Zapier – Integrate URL, vCard or static QR codes in your workflows, Available in our Advanced and Premium plans.
HubSpot – HubSpotSend QR codes to your contacts at scale. Using our QR code generator, you can customize QR codes with your branding and/or theme.
Canva – The QR TIGER app on Canva and easily integrate dynamic QR codes into your designs. No need to manually upload and insert your codes.
Google Analytics – GA4Connect your campaigns with GA4 and track your scans from pageview to conversion. Test and measure to improve the ROI of your campaigns.
Google Tag Manager – Connect your QR TIGER dashboard with your GTM account and set up automatic bidding or retargeting campaigns to users who have engaged with your QR codes.
Monday – Instantly turn links into QR codes directly on Monday.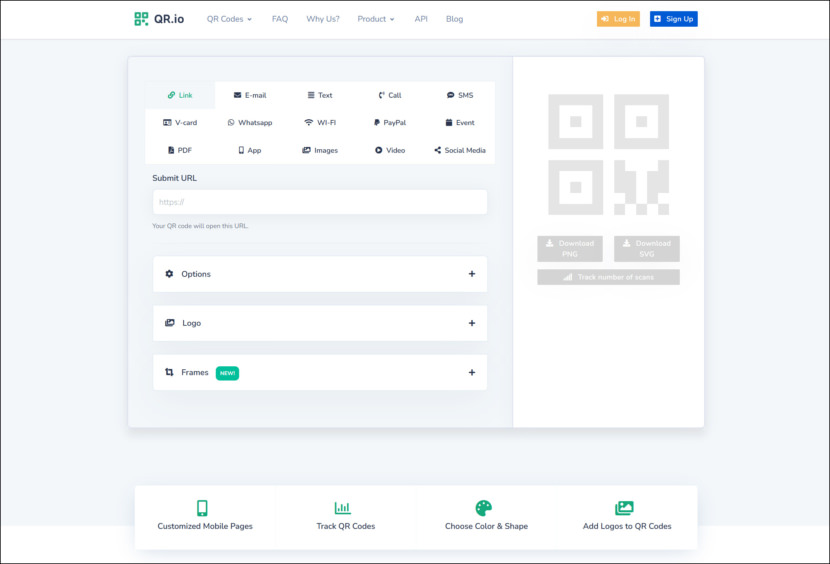 Generate fully customized QR Codes, with color & shape, logo and keep track of how many people scan your QR Codes, from where and on what date. No Coding Required! You can create dynamic and static QR Codes. They offer 10 types of dynamic Qr Codes.
Gather Feedback – You can ask users to give some feedback when they scan the QR Code.
Describe your Business – You can redirect your clients to some instruction page for your business when they scan the QR Code.
Profile Cards – Physical profile cards are every day more rare and digital profile cards are a great alternative.
Promote Events & Discounts – You can promote any event or give discount codes when people scan the QR Code.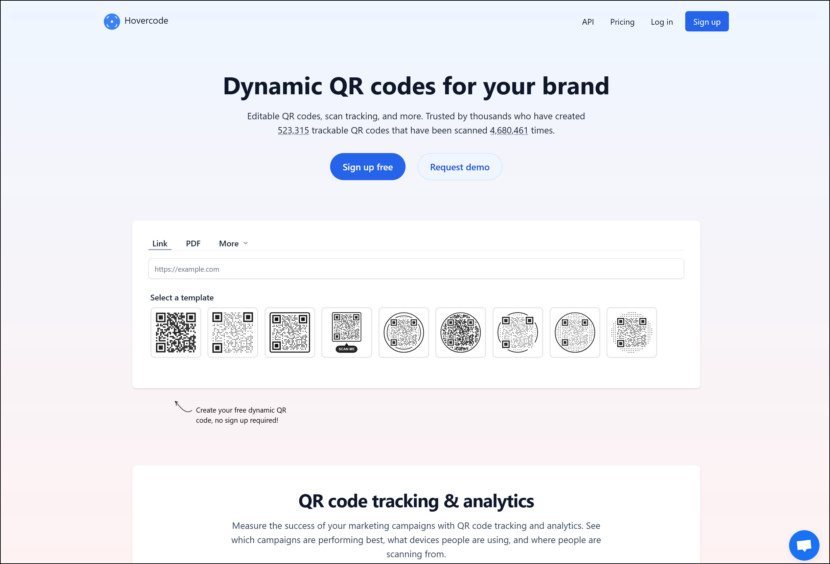 Hovercode is a QR code generator for your brand. It lets you easily create square or circle QR codes. You can add your brand colors and logo, then you can track how often your QR codes have been scanned. If you need to change your QR code destination after it's been printed, Hovercode lets you do that without the need to reprint.
Once you've created your QR code and added it to your designs, you might need to change where it takes people when they scan it. Hovercode QR codes are dynamic, so you can change their destinations without having to recreate them.
Your logo, your brand – Easily add your logo and brand colors to QR codes generated with Hovercode (for free!)
Create circle QR codes – Circle QR codes tend to look better on packaging, posters, and other promo materials, so we let you use frames that make your QR codes look round
Editable QR codes – Want to change the scan destinations on QR codes that you've already printed or sent to customers? That's easy with Hovercode.
Custom redirect domain – Dynamic, editable QR codes with your own redirect link so people see your domain instead of ours (e.g. qr.yoursite.com instead of hov.to).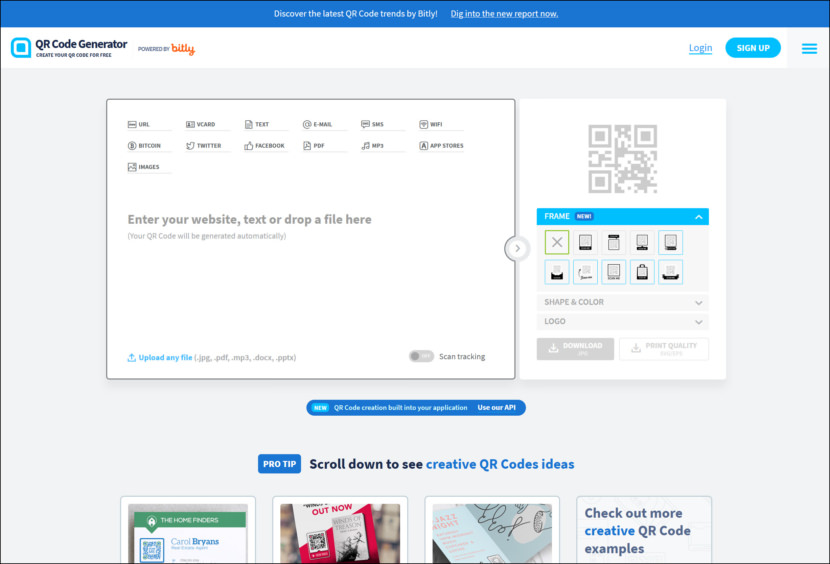 QR Code Generator for URL, vCard, and more. Add logo, colors, frames, and download in high print quality. Show off your company logo and colors on your QR Codes and attract more scans with call-to-action frames. No design knowledge needed.
Measure your QR Code campaign's success as it happens. Track where and how many people scan your Codes then export the data into shareable CSV reports. Integrate QR Codes in the early planning stage and only add the contents when you're ready to go live, even after print.
Add campaign info so you know when the campaign starts, which medium it's on, and how many copies printed. QR Codes are ideal for marketing, Small Medium Business, Education, Nonprofits, Personal Use, Holidays & Occasions, Printing Shop, Restaurants, eWallet, Donations and many more.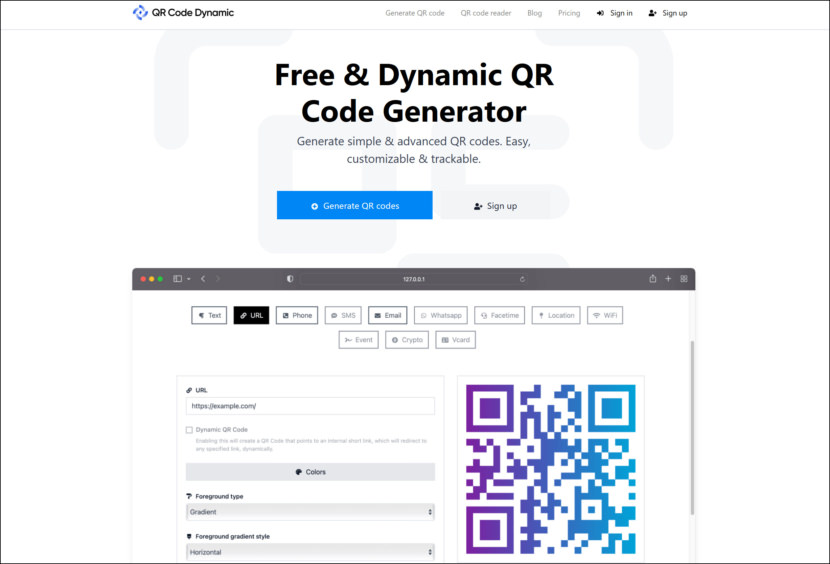 Dynamic QR codes for links, allow you to change the destination of the QR code on-the-fly, whenever you want. It combines multiple technologies to make this happen in the background with the help of our Links tool. with dynamic QR codes, you can change what information is displayed at any time by changing your dynamic QR code's content through an app or website dedicated to managing them.
Although your code looks the same, you can change the information it gives and add different links later. Therefore, it is helpful in case you want to update your QR code's information if there is an update related to its content.
Advanced scan statistics
Change URL destination dynamically
Scheduling, expiration limits, A/B Rotation
Password protection
Country, device & language re-targeting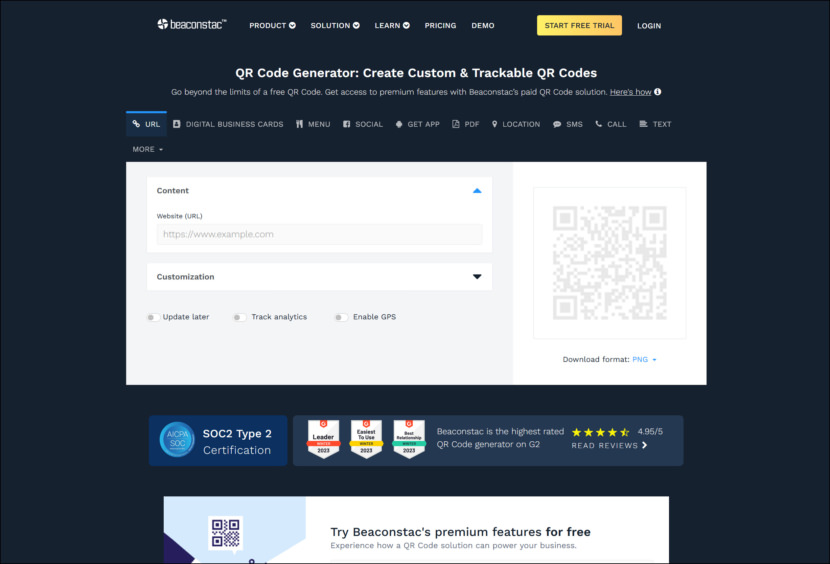 Go beyond the limits of a free QR Code. Get access to premium features with Beaconstac's paid QR Code solution. Generate static QR Codes for your website, restaurant menu, social profile, or any other use case.
Create unlimited static QR Codes
Easy to create on desktop and mobile
Basic QR Code customization
Preview QR Code design in real-time
Download QR Code in only PNG format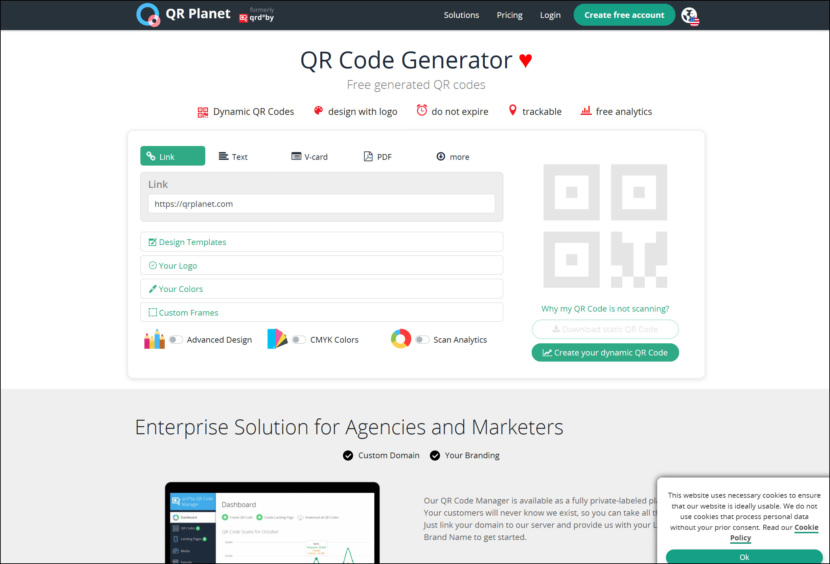 Their QR Code Manager is available as a fully private-labeled platform. Your customers will never know we exist, so you can take all the credit! Just link your domain to our server and provide us with your Logo and Brand Name to get started. The platform offers you all the tools you need to use QR Codes in your advertising materials and to analyze the scans of your QR Codes in a data protection compliant way.
Dynamic QR Code – Generate a dynamic QR Code and link the code to any website. Change the target URL of a dynamic QR Code anytime without printing the QR Code again.
Scanning Analytics – Obtain analytics about the number of unique visitors, total number of scans and detailed information about each scan. Our tracking is fully GDPR & CCPA compliant.
Vector QR Codes – Download QR Codes in various formats as scalable vector graphics as CMYK or RGB in SVG, EPS or PDF format. Print Vector QR Codes in any size on small cards or posters.
Designer QR Code – Design QR Codes with your colours, shapes and logo to match your corporate identity. Online designer tool. No Photoshop needed and ready to print QR Codes.
QR Code Tracking – Get high accurate tracking positions of your visitors by requesting the location from a user's phone. Use this feature if you want to know, where the QR Codes were scanned.
Batch QR Codes – In the batch creator you can generate mass QR Codes with just one click. Each QR Code is personalized. This is accomplished by encoding a unique id in each QR Code.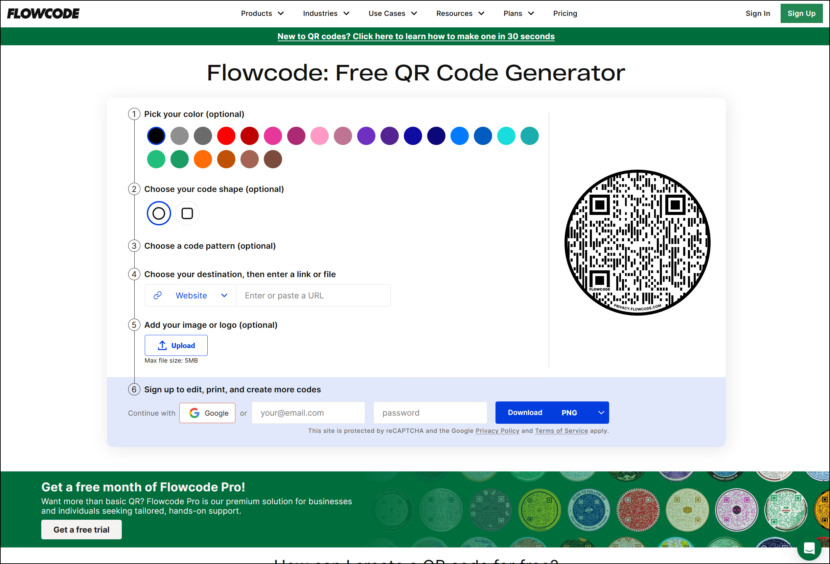 QR codes for real estate are a hack you need to grow your business. Whether you want to drive buyers and sellers to listings fast or provide more info to customers with in-depth details, Flowcode QR codes can be added to your selling kit.
The Metaverse is being accessed with QR codes — are you coming? From providing secure access to digital assets to facilitating frictionless sharing of NFTs, QR codes for Web3 need to be apart of your business strategy. Planning an event soon? Leverage Flowcode QR codes to make it a more seamless operation by securely checking in guests, connecting people to online merchandise, sharing program information, and so much more.
Flowcode QR codes help you connect with customers at scale customers. Leverage QR to rapidly connect scanners to online stores, social profiles, sweepstakes, promos, and more. Drive conversions while you collect CRM and gather information about your customers in the offline world.
Take your networking to the next level with QR code business cards. Whether you want to share a QR code with contact information or instantly connect prospects to your digital destinations, adding a designed Flowcode QR code to your business card can help you get more leads.
Looking to collect more contacts? Flowcode QR codes can seamlessly support your efforts to build your marketing database. One scan of a code can automatically integrate to your CRM of choice like Hubspot, Mailchimp, Klavyio, and more.
Flowcode is the most secure QR code provider on the market. We take your privacy seriously, and back it up with the top certifications necessary to ensure anyone scanning the code you create is protected. With GDPR and CCPA compliance, Flowcode protects your business and your customers.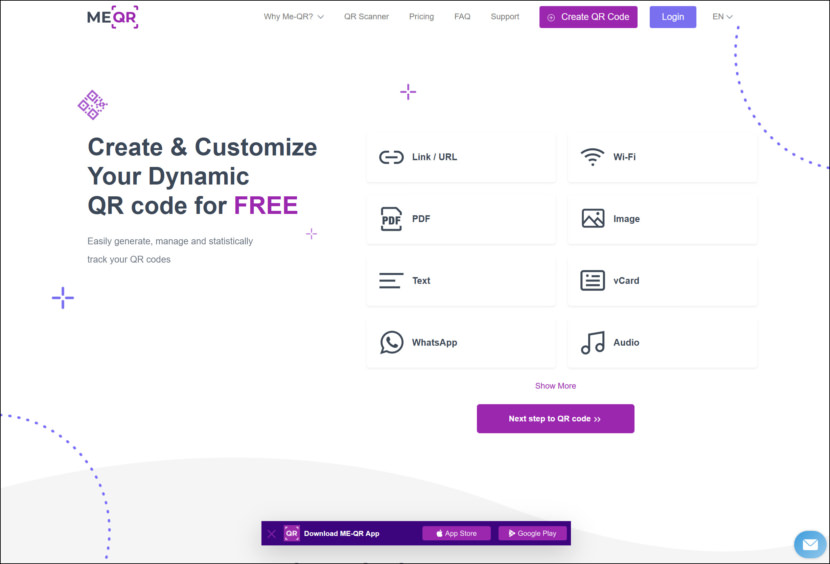 ME-QR is one of the best products of the ME TEAM LTD company, founded in 2021. Despite its young age, we managed to take a high position among competitors, having 14 million monthly users. Our mission is to provide the best-looking versatile QR codes to achieve your business or personal goals.
ME-QR is a perfect place for you to discover QR codes. Create them in barely minutes or even seconds with our convenient generator, and use wherever you can imagine – from home to large enterprise marketing strategy. Using our Admin panel, you can track your QR codes, customize them, and change content without changing their further appearance. All features of ME-QR Generator.
Free QR code creation
Different QR code types
App Store & Google Play
QR code expiration management
QR codes with design
Dynamic QR codes
Unlimited QR code creation
Trackable QR codes
Unlimited Scans
QR code analytics
Bulk QR code creation
Folders forming
QR code samples
QR codes with schedule
Multi-user account access