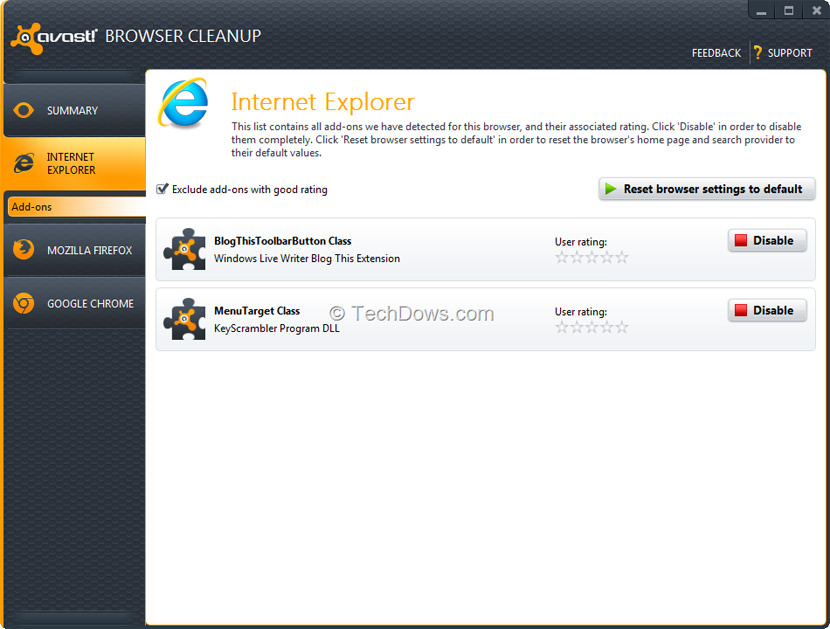 Personally, toolbar should be banned from all browser. I do not see a need for it, this include Norton antivirus toolbar and other similar security toolbar. Yesterday was a great day, Avast officially launched their Avast Browser Cleanup, basically it is a tool that automatically scan and remove unwanted toolbars.
The results can be seen below, Microsoft Internet Explorer has the highest uninstall rate among all the browser, followed by Mozilla Firefox. It appears Google Chrome and Apple Safari has the least toolbar installed, possibly because their primary users are more tech savvy.
If you want to verify your own browsers or get rid of an unwanted toolbar, download the stand-alone tool at http://www.avast.com/en-us/download-thank-you.php?product=BC&locale=en-us
This is a must have tool for those visiting their parents, or a standard feature build into every single browser.
| Add-on name | Vendor | Browser | Installed | Uninstalled |
| --- | --- | --- | --- | --- |
| Ask.com Toolbar | Ask.com | IE | 283,693 | 97,511 |
| Yahoo! Toolbar | Yahoo! Inc. | IE | 202,493 | 16,372 |
| Babylon toolbar helper | Babylon BHO | IE | 201,493 | 64,122 |
| Babylon Toolbar | Babylon Ltd. | IE | 160,804 | 48,068 |
| SweetPacks Toolbar | SweetIM Technologies Ltd. | IE | 158,576 | 47,229 |
| Delta Toolbar | delta-search.com | IE | 150,124 | 44,446 |
| Yontoo Api | Yontoo LLC | IE | 148,128 | 54,431 |
| Active Desktop Mover | Корпорация Майкрософт | IE | 134,934 | 59,203 |
| Searchqu Toolbar | Visicom Media Inc. | IE | 118,372 | 33,801 |
| Searchqu Toolbar | IncrediBar | IE | 109,198 | 29,150 |
| DealPly | DealPly Technologies Ltd | IE | 108,344 | 28,773 |
| Ask.com Toolbar | Ask.com | FireFox | 101,959 | 26,640 |
| DealPly | DealPly Technologies Ltd | Chrome | 100,926 | 23,880 |
| Funmoods Toolbar | Funmoods | IE | 94,195 | 24,761 |
| AVG Security Toolbar | AVG Technologies | IE | 92,460 | 26,415 |
| delta Helper Object | delta-search.com | IE | 90,141 | 34,729 |
| Funmoods Helper Object | Funmoods BHO | IE | 84,297 | 25,094 |
| Yontoo | Yontoo LLC | FireFox | 77,671 | 24,591 |
| SweetPacks Toolbar for Firefox | SweetIM Technologies LTD. | FireFox | 77,071 | 22,277 |
| IMinent Toolbar | Iminent | IE | 75,820 | 18,975 |