What are phishing attacks? Phishing attacks are techniques used by cyber-criminals to con users or employees into revealing sensitive information or installing malware by way of electronic communication, usually via emails or by stealing your social media password and paypal accounts. Phishing scams are a growing threat on the Internet. By being aware of the scam, — you can feel confident in working with companies online.
🤣😍😂 5 Freeware To Remove Unwanted Browser Toolbars On Chrome And Firefox
What is cryptojacking? Cryptojacking is the secret use of your computing device to mine cryptocurrency. Cryptojacking, also known as cryptocurrency mining, works the following way: some websites run hidden cryptocurrency mining scripts in your browser without letting you know. They do it to mine cryptocurrencies by using your computer's CPU to earn money for someone else. As a result, your computer gets loud, hot, and slow.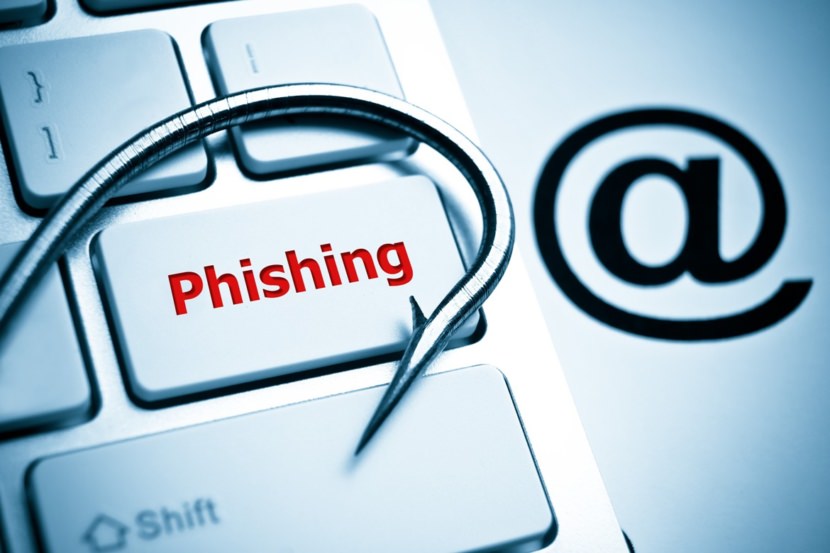 Which is a way to protect against phishing attacks? How to prevent phishing? To be safe, never click on any suspicious links via emails, especially those involving banking or online transactions. For those with elderly people within the household and using a computer, it is always advisable to use these security browser extensions. Here are some browser addons that filter out phishing scam and cryptojacking websites.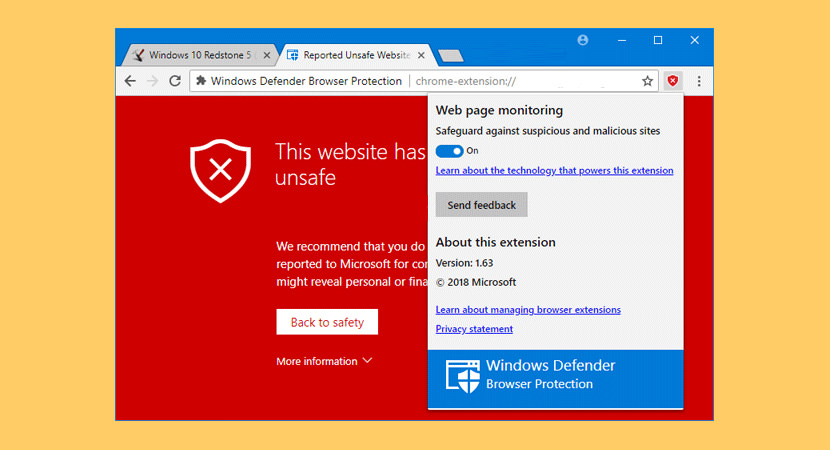 The Windows Defender Browser Protection extension for Google Chrome allows you to add an additional layer of protection when browsing online, powered by the same trusted intelligence found in Microsoft Edge. The extension alerts you about known malicious links, and gives you a clear path back to safety.
If you click a malicious link in an email or navigate to a site designed to trick you into disclosing financial, personal or other sensitive information, or a website that hosts malware, Windows Defender Browser Protection will check it against a constantly updated list of malicious URLs known to Microsoft.
Continuously updated list of reported harmful sites
Protects against phishing sites and socially engineered malware sites
Real-time indicator of harmful sites and website status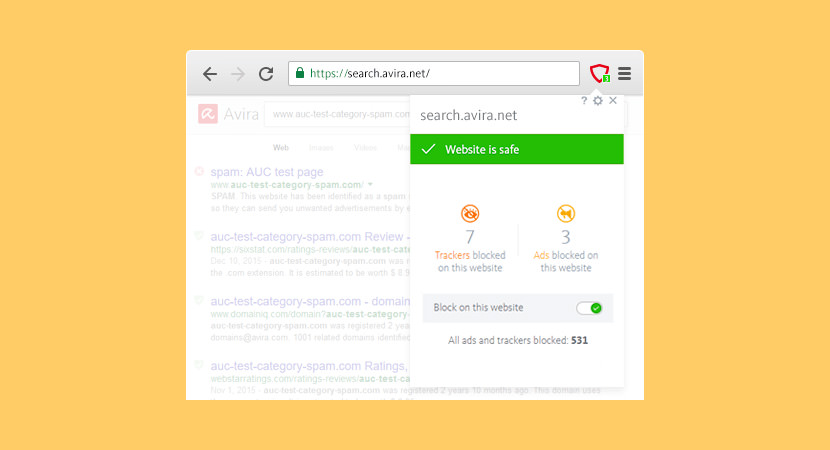 Confidently search the web. Avira SafeSearch Plus flags infected sites in your search results. From now on, know before you go! Blocks harmful sites, protects your privacy and finds deals while you shop.
Browse safely online – Poisoned links and phishing webpages are blocked – so you'll know every website you visit is safe!
Keep your navigation private – Blocks browser trackers, which prevents thousands of ad networks from monitoring what you search and shop for.
Ad blocker – Prevents intrusive and malicious ads, banners, and pop-ups from loading.
Block Potentially Unwanted Applications – Notifies you when clicking on software that contains a potentially unwanted application, and offers you your desired software from a secure website.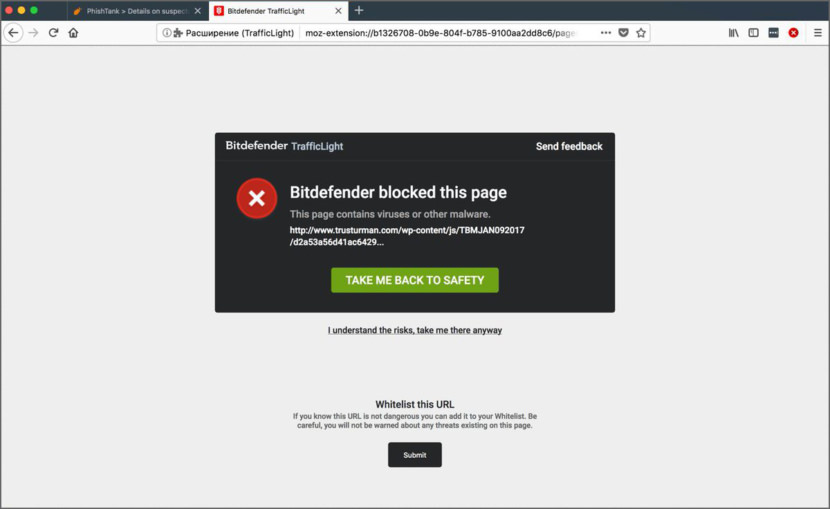 Bitdefender TrafficLight is the best way to a completely secure Web browsing experience. It is a free cross-browser add-on that intercepts, processes, and filters all Web traffic, blocking any malicious content and taking browser security to new levels.
Superior protection against phishing attacks and malware – Never worry about suspicious websites again! TrafficLight examines and blocks the pages you visit for malware and phishing attempts each and every time you access them.
Search and Social-Safe (including on Facebook and Twitter) – With Bitdefender TrafficLight, you will be always informed about malware and fraudulent websites within your search results. It also detects and blocks suspicious links on your Facebook wall and Twitter feed.
Identifies trackers that report on your browsing behavior – Some website pages may track and analyze your browsing behavior. Bitdefender TrafficLight shows you which pages intercept this type of code snippets that are included in website pages, and lists them.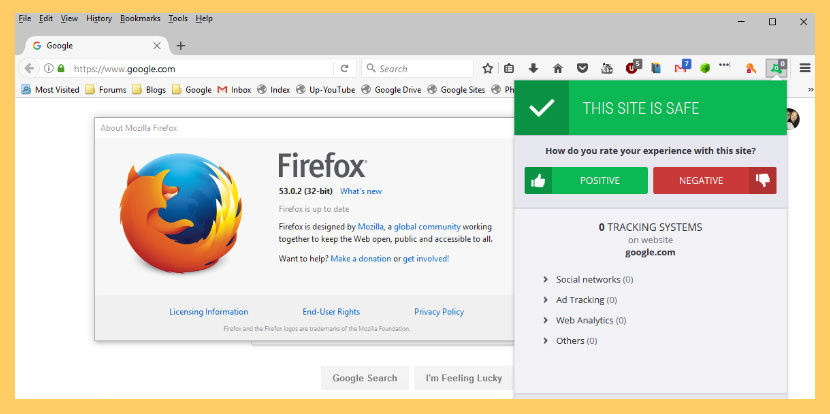 Browse without worry or fear with Avast in your corner: we'll check every site you visit, from Facebook to your bank, to ensure nothing puts you or your data at risk. We stop phishing attacks, show user reviews, and warn you if a site is deemed untrustworthy by our community of 400 million.
Avast Browser Security and Web Reputation Plugin. Offering protection against known phishing and malware sites, improving your browsing overall browsing experience with crowdsourced web reputation rating.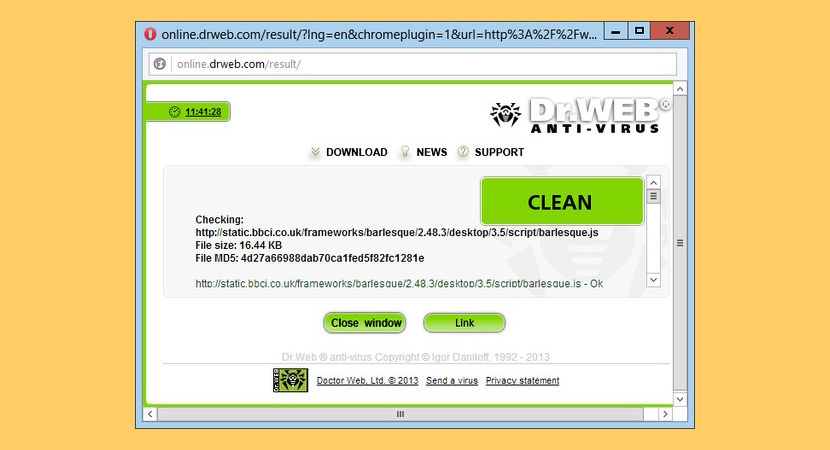 Dr.Web Link Checker is a free extension that can instantly scan web pages and files downloaded from the Internet, and block website attempts to monitor user activity and display advertisements. If, for some reason, you have not yet entrusted Dr.Web products to defend your computers, use Dr.Web Link Checker, and surf the World Wide Web without fear of virus attacks, phishing attempts, and annoying ads!
Scans web pages before they are opened
Warns social networking sites users about following links to other sites and scans the linked content
Detects and checks malformed links
Checks linked content for scripts and frames
Dr.Web software not required!
Scans files up to 12 MB in size!
Scans take just seconds!
↓ 06 – PhishingFree | Edge | Chrome | Firefox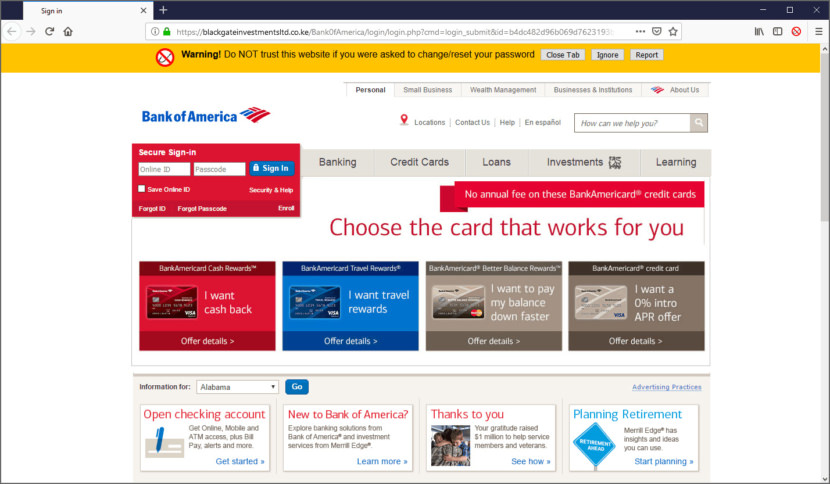 PhishingFree is a browser extension or add-on that notifies you when visiting phishing or insecure sites. PhishingFree notifies you when browsing an insecure or a phishing website. Enjoy the Internet with no phishing websites! Their intention is to provide the best service yet free to all our users. Please note that PhishingFree is free (and will remain free) for both personal and commercial use.
↓ 07 – Panda Safe Web [ Discontinued ] | Chrome | Firefox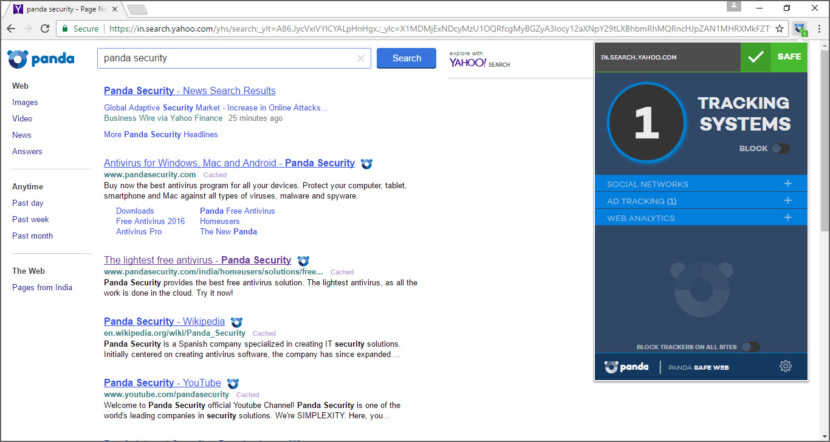 Panda Safe Web is the best tool to browse the Internet safely and quickly, improving your Web browser's performance.
Safer browsing – Panda Safe Web provides instant information about the pages you are about to visit, automatically blocking malicious or dangerous sites.
Protect your browsing data – Panda Safe Web protects the privacy of your Web searches by detecting and blocking access to tracking sites, so you can stop companies from tracking your Internet activities (visits, downloads or purchases).
Search safely online – Panda Safe Web indicates the security level of your search results. Find out at a glance which websites are safe to click on.
↓ 08 – Ad-Aware Security Toolbar [ Discontinued ]
Ad-Aware Security Toolbar protects you while you browse the web. Every URL is carefully scanned in real-time against a constantly updated list of suspected malware and phishing sites. If you click on a dangerous link while browsing the web or while reading an email, Ad-Aware Security Toolbar will immediately warn you of the site's risk status.
Clear Private Data – Quickly delete your browser's temporary files, cookies, history, forms and passwords to ensure privacy and security as you're surfing the web.
Browser Cleaner – Remove unwanted toolbars from your browser. This simple and fast feature will unclutter your browsers of those unwanted add-ons.
Safe Web Search – Easy and safe access to Google-powered search to surf the web, find images, news articles, videos and more.
↓ 09 – AVG Safer Browsing | [ Discontinued ]
Be safe. Be in control. Free yourself of hidden threats & trackers. Simply download this FREE browser add-on now to automatically add it to your favorite browser for more secure, private browsing. Works great on Microsoft Windows 10.
Surf safer – Site Safety gives you clear safety ratings for the websites you visit, and shows you which search results are safe to click.
Take back control of your privacy – Do Not Track shows you which websites are collecting data on your online activities and allows you to block or allow them.
Clean your tracks – Browser Cleaner protects your privacy by deleting all of your browsing history and cookies with a single click.
↓ 10 – F-Secure Search | [ Discontinued ]
The best combination of search results, safety and privacy. Online criminals are clever. To access your private information and your financial data without you noticing, they try to lure you to sites that contain malware. Just landing on the wrong website may be enough. With F‑Secure Search, your search results are pre-screened for sites that try to violate your privacy or harm your computer.
Secure results – F-Secure Search runs a security check for each search result and gives it a safety rating. When you use F-Secure Search, all communication between you and F-Secure is encrypted, leaving no room for snooping.
Peace of mind – F-Secure Search uses Google, providing you the best search results in a safe manner. Adult content is automatically blocked from search results, giving you peace of mind when your children are using F-Secure Search.
Easy access – You don't need to install any additional software on your PC or Mac. Just go to search.f-secure.com and start using it today. Best of all, it's free! You can also use F-Secure Search as the default search engine in your browser.
Safety rating – F-Secure Search checks for known harmful sites that may be listed in your search results. Each link is clearly marked with a safety rating, letting you know which sites are safe to visit and which to avoid even before you click a link.
What Is Phishing Attacks?
Phishing Attacks is one of the biggest threat when it comes to online banking and transaction, basically what these hackers do it they will hijack a website and make it look similar to the original bank's website, from there, they will email you an 'urgent' message telling you to login to the so called 'fake website' because failing to do so will cause it to be deactivated. Once you key in your username and password, you've essentially sent your information to their server.