How to Stop Pop-Ups in Chrome? Personally, I believe toolbars should be banned from all browsers, this includes Mozilla Firefox, Google Chrome, Apple Safari and Microsoft Internet Explorer (Spartan). I do not see a need for it, this includes Norton antivirus toolbar, Kaspersky Toolbar, and other similar security toolbar. You've probably seen your parent's browser, and here are 5 free software to remove unwanted toolbars from their browsers.
🤣😍😂 8 Free Browser Security Addons – Block Cryptojacking And Phishing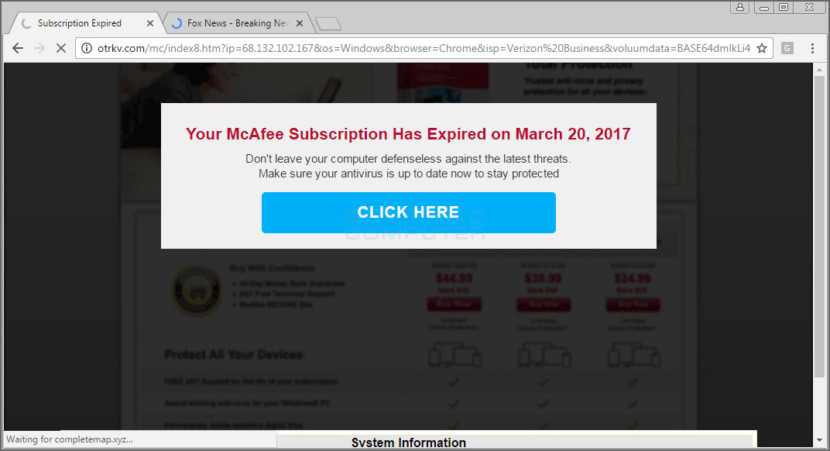 How To Remove Adware, Pop-up Ads & Malware from Web Browser? Anyway, if your web browser is constantly being redirected to unwanted sites, or advertisements are popping up while you browse the Internet, then your computer or the browser itself may be infected with browser hijackers. Browser hijackers are a type of malware created for the purpose of modifying Internet browser settings without the user's knowledge or consent.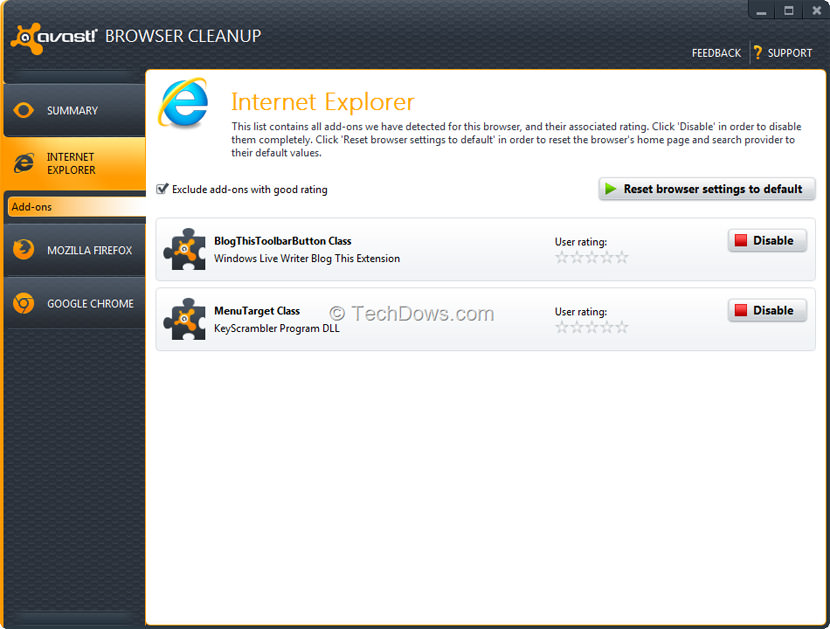 Yesterday was a great day, Avast officially launched their Avast Browser Cleanup, basically it is a tool that automatically scans and removes unwanted web browser extensions and add-on such as toolbars. If you want to verify your own browsers or get rid of an unwanted toolbar, download the stand-alone tool at Avast. This is a must have tool for those visiting their parents, or a standard feature built into every single browser.
Now you can remove those pesky toolbars that get installed when you download free software with avast! Browser Cleanup. It will even restore your browser settings and default search provider. The results can be seen below, Microsoft Internet Explorer has the highest uninstall rate among all the browsers, followed by Mozilla Firefox.
It appears Google Chrome and Apple Safari have the least toolbar installed, possibly because their primary users are more tech savvy. Works great on Microsoft's Windows 10 and Apple's macOS.

This application (now built into Chrome Browser and can be accessed via chrome://settings/cleanup ) will scan and remove software that may cause problems with Chrome, such as crashes, unusual startup pages or toolbars, unexpected ads you can't get rid of, or otherwise changing your browsing experience.
The application does not require installation and starts looking for suspicious programs as soon as you launch it. The number of findings are displayed within a small window, along with an option to remove them all, but their names are not revealed, so as to prevent name modifications that might cause Chrome Cleanup Tool not to work as it should.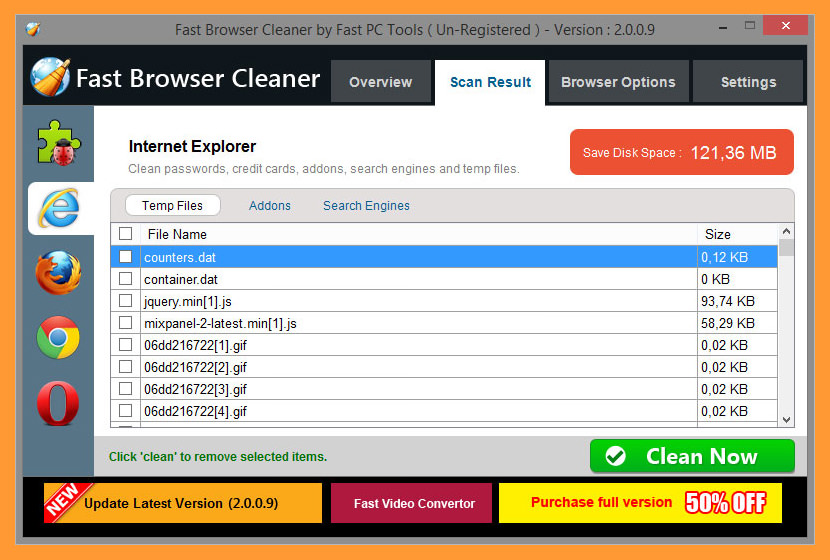 Fast Browser Cleaner is a utility to clean unwanted toolbar, addons, extensions. It helps you to clean cookies, history and temporary files which are stored by websites you visited and occupy a lot of disk space. You can also remove unprotected passwords and credit card information stored by the browser which you used to login to some website or make payment.
Fast Browser Cleaner is a simple and user-friendly application and easy to understand software. It offers you to scan and delete your browser junk and easily erase adware, cookies, temporary files or websites history from your IE, Chrome, Firefox, Opera.
Manage Add Ons – You can remove unwanted toolbar, addons, extensions.
Remove Credit Card Information – Remove Credit Card details which stored by browser.
Remove Adware – You can clean adware like MyStartSearch, Wazam, HealthAlert, RelevantKnowledge, SweetIm, Babylon, Most of the toolbars of conduit, GameDesktop etc.
Remove Passwords – Remove unprotected login details(user name , passwords etc) stored in browser.
↓ 04 – Browser Cleaner [ Discontinued ] | IE | Chrome | Firefox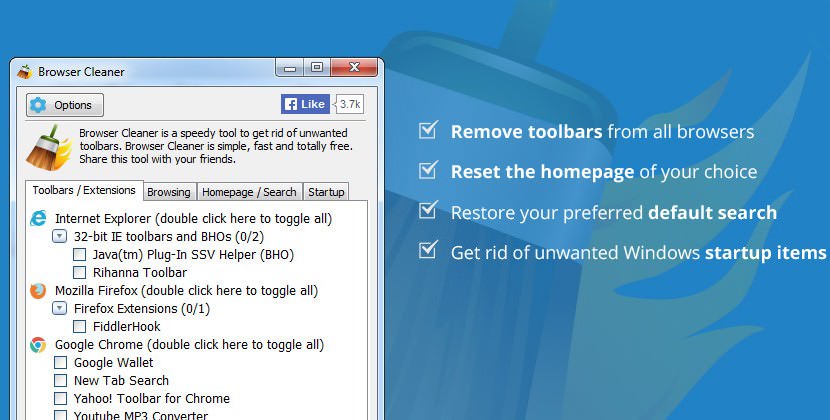 Browser Cleaner removes more than 1,000,000 unwanted toolbars, apps, add-ons, and plug-ins per month. Browser Cleaner can also remove BHO, a Browser Helper Object (BHO) is a add-in – plug-in that modifies a web browser. These objects may be useful or harmful, like a spyware or adware program. To uninstall toolbars and BHO's, you need:
Start Browser Cleaner
A list of toolbars and BHO's are displayed according to each browser. Check the desired toolbars and BHO's to remove. You can double click the Internet Explorer or Firefox icon to select all corresponding toolbars and BHO's or click the Select All button.
Click Remove/Selected Toolbar(s)/BHO(s)
↓ 05 – Auslogics Browser Care [ Discontinued ] | IE | Chrome | Firefox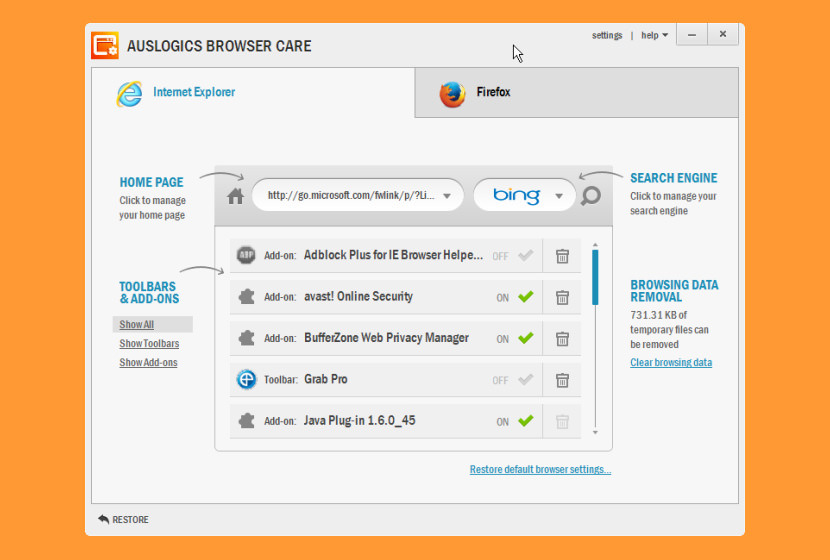 Get rid of unneeded add-ons or toolbars and take full control of all your browsers with this program's easy-to-use 'Central Command' interface. Auslogics Browser Care automatically detects popular browsers installed on your computer and provides an easy way to manage each of them, removing or disabling add-ons or toolbars, clearing cache, setting homepage and search engine of choice – all from one convenient interface.
The Top 10 Most Hated Browser Toolbars

| Add-on name | Vendor | Browser | Installed | Uninstalled |
| --- | --- | --- | --- | --- |
| Ask.com Toolbar | Ask.com | IE | 283,693 | 97,511 |
| Yahoo! Toolbar | Yahoo! Inc. | IE | 202,493 | 16,372 |
| Babylon toolbar helper | Babylon BHO | IE | 201,493 | 64,122 |
| Babylon Toolbar | Babylon Ltd. | IE | 160,804 | 48,068 |
| SweetPacks Toolbar | SweetIM Technologies Ltd. | IE | 158,576 | 47,229 |
| Delta Toolbar | delta-search.com | IE | 150,124 | 44,446 |
| Yontoo Api | Yontoo LLC | IE | 148,128 | 54,431 |
| Active Desktop Mover | Корпорация Майкрософт | IE | 134,934 | 59,203 |
| Searchqu Toolbar | Visicom Media Inc. | IE | 118,372 | 33,801 |
| Searchqu Toolbar | IncrediBar | IE | 109,198 | 29,150 |
| DealPly | DealPly Technologies Ltd | IE | 108,344 | 28,773 |
| Ask.com Toolbar | Ask.com | FireFox | 101,959 | 26,640 |
| DealPly | DealPly Technologies Ltd | Chrome | 100,926 | 23,880 |
| Funmoods Toolbar | Funmoods | IE | 94,195 | 24,761 |
| AVG Security Toolbar | AVG Technologies | IE | 92,460 | 26,415 |
| delta Helper Object | delta-search.com | IE | 90,141 | 34,729 |
| Funmoods Helper Object | Funmoods BHO | IE | 84,297 | 25,094 |
| Yontoo | Yontoo LLC | FireFox | 77,671 | 24,591 |
| SweetPacks Toolbar for Firefox | SweetIM Technologies LTD. | FireFox | 77,071 | 22,277 |
| IMinent Toolbar | Iminent | IE | 75,820 | 18,975 |