How to create a free Wifi hotspot via a virtual router? I wrote about Connectify, the free Virtual Router for Windows 7. For your information, Connectify is a simple application that enables you to share your internet connection by via a 'Virtual Wifi' feature hidden in Windows 7.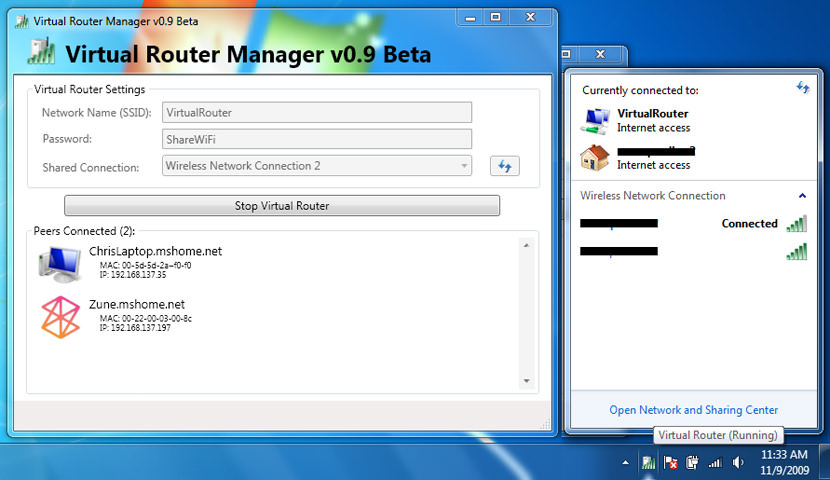 Virtual Router is yet another Windows 7 Virtual Hotspot software, unlike Connectify, Virtual Router is free and open source.
Virtual Router turns any Windows 7 or Windows 2008 R2 Computer into a Wifi Hot Spot using Windows 7′s Wireless Hosted Network (Virtual Wifi) technology. The Wireless Network create/shared with Virtual Router uses WPA2 Encryption, and there is no way to turn off that encryption. This is actually a feature of the Wireless Hosted Network API's built into Windows 7 and 2008 R2 to ensure the best security possible.
Nobody knows why this feature is not enabled in Windows 7, it could have been a huge selling point, they must have their own reason or this 'hotspot' feature is meant for Service Pack 1. Anyway, below is a list of similar wifi hotspot software:
Video Tutorial on Internet Sharing via Windows 7
Microsoft Windows 7 and 8 has this feature whereby you can share your 3G, 4G or LTE modem internet connection with other notebooks, smartphones or iPad tablets. This is a free feature in service pack 1. It does not provide much control like the other free software but it does the job pretty well. Watch the video we created:
Funny Wifi SSID Wireless Broadcast Names
Here are a complete list of creative wireless network names for your router, personally I like the 'FBI Surveillance Van' SSID name or the 'Download Virus' network name.