So I bought the new iPad 32GB Wifi White, and in all honesty, after using it for a few hours, going back to iPad 2 is really tough on the eyes. The new retina display is really sharp, texts are crisp and clear, making surfing the internet a better experience as you don't have to zoom in and out.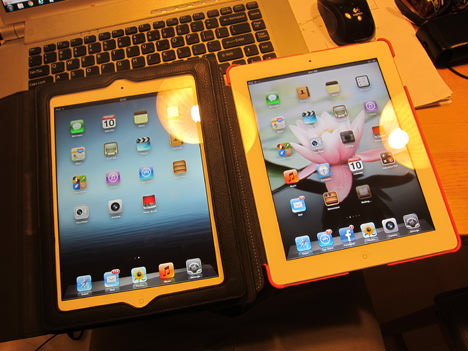 As for the processor and battery life, I can't comment much because I don't exactly notice any difference. Other than that, it is slightly heavier because more batteries are packed into the new iPad.
Upgrading to the new iPad from iPad 2
Is it worth it? It depends on how you use your iPad. My daily usage mainly consists of reading emails and surfing the internet, therefore sharper texts means easier on the eyes. However, if it is simply for watching movies and gaming, you won't notice the difference.
The New iPad Heat Issue
I did not notice any heat issue, it could be that they have solved the problem, or I am using a leather case or I do not play resource hungry games that max out the processor, thus generating maximum heat.
[UPDATE] – Yes, there is a heat issue, it is more apparent when I hold it without the casing. Usually when it is fully charged, as the battery drains to approximately 10 to 20%, the heat is not obvious.
Time to Recharge
Since the new iPad comes with double the battery cells compared to iPad2. The time it takes to charge the new iPad is also doubled.
iPad 2

iPad (3rd / 4th)

iPad Mini

Thickness
0.34 inch (8.8 mm)
0.37 inch (9.4 mm)
0.28 inch (7.2 mm)
Weight
1.33 pounds (601g) wifi
1.34 pounds (607g) wifi + 3G
1.44 pounds (652g) wifi
1.46 pounds (662g) wifi + 4G
LTE (4th)
0.68 pounds (308g)
Camera
0.3 megapixel front
0.7 megapixel back
HD Video 720p
0.3 megapixel front
5 megapixel back
HD Video 1080p
Facetime HD (4th)
0.3 megapixel front
5 megapixel back
HD Video 1080p
Facetime HD
Bluetooth
Bluetooth 2.1
Bluetooth 4.0
Bluetooth 4.0
9.7 inch
9.7 inch
7.85 inch
Resolution
1024 x 768 pixel s
132 pixels per inch
2048 x 1536 pixels
264 pixels per inch
1024 x 768 pixels
163 pixels per inch
Chip
A5 Dual Core
A6X Quad Core (4th)
A5X Dual Core (3rd)
Quad-core graphics
A5 Dual Core
Battery
Capacity
6944 mAh
25Wh
11,666 mAh
42Wh
4490mAh
Processor
40nm
32nm (smaller)
40nm
Connector
30-pin
30-pin (3rd)
8-pin Lightning (4th)
8-pin Lightning