What I love about the Sony (Xperia) Tablet S:
Universal remote – If you happened to own a Sony Bravia TV or Sony Home Theatre, this tablet doubles up as a wireless keyboard and touchpad. (You can have the same functionality on any Android smartphone or tablet by downloading the app for free)
SD Card slot – Yet another feature sorely missed in an iPad.
Keyboard – The virtual keyboard is way better than iOS keyboard
Design – I have to admit, the design is really different. The tapered design makes perfect sense as the weight is tipped to the other end for easier gripping, it doesn't feels heavier on the other end, unlike other tablets where holding it requires 2 hands for balancing.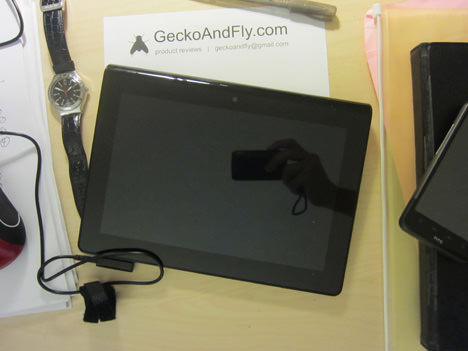 Dislike:
Plastic, cheap plastic.
Low resolution, 1280 x 800 pixels, texts are not as sharp as iPad Retina Display, not comfortable for long hours of reading.
Confusing, the buttons and functions are everywhere
Sluggish Android OS (But way better than other more sluggish tablets)
All in all, if you own a Sony Home Theater system and Bravia TV (Review), this is a must have tablet. A wireless mouse and keyboard probably cost 1/3 of this tablet, since this Sony Tablet S was given for free to me when I purchased a Sony TV, it doesn't make any sense to sell it and have it replaced with a Logitech wireless keyboard.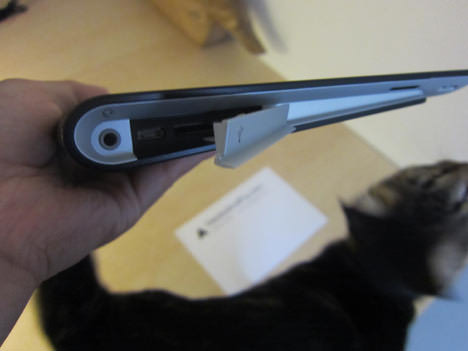 From Android 3 to Ice Cream Sandwitch 4
I do not see much difference apart from better performance, less sluggish-ness and a few more features. Other than that, it is like upgrading from iOS 5 to iOS 6. Not much difference.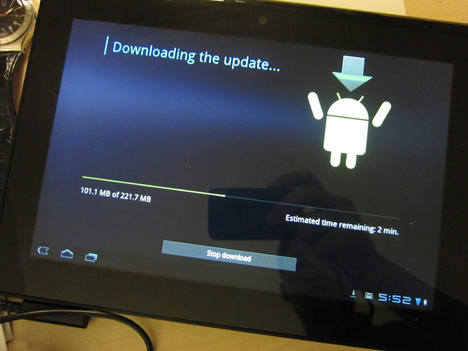 Syncing with Sony TV
This tablet can double up as a remote controller; I find this remote feature useless. The photo viewing function on the other hand is awesome, so is the music; however the video syncing feature is horrible. Video appears to be lagging.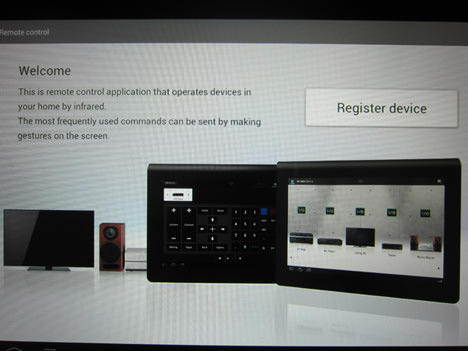 To be honest, the remote controller feature and app is a useless feature.
Sony Tablet S vs iPad 4th vs Samsung Tab 2 10.1 Comparison
Specification

Apple iPad
4th Generation

Sony
Tablet S

Samsung
Galaxy Tab 2

Phone
Fucntion
No
No
Yes
CPU
1 GHz Dual Core
1.4 Quad Core
1 GHz Dual Core
Memory
1 GB
1 GB
1 GB
Thickness
9.4 mm
8.9 - 12 mm
9.7 mm
Weight
652g wifi
662g wifi + 4G LTE
571g
581g wifi
583g wifi + 3G
Camera
1.2 mp (Front)
5 mp (Back)
1 mp (Front)
8 mp (Back)
VGA (Front)
3 mp (Back)
Resolution
2048 x 1536 pixels
264 ppi
1280 x 800 pixels
161 ppi
1280 x 800 pixels
149 ppi
Screen Size
9.7 inch
9.4 inch
10.1 inch
Connection
USB 2.0
8-pin lightning
3.5mm jack
USB 2.0
SD
SDHC
InfraRed
USB 2.0
microSD
microSDHC
Storage
16 GB
32 GB
64 GB
16 GB
32 GB
64 GB
16 GB
Operating System
iOS 6
Android 4.0
Android 4.0
Battery
n/a
5000 mAh
7000 mAh
Average Battery Life (Browsing web with Wi-Fi)
10 hours
10 hours
8 hours
Camcorder
1920x1080 (1080p HD) (30 fps)
1280x720 (720p HD) (30 fps)
1280x720 (720p HD) (30 fps)
Bluetooth
4.0
2.1
3.0
Material
Aluminum and glass
Plastic
Plastic
Speakers
Mono
Stereo
Stereo
Given a choice to choose 1 tablet, I did go for the Apple iPad 3rd/4th Gen (Review). Most Android tablets are too sluggish to be tablets, let alone an eBook reader or surfing due to the low resolution. Furthermore, the buttons and layouts are all over the screen.
Sony Tablet S Photo Samples
The camera for both the iPad 3rd generation and Sony Xperia Tablet S are equally bad, performed badly under low light conditions. Click on image for the 8 megapixels resolution.