Do you have a battery life problem with the new iOS7? The new Apple iOS7 is an awesome operating system, but it is not kind on your battery life, especially with the introduction of Parallax Background animated wallpaper that drains the life out of it.
🤣😍😂 14 Virtual SIM Phone Number Apps For iOS And Android Smartphones
Without further ado, here are some very simple tutorials on how to squeeze a few more extra percent of battery life out of your iPhone or iPad.
Without further ado, here are 5 great tips on extending your Apple iPhone iOS smartphone battery life for another 24 hours of standby without a big and heavy battery pack. If you find this tip useful, do share it with your friends.
↓ 01 – Turn Off Parallax Background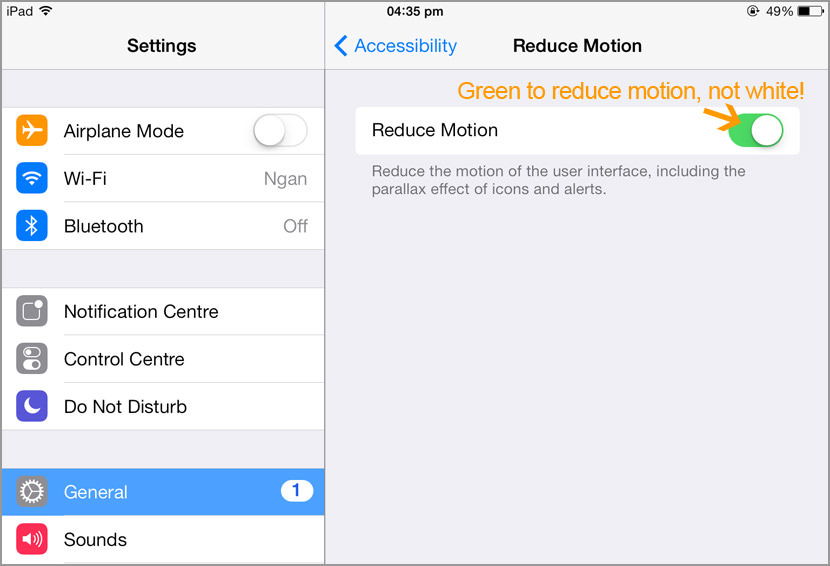 Settings –> General –> Accessibility –> Reduce Motion (Make sure it is Green Color)
Okay, we have to admit, initially we found the 3D Parallax animation an awesome feature when we toyed with it for the first time, as time goes by, this extra feature takes an extra toll on the battery juice. Who needs this function? Turn it off in the accessibility settings by turning on 'Reduce Motion'
↓ 02 – Turn Off Background App Refreshing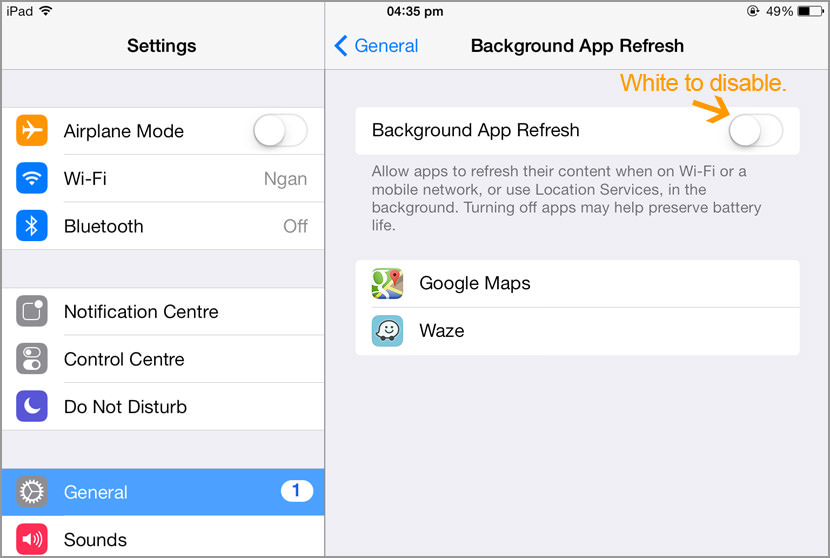 Unless you use a GPS app often, background app refresh is pretty redundant, you can individually disable each apps that aren't important, or all of them if you want to go all the way by turning off 'Background App Refresh'
Settings –> General –> (Turn Off, White Color) Background App Refresh
Note: This might prevent you from tracking your iOS device if it is stolen, use with caution.
↓ 03 – Go On A Push Notification Diet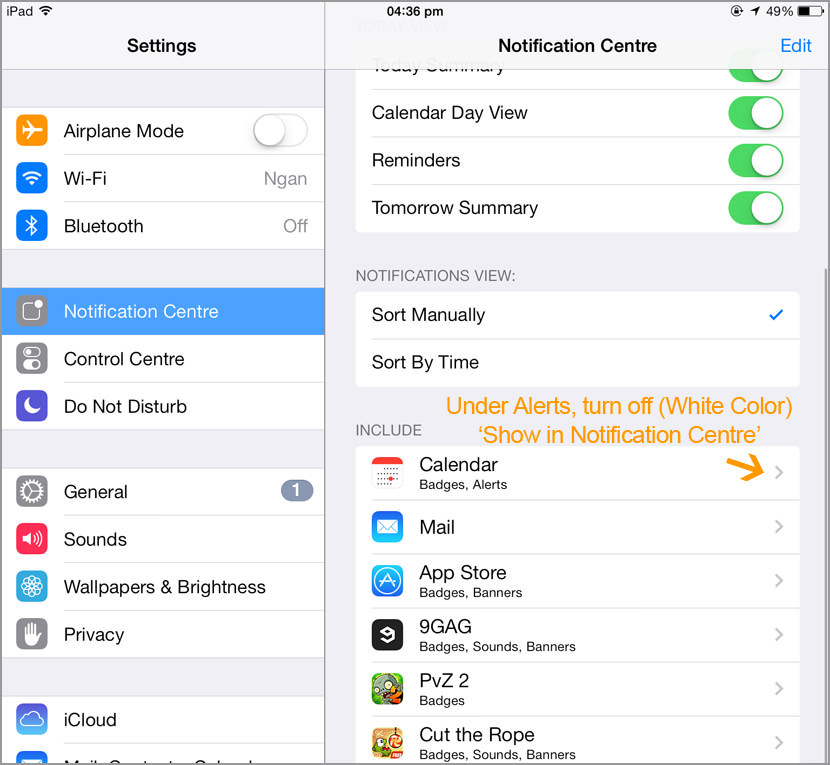 Not every app needs to be shown in the notification center, it takes precious battery power to ping the server. As shown in the screen shot, Calculator Pro is one of the many apps I have that pushes unnecessary notification. To disable:
Settings –> Notification Center –> (Choose An App) Under Alerts, turn off (White Color) 'Show in Notification Centre'
↓ 04 – Don't Push, Fetch Emails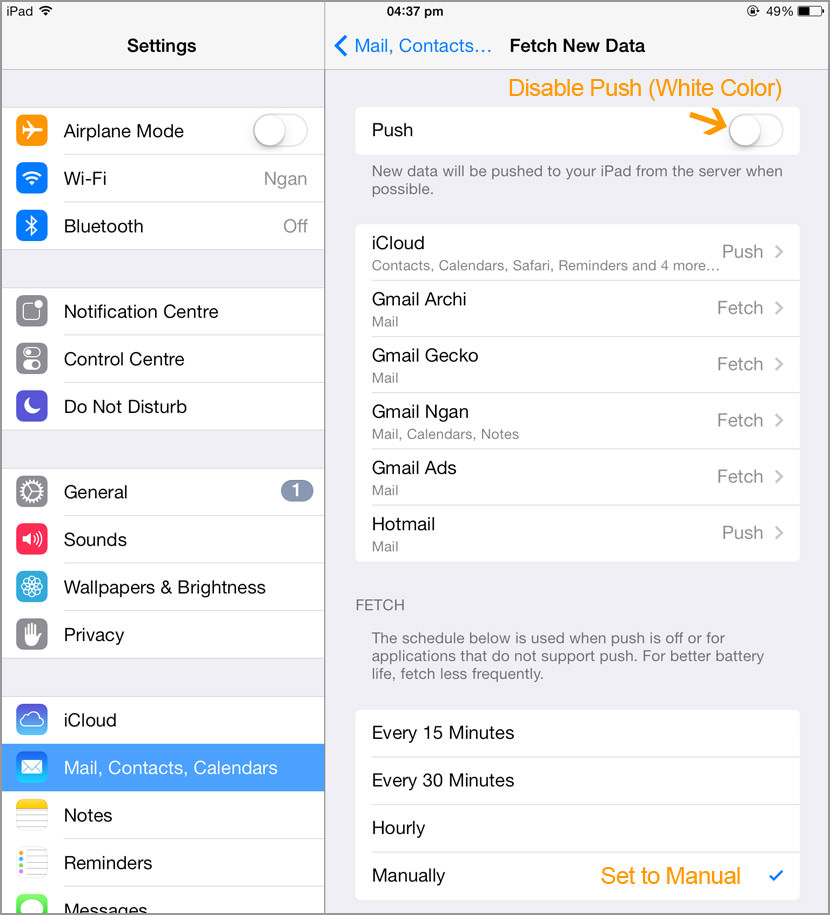 If you are not expecting any important emails, it is best to disable 'Push' and have your emails delivered to your iOS device manually every time you launch the Mail app. If disabling 'Push' is not an option for you, have it fetch less frequently. You have the option of 15 minutes, 30 minutes and Hourly.
Settings –> Mail, Contacts and Calendar –> Fetch New Data –> (Disable, White Color) Push
↓ 05 – Stop Searching For Wi-Fi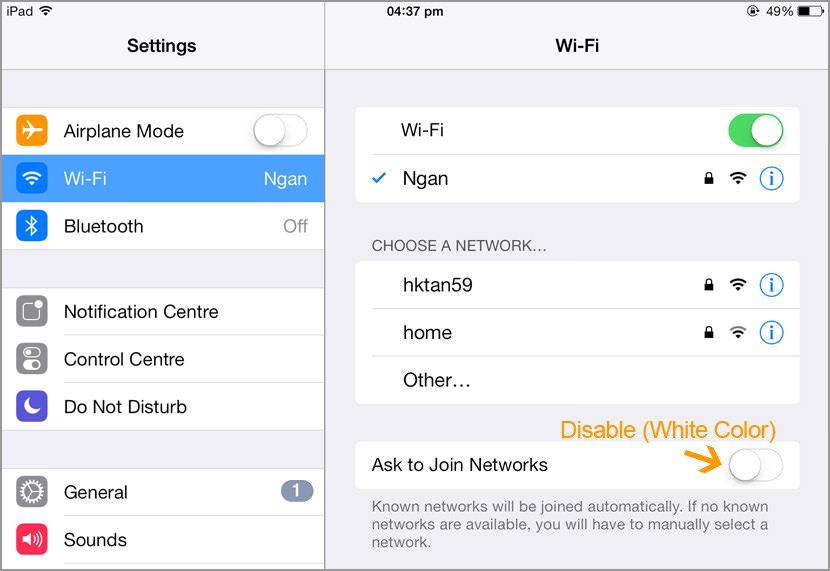 There is absolutely no reason to allow your iPhone or iPad roaming for wireless network, unless you're in a public area with a trusted network. If you access the internet via your home wifi, disable it from searching other networks.
Settings –> Wi-Fi –> (Turn Off, White Color) Ask to Join Networks
This way your iOS device will only join Wi-Fi networks it knows and won't be wasting battery juice looking around for other available networks.
Other Basic Tips
Turn off Bluetooth or Airdrop
Disable Auto-Brightness or reduce brightness
Turn off 4G or 3G
Disable Siri
Turn off background app updates
Disable location services (Might prevent you from recovering your stolen device)