Updated: August 11, 2018 / Home » Quotes [ Top Tumblr Inspirational, Love & Life ]
What is leadership? The best answer is always the shortest answer, therefore a good quote is more meaningful and straight to the point compared to a 1000 words essay. To sum things up, leadership is about inspiring people to be more than what they are, taking responsibility for all mistakes and most important of all, learn from the mistakes.
Related Article ➤ 20 Inspirational Motivational Poster Quotes on Sports and Life
It is a combination of leadership style and management skills. Without further ado, here are the 18 uplifting and inspiring quotes on leaders and leadership. These are wallpapers + posters, ready to be used for any powerpoint presentation or as desktop wallpaper. If you happened to know any good quotes, do drop a comment on the comment section.

Teachers open the door but you must enter by yourself. – Chinese Proverb

Leadership is the art of getting someone else to do something you want done because he wants to do it. – Dwight D. Eisenhower

Pull the string, and it will follow wherever you wish. Push it, and it will go nowhere at all. – Dwight D. Eisenhower

If you want to build a boat, do not instruct the men to saw wood, stitch the sails, prepare the tools and organize the work, but make them long for setting sail and travel to distant lands. – Antoine De Saint-Exupery

Management is doing things right; leadership is doing the right things. – Peter Drucker

If your actions inspire others to dream more, learn more, do more and become more, you are a leader. – John Quincy Adams

Innovation distinguishes between a leader and a follower. – Steve Jobs

People ask the difference between a leader and a boss. The leader leads, and the boss drives. – Theodore Roosevelt

A man who wants to lead the orchestra must turn his back on the crowd. – Max Lucado

Leadership is about taking responsibility, not making excuses. – Mitt Romney

The art of leadership is saying no, not saying yes. It is very easy to say yes. – Tony Blair

Leadership is unlocking people's potential to become better. – Bill Bradley

The function of leadership is to produce more leaders, not more followers. – Ralph Nader

Winners never quit and quitters never win. – Vince Lombardi

Leaders are made, they are not born. They are made by hard effort. – Vince Lombardi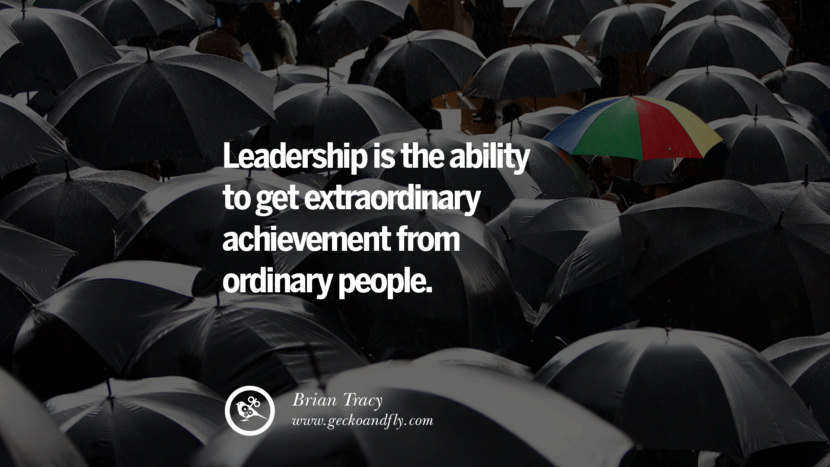 Leadership is the ability to get extraordinary achievement from ordinary people. – Brian Tracy

To be able to lead others, a man must be willing to go forward alone. – Harry Truman

Never tell people how to do things. Tell them what to do, and they will surprise you with their ingenuity. – George S. Patton