With my 20 years of blogging, I can safely say one of the most overlooked SEO rules that people break is to not check their website for broken links. Imagine visiting an article and majority of the links are broken, it is annoying and frustrating. Any site that has bad user experience will be down graded by most search engine, yet, many are simply too lazy to update their old articles.
🤣😍😂 6 Free CDN For WordPress – Speed Up And Improve Blog's SEO
If you are using WordPress, there are many plugins that scan for broken links. Based on my experience, these plugins are good but not perfect, they are able to catch 99% of the broken links. This is where standalone software that scans your site for broken links comes into handy, it doesn't hurt to have a second opinion. Why desktop crawler is better? Why not cloud online crawler? Within this category, there are 2 tools – online and desktop software, I prefer the desktop version as most of them does not come with any limitation, whereas the web tool requires you to pay a small fee.
For those that power their site other than WordPress where 3rd party 'Broken Link Checker' plugins are not widely available, such as Drupal, Magento, Prestashop, Joomla, Hubspot, Wix, BigCommerce, Shopify, Textpattern, Blogger, Prestashop, and etc, you might find these standalone Windows software very helpful in finding broken links for your website.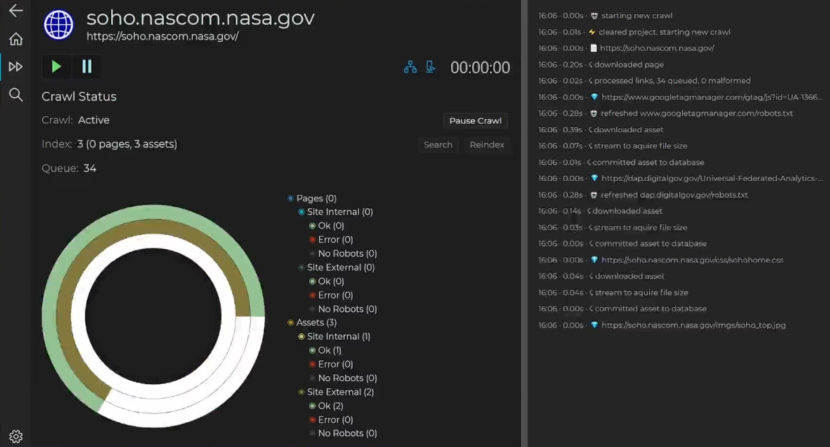 InterroBot combines a desktop web crawler with search to help you get answers to just what the heck is going on with your website. Whether you're looking for a snippet of text in the body of your target webpages, the HTTP headers, or a specific HTTP status code—InterroBot will help you track it down. InterroBot is used to clean up link rot, in administering CMS, SEO, and as dev-tool for troubleshooting and maintenance.
InterroBot's primary tool is search. Full-text search against the source HTML allows for details such as CSS class usage, element types, and attribute values to be filtered. The inclusion of *.pdf and *.docx files in the full-text index allows comprehensive search for people, places, and things you can't afford to miss.
Finding Broken Links
Full-text Search (HTML, PDF, and DOCX)
Advanced Search (HTTP headers, status codes, redirection)
Webpages and Assets (HTML response details, linked references)
Crawler Options (JavaScript crawling, custom headers)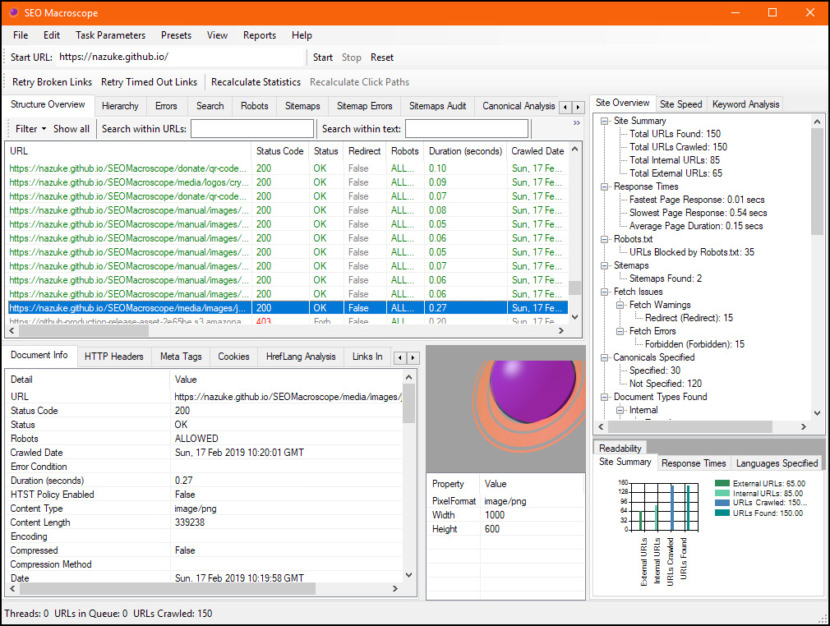 SEO Macroscope for Microsoft Windows is a free and open source website broken link checking and scanning tool, with some technical SEO functionality. It is primarily a website link scanner, but it also comes with a few simple SEO features that may help to quickly uncover common technical SEO problems.
Scanning all links on one or more websites.
Reporting broken, redirected, and other types of issues.
Reporting metadata about each found URL.
Generating an HrefLang Matrix, for multilingual websites.
Isolating scans to URL subsets.
Report fastest/slowest pages.
Export reports to Excel and CSV formats.
Generate and export text and XML sitemaps from the crawled pages.
Extraction and reporting of telephone number and email links.
↓ 03 – Xenu | Windows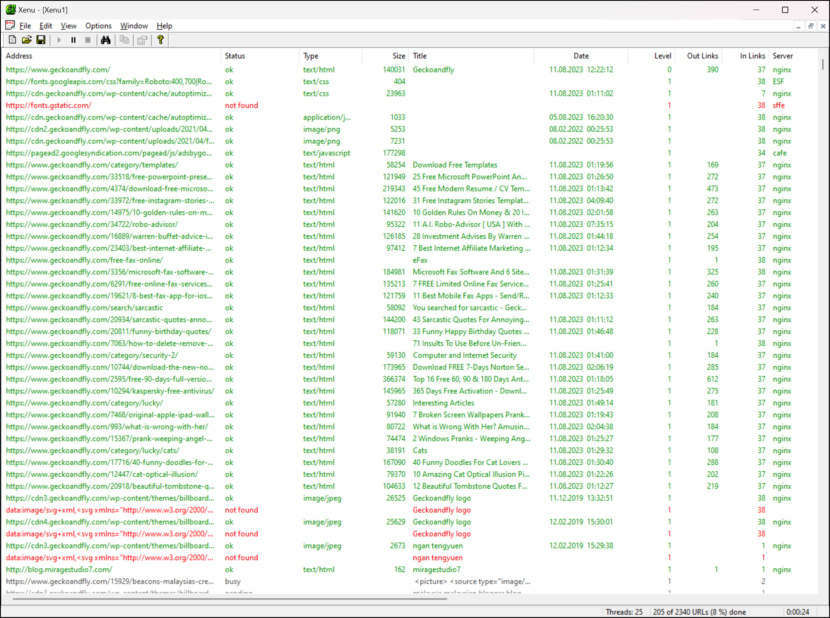 One word to describe this broken link checker – awesome. This is perhaps the best broken link checker ever. Xenu's Link Sleuth (TM) checks Websites for broken links. Link verification is done on "normal" links, images, frames, plug-ins, backgrounds, local image maps, style sheets, scripts and java applets. It displays a continuously updated list of URLs which you can sort by different criteria. A report can be produced at any time. Additional features:
Simple, no-frills user-interface
Can re-check broken links (useful for temporary network errors)
Simple report format, can also be e-mailed
Executable file smaller than 1MB
Supports SSL websites ("https:// ")
Partial testing of FTP and Gopher sites
Detects and reports redirected URLs
↓ 04 – LinkChecker | Windows | Linux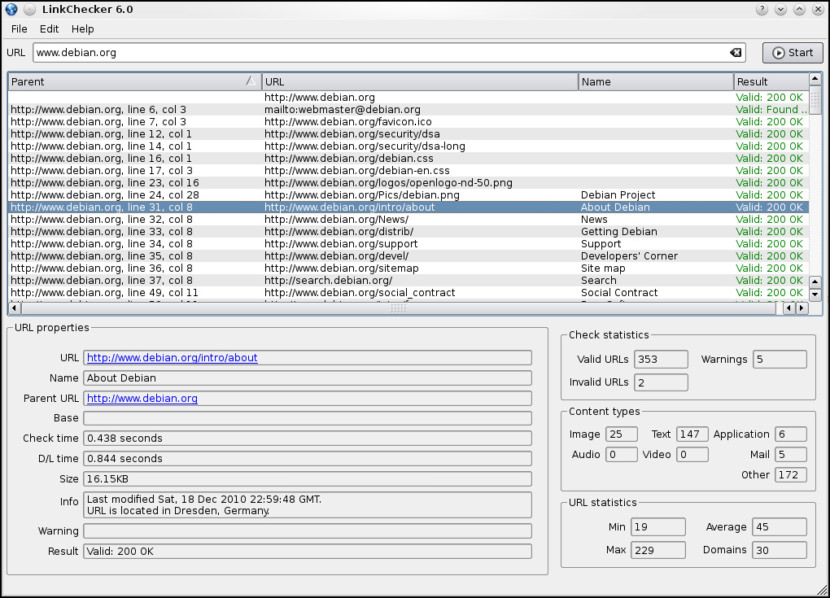 LinkChecker is a free, GPL licensed website validator. LinkChecker checks links in web documents or full websites for broken links. It crawls a given website and generates a number of reports.
Recursive and multithreaded checking and site crawling
Output in colored or normal text, HTML, SQL, CSV, XML or a sitemap graph in different formats
HTTP/1.1, HTTPS, FTP, mailto:, news:, nntp:, Telnet and local file links support
Restriction of link checking with regular expression filters for URLs
Proxy support
username/password authorization for HTTP and FTP and Telnet
Honors robots.txt exclusion protocol
Cookie support
HTML5 support
Plugin support allowing custom page checks. Currently available are HTML and CSS syntax checks, Antivirus checks, and more.
Links on a web page very quickly become broken (link rot) because we move, delete or change our own pages, and other people that we link to do the same. Using a link checker regularly will improve your website's user experience (UX) and search engine optimisation (SEO). Integrity is the free link checker for macOS, it is very fast and accurate.
More features and options such as exporting your data, authentication (logging in), managing multiple sites, sitemap generation, SEO checks, spelling & grammar are all available in two related apps; Integrity Plus and Scrutiny. Integrity is the perfect SEO tool. And there's no monthly fees! Also can be used to find expired domains. It's that good. Perfect for checking your own site or crawling large corporate organisations.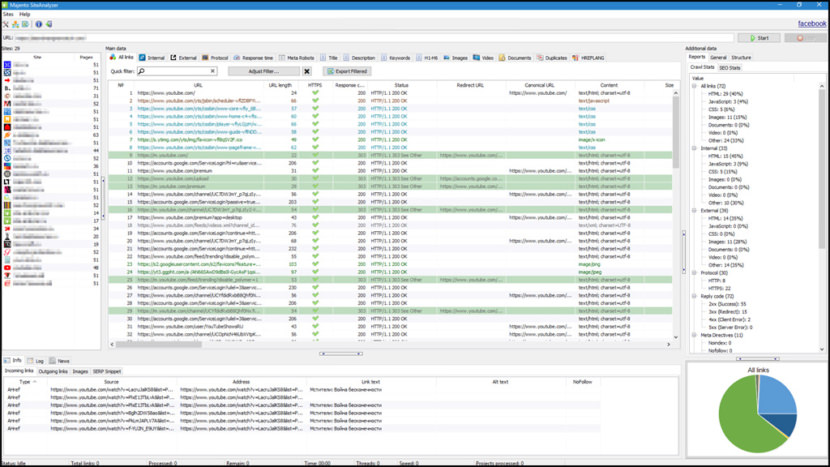 SiteAnalyzer is a Web Crawler tool meant to scan URLs and perform a fast SEO analysis of a website. Try it to fix technical issues and improve SEO in the shortest period. SiteAnalyzer provides a set of tools for quick and effective technical website auditing and SEO optimization improvement.
SiteAnalyzer is suitable for any budget. Unlike Screaming Frog SEO Spider, Sitebulb, Netpeak Spider and SEO PowerSuite WebSite Auditor, this crawling tool is totally free without limitations. At the same time, it is much more powerful than its outdated counterparts such as Xenu Link Sleuth. Key features of SiteAnalyzer:
Page Title and Meta Tag Analysis – Optimize Title, Keywords, and Description tags and prevent duplicates
Find Broken Links and Check Redirects – Scan URLs to detect broken links and non-existent pages, check 301 and 302 redirects on a website
Page Loading Speed – Check the speed of loading pages through the API service Google PageSpeed Insights
H1-H6 Headings Checker – Checking for H1-H6 headers and duplicates
Link Analysis – Search the internal and external links on your website
↓ 07 – Greenflare | Windows | macOS | Linux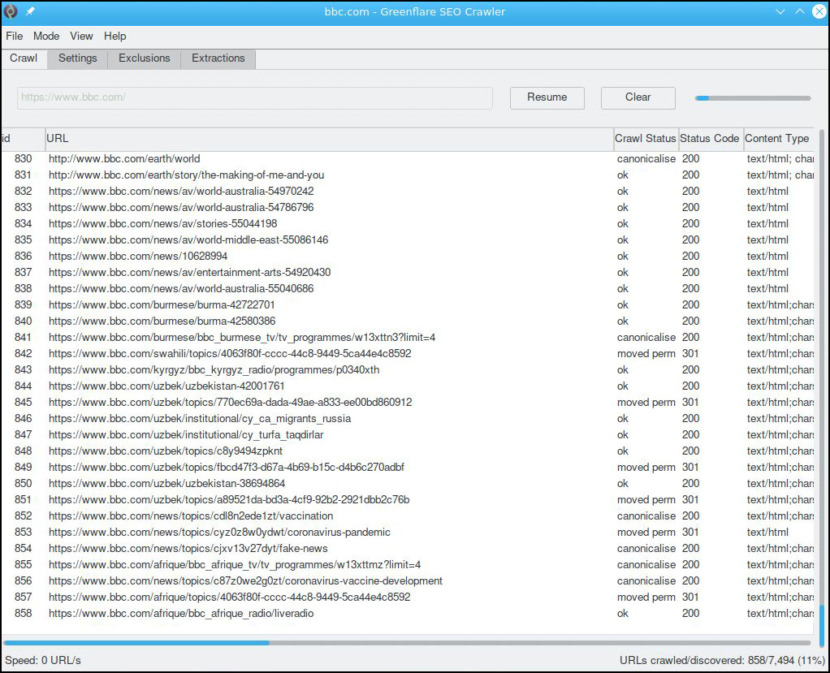 Greenflare is a lightweight free and open-source SEO web crawler for Linux, Mac, and Windows, and is dedicated to delivering high quality SEO insights and analysis solutions to the world. Greenflare is ideal for crawling a large e-commerce site, no limits.
Greenflare works on small and large sites.
No crawl limits! Crawl as many URLs as you like
Runs on low-end machines with as little as 1 GB memory
Export your data to CSV for analysis with third party tools
Extract page titles, main headings (H1) and sub-headings (H2). View and filter all elements to deal with missing elements and duplication.
Report and learn about the robots.txt status, meta robots tag and X-Robot-Tag for all of your site's URLs. Also chose from various user agents.
Reports on on-page SEO elements (i.e. page title, meta robots, canonical tag)
Analysis of HTTP header responses (i.e. X-Robots-Tag, Canonical HTTP Header)
Status code reporting (i.e. 301, 404, 503 etc.)
Analyse URLs that internally link to a page that no longer exists (4xx), a page that redirects (3xx) or to a page that causes a server issue (5xx).
↓ 08 – mTrawl [ Discontinued ] | Windows | macOS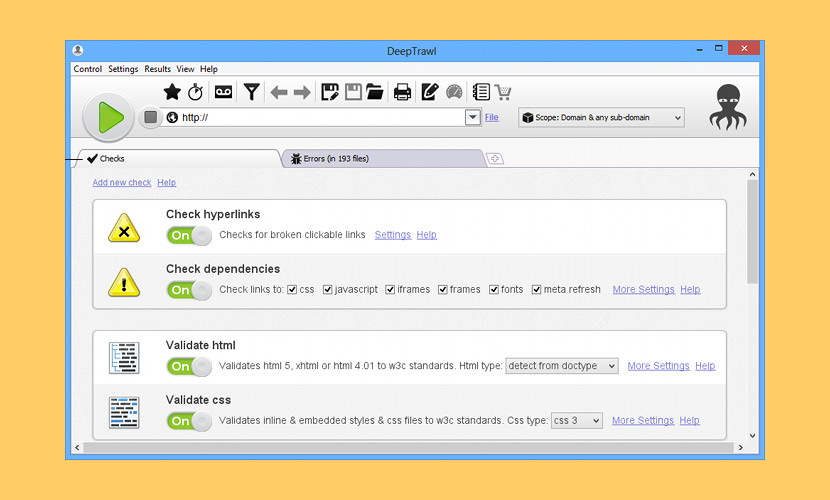 Your Free Broken Link Checker & HTML Validator. mTrawl checks every hyperlink and validates all your html with one click. Keep your site in great shape and your visitors happy. mTrawl checks each hyperlink & image on every page. (even the ones in your css). Say goodbye to 404's.
Check dependencies like Css & JS links – Files move & get deleted. People forget to upload things. Ever seen a site with a missing Css link? It makes a big mess. DeepTrawl checks Css, JS, fonts, iframes & more.
Validate your Css in record time – Validate all of your inline, external and internal style sheets all with one click. Eliminate cross browser issues.
Find missing images in Html & CSS – Missing images happen easily. Maybe you forgot to upload it. Maybe it got renamed. Maybe the image is hosted on another site which went away. DeepTrawl finds these in your HTML & even in your CSS.