One of the most overlooked SEO rules is broken links. If you manage a site that is more than 10 years old, chances are, it has lots of broken images and links. A broken link or dead link is a link on a web page that no longer works, it can be problematic for website visitors, making them unable to access the desired resource or information.
🤣😍😂 22 Methods To Reduce WordPress CPU Usage Without Upgrading Web Hosting Plan
Ever since Google Panda update, Google changed the way they rank a website from relying on keywords to benchmark-ing them against time spent on a site, bounce rate on whether they go back to Google and re-search again, web layout and many more. A beautifully crafted, fast loading website with good information whereby the user doesn't go back to Google and search again will rank higher than those that performed badly on those few criteria.
Broken links is just one of the many parts of a bad SEO. A site that hasn't been updated or checked for a long time may suffer from link rot, which is a term used to describe a site with dozens of broken links. Without further ado, here are 7 broken links checkers for WordPress, Drupal, Joomla and stand alone websites.
↓ 01 – Xenu | Windows
One word to describe this broken link checker – awesome. This is perhaps the best broken link checker ever. Xenu's Link Sleuth (TM) checks Websites for broken links. Link verification is done on "normal" links, images, frames, plug-ins, backgrounds, local image maps, style sheets, scripts and java applets. It displays a continuously updated list of URLs which you can sort by different criteria. A report can be produced at any time. Additional features:
Simple, no-frills user-interface
Can re-check broken links (useful for temporary network errors)
Simple report format, can also be e-mailed
Executable file smaller than 1MB
Supports SSL websites ("https:// ")
Partial testing of FTP and Gopher sites
Detects and reports redirected URLs
This WordPress plugin will check your posts, comments and other content for broken links and missing images, and notify you if any are found. Personally, I find this plugin good enough for the average user, but it is not as good as Xenu. I suggest using the WordPress Broken Link Checker first and edit as many broken links are discovered, this is because it comes integrated with WordPress thus making discovering and editing much easier. Whereas with Xenu, you have to manually find and edit the broken link.
Monitors links in your posts, pages, comments, the blogroll, and custom fields (optional).
Detects links that don't work, missing images and redirects.
Makes broken links display differently in posts (optional).
Prevents search engines from following broken links (optional).
You can search and filter links by URL, anchor text and so on.
Links can be edited directly from the plugin's page, without manually updating each post.
This plugin is a broken link checker utility organized through entities called scans, each one containing its own configuration and results. I used to use 'Broken Link Checker' until it was abandoned, but was revived again recently. WP Broken Link Status Checker appears to be more polished and feature rich. Relatively simple and easy to use for a non-professional. Lots of thoughtful features to make it easy to find and fix problems. I'd pay for it.
↓ 04 – BeamUsUp | Windows
Find and fix SEO problems faster than ever. Don't waste time exporting and analyzing your SEO crawling software anymore. Get the free Beam Us Up SEO Crawler now.
Find Errors Easily – Taking the time to filter, sort and segment exported data from your site crawls is time consuming just to find out you've got x number of missing titles or x number of short descriptions.
Excel & Drive Export – When you have to export your crawl data to CSV format first, then re-save into Excel you waste time. You can also hit a roadblock trying to copy and paste that SEO crawl into Google drive since there is a limit on characters.
Crawl more with NO Limits – Crawl more than other crawlers for free with no forced limits on how much you can crawl (the only limit is your hardware).
↓ 05 – LinkChecker | Windows | Linux
LinkChecker is a free, GPL licensed website validator. LinkChecker checks links in web documents or full websites
Recursive and multithreaded checking and site crawling
Output in colored or normal text, HTML, SQL, CSV, XML or a sitemap graph in different formats
HTTP/1.1, HTTPS, FTP, mailto:, news:, nntp:, Telnet and local file links support
Restriction of link checking with regular expression filters for URLs
Links on a web page very quickly become broken (link rot) because we move, delete or change our own pages, and other people that we link to do the same. Using a link checker regularly will improve your website's user experience (UX) and search engine optimisation (SEO). Integrity is the free link checker for Mac. It's OSX native, very fast and accurate.
↓ 07 – mTrawl [ Discontinued ] | Windows | macOS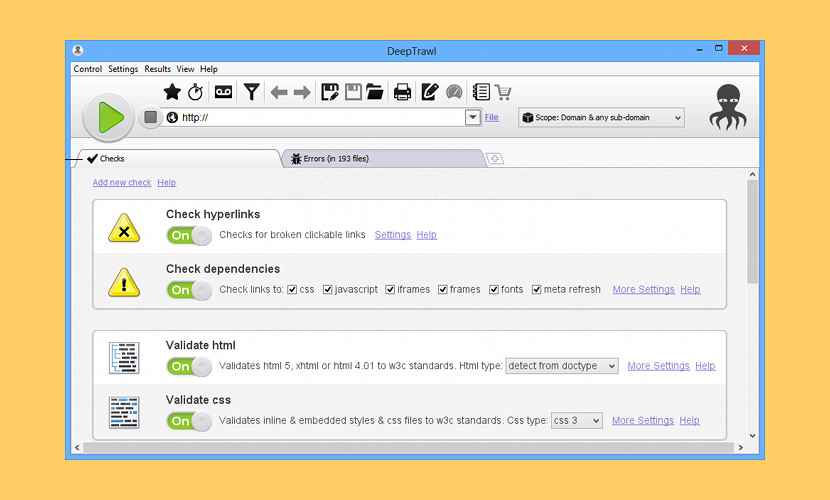 Your Free Broken Link Checker & HTML Validator. mTrawl checks every hyperlink and validates all your html with one click. Keep your site in great shape and your visitors happy. mTrawl checks each hyperlink & image on every page. (even the ones in your css). Say goodbye to 404's.
Check dependencies like Css & JS links – Files move & get deleted. People forget to upload things. Ever seen a site with a missing Css link? It makes a big mess. DeepTrawl checks Css, JS, fonts, iframes & more.
Validate your Css in record time – Validate all of your inline, external and internal style sheets all with one click. Eliminate cross browser issues.
Find missing images in Html & CSS – Missing images happen easily. Maybe you forgot to upload it. Maybe it got renamed. Maybe the image is hosted on another site which went away. DeepTrawl finds these in your Html & even in your Css.
Sergey Brin & Larry Page: Inside the Google Brother's Master Mission
BLOOMBERG GAME CHANGERS follows Sergey Brin and Larry Page from their first meeting at Stanford to the new media mega-company on a collision course with old media businesses of newspapers, books, movies and television. Along the way to its astounding success, the co-founders have redefined advertising, created a chain of products such as Google Maps, News, Gmail and have taken on rival giants like Apple and Microsoft.