There are over 400 VPN service providers in the industry, and approximately 30 of them are free. Is free VPN reliable and good? Nothing is free, free VPN is a big lie to me and can be very dangerous.
See More ▼ 10 Free VPN for Microsoft Windows 10, macOS, Linux, iPhone, Ubuntu
Subscribing to an unknown VPN service is like giving your house key to a robber. Sometimes it is not the company at fault, it could be that they have a bad IT employee taking the opportunity to make a quick buck. Works great on Android 8.0 Oreo / Android 9.0 [ Popsicle, Pancakes or Pie ] smartphones such as Samsung Galaxy, Huawei Mate, Oppo, Vivo, XiaoMi, Nokia, and also Apple's iOS iPhone.
The network admin from the VPN can catch everything you send and gather sensitive stuff like your credit card.
They can harvest information about you & blackmail you.
They can send you viruses
They can try to hack your computer.
They can inject hidden codes inside the html they send to you.
They may modify pages to replace affiliate codes by their own codes.
The United States National Security Agency is breaking and undermining core encryption technologies that power the Internet, saying it's being done for their own protection from terrorists. But are they sacrificing their freedoms for fear?
This is why you should subscribe to a good VPN. Based on my research and experience, there are only 4 mobile VPNs in this category by big companies, and they are Avast and Opera. They offer limited bandwidth, unblock facebook, unblock youtube, speed and no logging are not your main priority, then these two with their reliable secure connection is the must have VPN service.
30 Days Full Trial | $30/year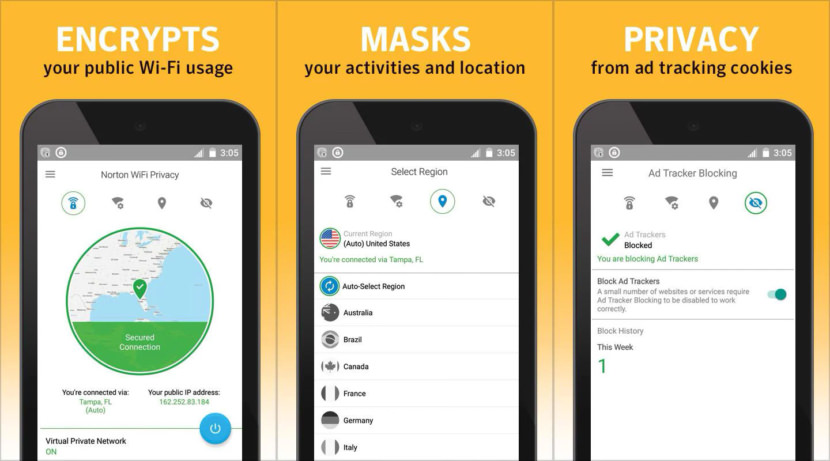 The security you've always trusted from Norton, now protects your most sensitive information like passwords and credit card numbers while surfing public hot-spots. While public Wi-Fi is convenient, it's never safe.
Accessing the Web on an unsecured Wi-Fi hotspot can expose your most sensitive information like passwords, photos and credit card numbers to hackers and identity thieves. Norton WiFi Privacy helps encrypt this information so you can use your smartphone or tablet on any public Wi-Fi hotspot without worry. Benefits for you:
Adds bank-grade encryption to protect you on public Wi-Fi hotspots.
Lets you browse the Web anonymously so your privacy is protected.
Allows access to your favorite apps and content anywhere you go, as if you were at home.
Helps encrypt your data on a no-log virtual private network that doesn't track or store your activity.
Provides a 60-day money-back guarantee*.
Offers world-class customer support from Norton, the leader in online security.
7 Days Full Trial | $2.59/month or $19.99/year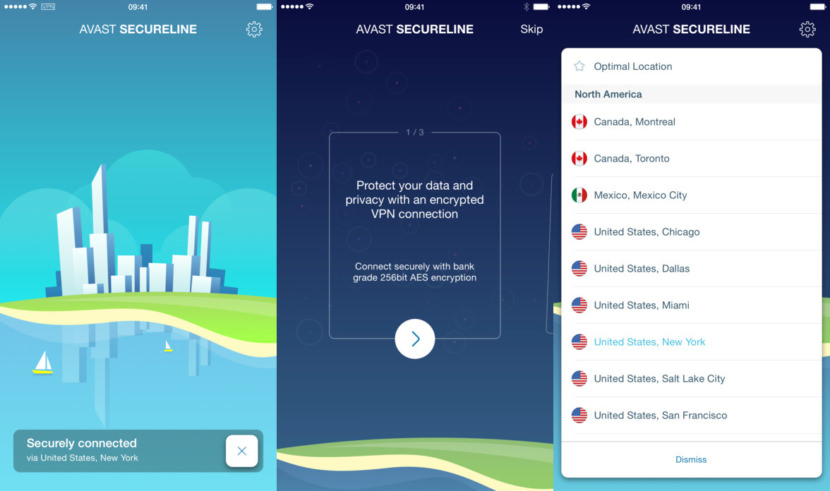 Avast SecureLine is a VPN service that protects you from data theft by using a virtual encryption shield 'tunnel' – with IPsec technology – to secure your public/open Wi-Fi connections. Once secured, your communications are impossible for any intruder to spy on. Features:
Encrypt your connection on unsecured public Wi-Fi – Their private encryption VPN 'tunnel' prevents hackers from stealing your data via public/open Wi-Fi 'hotspot' networks. Secure your Wi-Fi and privacy with highly secured VPN service.
Choose your location – If you travel and need Web access from different locations, you may find some websites blocked, but you can unblock websites. Use their servers located in multiple countries (e.g. UK, USA) to access more Web content from your phone, as your shown geo-IP address will be different from the real one.
3. SurfEasy VPN | Download Apple iOS
7 Days Full Trial | $3.99/Month Billed Annually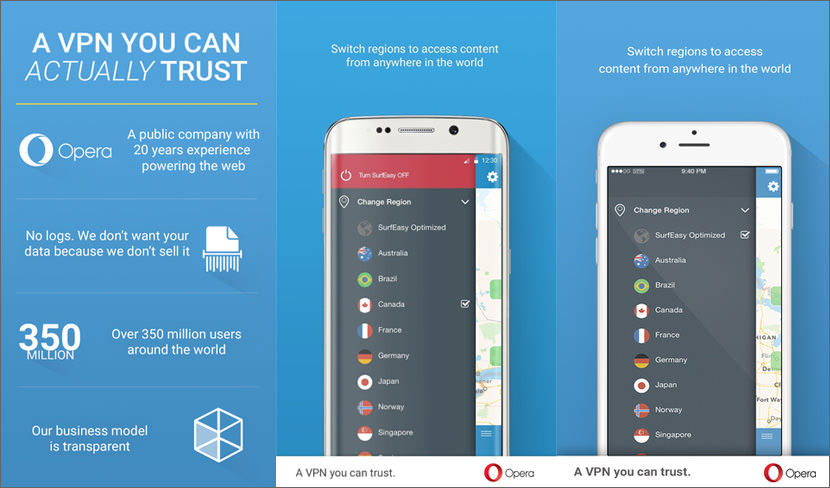 Owned by Opera Software, the browser maker. SurfEasy is trust-able and has a good reputation as a browser that does the correct thing. Whether you're on your home internet, a public WiFi hotspot, or your college's network, your location and activities can be tracked when you're online. Hackers can access your financial details, your personal information and almost all your accounts online–and location tracking means that your web might be restricted because of where you are.
SurfEasy VPN helps you protect your personal privacy and keeps you secure on the internet. With SurfEasy, you can surf the web safely, privately and anonymously–without limits or restrictions, from anywhere in the world.
Free 500 MB/month | $60/year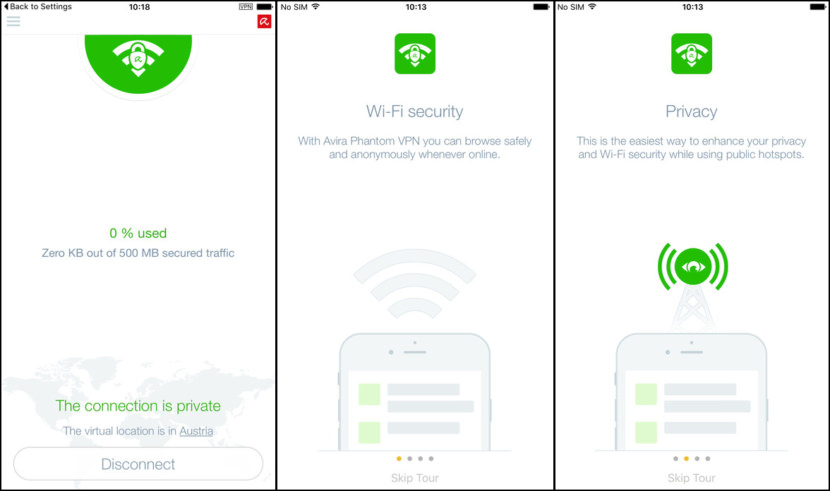 Whether on your laptop or smartphone, Avira Phantom VPN masks your IP address, safeguards your private data and secures your connection on all networks. Be unhackable, untraceable, uncensorable with secure WiFi connections, anonymous surfing, and unrestricted access to your favorite web content.
Unhackable – Your financial info, passwords, and other private files are secure: they cannot be intercepted nor read by third parties.

Encrypt your web traffic and secure your internet connection
Safely surf on public WiFi hotspots (airport, coffee shops, etc.)
Block hackers from gaining access to your computer
Untraceable – Prevent advertisers and eavesdroppers from tracking you. As far as they can see, you're an anonymous user from an ever-changing location.

Create a unique, private, and fast path for you to surf the web
Prevent your Internet Service Provider (ISP) from monitoring you
Browse the web anonymously by hiding your IP address
Uncensored – Bypass geographical restrictions by setting your internet connection to appear as if you're somewhere else.

Bypass geo-restricted content and censored websites
Get global access to your favorite videos and TV shows
Avoid ISP throttling by hiding the services you choose to use
Why Free Is Not The Best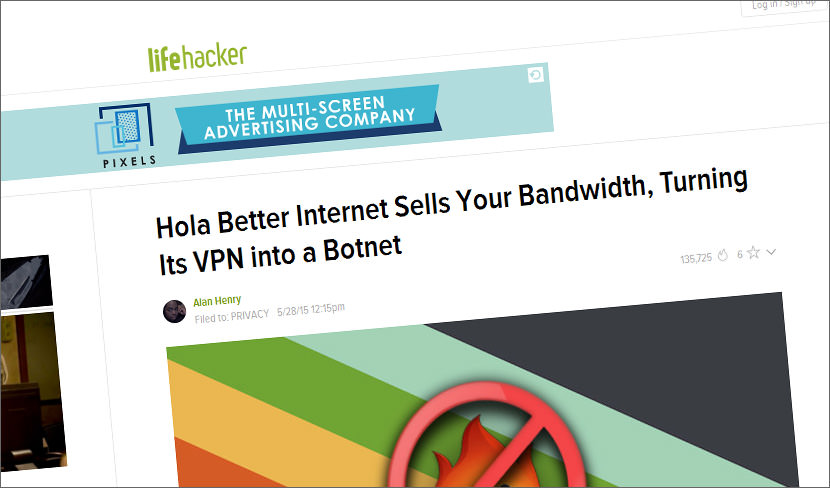 Ultra-popular Hola VPN extension sold your bandwidth for use in a botnet attack, this is just the tip of the iceberg. There is no guarantee they do not harvest important information such as:
Your login name and password
Your address
Your credit card
At the end of the day, Hola was just trying to make money while providing a free service—but the way they used their customers and hid their behavior was certainly problematic.