For those in the dark, Microsoft Windows XP, 7, 8 and 10 login password can be cracked via Brute Force method, what is Brute Force? The brute-force attack is still one of the most popular password 'guessing' methods. Basically it works by guessing every single combination of number, words and character found on the keyboard.
🤣😍😂 3 Webcam Face Recognition Security Software and Password Manager Program
When used with a very powerful Graphic Card such as the latest GeForce GTX 1080 that comes with 2560 processors, it could probably take a few weeks to maybe a few months to crack a simple password. Now, imagine running 3 Nvidia GTX1080 SLi on a powerful desktop.
If you're wondering why a GPU and not a CPU (Intel Processor), this is because CPUs are designed to process large blocks of data while a GPU is designed to process Tsunami of data, this is why a GPU comes with 2560 cores while an i7 comes with 8 cores. Put it this way, a GPU is a colony of ants, a CPU is an elephant.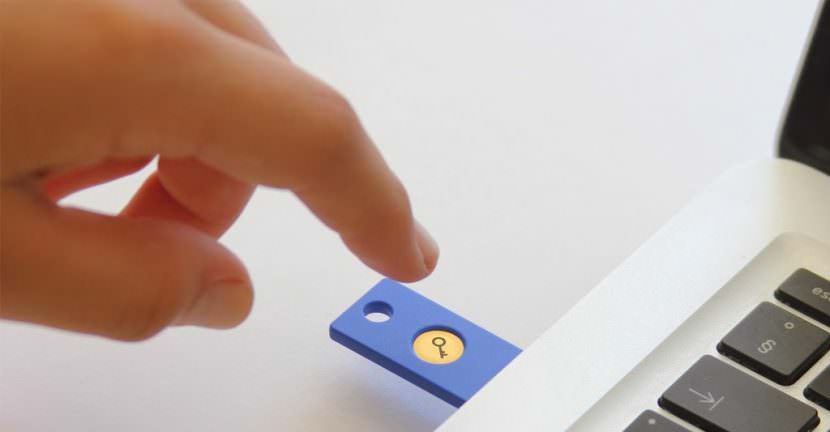 Anyway, because it is easy to crack a password on Microsoft Windows, the best password is both software and hardware based. This is why you can turn your USB flash drive into a security key to lock and unlock your Windows, having both Windows password and a USB security key makes your desktop almost uncrackable. Things you should know before creating a USB security key:
Always make a backup USB security key, if you lose the USB, you might not have access to your own computer.
Make sure you update and change your security key password often, people with access can easily clone your USB without you knowing.
↓ 01 – KeyLock | Free | Microsoft Windows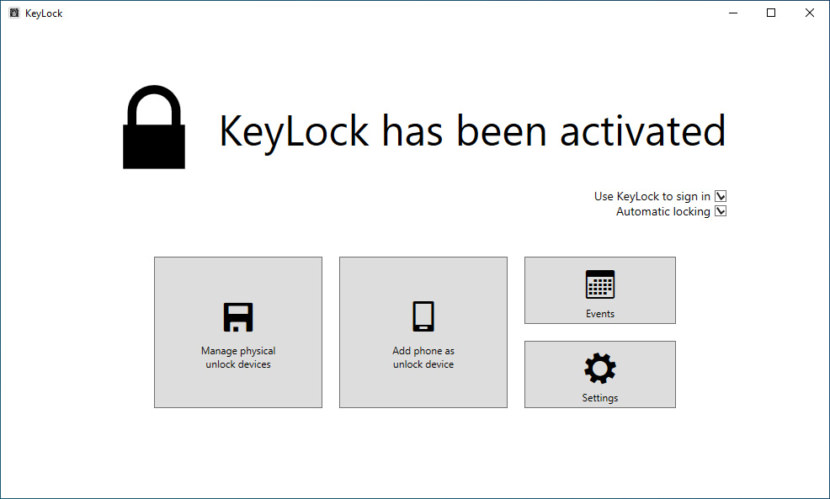 KeyLock is a program to lock your computer with a USB Flash Drive. It comes with a simple and modern user interface, which disables the task manager, and disrupts the mouse, making it impossible to reach the desktop. After unlocking, everything will be recovered immediately and you can use your computer again.
It is not possible to use your computer after you have locked it with KeyLock. Our software uses the Windows lock screen to lock your PC, making it impossible to reach the desktop. After unlocking, you can immediately use your computer again.
Add physical storage devices as unlock device
Add phones as unlock device
Set a daily time limit for a unlock device
Unlock the computer without entering a password if an unlock device is inserted
Automatically lock the computer if an unlock device is retracted
Log events in a logbook
Send e-mail notifications if a login attempt fails
Record audio if a login attempt fails
Optionally require an extra password to be entered to unlock the computer
Export and import unlock device keys
↓ 02 – USB Raptor | Free | Microsoft Windows
Turn any USB flash drive to a computer lock and unlock key! USB Raptor can lock the system once a specific USB drive is removed from the computer and unlock when the drive is plugged in again to any USB port. The utility constantly checks the USB drives for the presence of a specific unlock file with encrypted content.
If this specific file is found the computer stays unlocked otherwise the computer locks. To release the system lock user must plug the USB with the file in any USB port. Alternatively the user can enable (or disable) two additional ways to unlock the system such as network messaging or password. Features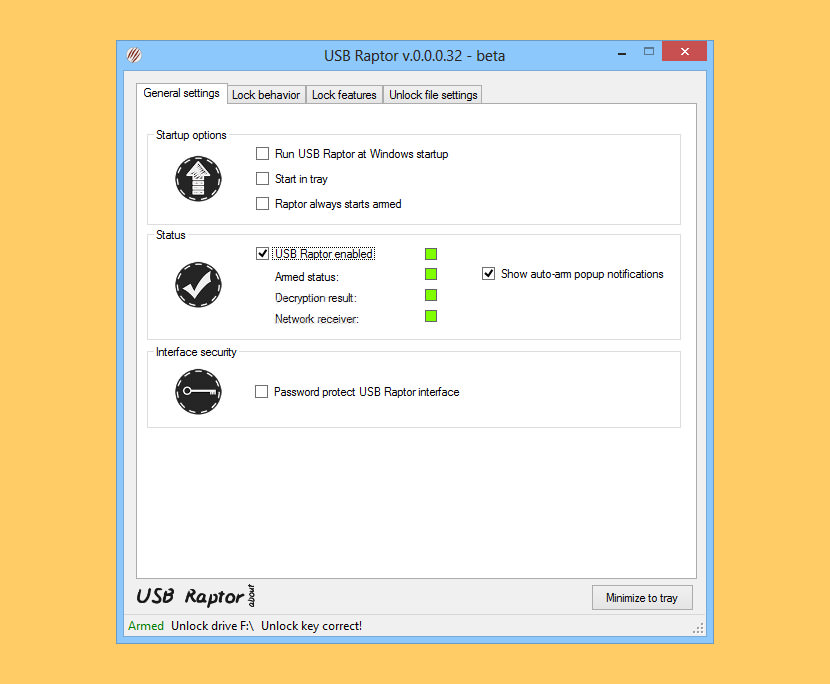 Automated USB lock and unlock function
Lock file contents are encrypted
Password to override lock (can be enabled by user)
Network command to override lock (can enabled by user)
USB drive serial number check (can be enabled by user)
Unique key for each system (can be enabled by user)
↓ 03 – Rohos Logon Key | Windows [ Free / Full ] | Mac [USD32]
Secure authentication solution that converts any USB drive into a security token for your computer and allows you to access Windows in a secure way by means of a USB token, replacing the Windows login. Your computer security benefits: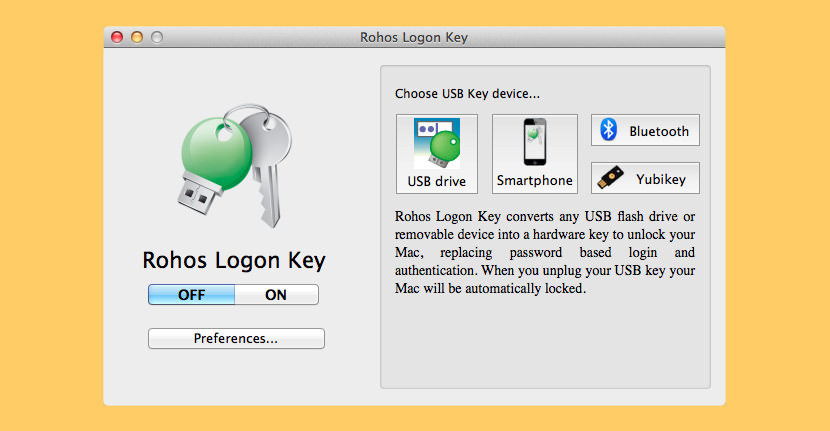 Replaces the weak password-based login with a hardware USB key (USB flash drive or memory card)
Uses a long and powerful password, without the need to remember it
Logging in with a USB key is fully automatic and fast!
The system is password-protected but you don't need to enter the password manually each time you log in to or unlock Windows
Restrict access to a computer based on a USB key
Assigning a password to your user account brings better protection for a hibernated computer.
Rohos uses NIST-approved data-security principles: the password is not stored on the USB key in open form. USB key copy protection does not allow creating unauthorized Key duplicates. All data on the key is encrypted with AES 256-bit key length.
↓ 04 – VSUsbLogon | Free | Windows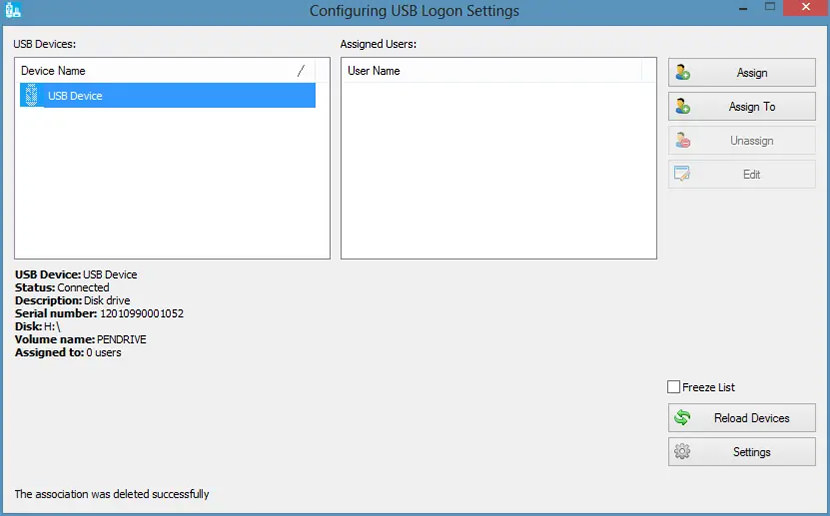 VSUsbLogon allows to login Windows in a secure way via USB device, replacing the password based Windows login. You don't need to remember and type your Windows password (but your system is still password protected). Users can be automatically logged into Windows as they insert the USB flash drive into the USB port. VSUsbLogon allows you to use PIN code to login Windows when USB device has been connected.
VSUsbLogon supports USB HDD, USB flash drives and other USB devices like iPod, iPhone, Samsung Galaxy. This is very important! Many SD cards do not contain the unique information (serial number, …) for unambiguous identification. In other words it is possible that VSUsbLogon cannot distinguish two different SD cards. Please be careful when using the SD card to logon to PC. In this case, we can write into SD card (and USB device) the unique secret encrypted file. This file will be used for the additional identification of the SD card. This functionality is not yet implemented – we can realize it if you want.
All user data are encrypted via AES 256 algorithm. And all user data are encrypted with using unique encryption key that is dependent from the unique user settings.
↓ 05 – Predator | USD10 & USD15 | Microsoft Windows
Predator locks your PC when you are away, even if your Windows session is still active. It uses a regular USB flash drive as an access control device, and works as follows, you insert the USB drive, you run PREDATOR (autostart with Windows is possible), you do your work and when you're away from your PC, you simply remove the USB drive. Once it is removed, the keyboard and mouse are disabled and the screen darkens, when you return back to your PC, you put the USB flash drive in place, the keyboard and mouse are immediately released, and the display is restored. Advanced Security Features: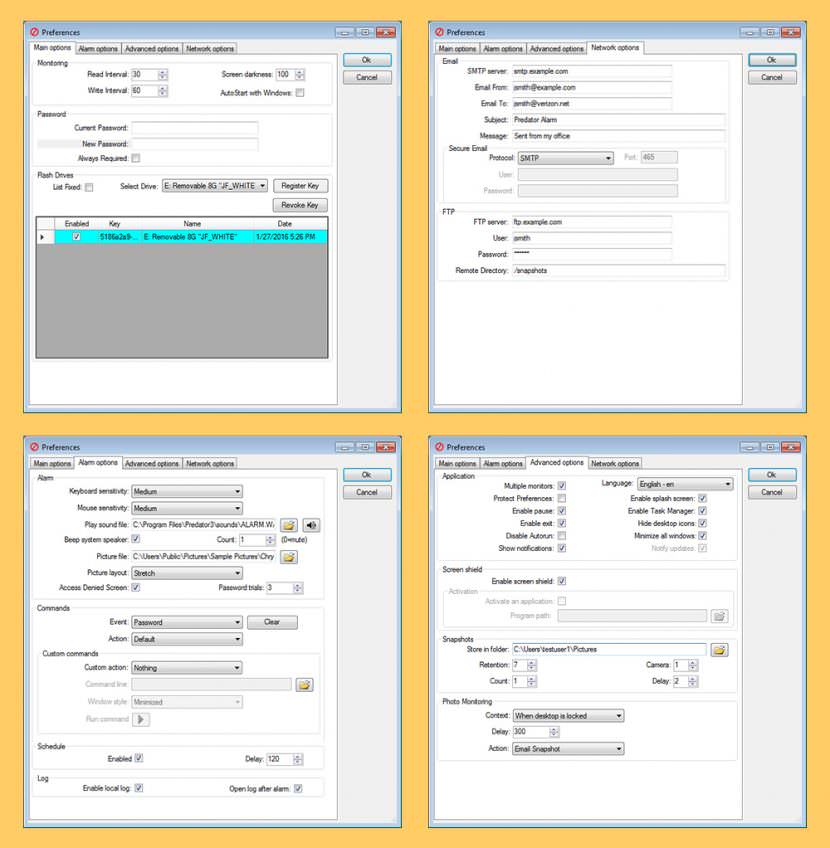 Can protect several PCs with the same USB flash drive, e.g. your home and office computers.
Can take pictures of the person who tries to use your computer and attach them to an email or upload them to a remote server.
Can take pictures with your webcam continuously (time interval is configurable), even when the keyboard and the mouse are inactive. Picture files are stored in a folder, or exported by email or ftp.
Records all security-related events in a log file: start, alarms, stop. By reading this log, you will know if intruders have tried to use your computer while you have been away.
Frequently changes the security codes recorded on your USB drive. If an intruder manages to copy your stick, this copy will not work because the codes on your own stick will have changed in the meantime.
Protects its own in-memory process. Nobody can stop it with Ctrl-Alt-Del.
Disables the CD Autorun feature in Windows, to prevent intruders from running malware on specially crafted CDs.
Lets you regain control of your computer if you lose your stick: when you start the software for the first time, you set a password that will unlock your session if your USB drive is not available.
Can prevent unauthorized users from working with the computer after booting in Safe Mode.
↓ 06 – USB Lock | USD4 | Apple macOS
USB Lock is a simple lock and unlocker for your Apple Mac desktop and laptop. Your screen turns black or displays selected images when locked and an optional password text box appears when key pressed or mouse clicked. It does not sleep or shutdown running applications. Leave applications running while the system is protected.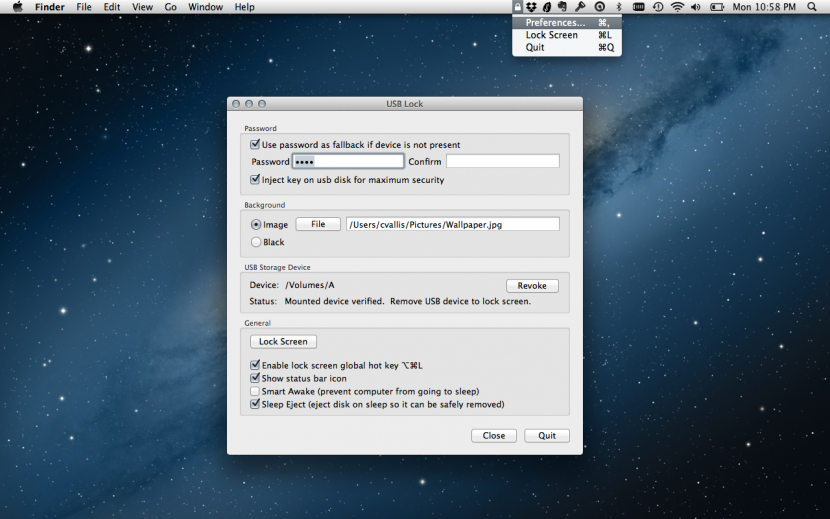 Use with a password for Two-Factor authentication.
Two-factor authentication requires the use of two authentication factors. The two factors are something the user knows and something the user has. For example a USB device and a password.