Updated: January 27, 2018 / Home » Web Services
In this world nothing is certain but death and taxes. Welcome to Free File, where you can prepare and file your federal individual income tax return for free using tax-preparation-and-filing software. Let these Free File do the hard work for you with brand-name software or Free File Fillable Forms, all for free.
Don't Click ➤ 21 Famous Quotes on The Good, Bad and Evil of Federal Income Tax

One thing true about all governments, the most reliable records are the tax records. The moral of the story is to never cheat the government of 'their' money, if you are not caught today, you will be in a few years time. IRS tax problems and settlements are not cheap, in the long run, it is cheaper to pay the amount you owe the government than to hire an Income Tax Attorney to fight the case in court.
If your adjusted gross income was $64,000 or less, you will find one or more free software options only available through Free File at IRS.gov. Review each company's offer to make sure you qualify for your free federal return. Some companies offer free state tax returns; some charge a fee. For more information, see software offers below. All tax software companies below provide a free federal return to active military personnel with an AGI of $64,000 or less. Browse the list of IRS Tax Relief Help software below.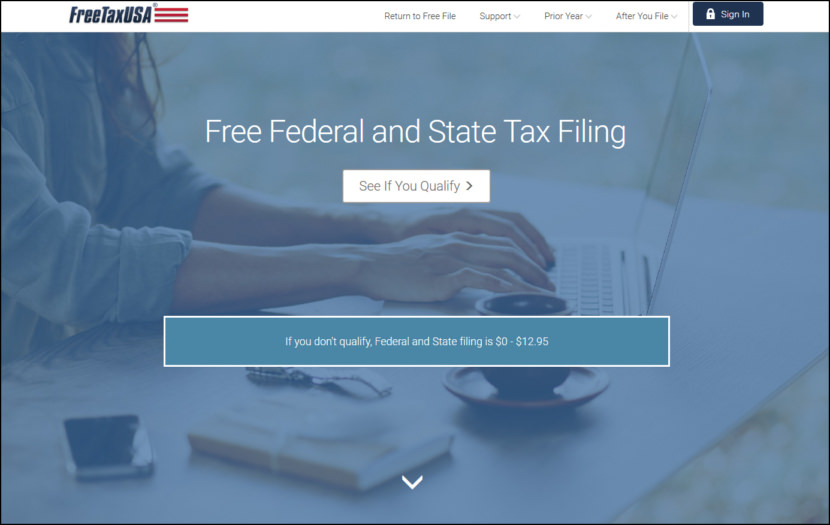 FreeTaxUSA is an online tax preparation website owned by TaxHawk, Inc. Founded in 2001 by a CPA and a team of professional software developers, FreeTaxUSA is one of the fastest growing tax websites online today. FreeTaxUSA is an original member of the IRS Free File Alliance and an authorized IRS e-file provider. We have securely filed millions of federal tax returns with the IRS. Receive a free Federal return if:
Your Adjusted Gross Income is $51,000 or less, AND your age is between 17 and 60
Same criteria apply when filing with a foreign address
Same criteria apply for free state return(s) for some states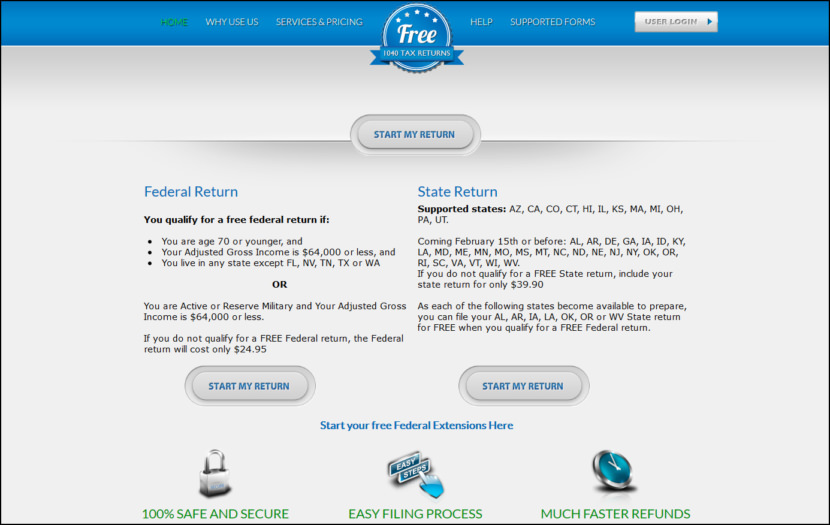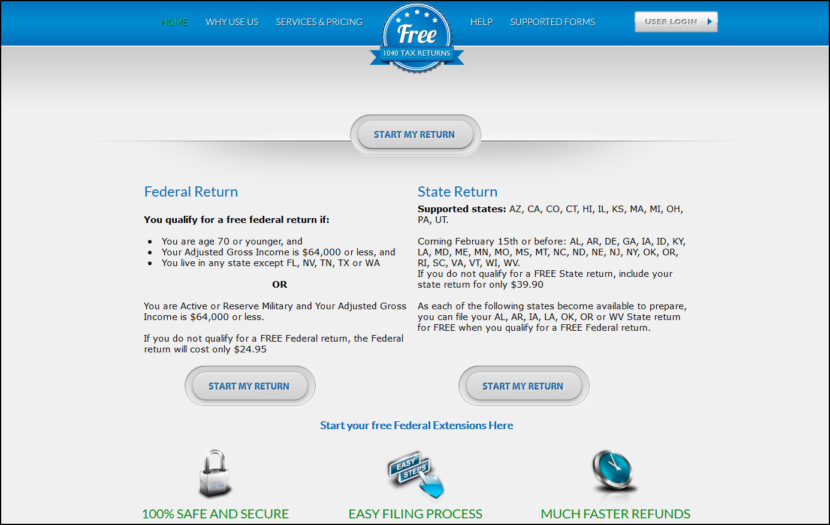 E-file allows you to electronically file your tax returns with the IRS. In other words, rather than send your tax return via US Post, you send your tax return via the Internet. E-file allows higher accuracy of your return and faster refunds. Receive a free Federal return if:
Your Adjusted Gross Income is $64,000 or less, AND
Your age is 70 or younger, AND
Live in any state, except: FL, NV, TN, TX or WA.
Same criteria apply for free state return(s) for some states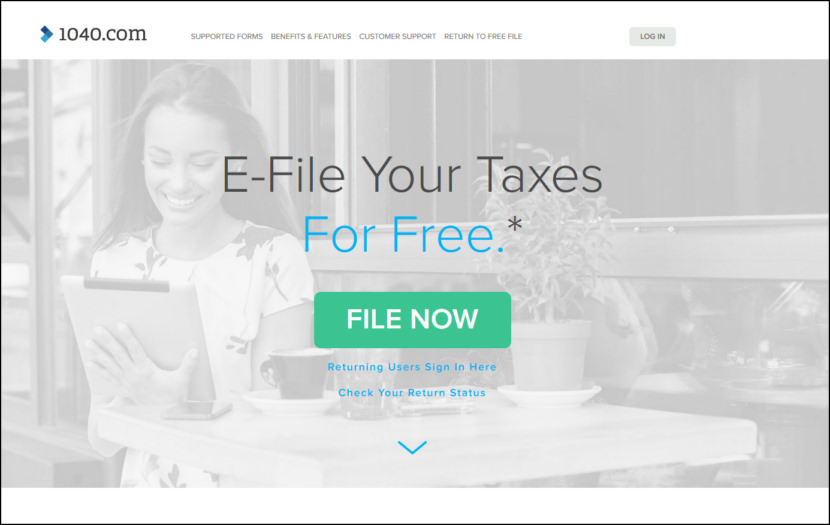 Filing your taxes doesn't have to be a scary process. Our easy interview guides you through your taxes, helping you find credits and deductions that will maximize your refund. Get a FREE Federal tax return when you're age 52 or younger and made $58,000 or less. You also qualify if you are eligible for the Earned Income Credit or are an active duty military member making $64,000 or less. Receive a free Federal return if:
Your Adjusted Gross Income is $58,000 or less, AND your age is 52 or younger, OR
You are eligible for the Earned Income Tax Credit
Same criteria apply when filing with a foreign address
↓ 04 – TaxSlayer | USD4 | iOS | Android | Windows Phone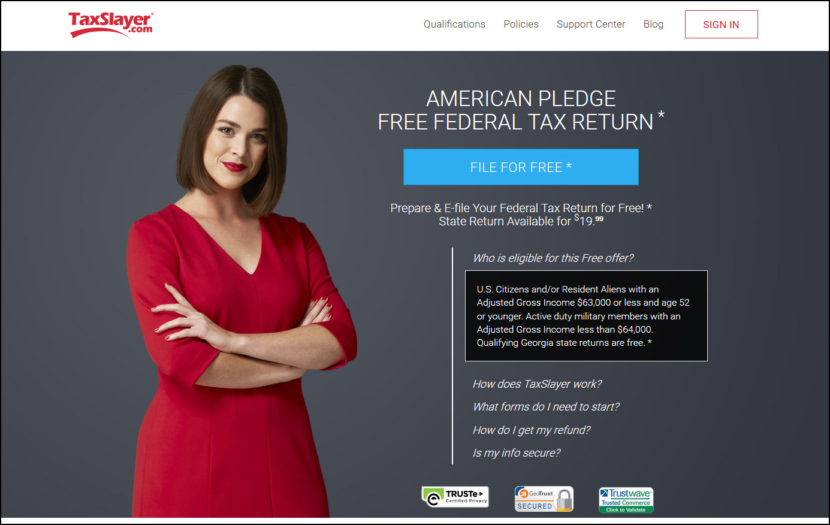 TaxSlayer makes filing your taxes a breeze with easy to use forms and menus! TaxSlayer grew out of a family-owned company with 50 years in the tax preparation business. TaxSlayer provides online tax preparation software for electronic filing of federal and state tax returns. We strive to provide customers with the highest quality software and online technical support. Receive a free Federal return if:
Your Adjusted Gross Income is $63,000 or less AND your age is 52 or younger, OR
Same criteria apply when filing with a foreign address
Same criteria apply for free state return(s) for some states
TaxAct sells value–added products and additional services that are not available or sold through the Free File program. Receive a free Federal return if:
Your Adjusted Gross Income is $52,000 or less AND your age is 56 or younger, OR
You are eligible for the Earned Income Tax Credit, OR
Same criteria apply when filing with a foreign address
Same criteria apply for free state return(s) for any state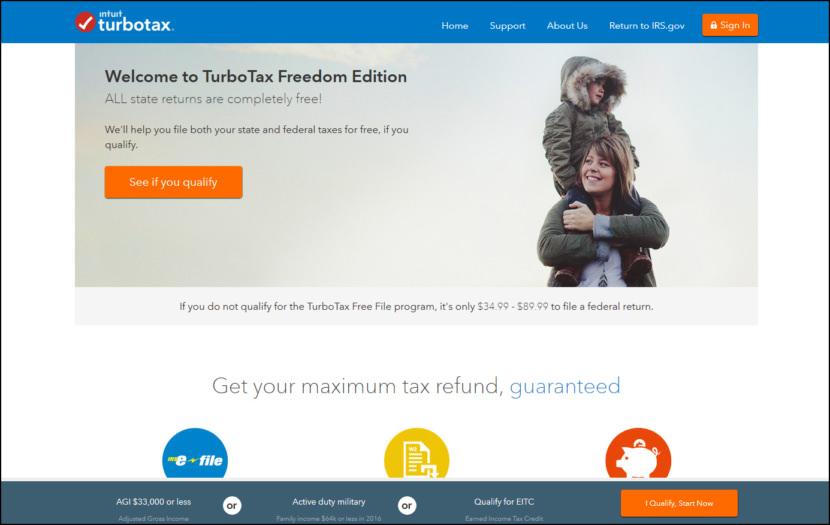 Welcome to TurboTax Freedom Edition. ALL state returns are completely free! We'll help you file both your state and federal taxes for free, if you qualify. If you do not qualify for the TurboTax Free File program, it's only $34.99 – $89.99 to file a federal return. Receive a free Federal return if:
Your Adjusted Gross Income is $33,000 or less, OR
You are eligible for the Earned Income Tax Credit
All Ages
Same criteria apply when filing with a foreign address
Same criteria apply for free state return(s) for any state
1040Now has the most complete library of tax forms and schedules including itemized deductions, business and rental incomes, interest and dividend incomes, depreciation and much more. Receive a free Federal return if:
If your Adjusted Gross Income (AGI) is $64,000 or less AND
You live in one of the following states: AL, AR, AZ, CA, GA, IA, ID, IN, KY, MI, MN, MO, MS, NC, ND, NY, OK, OR, RI, SC, VA, VT or WV
Same criteria apply when filing with a foreign address
OR
Your AGI is $64,000 or less and you are 60 or younger AND
You live in one of the following states: CO, CT, DC, DE, HI, IL, KS, LA, MA, MD, ME, MT, NE, NJ, NM, OH, PA, UT or WI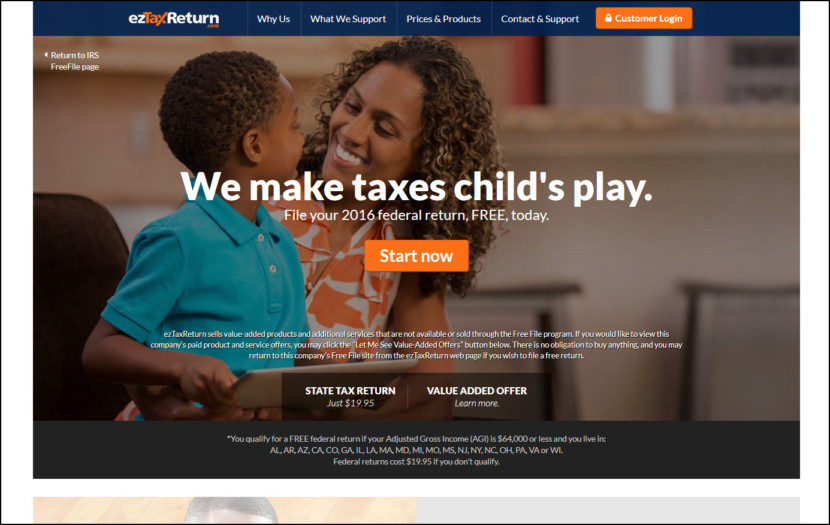 With ezTaxReturn you get more features and benefits and a faster, easier tax filing experience. And if you want to file a state tax return, you pay just $19.95 (where available). Still unsure, try us out. You can do your taxes and learn your balance or refund due. Then decide if you want to efile, free. Receive a free Federal return if:
Your Adjusted Gross Income is $64,000 or less, AND
You live in any of these states: AL, AR, AZ, CA, CO, GA, IL, LA, MA, MD, MI, MO, MS, NC, NJ, NY, OH, PA, VA, or WI
All Ages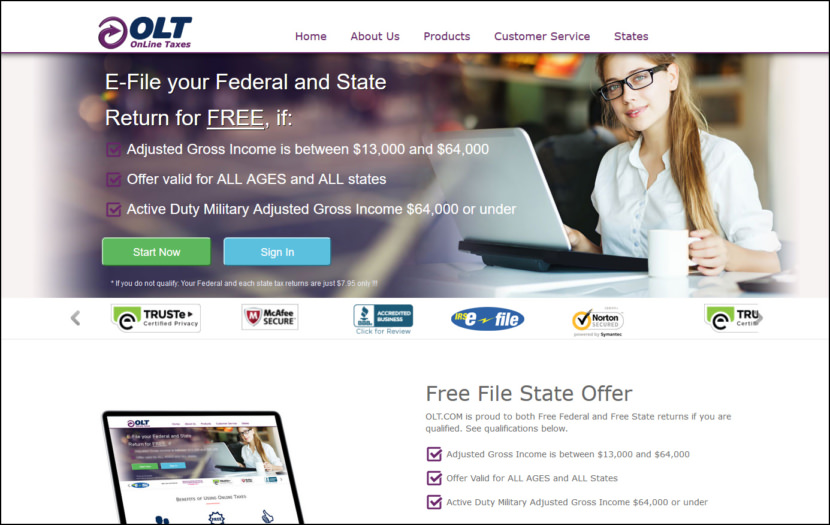 As an IRS authorized e-file provider and partner, OnLine Taxes shares in the IRS mission to increase income tax filing through e-file. OnLine Taxes' purpose is to provide individuals simple, secure, fast and accurate income tax preparation and get their refunds back fast… at a low price. Receive a free Federal return if:
Your Adjusted Gross Income is between $13,000 and $64,000
All Ages
Same criteria apply when filing with a foreign address
Same criteria apply for free state return(s) for any state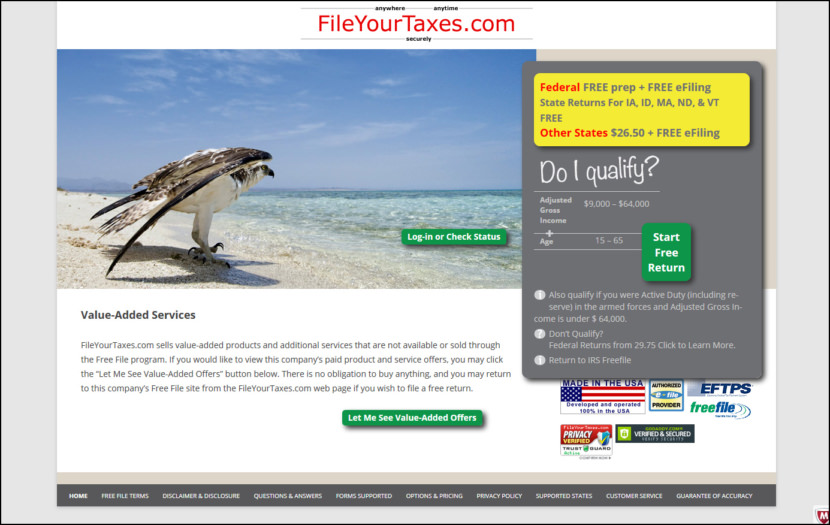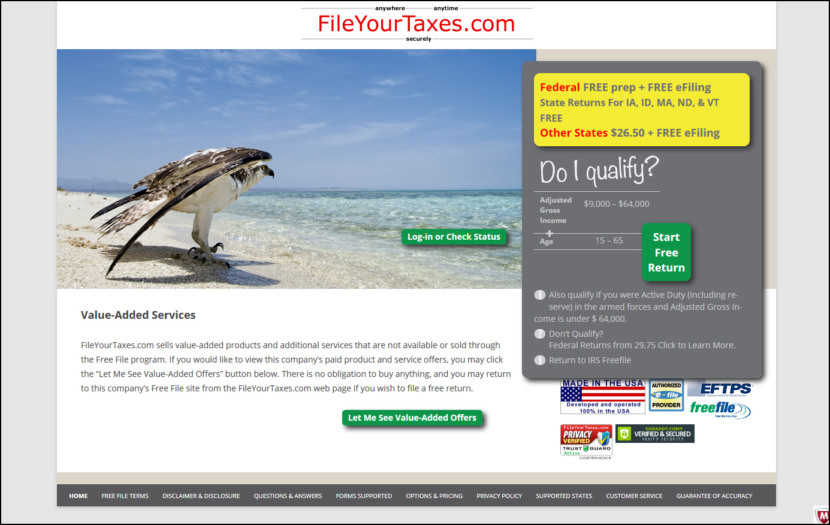 FileYourTaxes.com is faster, convenient, contemporary and hassle-free alternative to filing your taxes the old-fashioned way. Receive a free Federal return if:
Your Adjusted Gross Income is between $9,000 and $64,000 or less, AND your age is between 15 and 65
Same criteria apply when filing with a foreign address
Same criteria apply for free state return(s) for some states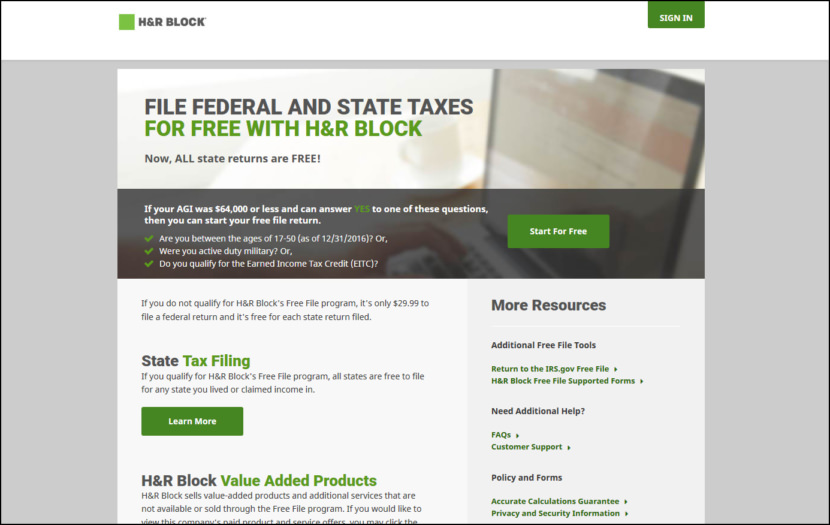 Get your maximum tax refund. Guaranteed. There are lots of ways to complete a tax return. At H&R Block, we find the one that gets you the most money possible. It's the difference between getting your taxes done, and getting your taxes won. Receive a free Federal return if:
Your Adjusted Gross Income is $64,000 or less, AND your age is between 17 and 50, OR
You are eligible for the Earned Income Tax Credit, OR
Same criteria apply when filing with a foreign address
Same criteria apply for free state return(s) for any state