There are many online backup services, and like all things, they are not carved out to be the same. Apart from pricing, there are other features that most users overlooked. When it comes to backing up sensitive data, 3 things comes into play – Encryption, Zero Knowledge and Secure Key Management. These 3 features are important for storing sensitive information, from banking to user's private data, from medical records to tax documents. 43% of companies with a major data loss go out of business because they got sued for data breach and data loss or they simply couldn't continue the business without the stolen / corrupted data.
Related Article 2019 ➤ 14 Free Folder and File Synchronization For External Hard Drive Backup
Encryption – Military grade 256-bit AES encryption.
Zero knowledge – The user needs to manage their own encryption key or password. If they lose it, there is no way to access the data. The service provider cannot access the user's data even if required by the government. Backup service providers often claim that no one can access the users data even though they themselves could if forced to do so, so entries claiming support of this feature should always have a supporting reference. If the backup service has a password recovery or reset mechanism that allows a user to access their data when they lose their password or key, that proves they do not have zero knowledge.
Secure Key Management – If yes, the user holds and controls of the encryption key. If no, the service provider holds and controls the encryption key.
Perhaps the best backup policy is to subscribe to an online offsite backup storage and set up your own in-house NAS backup storage system. With dual backups, you are more secure, unless the backup storage is corrupted or damaged due to virus and was synced to the online storage. Always subscribe to an Antivirus service. Here are 6 of the best Amazon S3 Cloud Storage alternatives for small business and enterprise.
↓ 01 – BarracudaMSP (Intronis) | Zero Knowledge [ Yes ] / Secure Key [ Configurable ]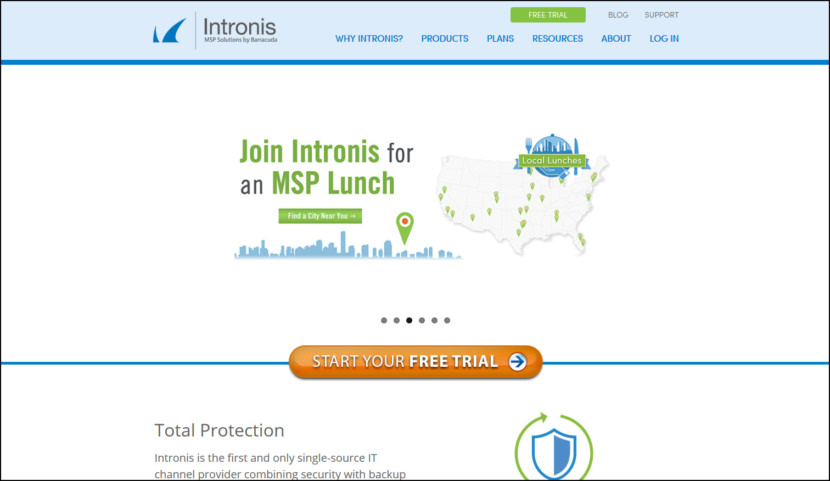 Intronis is the first and only single-source IT channel provider combining security with backup solutions to proactively and reactively protect business-critical data and operations. Powerful integrations with IT technology vendors simplify existing operations for MSP partners while maximizing efficiency and lowering operating costs. The Intronis portal-based centralized management approach simplifies the deployment and maintenance of a suite of security and BDR solutions, reducing administrative overhead and lowering total cost of ownership.
↓ 02 – Infrascale | Zero Knowledge [ Optional ] / Secure Key [ Optional ]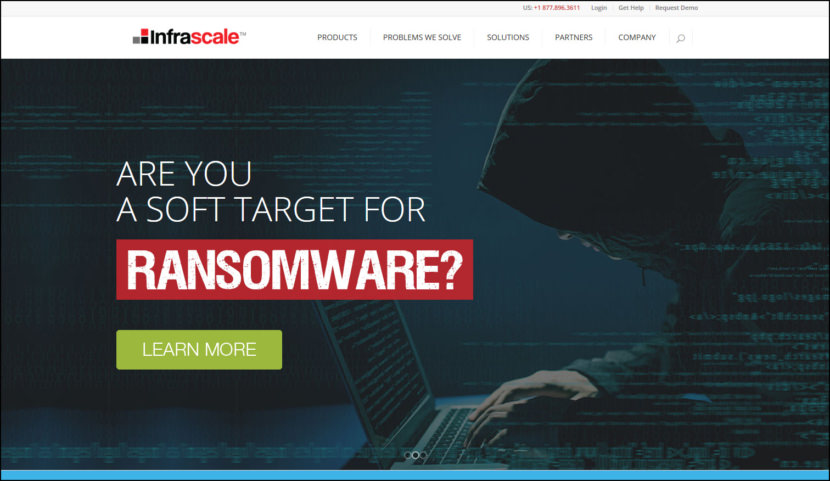 With Infrascale, backup and recovery is so simple, you'll never believe you thought it had to be so complex. Infrascale is an enterprise-grade disaster recovery solution that provides rapid failover to a second site with
the flexibility to boot from the appliance or cloud. Delivered as a physical or virtual appliance and includes DR software. The problem is that enterprise-class backup and disaster recovery have been prohibitively expensive, complicated, and challenging to deploy and manage, while balancing limited budgets and resources. That's why Infrascale has developed a complete suite of solutions, spanning direct-to-cloud solutions to failover appliances that support your operations – reliably, affordably, and securely – and are super easy to manage.
Disaster Recovery As a Service
Ransomware Mitigation
Backup for Servers & Applications
Archiving
Data Security & Encryption
Laptop and Mobile Device Protection
↓ 03 – Acronis Storage | Zero Knowledge [ Optional ] / Secure Key [ Yes ]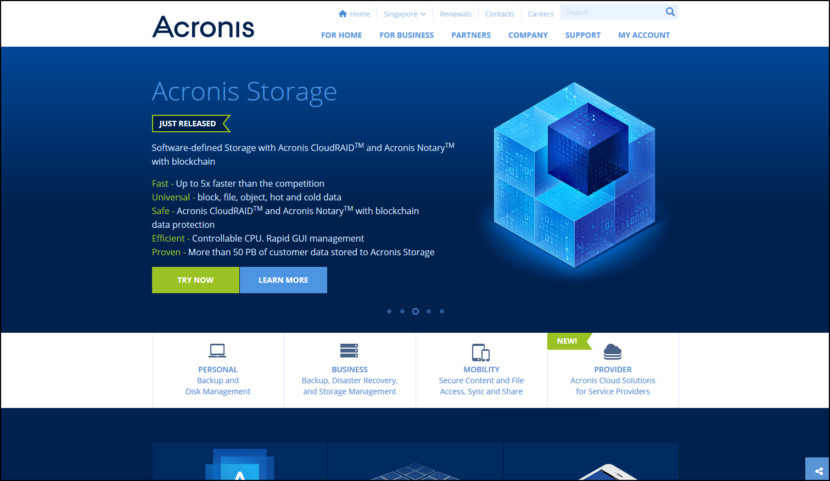 Use it as back-end for applications like Acronis Files Cloud, Acronis Backup Cloud, Open-Xchange, vSphere, Hyper V, Microsoft Exchange or as shared storage for general needs like documents, graphics, video files. Software-defined Storage with Acronis CloudRAIDTM and Acronis NotaryTM with blockchain. Acronis Storage has been in production for 5+ years at Acronis' 12 data centers world-wide, Keeping 50PB+ of physical space (32PB of logical space used for 125000+ total desktop and mobile devices ) of customer data under protection as backend for Acronis Backup Cloud, Acronis True Image, Acronis Backup 12 and Acronis Backup Advanced 11.7.
Fast – Up to 5x faster than the competition
Universal – Block, file, object, hot and cold data
Safe – Acronis CloudRAIDTM and Acronis NotaryTM with blockchain data protection
Efficient – Controllable TCO. Rapid GUI management
Proven – More than 50 PB of customer data stored to Acronis Storage
↓ 04 – CloudBerry Lab | Zero Knowledge [ Yes ] / Secure Key [ Yes ]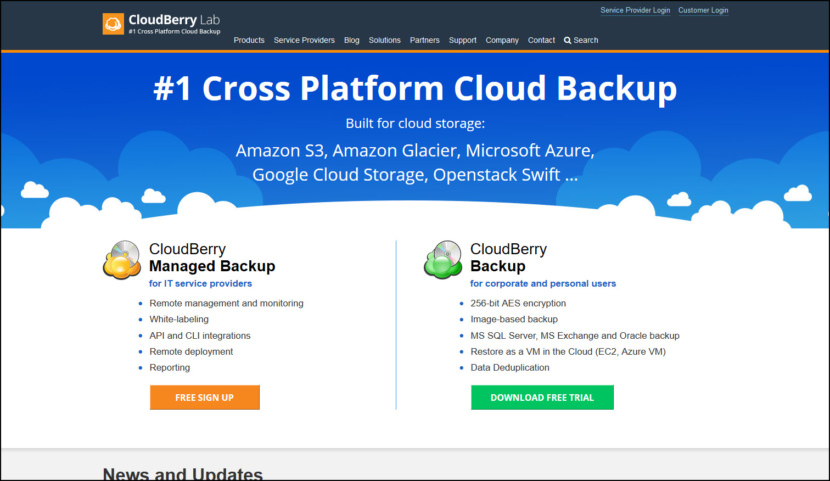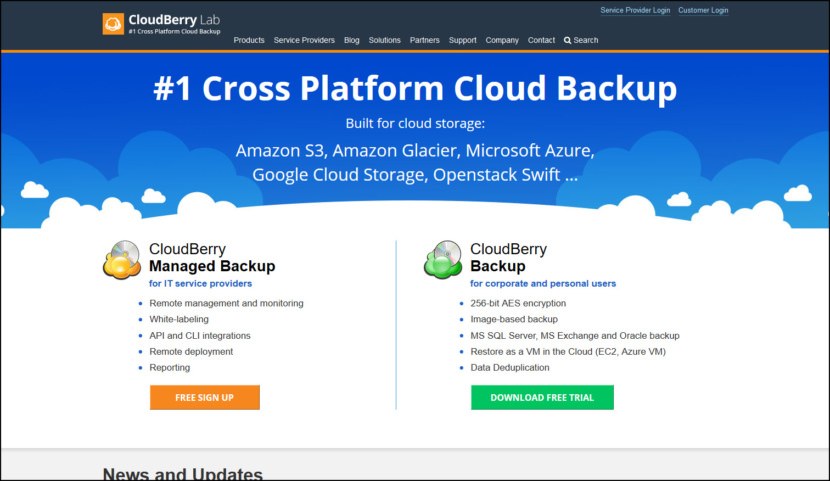 Cross Platform Cloud Backup built for cloud storage such as Amazon S3, Amazon Glacier, Microsoft Azure, Google Cloud Storage, and Openstack Swift. CloudBerry Managed Backup Service (MBS) is built from the CloudBerry Backup technology and designed to meet the needs of managed service providers and enterprise IT departments, providing reliable backup with central management and monitoring. CloudBerry Managed Backup is integrated with Amazon Web Services, Microsoft Azure, Google Cloud Platform and almost every S3-compatible or OpenStack-based cloud storage services.
End-to-End Encryption – Data is encrypted with AES 256-bit strong key before leaving the computer, in transit and in the cloud.
PSA/RMM Systems Integration – Manage your customers' accounts, billing and ticketing from within ConnectWise and Autotask PSA systems.
One Click Restore to Amazon EC2 – Restore a Windows Server as an Amazon EC2 instance.
Manage and Monitor Backup Jobs – Continuously monitor backup processes on the client machines, manage backup jobs, recover data and force software upgrades from the web control panel.
↓ 05 – CrashPlan | Zero Knowledge [ Yes ] / Secure Key [ Yes ]
Good, Better or Best backup. Freedom built in. Only CrashPlan offers totally free local and offsite backup. A subscription to our cloud backup service gets you continuous backup, mobile file access and lots more. For the ultimate in computer backup, get all three, from the same easy application. Offsite backup doesn't get any friendlier than CrashPlan. Back up to multiple offsite locations, such as other computers in your network of friends and family, keeping your files safe from disaster at any one location.
Triple Destination Data Storage and Protection – Enjoy free backup to an external drive and any trusted, internet-connected computer. Or experience the full trifecta of fearlessness with a subscription to our cloud-based destination, CrashPlan Central. Only CrashPlan offers such comprehensive protection.
Truly Unlimited Storage – Whether you require gigabytes or terabytes of online backup, a subscription to the CrashPlan Central cloud will set you free from file type and size roadblocks. Plus, we'll never charge you extra to restore your files. They're yours, after all.
Stepped-up Data Security – CrashPlan subscribers can surround their digital life with 448-bit encryption, including a private key option. This rare combination of security measures creates a virtually impenetrable "force field" around your data. What's more, we've taken extra steps to ensure our data centers comply with military-grade security standards and conform to industry best practices for power redundancy, cooling and fire protection.
Your Files, Mobilized – Our free mobile app is another reason to give a CrashPlan subscription a go. Along with continuous protection of your complete digital life, you'll enjoy ready access to all your computer files from virtually anywhere, at any time. Files at your fingertips and world at your feet—it's go time.
Silent and Continuous – CrashPlan is your silent computer backup partner, protecting your precious files and folders in real-time. Designed to use minimal CPU power, you won't even know it's running. If your backup is interrupted, or you put your computer to sleep, CrashPlan automatically resumes when your computer becomes available again.
Deleted File Protection – The CrashPlan Central cloud is a regret-free zone. We keep your deleted files forever (unless you tell us not to), so no matter how much time passes after you trash a file, you can dig it out. And while this means a larger investment of resources on our part, if it helps reduce anxiety over accidentally trashing your data, it's well worth it.
↓ 06 – Jungle Disk | Zero Knowledge [ Yes ] / Secure Key [ Yes ]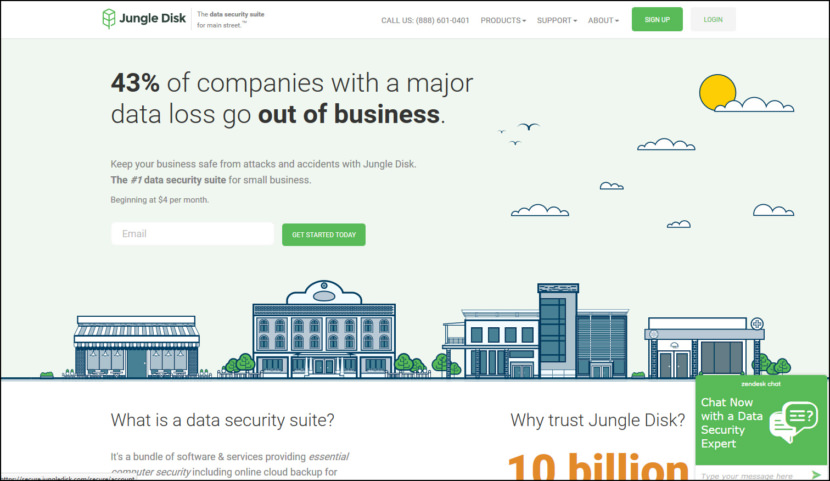 Jungle Disk securely backs up all your employees' data plus your important server data — keeping it safe & easy to restore. Keep your business safe from attacks and accidents with Jungle Disk. It's a bundle of software & services providing essential computer security including online cloud backup for workstations and servers, firewall, content filtering, virus & malware defense, plus VPN–all for an affordable monthly subscription.
Encrypted Backups – Secure, off-site data backups with an easy to use interface and fast recovery. Laptops, Desktops, & Servers.
Military Grade – Certified, military-grade AES-256 encryption keeps your data safe.
Network Protection – Firewall, VPN, and ransomware shield to stop hacker attacks – backed by a $10,000+ data breach guarantee!