How to block ISP throttling and speed up your torrents or YouTube videos? If you are on a shared network, for instance in an office or university campus, using a VPN will allow you to bypass torrent throttling, including a router's QoS. In fact, using an encrypted VPN enables you to bypass most firewall filters imposed in a work environment or campus. Since the data is encrypted, there is no possible way for them to know what you are downloading or uploading, this includes sites you've visited.
🤣😍😂 5 Best VPN for Gaming – No Lags, 0% Packet Loss and Reduce Ping ms
Having said that, this doesn't mean you are invisible or you'll get away from the FBI or Police if you committed a crime online. Most VPNs keep a record of your activities, some may advertise they do not keep a log but it comes with a fine print, more often than not, they are required by law to keep all activities for 60 days or more. This is to track criminals and terrorists.
I've shortlisted a few VPN based on the advantages they offer, from having their own unique technology to the number of servers owned. Very useful in places such as StarBucks with Public Wifi, or library, gaming or parents that limit the house's router downloading speed via QoS traffic management.
↓ 01 – VyprVPN | Unique Chameleon Technology [ The Best ]
Windows / macOS / iOS / Android / All Router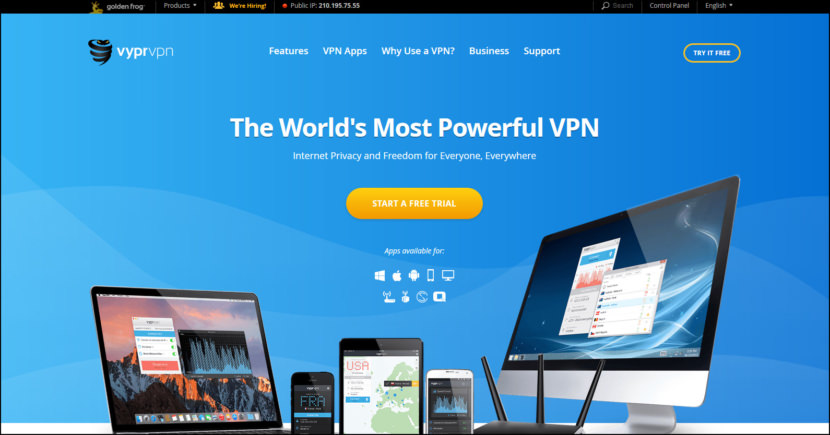 What makes VyprVPN different from the competitor is their unique technology, all VPN uses an open source technology such as PPTP, L2TP or OpenVPN. VyprVPN uses their own Chameleon technology, the one and only in the market, thus making it harder for authorities to target them.
Golden Frog's engineers have developed a remarkable new, proprietary VPN technology called Chameleon. Chameleon scrambles OpenVPN packet metadata to ensure it's not recognizable via deep packet inspection (DPI), while still keeping it fast and lightweight.

The Chameleon technology uses the unmodified OpenVPN 256-bit protocol for the underlying data encryption. The result is that VyprVPN users are able to bypass restrictive networks put in place by governments, corporations and ISPs to achieve an open internet experience without sacrificing the proven security for which OpenVPN has long been known.
VyprVPN Defeats Throttling – When you connect to VyprVPN, your ISP only sees encrypted traffic. The result is faster, unrestricted Internet speeds on Netflix, YouTube, Hulu and more.
Unlimited Means Unlimited – Unlike other VPN providers, we never limit you. Connect to any VyprVPN server without restrictions, download caps or server switching fees.
VyprDNS – Zero-Knowledge DNS – VyprDNS is Golden Frog's own zero-knowledge DNS available exclusively for VyprVPN users. Reclaim your privacy and defeat censorship across the world.
↓ 02 – CyberGhost VPN | Torrent Anonymously | Unblock Torrent Streaming
Windows / macOS / Linux / iOS / Android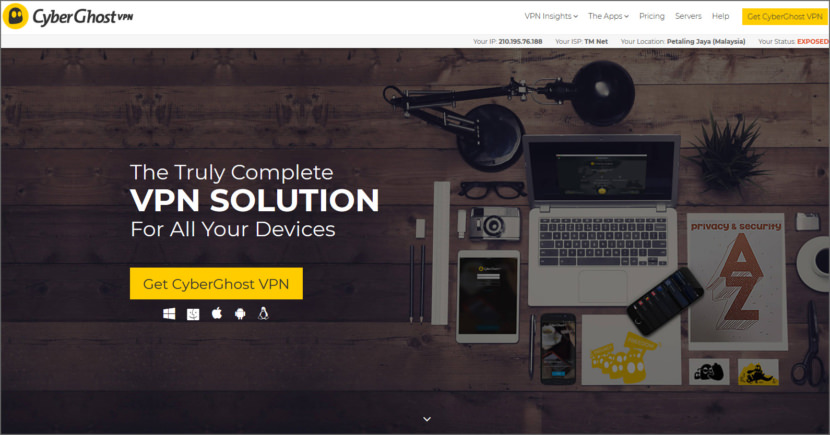 Online content was created to be enjoyed securely and from anywhere. Reclaim your right to a free Internet with CyberGhost VPN, tried and tested by 15 million users worldwide! With CyberGhost VPN, you launch both a browser session and a VPN connection, in 1 click. Your whole online journey can be anonymized, if you start it in CyberGhost.
CyberGhost VPN is 100% customizable and you can decide every aspect of your VPN experience: from specific servers to multiple features you can combine, all with the most advanced filtering and feedback options available on the market.
Unlimited bandwidth and traffic
Access to over 1000 servers worldwide
DNS and IP Leak Protection
Strict No Logs Policy
256-bit AES Encryption
OpenVPN, L2TP-IPsec and PPTP protocols
↓ 03 – VPN Gate | Free VPN | 100% Public Crowd Sourced
Windows / macOS / Linux / iOS / Android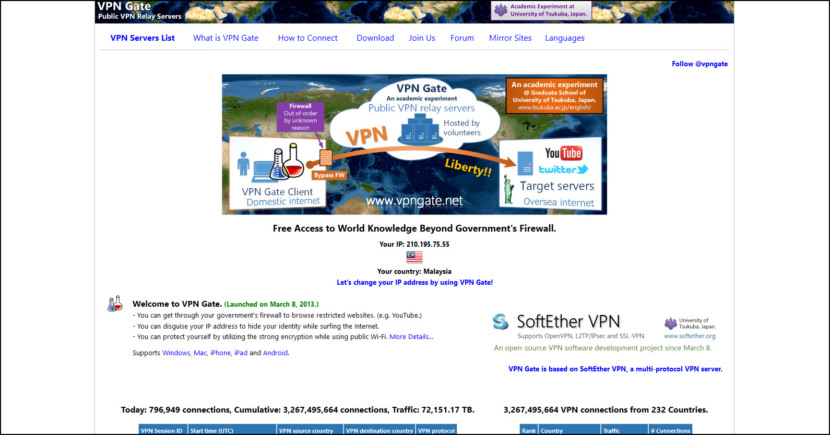 VPN Gate Academic Experiment Project is an online service for academic research at the Graduate School of University of Tsukuba, Japan. The purpose of this research is to expand the knowledge of "Global Distributed Public VPN Relay Servers". It is kind of like Wikipedia, anyone with extra bandwidth and servers can contribute to the project, thus making it a crowd-funded project by the people for the people.
Because it uses so many different servers and the IP address kept on changing, it is very hard for authorities to track down the ever changing IP Address and block them. Unlike traditional VPN services, VPN Gate can get through most firewalls.
↓ 04 – HideMyAss | 190+ Countries With 100000+ IP Addresses
Windows / macOS / Linux / iOS / Android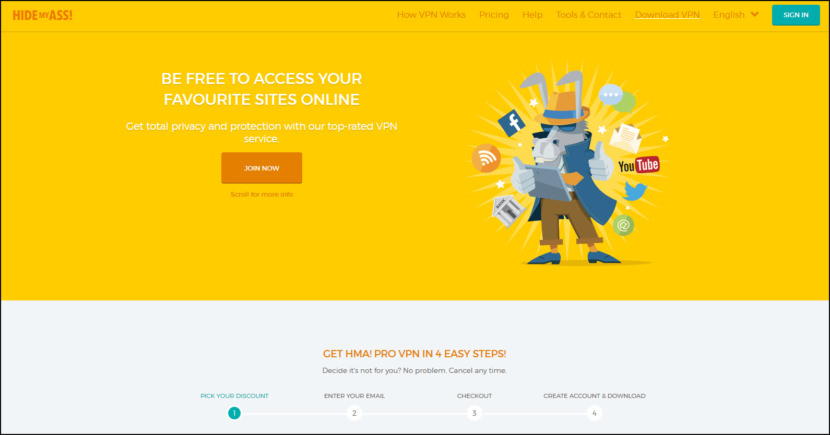 They have 800+ VPN servers in 340+ locations in 190+ countries around the world – offering faster connections and wider access to restricted sites around the world than other VPN providers. And we offer over 100000+ IP addresses – the codes from which internet snoopers can deduce a computer's geographical location. I've subscribed to their service before and wasn't too happy with it. If you are looking for coverage, HideMyAss is the biggest VPN in the market in terms of coverage.
Enjoy security online, even on public WiFi connections and unsecured networks.
Hide your online identity and browse anonymously online. Your IP is hidden so you can browse without being tracked.
Unlike other VPN services, ours can be used on many devices at the same time, including mobile phones, tablets and games consoles.
Complete List Of All VPN [ Comparison ]
If your intention is to bypass the Torrent P2P Block and web filter, there is no reason why you need to hide your identity via a VPN. Anonymous payment via BitCoin doesn't work because everything you do online leaves a footprint, it may take the authority more resources to link the missing pieces. I've narrowed down the few essential features you'll be comparing. The complete list can be found at That One Privacy Site – Detailed VPN Comparison Chart.
| VPN Provider | Based in (Country) | Traffic Logging | Blocks P2P | No. of Connections | No. of Countries | No. of Servers | USD/Month [ Annual ] |
| --- | --- | --- | --- | --- | --- | --- | --- |
| 3Monkey | Switzerland | No | | 1 | 20 | 325 | $7.07 |
| AceVPN | USA | | Some | 2 | 22 | | $4.59 |
| ActiVPN | France | | | 5 | 13 | 20 | $3.34 |
| AirVPN | Italy | No | No | 3 | 16 | 138 | $4.93 |
| Anonine | UK | No | | 5 | 22 | 80 | $3.99 |
| AnonVPN | USA | No | No | 1 | 3 | | $5.75 |
| Anonymizer | USA | No | No | 6 | | | $6.67 |
| AnonymousVPN | Seychelles | No | No | 3 | 20 | 20 | $5.75 |
| Astrill | Seychelles | | Some | 2 | 54 | 254 | $5.83 |
| Avast Secureline | Czech Republic | | | 1 | 19 | 27 | $6.67 |
| Avira Phantom VPN | Germany | No | | 25 | 20 | | $6.50 |
| AzireVPN | Sweden | No | No | 5 | 4 | 26 | $4.11 |
| BeeVPN | Denmark | | No | 1 | 4 | | $7.17 |
| Betternet | Canada | | | 25 | | | $0.00 |
| BlackVPN | Hong Kong | No | Some | 3 | 19 | 27 | $9.03 |
| BlazingVPN | | No | | 5 | 13 | | $10.00 |
| Blockless | Canada | | | 1 | | | $4.17 |
| BolehVPN | Seychelles | No | Some | 3 | 13 | 35 | $6.67 |
| Boxpn | Seychelles | | No | 3 | 22 | 80 | $2.99 |
| BTGuard | USA | No | No | 1 | 3 | 5 | $7.50 |
| Buffered | Hungary | No | | 5 | 26 | | $9.99 |
| CactusVPN | Moldova | No | Some | 3 | 4 | 16 | $4.59 |
| Celo | Australia | No | No | 5 | 11 | 14 | $5.50 |
| ChillGlobal | Germany | No | | 1 | 15 | | $5.70 |
| Cloak | USA | See Note | | 25 | | | $8.34 |
| CrypticVPN | USA | No | | 1 | 15 | 18 | $2.09 |
| CryptoHippie | USA | See Note | | 1 | | 12 | $22.92 |
| CryptoStorm | Iceland | No | No | 1 | 10 | | $3.92 |
| CyberGhost | Romania | No | Some | 1 | 30 | 607 | $5.84 |
| DathoVPN | Panama | No | No | 1 | 17 | 70 | $6.00 |
| DefenceVPN | Barbados | No | Some | 2 | 7 | | $2.50 |
| DissembleVPN | | No | | 1 | 15 | 19 | $0.75 |
| DotVPN | Hong Kong | | | 3 | | 700 | $3.00 |
| EarthVPN | Northern Cyprus | No | Some | 3 | 32 | 304 | $3.34 |
| EtherealVPN | | | | 1 | 7 | 8 | $1.67 |
| ExpressVPN | British Virgin Islands | No | No | 3 | 87 | 1000 | $8.32 |
| Faceless.ME | Cyprus | | No | 1 | 3 | | $5.00 |
| FinchVPN | Malaysia | No | Some | 1 | 20 | 54 | $3.22 |
| FlowVPN | | | | 4 | 41 | 90 | $3.99 |
| FlyVPN | | | No | 1 | 30 | 150 | $6.67 |
| FoxyProxy | USA | No | No | 25 | 55 | | $7.49 |
| Freedom-IP | | | | 5 | 40 | | $4.58 |
| Freedome | Finland | | Some | 3 | 19 | | $4.16 |
| FreeVPN Ninja | | | No | 25 | 3 | 3 | $0.00 |
| FrootVPN | Sweden | No | No | 3 | 19 | | $3.00 |
| FrostVPN | USA | No | Some | 3 | 16 | 54 | $4.99 |
| GetFlix | Canada | | | 1 | 20 | 26 | $2.77 |
| GhostPath | USA | | | 1 | 44 | 138 | $6.25 |
| GoTrusted | USA | | | 1 | | | $5.99 |
| GoVPN | Germany | No | | 3 | 8 | 27 | $2.50 |
| Hide.me | Malaysia | No | No | 5 | 24 | 88 | $11.67 |
| HideALLIP | | | No | 1 | 37 | 150 | $2.42 |
| HideIPVPN | USA | | Some | 3 | 5 | 28 | $7.00 |
| HideMyAss | UK | No | No | 2 | 221 | 923 | $4.99 |
| Hide My IP | USA | | | 1 | 42 | 71 | $2.95 |
| Hola!VPN | | Yes | | 1 | | | $5.00 |
| Hotspot Shield | USA | | | 5 | | | $2.50 |
| HotVPN | | | | 1 | | | $8.50 |
| IBVPN | Romania | No | Some | 1 | 43 | 95 | $4.08 |
| Identity Cloaker | Czech Republic | No | | 1 | 12 | 31 | $7.17 |
| IncognitoVPN | USA | No | | 3 | 24 | 35 | $12.44 |
| In-Disguise | Belize | | Some | 1 | 22 | 25 | $6.86 |
| Insorg | | No | | 1 | 17 | 17 | $15.84 |
| Integrity.st | Sweden | No | | | | | See Note |
| IntelliVPN | | | | 1 | | | $1.59 |
| Internetz.me | Germany | No | | 3 | 6 | 17 | $7.16 |
| IntroVPN | | No | | 1 | 7 | 9 | $4.00 |
| IPinator | USA | No | | 5 | 12 | 84 | $6.59 |
| IPredator | Sweden | No | No | 2 | 1 | 50 | $6.56 |
| IPVanish | USA | No | No | 5 | 60 | 500 | $6.49 |
| Ironsocket | Hong Kong | No | Some | 3 | 35 | 50 | $4.16 |
| Ivacy | Hong Kong | No | No | 5 | 40 | 250 | $11.95 |
| IVPN | Gibraltar | No | No | 3 | 12 | 21 | $8.34 |
| Kepard | Moldova | | Some | 1 | | | $2.90 |
| LeVPN | Hong Kong | No | Some | 2 | 114 | 350 | $4.95 |
| LibertyShield | UK | | | 1 | 10 | 10 | $12.43 |
| LibertyVPN | USA | | Yes | 1 | 83 | | $8.99 |
| LimeVPN | Hong Kong | No | Some | 20 | 10 | 19 | $11.49 |
| LiquidVPN | USA | No | No | 8 | 11 | 45 | $8.83 |
| Lokun | Iceland | | No | 1 | | | |
| Mullvad | Sweden | No | No | 3 | 20 | 82 | $5.44 |
| My Expat Network | UK | | | 3 | 4 | | $7.00 |
| MyIP.io | USA | No | | 1 | 10 | | $5.99 |
| My Private Network | Hong Kong | No | | 3 | 43 | | $9.47 |
| MyVPN.Pro | USA | | | 1 | | | $9.95 |
| Netshade | USA | Yes | | 1 | 7 | 13 | $4.92 |
| Newshosting | USA | No | | 2 | | | $8.25 |
| NEXTGenVPN | Seychelles | | Some | 1 | 11 | | $14.57 |
| NolimitVPN | Singapore | No | No | 3 | | | $3.65 |
| NordVPN | Panama | No | Some | 6 | 41 | 475 | $5.75 |
| Norton WiFi Privacy | USA | | | 1 | | | $2.50 |
| NVPN | Bosnia | | No | 1 | 34 | 51 | $3.34 |
| OctaneVPN | USA | | No | 5 | 44 | 108 | $2.50 |
| OneVPN | Hong Kong | No | | 3 | 20 | 60 | $4.00 |
| Opera (Browser) VPN | Norway | Yes | | 25 | | | $0.00 |
| OverPlay | UK | | No | 1 | 48 | 67 | $8.33 |
| oVPN.se | Sweden | No | No | 4 | 4 | 30 | $7.00 |
| oVPN.to | | No | No | 25 | 12 | 36 | $7.30 |
| Perfect Privacy | Switzerland | No | Some | 25 | 23 | 41 | $13.95 |
| PirateParty.ca | Canada | | | 1 | | | $10.00 |
| Private Internet Access | USA | No | No | 5 | 24 | 3341 | $3.33 |
| PrivatePackets.io | British Indian Ocean | See Note | See Note | 25 | 7 | See Note | $5.00 |
| PrivateTunnel | USA | | | 10 | | | $2.50 |
| PrivateVPN | Sweden | | No | 4 | 20 | 34 | $7.02 |
| Proxy.sh | Seychelles | No | No | 3 | 40 | 300 | $10.00 |
| ProXPN | Netherlands | No | | 1 | 16 | 21 | $6.25 |
| PRQ | Sweden | | | 1 | | | |
| PureVPN | Hong Kong | No | Some | 5 | 141 | 500 | $4.17 |
| RA4W VPN | USA | No | | 1 | 20 | 31 | $1.88 |
| RogueVPN | Canada | | Some | 2 | 15 | 19 | $2.95 |
| RootVPN | Netherlands | | | 25 | | | $10.61 |
| SaferVPN | Israel | No | | 3 | 24 | 150 | $8.99 |
| SecureVPN.com | | | | 5 | 6 | 6 | $5.84 |
| SecureVPN.to | | No | No | 25 | 23 | 34 | $6.84 |
| SecurityKISS | Ireland | | | 1 | 16 | 68 | $8.25 |
| Seed4.Me | Taiwan | No | Some | 3 | 16 | | |
| Seedboxes.cc | Cyprus | | No | 2 | 7 | | $14.24 |
| ShadeYou | Netherlands | | No | 5 | | | $2.17 |
| SlickVPN | USA | No | No | 5 | 46 | 151 | $4.00 |
| Smart DNS Proxy | Seychelles | | Some | 5 | 30 | | $2.91 |
| SmartVPN | Morocco | No | | 1 | 18 | 20 | $6.66 |
| Spotflux | USA | Yes | | 5 | | | $3.17 |
| Steganos | Germany | | No | 1 | | | $4.17 |
| StrongVPN | USA | No | | 1 | 21 | 387 | $4.99 |
| SwitchVPN | India | No | Some | 5 | 31 | | $4.95 |
| SumRando | Mauritius | No | | 1 | 7 | | $10.00 |
| SunVPN | USA | Yes | Yes | 2 | 10 | 12 | $8.33 |
| SuperVPN | USA | No | Some | 5 | 45 | 475 | $20.00 |
| SurfEasy | Canada | No | No | 5 | 13 | | $6.49 |
| TGVPN | | | No | 25 | 2 | 2 | $2.00 |
| TigerVPN | Slovakia | No | Some | 1 | 42 | 62 | $7.50 |
| Torguard | USA | | No | 5 | 43 | 1600 | $5.00 |
| TorrentPrivacy | Seychelles | | No | 1 | 3 | 10 | |
| TorVPN | UK | No | No | 4 | 7 | 7 | $2.37 |
| TotalVPN | UK | No | | 3 | 18 | 38 | $5.99 |
| Traceless.me | Germany | No | | 6 | 11 | 11 | $6.48 |
| Trust.Zone | Seychelles | No | No | 3 | 30 | 88 | $3.33 |
| TunnelBear | Canada | | Yes | 5 | 18 | 20 | $4.16 |
| Tunnelr | USA | No | | 5 | 9 | 15 | $5.00 |
| TVWhenAway | UK | | | 1 | | | $4.98 |
| Unblock-Us | Barbados | | | 1 | | | $4.16 |
| Unblock VPN | Czech Republic | No | Some | 1 | 7 | 21 | $4.09 |
| Unlocator | Denmark | Yes | | 25 | 6 | | $4.17 |
| UnoTelly | Canada | | Yes | 1 | 30 | | $4.93 |
| Unseen Online | USA | No | | 1 | 9 | 15 | $0.00 |
| Unspyable | USA | | Some | 1 | 11 | | $6.67 |
| VanishedVPN | | | Some | 3 | | | $6.67 |
| VikingVPN | USA | No | No | 8 | 3 | 56 | $9.99 |
| VIP72 | | | | 1 | 13 | 17 | $22.09 |
| VPN4All | Netherlands | | Some | 1 | 50 | 500 | $11.83 |
| VPN Gate | Japan | Yes | Some | 25 | 24 | 7670 | $0.00 |
| VPN Land | Canada | No | Some | 5 | 11 | 400 | $8.34 |
| VPN Master | USA | | | 1 | 14 | 14 | $3.95 |
| VPN Shield | Poland | No | | 5 | 9 | 9 | $2.09 |
| VPN Unlimited | USA | | Some | 5 | 54 | 1000 | $3.33 |
| VPN.ac | Romania | | No | 6 | 17 | 61 | $4.80 |
| VPN.Asia | Belize | No | | 2 | 18 | 294 | $5.75 |
| VPN.cc | Malta | | | 2 | 59 | 903 | $6.99 |
| VPN.ht | Hong Kong | No | No | 3 | 18 | 122 | $3.33 |
| VPN.sh | UK | | Yes | 1 | 15 | 42 | $4.28 |
| VPNArea | Bulgaria | No | Some | 5 | 56 | 186 | $4.92 |
| VPNAUS | Australia | No | | 1 | 4 | 4 | $5.99 |
| VPNBaron | Romania | No | No | 3 | 6 | | $4.99 |
| VPNJack | USA | No | Yes | 1 | 1 | | $2.50 |
| VPNMe | USA | No | | 5 | | | $3.34 |
| VPNSecure | Australia | No | No | 10 | 29 | 46 | $7.50 |
| VPNShazam | Israel | No | Some | 5 | 60 | 330 | $6.66 |
| VPNTraffic | | | No | 1 | 73 | | $2.92 |
| VPNTunnel | Seychelles | No | Some | 5 | 18 | 80 | $2.99 |
| VPNUK | | | | | | | |
| VyprVPN | Switzerland | No | No | 2 | 52 | 712 | $8.33 |
| WASEL Pro | Netherlands | | No | 1 | | | $7.50 |
| WifiMask | Netherlands | No | No | 1 | | | $4.52 |
| WindScribe | Canada | No | | 25 | 19 | 20 | $7.50 |
| WiTopia | USA | Yes | | 1 | | | $5.84 |
| WorldVPN | UK | | Some | 5 | 45 | 100 | $4.95 |
| Zenmate | Germany | No | | 1 | 12 | 19 | $6.49 |
| ZoogVPN | UK | No | Some | 5 | 13 | 20 | $3.99 |
| ZorroVPN | Seychelles | | No | 3 | 49 | | $10.00 |
| ZPN | UAE | No | Yes | 5 | 20 | | $5.99 |