You may ask, why do you need a password generator? The answer is, a randomly generated password consists of uppercase letters, lowercase letters, numbers and special characters. They are randomly generated with no recognized texts or sequence, thus making it almost impossible to guess via brute force. The other reason to use a password generator is when you need to create a shared password among friends, or for use in IP Security Cameras, or Wifi Password for hotel guests.
🤣😍😂 7 Free And The Best Password Manager For Windows 10, Mac, Android And iPhone
How to remember different passwords for different sites? Simple, let's say your default password is openSESAME2000, and for your Facebook account, you can use openSESAME2000fb, or for your gmail account, you can use openSESAME2000google. Never ever use the same password for various accounts, if one of your accounts is exposed, chances are, hackers can guess their way into your other accounts.
Most devices (Modems/Routers) require you to enter WEP/WPA keys during Wireless security configuration. Unlike regular passwords, these keys have strict length requirements based on type of security mechanism (WEP, WPA, WPA2,WPA3 etc). In such cases, these 'Wi-Fi Password Key Generator' can help you to easily generate these keys. It supports all types of Wireless Security configurations (WEP, WPA, WPA2, WPA3) and key length combinations.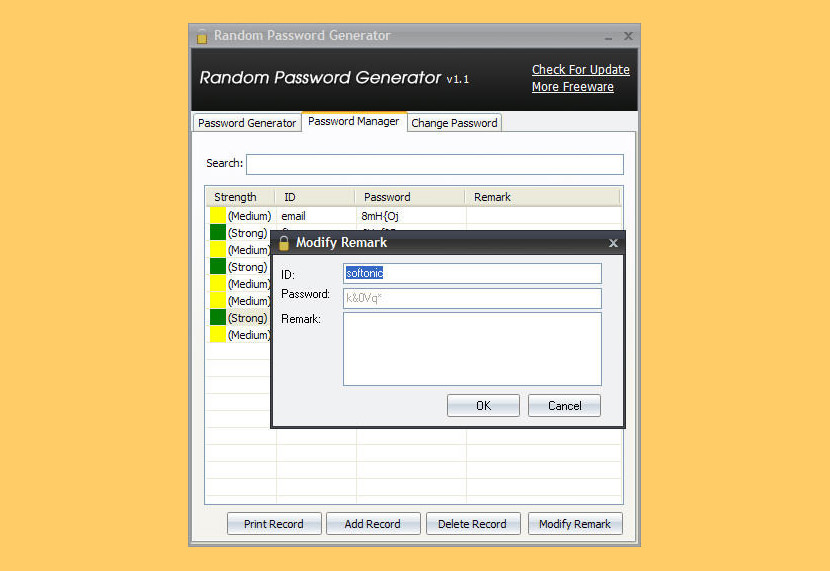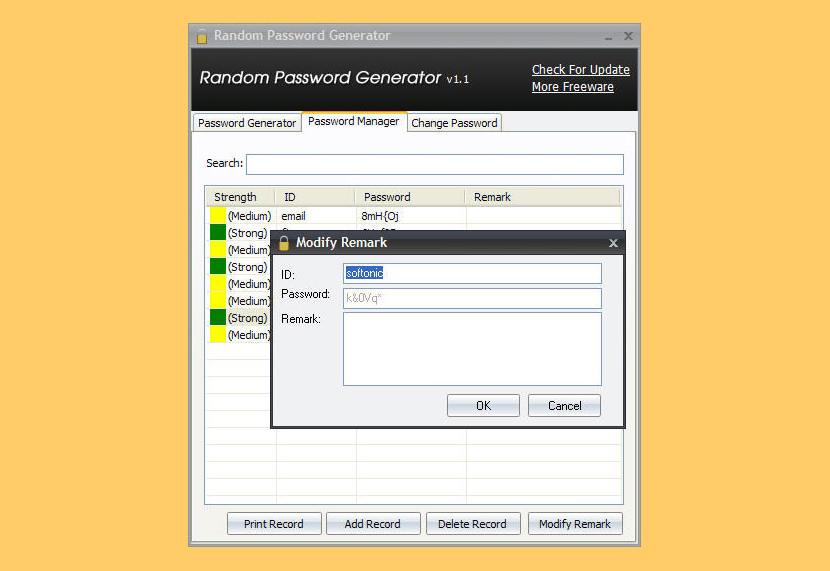 Secure Your Important Data and Privacy Keep Your Passwords Organized with Password Manager. It's quite dangerous to generate simple passwords, like birth date, which could be easily cracked. Random Password Generator can generate highly secure random passwords under a more secure environment for either important data storage or privacy protection.
Lots of different passwords mixed together would be messy. To easily pick up passwords from different accounts, Random Password Generator also includes a useful Password Manager for users to mark, search, and organize the passwords.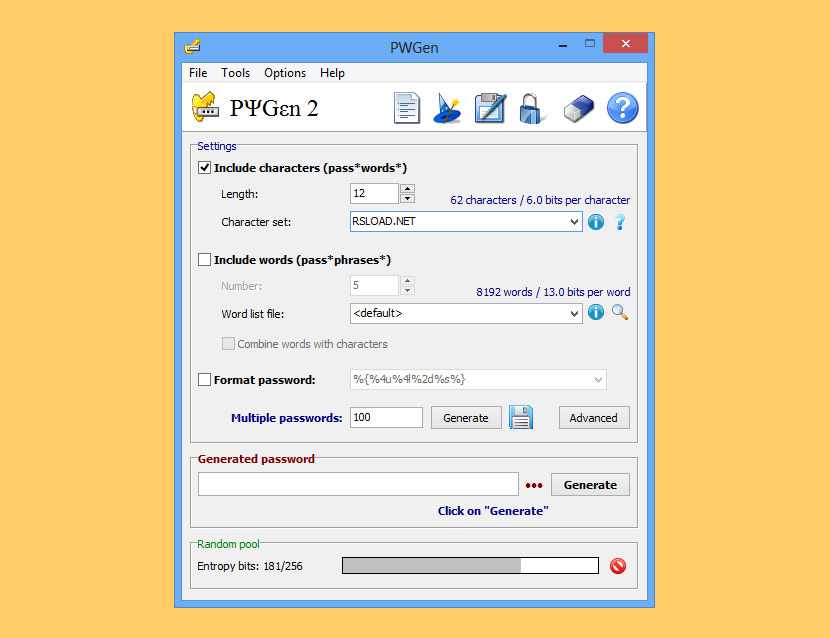 PWGen is a professional password generator capable of generating large amounts of cryptographically-secure passwords—"classical" passwords, pronounceable passwords, pattern-based passwords, and passphrases consisting of words from word lists. It uses a "random pool" technique based on strong cryptography to generate random data from indeterministic user inputs (keystrokes, mouse handling) and volatile system parameters.
PWGen provides lots of options to customize passwords to the users' various needs. Additionally, it offers strong text encryption and the creation of random data files (which can be used as key files for encryption utilities, for example). Works great on Microsoft's Windows 10 and Apple's macOS.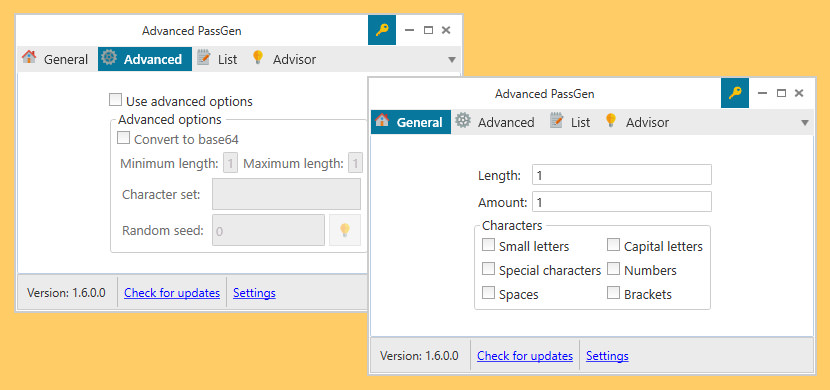 Easily generate thousands of passwords using the options that are available in Advanced PassGen. You can even go so far as to define your own character set that Advanced PassGen can use to generate passwords!
Additionally, you can define the minimum and maximum string lengths for your entries, specify a custom character set or generate a random seed. It is also possible to specify a fixed string length size and the amount of passwords that the application can generate during a session.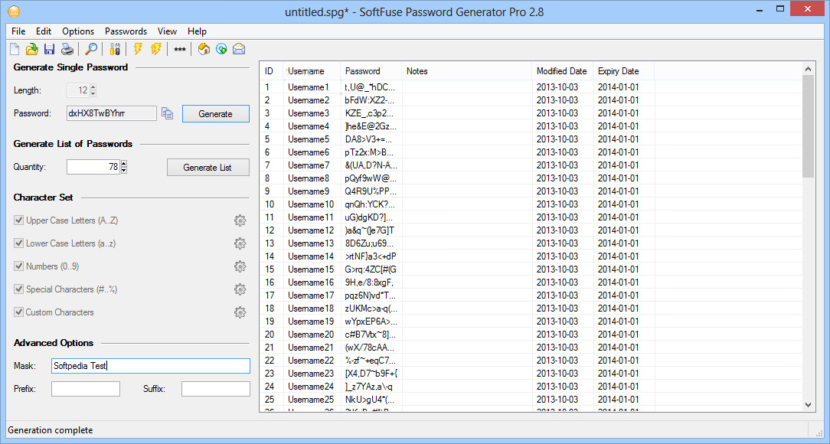 SoftFuse Password Generator Free is a freeware program designed for generating random passwords easily and quickly. Using SoftFuse Password Generator Free, you can easily create random passwords up to 128-character length and passwords' hashes. While generating a password, you can use letters, digits, uppercase and lowercase characters, as well as their combinations.
Generate random, difficult-to-crack passwords, ID-numbers, PIN-codes…
Instantly generate Wireless WEP, WPA, WPA2, WPA3 Keys
Supports all kind of length combinations based on Wi-Fi Security type
Select the length of your passwords up to 128 characters
Export passwords to a file (txt, rtf, xml, html)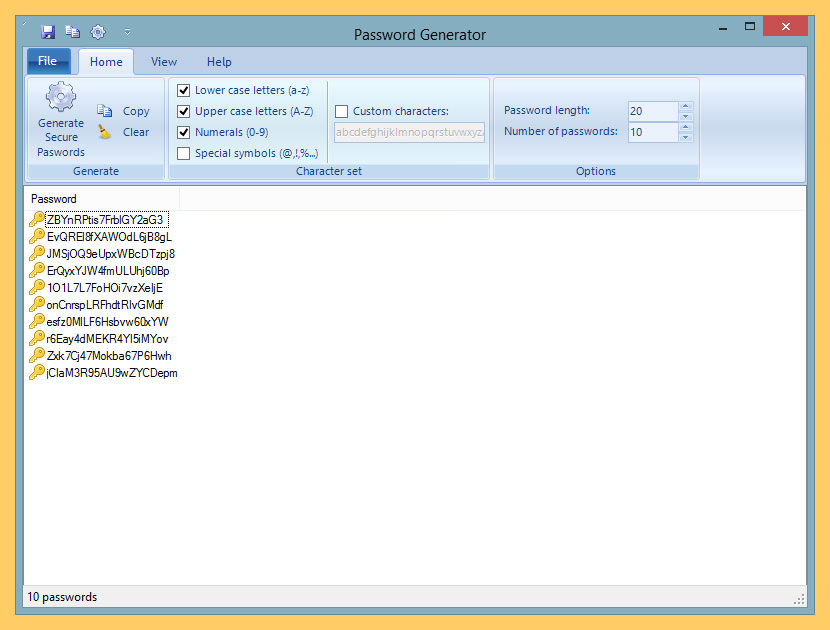 PowerCryptor Password Generator allows you to create highly secure passwords that are difficult to crack or guess. Just select the criteria for the passwords you need, and click "Generate". Application is designed to generate passwords of any character content. Using PowerCryptor Password Generator you do not have to think out new passwords. Password Generator will do it instead of you. The combination of lower and upper case letters, numbers and punctuation symbols makes the passwords highly secure.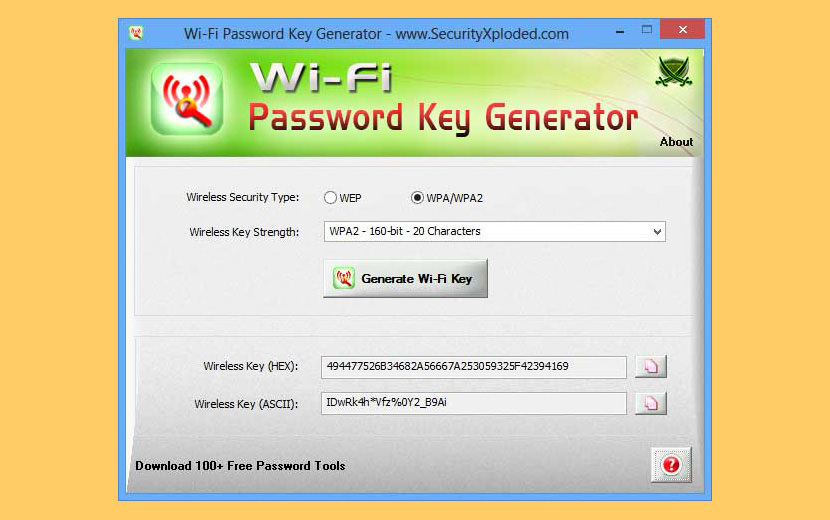 WiFi Password Key Generator is the free desktop tool to quickly create secure Wireless WEP, WPA, WPA2, WPA3 passphrase keys. It generates Secure Wireless keys using combination of lowercase letters, uppercase letters, numbers and special symbols. Also the generated key is displayed in both ASCII and HEX format. So based on what your wireless device asks, you can copy the right form of key.
New WPA3 protocol supports 128-bit and 192-bit passphrase characters. You can use WiFi Password Key Generator to create passphrase for all these protocols including new WPA3.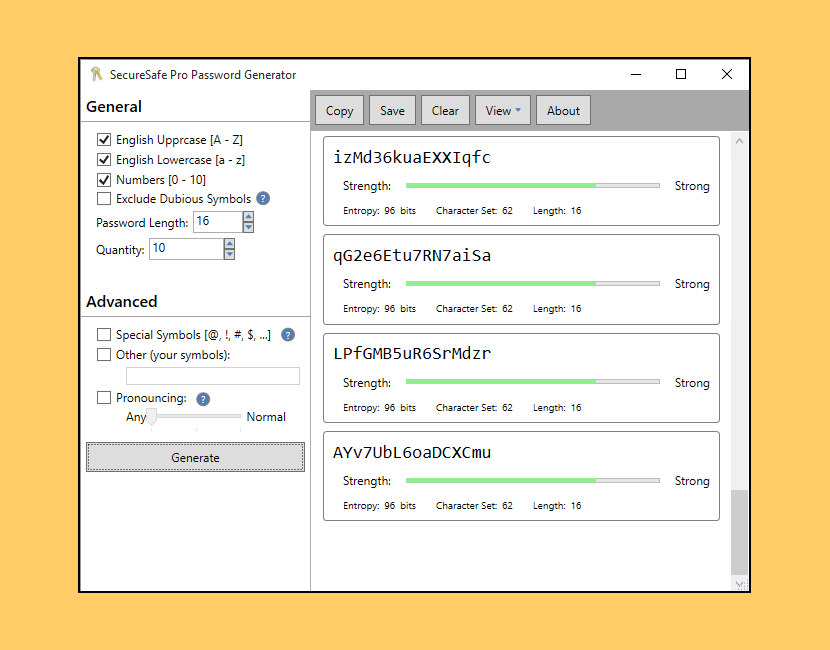 Generate any quantity of random, strong and secure passwords with one mouse click just in seconds with Free Password Generator software. Free Password Generator application will create strong and secure passwords instead of you. With Free Password Generator you will use only strong random passwords, that can protect your identity from potential harm.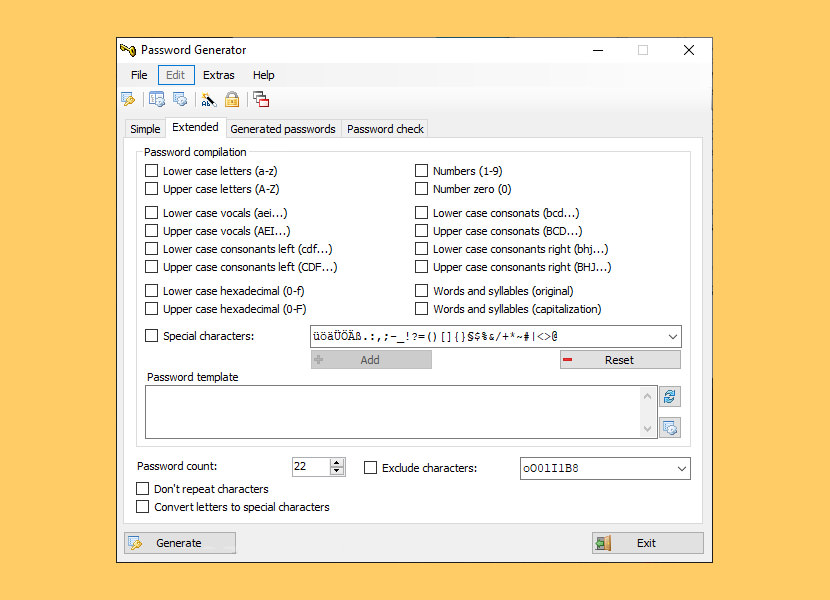 Password Generator can generate secure and easy to read and remember passwords. Due to separate use of vowels and consonants, as well as separate syllables, the created passwords are easy to read and easy to remember. For a fast creation of passwords you can use user defined password-set. These password-sets allows the definition of the length and the character types to be used in the passwords.
Password Generator can generate WEP and WPA2 keys for Wireless LAN (WLAN).
Passwords for UNIX, PHP and .HTACCESS (DES, MD5 and SHA1) can be created.
The checksums of passwords (MD5, SHA1, SHA256 and SHA512) can be generated.
Password Generator can analyze the security of passwords and also shows details.
Password Generator is portable and can be used on USB devices.
↓ 09 – Random Password Generator [ Discontinued ]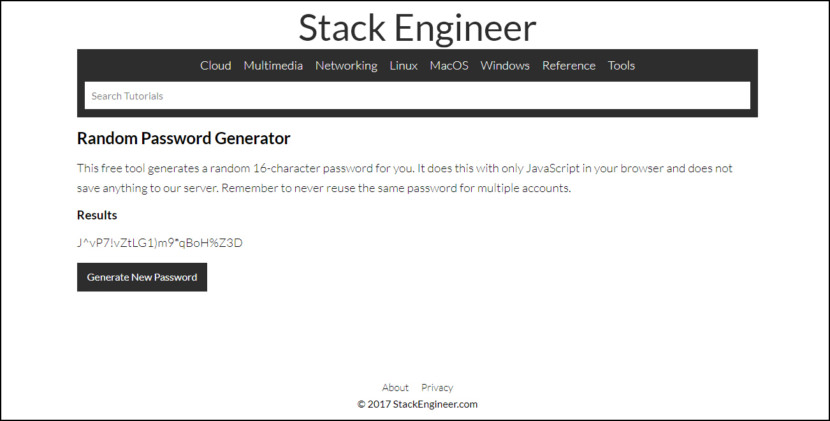 This free tool generates a random 16-character password for you. It does this with only JavaScript in your browser and does not save anything to our server. Remember to never reuse the same password for multiple accounts.