I am not a fan of socialist, be it free healthcare like Obamacare. Reason being that nothing is free, free healthcare has a hidden price and someone needs to pay the bills. Those who argue the rich are greedy and they can tax them to fund social benefits is no different from the 1950's Communist in Russia and China.
See More ▼ 10 Karl Marx Quotes On Communism Manifesto And Socialism Theories
Take their land and distribute it to the poor because the rich are greedy, what happens next? Just like how Zimbabwe confiscates the white's land and gives it to the poor blacks – extreme poverty with no productivity. Reason being that when they take away the risk and reward system, it essentially rewards the lazy and punishes those that worked hard for their fruits of labor. Yes, some people are born poor and worked hard yet still poor, that's unfortunate.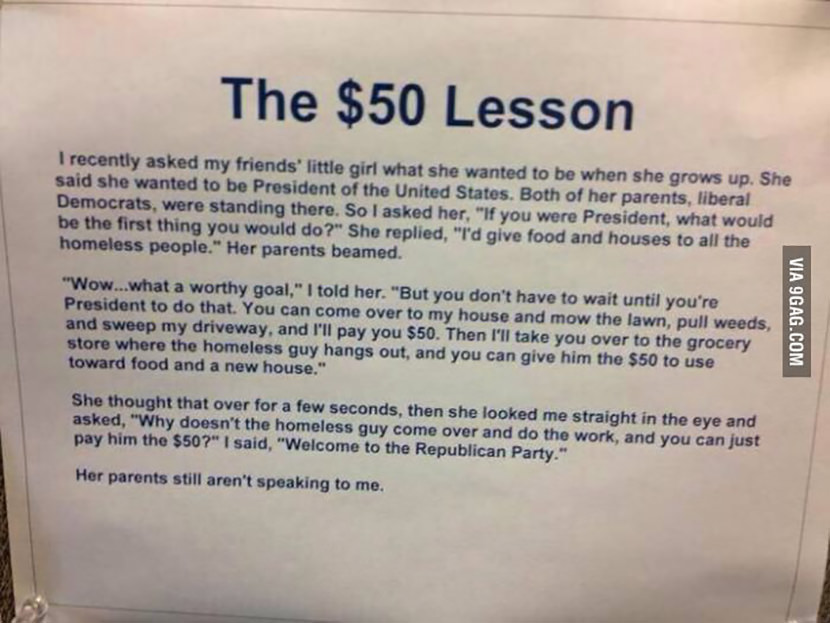 Capitalism doesn't guarantee the end of poverty, it guarantees equal opportunity. Socialism on the other hand guarantees equal wealth by taking most of it from the rich and giving it to the poor. What happens is, the rich will either migrate or give up working hard since there is no difference.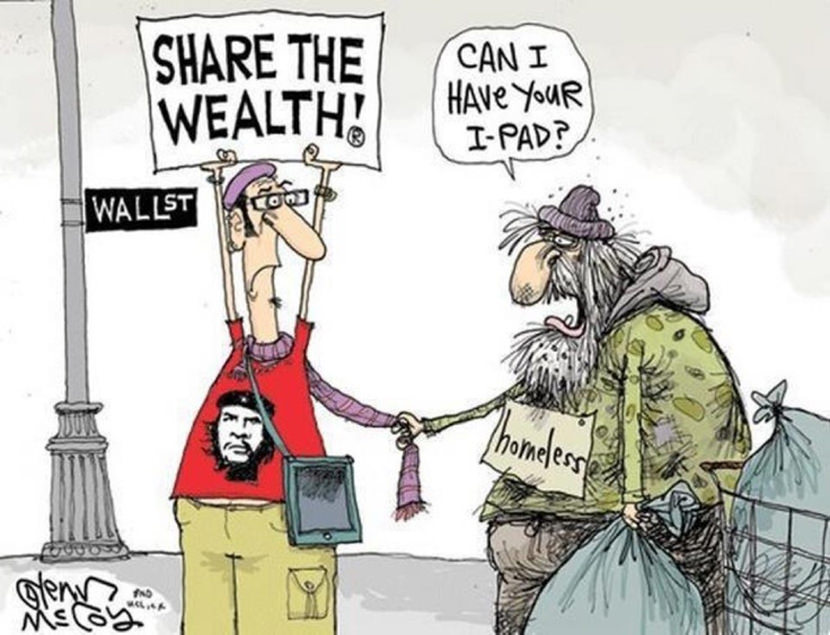 This can be seen with the medical innovation and breakthrough by the US vs Europe. Europeans have free universal healthcare, but by pretty much any metric, the US has destroyed the competition when it comes to total impact in medical research and innovation.
Why is that so? Doctors are allowed to practice their medical profession with passion and be rewarded based on the risk taken. Private companies will invest in R&D because the market will reward them with money. Those with socialist medicine and healthcare, why take the risk when there are no rewards? Sure, Canada, Europe, Australia and etc have free medical healthcare, the question is, without the medical breakthrough done by the Americans, can they provide the medicines?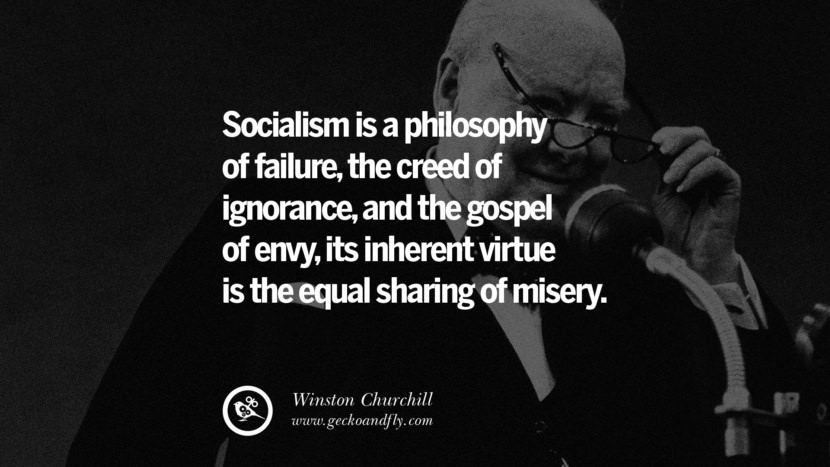 Socialism is a philosophy of failure, the creed of ignorance, and the gospel of envy, its inherent virtue is the equal sharing of misery. – Winston Churchill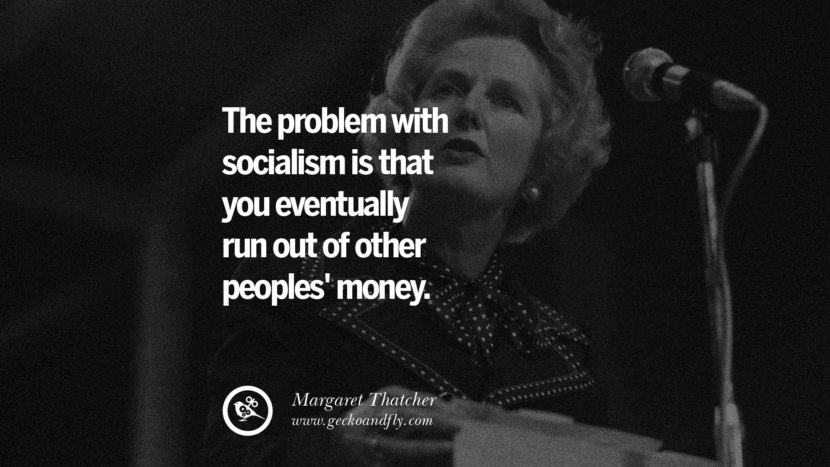 The problem with socialism is that you eventually run out of other peoples' money. – Margaret Thatcher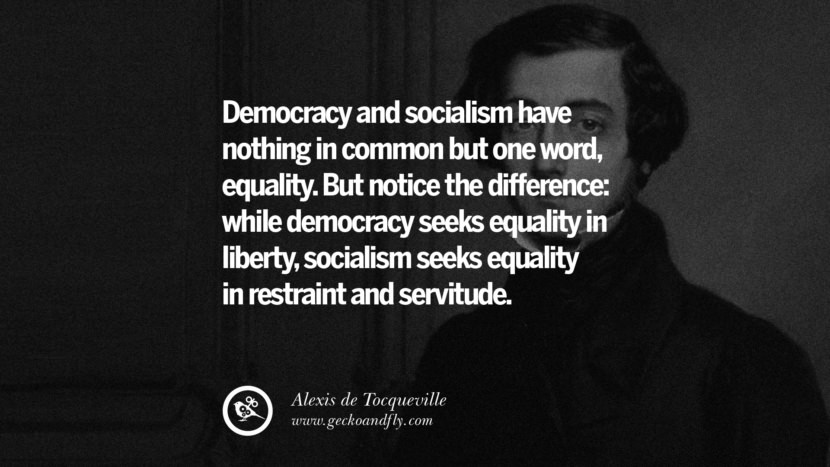 Democracy and socialism have nothing in common but one word, equality. But notice the difference: while democracy seeks equality in liberty, socialism seeks equality in restraint and servitude. – Alexis de Tocqueville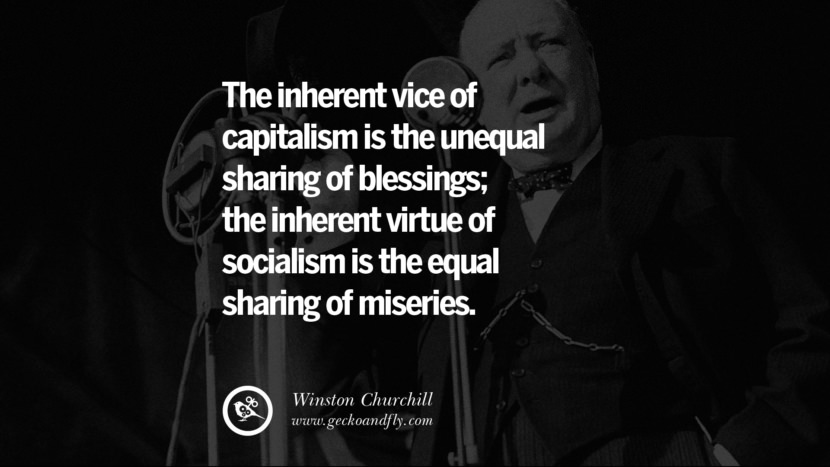 The inherent vice of capitalism is the unequal sharing of blessings; the inherent virtue of socialism is the equal sharing of miseries. – Winston Churchill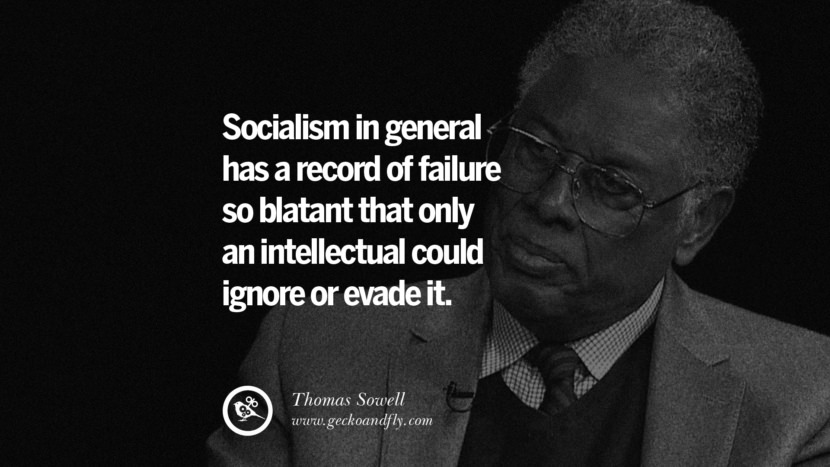 Socialism in general has a record of failure so blatant that only an intellectual could ignore or evade it. – Thomas Sowell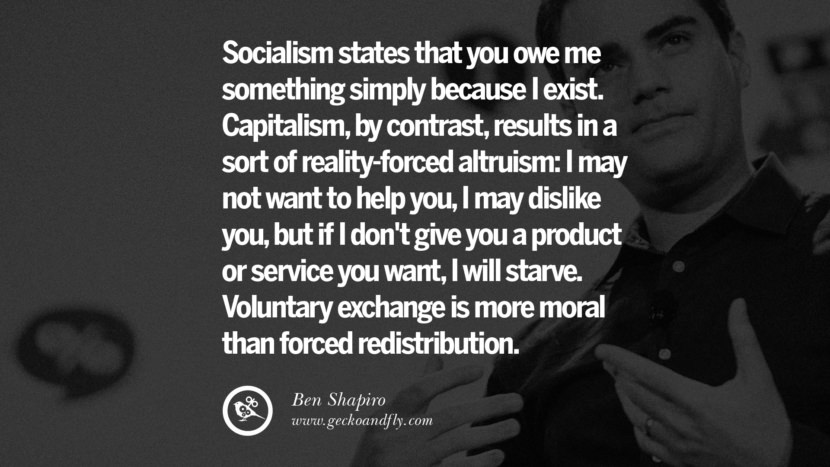 Socialism states that you owe me something simply because I exist. Capitalism, by contrast, results in a sort of reality-forced altruism: I may not want to help you, I may dislike you, but if I don't give you a product or service you want, I will starve. Voluntary exchange is more moral than forced redistribution. – Ben Shapiro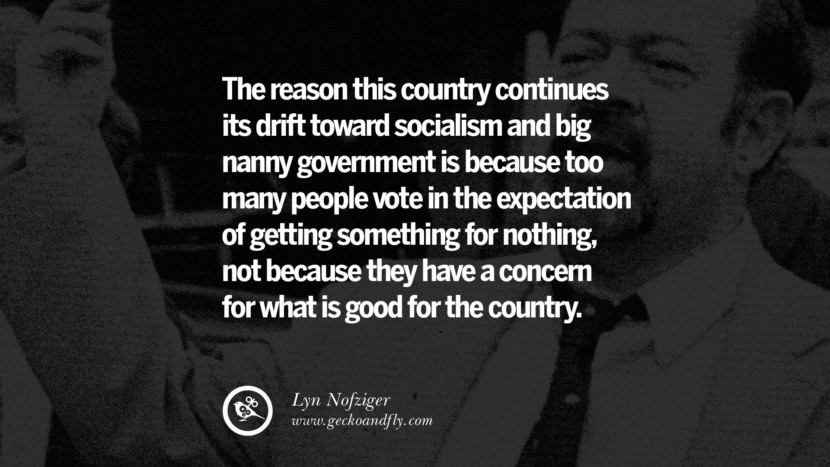 The reason this country continues its drift toward socialism and big nanny government is because too many people vote in the expectation of getting something for nothing, not because they have a concern for what is good for the country. – Lyn Nofziger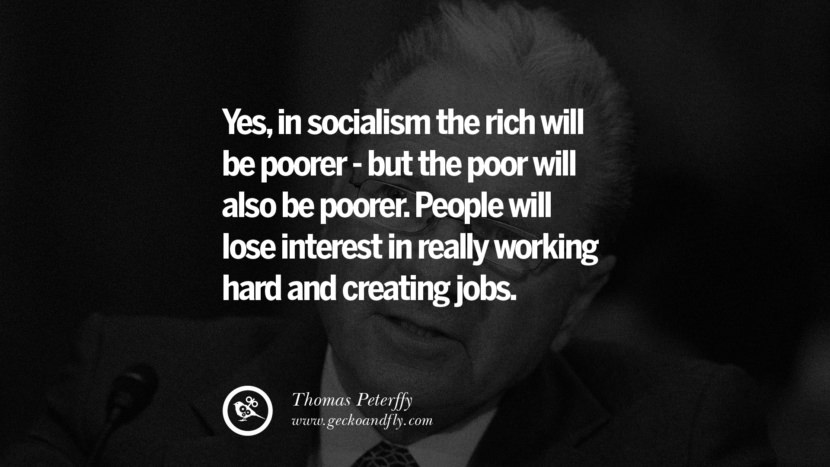 Yes, in socialism the rich will be poorer – but the poor will also be poorer. People will lose interest in really working hard and creating jobs. – Thomas Peterffy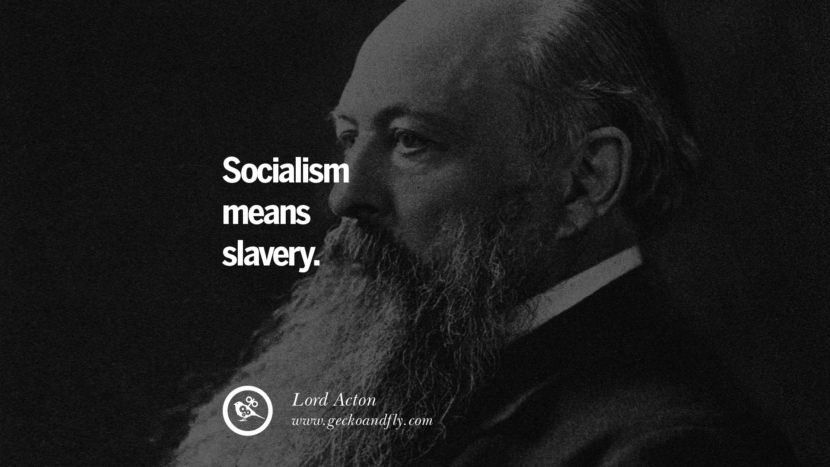 Socialism means slavery. – Lord Acton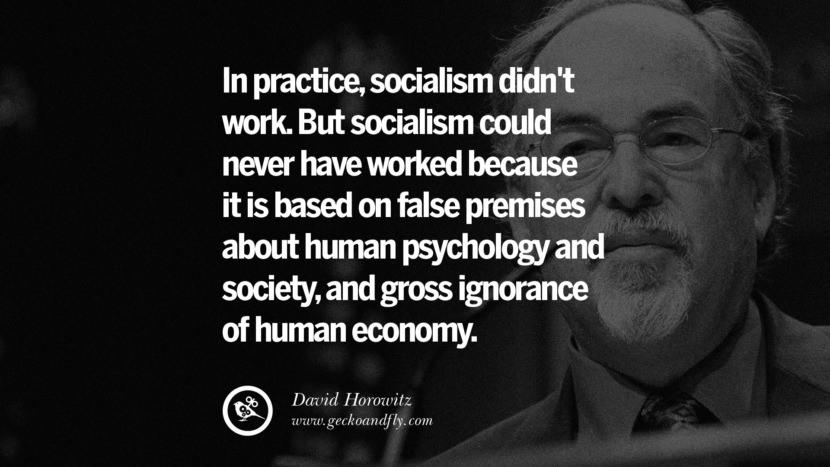 In practice, socialism didn't work. But socialism could never have worked because it is based on false premises about human psychology and society, and gross ignorance of human economy. – David Horowitz

A socialist is someone who has read Lenin and marx. And anti-socialist is someone who understands Lenin and Marx. – Ronald Reagan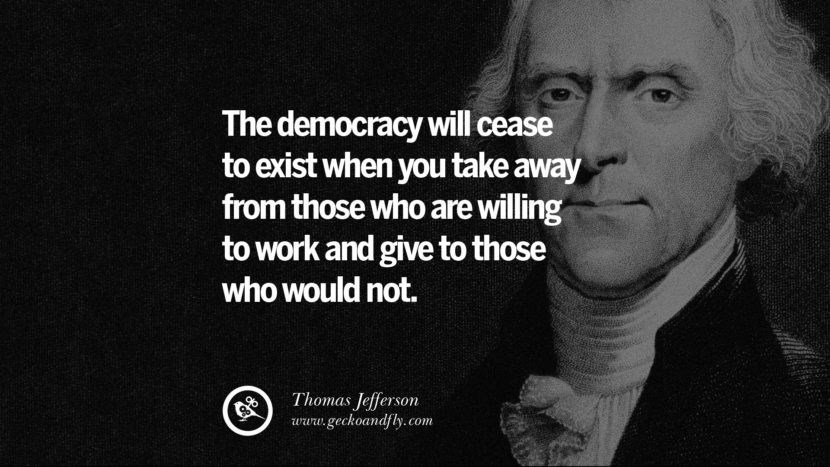 The democracy will cease to exist when you take away from those who are willing to work and give to those who would not. – Thomas Jefferson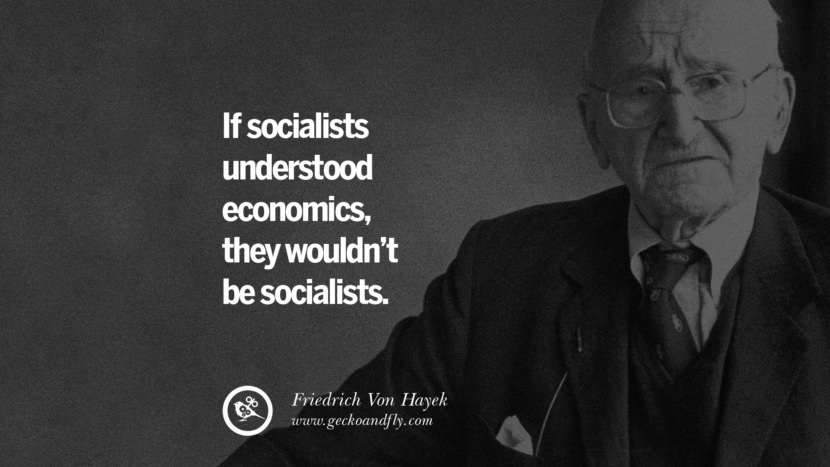 If socialists understood economics, they wouldn't be socialists. – Friendrich Von Hayek

Good conservatives always pay their bills. Unlike socialists, who just run up other people's bills. – Margaret Thatcher