Skype used to be a very good communication software, it is the most popular free voice-over IP and instant messaging service globally. Gradually. Skype uses 256 bit AES encryption to encrypt communication between users, but it doesn't offer end-to-end encryption [ Wikipedia ] protocol.
See More ▼ 5 Free 256-bit Encrypted Voice Calls Apps With End-to-End Encryption
With End-To-End Encryption not only the communication channel is secure, but the messages stored on the server can only be read by the people in the conversation. Meaning to say, only the sender and receiver have access to the data, there is no master key for the FBI, CIA or Police.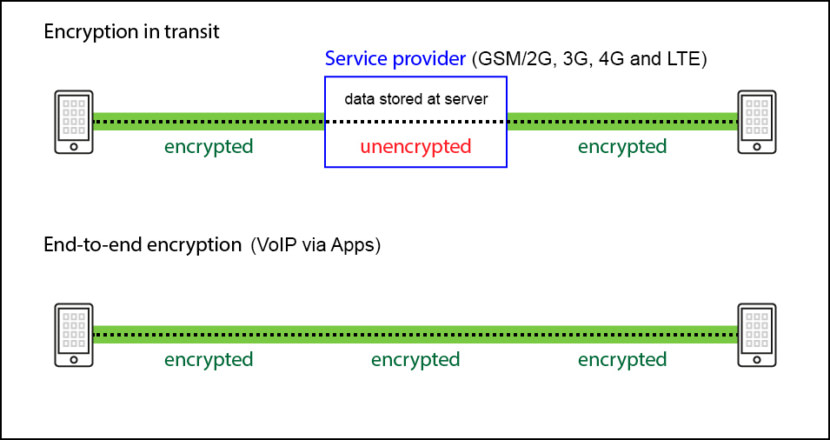 There are two sides to the arguments, drug lords can simply discard both phones and all the messages are gone forever. On the other hand, it makes it harder for the government to silence those that disagree with their policies, such as dictators with bad intentions. I am all for encryption, but the idea of not having access to important information by terrorist organizations is a big drawback.
Encryption in Transit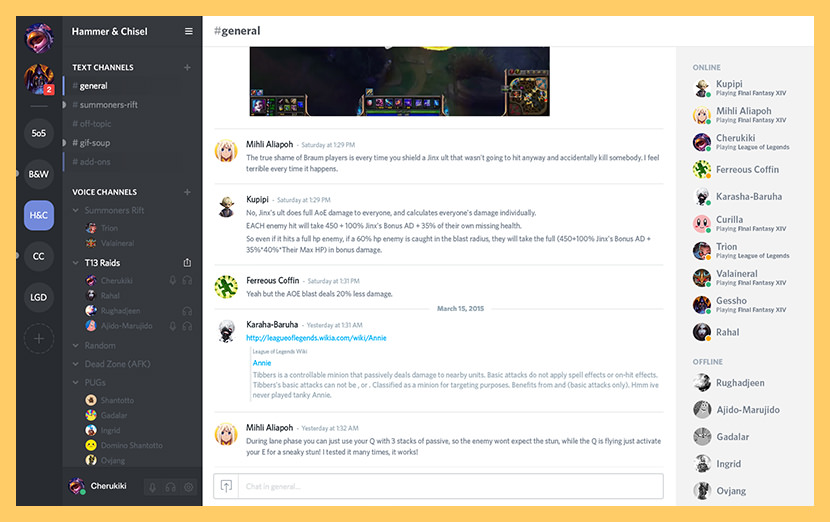 All-in-one voice and text chat for gamers that's free, secure, and works on both your desktop and phone. Stop paying for TeamSpeak servers and hassling with Skype. Simplify your life. Discord is always completely free to use with no gotchas. This means you can make as many servers as you want with no slot limitations.
Encrypted server to client communication keeps your IP address safe. Stop getting ganked because you're logged into Skype. Their resilient Erlang backend running on the cloud has built in DDoS protection with automatic server failover.
Designed for use while gaming, Discord has minimal impact on your CPU. Your game's performance won't be affected in the slightest. Seriously. It's time to ditch CPU hogs like Skype.
End-to-End Encryption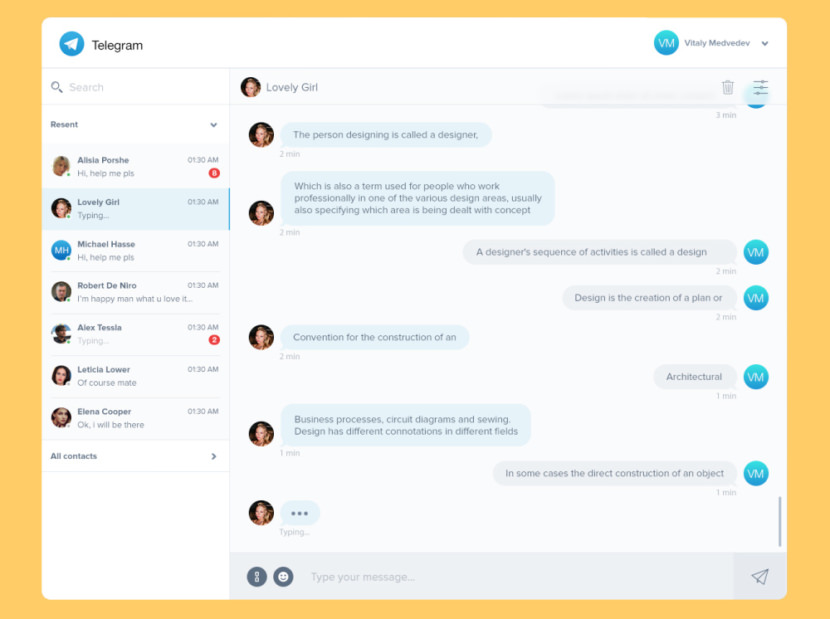 Telegram is a cloud-based mobile and desktop messaging service with a focus on speed and security, it's super-fast, simple and free. You can use Telegram on all your devices at the same time — your messages sync seamlessly across any number of your phones, tablets or computers.
With Telegram, you can send messages, photos, videos and files of any type (doc, zip, mp3, etc), as well as create groups for up to 10,000 people or channels for broadcasting to unlimited audiences. You can write to your phone contacts and find people by their usernames. As a result, Telegram is like SMS and email combined — and can take care of all your personal or business messaging needs.
Telegram messages are heavily encrypted and can self-destruct.
Telegram is free forever. No ads. No subscription fees.
Coordinate groups of up to 10000 members.
Encryption in Transit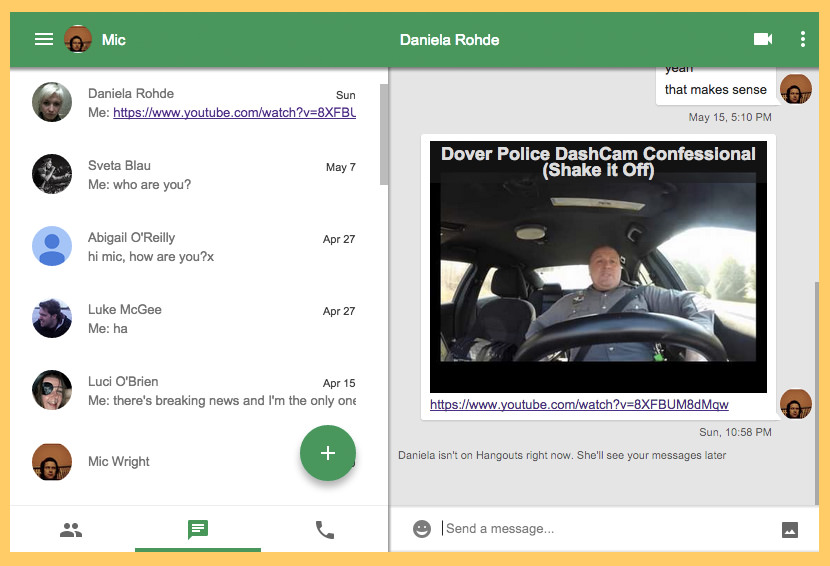 Google Chat is a messaging app that lets you send and receive messages, photos and more, and even start free video and voice calls – one to one or with a group! "Hangouts" are places used to facilitate group video chat (with a maximum of 10 people participating in a single Hangout at any point in time).
Within the 10 person limit participants may use voice only phones to dial in to the chat instead of the desktop or mobile video chat feature. On a desktop or laptop environment chat also contains the integration of group chat, Google document sharing, and synchronous viewing of YouTube videos. Works great on Microsoft's Windows 10 and Apple's macOS.
Encryption in Transit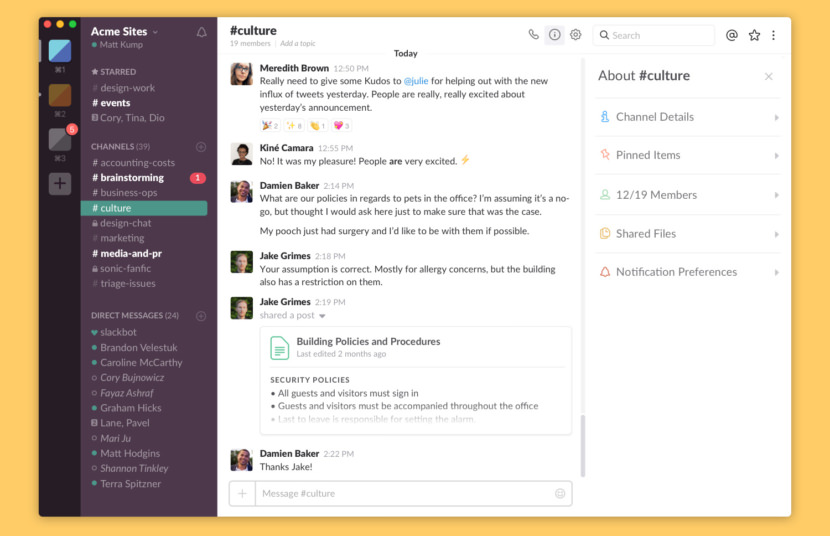 Whatever work means for you, Slack brings all the pieces and people you need together so you can actually get things done. It's a digital workspace that powers your organization — all the pieces and the people — so you can get things done. A Workspace Owner creates a Slack workspace, recruits Admins to help manage and organize the team, and they together invite and onboard members.
Channels – Organize your team conversations in open channels. Make a channel for a project, a topic, a team, or anything—everyone has a transparent view of all that's going on. For sensitive information, create private channels and invite a few team members
Direct Messages – Send messages directly to another person or to a small group of people for more focused conversations.
Calls – Take a conversation from typing to face-to-face by starting a Slack voice or video call in any Channel or Direct Message. From there, you're one click away from sharing your screen, so everyone can follow along.
Self-Host | Encryption in Transit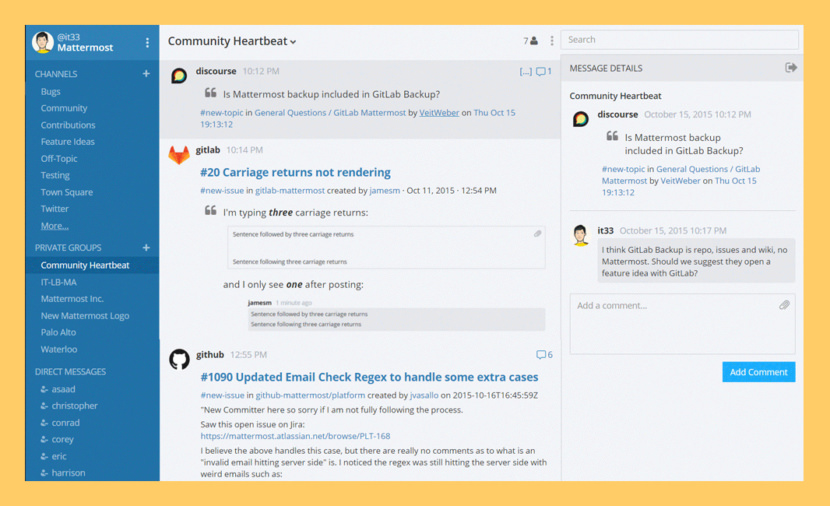 Mattermost Team Edition is Open Source, but you will have to self host it on your own server. The enterprise version comes with a small fee. It is basically a Slack alternative. As an alternative to proprietary SaaS messaging, Mattermost brings all your team communication into one place, making it searchable and accessible anywhere. It's written in Golang and React and runs as a production-ready Linux binary under an MIT license with either MySQL or Postgres.
Messaging that works: Effective workplace messaging with search and integrations, plus web, mobile and PC apps and much more.
Open source and private cloud-ready: Modern communication behind your firewall. MIT license with hundreds of contributors.
Slack alternative: Enjoy a superset of Slack's popular features, including Slack-compatible webhooks plus import of Slack channels, users, and even theme colors.
End-to-End Encryption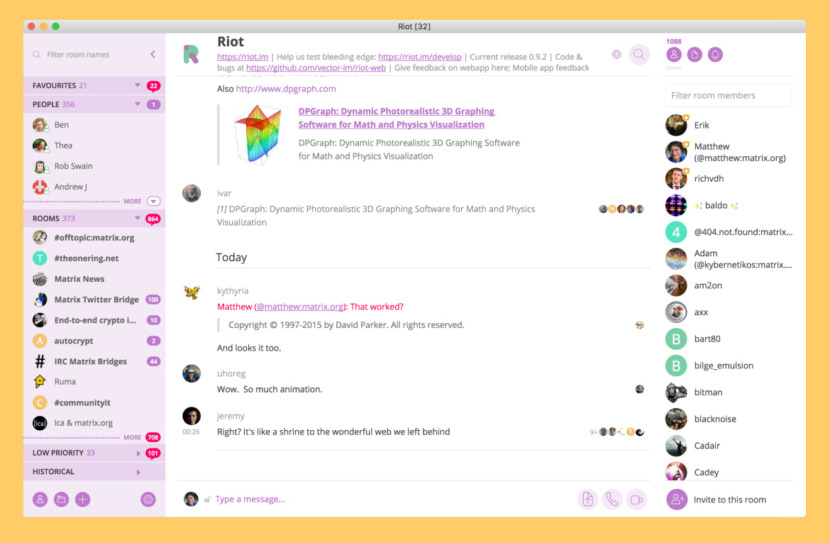 Element [ Formerly known as Riot.im ] is a simple and elegant collaboration environment that gathers your different conversations and app integration into one single app. Built around group chat rooms, Element lets you share messages, images, videos and files – interact with your tools and access all your different communities under one roof. One single identity and place for all your teams: no need to switch accounts, work and chat with people from different organisations in public or private rooms: from professional projects to school trips, Element will become the center of all your discussions!
Communication – Communicate with your team and out of network colleagues more efficiently: use dedicated rooms which persist information from their creation and forever.
Share Files – Send, receive and view files while inline with the conversation.
Voice & Video Conferencing – One touch voice and video conferencing.
Security – All files and data transferred over Element can be encrypted end-to-end (currently in beta), meaning no one can eavesdrop on conversations, including the service provider.
Self-Host | Encryption in Transit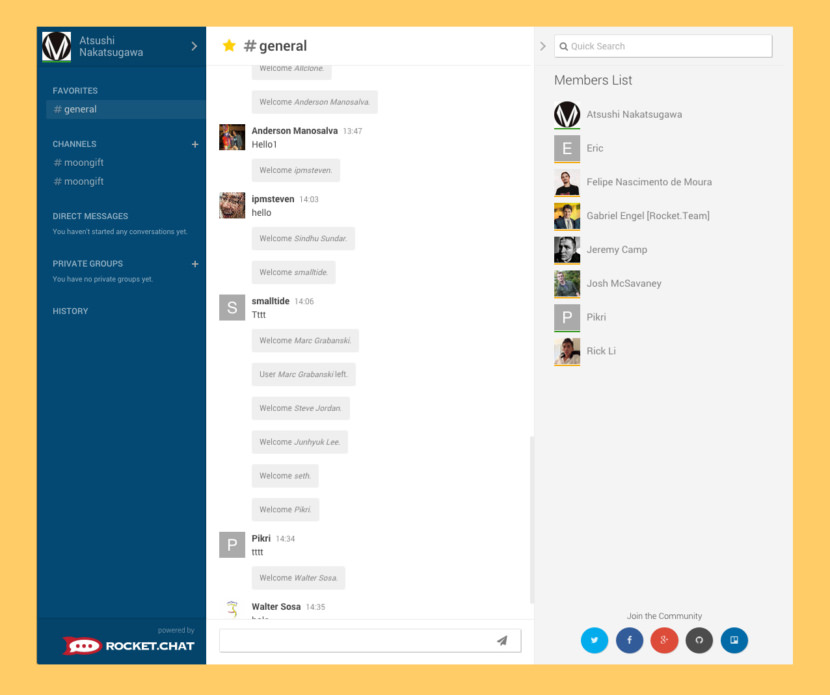 Rocket.Chat is a Web Chat Server, developed in JavaScript, using the Meteor full stack framework. It is a great solution for communities and companies wanting to privately host their own chat service or for developers looking forward to building and evolving their own chat platforms.
Video Conference – Chat with your colleagues and friends face-to-face over audio and video.
Helpdesk Chat – Have your website visitors contact you in real-time and increase conversions.
File Sharing – Drag-and-drop files or select them from your computer or mobile device.
Voice Messages – Record and transmit voice messages to a channel, group or private conversation.
End-to-End Encryption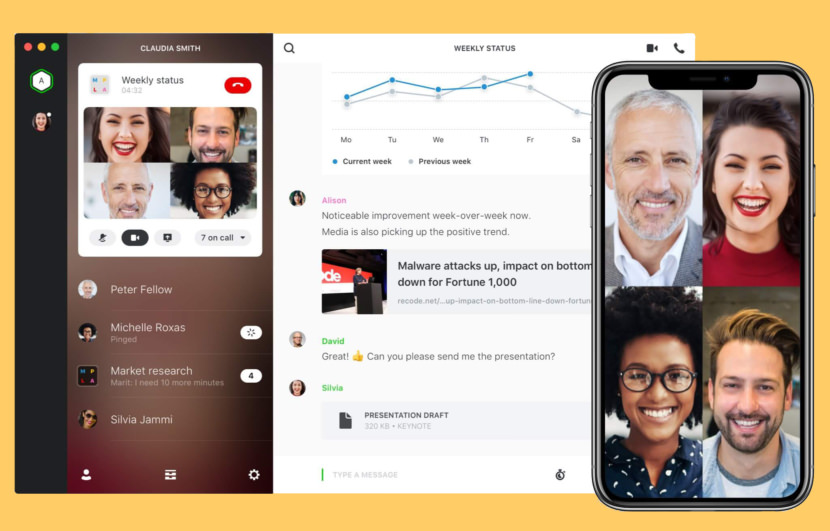 Wire Personal is a secure, privacy-friendly messenger for personal use. It combines useful and fun features, audited security, and a beautiful, distinct user interface. It does not require a phone number to register and chat.
End-to-end encrypted chats, calls, and files
Crystal clear voice and video calling
File and screen sharing
Timed messages and chats
Synced across your phone, desktop and tablet
End-to-End Encryption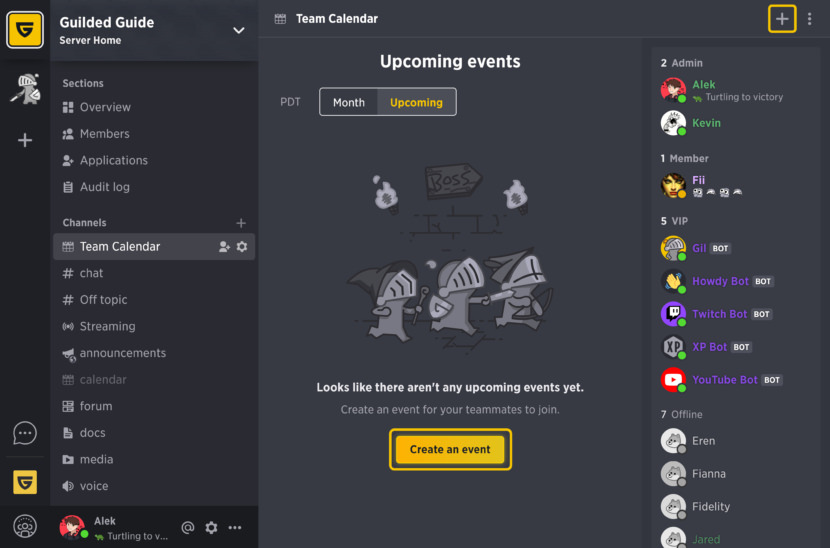 Guilded is the best app for gaming chat. Guilded is perfect for gaming with friends, clans, guilds, communities, esports, LFG and teams. And it's free. Guilded supports your favorite games, including Among Us, Genshin Impact, Call of Duty: Mobile, Call of Duty: Warzone, Destiny 2, Roblox, The New World, Fornite, FIFA 21, Grand Theft Auto V, Valorant Overwatch, LOL, CSGO, CounterStrike: Global Offensive, Dota: 2, Minecraft, World of Tanks, WOW, Heroes of the Storm, Guild Wars II, Final Fantasy XIV, Starcraft II, The Elder Scrolls Online, Terraria, R6, Runescape, Clash of Clans, and Rocket League.
Chat, schedule events, share docs, or just kick back on the community discussion boards.
Recruit new teammates with custom applications. You decide who makes the cut.
Discussion boards with rich editing and media capabilities
Event calendar pre-populated with important game events
Docs for managing collaborative content like strategies, guides, and DKP sheets
End-to-End Encryption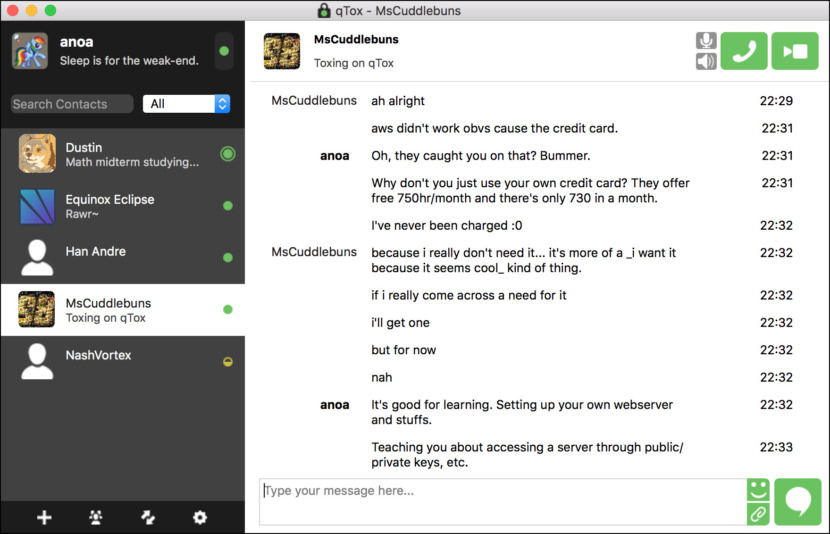 Whether it's corporations or governments, digital surveillance today is widespread. Tox is easy-to-use software that connects you with friends and family without anyone else listening in. While other big-name services require you to pay for features, Tox is completely free and comes without advertising — forever.
Encrypted – Everything you do with Tox is encrypted using open-source libraries. The only people who can see your conversations are the people you're talking with.
Distributed – Tox has no central servers that can be raided, shut down, or forced to turn over data — the network is made up of its users. Say goodbye to server outages!
Conclusion
The clear winner is none other than Riot with MatterMost as the runner up. Slack is very beautifully crafted, not to mention it comes with more features, however the lack of end-to-end encryption is a big concern. Slack is a nice start when open and secure is not one of your top priorities.