Finding the right credit card for your needs can be difficult, even with more than 1,000 offers distilled into the short list above. With that in mind, we've put together some credit card comparison tips that should always help lead you to the proper plastic.
🤣😍😂 16 Exchanges To Buy And Sell BitCoins / Ethereum Without Credit Card
Which Is the Right Reward Card for You? The answer depends on many things: how much you charge on your reward card each month, what types of purchases you make, and the amount of any fees you have to pay. Rather than try to pick a one-size-fits-all card that is best for everyone, the cash back credit card comparison tool lets you find the card that is best for you because it maximizes your rewards based on your individual spending habits.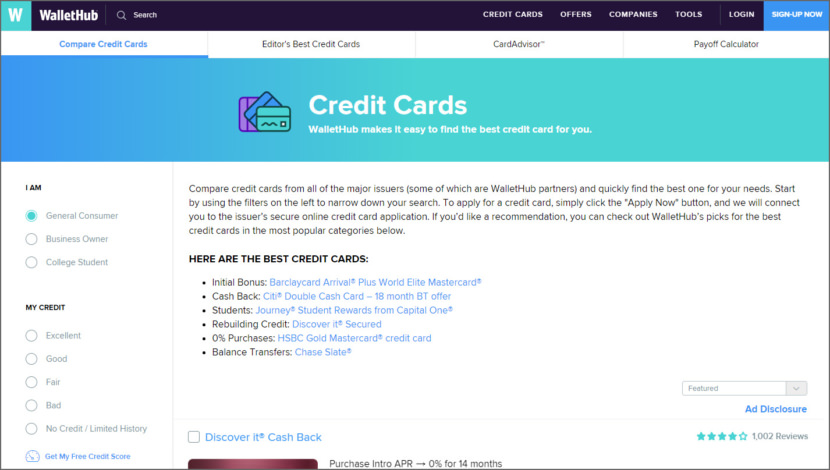 Compare credit cards from all of the major issuers (some of which are WalletHub partners) and quickly find the best one for your needs. WalletHub's editors compare 1,000+ credit cards on a weekly basis to find the best deals in the most popular categories. You can find their current favorites listed below.
Just remember: It's not finding the absolute best credit card that matters, but rather choosing the best credit card for your particular needs. And that starts with selecting an offer you can get approved for. So make sure to check your latest credit score, too. Some of the best credit cards:
Initial Bonus: Barclaycard Arrival® Plus World Elite Mastercard®
Cash Back: Citi® Double Cash Card – 18 month BT offer
Students: Journey® Student Rewards from Capital One®
Rebuilding Credit: Discover it® Secured
0% Purchases: HSBC Gold Mastercard® credit card
Balance Transfers: Chase Slate®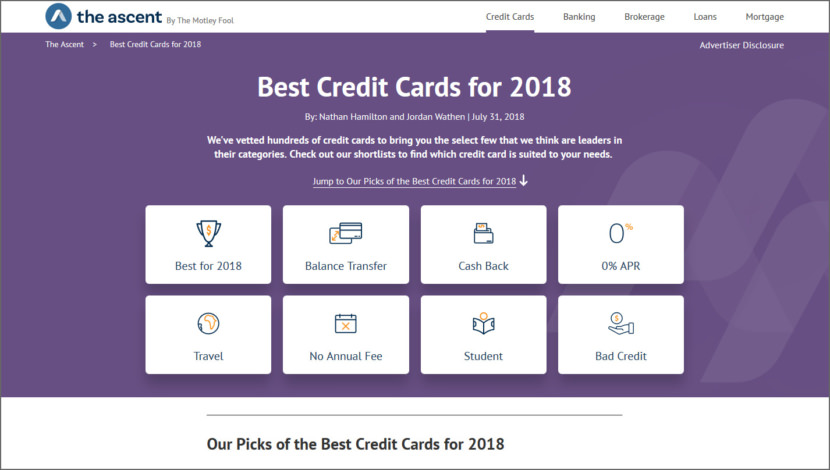 They've vetted hundreds of credit cards to bring you the select few that they think are leaders in their categories. Check out our shortlists to find which credit card is suited to your needs. As credit card enthusiasts, they don't review or pick cards based on conjecture. They've used many of the top credit cards on the market to score 0% intro APRs, earn cash back rewards, and build up miles to go on the vacations of our dreams.
Together, they've analyzed hundreds of card offers on more than 6,000 data points, reading through the fine print to find the very best credit cards the market has to offer. The most important factors in their ratings methodology are as follows:
No to low annual fees to cut-out-of pockets costs
Big sign-up bonuses to make your money work harder for you
High rewards rates in everyday spending categories
Inclusion of 0% intro APR offers to help you get out of debt faster or defray the cost of a large purchase
Competitive ongoing APRs to ensure debt balances are manageable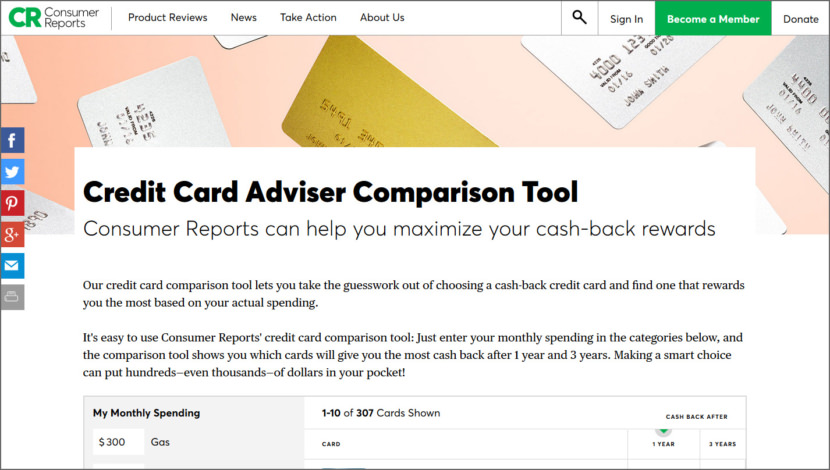 Their credit card comparison tool lets you take the guesswork out of choosing a cash-back credit card and find one that rewards you the most based on your actual spending.
It's easy to use Consumer Reports' credit card comparison tool: Just enter your monthly spending in the categories below, and the comparison tool shows you which cards will give you the most cash back after 1 year and 3 years. Making a smart choice can put hundreds—even thousands—of dollars in your pocket!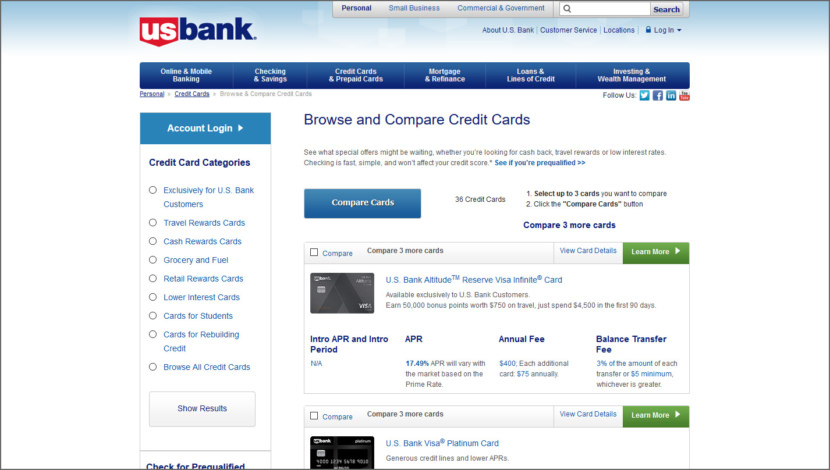 Browse and Compare Credit Cards, see what special offers might be waiting, whether you're looking for cash back, travel rewards or low interest rates. Checking is fast, simple, and won't affect your credit score. Find out which credit cards you may qualify for. It's fast and free, and it won't affect your credit score.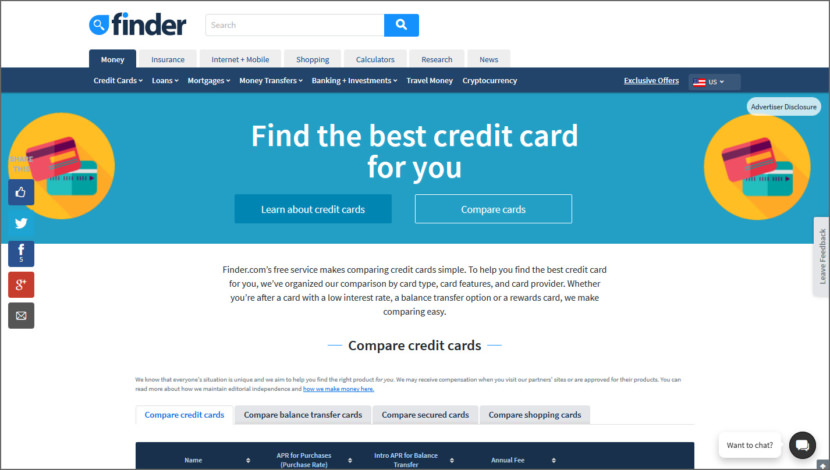 Finder.com's free service makes comparing credit cards simple. To help you find the best credit card for you, they've organized their comparison by card type, card features, and card provider. Whether you're after a card with a low interest rate, a balance transfer option or a rewards card, they make comparing easy.
Compare credit cards
Compare balance transfer cards
Compare secured cards
Compare shopping cards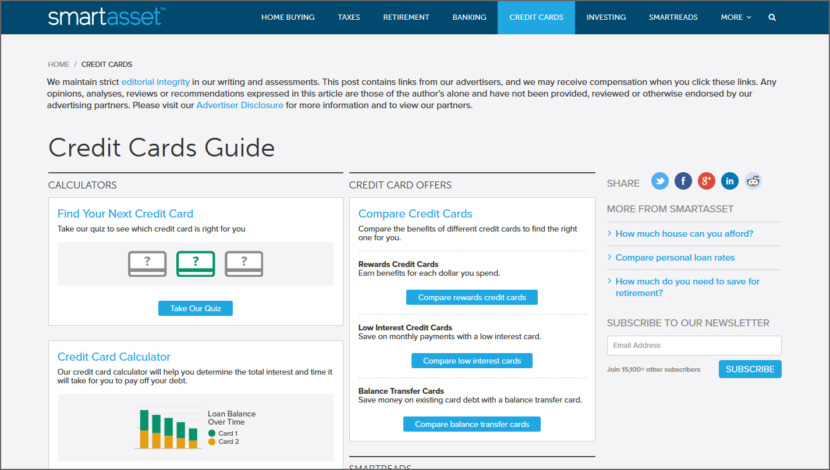 They maintain strict editorial integrity in their writing and assessments. Compare Credit Cards by comparing the benefits of different credit cards to find the right one for you. Use SmartAsset's credit card comparison tool to compare today's featured cards and find one that's right for you.
Rewards Credit Cards – Earn benefits for each dollar you spend.
Low Interest Credit Cards – Save on monthly payments with a low interest card.
Balance Transfer Cards – Save money on existing card debt with a balance transfer card.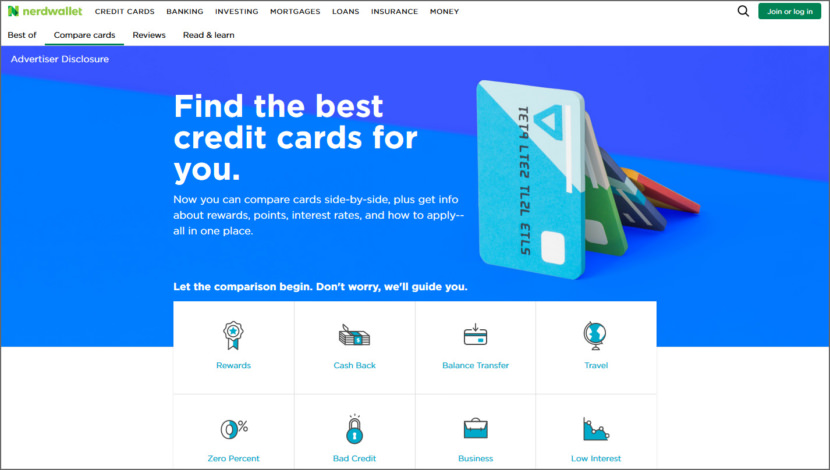 Now you can compare cards side-by-side, plus get info about rewards, points, interest rates, and how to apply–all in one place. Whether you want to pay less interest or earn more rewards, the right card's out there. Just answer a few questions and they'll narrow the search for you. The 8 main categories are Rewards, Cash Back, Balance Transfer, Travel, Zero Percent, Bad Credit, Business and Low Interest.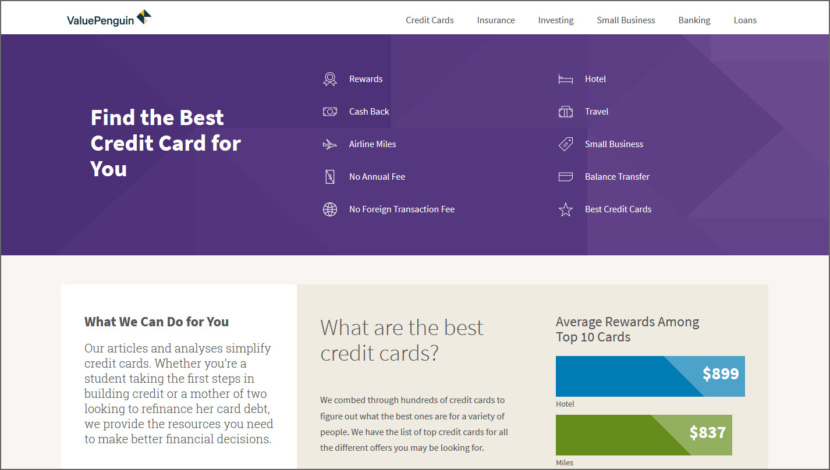 Their articles and analyses simplify credit cards. Whether you're a student taking the first steps in building credit or a mother of two looking to refinance her card debt, they provide the resources you need to make better financial decisions.
They combed through hundreds of credit cards to figure out what the best ones are for a variety of people. They have the list of top credit cards for all the different offers you may be looking for.
Best Rewards Credit Cards
Best Airlines Miles Credit Cards
Best Cash Back Credit Cards
Best Credit Cards for Small Business
Best Hotel Credit Cards
Best Gas Credit Cards
Best No Fee Credit Cards
Best Student Credit Cards
Best Balance Transfer Credit Cards
Best Credit Cards for Good Credit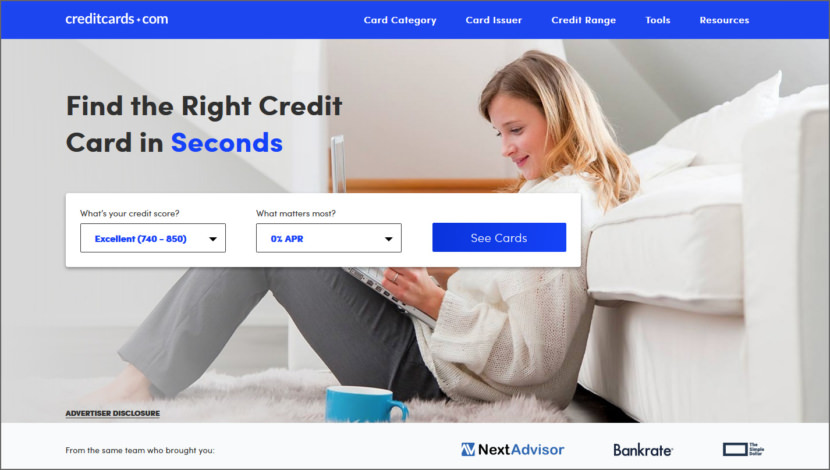 Whether you're a student looking to build credit, a frequent flyer searching for travel rewards, or a deal-hunter trying to save on gas and groceries, the right credit card can make all the difference.
They partner with the leading credit card issuers like American Express, Chase, Citi, Capital One, Discover and more to find the right card for the right people. Find your next credit card based on category, your credit score, or both.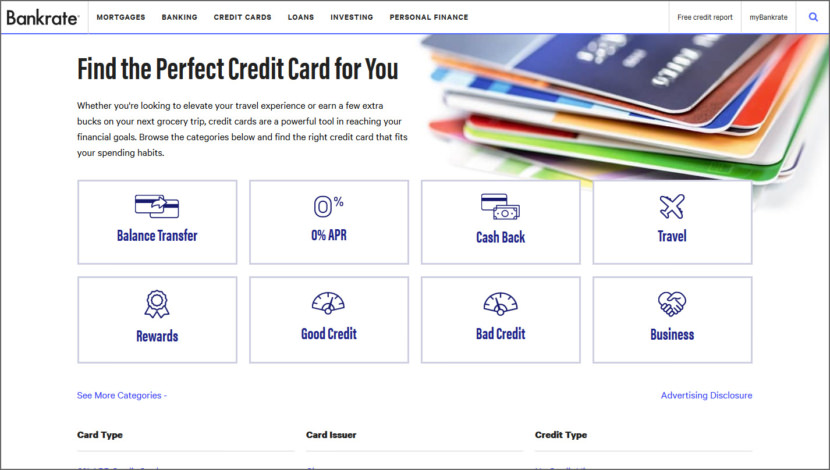 Whether you're looking to elevate your travel experience or earn a few extra bucks on your next grocery trip, credit cards are a powerful tool in reaching your financial goals. Browse the categories below and find the right credit card that fits your spending habits.
0% APR Credit Cards
Balance Transfer Credit Cards
Travel & Airline Credit Cards
Cash Back Credit Cards
Rewards Credit Cards
Business Credit Cards
No Foreign Transaction Fee Credit Cards
No Annual Fee Credit Cards
Low Interest Credit Cards
Points Rewards Credit Cards
Hotel Credit Cards
Gas Cards
Student Credit Cards
Secured Credit Cards
Prepaid & Debit Cards